It has been a great few years in the world of mobile gaming. While mobile games were once limited to the likes of Candy Crush and Angry Birds, the mobile gaming scene has truly taken off in recent years with AAA game releases like PUBG Mobile, Call of Duty Mobile and Fortnite.
Even better, with the release of cloud gaming services like Nvidia GeForce Now and Xbox Cloud Gaming, you can play PC and console games on your smartphone.
That's all welcome news, but let's be honest, touchscreen controls can be frustrating – especially when it comes to fast-paced shooters like Call of Duty where split-second response times are the difference between virtual life and death. That's where third-party controllers come into play.
Android users have been able to use a range of Bluetooth controllers for some time, and while iOS users were initially limited to (usually expensive) MFI controllers, Apple opened up support for standard Bluetooth controllers with the release of iOS 13.
So, if you're ready to take your mobile gaming to the next level, take a look at our selection of the best game controllers for iOS and Android smartphones available right now.
Best controller for iPhone and Android in 2022
1. Backbone One – Best overall
Pros
Official Xbox/PlayStation accessory
Great build and feel
Impressive companion app
Cons
Need an adapter for use on newer iPhones
The Backbone One is the ultimate mobile controller to buy in 2022.
The Lightning or USB-C-connected controller is ergonomically shaped for added comfort, and offers all the bells and whistles you'd expect.
There are rear bumpers, analogue sticks, face buttons and even separate pause and options buttons, along with a few extras including a dedicated screenshot button and even a headphone jack. A rare feature, it allows you to hook up your wired gaming headset to the Backbone One for improved voice chat in compatible games.
The hardware is exceptional, but the Backbone One goes much further than just hardware.
Hitting the bright orange button on the controller takes you to the Backbone app. The slick, well-polished app looks to be your gaming hub, allowing quick access to your favourite mobile titles without a dedicated Game folder on the home screen.
It's also home to social features that'll let you chat and play with other Backbone One users, and you'll even be notified when friends begin playing so you can join them.
The Xbox-themed controller is also fully compatible with cloud gaming services like Xbox Cloud Gaming and even comes with a free trial in the box, allowing you to stream some of the best AAA titles on your iPhone or Android with full access to all game features and functionality. There's also a PlayStation-branded version for PS gamers, complete with the black and white colour scheme of the PS5.
The blend of hardware and software support is much more in-depth than the competition, offering an unrivalled mobile gaming experience for both Android and iPhone users.
2. PowerA MOGA XP7-X Plus – Best for Android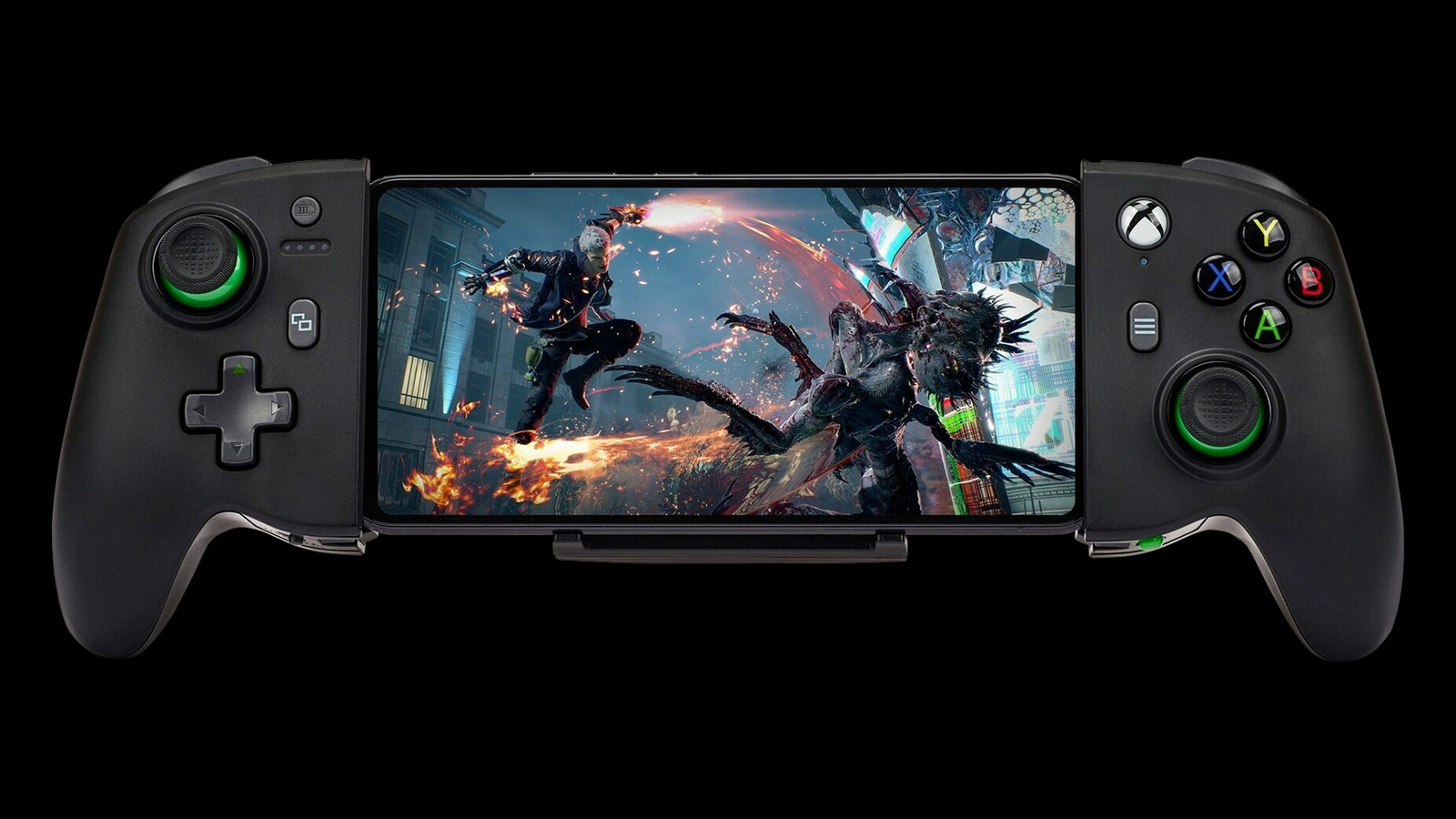 Pros
Built-in powerbank with wireless charging
Hybrid design for mobile and desktop gaming
Remappable buttons
The PowerA MOGA XP7-X Plus is an exceptional mobile controller designed for Android and Windows 10/11 that genuinely offers something new for gamers.
The mobile controller offers all the bells and whistles you'd expect, including dual analog sticks, front buttons and rear triggers, complete with official Xbox branding, along with two remappable buttons on the rear. These can be easily remapped without exiting the game you're playing, allowing you to assign functions like the brakes and accelerator in a racing game to the easy-to-reach buttons.
So far, so good, right? Well, it gets better. The XP7-X Plus has a unique design that allows you to play games on your smartphone Switch-style, with controls either side of the display, as well as a Desktop mode via a removable phone stand built into the controller.
There's also a 2000mAh power bank that, while adding to the heft of the controller, allows you to wirelessly charge compatible smartphones when gaming to keep you playing for longer.
It's also compatible with both Android and Windows 10/11 thanks to both Bluetooth and USB connectivity, with a removable middle block that allows the controller to resemble something akin to a standard Xbox controller for PC gaming.
It's the ultimate hybrid controller perfect for Android gamers – it's just a shame there isn't an iPhone equivalent.
3. Razer Kishi – A solid all-rounder
Pros
iOS & Android support
No charging required
USB-C passthrough
Cons
Separate USB-C & Lightning variants
The Razer Kishi is the ideal controller for most, designed for use with iOS and Android in mind. The Kishi essentially turns your smartphone into a Nintendo Switch with controls to the left and right of your smartphone display, clamping snuggly into place, with support for a range of smartphones – as long as they sport USB-C or Lightning connectivity.
That's the main appeal of the Kishi: while most controllers rely on Bluetooth connectivity, the Kishi is connected directly to the phone, not only negating the need to charge the controller, but also improving response time in mobile shooters like Call of Duty Mobile, and the difference is noticeable.
Elsewhere, the controller is well-built, featuring a complete set of triggers, shoulder buttons, AXBY buttons, a D-Pad and navigation buttons alongside dual clickable analogue sticks. There's even a USB-C port for passthrough, allowing you to keep your phone topped up during longer gaming sessions.
It's also compact when not in use, making it easy to throw into a jacket pocket for use on long train journeys. What more could you want?
4. GameSir X3 Type-C – Best controller for cooling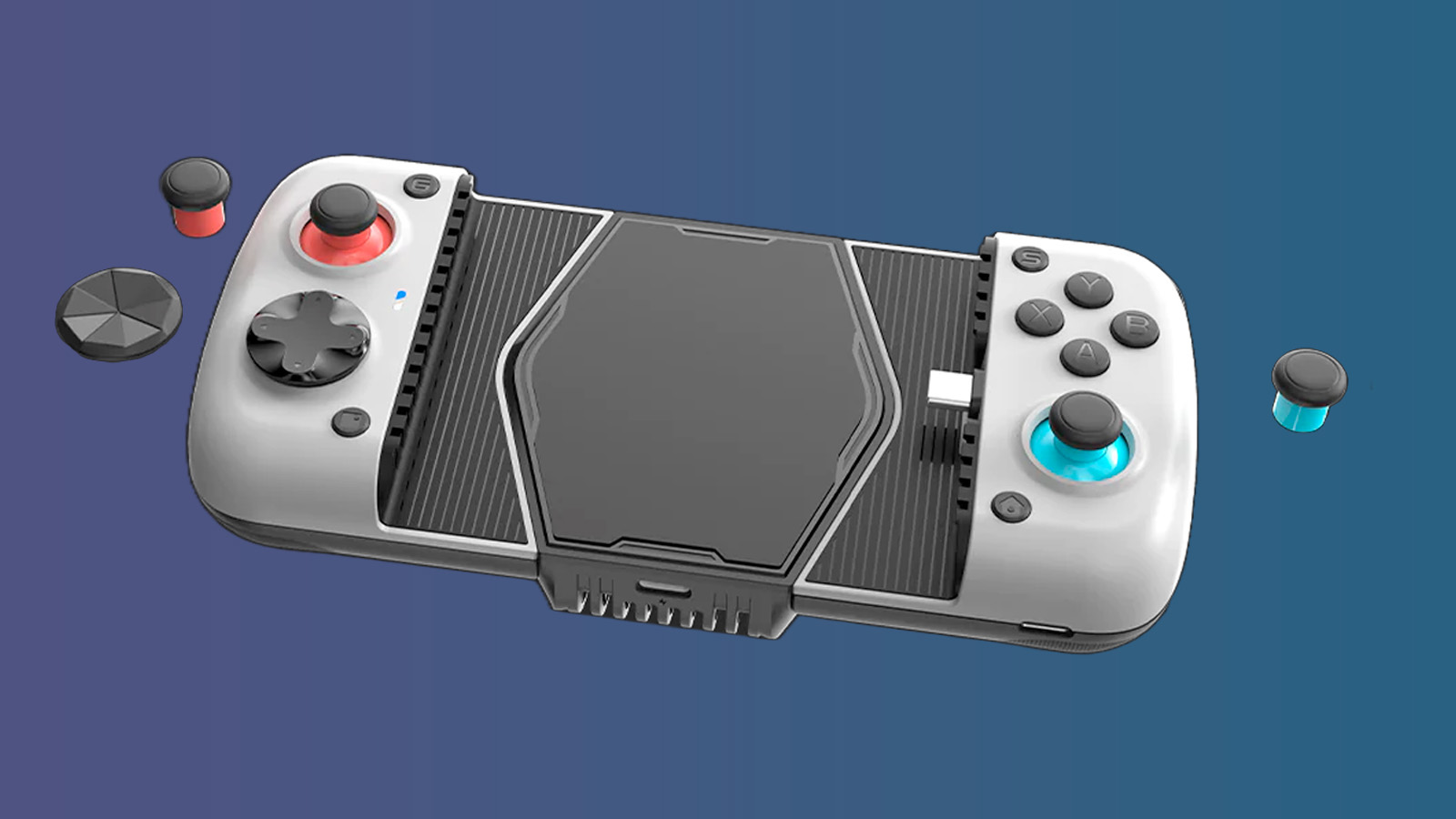 Pros
Keeps your phone cool
Customisable buttons and joysticks
Fits a variety of phones
Cons
Cooler needs USB-C power to work
No Lightning variant for iPhone
While accessory maker GameSir usually manufactures budget-friendly mobile controller accessories, the GameSir X3 Type-C is an entirely different beast, offering not only a customisable controller but impressive built-in cooling too.
Overheating is a problem faced by most mobile gamers during long gameplay sessions – even those with gaming phones sporting dedicated cooling systems – usually resulting in a hot spot on the rear of the smartphone, and a knock-on effect on performance and battery drain too.
The GameSir X3 Type-C looks to solve that problem by attaching a literal fan-powered cooling system to the back of your smartphone. The multi-part system, including a cold copper plate, a Peltier cooling module, heatsink and seven-blade fan helps keep your smartphone cool, reducing the temperature by up to an impressive 24 degrees Celcius in just a few minutes.
The fans are lit by RGBs to add to the gamer look, and the position of the fan can be adjusted to better suit your smartphone if needed. The only downside? With no built-in battery, the fan needs constant USB-C power to operate, meaning you'll have to use a power bank if you want to use it on your travels.
Of course, the X3 Type-C isn't just a cooler – it's also a mobile controller, and a pretty capable one at that. Connecting to your phone via its USB-C port, there's 0 lag, and the controller plays nicely with all controller-ready games available on Android including cloud streaming apps from the likes of Nvidia and Xbox.
It's impressively customisable too. The buttons are magnetic, allowing you to switch between Xbox- and Nintendo-style layouts, and there are two sets of thumbstick caps and D-Pads in the box to choose from too. That's all stored in a nice hard shell carry case, keeping the controller and all accessories in one place.
It's compatible with a range of smartphones too, as long as it offers USB-C connectivity and measures between 110-179mm.
5. Rotor Riot Wired Game Controller – Best traditional controller
Pros
Traditional controller experience
Built-in phone clamp
Wired connectivity
The Rotor Riot Wired Game Controller offers the best of both worlds: the design of a standard controller with the responsiveness of a wired connection. It's compatible with both iOS and Android devices, with both Lightning and USB-C variants available, and offers the same benefits as the likes of the Kishi, with the controller drawing its power from the smartphone, negating the need to charge it quickly, and response times are quick too.
It goes a step further than standard console controllers by including a dedicated smartphone mount, allowing you to attach your device to the top of the controller in landscape orientation, with an adjustable viewing angle.
It's not the most ergonomically shaped controller we've seen, but the fundamentals of a great smartphone controller are there, and it's much cheaper than some of the competition too.
6. GameSir X2 – A Switch-themed alternative
Pros
Switch-like aesthetic
Rotating USB-C/Lightning port
Screenshot button
Though replaced by the updated GameSir X3 Type-C, the GameSir X2 offers a similar design – sans cooling capabilities, of course – and unlike the high-end variant, there's a USB-C variant for Android, a Lightning variant for iPhones and even a Bluetooth version for the best of both worlds.
In terms of design, it leans into the whole Switch-esque design, sporting the same shades of red and blue beneath the analogue sticks as the most popular combination of Joy-Con, but that's forgivable compared to the mimicry of Nintendo's Y-X, B-A button layout. Considering most if not all mobile games are designed around the layout of the standard Xbox layout, you'll find yourself battling against muscle memory when navigating menus – especially during fast-paced games.
If you can look past the odd button layout, there's a lot to like about the X2, including the USB-C port that rotates by up to 51° to make slotting your phone into place much easier, and the inclusion of a dedicated screenshot button too. It's also a generally nice-looking controller and it's much more affordable than its premium sibling too.
7. Nacon MG-X – A decent official Xbox controller for Android
Pros
Official Microsoft Xbox accessory
Compatible with a range of Androids
Great design
Cons
Bluetooth 4.2
No iOS support
The Nacon MG-X is another Switch-style mobile controller, but it's in fact an official Microsoft Xbox accessory built with Game Pass Ultimate cloud streaming in mind, so you can be confident in its compatibility.
As you'd expect from that, the controls are modelled on an Xbox pad, so you get asymmetric clickable joysticks, ABXY face buttons, a D-pad, and four shoulder buttons (though the triggers are a little mushy – my only real complaint about the pad). There's also an Xbox-branded power button, and the same 'menu' and 'view' buttons you find on the official controllers.
Battery life is rated at up to 20 hours, and charging is over USB-C when you do need to top it up.
Unlike some similar rivals, this uses Bluetooth 4.2 to connect to phones, which means there's a touch more input lag – but that's less important if you'll be mainly using it for cloud gaming anyway. Besides, it also means that the pad is more universal, so will work with any Android phone – though there's no iOS support.
On that note, Nacon only lists support for screens up to 6.7in, but I used it comfortably with the Xiaomi Mi 11's 6.81in display, so there is a little leeway on the company's size estimates. The grippy, textured back holds devices securely too, and when there's no phone in the controller is small enough to be portable but still a comfortable size to use on its own, so it can double as a Bluetooth pad for a tablet or PC – or even an actual Xbox.
8. Sony DualSense – Great for PS5 players
Pros
Compatible with PS Remote Play
iOS & Android connectivity
Great design
Cons
No way to attach smartphone
No access to advanced DualSense features
Sony's DualSense controller is arguably one of the main selling points of the PS5, and to further sweeten the deal, it's also compatible with both iOS and Android smartphones. It's an all-around improvement on the older DualShock 4, featuring an improved design that not only looks great but feels more comfortable in the hand, and the textured grips are a notable addition too.
But it's the haptic system and adaptive triggers that truly steal the show. The former allows for advanced haptic feedback for improved immersion in games, simulating the feel of raindrops or footsteps on metal floors, while the triggers can adjust resistance depending on what you're doing. It'll be a while before game devs build these features into mobile games admittedly, but if you've already got a PS5, it's well worth using – especially as it allows you to play PS5 games remotely.
If you haven't got a DualSense controller, Sony's older DualShock 4 is also fully compatible with iOS and Android devices.
9. Xbox Wireless controller – A solid wireless controller
Pros
Ergonomic design
iOS & Android support
Bluetooth LE
Cons
No way to attach smartphone
Along with Sony's DualSense controller, the competing Xbox wireless controller from Microsoft is also compatible with iOS and Android devices.
It's not quite the big redesign on offer from Sony's option, but the updated controller offers a slightly refreshed look compared to the older Xbox One controller, but the main notable difference is the addition of textured patterns in more areas – including the triggers themselves – for improved grip. There's also a redesigned concave D-Pad, bringing it more in line visually with the upgraded Elite controller.
Importantly for smartphone users, the updated controller features Bluetooth LE for a low-power connection, which should translate to improved battery life compared to the older Xbox One controller.
The older Xbox One controller is also fully compatible with smartphones if you've got one of those laying around.
Related articles