MagSafe holds a special place in the hearts of many Mac fans, offering a safe and easy way to charge older MacBooks, but it was ditched a few years ago for the convenience of USB-C. While many thought that was the end of MagSafe, Apple revealed MagSafe for iPhone at its iPhone 12 event in 2020.
The tech, built into the iPhone 12 and iPhone 13 ranges, is both a mounting and charging system compatible with a variety of accessories—both first- and third-party.
The recent iPhones essentially include a magnetometer and single-coil NFC reader and use magnets to perfectly align your iPhone on MagSafe-compatible wireless chargers and other magnetic accessories. It removes the issue of having to find the sweet spot when charging, and the magnetic connection means you can pick it up and use it while it's charging without issue.
It's also faster than standard wireless charging at 15W, compared to 7.5W on offer from traditional Qi charging—as long as you get an official 'Made for MagSafe' accessory, anyway. Other accessories simply marked as 'MagSafe compatible' aren't officially licensed, and as such, can only charge at 7.5W.
Beyond simply charging your iPhone, Apple envisions MagSafe accessories of all shapes and sizes that help improve the iPhone experience. For more, take a look at our What is MagSafe? explainer and check out Macworld's Best MagSafe Charger and Best MagSafe Portable Battery Pack roundups.
So, you've bought your iPhone 12 or iPhone 13 and want to make the most of MagSafe with new magnetic accessories, right? Here are the best available right now.
Best MagSafe accessories for iPhone 2022
Mous Limitless 4.0
Pros
Impressive drop protection
MagSafe compatibility
The standout case offering MagSafe integration is the Mous Limitless 4.0. Offering the same level of compatibility as official Apple cases, Mous' option also boasts incredible damage resistance thanks to the inclusion of the company's patented AiroShock shock-absorbing tech, giving you extra peace of mind without the added bulk.
The Mous Limitless 4.0 case is available for all versions of iPhone with five designs to choose from, and although it is expensive, it's cheaper than totally replacing your shattered iPhone.
Mous also offers the MagSafe-compatible Infinity case, and while it doesn't feature the same patented AiroShock protection, it is transparent, allowing you to fully appreciate the design of your iPhone.
Apple MagSafe Charger
Pros
Convenient charging experience
Faster than Qi charging
Quick to remove
Showcased during the MagSafe reveal, the MagSafe charger will likely be the first accessory that most iPhone owners will buy.
The charger utilises the magnetic connectivity of the MagSafe system to offer reliable 15W wireless charging—no need to find the sweet spot like with most standard wireless chargers. It resembles the Apple Watch charger, both in look and performance, with a quick snap-on system, securely attaching itself to the iPhone when nearby.
ESR HaloLock Kickstand Wireless Charger
Pros
MagSafe charger-esque design
USB-C port
Built-in kickstand
Cons
Larger than standard MagSafe charger
While Apple's MagSafe charger is great, the design could be improved in some areas—and that's exactly what accessory maker ESR has done with the HaloLock Kickstand wireless charger. It looks like a MagSafe charger and operates in largely the same way—it connects via magnets to the rear of your iPhone and provides up to 15W of wireless charge—but comes with a secret weapon.
That weapon? A built-in adjustable kickstand, allowing you to charge your iPhone and angle it on a flat surface at the same time. While it might not sound like much, it's the ideal accessory for long FaceTime chats or YouTube binge sessions.
It also boasts a USB-C port for charging, which means you can swap out the included USB-C to USB-C cable for something much longer than Apple's official charger.
Belkin Car Vent Mount Pro with MagSafe
Pros
Strong magnets hold your iPhone in place
Easy to attach to vents
Cable tidy system
Cons
Expensive
No wireless charging
If you hate the idea of using a fiddly phone holder in your car, Belkin has you covered with the new Car Vent Mount PRO with MagSafe. At £34.95/$39.95 it's pricier than many alternatives, but it provides an unmatched level of ease of use for iPhone users.
Using the MagSafe system, the iPhone simply snaps into place onto the holder, giving the impression of it floating in place. It's stronger than the MagSafe charger too, meaning you shouldn't worry about your iPhone coming loose if you go over bumps too hard.
The mount itself snaps onto most vents, and a cable tidy system near the free-moving ball joint on the rear allows for quick access to a cable for charging/infotainment purposes.
ESR HaloLock Adjustable Wireless Charging Stand
Pros
Multiple adjustable angles
Strong magnetic connection
Affordable
Cons
Only charges a single device
Stand can lift from surfaces when removing the phone
When it comes to charging stands, ESR's HaloLock Adjustable Wireless Charging Stand – aside from being a mouthful—is a solid option for iPhone owners, offering 15W wireless charging via MagSafe and adjustable angles that make it a handy desk accessory.
Your iPhone can sit in either portrait or landscape, handy not only for calls but watching videos too, and the magnets holding it into place are impressively strong. So strong, in fact, that the stand lifts away from the table when you try to remove your iPhone—a downside of the lightweight all-plastic body.
Still, it remains one of the best MagSafe charging stands if adjustable angles are what you're after.
Belkin Boost Charge Pro 2-in-1
Pros
Convenient charging
Floating iPhone design
Dedicated power supply in the box
Belkin offers a duo charger in the form of the Boost Charge Pro 2-in-1, although Belkin's option focuses on the iPhone and AirPods, not the Apple Watch.
Still, it's much cheaper than Apple's competing duo charger, and with a floating design that makes your iPhone appear as if it's floating, it'll look good sitting on your table. Plus, with the ability to freely rotate the iPhone while charging, it's handy for watching movies hands-free.
At the base of the MagSafe charger, you'll find a small circular cutout for your AirPods or AirPods Pro, along with a small LED to indicate charging status at a glance. It comes with its own power supply too, so you won't need to go fishing for a power brick.
Anker PowerWave Magnetic 2-in-1 Stand
Pros
Affordable
Floating iPhone design
Can adjust the angle of the MagSafe mount
Cons
Slower MagSafe charging than alternatives
Anker's PowerWave Magnetic 2-in-1 stand is an even cheaper alternative than the Belkin Boost Charge Pro while still offering the same floating design that makes use of the strong magnets built into the iPhone range. In fact, it takes things a step further by introducing a 30-degree swivel on the MagSafe mount, allowing you to adjust the angle for FaceTime calls or movies while charging wirelessly.
There's also a rubber Qi charging mat integrated into the base of the MagSafe stand, providing wireless charge to another smartphone, though Anker recommends using it with AirPods and other wireless earbuds for the best experience.
The only downside? It's only MagSafe-compatible. That means that even if using a 20W charger—which isn't included in the box—the MagSafe charging tops out at 7.5W, half of the 15W capable from Apple and Belkin's chargers, and the Qi charging pad tops out at just 5W.
That won't matter if you're charging overnight, but you might notice a difference if you're looking for a quick top-up.
iOttie Velox Magnetic Wireless Charging Duo Stand
Pros
Stylish looks
Secondary Qi charging pad
Cons
No wall charger included
Chargers at half the speed of official MagSafe chargers
Like other stands here, the Velox is able to charge your iPhone 12 or 13 at the same time as a Qi-compatible accessory, such as iPods with a Wireless Charging Case or other brands of headphones.
Though available in just one colour, the midnight blue silicone and gold-coloured aluminium look elegant on a bedside table, even if they look more like black and brass to us. When an iPhone is attached, the mount is hidden giving a floating look, but it remains stable thanks to a weighted base.
The Qi charging pad is just the right size for most wireless earbud cases and in testing, it worked well with Huawei's Freebuds Pro.
There are a couple of downsides to the Velox, though. First, it's only MagSafe compatible. So, like the Anker PowerWave, it can charge an iPhone at only 7.5W rather than the 15W available to official MagSafe accessories.
This isn't a major issue if you plan to use it to charge your iPhone overnight, though, as that's enough power for an empty-to-full charge while you sleep.
The other issue is that iOttie doesn't include a power supply in the box, and the 'built-in' USB-C cable can't be replaced if it gets damaged. If you already have a suitable power supply, the price isn't too bad. But if not and you can live without the Velox's premium looks, the Anker is basically the same thing but a whole lot cheaper.
Anker PowerCore Magnetic 5K Wireless Power Bank
Pros
Affordable
Snaps onto rear of iPhone to charge
Holds multiple phone charges
Cons
No iOS battery capacity readings
While Apple has its own official MagSafe-enabled power bank available for the iPhone, it lacks in the battery capacity department at just 11.13Wh—providing a single charge for the standard iPhone 12. Anker offers a larger 18.5Wh power bank that'll fully recharge even the iPhone 13 Pro Max via MagSafe and have a bit of juice left over.
The Anker PowerCore Magnetic 5K is a little thicker than Apple's option, but that's something we're happy to live with given the larger battery capacity – arguably the most important factor of a power bank. It's also much cheaper than Apple's official option, making minor niggles—like not being able to see battery capacity via an iOS widget – easier to accept.
All that aside, using a MagSafe-enabled power bank provides a much simpler on-the-go charging experience than standard power banks, negating the need for annoying cables running from your phone to the power bank—just attach it to the rear of your iPhone, even with a case on, and it'll begin charging. Easy, right?
ESR HaloLock Wallet Stand
Pros
Adjustable stand
Holds up to three cards
Premium materials
Cons
Can be fiddly to remove cards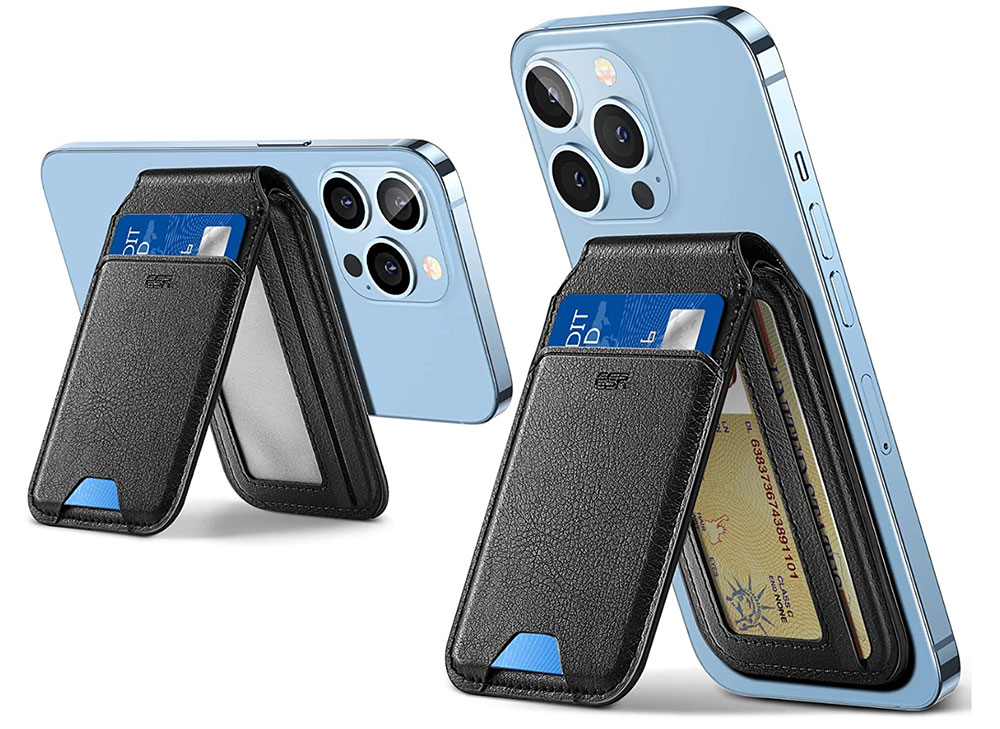 ESR
ESR's HaloLock Wallet Stand is a vegan leather wallet that clamps magnetically to the back of an iPhone 12 or 13, and can act as a stand either in portrait or landscape mode. Or you just leave it flat on your phone while in your pocket.
It features three individual card slots, including an inside clear window that makes it easy to flash your ID.
It also has a thumb slot on the rear, accessible once you slide the cardholder off the back of your iPhone, allowing for quick access to your cards with a push. It's a solid option if you've got more than one card you use on a daily basis, and it's relatively cheap too.
Smart wallet manufacturer Ekster has also taken a stab at a MagSafe-compatible cardholder for the iPhone with its Ekster MagSafe Card Holder, utilizing its expertise in wallet design to offer something more premium than Apple's official option. It doesn't also act as a stand but it's slimmer than than the ESR wallet. There are two credit card-shaped slots, but Ekster claims you can carry up to three cards at once, two more than Apple's option—we gave it a go, and while it is a particularly snug fit, it is possible.
Popsockets PopGrip for MagSafe
Pros
Extra grip for your iPhone
Doesn't need adhesive like standard PopGrips
Strong magnets
Popsockets, and more specifically the PopGrip, have taken the smartphone world by storm in recent years—especially as smartphones get larger and harder to hold one-handed. The idea is simple; the accessory attaches to the back of your iPhone to provide a secure grip for better one-handed use, and it doubles up as a handy stand when you're watching videos too.
While you've traditionally had to stick the PopGrip onto your iPhone (or a sacrificial case) using adhesive, the PopGrip for MagSafe uses magnets 60% more powerful than those in most MagSafe accessories to provide an adhesive-like attachment while being free to remove it whenever you desire.
The flexibility will no doubt attract existing PopGrip owners, as well as those hesitant until now due to the adhesive commitment, and we've had no concerns about relying on magnets rather than adhesive during our time using them.
There are only a handful of colour options and designs available right now, but that'll likely expand over the coming months.
When you purchase through links in our articles, we may earn a small commission. This doesn't affect our editorial independence.