Losing a photo, video, document or other important data can be a heart-sinking experience. Realising that something has been accidentally deleted or is otherwise gone is horrible, but sadly it's a feeling most of us have known at one time or another.
In an ideal world, all your data would be backed up, making it a simple matter of getting the backed-up file from wherever it's stored. But we know that the reality is that most people don't use backup software.
Fortunately all is not lost – literally – because data recovery software can often retrieve these items and restore to your device once more. And here, we recommend a selection of the best options across Windows, macOS, Android and iOS so you'll know where to go if the worst has happened.
To avoid the problem in the first place, or stop it from happening again, we strongly recommend regularly backing up your data. So, be sure to also check out our guides on how to back up your data for free and the best backup software for Windows to make sure you never lose valuable files.
Paid vs Free Data Recovery Software
We all know that times are tight and so you may well be looking for a free app that will do the job. But, in this case, you really will get what you pay for in terms of features and capabilities.
If you search the web, you'll no doubt find several free tools that will promise to restore your lost data. Some of these will be perfectly fine and may even help in a crisis, but they will almost certain be limited in what they can recover or allow you to reclaim only a small number of files (or a small amount of data) before you have to upgrade to the paid version.
That being said, there are some reputable companies that offer free versions of their recovery software, such as CCleaner's Recuva, which are worth trying if you don't mind the limits imposed on the data sizes and features.
We'll go into more detail about each product below, but before that here are the tools we recommend for each of the main four operating systems:
Best data recovery software for Windows:
Best data recovery software for macOS:
Best data recovery software for Android:
Best data recovery software for iOS:
Now we can take a deeper look at what they offer.
Best Data Recovery Software for Windows
1. Stellar Data Recovery Professional
Pros
Easy-to-understand interface
Can repair corrupted files
Cons
Scanning large-capacity drives is a long process
Expensive if you use it only once
Price When Reviewed:
$59.99 per year
Stellar has been around for decades now, offering utilities for individuals and businesses, all centered around data recovery and repair. If you just need to get back deleted or seemingly lost files, then Stellar Data Recovery for Windows is a good place to start.
It boasts an impressive range of file types that can be recovered (over 200) and this can be done from hard drives, SSDs, USB drives, SD cards, Micro-SD cards and other variants. It's also happy to deal with various formatting options, including NTFS, FAT32, FAT16 or exFAT. So it should be suitable for most people's PCs or storage media.
The user interface is nice and simple. When you first launch the program you can select the types of file you want to recover, then the folders and drives on which the software will search. It's all via options you can click on, so even if you're not familiar with this kind of software you'll be up and running in no time.
You'll need to use the Deep Scan feature to hunt down deleted files, and this can take quite a while if you have a large drive to interrogate. Thankfully, the software will happily get on with things by itself, so you can leave it running while you get on with other tasks.
Once it has completed the scan, you can then select the files you want to recover, then if all goes well they should be restored to your drive.
Stellar Data Recovery for Windows can also retrieve information from encrypted drives that use BitLocker, although you'll need the password to enable the recovery. Depending on which tier you select, there's also options to recover corrupted image and video files, plus rescue data from lost drive partitions.
There's a free demo version to get you started, but it only lets you search for the missing files and preview their content. This at least lets you see if the missing files might be recoverable before you spend any money.
To use the software fully, and gain access to the advanced recovery features, you'll need to sign up to one of the three tiers. These include Standard, which costs $59.99/£49.99, Professional (adds lost partitions and unbootable system recovery) that is currently $89.99/£94.99 or the Premium tier that has all the features of the others plus repairing corrupted files and costs $99.99/£99.
There's also a version available for macOS, so your Apple using friends can also get their valuable data back.
2. Recoverit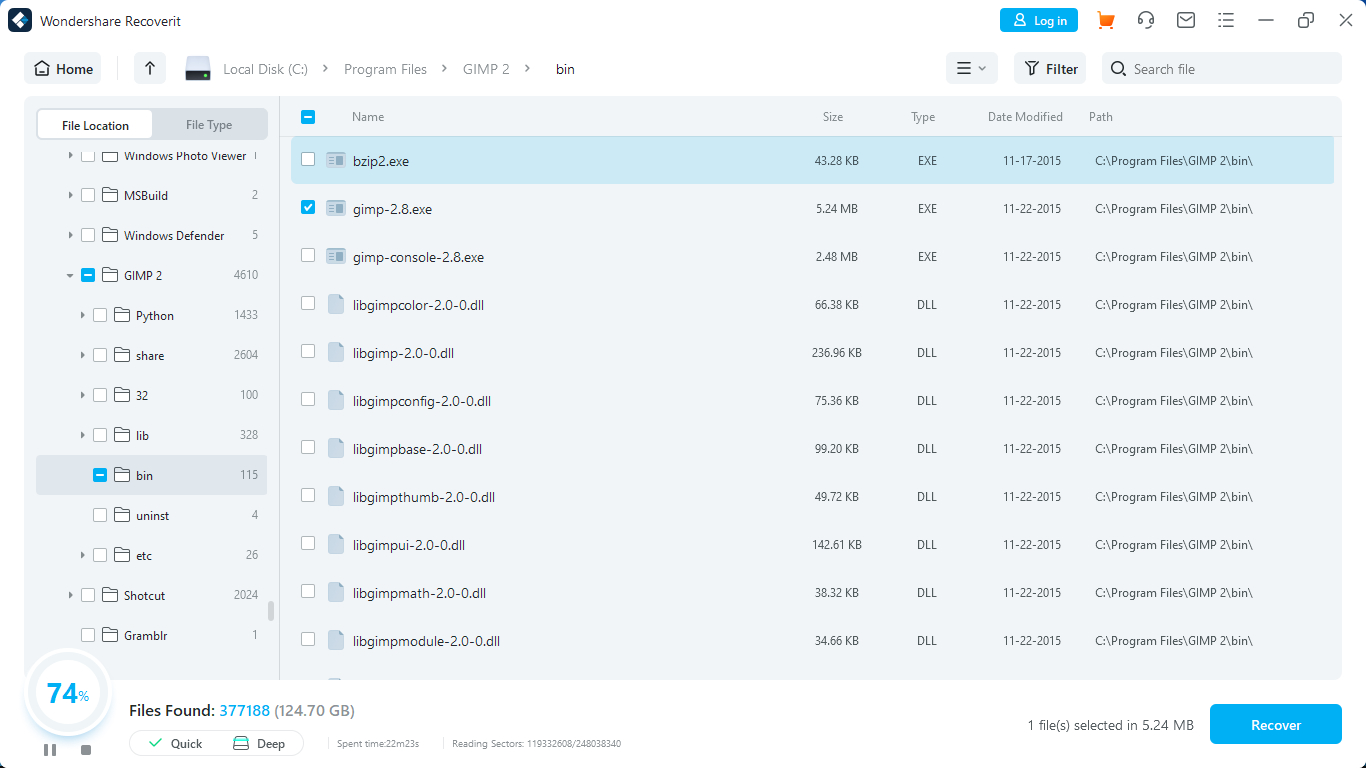 Pros
Can recover over 1,000 types of file
Encrypted BitLocker drives can be accessed
Cons
No data retrieval options on free tier
Crash recovery not included on basic tier
Price When Reviewed:
$69.99 per year
Wondershare is another well-established company that has been making software for years. Recoverit continues this trend with an easy to use interface paired with some quite powerful search and recovery tools.
The design of Recoverit is friendly and modern, with nice icons that let you know what you're selecting in terms of where to search and what to find. There are plenty of pop-up tip boxes to ensure that you always know what you're doing and a few suggestions for ways to simplify the whole process.
Recoverit can restore over 1,000 file types from a whole host of storage devices, including encrypted BitLocker drives if you have the password. It also has the ability to scan disk images (copies of your entire hard drive) to recover valuable files.
There's a helpful additional feature that warns you if the disk has any problems, such as bad sectors, which could indicate a potential failure in the near future. If you see that appear, backup your data immediately and start shopping for a new drive.
If you upgrade from the Essential tier (which will set you back $69.99/£56 per year) up to the Standard plan ($79.99/£64) then you'll open up the ability to create bootable disks/USB drives to recover from a complete system crash.
There is a further tier above this called Premium ($99.99/£80 per year) which introduces more advanced tools such as being able to recover data from a NAS drive, RAID drive or Linux PC. You can also reconstruct video and image files that have become corrupted. This is probably a bit too specialist for most people, so the Essential and Standard plans would be the better choice.
As with Stellar Data Recovery, you can download the app for free, but it will only scan and preview files. You'll need to pay if you want to actually get back your data.
Best Data Recovery Software for macOS
1. Disk Drill 5
Pros
Works with M1/M2 Macs
Compatible with Time Machine backups
Cons
Recovery only on paid tier
Not a subscription, but also not cheap
Although the two Windows apps above are also available for macOS, one of our favourites for Mac users is Disk Drill Data Recovery. The app itself has been around for a while now, going through various iterations, but the current version is the refinement of that process.
Compatible with M1/M2 and T2 enabled Macs, as well as the older versions, it also runs on macOS Ventura so it's fully up to date. Previous macOS releases are supported, back to 10.13 High Sierra, and for anyone using a version of the OS that predates those, you can still use older versions of the Disk Drill software which go all the way back to macOS 10.5 Leopard.
The free version is, just as with many of the other apps here, pretty much a demo for what Disk Drill actually does. It will conduct a search of your hard drive or other attached storage media, then show you what data it could retrieve. There are also previews of the files so you won't have to remember the precise file names of photos when trying to retrieve them. But, if you want to get your files back then you'll need to unlock that feature by upgrading to the Pro tier.
Unlike some of the others on offer though, Disk Drill does have some useful free features on the Basic tier. These include a disk monitor that will analyse your storage to see if there are any dangers of potential failures, a cleanup app that can remove unwanted files that are taking up space, a duplicate finder, system backup, software to create a recovery vault to will enable data to be retrieved safely in the future, plus an app for creating a bootable USB recovery drive that could save your Mac if the OS gets corrupted or it suffers a hardware crash.
If you upgrade to Pro (costing $89/£87.47 as a one-off payment) then you'll be able to use the impressive set of recovery tools to restore your data. Scanning with Disk Drill is quicker than on some of its rivals on this list, with the results presented in an easily understandable format where you click through the various drives or types of file to find the ones you're after.
Disk Drill works with over 200 files types, can scan lost partitions, rebuild HFS+ catalogs, and also has the ability to scan through Time Machine backups and local snapshots to find and restore files.
The emphasis is on simplicity for the user, while delivering highly sophisticated tools that do the heavy lifting. It succeeds. There's also the added bonus that it can be used to recover data from Android and iOS/iPadOS devices too, making it a real swiss army knife for rescuing files.
2. EaseUS Data Recovery Wizard
Pros
Works with M1/M2/T2 Macs
Free version allows 2GB of data recovery
Cons
Scans can be slow
No Time Machine support on free tier
Price When Reviewed:
$119.95 per year
Another excellent option for Mac users is EaseUS Data Recovery Wizard. As the name suggests, its walkthrough design holds your hand as you navigate hard disk scanning and data retrieval.
Unlike many other recovery apps, EaseUS lets you get some of your lost data back while using the free version. There is a limit of 2GB, but if you're only looking to get back a few photos (or a stack of documents) then this could save you a lot of money. It works across a wide range of popular file types, including DOC/XLS/JPG/MP4/MP3 and more.
The storage media shouldn't be an issue either, as EaseUS can scan and retrieve from hard disks, SSD drives, Fusion drives and other standard types of drive. One thing it won't do is scan Time Machine backups or iTunes backups, as that feature requires moving up to the Pro version ($119.95/£131.99 per year).
Alongside the Intel chips found in slightly older Macs, the EaseUS package is compatible with the latest M1/M2 processors as well as the T2 security chip, meaning it will work with pretty much any Mac.
As with most modern data recovery software, the interface is clean and simply laid out. Select the drive you want to search, then let the program do its thing. Scans can take quite a while, but when it's finished you'll be able to select from the column on the left which separates all the files into categories that include Pictures, Documents, Audio, Emails and others. Then find the ones you want and click the Recover button.
The Pro tier has some other advantages, such as being able to restore your data to cloud storage services like Google Drive, Dropbox or OneDrive, which could be useful if your Mac is out of commission. There's also the ability to create bootable USB drives to get your Mac up and running again.
You can sign up to EaseUS Data Recovery for a single month, but this costs an inordinate $89.95/£95.99. There's a lifetime subscription, which costs $169.95/£179.99, but since catastrophic data loss isn't usually a regular occurrence, the one-month option might be all you need.
Best Data Recovery Software for Android
1. Dr.Fone (Android)
Pros
Works directly on your Android phone
Recovers deleted messages, files and contacts
Cons
Won't do anything useful unless you pay
Browsing search results is hard on small screens
Price When Reviewed:
$39.95 per year
Dr.Fone comes in two main versions. There's the one you download to your PC or Mac, which you then use to connect to your Android device. This is a common route, and one used by some of the biggest recovery software in this category. The other is the Dr.Fone app you run on the phone itself, which you can download from the Google Play Store.
The interface is streamlined and easy to follow, so you'll have no problem working out what to do. Icons represent each type of file or feature, plus there are several help screens that tell you what's happening and the capabilities of each tool.
You can search for deleted files, messages, contacts and other useful data. Photos and messages from social media apps can be recovered once you've enabled various access permissions for the app. Samsung users can also benefit from the Recycle Bin option, which will pull deleted data out of the bin. This isn't available to other types of Android phone yet, although the developers say that it will be in future versions of the app.
While the app is free to download, the features available without a subscription are very limited. You can only recover files a couple of times a day, and you'll need to endure ads before you're allowed to complete the task. Ads regularly appear throughout the app, so it becomes obvious early on that the paid tier is the way to go if you want to get any of your data back. Also, on the free tier, images are watermarked, which won't be acceptable to most people. A year of Dr Fone costs $39.95/£40.49, but there are often reductions offered within the app to get you to sign up, so look out for those.
Once you do, you'll find Dr.Fone to be a powerful way to not only search and restore data, but also to manage it. The app has a Secret Space feature that enables you to lock away files and images in a PIN protected folder that no one else will be able to access.
The free version is hard to recommend, but if you cough up the cash then Dr.Fone is a solid choice for Android.
2. iMyFone D-Back for Android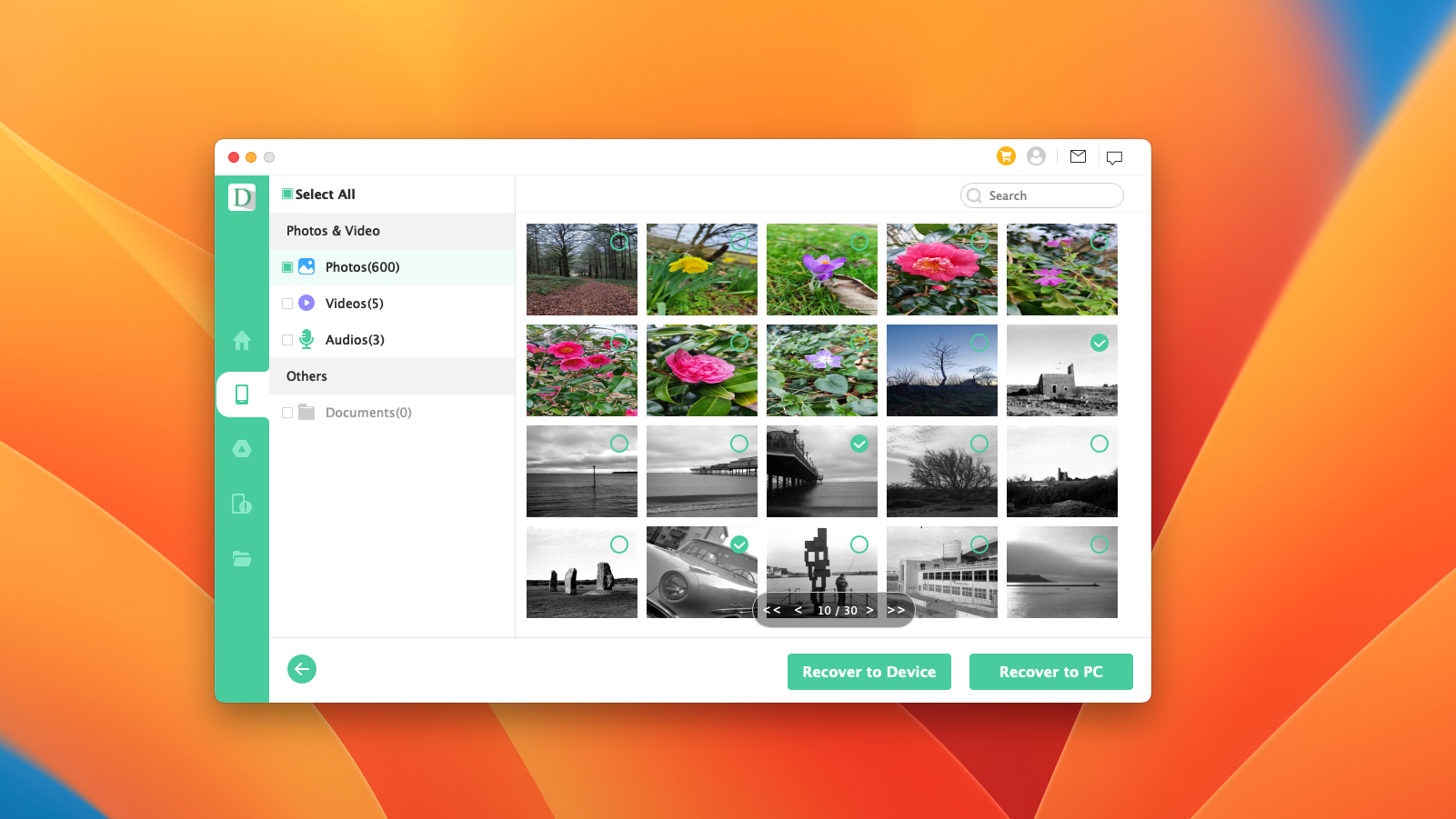 Pros
Clean, simple interface
Can scan Google Drive backups
Cons
Requires PC or Mac
Monthly plans are expensive
Price When Reviewed:
$29.95 per month
iMyFone D-Back requires a Mac or Windows PC to work, because you install the app on either of those platforms. Once set up, you have to connect your Android phone using a USB cable and enable USB Debugging in its settings and select MTP (or file transfer) from the options that pop up on your phone when you plug in the USB cable.
With everything in place, D-Back can scan your Android device and Google Drive to discover files that can be either recovered back to the phone or to your computer. The scan itself can be quite lengthy, especially if your phone has a lot of storage, but the results are worth the wait.
On our first test run, D-Back found 600 photos, five videos and three audio files that it could recover. Of course, clicking on the recover button brings up a screen showing how much you need to pay, so if you want those photos, videos and other files back you'll need to subscribe. A single month will set you back $29.95/£24, while a year is only $39.95/£32, so the latter is better value for money – if you use it more than once.
There's an accompanying app that specialises in recovering data from WhatsApp, although that's expensive at $39.95/£32 per month. To get all of the features you'll want the Premium package, which combines both apps and is priced at £69.95/£56 per year.
Best Data Recovery Software for iOS
1. Disk Drill 5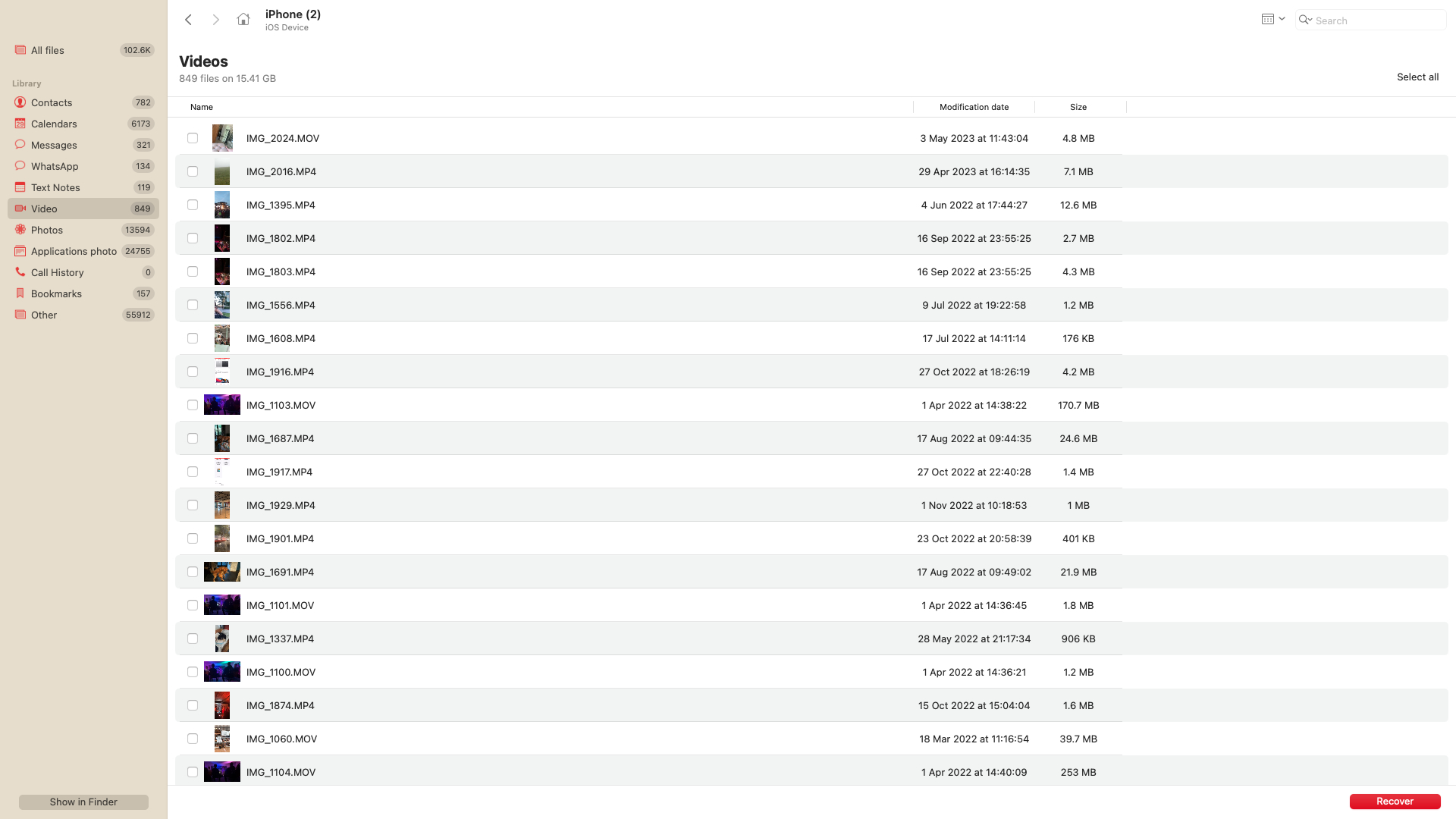 Pros
Works will almost any iPhone
Subscription includes macOS tools
Cons
Scans do take a while
Requires a Mac
We've already talked about Disk Drill for Mac, but one of the advantages of the software is that it also handles recovering data from iOS/iPadOS devices, as well as Android. So it's an excellent all rounder. The iOS/iPadOS capabilities work only with the macOS version, meaning Windows users with iPhones need to look at FonePaw below.
The software is compatible with pretty much every Apple device – from the iPhone 3G up to the latest model and supporting iOS 5 through 16. That's quite a lot of coverage, all made possible by the software running on the Mac rather than the device itself.
Once the app is installed on your desktop, plug in the iPhone or iPad and the program will automatically detect it and give you the option to begin scanning. It's not the fastest at this, but when the cycle is complete you'll be give a list of the files that can be recovered from the device to your Mac. Disk Drill can retrieve deleted photos, videos, contacts, calendar entries, voice memos, text notes, messages and other files.
As you may have guessed, the free version will only show you the files you could recover, but that feature is locked behind the paywall which will set you back $89/£87.47. Of course, that subscription also opens up all the data recovery features for your Mac, so it's not bad at all.
2. FonePaw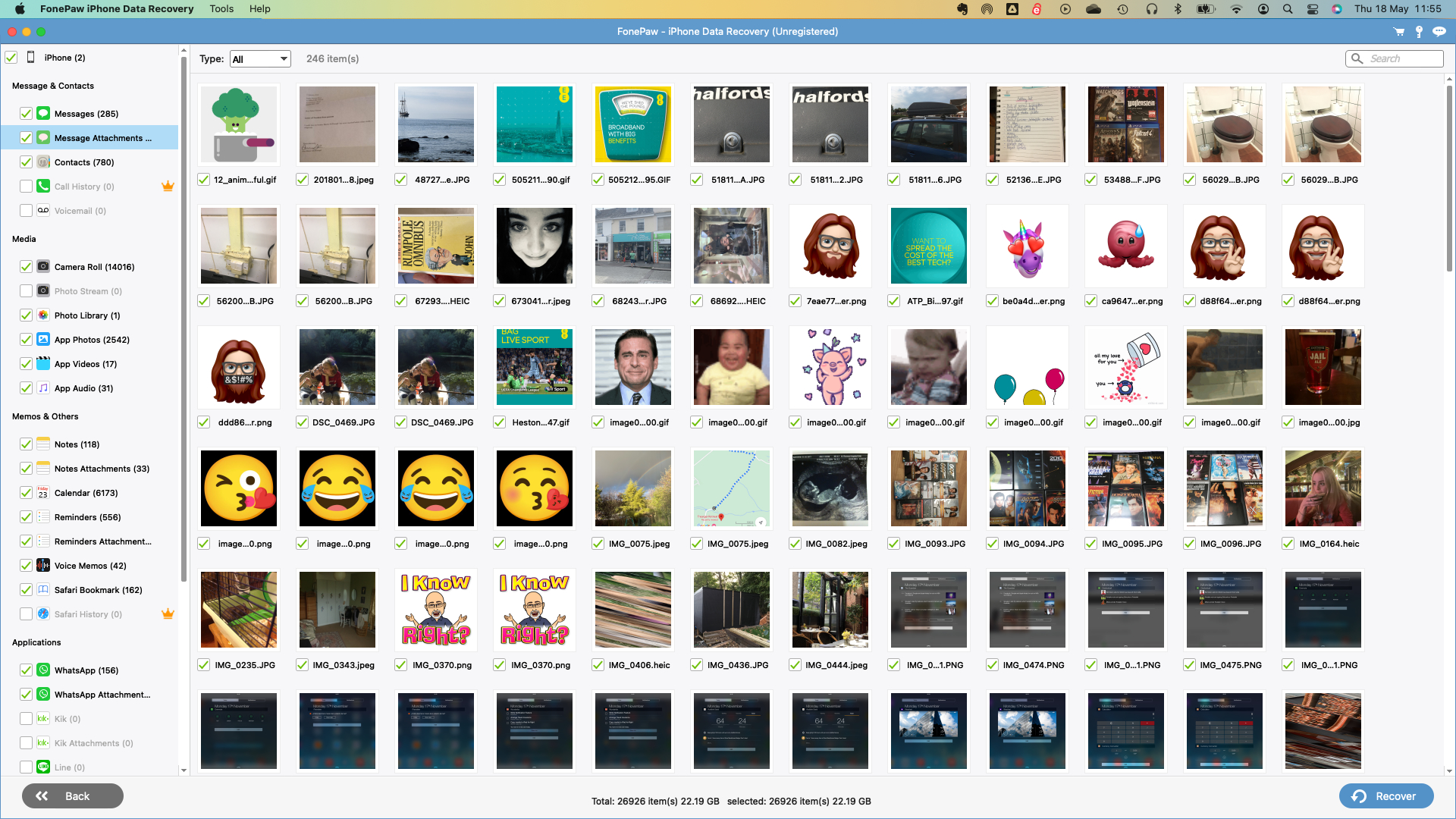 Pros
Works with iCloud and iTunes
Supports all versions of iOS
Price When Reviewed:
$66.47 per year
Another option for iPhone data recovery is FonePaw. Like Disk Drill, you'll need to use a Mac or Windows PC to run the program and the free version is only a demo, so any recovery will require a subscription. Of the ones on offer, the $66.47/£47.56 annual plan is the best value, but you can just sign up for a single month (costing $54.56/£39.16) if you gamble that you won't need data recovery tool again within 12 months.
It's compatible with iPhones as old as the 3G and supports all versions of iOS, so you're covered even if your phone is really old. With the app installed and running you'll be able to search and recover photos, contacts, messages, videos, Safari history, voice memos, app documents, WhatsApp content and more.
To use FonePaw you need to connect your iPhone to your Mac or PC then manage everything from there. This is the best way to do this kind of work, as it means you're not installing an app on the phone – potentially overwriting one of the very files you want to recover.
FonePAW can scan and recover files from your iPhone, iPad or iPod, plus iTunes backups and iCloud backups, making it a good all-rounder if you live in the Apple ecosystem. The interface is smart and very Apple-like, and most people should get to grips with it in no time at all. Which is a good thing, as hopefully it will be a long time before you'd need to use it again.