The days are getting shorter and the temperature is dropping. To get the most from your work day at home and ensure your nights are toasty warm and comfortable, you may need a new portable heater.
There are several types of heater available, including fan, ceramic, halogen and oil filled. If you're not sure which sort would be best for your situation, have a look at our guide outlining the different types and their advantages and disadvantages.
Before you buy a portable heater, there are a couple of things to keep in mind. The first is safety. Never cover your portable heater or use it to dry clothes.
Second, be aware of cost. A portable heater can save you from needlessly cranking up the central heating but if you run a plug-in heater all day, it'll consume a lot of power.
If you're in the UK, have a look at your new tariff, find the wattage of the heater you've got your eye on and use an energy calculator to work out what it'll cost you to run.
For example, running a 1000W heater on an average tariff under the new October price cap will cost 34p an hour. If the heater is left on for an entire working day, that would be £2.38. This is just an average estimate, by the way, and different power settings will consume more or less electricity. You can get a much more accurate idea of cost by using a power meter. We explain how.
If you want to heat up your home and potentially save money with more control over individual radiators, check out our guide on the best smart radiator valves. And if you're ready to take the leap and buy a whole smart home heating system, read our round-up of the best smart thermostats available.
The best portable heaters
Princess Smart Glass Panel heater – Best for semi-permanent use
Pros
Minimalist
Silent
Powerful
Smart features, including scheduling
MSRP:
Not available in the US
This is a slightly different type of heater, for a different kind of use. Although it can be moved, it's heavy and not as portable as many of the options in this round-up.
In fact, it would be excellent as a (semi-)permanent addition to a garden office, extension or little-used spare room. If there's a room you don't heat via central heating, this would be a perfect way to keep it warm. The panel heater is slim, silent and can be wall-mounted or fixed on feet (which you'll have to do yourself when you unpack it).
Its minimalist design is complemented by a a subtle touchscreen display but to make the most of the heater, you'll want to set up its Wi-Fi smart features, which will allow you to schedule and operate it remotely on your phone (although you should be very careful whenever turning on a heater remotely). You can also switch it on and off using voice commands via your home assistant.
This means you can make a cold bedroom cosy before you head up or get an office warm enough for the day ahead – without wasting any heat when you're not using it.
It's a powerful heater and good value for its price point. We tested the 1,500W model, but there are also 1,000W and 2,000W models available from various retailers including Amazon. Their prices are only slightly different, so make sure you know which one you're getting as it could make a big difference to running costs. Still, thanks to its smart features, you can set a timer and only use it as necessary, which will help to save money.
Read our full
Princess Smart Glass Panel Heaterreview
Dreo Solaris Slim H3 Space Heater – Best compact heater
Pros
Compact
Attractive
Powerful
Dreo's heater is a neat, attractive little appliance. It's a miniature column 40.5cm tall and 14.5cm in diameter, so it'll be easy to find a spot for and can be used under or on a desk as a personal heater.
It has three heat settings (900W, 1,100W and 1,800W), which allow you control of the temperature and your spend. Plus, there are failsafes to ensure you don't leave it running. In Eco mode, the heater will switch off when it reaches a set temperature. Or you can set a timer for up to 12 hours, to ensure you won't forget to switch it off.
The heater can oscillate, to warm up a larger area. Controls come via a control panel on top of the device, and an LED display. There are no smart features but it also comes with a remote control. Its safety features include tip-over and overheating protection, but if you don't use the timer or Eco mode and forget about it, it won't switch itself off until 24 hours has elapsed.
UK users should also beware: its 1,800W top setting is power-hungry. On the new, post-October UK tariff, it could cost 64p per hour.
MeacoHeat MotionMove Eye 2.0kW – With motion detection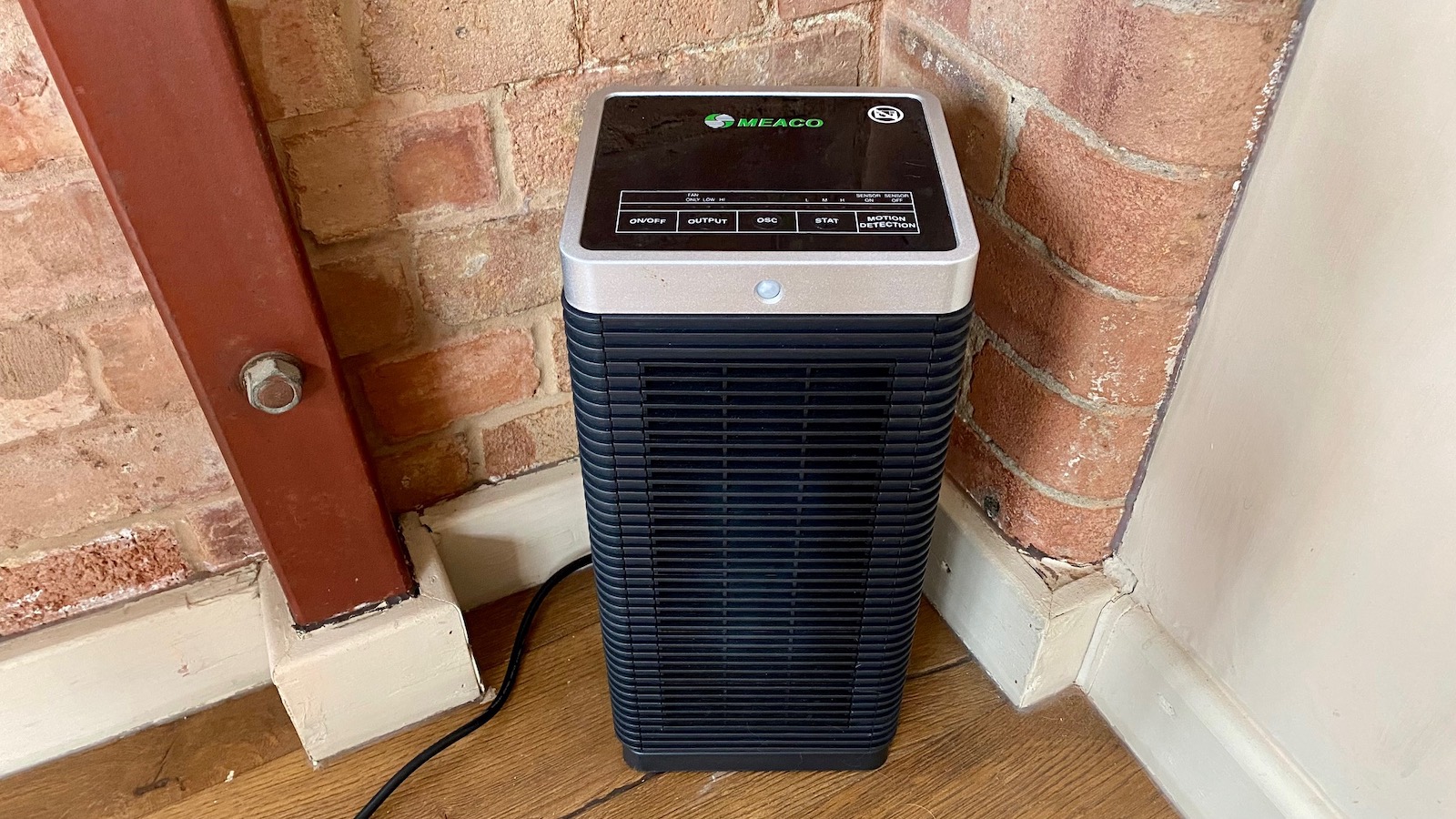 Pros
Quiet
Cooling option
Power-saving motion detection
Cons
Cooling fan power is overly gentle
The MotionMove Eye is a ceramic heater with a motion detection feature. Even on high output, it's extremely quiet. Yes, it's still creating some background noise, but it won't drown out the dialogue when you're watching TV and it's powerful enough to heat a whole room.
It's a small tower heater, just under 40cm high and 16cm x 18cm wide. It's simply and understatedly designed and it comes in black, white and red, so it should fit in to any colour scheme (although if you go for the red model, you'll lose the understated quality in favour of an appliance that blends into your room as subtly as a mini post box).
It has three heat outputs: low, high and fan only, which means you can use it to cool the air in summer – a nice extra, meaning you can get year-round use of the device. Still, the fan is gentle. It won't be enough to cool an entire room on a very hot day but it'll make a difference to the comfort of a person sitting nearby.
You can choose to have the MotionMove in a fixed mode or oscillating to warm a wider area.
Once you've set the heat output, you can choose a setting between low, medium and high. The heater will stop when the surrounding area reaches that temperature and come on again when it cools.
If you switch on motion detection, the heater will come on and stay on as long as it senses movement within a metre's range. It works well, although you have to make sure that the space between you and the heater is kept clear. If you're sitting completely still, you might have to wave every now and then to keep it going.
This means that you won't waste power heating the room if you leave for for a while. Still, it's 1,000W on low power and 2,000W on high, so it will cost you if you leave it running.
There's a smaller version of the heater that you could use on a desk or table. It doesn't oscillate but the heating can be set on a timer.
Princess Smart Heating & Cooling Tower – Best 2-in-1 appliance
Pros
Versatile
Attractive
Easy to use
Good smart features
Cons
Still relatively pricey
Fan is noisy on higher settings
MSRP:
Not available in the US
This tall, slim tower can stay out year-round, as it also doubles as a fan. Nor will it take up much space, as it has a very small footprint. If you did want to move it, however, you'll find that it's light (7.6lbs) and portable – there are no moving parts to catch on things or flap around when you lift it.
It's bladeless, so it's child and pet-friendly – as well as having attractive, minimalist lines.
Best of all, though, are its smart features. Once you've downloaded the HomeWizard Climate app and connected it to your home Wi-Fi (a doddle when we tested it), you can control it remotely and set up schedules, including different options for weekdays and weekends.
There is even support for voice controls via Google Assistant, Alexa and Siri. This basically amounts to switching it on and off, although there's a surprisingly granular level of settings options, so you can have different voice commands to switch on, for example, a low level of heat, with oscillation, or a cooling fan blast that diminishes over the course of an hour.
There are 10 fan settings, four heat settings, oscillation and three modes: natural (which varies the airflow, to distracting effect), normal and sleep (which slowly reduces its intensity while you drift off).
There's also an inbuilt thermostat, which allows you to set a target temperature. When it reaches this level, the heater will turn off. It'll come back on again when the temperature drops. There's also a timer, which you can set in increments of one hour, for up to 24 hours.
It comes in a choice of black or white and it's ready to use as soon as you unpack it, with no assembly required, The supplied remote control even comes with two AA batteries.
On the minus side, the cooling fan does get noisy on higher levels – much more so than a traditional circular fan – and it's a power-hungry 2000W.
Read our full
Princess Smart Heating and Cooling Towerreview
De'Longhi Capsule Ceramic Fan Heater – Stylish, compact design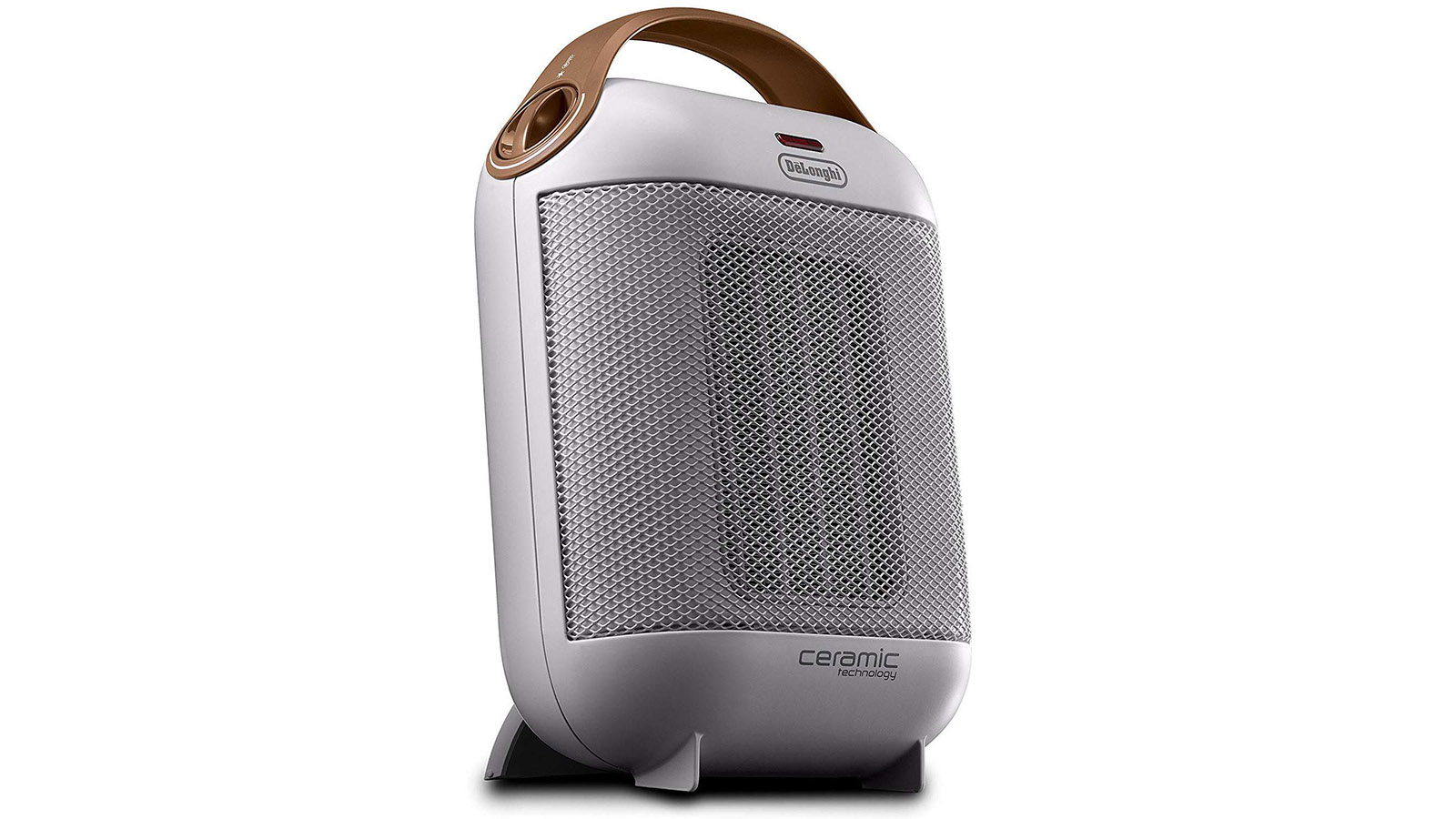 The Capsule isn't the cheapest small heater you'll find on the market but there's much to like in its compact form.
For one thing, it looks good. That's an important factor in an appliance that will spend its life on show in your home or office. The cute grid stylings, mixture of metal and ceramic, and its modern, curved edges set it apart from many heaters that are built for service but not for display. This is a piece of tech that'll fit into your home and quickly become part of the furniture.
The Capsule feels built to last, and is a great size. Weighing around 1.3kg, and 192 x 137 x 270mm, it's perfectly portable. Critically, it's equally at home on the floor or on your desk, which isn't true of all 'compact' heaters. And its 1,800 watt output pumps out plenty of heat, and quickly – although this means it's also very pricey to run.
So what's not to like? Noise. The Capsule is compact in all respects except for its audio footprint. After a while, you'll tune out its sound but if you're hoping for a silent heater, this is not it.
Attractive, compact and capable: we like the Capsule a lot. We just wish it was a little quieter.
Dreo – PTC Fan Heater – Best desk heater
Pros
Quiet
Well made
Powerful for its size
Cons
Oscillation of limited use
Measuring just 5.5 x 6.7 x 10.3in (approximately), this handy little heater could stand on your desk – or under it.
What makes it stand out from competitors is its build quality. It's compact and attractively made, with nice features including a carry handle at the back and an illuminated LED display at the top. It's even fitted with a removable filter to prevent you from getting a dust cloud in the face when it's switched on (useful if you've stored it away in a dusty cupboard over summer).
It's definitely a personal heater, rather than one to warm up a room but at 1,500W on its highest setting, it's powerful and effective for its size. But that also means it's expensive to run.
It has four modes, including a fan-only option, which could be useful to keep you refreshed if you're stuck at your desk over summer. It also has a 12 hour timer and it can oscillate, although I found these to be less than compelling features in a heater of this size, where you're likely to be using it close up and on an ad-hoc basis.
It has an energy saving mode in which it switches off when it reaches the temperature you've set. However, it was only partly successful in our test. It switched off when it reached the temperature threshold, but was inconsistent in switching back on, perhaps because it got too warm itself.
Its safety features include overheating and tip-over mode protection.
Dimplex M2GTS Ceramic Heater – Powerful ceramic heater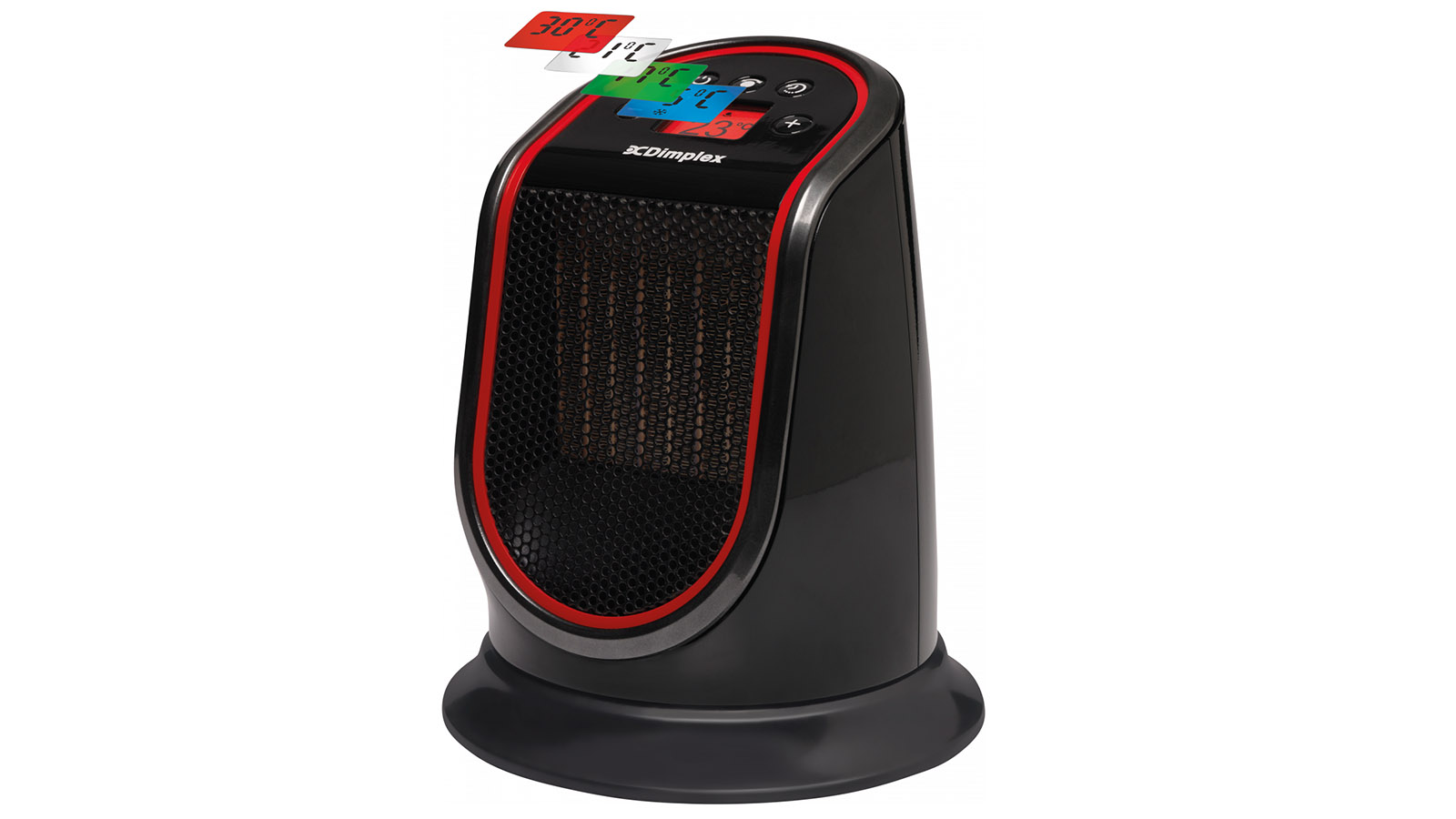 Pros
Powerful
Timer
LCD screen
Cons
Won't suit every interior
The Dimplex M2GTS might be relatively expensive for its size, but this ceramic heater packs a punch.
If you need a compact heater with genuine power, the M2GTS will suit. It's less than a foot tall but can kick out 2kW of power, making it perfect for placing under a desk or in another small space. Its black and red design is stylish, plus it has a useful handle at the back for moving it around.
Spending a little more on a heater like this means you get a bunch of handy additional features.
The M2GTS has three power settings. We really like the small LCD screen that shows the temperature you can set. It goes from a 5°C frost protection all the way up to 30°C and the display changes colour as you go.
You also get optional oscillation, as well as a 12-hour timer. This will ensure you don't leave it on and forget about it, but at 2000W, it's one of the most power-hungry heaters in our round-up.
Dimplex EvoRad 2kW Oil Free Radiator – Quietest heater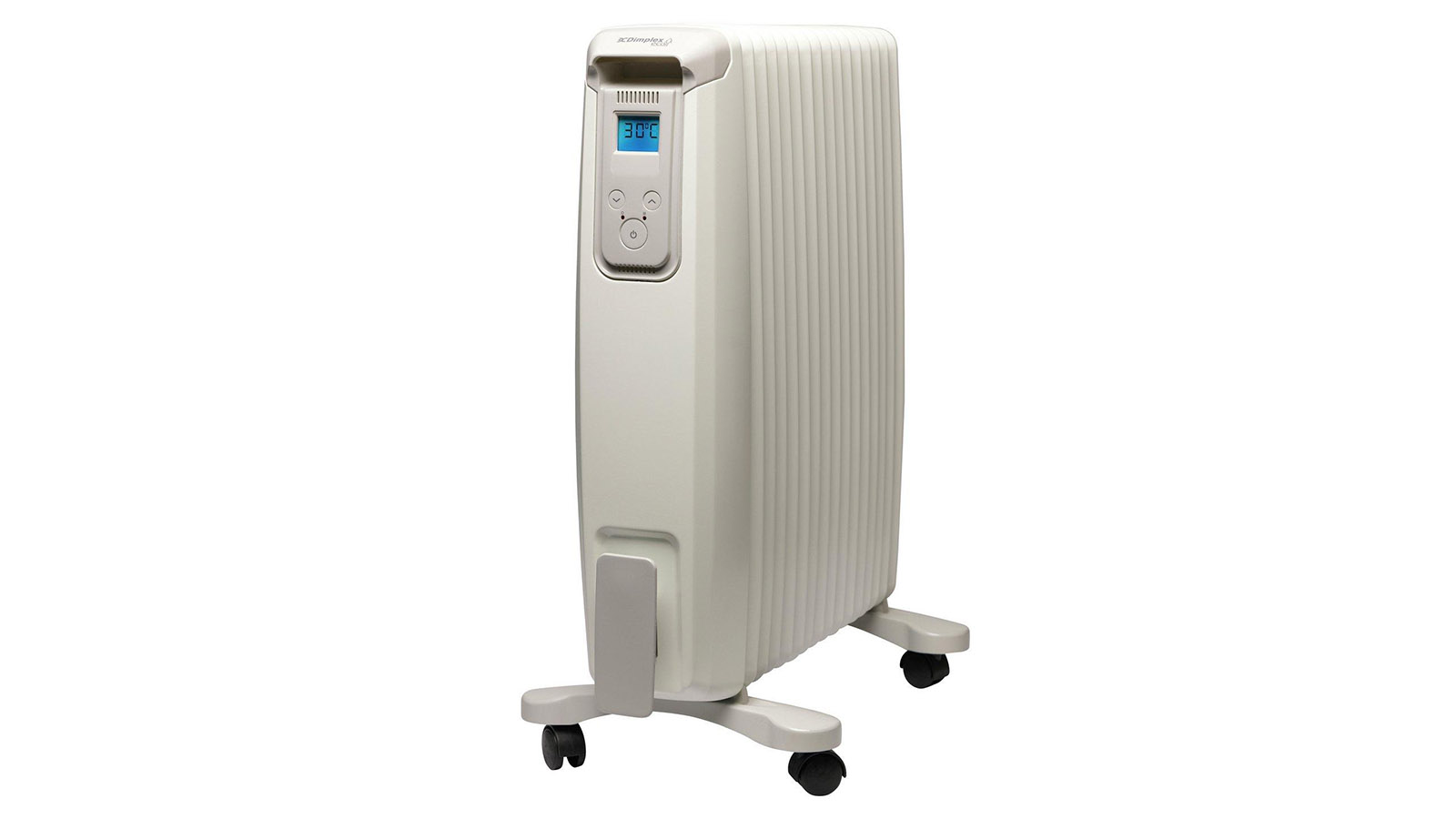 Cons
Fiddly settings
Flimsy castors
MSRP:
Not available in US
The headline feature of the EvoRad 2kW is that it's completely oil-free, which allows it to heat up much more quickly than a standard radiator: it'll begin to warm a room up to 25m2 within minutes of being turned on. It's not quite as fast as a fan heater, but we think it creates a more comfortable heat and, most importantly, it's completely silent.
It has an LCD monitor that allows you to set the ideal room temperature (anything from 5-30°C), and using a built-in thermostat, it'll turn itself on and off when required to save energy.
There's also access to a runback timer and a delayed start option, although these are a little fiddly to activate and we'd have preferred dedicated buttons on the radiator for ease of use.
The lack of oil means that it's fairly light for a radiator as well – not that you'll need to carry it from room-to-room, thanks to the addition of inbuilt castors. These are a little flimsy, however, so don't apply too much force when moving it around.
How we test our heaters
Rather than performing a series of tests in lab-style conditions, we take the heaters home and try them out. We keep products for several weeks and use all of their functions in as many situations as we can think of, so we can give you an honest evaluation of how well they'll work in your life.