Gaming on phones has been popular since the days of Snake, long before the likes of Candy Crush Saga took over our commutes. But these days smartphones are becoming viable gaming devices for more than simple distractions on the go, and mobile gaming is a giant industry in its own right.
Eventually cloud streaming will level the performance playing field, but until then committed mobile gamers need to pick up smartphones designed for the purpose. The best gaming phones deliver maxed out performance, great displays and audio, and often designs that incorporate extra trigger buttons or other gaming-specific features.
The big brands here aren't the same ones you'll see elsewhere. Asus ROG undoubtedly leads the pack – so long as you're happy to pay a premium for the brand – while Xiaomi's Black Shark line and ZTE's Red Magic series provide serious competition.
You may instead find that you prefer a 'regular' phone, albeit one with top performance, so we've included a few of those in this ranking too. That includes the iPhones we think are best suited to gaming, along with a few Android options that prioritise performance without going all-in on the gamer aesthetic.
Best gaming phone 2022
1. Asus ROG Phone 6 – Best gaming phone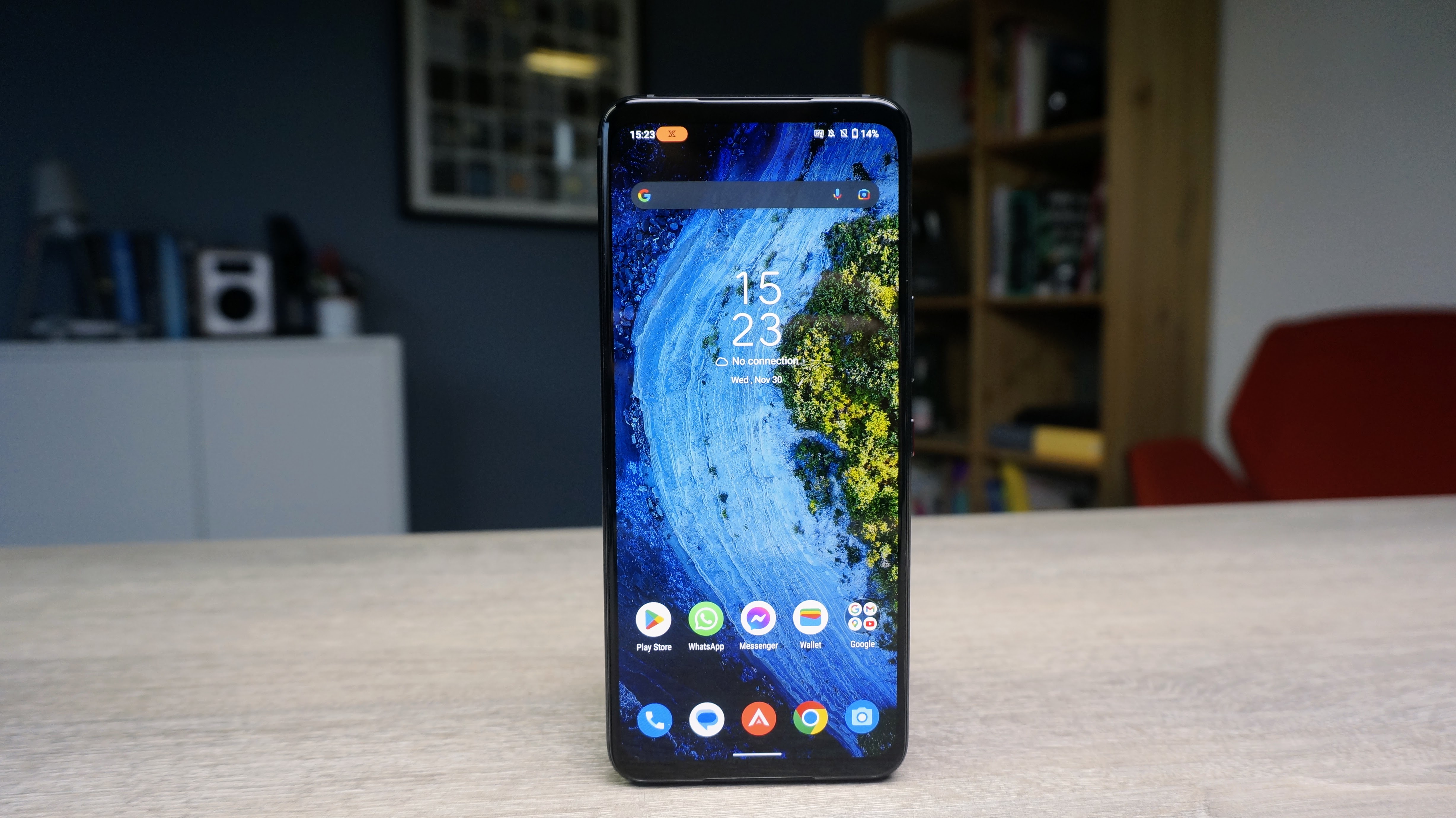 Pros
Stellar performance
Stunning display
Solid battery life
Surprisingly good cameras
Cons
Can run hot without fan
No wireless charging
Only two years of updates
MSRP:
From £999.99 | Model reviewed £1,099.99
There are loads of options when it comes to gaming phones these days, but the regular ROG Phone 6 is the best for most people.
It excels at the fundamentals, delivering stellar performance, a stunning display, and great battery life. With decent cameras, two USB-C ports, and even a headphone jack, there's a lot to like here.
However, it's not perfect, with a lack of wireless charging and poor software update commitment the most prominent problems. You'll also need to connect a fan for long gaming sessions.
But none of these are dealbreakers for most people, and the ROG Phone 6 provides such a well-rounded experience elsewhere. If you're serious about gaming on your phone but just want the best core experience, this is the phone to buy.
Read our full
Review Asus ROG Phone 6
2. Red Magic 7 – Best for display quality
Pros
6.8in 165Hz OLED display
720Hz touch sample rate
Great performance
Cons
Heavy build
Hit-and-miss battery life
Snapdragon 8 Gen 1 – not 8+
MSRP:
From $629 | Model reviewed $799
Nubia's Red Magic smartphones have a reputation as having some of the best gaming-focused displays around, and that's just as true with the latest in the collection, the Red Magic 7.
At its heart is a fast 6.8in 165Hz OLED panel with an impressive 720Hz touch sample rate that beats practically every other smartphone on the market. Though you might not notice much of a difference in real-world performance, it'll certainly satisfy the need for gamers to have the best of the best.
That's paired with the flagship specs including Qualcomm's Snapdragon 8 Gen 1, up to 18GB of RAM and 256GB of storage, and an updated three-fan cooling system to keep things running smoothly during longer gaming sessions.
There's also a plethora of gaming features including side-mounted touch-based shoulder triggers, advanced haptic feedback and the ability to control performance on a per-game basis, and it's all presented in Red Magic's 'Game Space' mode.
The only real disappointment is battery life: it's smaller than that of its predecessor at a rather average 4500mAh, and combined with a 165Hz display it drains much more quickly.
Read our full
Review Red Magic 7
3. Black Shark 5 Pro – Best for physical triggers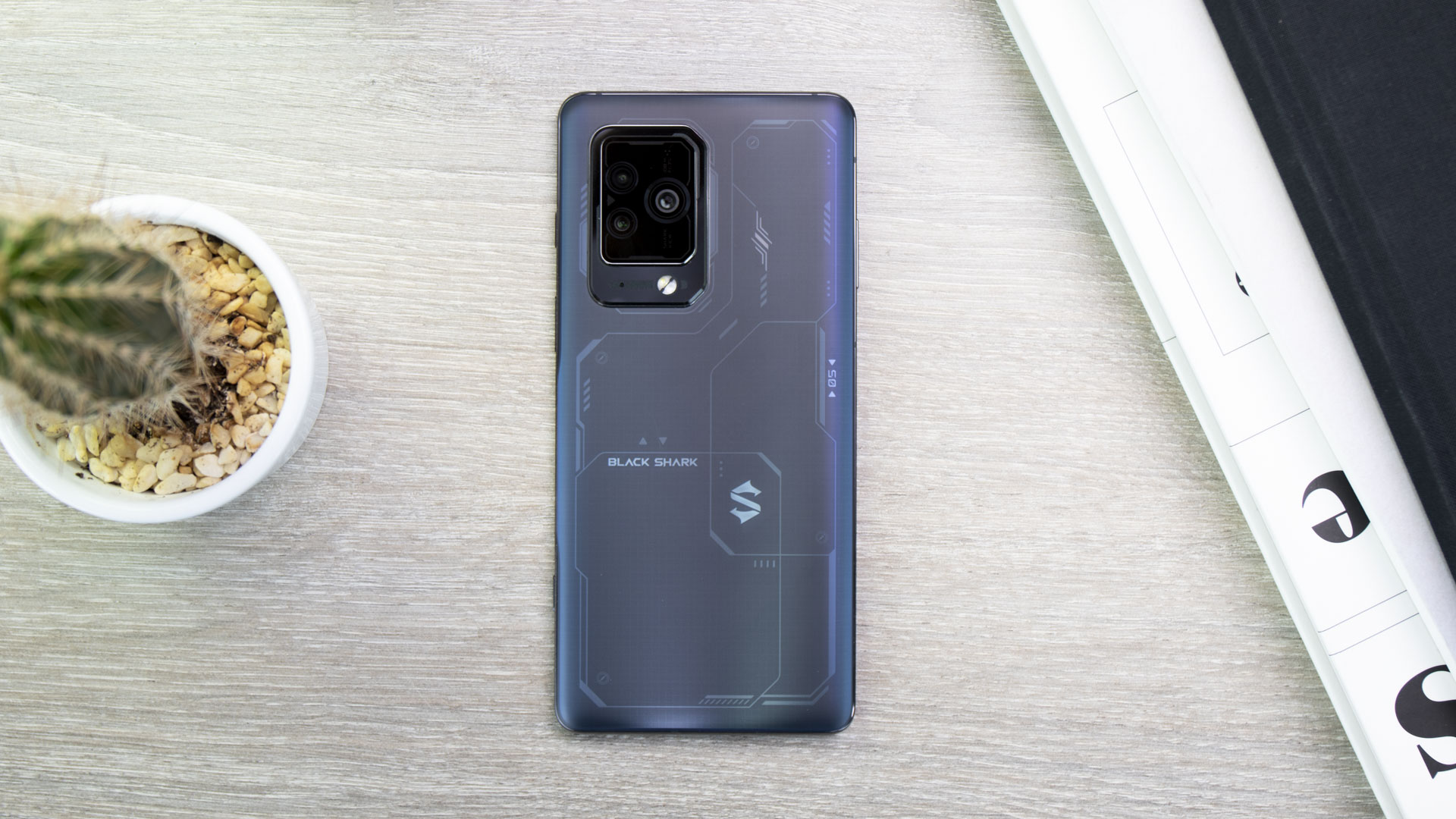 Pros
Strong gaming performance
Fast, responsive 144Hz display
Built-in magnetic triggers
Great main camera
Cons
Fixed focus on ultrawide camera
Can get hot over prolonged sessions
JoyUI takes some getting used to
MSRP:
From $799 | Model reviewed: $899
he Black Shark 5 Pro might not redesign the wheel, but it ticks all the boxes for gamers: it has a buttery smooth 144Hz refresh rate, top-level performance, gaming-specific features like magnetic triggers and gesture-activated shortcuts plus much more.
The 120W charging, while unchanged, provides some of the snappiest charging times around achieving a full 100% charge in under 30 minutes, though the downside is a smaller battery than alternatives.
Unlike the touch-based triggers of some rivals, the Black Shark 5 Pro has magnetic triggers that pop up from the body of the phone for a more traditional controller experience, making for a great portable gaming experience without the need to carry additional accessories.
Though not usually a focus for gaming phones, the Black Shark 5 Pro has an impressive 108Mp rear-facing camera that's capable of taking decent snaps, though the decision to include autofocus capabilities to the macro lens and not the more popular 120-degree ultra-wide is an odd decision that leaves some ultrawide shots looking a little soft.
It is more expensive than the competing Red Magic 7 Pro, but the magnetic triggers, in particular, make the Black Shark 5 Pro a compelling gaming smartphone that negates the need for a controller in many games.
Read our full
Review Black Shark 5 Pro
4. Asus ROG Phone 6 Pro – Best ultra flagship
Pros
Class-leading performance
Gorgeous 165Hz OLED screen
Superb battery life
Impressive speakers
Cons
Expensive
No built-in fan
Heavy and bulky
The Asus ROG Phone 6 Pro is arguably the ultimate gaming phone – but you'll have to pay for it.
Performance is the priority here, so the phone is powered by the Snapdragon 8+ Gen 1 chip – the most powerful around.
Specs elsewhere are supreme too, with a 165Hz AMOLED screen, 6000mAh battery, and up to 18GB of RAM.
It also features a unique PMOLED screen on the rear of the phone, used to indicate incoming calls, notifications, and charge state, and like all the ROG Phones it ships with a range of optional extra accessories.
The only problem is the price: it's more expensive than all its rivals, which in some cases cost half the price but offer similar performance. It's a great high-end bit of kit, but there are plenty of gaming phones that'll give you the same bang for less buck in 2022.
Read our full
Review Asus ROG Phone 6 Pro
5. Poco F4 GT – Gaming phone that doesn't look like one
Pros
Incredibly fast 120W charging
Magnetic shoulder buttons
Restrained design
Cons
Middling battery life
Snapdragon 8 Gen 1 – not 8+
No gamer software/accessories
MSRP:
Unavailable in the US
The Poco F4 GT is an attempt to build a gaming phone that could be just as appealing to non-gamers.
The F4 GT packs the hardcore hardware you'd expect: a Snapdragon 8 Gen 1 chipset, 120Hz AMOLED display, and up to 12GB of RAM – not to mention almost absurdly fast 120W charging. It even includes pop-up magnetic shoulder buttons similar to those found in the Black Shark 5 Pro.
But the restrained design means this won't scream 'gamer' to everyone who sees it, and the shoulder buttons double up with extra functions outside of games – a camera shutter button, for example.
Read our full
Review Poco F4 GT
6. Red Magic 7S Pro – Most responsive display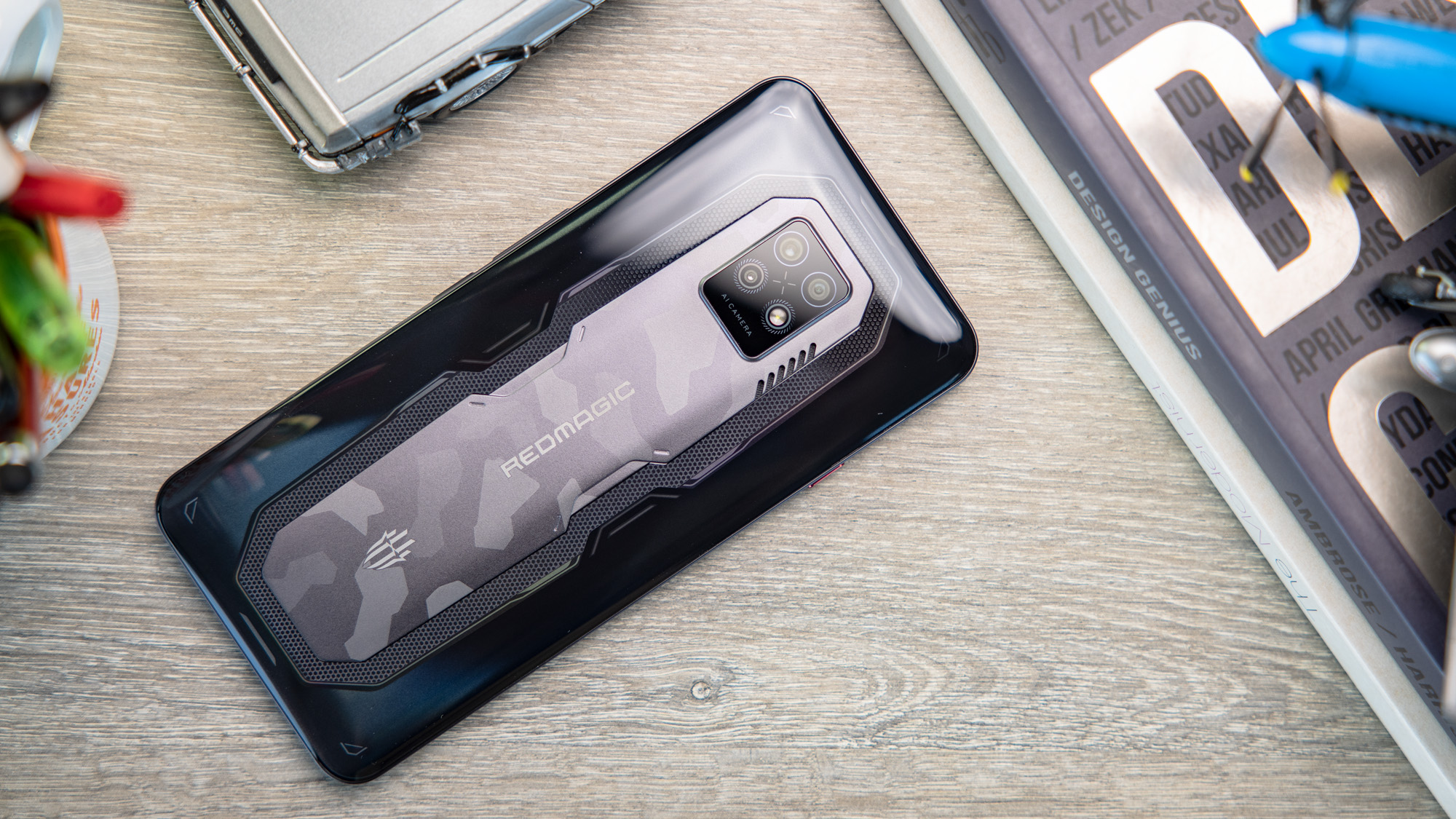 Pros
Record 960Hz touch-sampling rate
Under-display selfie camera
Impressive battery
Cons
Heavy build
Only guaranteed one Android version update
'Only' 120Hz refresh rate
The Red Magic 7S Pro is an unusual phone. It's a small upgrade on the 7 Pro – chiefly to include the newer Snapdragon 8+ Gen 1 chip – but it's also not a clear upgrade on the regular Red Magic 7 in every respect, and in fact we'd recommend that phone to most people (the non-Pro 7S never got a global launch).
The changes here are mostly in the display. The first is that the 7S Pro comes with the most responsive display in any phone right, registering touch input at 960Hz – i.e. it can detect touches 960 times a second. That's literally a game-changer, but it brings a drawback: the screen refresh rate is 'only' 120Hz, down from the 165Hz of the regular 7.
The other change is the inclusion of an under-display selfie camera. This helps keep the 7S Pro compact and gives you a gorgeous full-screen experience, but again there's a trade-off: your actual selfies won't be all that great, with a soft, over-processed look to them.
This packs plenty of power and delivers on battery life too, but with a hefty price tag consider carefully if you really need the upgrade from the Red Magic 7 – or if you'd be happy with the slightly cheaper Red Magic 7 Pro, which is essentially the same phone with the older Snapdragon 8 Gen 1.
Read our full
Review Nubia Red Magic 7S Pro
7. Motorola Edge 30 Ultra – Best Android flagship for gaming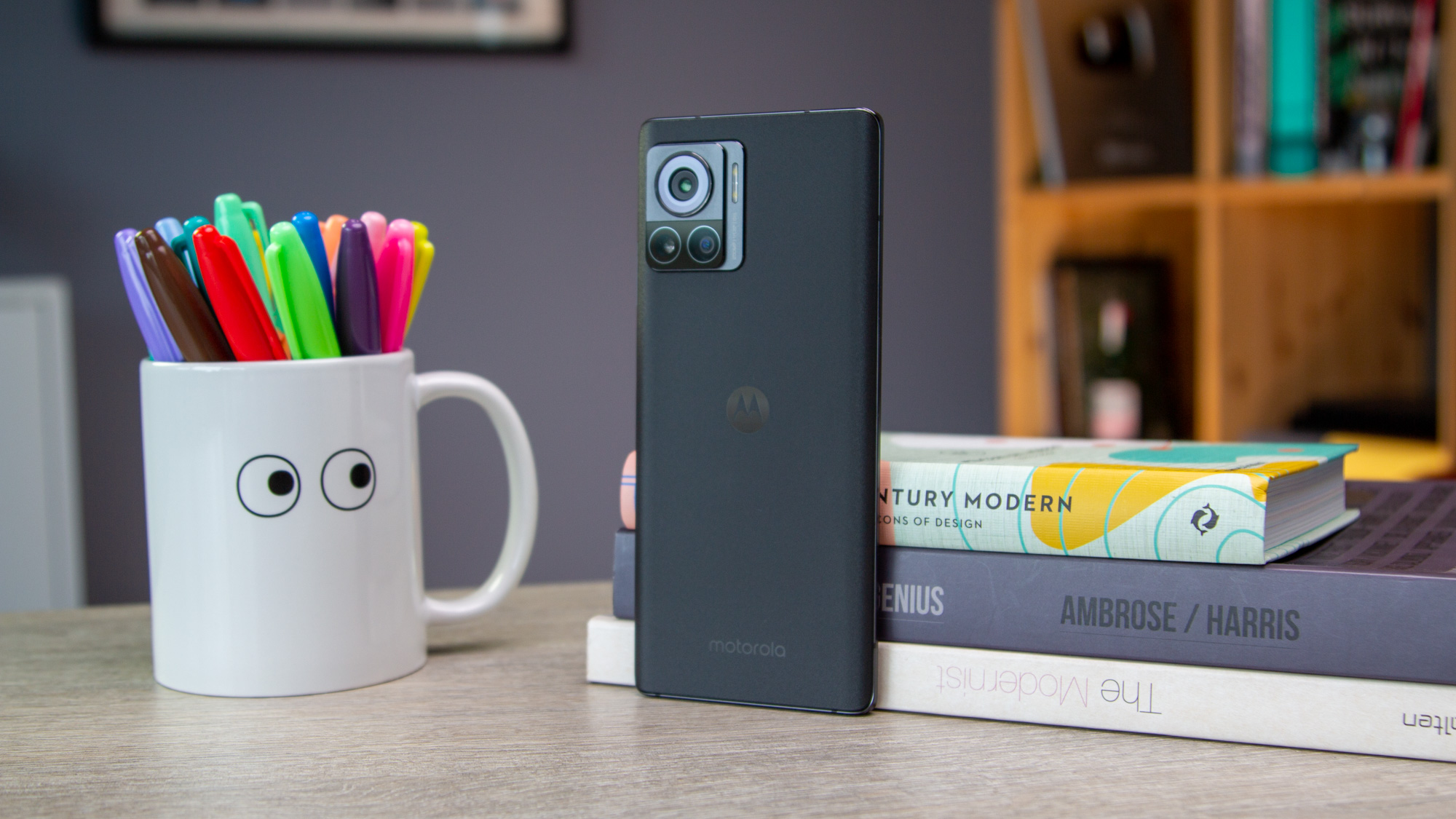 Pros
144Hz OLED display
Fantastic performance
Excellent value
Phenomenal battery & charging
Cons
Only IP54
No gaming-specific hardware
MSRP:
Not available in the US
Though the Motorola Edge 30 Ultra doesn't look like much of a gaming phone, the flagship has a surprise or two up its sleeves.
It's powered by Qualcomm's top-tier Snapdragon 8+ Gen 1 with 12GB of LPDDR5 RAM and 256GB of storage, making it an impressive device able to take on dedicated gaming phones. There's also the 6.7in AMOLED display to consider, with a gaming-grade 144Hz refresh rate – pretty much the only non-gaming phone to go that fast.
Gaming prowess aside, it also boasts absurdly fast 125W charging that'll get you a full charge in well under 30 mins, and a triple rear camera that's better than any you'll find on a gaming phone. Oh, and did we mention that the battery lasts for two full days of typical use?
So, while you might not get built-in triggers or cool gaming-focused software enhancements, you'll certainly get all the benefits of a flagship smartphone, plus the power you need to play.
Read our full
Review Motorola Edge 30 Ultra
8. iPhone 13 Pro Max – Best iPhone for gaming
Pros
Powerful A15 Bionic chipset
Superb battery life
6.7in 120Hz display
Cons
Expensive
No charger in the box
MSRP:
$1,099 (128GB), $1,199 (256GB), $1,399 (512GB), $1,599 (1TB)
When it comes to gaming on iOS, the 6.7in iPhone 13 Pro Max is the one to beat (well, except for the 14 Pro Max – which might take this spot once we've finished reviewing it!). Apple's 5nm A15 Bionic is one of the most powerful chipsets on the market right now and can handle just about anything you can throw at it without a hint of stutter or lag – and our benchmarks back that up too.
Importantly, the iPhone 13 Pro Max sports a gorgeous Super Retina XDR display that makes games look incredible on the iPhone, whether they're free-to-play titles or the latest Apple Arcade exclusives.
It's also one of the first iPhones to make the jump to a variable 120Hz refresh rate, offering the buttery-smooth refresh rate – and improved response time – that make Android rivals so strong.
There's also up to a whopping 1TB of storage available, so you can carry an entire library of mobile games in your pocket, and the battery life is the best of any iPhone to date for longer play sessions.
The catch? It's on the expensive side, and you don't even get a charger in the box.
Read our full
Review Apple iPhone 13 Pro Max
9. Asus ROG Phone 6D Ultimate – Best when money is no object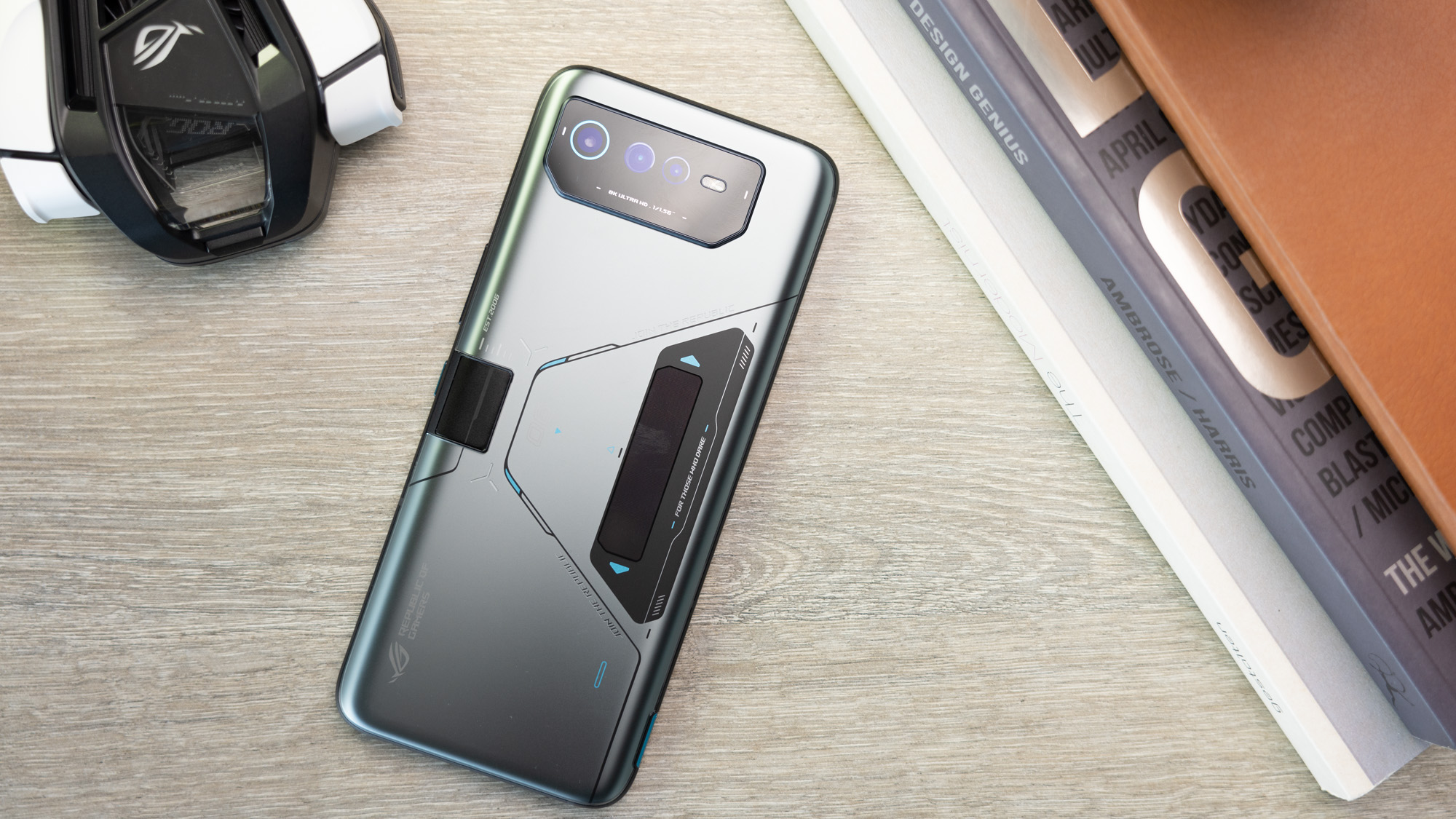 Pros
Top-tier performance
Excellent battery life
Stunning display
Impressive cooling system upgrades
Cons
Very expensive
Cooling 'portal' needs fan to be connected
Big and bulky
If you thought the ROG Phone 6 Pro was premium, the 6D Ultimate is on another level.
This version switches to a MediaTek Dimensity 9000+ chipset, and with that bumps the price up another notch.
Battery life is a bit better too, but the only other real change is the introduction of the 'AeroActive Portal': a small cooling flap that opens up when the official cooling accessory is attached, theoretically improving airflow even further.
Bragging rights aside, there's little here that the Pro doesn't offer though, so most people are better off saving a little and sticking with that.
10. Red Magic 6R – Most affordable gaming phone
Pros
Impressive performance
144Hz AMOLED display
Built-in triggers
Cons
Disappointing battery life
Red Magic OS
Hit-and-miss cameras
The Red Magic 6R is one of the cheapest gaming-dedicated smartphones on the market right now, and is a little older too, but that doesn't mean it skimps on features or performance.
Sporting a 6.67.in AMOLED display slightly smaller than that of the flagship Red Magic 6, you'll find the same 1080 x 2400 resolution and 400Hz touch sampling rate. The 144Hz refresh rate may be slightly slower, but it's still safely in gamer territory and the difference is negligible in real-world use.
Under the display you'll find the powerful Snapdragon 888 with either 6GB, 8GB or 12GB of RAM depending on the variant you opt for. It's capable of keeping up with flagship gaming phones in the performance department, but the lack of an active fan cooling system means it gets hot much quicker than premium alternatives.
The only real disappointment is battery life, with a 4200mAh battery only able to provide all-day usage if you drop the refresh rate from 144Hz to 90Hz.
Still, if you can look past battery life issues, the Red Magic 6R offers a premium mobile gaming experience at an affordable price.
Read our full
Review Nubia Red Magic 6R
Buying advice for gaming phones
---
1.
What is a gaming phone?
Put simply, a gaming phone is a phone designed for gaming.
That usually means a focus on performance, with a powerful chipset and lots of RAM to ensure it can play the latest mobile games smoothly. Most gaming phones also have big, responsive displays and powerful speakers – or even a headphone jack.
Some go further than that though, with distinctive designs built for gaming. That can mean extra cooling and larger batteries to ensure performance in long gaming sessions, built-in buttons and triggers to supplement touch controls, and in some cases even tricks like side-mounting the selfie camera and charging port to better suit using the phone in landscape.
The main downsides are that gaming phones tend to be bigger, bulkier, and heavier than most other options. They also usually have distinct 'gamer' designs, often including RGB lighting or extra displays, which may not be to your taste.
2.
Can I use a 'normal' phone for gaming?
Absolutely. Dedicated gaming phones have their place, but the actual performance gap between a gaming phone and a top 'regular' flagship is pretty small.
Gaming phones use the same chipsets as other high-end devices, they simply bolster them with improved cooling, bigger batteries, and usually more RAM. That can give a slight edge while gaming, but in practice any high-end iPhone or Android device will keep up.
So if you don't like the look of most gaming smartphones, or can't imagine giving up your Pixel camera just for CoD, you don't have to.
3.
Can't I just stream games over the cloud?
Cloud gaming is better than ever, but it's not there yet. While numerous cloud game streaming services are available, they're really only suited to single-player gaming – and even then, only while you're on Wi-Fi or reliable 5G.
Since many mobile gamers prefer to play competitive online titles, cloud gaming isn't really an option, as it introduces too much lag. The cloud also won't work for you if you don't have reliable access to fast internet.
That's why, for now at least, there's still a space for dedicated gaming hardware that offers the power necessary to max out your performance.
4.
What specs do I need for gaming?
There are a few key specs to look out for in a modern gaming phone.
The main one is the core chipset. Look for a Qualcomm Snapdragon chip that begins in '8' – the latest are the 8 Gen 1 and 8+ Gen 1, but the previous 888 series will do great too – or a similarly powerful MediaTek Dimensity chip. You'll also want at least 8GB of RAM to make the most of the chip – more is better, but there are diminishing returns beyond 12GB or so.
The display matters too. You'll probably want a fairly large screen to game on – at least 6.5in – and look for one with a 120Hz refresh rate or higher, and the fastest touch response rate you can find. Spending more for AMOLED tech over LCD will deliver better contrast and colours, but don't worry too much about resolution – gaming phones rarely go beyond Full HD.
5.
Which gaming phone accessories should I buy?
One extra perk of buying a gaming phone is that they usually offer a range of accessories to go with them. These vary by manufacturer, so there's no hard-and-fast rule on what to pick up.
Strap-on coolers and fans are a good way to maintain performance and reduce long-term damage to the phone's chip from overheating. If you find it fiddly to play on the touchscreen, you might also want to grab a Bluetooth controller. As with any phone, a protective case and screen protector are always a good bet too.
Related stories for further reading