If you've ever had to rush around at an airport to buy a travel adapter or worse, ended up staring at a dead Kindle on the plane, you'll know that forgetting an adapter can take the shine off a trip. And, if you have to buy at the airport, you'll pay twice as much.
Save money by planning ahead and purchasing a couple of power adapters online before your holiday. Once you've got them, you can keep them in your suitcase or travel bag and never get caught out again. That's not to mention those with USB ports you can use day-to-day, for charging multiple devices at once and maybe even providing fast charging options.
You can even find some world-to-world adapters, which will take any plug type, and connect to any socket – ideal not only for travelling, but also for any international tech that you end up bringing back from your trip to use at home.
If you're not sure which kind of adapter you need, have a look at our buying advice, which follows the chart. We've got information on sockets and connecting your adapter, as well as regions, voltage, and 2- versus 3-pin plugs.
If you're busy planning a trip, you might also want to take a look at our guide to the best portable power banks.
Best travel adapters
TEC UK to EU Travel Adapter Twin Pack – Best budget option (EU)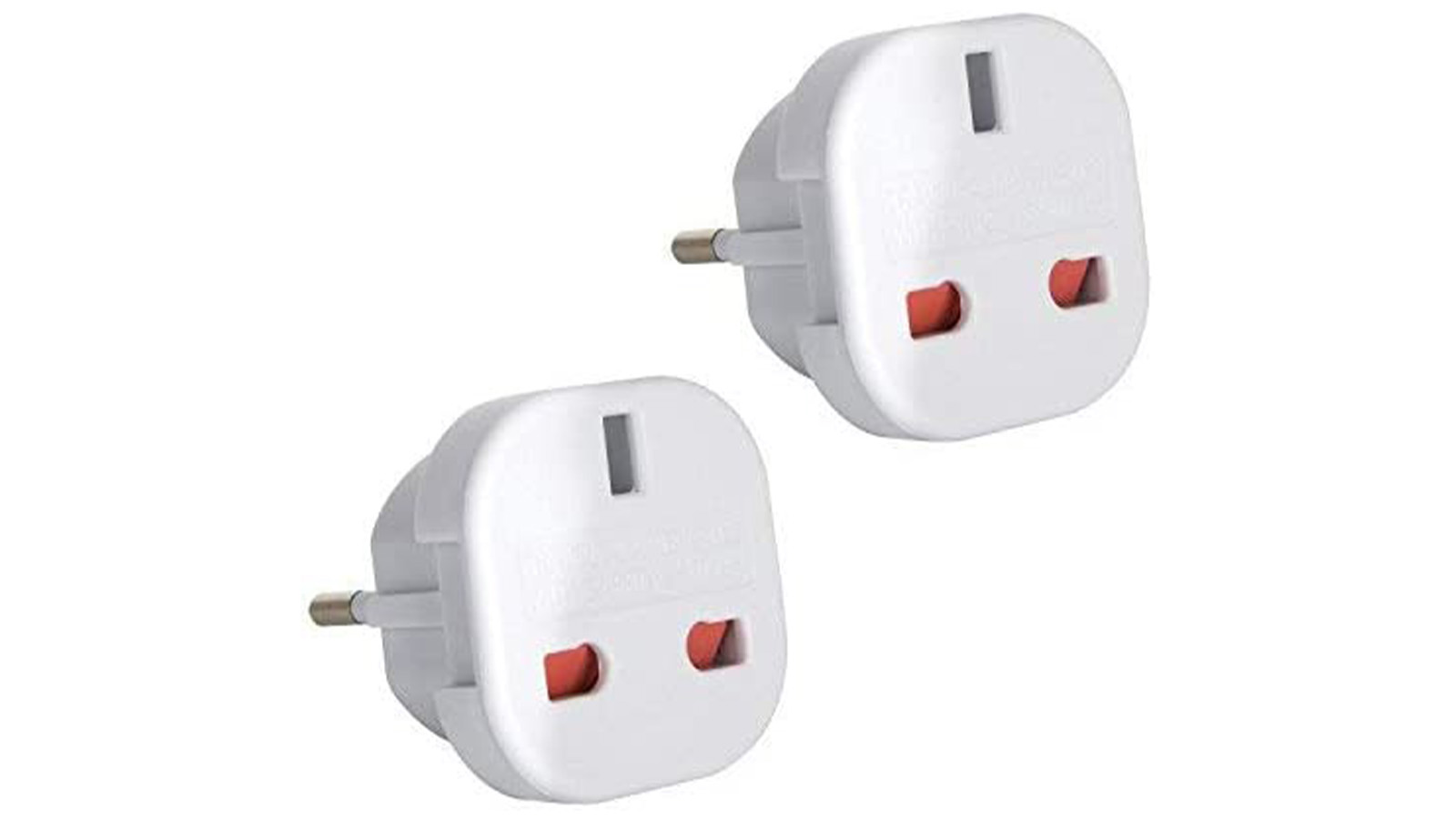 Let's start with something dead simple: this is a twin pack of UK to EU travel adapters, which will let you use your UK tech just about anywhere in Europe.
They're cheap and cheerful, but they work – and for most people, that's enough. They also cost a lot less online than buying the exact same ones in an airport newsagent.
If you know you mostly travel in Europe, or just have a specific trip coming up that you need an adapter or two for, this is the cheapest way to charge your gadgets once you're there.
TEC UK to US Travel Adapter Twin Pack – Best budget option (US)
Along very similar lines, here's the same adapter, but for the US and other countries that use this plug type, which includes Canada, Mexico, Japan and most of South America, among other locations.
Remember that it won't convert the voltage, so you may find that some of your UK devices charge more slowly in the US, and a few might not even charge at all if they can't draw sufficient power, but in our experience this is rare.
MyTravelPal Pro – Best safety features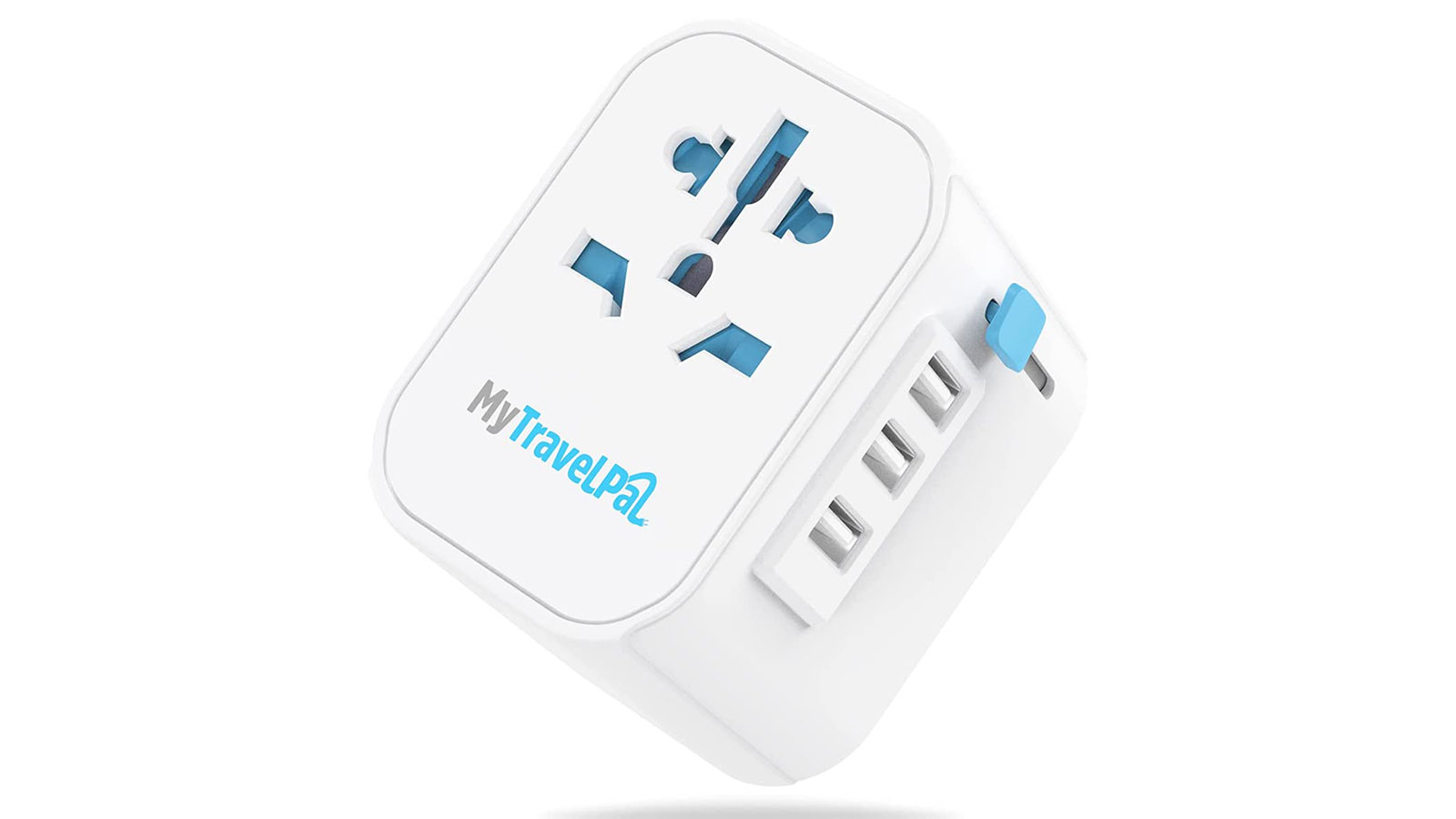 Pros
Safety features
3 USB ports for fast charging
Use in over 150 countries
Price When Reviewed:
Not currently available in the US
If you're concerned about safety, the MyTravelPal Pro adaptor is an excellent option, as it has two safety features: a surge protector that'll shut it down to protect your devices in the event of abnormal power; and ground/earth connections on all four plugs, so you can use high-powered devices without worrying.
Cleverly, you can unscrew the grounding pin on the US plug, so usage isn't limited to sockets with a third slot.
The Pro can power four devices at once, with a plug socket and three USB charging ports, which allow for quick charging (up to 70% faster than an average charger). This also means it's very handy around the home, so you'll get plenty of use from it.
It doesn't convert voltage but it does support a wide input range: 100-250V. It will work in over 150 countries, including Australia and New Zealand, Canada, China, Europe, Japan, UK and the USA.
Zendure Passport III – Best for home & travel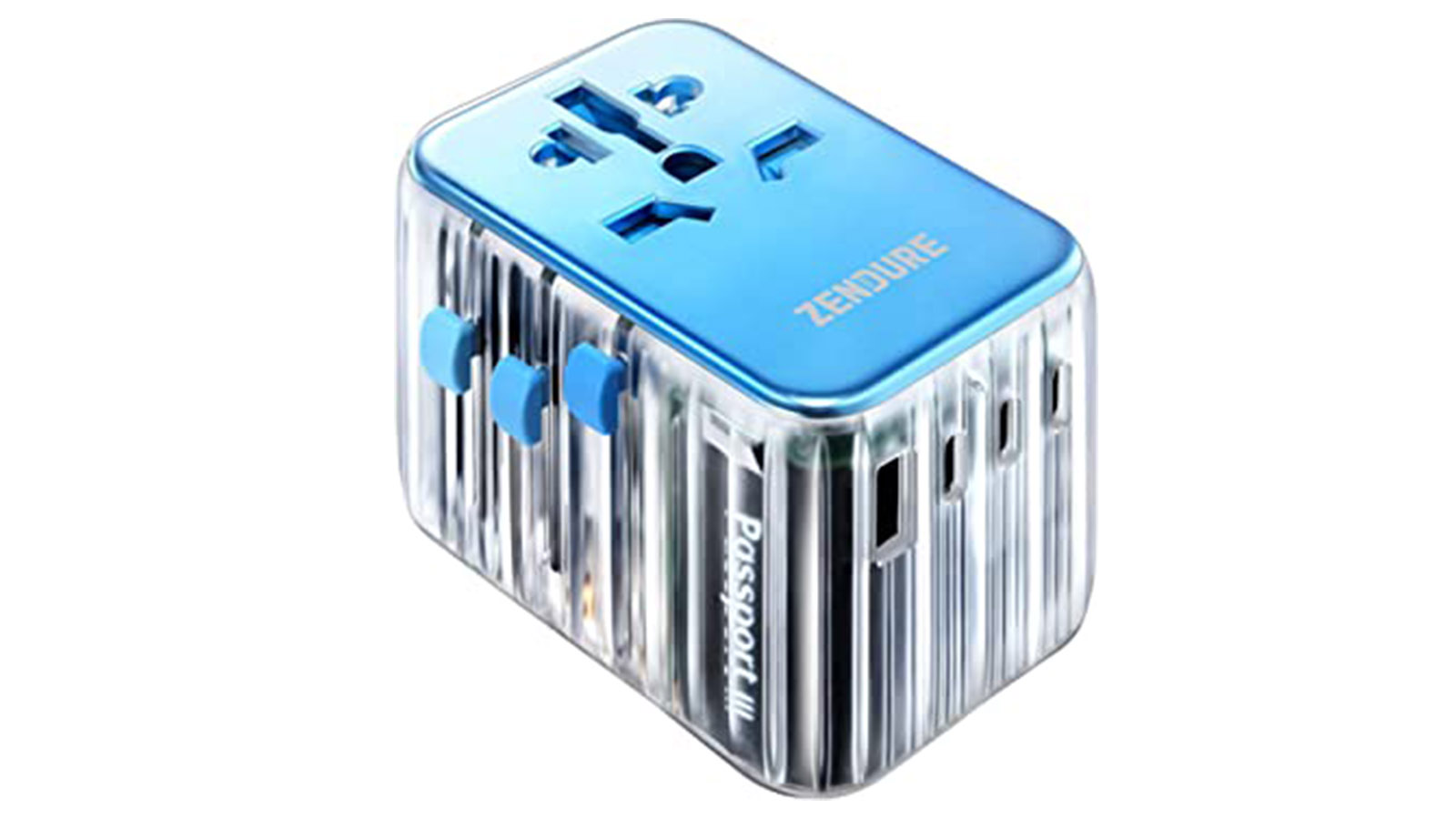 Pros
Works in over 200 countries
Surge protector
4 USB-C ports, 1 USB-A
The Zendure Passport III is not only a great travel adapter, but also an excellent charger at home.
With sliding connectors, it can plug into type A, B, C, D, E, F, G, H, I, J, K, L, M, N, O outlets, and accepts type A, B, C, E, F, G, I, J, L, and N plugs, so it works in over 200 countries and regions – including the US, Europe, Australia, and UK.
Thanks to an auto-resetting fuse it'll cut off the power if it detects that it's getting too hot, which should save your devices (and the Passport III itself) from problems with incompatible international voltages.
In addition it boasts four USB-C ports and one USB-A, so it can charge multiple devices at once, with USB-C charging at up to 65W – enough to fast charge a laptop or tablet.
Zendure Passport II Pro – Most powerful
Pros
Powerful
Useful in 200 countries
Can charge 6 devices at once
Price When Reviewed:
$59.99
The Zendure Passport II Pro is a travel adapter that's so powerful you'll probably end up using it at home too.
It can plug into UK, US, EU, or Australian sockets, and you can also plug all of those into it, covering more than 200 countries. The 10A self-resetting fuse can handle high-power appliances, and will reset if it overloads rather than breaking – although it's not earthed.
It can charge up to six devices simultaneously: one through the main AC socket, and then two USB-C and four USB-A. One USB-C port supports most fast charging standards for laptops and phones up to 61W, although if you connect other devices simultaneously this port caps at a slightly lower 45W, with 12W shared between the other USBs.
Go Travel Duo Earthed UK to EU Power Adapter – Four device charging
Pros
Charge 4 devices at once
Earthed
Cons
Earthed model won't fit US sockets
This handy power adaptor from Go Travel will let you charge up to four devices simultaneously through just one plug: two through the UK mains sockets, and another two through the included USB-A sockets.
This model is perfect for using across Europe, but you can also get an essentially identical one for using in the US and Canada and other compatible countries.
Bear in mind that both are earthed, meaning they're ideal for safely charging high usage devices like laptops, but as the UK model also comes with a non-removable earth pin, it won't fit into two-pin sockets in the US.
Skross World Travel Adapter MUV USB – Best for two-pin compatibility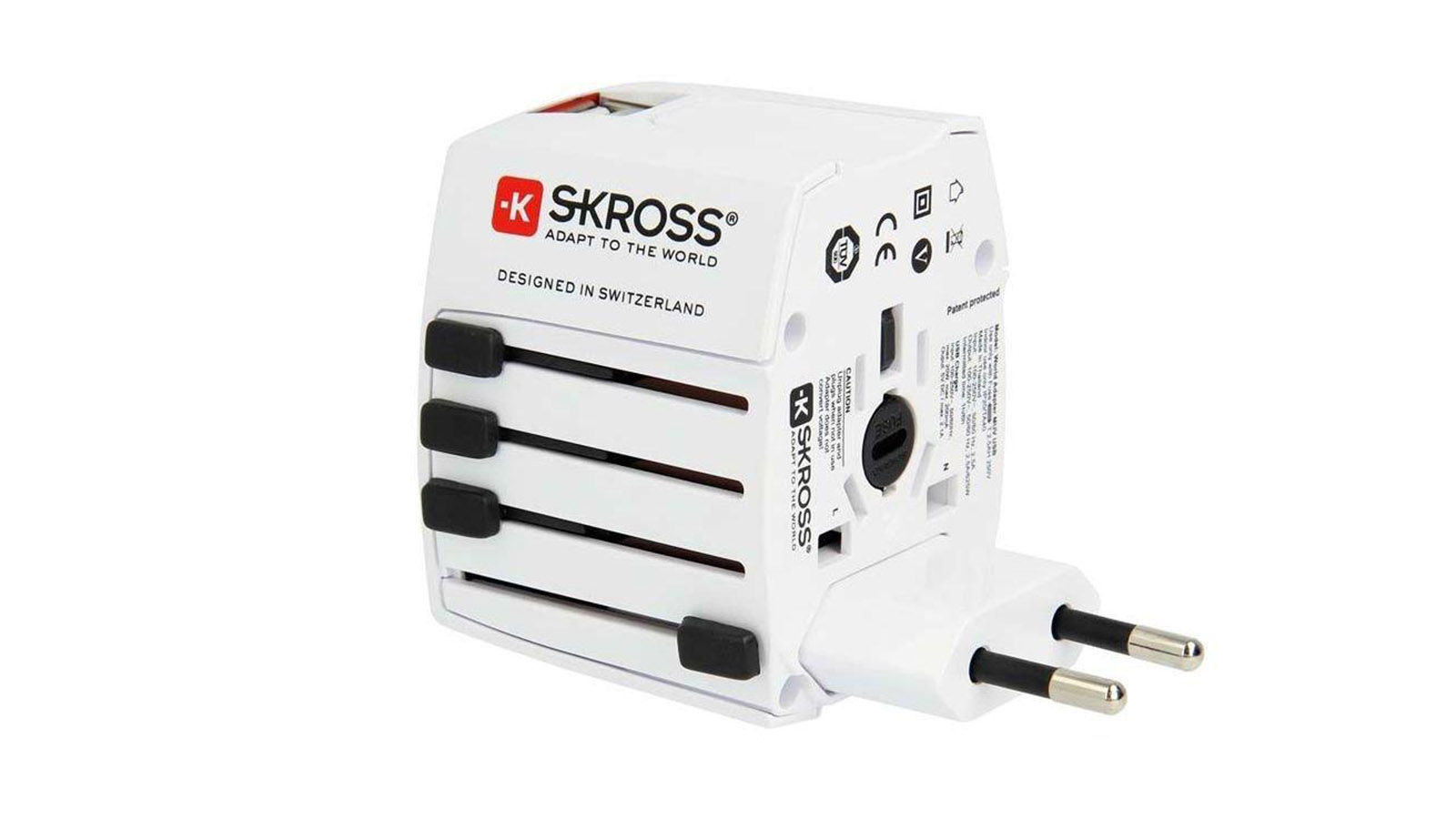 Pros
Versatile
Useful across UK, US, Aus, Europe and Asia
Cons
For less power-intensive tech
Price When Reviewed:
$29.99
Skross is one of the best recognised and most trusted names around when it comes to travel adapters, which is why we've picked its MUV USB adapter for our round-up.
Designed for two-pin, un-earthed devices, this is perfect for less power-intensive tech like shavers, phones, tablets, or e-readers, but might not be able to keep up with a laptop or hairdryer's power needs. On the plus side, that means its 2-pin outputs will work in all US and European sockets.
However, it has the advantage of accepting input devices from the UK, US, Australia, Europe and most of Asia, and outputting to all of the same countries.
You also get two USB-A sockets, which share a 5V power supply. You can use those to charge two USB devices while simultaneously charging something else through the main socket, making this ideal for anyone with a few devices they need to charge at once.
Skross World Travel Adapter Pro Light USB – Best for quick charging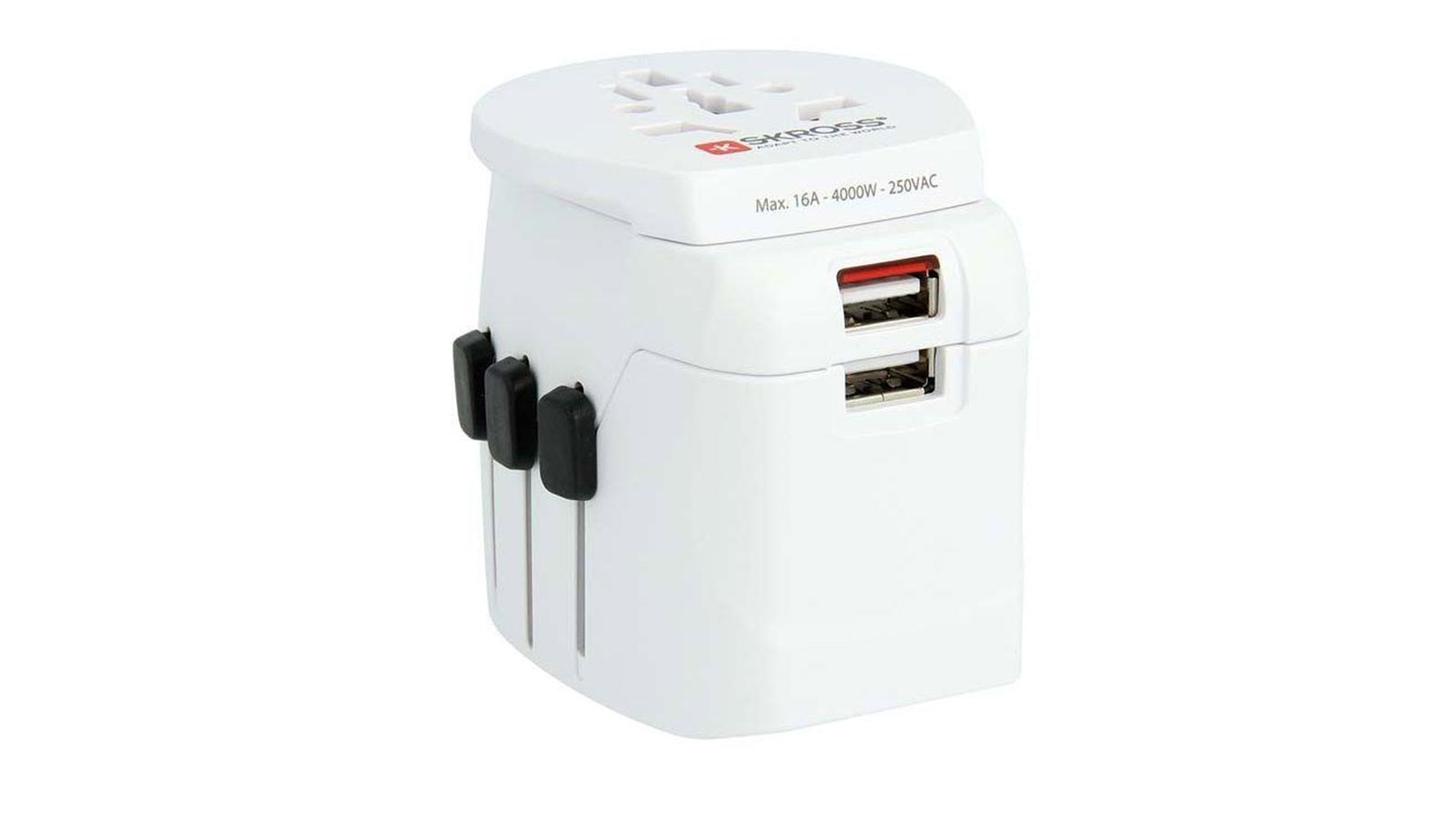 Pros
Earthed
Good for high-power devices
Cons
Not suitable for 2-pin sockets
Price When Reviewed:
$47.99
This Skross adapter looks pretty similar to the one listed above, but it has one significant difference: it includes an earth pin, and is rated for up to 1575W, meaning you can safely use it to (quickly) charge high power devices like laptops.
As with other three-pin plugs, note that it means it won't fit every plug socket – the earth pin isn't removable, so won't fit two-pin sockets in the US or Australia, meaning you might find some sockets you just can't use.
Also, note that this does support European plugs, but only through using the detachable plug section. This means you can't use the included USB sockets for charging, although those will work in every other region.
Anker PowerPort 4 Lite – Best for family use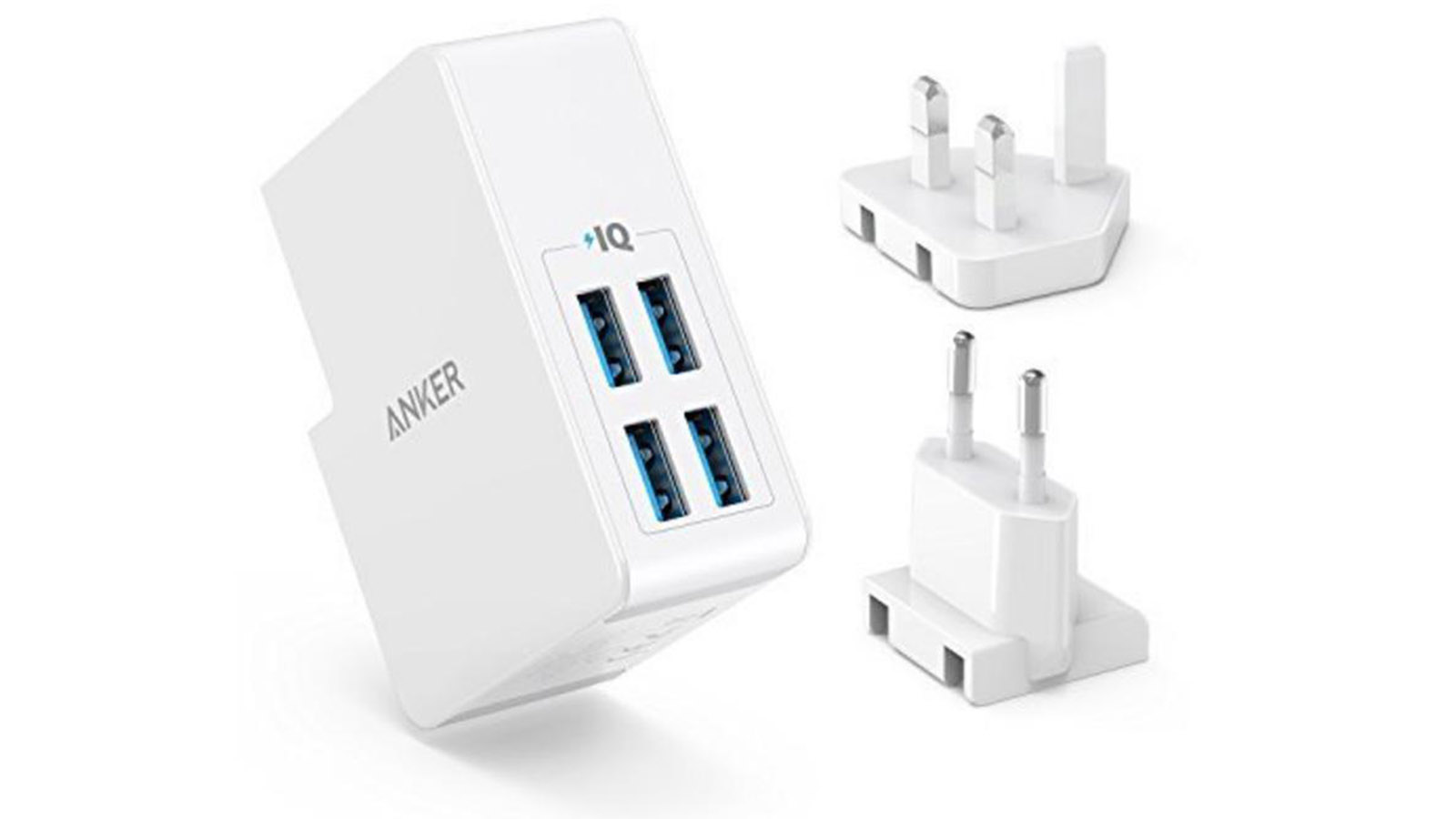 The Anker PowerPort 4 Lite lacks Quick Charge 2.0 or 3.0 compatibility but not every device is compatible with that anyway, so these four standard USB-A ports will be fine for most, with enough to satisfy a small family on the move.
It does feature PowerIQ and VoltageBoost, however.
It features interchangeable UK and EU plug heads, but strangely none for US or Australia/New Zealand.
TEC UK To India Adaptor – For Southern Asia
Cons
Not a voltage transformer
If you travel to India, Pakistan or Sri Lanka, you may find international power points in your hotel but these countries also have a dedicated plug type.
Travel adapters of this kind can be expensive at the airport, so to save money, buy before your head off. This is a twin pack, so it's even better value.
Bear in mind that these are straightforward adapters and not voltage transformers.
Connecting your adapter
Most adapters come with USB-A sockets – some phones and laptops ship with cables with USB-C connectors at both ends, so make sure you have a USB-A-to-USB-C cable with you to keep those topped up. And USB-C ports are more common now.
Even more useful are travel adapters that incorporate multiple USB sockets, which mean you can use one plug to charge several devices. Some now even include a USB-C Power Delivery port – useful for owners of USB-C laptops such as some of Apple's MacBooks.
Regions and voltages
The most important thing to check before you buy a travel adapter is what sort of plug the area you're travelling to uses. For the sake of this article, we're going to assume that you're based in the UK, which means you'll need an adapter to travel almost anywhere in the world, with rare exceptions like Hong Kong and Singapore which use the UK plug.
For the most part, there are three broad regions of plug beyond the UK type: the round pinned plugs used across Europe, the flat straight pins used across America and some parts of Asia, and the flat slanted pins used in Australia and the rest of Asia. It's always worth double-checking with a quick Google search ahead of a trip, and there are a few other unique plug types out there to watch out for.
Voltage can also be an issue. UK plugs use 220-240V, which is conveniently what you'll find across Europe and Australia. US sockets only run at 120V, while Japan offers an even skimpier 110V. For the most part, this isn't an issue, but it may mean that some devices will charge more slowly than you're used to, and some of the most power-intensive might not work at all if they can't draw sufficient power from the mains to run. Unfortunately, there's nothing a travel adapter can do about that, as they don't convert voltage.
2-pin vs 3-pin
One thing to look out for in travel adapters is whether or not they support earth pins. While 3-pin plugs are the standard in the UK, elsewhere in the world they're used less often or not at all.
Earthing helps to protect you and your gadgets from electric shock, so you may prefer to opt for 3-pin adapters, which offer an extra level of protection. Bear in mind that this may limit where you can use them – the US and EU have both 2-pin and 3-pin sockets, so your 3-pin plug simply won't fit into some sockets, and you might wish you'd risked it with a 2-pin model.