Smartphones don't last forever, but while most of us hope to make it to the end of our two-year contracts others struggle to get through a couple of months.
Phones are increasingly sold with some level of waterproofing protection, and the best phones will be fitted with tough Gorilla Glass screen protection. Add a decent phone case and most of us will muddle along.
But for extreme sports enthusiasts, manual labourers and the downright clumsy this is just not enough. For these people there are ruggedised smartphones, tough phones that are waterproof, dustproof, drop-proof and shockproof.
Buying a tough phone no longer means you have to skimp on sought after features, and some of the best examples have all the bells and whistles such as fast processors, decent cameras and wireless charging.
Read on below our list of the best rugged phones for more buying advice on what to look for.
Best tough phone reviews
1. Nokia XR20 – Best Overall
Pros
Extremely resilient
Long warranty
Battery life
Wireless charging
Cons
Limited performance
60Hz refresh rate
No charging brick
As rugged phones go, the Nokia XR20 is one of the most balanced and broadly appealing we've used. It's tough in all the right places, but it's also reasonably painless to use.
Make no mistake, this isn't a particularly well-specced phone. But it has a sufficiently bright and sharp display, and its camera isn't a total write-off. You even get surprise little luxuries like wireless charging and stereo speakers.
The design, while hardly slinky or downright attractive, isn't a total eye-sore, with appealingly industrial exposed metal sides and a pleasantly non-utilitarian shade of blue. There's also get the security of an extended warranty, a year's free screen replacement scheme, and an admirably long software update commitment from Nokia.
Not that the company has hit a home run here. Performance is fairly mediocre, and we would have liked to see a little more oomph in the CPU department. Elsewhere, a slightly higher screen refresh rate would go a long way to making the XR20 feel a little more current, while the advances made by affordable 'normal' phones make us think there's still room for improvement in the camera department.
But if you're in the market for a genuinely tough phone that won't break the bank, and that can stand up to home life as well as extreme environments, this is just about as good as it gets right now.
Read our full
Review Nokia XR20
2. CAT S62 Pro – Best Features
Pros
Decent display
Thermal imaging camera
Big battery
Cons
No wireless charging
Performance could be better
Expensive
This is CAT's top-end rugged phone – but you might not know it to look at it. This looks like any other current smartphone – okay, so it's a bit heavier and chunkier, but CAT has worked wonders with its design.
Meeting MIL-STD-810H, IP68, and one of only two phones (both from CAT) to meet IP69 standards, the S62 Pro is well suited to handling extreme situations. There's Gorilla Glass 6 to protect the 5.7in Full-HD display, and an aluminium casing with non-slip TPU rubber on the rear – even with wet hands or gloves the phone is easy to handle. The rounded edges are also aluminium, fixed into place with three screws on each side.
It's dropped the laser distance measurement and air quality monitoring of the CAT S61, but still features a thermal-imaging camera, which is better integrated to the design. The cameras still protrude from the rear somewhat, however, and the battery capacity has dropped from 4500mAh to 4000mAh.
Powering the show is a 2GHz Qualcomm Snapdragon 660 octa-core chip, along with 6GB of RAM and 128GB of storage, expandable via microSD card.
We were slightly disappointed with the performance when compared to some of the Chinese competition. We'd also like to see support for wireless charging built-in, but look beyond this and the S62 Pro is a fine example of a rugged phone.
3. Motorola Defy – Best Value
Pros
Extremely resilient design
Cheap for a rugged phone
Clean Android
Cons
Slow performance
Below-average 720p display
Basic camera set-up
The Motorola Defy is one of the most approachable rugged phones we've ever used. Its price tag is reassuringly low, yet it can stand up to extremes of impact, temperature, and immersion that few phones can match.
Battery life is also exemplary, and Motorola's light take on Android is especially welcome in such a no-nonsense package.
However, severe compromises have been made to hit that blend of price and ruggedness. The Motorola Defy is undeniably slow, and its 720p LCD display is a low-res disappointment. The camera system, meanwhile, is extremely limited.
If you're someone who wants the ultimate toughness with the minimum of fuss at the lowest possible price, you'll struggle to do better than the relaunched Motorola Defy.
Read our full
Review Motorola Defy
4. Doogee S98 Pro – Best for photography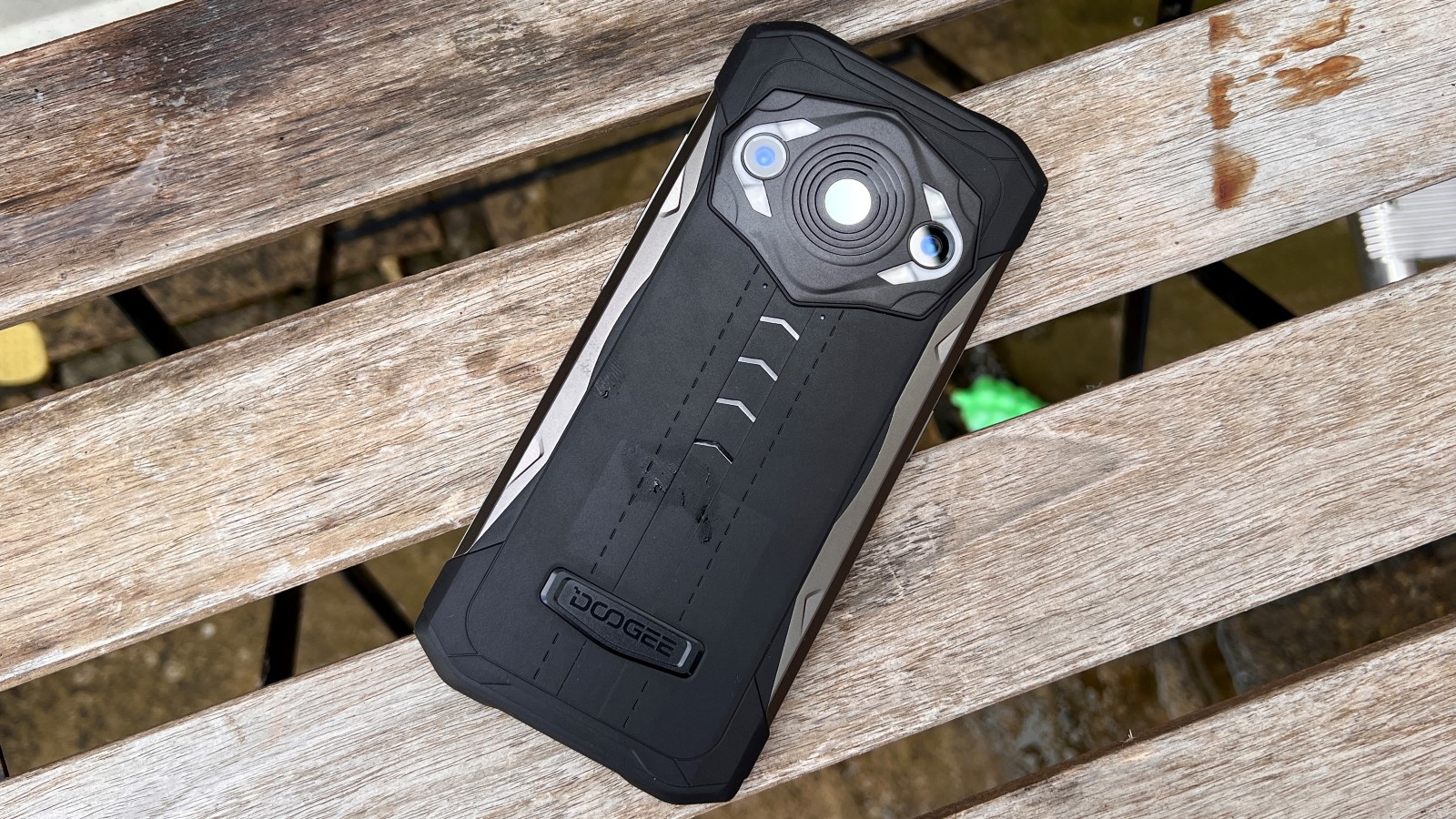 Pros
Solid battery life
Great cameras including night vision and thermal
Tough IP69K protection
Affordable
Cons
Chunky
No 5G
60Hz refresh rate
Doogee makes modern rugged phones and the S98 Pro is the latest model. It's bulky and calls to mind what science-fiction movies from the 90s would have imagined a smartphone to look like.
It offers solid performance, good battery life, and an impressively bright display – even if it is an LCD. It's also impressively built, with a tough outer shell and a Gorilla Glass display.
Then there are its cameras. The standard 48Mp sensor is sharp enough, but the additional night vision one is great – and can be used for thermal imaging, too.
Doogee's S98 Pro is an excellent option for anyone looking for a phone that's tough enough to withstand water, dust, and anything else thrown at it (maybe even explosions), but it's also much more than that.
It's a great Android 12 device with some very cool cameras, impressive battery life, and a bright display, and it's easy to recommend at this price point – as long as you don't need 5G.
Read our full
Review Doogee S98 Pro
5. Doogee S88 Pro – Best Battery Life
Pros
Solid performance
Great battery life
NFC
Reverse Wireless Charging
Cons
Photography is poor
Very heavy
The Doogee S88 Pro will not suit you unless you're looking for a very specific type of phone – something that's resistant to the elements and designed to be used outdoors in extreme conditions. If that describes you, you'll no doubt be impressed with what the S88 Pro has to offer.
It combines solid performance with some useful software tweaks and one of the best batteries we've ever seen in a phone.
The big down side is the cameras, which fall short of the competition at this price point, while at 372g it is noticeably heavy. However, you get extras in return: NFC, reverse wireless charging and IP68 water and dust resistance are extremely impressive for the price.
The Doogee S88 Pro offers good value for money, as long as you spend more time outside than in an office.
Do note that Doogee frequently refreshes its line-up (more than it is possible for us to keep up with!), and this is no longer the latest model in the line. However, it remains available to buy, and our buying advice stands.
It is fair to say that the pace of technological change in the rugged phones market is also not what you'd see in the mainstream market, so older models are often just as appealing as more recent models.
Read our full
Review Doogee S88 Pro
6. Doogee S58 Pro – Most Affordable
Pros
Very affordable
Excellent battery life
The Doogee S58 Pro is one of the most affordable rugged smartphones you can buy. It retains the military grade protection and imposing design of more expensive Doogee phones, making it well suited to hiking, building sites or extreme environments.
Compromises are inevitable at this price point, and the S58 Pro makes big sacrifices in camera quality. The main front and rear lenses are average at best, with the macro and depth sensors barely usable at times.
Most people won't be buying this phone for its cameras, but it remains to be seen whether compromising on photographic capabilities in order to get extra resistance to the elements is worth the trade-off.
One area which can't be disputed is battery life, with the S58 Pro comfortably lasting multiple days on a single charge. There's also IP68 water and dust resistance, an impressively bright screen and some useful software tweaks.
It's far from the most well rounded rugged phone on the market, but if you're willing to sacrifice in other areas it could be a great budget alternative.
Read our full
Review Doogee S58 Pro
What to look for in a rugged phone
If you are in the market for a rugged phone then you may be unsure of what to look for. The most obvious thing to start with is waterproofing (though if it's purely a waterproof phone you're after rather than a rugged device you should look to our round-up of these devices).
All the phones we've compared here are rated IP68, which means they can survive up to 1m of water for 30 minutes – potentially deeper and longer, but that is not guaranteed so do so at your own risk.
IP stands for 'Ingress Protection' and is used to define the sealing effectiveness of electrical enclosures against intrusion from foreign bodies and moisture.
The first number refers to how the device sealed against solid particles like dust; the highest you can get is '6' meaning total protection.
The second digit is for water protection and the best you'll see on most is '8', going by the original IEC standard 60529 (6K and 9K are not part of this).
A waterproof phone will either use a rubber flap to protect its ports, which otherwise allow water access to its internals, or it will waterproof the port itself. The latter is much more preferable, preventing any nasty accidents and proving much less fiddly when you want to charge the phone.
Next up is the design of the phone itself. You'll likely find a raised edge on the top surface of the phone to protect it when dropped face down, but sharp stones and pointy corners can still cause harm. So you'll want something tough to protect the screen glass – ideally Gorilla Glass 5 or 6 but, depending on your budget, you might find Gorilla Glass 3 instead.
Keep in mind that the bezels on a rugged phone are going to be larger than on a standard phone, because most damage occurs at the edges. Larger bezels mean you'll still be able to use the display even with a crack at the edge.
The phone itself is also going to be larger and heavier than most phones, with a more capacious battery inside that won't leave you high and dry in an emergency, and a tough, rubberised outer shell to protect it from drops and shock. On the upside you won't need to add a case.
Look around the sides of the phone: the best rugged phones come with dedicated SOS and PTT buttons, allowing you to quickly get help in an emergency or chat to your team mates while you're on an expedition.
Related stories for further reading