If you want a tablet, it's hard to beat an iPad. But even the cheapest iPad is expensive, and if you have a smaller budget or are after a tablet for your kids, then it's perfectly understandable that you'd look at Amazon's Fire tablets.
It's a common misconception that Fire tablets are Android tablets: they're not. They don't have Google apps such as Gmail, Google Maps, the Chrome web browser and YouTube. There's no Google Play Store either. Instead, there's Amazon's Appstore which doesn't have the breadth of choice of Google Play.
We'll explain everything you need to know about Amazon Fire tablets and how the various models compare so you're in a position to decide which – if any – is the right one to buy.
Fire tablets are good value, but only if you can live with their limitations. It's a good idea to check whether the apps you want to use are available before you buy. You can do this by searching on Amazon's website and looking in the results to see if a Fire tablet app is listed. If not, it's not available.
You can use most Google apps – including YouTube – via the web browser built into Fire tablets. For some people that will be an acceptable workaround but, for others, it's a deal-breaker.
Fire tablets have their own apps for email, photos, web browsing and of course its own video service, Prime Video and music streaming from Amazon Music.
Ultimately, Amazon wants you to use these services instead of Apple or Google's, buy apps from its Appstore, download books from its Kindle store and buy physical products from its shopping section. Fire tablets are effectively an Amazon shop window, but that's largely what Apple does with its iPads, too, so it's not as bad as it might sound, so long as you use a lot of Amazon services.
However, do note that unless you pay $10/£10 to upgrade to the 'without ads' model when you buy a Fire tablet, the lock screen will display adverts, which can be annoying.
As far as apps go, you'll find Netflix, Disney+, Spotify, Facebook, Messenger, Zoom and other popular ones in the Appstore along with catch-up TV services plus lots of free games and other apps which are more often than not Android versions, because underneath that different-looking interface, all Amazon Fire tablets are based on the Android operating system. If you're happy to jump through a few hoops it's possible to install the Google Play Store on a Fire tablet, giving you access to those apps which the Appstore doesn't have.
Fire tablets are great for kids in particular, and Amazon sells kids versions of all three models. Those cost more but come with a protective case, a great two-year warranty that covers accidental damage and a 12-month subscription to its kids content, Amazon Kids+, which includes videos, games, apps and books.
For the larger two tablets, there's also the option of a Fire Kids Pro. These cost the same as the non-Pro versions but have a more grown-up case and a less cartoon-y interface that's better suited to older kids from around 7-12.
So the question is, which model should you buy? Here's what we recommend.
1. Amazon Fire 7
Pros
Amazingly cheap
Good battery life
Cons
Small, low-resolution screen
Poor cameras
Price When Reviewed:
$59.99
The Fire 7 is the smallest in the range with, as you'd guess, a 7in screen. It's great value, despite the price increase for this new model as it has better battery life (10 hours) and a more convenient USB-C charging port.
The reason you may want to steer clear is because saying that it isn't hugely powerful is an understatement. Obviously, you shouldn't expect a lightning-fast tablet for this price and you'll have to put up with waiting a little longer for apps to load than you'd expect. Basically, it's the best option for kids because they are unlikely to complain about it… unless you're buying it to replace a broken iPad, which won't go down well.
The screen has good colours and good-enough viewing angles, but the low resolution of 1024×600 means it's not as sharp as the HD 8. Again, this won't bother kids.
The Fire 7 has hands-free Alexa like its more expensive siblings, which is nice, and this new model has a USB-C charging port that's much easier to use than the annoying old microUSB. And there's still a headphone jack.
Remember that you don't necessarily have to buy the Fire 7 Kids Edition. Even the $59/£59 version comes with the Amazon Kids app that offers great parental controls and there are dozens of free games available in the Appstore that kids will love.
The cameras are poor, but that is a trait of all Amazon Fire tablets, sadly.
Read our full
Amazon Fire 7 (2022) review
2. Amazon Fire HD 8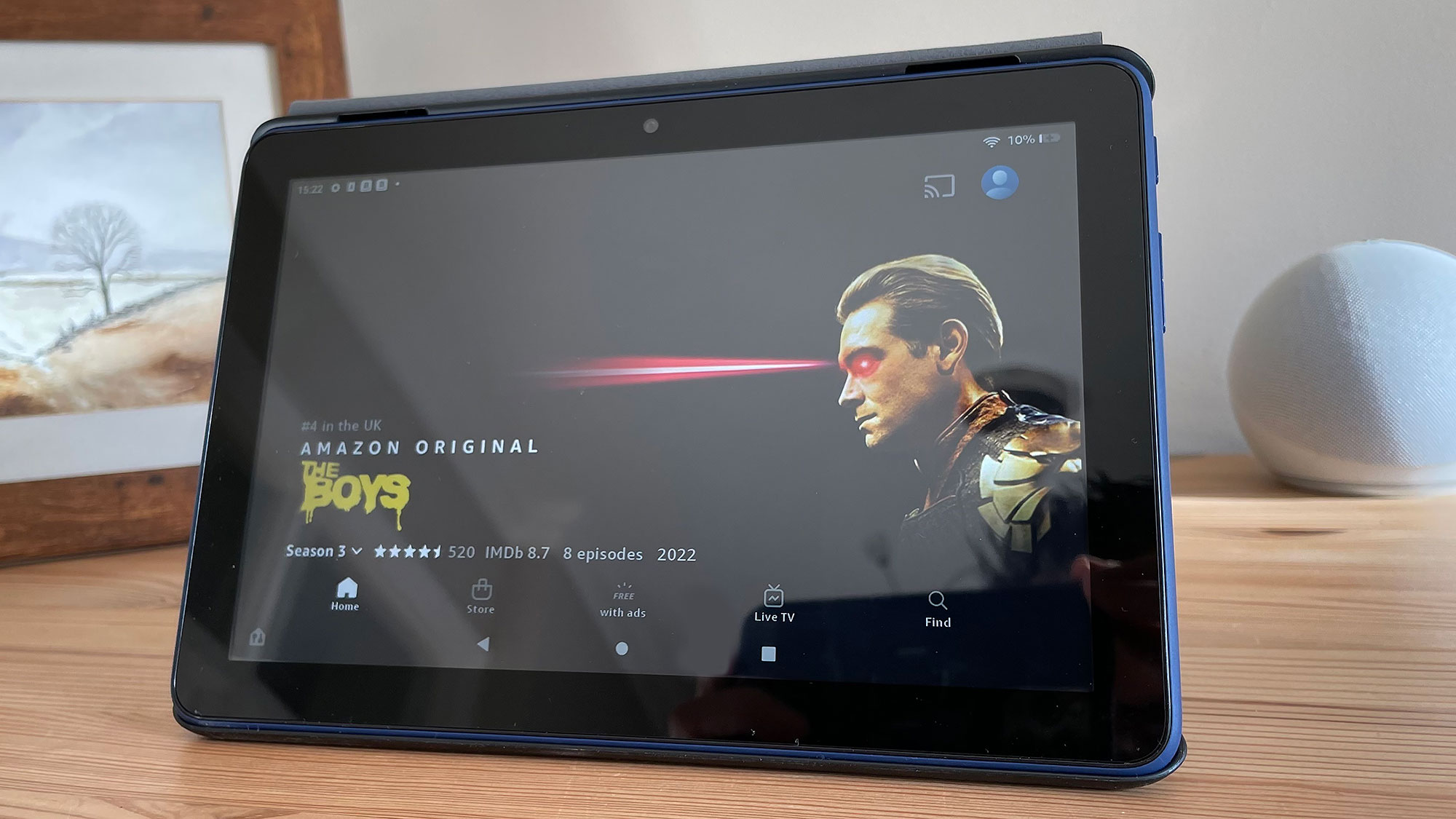 Pros
USB-C charging
Stereo speakers
Price When Reviewed:
From $99.99. Model reviewed $129.99
The Fire HD 8 is now on its 12th generation. Its screen may be only one inch larger than the Fire 7, but it makes quite the difference. It has a higher resolution of 1280×800, but we wish the screen had been upgraded for this new model – it's not even full HD.
Cameras are the same on both tablets, but processing power is a little better which means it's not quite a sluggish. There's also more RAM (even more in the Plus model), more storage and you can expand that by up to 1TB using a microSD card.
It still isn't particularly responsive and, of course, everything about the interface and available apps and services is the same.
The HD 8 has Alexa built-in and the assistant will respond even when the tablet is in standby with the screen off, a bit like one of Amazon's Echo speakers.
The Plus model costs $20/£20 extra and has wireless charging and works with the optional wireless charging dock to turn the tablet into a sort of Echo Show. This is useful for video calls, music videos and watching Amazon Prime videos. But note that the standard model also has Show Mode, so you only need something to prop it up, and maybe to plug it in to the mains to get the same effect.
As with all three Amazon tablets, there's a Kids Edition of the Fire HD 8. It comes with a bumper case, year's subscription to Kids+ and a two-year warranty.
Read our full
Amazon Fire HD 8 (2022) review
3. Amazon Fire HD 10
Pros
Big screen
Most powerful processor in the range
Cons
Relatively expensive
Can get Android tablets for similar money
Price When Reviewed:
From $149.99
The Fire HD 10 costs a lot more than Amazon's smaller tablets, but it also gives you a lot more. The 10.1in screen is obviously bigger, but the resolution of 1920×1200 means it has a higher pixel density of 224ppi. That means it looks sharp and – as with its siblings' – it's a great screen with vibrant colours and good viewing angles.
It has a faster processor and 3GB of RAM as standard which means it's more responsive than the cheaper tablets here. There's also a Plus model available which has 4GB of RAM, wireless charging and, like the HD 8, supports Show Mode that makes it very much like an Amazon Echo Show.
Charging is via USB-C and the battery lasts for 12 hours.
Anyone looking for a standard iPad-size tablet shouldn't be disappointed with the HD 10 considering the $149.99/£149.99 price. And it's also available in a Fire HD 10 Kids Edition and the Fire Kids Pro for 6-12 year olds for $199.99/£199.99.
Read our full
Amazon Fire HD 10 (2021) review
Here's a summary of the key specs of the latest versions showing how they compare.
Note: the Plus versions of the Fire HD 8 and HD 10 have wireless charging and extra RAM. They're otherwise identical to their non-Plus versions but are only available in a Slate colour.
| | | | |
| --- | --- | --- | --- |
| | Fire 7 (2022) | Fire HD 8 (2022) | Fire HD 10 (2021) |
| Price (from) | $59.99 / £49.99 | $99.99 / £99.99 | $149.99 / £149.99 |
| Display | 7in | 8in | 10.1in |
| Resolution | 1024 x 600 (171 ppi) | 1280 x 800 (189 ppi) | 1920 x 1200 (224 ppi) |
| Colours | Black, Denim, Rose | Black, Denim, Rose | Black, Denim, Lavender, Olive |
| Processor | Quad-core 2.0 GHz | Hexa-core 2.0 GHz | Octa-core 2.0 GHz |
| Alexa-enabled | Yes, hands-free | Yes, hands-free | Yes, hands-free |
| Sound | Mono speaker, built-in microphone | Dolby Atmos, dual-stereo speakers, built-in microphone | Dolby Atmos, dual-stereo speakers, built-in microphone |
| Storage | 16 or 32 GB (expandable by up to 1 TB) | 32 or 64 GB (expandable by up to 1 TB) | 32 or 64 GB (expandable by up to 1 TB) |
| Cameras | 2Mp + 2Mp rear | 2Mp front + 2Mp rear | 2Mp front + 5Mp rear |
| Wi-Fi | Dual-band Wi-Fi (802.11n) | Dual-band Wi-Fi (802.11ac) | Dual-band Wi-Fi (802.11ac) |
| Battery Life | Up to 10 hours | Up to 13 hours | Up to 12 hours |
| Charging (time) | USB-C (USB 2.0) (4 hours) | USB-C (USB 2.0) (5 hours) | USB-C (USB 2.0) (4 hours) |
| Weight | 282 g | 337 g | 465 g |
| Dimensions | 180.68 x 117.59 x 9.67 mm (7.11" x 4.63" x 0.38") | 202 x 137 x 9.7mm (8.0″ x 5.4″ x 0.4″) | 247mm x 166mm x 9.2 mm (9.73" x 6.53" x 0.36") |