At any stage of education, a laptop is one of the most valuable tools you can buy. That's true despite the return of in-person lessons and lectures after the pandemic, with work outside of the classroom key to your success.
Whether you're writing up an essay, revising for test or keeping in touch with teachers and classmates, a laptop can do it all. But remember, you'll also want a device that's suitable for your spare time, which may include watching videos online or video calls with friends and family.
If your downtime includes gaming, it's worth taking a look at our separate guide to the best cheap gaming laptops. Many of these will be suitable for all student-related activities, but don't rule out budget laptops or more expensive laptops, either.
Here, we've included a range of options that suit different types of students. There should be something here for everyone, but don't be concerned if your favourite device is lower on the list – we can recommend all these devices for students. It's still worth reading the FAQ section at the bottom of the page before you buying, though.
Best laptops for students 2023
1. Huawei MateBook 14s (2021) – Best Overall
Pros
Solid performance and port selection
Great keyboard
Excellent 90Hz display
Cons
Plain design
Webcam only 720p
MSRP:
Unavailable in the US
The MateBook 14s is the best laptop you can buy right now, so we had to make room for it in this list.
It serves as yet more proof that Huawei is acing its laptops, offering a great balance between price and performance. The latter is helped by Intel's 11th-gen chips under the hood, which excel across almost all everyday productivity tasks.
Of course, having an excellent 14in display helps, complete with a 90Hz refresh rate. Huawei has maintained slim bezels but managed to move the webcam back above the display, even if it's still only 720p.
Other highlights include all-day battery, an excellent keyboard and plenty of ports, something that's often lacking on modern laptops. The key sticking point for students could be price, but it's definitely worth considering if your budget can stretch this far.
There is now a 2022 version, but aside from new Intel CPUs, nothing has changed.
Read our full
Review Huawei MateBook 14s (2021)
2. LG Gram 16 – Best Big Screen
Pros
Stunning thin and light design
Gorgeous matte display
Great battery life
Impressively durable
Cons
Not the most powerful
Display only 60Hz
Expensive
MSRP:
From $1,549 | Model reviewed: $1,699
If you're looking for some extra screen real estate but don't want to compromise on a thin and light design, the latest LG Gram is a great option.
The highlight here is a stunning 16in 2560×1600 display, with tiny bezels making for an immersive viewing experience – provided you don't mind a 60Hz refresh rate. Everyday performance is also excellent, thanks to Intel's latest Alder Lake processors and 8 or 16GB of RAM. There's a healthy port selection, too, alongside an 80Wh battery and fingerprint sensor built into the power button, all within a device that weighs less than 1.2kg.
The high asking price is the only reason it's not higher in this list. If you're a student with cash to splash, it's a stunning bit of kit. For a more affordable 16in option, consider the Huawei MateBook D 16.
There is also now a 2023 version, but aside from new Intel processors, it's more of the same.
Read our full
Review LG Gram 16 (2022)
3. Samsung Galaxy Book 2 360 – Best Convertible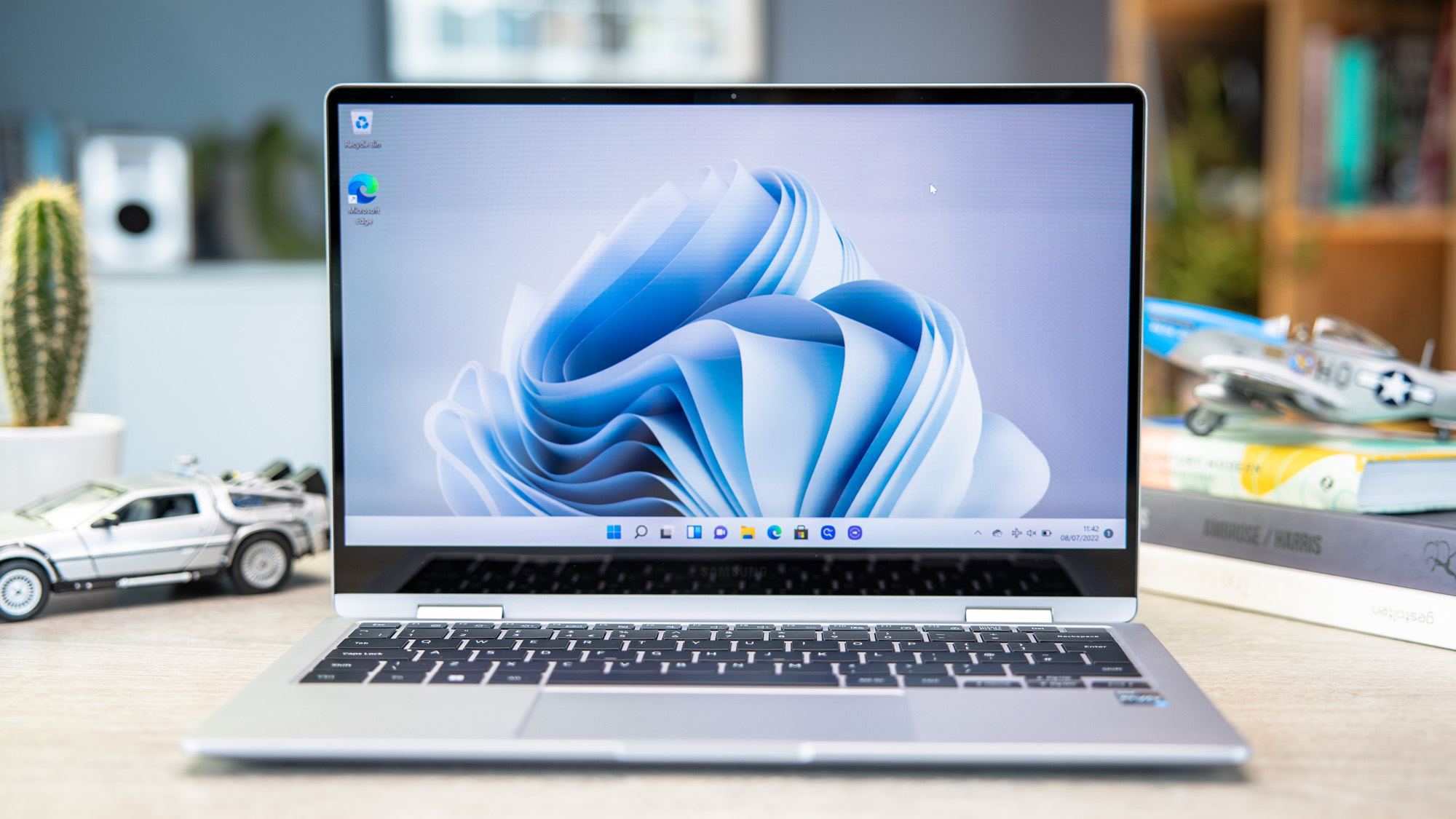 Pros
Excellent OLED display
Impressive battery life
Thin and light design
360° hinge works well
Cons
Poor 720p webcam
No discrete GPU
Trackpad needs work
Adding convertible functionality to a thin and light laptop often results in a high price tag, but that's not the case with the Galaxy Book 2 360. For under $1,000/£1,000, you can get an excellent all-rounder that just happens to have a 360° hinge.
However, the highlight is undoubtedly its 13.3in OLED display, which delivers an excellent, detailed viewing experience and touch support. A 65Wh battery doesn't sound like anything special, but should comfortably last you a full day away from the charger. Intel's 12th-gen CPUs ensure performance is solid, although there's no option for a discrete GPU.
The trackpad isn't great and you'll probably want to connect an external webcam, but aside from that there's a lot to like. Samsung has nailed the basics here, even if you'll find better value for money elsewhere.
Read our full
Review Samsung Galaxy Book 2 360
4. Apple MacBook Air (M1) – Best Mac
Pros
Stellar performance
Incredible battery life
Free software included
Cons
Dated design
Poor webcam
Not the cheapest
The move to Apple's own M1 chip represents arguably the biggest change for the MacBook Air since it first launched, and it certainly doesn't disappoint.
The new Air offers truly incredible performance within a thin and light body, with the M1 chip also significantly boosting battery life compared to the Intel version.
A largely unchanged design means a lot about the new MacBook Air will be familiar if you've tried a recent model, although the recently-introduced Magic Keyboard is a big upgrade over the earlier butterfly keys.
It's also easy to forget how much value Apple adds by including a pretty comprehensive suite of applications – you might not need to spend any extra money on software.
There is now a 2022 MacBook Air, but the new chipset and a redesign means it's significantly more expensive. This is where you'll find the best value.
Read our full
Review Apple MacBook Air (2020) M1
5. Honor MagicBook 14 – Best Value for Money
Pros
Great performance
Premium design
Solid battery life
Cons
Poor webcam
No touchscreen
More expensive than previous models
MSRP:
£669.99 (about $870)
The Honor MagicBook 14 is a solid all-rounder.
An impressive combination of powerful internals, premium design and solid battery life make it the student laptop to beat, especially when you consider its relatively affordable starting price.
The MagicBook 14 uses a Ryzen 5 4500U chipset, up from Ryzen 5 3500U on its predecessor. Combined with 8GB RAM and a large 512GB SSD, it delivers excellent performance across the board.
Ports, keyboard and a fingerprint scanner are all boxes that get ticks. Really, apart from the webcam placement, audio is about the only thing that's not so good.
There is a 2021 version of this device, but it's not as impressive.
Read our full
Review Honor MagicBook 14 (late 2020)
6. Samsung Galaxy Book 2 Pro – Best Design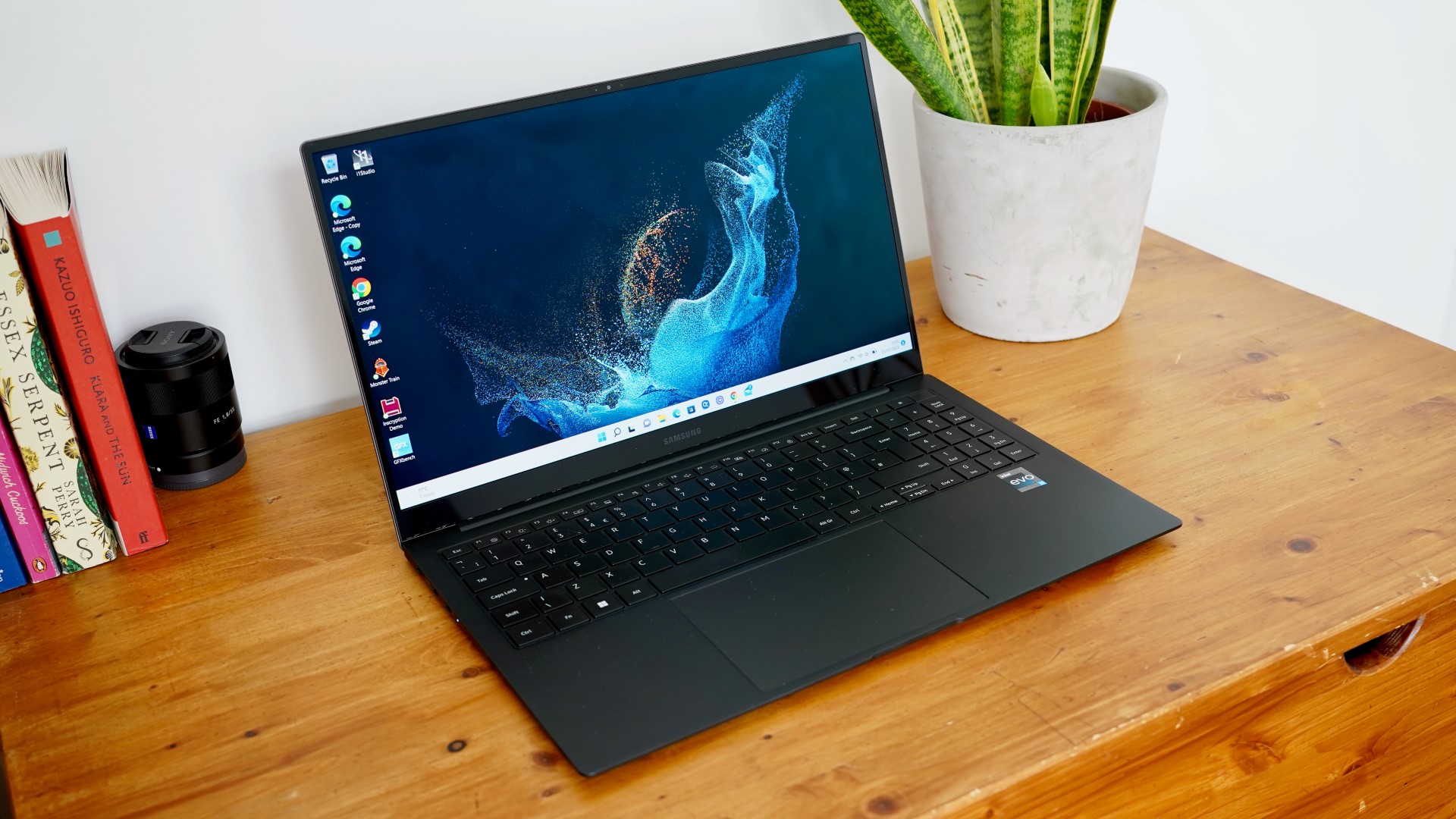 Pros
Great OLED screen
Array
Impressive range of ports
Solid performance
Cons
Underwhelming battery life
No high refresh rate screen
Relatively expensive
Samsung's second appearance in this list highlights how far the company's laptops have come, although the Galaxy Book 2 Pro is definitely a premium option.
While there's no convertible functionality here, the high quality OLED touchscreen more than makes up for it. It's one part of a stunning thin and light design – at just 1.16kg, it's one of the thinnest 15in laptops around.
Despite this, Samsung has managed to include a solid range of ports. Two USB-C, USB-A and HDMI are all included here, alongside a microSD card slot and 3.5mm headphone jack. Intel's 12th-gen processors also deliver solid performance.
But aside from price, there are a few other reasons why it isn't higher on this list. Battery life from the 68Wh cell is underwhelming, while premium features such as a high refresh rate screen and discrete GPU are left out.
Nonetheless, Samsung has made a great laptop here that students will enjoy using – if they can afford it.
7. Microsoft Surface Laptop Go 2 – Best Keyboard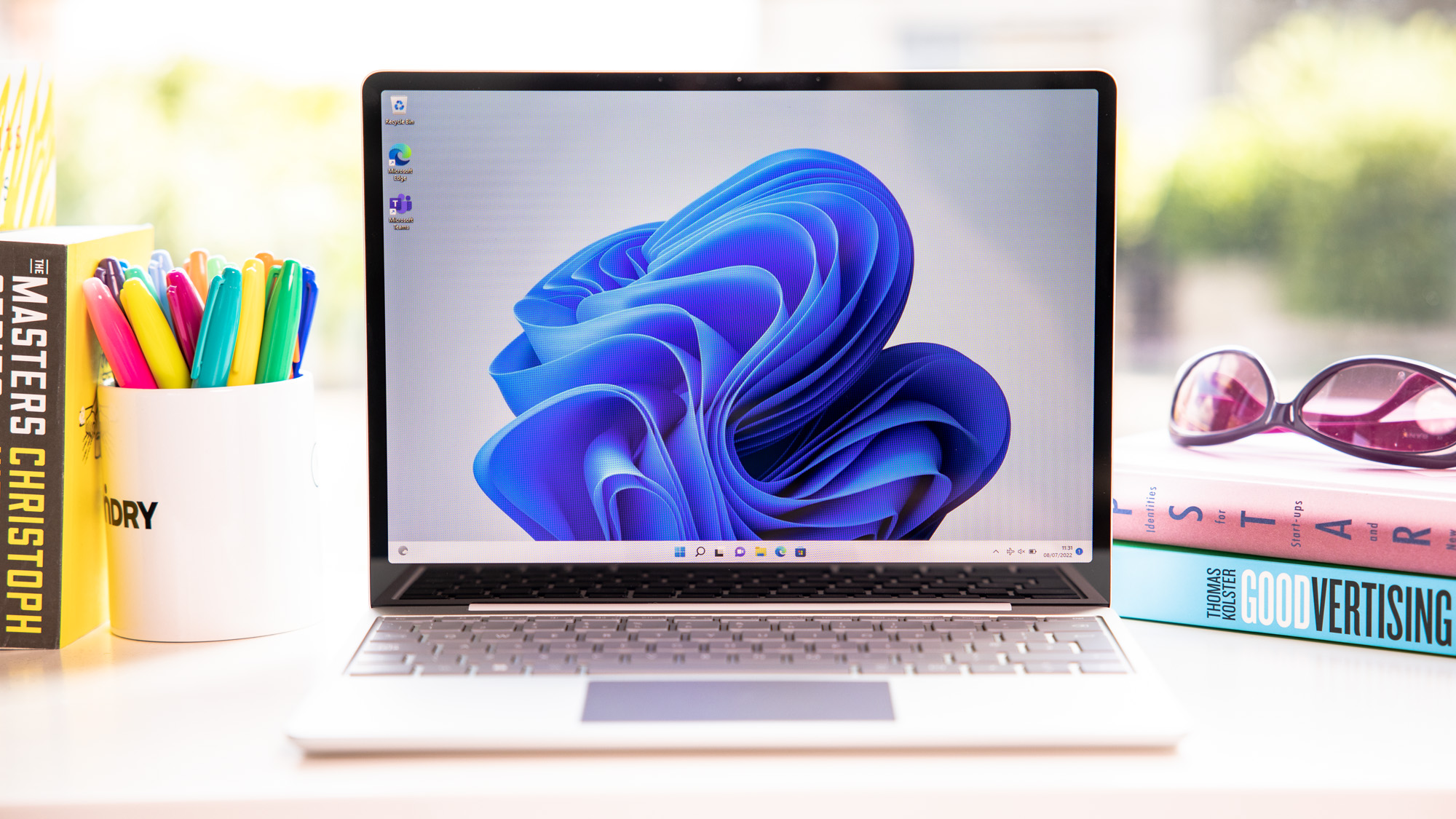 Pros
Great keyboard
Solid performance
Thin and light
Decent battery life
Cons
Often runs hot
Slow charging
No backlit keys
MSRP:
From $599.99 | Model reviewed $799.99
The Surface Laptop Go is designed with students in mind, and this second generation is a compelling compact option.
Microsoft's premium Surface Laptop design is retained at this more affordable price point, with slim bezels giving the impression of a much more high-end device. The resolution of the 12.4in touchscreen is lower than many laptops, but it doesn't feel like a compromise once you start using it. Performance from 11th-gen Intel Core i5 CPU is strong, although you'll probably want to spend more to get 8GB of RAM.
Elsewhere, the Laptop Go 2's keyboard is one of the best you'll find anywhere, while the thin (15.7mm) and light (1.16kg) design makes it very portable. It's prone to overheating and still missing backlit keys, but it remains a solid option for students.
It's also worth considering the Surface Laptop 5, but its more affordable sibling is a better buy for most students.
8. Huawei MateBook E (2022) – Best 2-in-1
Pros
Excellent display
Solid performance
Keyboard case included
Cons
Poor battery life
Frustrating fingerprint sensor
Limited ports
The MateBook E is built for productivity and portability, making it a great option for students.
At just 790g case-free, it's light enough to throw into a bag and take to lectures. But having the Smart Magnetic keyboard included in the cost is a big plus, and transforms the device into a genuine laptop replacement.
The 12.6in OLED display is a real highlight, while solid speakers and great cameras make it a well-rounded device. Performance across web browsing, word processing and multitasking is excellent, too.
However, battery life is a big let-down, so you won't want to be far from a charger for long. The fingerprint scanner is poor too, while you'll need an adapter for connecting anything more than a single USB-C device.
But if you can look beyond these compromises, the MateBook E is a compelling option for students that offers good value for money. The Surface Pro 9 might be the market leader, but it's not worth most students paying significantly more money to get one.
Read our full
Review Huawei MateBook E (2022)
9. Asus E410 – Best Budget Option
Pros
Great battery life
Lightweight and portable
Fast and responsive
Cons
Cheap build
Dim display
Annoying NumberPad
If you're looking for a budget laptop that will still get the job done, Asus' E410 is a great option.
The Intel Celeron N4020 doesn't sound great on paper, but it delivers solid all-round performance that's capable of handling the basics. There's also excellent battery life, with Asus' 12-hour claims holding up well in real-world usage – a full working day is well within reach. At just 1.3kg, it's also extremely portable.
You also get solid 14in Full HD+ display, although it doesn't get particularly bright. The numberpad built into the touchpad is more annoying than useful, while the unusual rear design isn't to everyone's tastes.
Still, these compromises are more than acceptable when you consider its affordable price.
Read our full
Review Asus E410
10. iPad Pro 12.9in (2022) – Best Display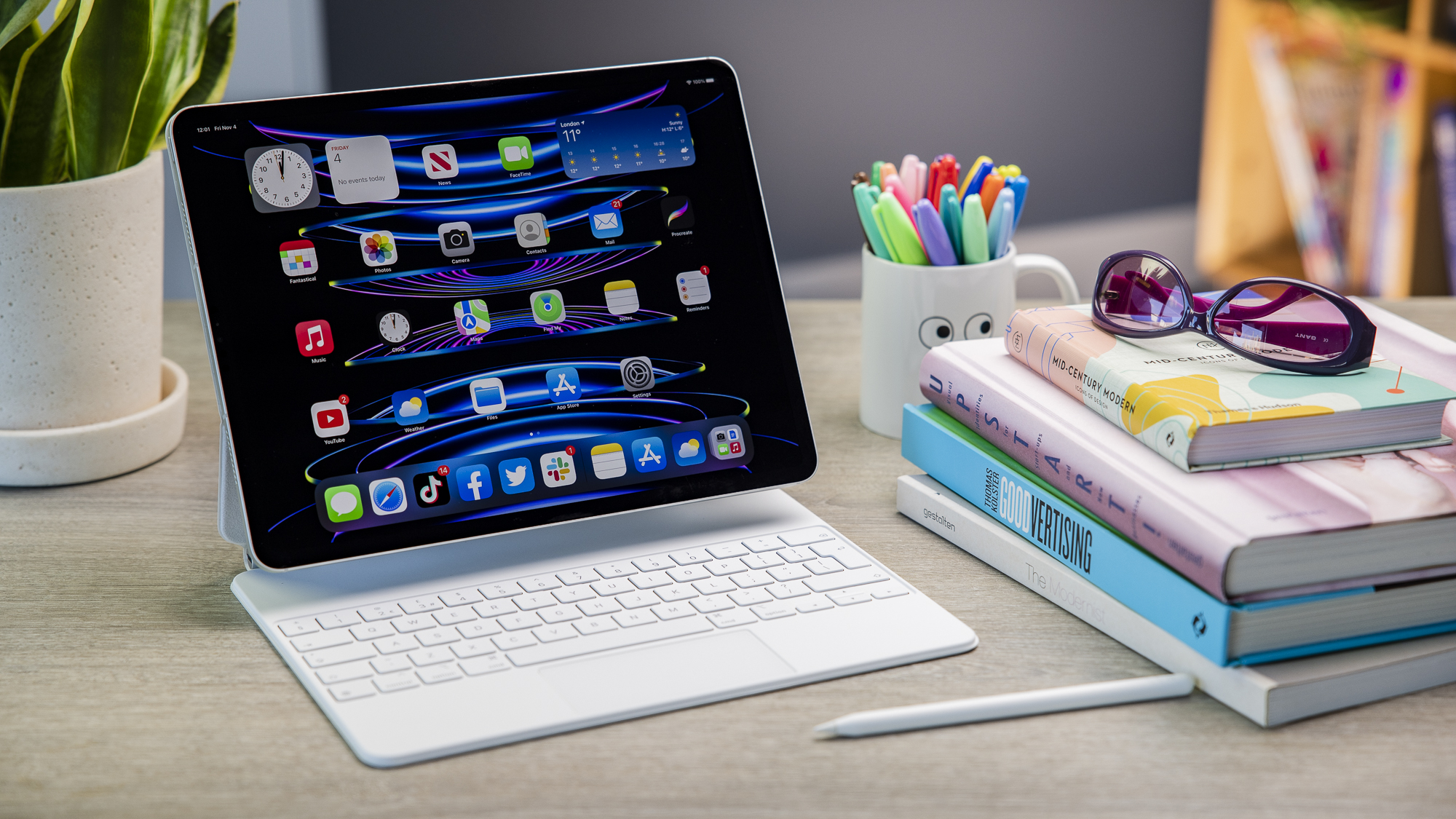 Pros
Incredible M2 performance
Stunning display
Great accessories
Cons
Limited by iPadOS
Very expensive
Accessories sold separate
The iPad Pro has long represented the finest best tablet money can buy, and the M2 chip takes already-excellent performance to the next level. Incredibly, this makes the iPad Pro more powerful than many of Apple's MacBooks.
When paired with the stunning 12.9in, 120Hz display, it's a real treat. Despite its size and quality, you can still expect solid battery life too.
Pairing the tablet with the Magic Keyboard really does turn the iPad Pro into a laptop-style device – with trackpad and all – plus you might also benefit from the advanced features available with the Apple Pencil.
However, these are both expensive accessories, meaning you can easily pay high-end laptop prices. That could be a sticking point, especially when iPadOS still lacks Mac-level apps.
Nonetheless, it's an amazing all-in-one setup if you can afford it.
FAQ
---
1.
What should you consider when buying a laptop for students?
There are plenty of things to think about, but the first is price.
Do you really need a $1,000/£1,000+ laptop? Will it get broken, or worse, stolen? While more expensive laptops will get you better performance, this may not be necessary if you're focusing on coursework and exams.
But powerful devices may be required if you're studying a course that requires complex software – think animation or video editing. In these scenarios, you don't want to be waiting around forever for things to render when you have a deadline.
However, those who simply just need to write word documents and browse the internet can spend a lot less and still find a laptop that's perfectly good.
2.
What type of display should I go for?
Many laptops are still 13in, which remains the sweet spot between size and portability for most people. However, you can get smaller or larger displays depending on what you need.
Bear in mind that cheaper laptops will come with a lower quality display which is likely to be on the dim side and lacking some detail. It might be a compromise worth making, but for tasks such as photo editing, it's worth spending a bit more
3.
What components do I need?
You get what you pay for when it comes to laptops, so a model closer to $1,000/£1,000 is going to have a more powerful processor (likely Intel Core i7 or Ryzen 7), more RAM and plenty of SSD storage. It might even have a dedicated graphics card. All of this will come in handy if you're doing more complex tasks.
Cheaper options may come with a lower-power Intel Pentium chip. They will also have a lot less RAM and may not include an SSD, so make sure it will be up to the job first.
4.
How important are the keyboard and trackpad?

Very, but you can easily make do with average ones. MacBook trackpads are generally consider best in class, but you pay for the privilege, while what type of keyboard you prefer is quite a personal thing.
Do you want a lot of travel on your keys, or something flatter and slim? Do you need a full-size keyboard with a separate number pad? Sacrificing either will allow you to get a more compact design that's easier to take everywhere with you.
5.
What ports do I need?
It might not seem important now, but think carefully about ports. Many modern laptops come with hardly any ports often only USB-C.
This means you can't just plug in an old-school USB flash drive or HDMI cable without getting an adapter (or dongle). Since cheaper laptops are chunkier, they typically have more space for full-size ports and this could be a real benefit.
Also, remember that laptops don't come with a CD/DVD drive any more. If you need one, an external drive is a must.
6.
Which operating system should I choose?
This will depend on a few different factors, including what you're familiar with and the other devices you already own.
Windows 11 has now been out for a few months, and you'll probably have been prompted to upgrade if you have a Windows 10 device. But it's not necessary yet, with the older OS still supported until 2025.
However, Windows is by no means your only choice when it comes to software. You may prefer macOS, especially if you have an iPhone or iPad, and MacBooks come with lots of great free software. ChromeOS is extremely easy to use, but it's more basic and might not run all the apps you need.
If you're not sure which will best suit your requirements, it's worth seeing if the specific apps you need are compatible and if it feels intuitive. Try a friend's or test out a few devices in a physical store if you need to.