Wireless charging is now fairly standard among flagship phones, though some phone manufacturers still leave it out in favor of a cheaper price. You'll also find smartwatches and earbuds that charge over a wireless connection.
Wireless technology adds convenience by allowing you to throw your phone or other gadget down onto a pad to charge, without having to worry about fiddling around with cables—or indeed carrying cables around with you. And with the phone's USB-C charging port increasingly doubling-up as the headphone output, with wireless charging you can carry on listening to music at the same time as powering up.
By far the most common wireless charging standard is Qi (pronounced 'chee'). Pretty much all gadgets that support wireless charging support Qi, but at varying speeds.
Magnetic wireless chargers offer a tighter connection between phone and charging pad, so promise faster and more efficient charging. Owners of Apple's iPhone from versions 12 to 14 benefit from MagSafe wireless charging, which can boost charging speeds from 7.5W to 15W. If you own one of these phones look out for the best MagSafe iPhone chargers.
Wireless phone chargers come in a variety of formats. The simplest is a flat pad, like a coaster, on which you rest the phone while it charges. There are also phone stands that double up as wireless chargers. And some wireless chargers can charge more than one device, such as earbuds or a smartwatch, at a time.
It's worth pointing out that the speed of the wireless charging pad is only half the story. Wireless chargers don't draw power from thin air—they must be plugged into the mains via a USB adaptor. Some of the wireless chargers reviewed below come with their own power adapter but most require a USB charger.
If that is a 5W adaptor then your 10W wireless charging pad is going to be able to deliver only half its maximum output. The fastest wireless charging speed you will be able to receive is that of whichever is the weakest link in your setup. The USB charger should be at least 18W and anything up to 240W! Choose from one of our recommended USB phone chargers or use the charger that shipped with your phone if it's 18W or greater.
Best wireless charger reviews
1. Anker 315 Wireless Charger Pad – Best value wireless charger pad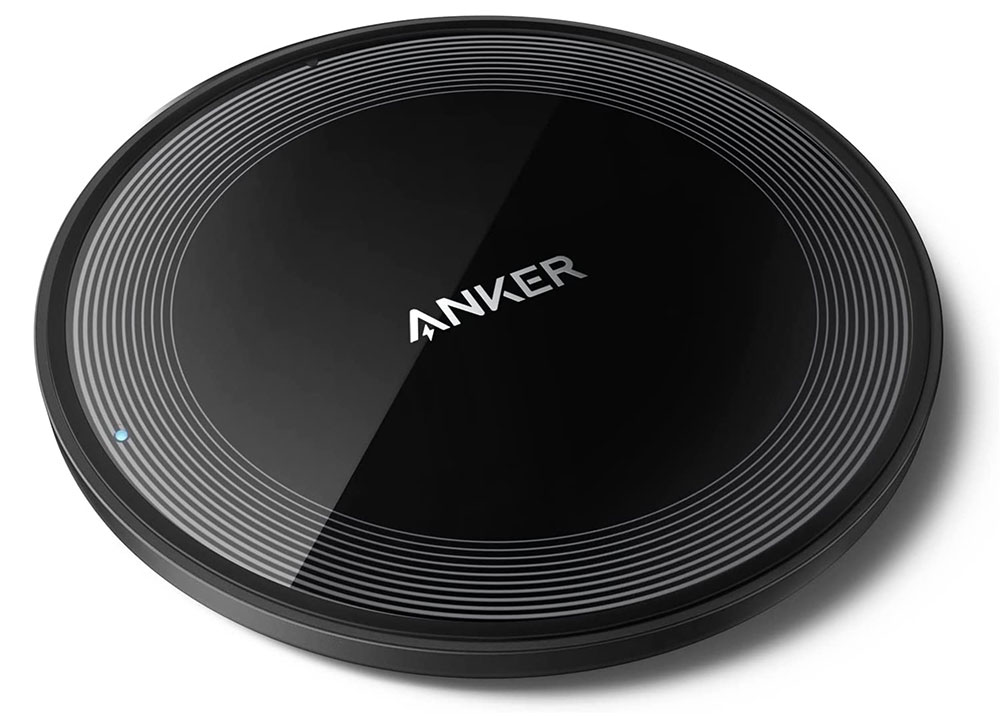 Pros
Reliable brand
Great value
10W Samsung; 7.5W iPhone
Cons
No extra features
Requires USB charger
Price When Reviewed:
$14.99
This is a cracking deal from Anker, one of the most reliable names in charging tech.
The Anker 315 Wireless Charger Pad is a simple disc-shaped pad, that has a glossy surface top but non-slip bottom to add grip, meaning there's no chance of your phone slipping off the pad or the pad itself wiggling around on the table.
It's compact, light and efficient, with a small LED on the top to show everything is working correctly. A flashing blue light alerts you to a metal obstruction, while flashing green confirms that an incompatible cable or adaptor is connected, but solid blue means all is well.
The Anker 315 Pad supports up to 10W wireless charging with compatible devices (for example, Samsung phones), making it one of the faster models available. iPhone 8 and later models will charge at 7.5W. And some other phones have a maximum wireless charging rating of just 5W.
2. Anker 313 Wireless Charger Stand – Best value wireless charger stand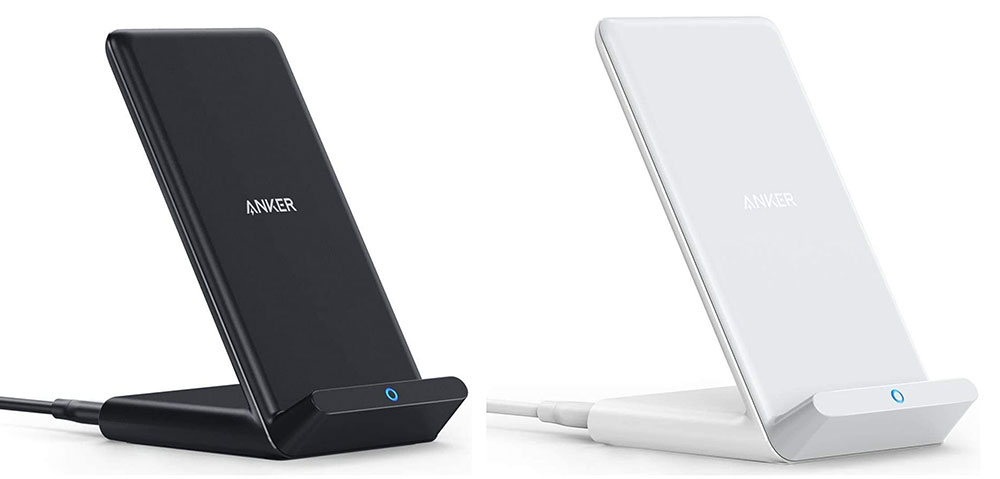 Pros
Reliable brand
Great value
10W Samsung
Cons
5W iPhone
Requires USB charger
Price When Reviewed:
$19.99
Also from Anker, this simple wireless charging stand means you can look at your phone while it charges in the cradle. It's is great for your desk or bedside table, and the phone can be either in either a vertical or horizontal position.
Samsung Galaxy phones charge at up to 10W, but iPhone charging lags behind at just 5W. If you own an iPhone 12, 13 or 14, we recommend your instead choose a faster MagSafe charger, such as Anker's own PowerWave Magnetic 2-in-1 Stand, reviewed below.
3. Mous MagSafe-Compatible Wireless Charger – Best magnetic wireless charging pad
Pros
MagSafe-compatible
7.5W iPhone
Cons
Small
Requires USB charger
Price When Reviewed:
$34.99
We love Mous phone cases, but that quality can come at a price—which is why we're so surprised by how affordable its wireless charger is, especially considering it's compatible with Apple's MagSafe too.
That means this compact charging puck will attach magnetically to the latest iPhones to guarantee a proper charging connection—a feature that actually also tends to work to hold most Android phones and headphones in the right spot too. It'll charge those at speeds up to 15W, though note that since this is 'MagSafe-compatible', and not actually certified by Apple, it'll be limited to 7.5W charging on iPhones and other MagSafe gear.
Just note that since it's so small–less than six centimetres across–it'll be fiddly to charge up anything bigger than a phone. Mous also sells a range of compatible mounts and stands for desks or cars too, making this one of the most flexible wireless chargers around.
4. Mophie 15W Wireless Charging Pad – Most Stylish Wireless Charging Pad
Pros
Stylish design
Good grip
15W output
Adaptor included
Cons
Expensive
Proprietary mains adaptor
Price When Reviewed:
US$49.99
Stylish and fast, this nicely designed Qi charger from Mophie will be a great fit for many living rooms and bedside tables. It's very small and lightweight, taking up no more room than is necessary, and has just a single LED strip glowing from below to denote operation.
We love the design, with a suede-like soft material covering the upper surface of the pad. This, combined with the raised rubber rim that runs around the edge, should help to keep your smartphone firmly in place during use. Charging is effective with cases up to 3mm thick.
The 15W output is a highlight, although most phones won't be able to achieve such charging power (for example, the iPhone will max at 7.5W with this charger) and sufficient for fast-charging compatible phones. To achieve that speed you must have an equally powerful adaptor at the other end; Mophie has got around this issue by supplying its own power adapter that doesn't support USB, which is either convenient or inconvenient, depending on how you look at it.
5. Anker PowerWave Magnetic 2-in-1 Stand – Best value magnetic 2-in-1 stand for iPhone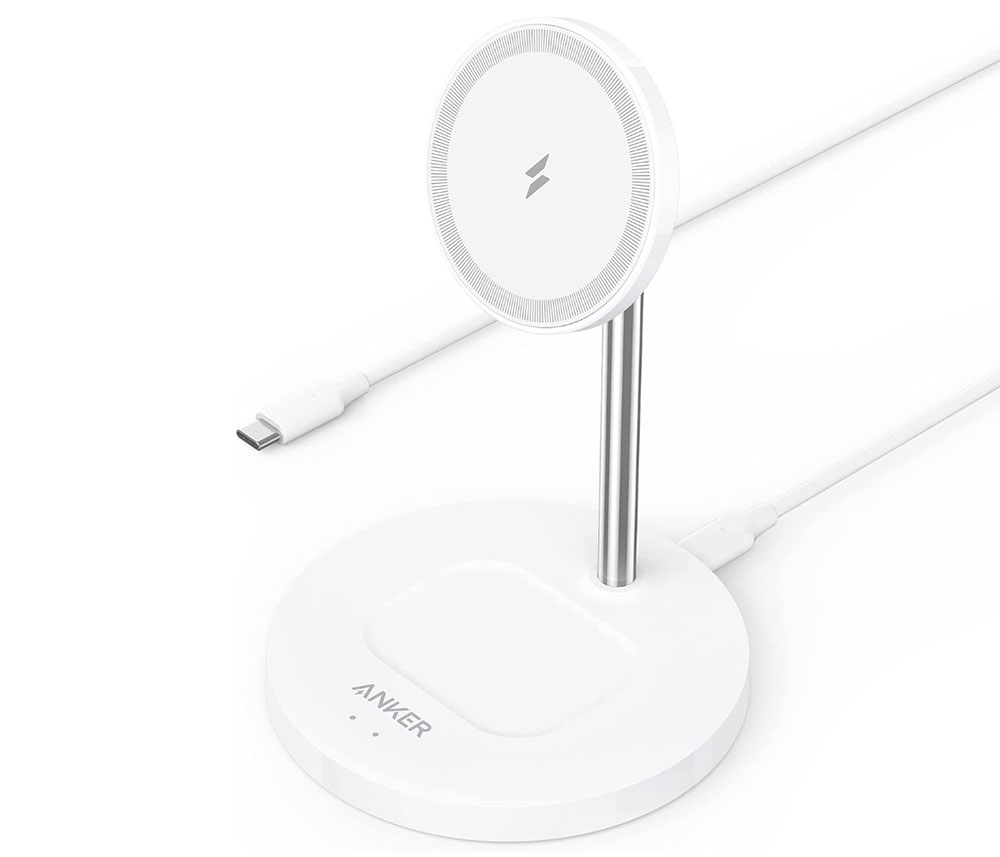 Pros
MagSafe-compatible stand
7.5W iPhone
Charges AirPods too
Price When Reviewed:
$39.99
Built to charge both an iPhone 12/13/14 and wireless AirPod case charger, the Anker PowerWave isn't certified MagSafe and charges at 7.5W rather than 15W. The AirPods are charged at 5W, which is standard for all such multi-device magnetic chargers.
You can angle the phone up to 40° in either landscape or portrait modes.
6. Belkin Boost Charge Dual Wireless Charger – Best 2-in-1 wireless charger pad
Pros
Decent value
Supports two devices
Slim design
10W
Price When Reviewed:
$49.99
Need to charge more than one device?
The Belkin Boost Charge Dual Wireless Charger is a long, thin, flat pad (19.5-x-9cm-x-1.2cm) that provides simultaneous wireless charging for two Qi-enabled devices at the same time, up to 10W.
You could charge a couple of phones–always handy at home–or a phone and your wireless earbuds case, so you're all charged up and ready to go when it's time to move.
7. Anker 533 PowerCore 10K Wireless Power Bank – Best wireless power bank
Pros
Portable power bank
Wired fast charging
Built-in stand
Can charge 3 devices at once
Price When Reviewed:
$49.99
This portable battery pack offers enough wireless Qi charging to power up an Apple iPhone or Samsung Galaxy phone at least 1.5 times.
You can use it as a portable wireless charger or connect it to a power source via USB and charge up to three devices at the same time: one via USB-A, one via USB-C and another wirelessly on top.
You can even fast charge an iPhone or Samsung phone using the USB-C port.
A pull-out handle can be used a a stand for stable phone viewing when you need it.
If you don't need the wireless function on a portable battery pack, check out our reviews of the best power banks.
8. SanDisk iXpand Wireless Charger – Best wireless charger with backup functionality
Pros
Backup and sharing function
10W output
Power adaptor supplied
Price When Reviewed:
$199.99
This neat wireless charger adds back-up functionality thanks to built-in flash memory.
Choose between 128GB or 256GB memory that will allow you to back up your photos and videos at the same time as charging your phone wirelessly.
You can share the iXpand with others, but in order to keep your backups separate, you'll need to create free accounts within the iXpand Charger app.
128GB might not be enough to back up an entire family's camera rolls, but it's a decent capacity for individuals. There's a micro USB port on the back so you can transfer the backed-up photos and videos to your PC or laptop should the iXpand fill up completely.
The app is necessary for connecting the device to your Wi-Fi network, but it also shows the status of backup and charging, and will also offer to free up space on your phone by deleting everything that has been backed up.
9. Belkin Boost Up Wireless Charging Stand 10W – Best Wireless Charging Stand
Pros
9W Samsung
7.5W iPhone
Power adaptor supplied
Cons
No-frills black plastic design
Price When Reviewed:
$49.90
This wireless charging stand from Belkin has the handy advantage of allowing you to continue using your phone as it charges. The width of the cradle is fixed, but wide enough to house any smartphone. It's also reasonably low, making it just as easy to lay your phone down horizontally as it is standing upright.
The dock itself is very sturdy, thanks to a generous footprint, though the device itself is not too large. It has a very simple but functional matte black plastic design.
A small white LED lets you know the charger is functioning correctly, but pleasingly is hidden out of the way at the top of the dock.
Certified for Apple and Samsung Fast Charge, the Belkin might be a bit pricier than some, but you can be assured it will deliver optimum charging speeds, and there is a wired power adaptor in the box.
10. Moshi Lounge Q Wireless Charging Stand – Best Luxury Wireless Charger
Pros
Stylish, adjustable design
9W Samsung
7.5W iPhone
Cons
Expensive
Requires USB charger
Price When Reviewed:
$69.95
Moshi's Lounge Q is a stylish Qi-certified wireless charging stand that is adjustable in height and phone orientation. It is softer on the eye than most other plastic stands, with its Nordic-gray cloth "inspired by Danish furniture design".
The ability to adjust the charging pad's height means there should be less manoeuvring of the phone to pick the correct spot for charging, and it is easier to accommodate phones of different sizes.
It will also charge in both vertical and horizontal modes.
Other charging stands often have a fixed charging coil, and so are more rigid in where a phone must be placed.
Moshi uses a ferrite sheet that offers speedy and efficient charging. It can fast-charge any device up to an impressive 15W. It supports both Apple (7.5W) and Samsung (9W) fast-charging (WPC Qi-EPP spec).
An LED indicator shows the phone's charging status. It features a 1.2m (4ft) USB-C cable, so you will need a USB-C charger to connect this to.
If you just want a wireless charging pad, the Moshi Otto Q is a horizontal alternative featuring the same technology. And the Moshi Porto Q is a pad that can be detached from its cable and carried around as a portable 5000mAh power bank.
11. Twelve South HiRise Wireless – Best wireless charging stand and pad
Pros
2-in-1 design (pad or stand)
10W Samsung
7.5W iPhone
Cons
Expensive
Requires USB charger
Price When Reviewed:
$66.40
Twelve South's HiRise Wireless is a premium 10W Qi wireless charging stand that can also be a wireless charging pad.
It's simple. You can just pop out the charging back of the upright pedestal stand, and use it flat as a portable pad, which is handy if you want to take it out with you to the coffee shop or another office without taking the whole stand with you. It comes with a 1.5m USB-A-to-USB-C cable.
As a pad, you can also use it to charge a wireless earbud case, such as the one with Apple's AirPods.
Build quality is high, with the stand made from gunmetal chrome and leather.
12. PowerPic Wireless Phone Charger – Best Novelty Charger
Pros
Novelty 2-in-1 design
Conceals cables and status lights
10W Samsung
7.5W iPhone
Cons
Conceals photos in use
Supports only devices up to 165mm tall
Requires USB charger
Price When Reviewed:
$34.99
Another wireless charger with a secondary purpose is the PowerPic from Twelve South.
While most are fairly inconspicuous, few chargers—wireless or not—are that nice to look at, so we tend to hide them away as much as we can.
PowerPic is different because it's a quality-looking wooden photo frame (holding 5-7in photos) that's also a Qi-certified wireless fast charger that delivers up to 10W power.
Add your favorite photo, and plug in the cable to any basic phone charger, and you can simply rest your phone against the glass to see it begin charging straight away.
It will charge through most phone cases up to 3mm thick.
There are charging status lights at the back of the frame, and it's available in either black or white New Zealand pine.
13. STM ChargeTree – Best Wireless Charging Stand for Apple Device Owners
Pros
Compact design
3-in-1 stand for Apple device owners
Sturdy design
Cons
Not ideal for Android users
Bright LED may disturb
Requires USB charger
Price When Reviewed:
$79.95
Aimed primarily at those heavily invested in the Apple ecosystem, the STM ChargeTree looks to be your one-stop-shop for wirelessly topping up your devices.
It offers the ability to wirelessly charge not only your iPhone, but your second-gen AirPods/AirPods Pro and your Apple Watch, too.
The simplistic, compact design of the ChargeTree means it doesn't take up a lot of space on your desk or bedside table, although the bright LED indicator lights may disturb those who have it next to their bed.
A large grippy rubber square on the bottom of the charger should keep it securely in place, no matter where it's sat.
It's powered by USB-C and comes with a USB-C to USB-A cable in the box, but there's no power supply.
For the full experience, you'll need to use an 18W charging brick—anything less and your devices will take a while to charge up.
14. Mophie 3-in-1 Wireless Charging Pad – Premium Wireless Charging Pad for Apple Device Owners
Pros
Stylish 3-in-1 design
Supports Nightstand Mode
Adaptor supplied
Cons
Not ideal for Android users
Cheaper options are available
Price When Reviewed:
US$139.95
This super-stylish wireless charging pad should find favor with those heavily invested in Apple's ecosystem, though it's likely to have reduced appeal for Android users.
Although it's called a 3-in-1 wireless charging pad, the pad itself actually supports just an iPhone (7.5W) and AirPods (5W), and there's a small space at the back to clip in an additional wireless charging stand for Apple Watch (5W).
Being able to remove the watch stand if you don't need it is convenient, although doing so will leave a hole in the otherwise ultra-premium design. If you do own an Apple Watch, the Mophie pad supports Nightstand Mode, meaning you can use the watch as a bedside clock while it is being charged.
There's an indentation on the left to hold your earbuds case firmly in place, which is aided by the grippy 'UltraSuede' fabric covering on the top surface of the pad. It does, however, mean you're less likely to want or be able to use it to charge an alternative gadget.
Meanwhile, your iPhone sits over to the right of the pad. While the Mophie is compatible with other Qi-compatible phones, there are more powerful options for wireless charging Android phones.
The necessary adaptor is supplied in the box, which makes setup and use simple.
15. Moshi Symbus Q USB-C Dock – Best wireless charging USB dock

Pros
2-in-1 device
USB ports
Powerful enough for a laptop
Adapter included
Cons
Expensive
Will be overkill for many
Price When Reviewed:
$164.95
The Moshi Symbus Q is a 15W wireless charger that is also a USB-C dock, with two USB-A 3.1 ports, 4K HDMI, Gigabit Ethernet, and USB-C 60W passthrough charging for a laptop.
The Moshi has a premium design, with a slick aluminium casing, and fabric and rubber finish to the charging base.
It's not cheap, but it looks great and fits right in with most of Moshi's stuff: premium products at premium prices.
16. Kit Wireless Wall Charger – Best for the kitchen
Pros
No separate adaptor required
Supports two devices
Additional USB
Cons
Some DIY required
USB awkwardly placed
UK only
Price When Reviewed:
Not currently available in the US
This wireless charging stand from Kit is UK-specific because it attaches directly onto your mains socket—UK only unfortunately.
Kit markets it for the kitchen, but it could work just as well in an office or next to the bed. Installation is quick, and only requires enough DIY skill to unscrew the socket plate slightly and slide the charger's mount into place.
Once it's installed, you get the space to wirelessly charge two phones or one tablet, with speeds up to 10W over the Qi standard. You can also simultaneously charge a third phone via the included USB Type-A socket – though this is in a slightly awkward spot on the bottom.
It doesn't have to take up a whole wall socket: it only uses one plug, leaving space for you to plug something else in – and you can access this plug to swap it out without a screwdriver.
FAQ
---
1.
Does my phone support wireless charging?
Although wireless charging is now popular among flagship phones, don't assume that your phone supports wireless charging without checking the specification for your model.
It is possible to add wireless charging to any phone using a wireless charging receiver with the correct connection for your charging port. Try these inexpensive wireless cards from Nillkin with versions for USB-C (Amazon US and UK). They connect via the charging port and sit neatly behind the phone within its case.
2.
What is MagSafe and does my phone support it?
MagSafe is an Apple technology compatible with the iPhone 12, 13 and 14 series. It's a magnetic technology that holds the wireless charger—or other accessory—on to the back of the phone, preventing any accidental knocks from bumping the handset off charge, and making it faster and easier to correctly snap the charger into position.
This is possible thanks to magnets inside the iPhone itself, which are strategically positioned around the phone's internal wireless charging coil. These magnets are compatible only with MagSafe accessories, so you won't find your iPhone randomly attaching itself to other bits of metal.
An additional benefit of MagSafe is faster charging than with a standard Qi wireless charger for compatible devices—15W rather than 7.5W. This faster speed is possible only when a magnetic connection is made, however, and you should also note there is a difference between products 'Made for MagSafe' and 'MagSafe compatible'—only those 'Made for MagSafe' will charge an iPhone at 15W but the compatible ones will still be more efficient than non-magnetic chargers.
Some MagSafe chargers claim to charge other handsets (older iPhones and some Qi-compatible Android models), plus other wireless-charging tech including earbuds. However, it is our experience with third-party MagSafe chargers that not all play nicely together. Because they tend to be a bit smaller than standard chargers, without that magnetic connection it's also more difficult to keep the wireless connection intact.
3.
What speed wireless charger do I need?
The cheapest wireless chargers are often the slowest, and many come with a 5W output, which is akin to the wired chargers that came bundled with phones several years back. If you're leaving it plugged in overnight then you will wake to a fully charged phone, though routinely charging your phone to 100% is not great for battery health, and if you're in a rush then a wired connection is going to be faster and more convenient, given a faster adaptor. (We've rounded up some of the best wired chargers for your phone.)
Apple's current line-up supports 7.5W wireless charging with certified products, when you're not using the faster MagSafe. This is a slight improvement over the initial 5W, but for the fastest wireless charging speeds you should look to Android.
Flagships from Huawei, OnePlus and Xiaomi now often support wireless charging around 50W, and some Samsung Galaxy phones also support fast wireless charging. These top speeds use custom charging standards though, so you'll have to buy those brands' official wireless chargers to get the full benefits, or settle for slow charging using a more universal Qi pad.
Flagship phones often also support reverse wireless charging, allowing you to wirelessly charge over compatible gadgets from the phone itself, but you don't need a wireless charging pad for that.
Generally speaking it is better to buy a wireless charger that is faster than you need for some level of future-proofing. Your phone will draw only the power it needs. Should you buy a slower wireless charger then your device will still charge, but you will be hanging around waiting for it longer than you need to be.
It's worth pointing out that the speed of the wireless charging pad is only half the story. Wireless chargers don't draw power from thin air—they must be plugged into the mains via a USB adaptor. If that is a 5W adaptor then your 10W wireless charging pad is going to be able to deliver only half its maximum output. The fastest wireless charging speed you will be able to receive is that of whichever is the weakest link in your setup.
4.
Should I buy a wireless pad or stand?
That's really down to personal preference. With your phone charging in a stand it is easier to carry on using it as it charges, but a pad is smaller, more portable and usually cheaper, and it will be easier to use when charging wireless earbuds and smartwatches.
Sometimes you will find wireless charging stands build in multiple coils for charging, which allow you to throw down the phone at any angle and charging will begin. The same is true of some of the more recent (and significantly more expensive) wireless charging pads, though these are designed for charging multiple devices at once.
We've found some wireless chargers that do other useful things, too, such as double-up as a pen holder desk-tidy or attractive photo frame.
5.
Do I need to remove my phone case before charging?
That depends on the case. The Qi standard can operate at distances of up to 4cm, though tough hard-shell cases can cause an obstruction. Most phones will wirelessly charge just fine through a slimmer or softer case, and many wireless charger makers will claim to support cases up to 5mm thick.
That said, when you charge your phone it generates heat. When your phone is in its case it is like it is wearing a winter coat, and if that jacket prevents heat dissipation then things are going to get hotter still. Your phone should have effective safeguards built-in to prevent it overheating, but you should still apply some common sense.
This is also true of wired charging, of course, and it is recommended that you remove the case whenever you charge your phone. However, the reality is most people will not be bothered, and in most cases your phone will charge just fine with the case in place.
We've put together a range of articles to help you choose the best charging tech for the mobile devices you carry everywhere. You'll also like: