With a powerful computer in our pocket and tablets that can run desktop-level apps, you might be tempted to go without a laptop if you're running a business or trying to get lots of work done.
However, most people will find the combination of a large screen and physical keyboard within a portable device hard to beat. Also, if your office is one of the many to have switched to a hot desking system recently, a laptop is the easiest way to keep all your files in one place.
Many of the most popular laptop makers have at least one line of laptops specifically designed for business. They typically go for a minimalist design while focusing on performance and security, but there's no need to limit yourself to those. Plenty of laptops that are technically aimed at consumers can be great options, too.
We've included both in this round-up, alongside links to full reviews and detailed buying advice at the bottom. Remember, being higher in the list doesn't necessarily mean it's a better option for you.
Best business laptops 2023
1. LG Gram 17 – Best Overall
Pros
Stunning large display
Thin and lightweight
Superb performance
Cons
Expensive
Software tweaks not for everyone
Price When Reviewed:
$1,799
For many business tasks, a regular laptop display simply won't cut it – you need something with extra screen real estate.
With that in mind, allow us to introduce you to the LG Gram 17. It represents the pinnacle of laptop design right now, offering a huge 17in (2560×1600) display within a chassis that's just 17.8mm thick and 1.35kg in weight.
It's powered by Intel's 11th-gen processors, alongside up to 16GB of RAM and a bumper 1TB SSD on high-end models. If that's not enough, you also get stellar battery life from the 80Wh cell.
The below-par trackpad and speakers – our two biggest complaints about the 2020 model – have also both been addressed by LG, making this the best big-screened laptop you can buy.
There are now 2023 versions of this and the smaller LG Gram 16, but aside from new Intel CPUs it's generally more of the same. You'll probably be happy with either.
Read our full
LG gram 17 (2021) review
2. Apple MacBook Pro (2023) – Best Mac
Pros
Stellar performance
Superb battery life
Great display
Full HD webcam
Cons
Notch, but no Face ID
No USB-A ports
No touchscreen
Expensive
Price When Reviewed:
From $1,999 | Model reviewed $2,499
Available in 14in and 16in sizes, the latest MacBook Pro is the best laptop Apple makes right now, and one of the very best options for business use.
The highlight here is the immensely powerful M2 chips (choose from Pro or Max versions), which delivers incredible performance across any demanding productivity app. Its superb power efficiency means battery life is among the best you'll find on any laptop, making it great for on-the-go business.
However, at 1.6kg for the 14in and 2.1kg for the 16in, they're not the most portable. The displays are stunning (despite adopting an unusual 15.4:10 aspect ratio), but there's still no touch support and the unsightly notch still doesn't support Face ID. HDMI and SD card slots are great, but you still don't get USB-C either.
It'll take a while for Windows users to familiarise themselves with macOS, but the two are becoming more similar over time. But the Apple ecosystem means you can easily share files and other data from your iPhone or iPad. There's also plenty of useful pre-installed software, and some apps available which don't work on Windows.
The 2023 MacBook Pro doesn't come cheap, but a premium design and stellar performance go a long way to justifying the cost. If you prefer Mac to Windows, this is the finest option for business.
Read our full
Apple 14-inch MacBook Pro (M2 Pro, 2023) review
3. Huawei MateBook 16s (2022) – Best 16in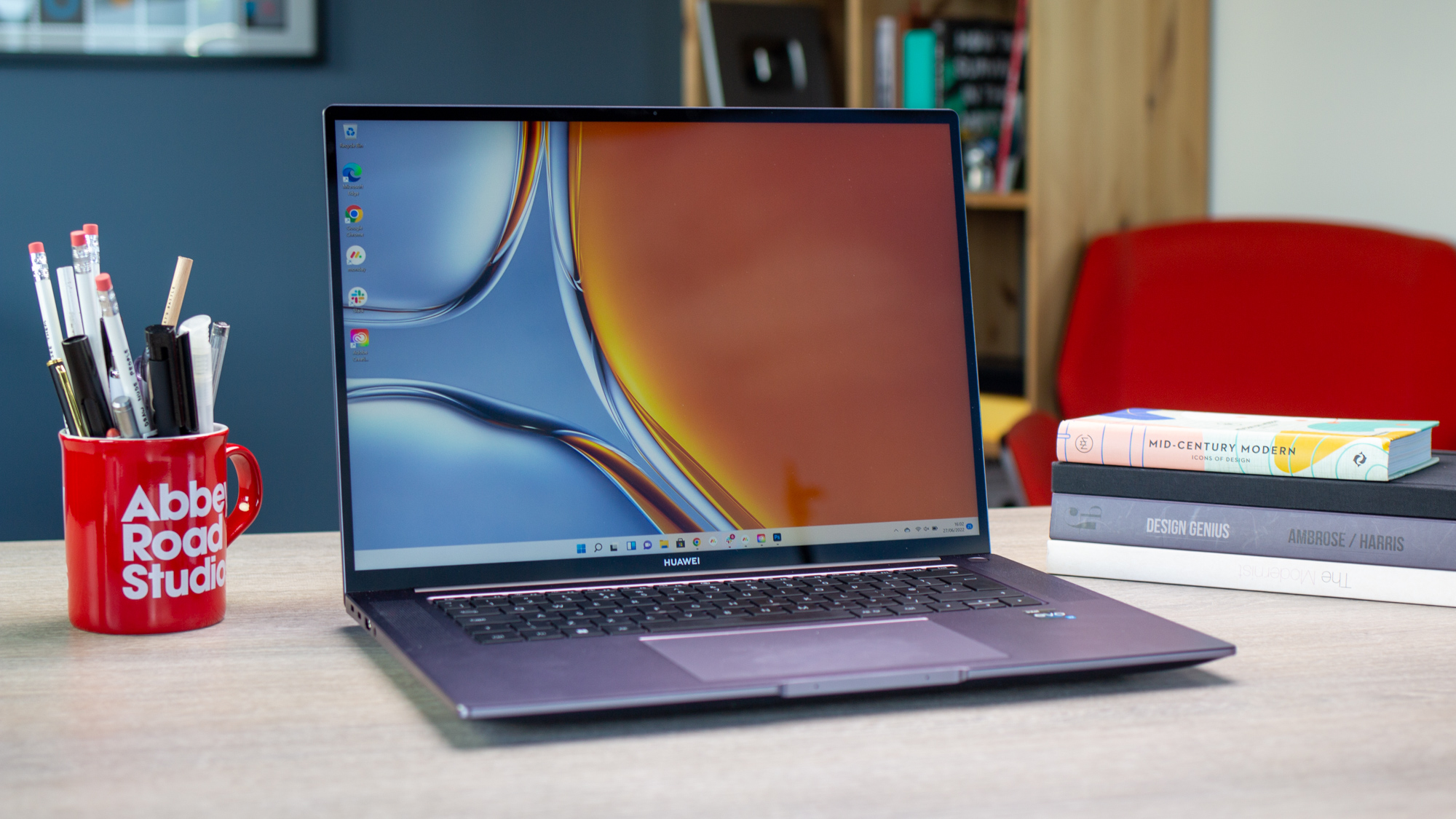 Pros
Great display
Excellent everyday performance
Fast charging
Lots of ports
Cons
No discrete GPU
No separate number pad
No SD card slot
If it wasn't for the LG Gram, the MateBook 16s would comfortably rank as the best big Windows laptop you can buy.
The high-res 16in touchscreen is a joy to use, and there's enough room within the slim top bezel for a decent 1080p webcam. Huawei has embraced Intel on the 16s with strong results from the 12th-gen CPUs. Decent battery life is supplemented by impressive fast charging speeds, all within a slick, premium design.
But the MateBook 16s isn't perfect by any means. Performance is limited during demanding tasks with no discrete GPU, while Huawei has decided against a separate number pad next to the keyboard despite there being plenty of space for one. While there are lots of ports, you're missing out on an SD card slot, so might need an adapter.
However, all these things would be easy to overlook for most consumers. Whether they're dealbreakers in a business environment is up to you.
If you're looking for something more affordable, the latest MateBook D 16 is a great alternative.
Read our full
Huawei MateBook 16s (2022) review
4. Huawei MateBook X Pro (2022) – Best Design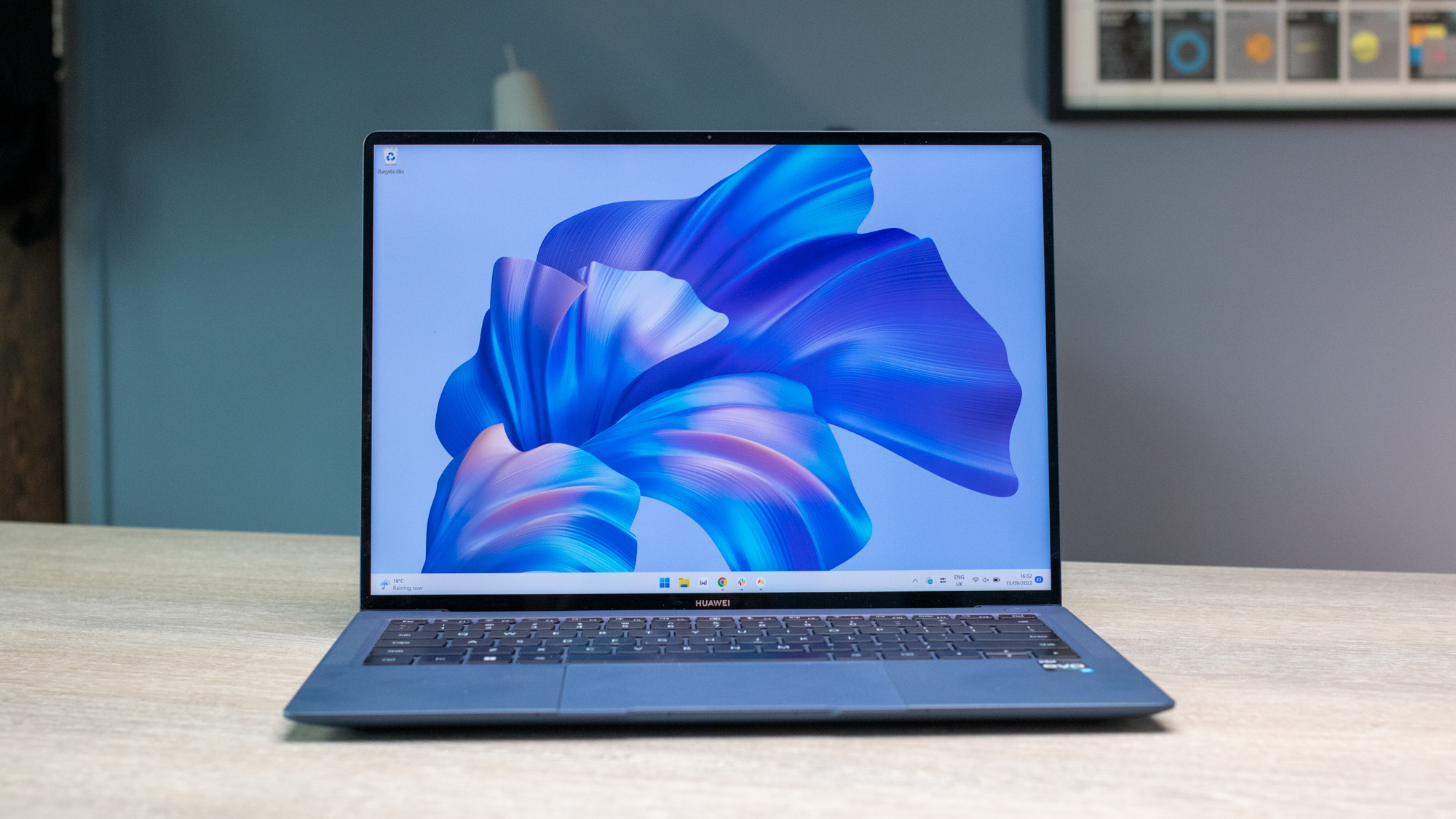 Pros
Stunning design
Impressive keyboard & trackpad
Solid performance
90W fast charging
Cons
No discrete GPU
Sub-par battery life
No USB-A ports
Price When Reviewed:
Not available in the US
Huawei has updated its flagship MateBook X Pro laptop twice in 2022, but this second iteration only adds new Intel chips and a slightly lighter build.
That's not a problem, though, as it was already one of the best laptops you can buy. Moving to 12th-gen CPUs delivers a notable improvement to performance, even without a discrete GPU.
Elsewhere, subtle refinements to the thin and light design means it looks and feels better than ever – especially with combined with the gorgeous 90Hz display/ A superb keyboard and trackpad are among the best you'll find in any laptop.
Huawei has managed to squeeze in no fewer than four USB-C ports, but for some reason there's no USB-A. You'll also have to contend with underwhelming battery life, although there is 90W fast charging for when you do run low.
That premium price tag makes those drawbacks harder to ignore, but the latest MateBook X Pro remains an excellent option for almost all business users.
Read our full
Huawei MateBook X Pro (late 2022) review
5. Huawei MateBook 14s – Best all-rounder
Pros
Powerful with lots of ports
Great keyboard
Excellent 90Hz display
Webcam above the display
Cons
Plain design
Thunderbolt 4 only on top-spec model
Webcam only 720p
Price When Reviewed:
Unavailable in the US
The MateBook 14s is the best laptop you can buy right now, making it an easy recommendation for business users.
It's one of the few consumer laptops to have a 90Hz display, making everything on the 14.2in, 2560×1680 display feel more fluid and responsive. It works in tandem with Intel's 11th-gen chips – you get a choice of i5 or i7 here – for excellent performance, even without a discrete GPU.
The keyboard is also one of the best you'll find anywhere, while Huawei has even returned the webcam to its rightful place above the display. You also get all-day battery life (for most tasks) and quad speakers, all within an 1.43kg chassis. If you don't need the extra screen real estate of the LG Gram devices, this is the next best thing for on-the-go business.
There's also a new version of the MateBook 14s, but it's also an iterative update with newer Intel CPUs.
Read our full
Huawei MateBook 14s (2021) review
6. Samsung Galaxy Book 2 Pro – Best Design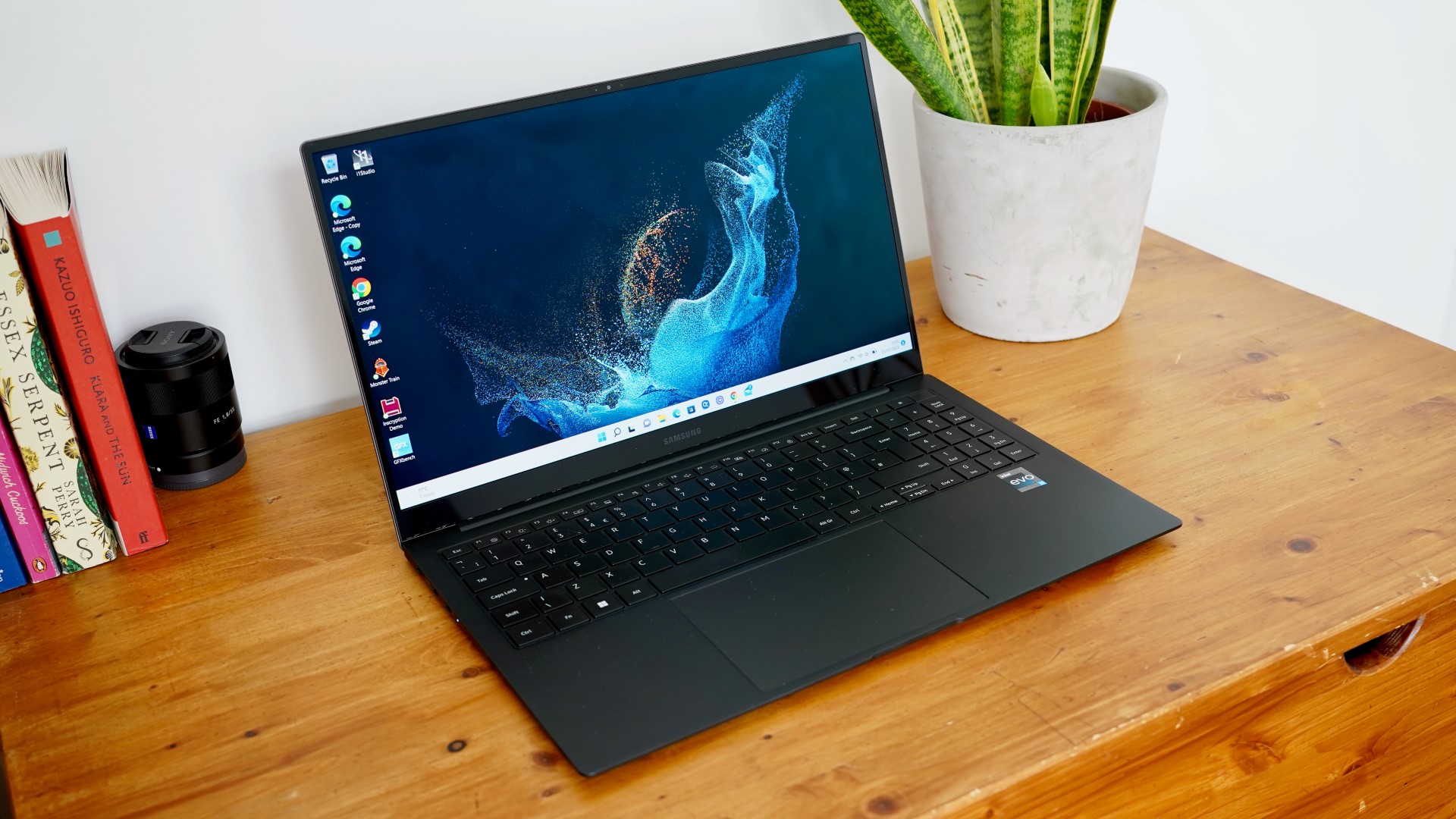 Pros
Vibrant display
Stunning design
Great port selection
Cons
Underwhelming battery life
No discrete GPU
Expensive
Price When Reviewed:
$1249.99
Work can be done from almost anywhere these days, and the Galaxy Book 2 Pro is the latest evidence of this. Within an impressively thin and light design, Samsung has managed to pack in all the premium features most business users are looking for.
They include great performance from Intel's 12th-gen CPUs, alongside the option for 5G on high-end models. It's equipped with a high-quality 15.6in OLED display, while you also get a full-size keyboard with separate numberpad.
Despite being just 11.7mm thick, Samsung has still found room for a generous port selection, which adds USB-A and HDMI to the usual USB-C ports. There's also a Full HD webcam and dual speakers for a solid video calling experience.
It's far from perfect, with mediocre battery life and a lack of some high-end specs, but the Galaxy Book 2 Pro is a great option for business users who value portability.
Read our full
Samsung Galaxy Book 2 Pro review
7. Microsoft Surface Pro 9 – Best 2-in-1
Pros
Lightweight and portable
Excellent 120Hz display
Solid performance & battery life
Cons
Not enough ports
Keyboard cover still sold separately
Expensive
Price When Reviewed:
From $999.99
Provided you choose the Intel version, the Surface Pro 9 is a great choice if you want the flexibility of a 2-in-1.
It includes a laptop-sized 13in display, complete with 120Hz refresh rate for silky-smooth visuals. Paired with the premium surface design and solid performance from Intel's 12th-gen chips, the Pro 9 nails the basics.
Other highlights include a great webcam, solid battery life and and excellent detachable keyboard – although the latter is sold separately. Adding that and a pen makes the device very expensive, while the port selection still needs work.
You might be tempted to go for the ARM version, which offers 5G support, new video calling features and even better battery life. But the performance issues and clunky experience with some apps simply isn't worth it.
Read our full
Microsoft Surface Pro 9 review
8. Dell XPS 13 Plus – Best Design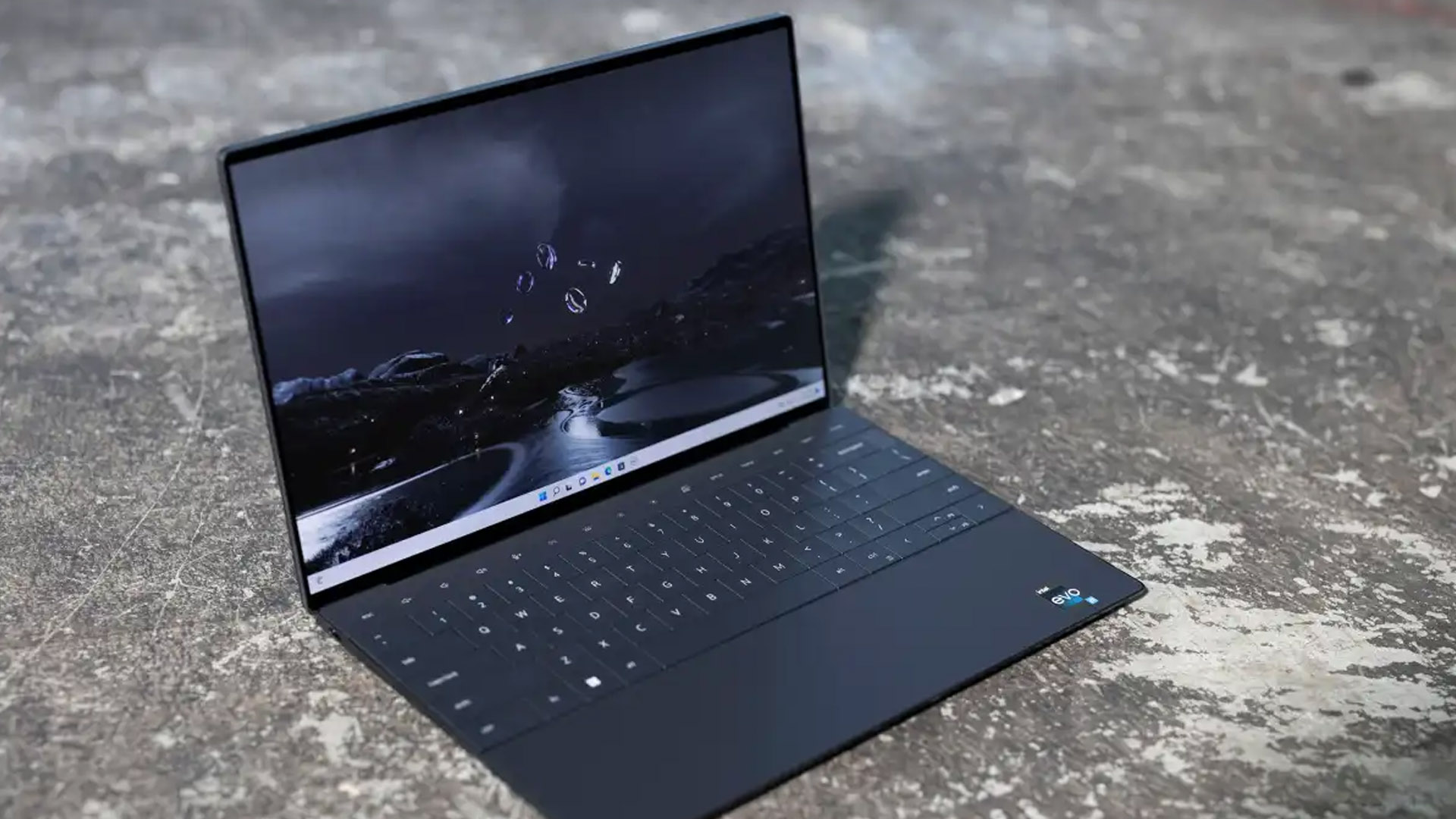 Pros
Stunning design
Great keyboard
Superb OLED display
Cons
Underwhelming battery life
Not enough ports
No physical function keys
The XPS 13 has been one of the most popular laptops for a while, but this new Plus model is very different.
It offers a new take on the classic Dell design, with a stunning OLED display and new edge-to-edge keyboard. The viewing and typing experience are great as a result, but the new haptic function keys flatter to deceive.
Performance from Intel's 12th-gen CPUs is solid, and it's nice to have support for both face unlock and a fingerprint sensor. But disappointing battery life and a poor port selection take the shine off the experience, particularly at this price.
However, if you can afford it and are content with the compromises, it remains a great option for business use.
9. Microsoft Surface Laptop 5 – Best keyboard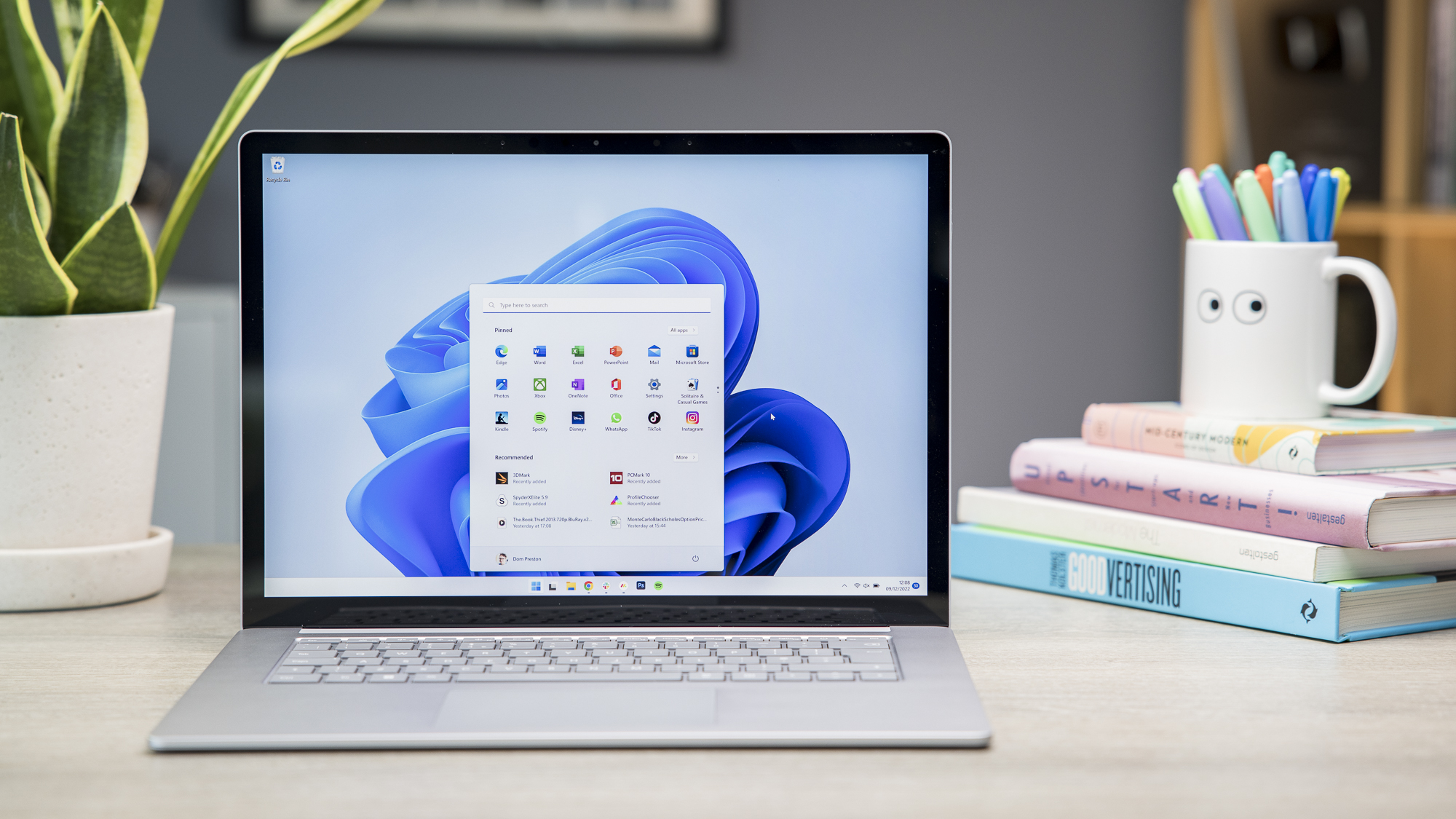 Pros
Solid performance
Excellent keyboard
Decent display
Cons
Dated design
No option for AMD CPUs
Prices climb quickly
Price When Reviewed:
From $999
The Surface Laptop 5 is beginning to look a little long in the tooth, but it remains a solid all-rounder that's worth considering.
Microsoft has decided against updating what was already a dated design, meaning the device doesn't look like a laptop that was released in 2022. The only upgrade compared to the Laptop 4 is a move to 12th-gen Intel CPUs, which yields a small boost to performance and power efficiency.
The latter benefits battery life, but no option for AMD processors this year limits its impact – that was where the better battery life could be found last time out.
But despite being unchanged, the 13.5in or 15in touchscreens remain excellent, while the keyboard is one of the best in any laptop.
Aside from that, the Surface Laptop 5 isn't best-in-class in any area. But it does do most things pretty well, which bodes well for business use.
10. Lenovo Yoga Slim 7i Pro X – Best Performance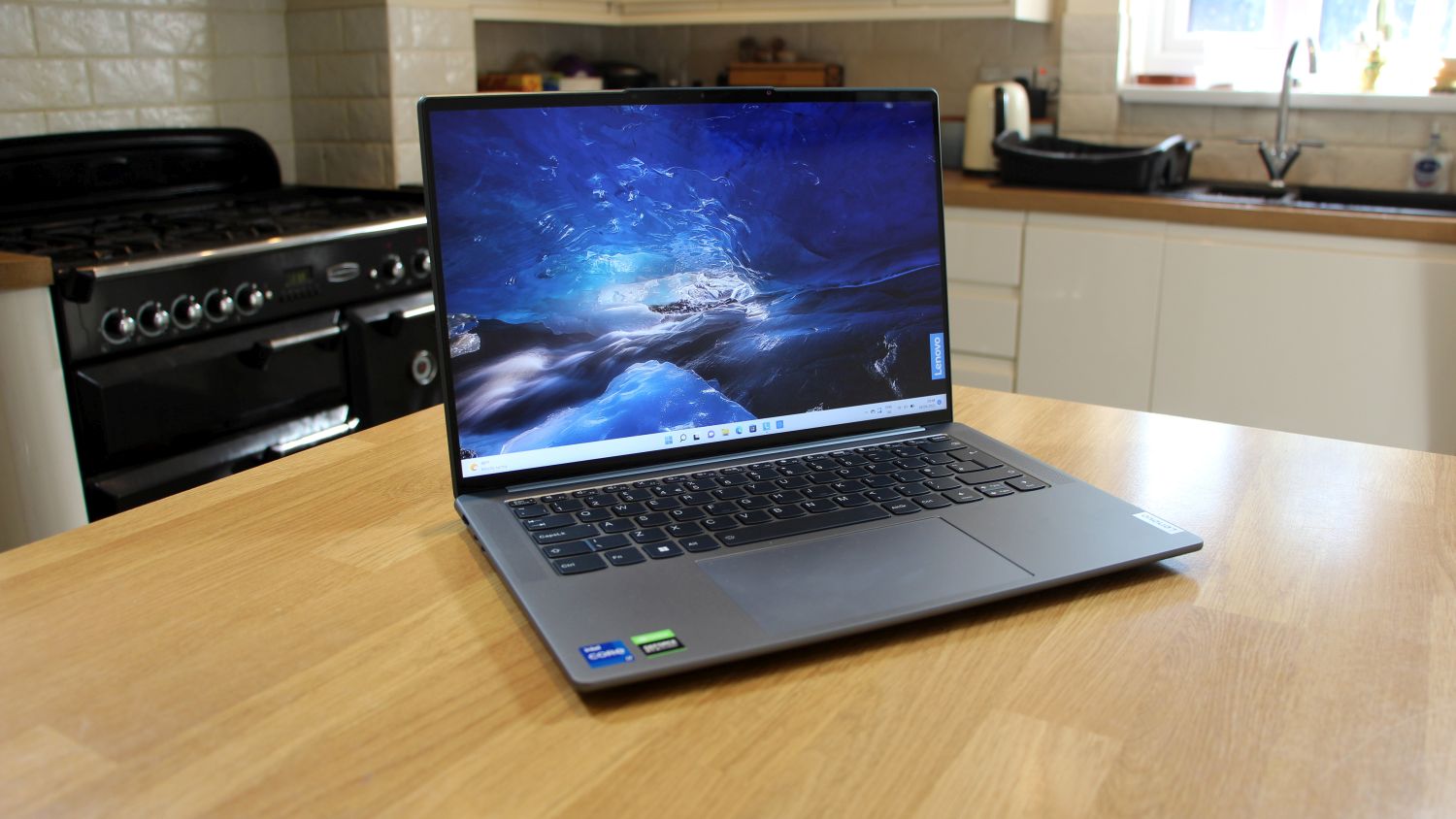 Pros
Impressive performance
Great battery life
S-Pen stylus support
Cons
Relatively expensive
No dedicated GPU
Display lacks brightness
Price When Reviewed:
From $1,760
It's expensive, but the Yoga Slim 7i Pro X delivers the high-end laptop performance that many business users crave. Combining a 12th-gen Intel Core i7 processor with an Nvidia RTX 3050 GPU and 32GB means it can handle almost everything you throw at it – aside from demanding games, perhaps.
Other key strengths include a superb keyboard and capable trackpad, although you might still want to connect a mouse. There's also plenty of ports, something which is often sacrificed on thin and light laptops – a slightly chunkier design is worth it.
However, underwhelming battery is the main reason it's not higher in this list. The 14.5in, 120Hz display has a high resolution, but struggles a bit for colour accuracy. Alongside that high price tag, it stops the Slim 7i Pro X from being an instant recommendation.
Read our full
Lenovo Yoga Slim 7i Pro X (2022) review
FAQ
---
1.
Which operating system should I choose?
This should be your first decision. Is Windows, macOS or ChromeOS best for you and your business? If you need access to specific desktop software, Chrome OS is probably out of the picture.
Apple's MacBooks are definitely worth considering, but the sheer number of options means Windows is your safest bet. Any Windows 10 devices on this list are eligible for a free upgrade to Windows 11, although there are two main versions to consider.
Learn more in our separate guide: What's the difference between Windows 11 Home and Pro?
2.
How much do I need to spend?
Price is a key factor, of course. Some high-end laptops are indeed excellent but you may want to save some money while still getting decent performance. Thankfully those laptops do exist and that's why a Chromebook might be a great choice, especially if your needs aren't demanding.
Some of the laptops in this list are higher priced, but they often represent good value considering the features and specifications they have. We've included a range of different prices and options.
3.
What other factors should I consider?
A tough, durable build is important if you often use a laptop outside, but you might prefer something lightweight and portable for on-the-go productivity. Hardware security features such as a fingerprint sensor or physical camera shutter are useful, but battery life may be top of your priority list.
It's important to make sure the laptop you choose has the right specs for your line of work. Do you need a powerful processor and graphics card for demanding software or can you save money by getting something lower-end? That all depends on your workload and how your current device compares.
Also, make sure the display will suit your environment. Someone working outside will need to make sure the screen is bright enough to view, but there are plenty of dim screens out there that you'll want to avoid.
Ports are often forgotten about, but a laptop is no good if you can't plug a vital accessory in. Many laptops come with USB-C only now, so you might need an adapter or a hub.