If you've never used a VPN service before, choosing one can seem a daunting prospect. But we'll tell you what to look for and recommend the services to choose between.
There are a few reasons to use VPN. One of the most common is to watch blocked videos but another is to help to keep your internet activity private.
You can use a VPN on many types of devices, from your phone to your laptop and even some TVs. If you don't have a compatible smart TV, you can use a VPN on a media streamer such as the Amazon Fire TV Stick.
The great thing about most VPN services is that one account can be used on multiple devices at the same time. This makes the low monthly price even better value as the whole family can use it.
Even if you're already familiar with these benefits of a VPN, you may not know which one is the best. And that's why you're here of course.
Why have we picked these VPN services?
Testing and reviewing VPN services isn't as simple as you might think. There are many factors to consider: the cost per month, connection speed, number and location of servers, the apps on offer, quality of tech support and other important factors such as privacy and data logging policies.
There's also the ownership. This should always be transparent, and it should raise red flags when it isn't. For example, certain companies own both VPN services as well as websites that review VPN services. This doesn't always have to be the conflict of interest that it seems, but it certainly can be. (We'd like to point out that neither IDG, which publishes Tech Advisor, nor its parent company own any VPN services.)
We also look closely at companies that own multiple VPN services and whether they say data is shared between those services and what other activities they're involved in.
When you use a VPN, you're entrusting that service with all of your internet data because it passes through their server first, where it is decrypted before being sent to its final destination.
That's why we place such high importance on independent audits: it's not enough for a VPN to say they don't log any data – they should prove it so that you don't have to take their word for it.
Most, but not all, VPN services rent servers from other providers. This means the providers own the servers and have physical access to them. VPN services should use reputable datacentres and put measures in place to safeguard your data, but this is why owning and operating their own hardware goes in favour of the few VPN services that don't rent servers.
All this means the services below are the only ones we currently recommend and, even then, sometimes only for streaming video rather than for privacy. They're also the ones we'd use ourselves.
We have reviewed many others, which you can see if you browse all our VPN reviews, but they didn't make the cut. They might have been included in this list before, but now they're not.
Services we've reviewed but don't currently recommend include: IP Vanish, HMA, Bullguard VPN, Bitdefender Premium VPN, Goose VPN, Hotspot Shield Premium and ClearVPN.
Top VPN services for 2022
PROMOTION
Best-Selling VPN Deal: 82% Off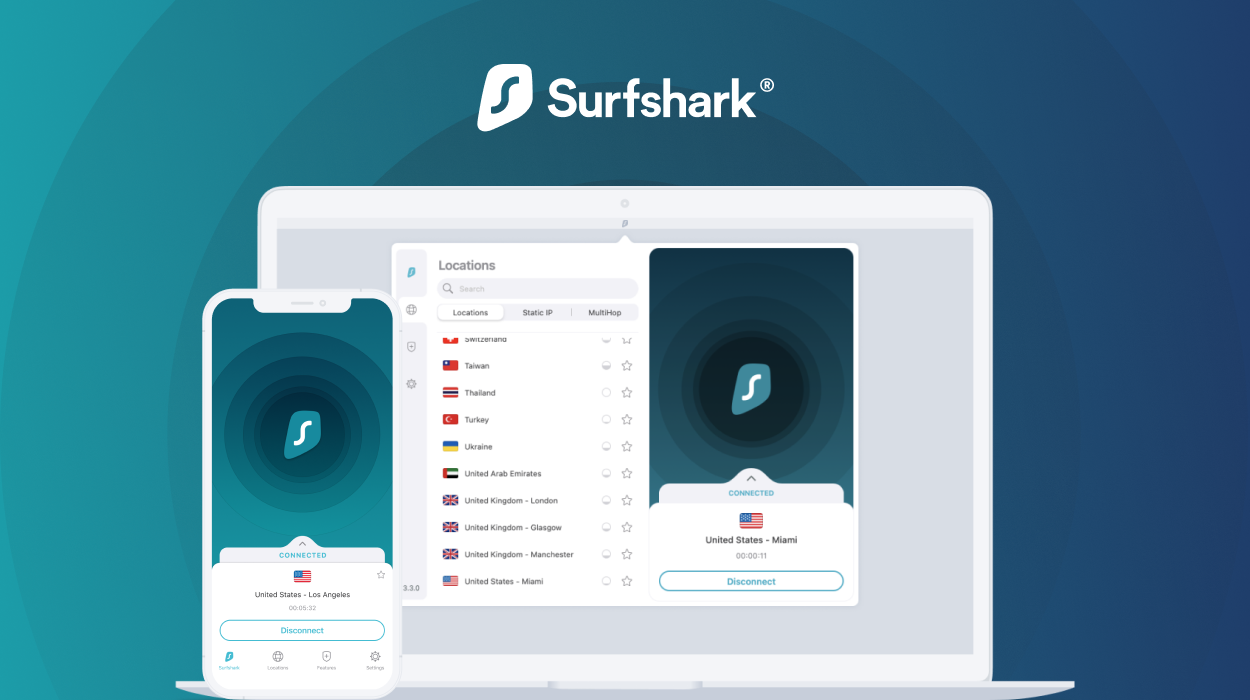 Safeguarding the privacy and safety of you and your family has never been more crucial. Now with one Surfshark subscription for just £1.59/month, you can access the open internet while staying private with our military-grade encryption. Get Surfshark today and receive an additional 2 months for free.
What to look for in a VPN service
Because VPN services vary in price quite dramatically, it can be tempting to just go for the cheapest. That's not necessarily a bad idea, but it is still important to choose one you trust and that will offer the features you require. The old adage "you get what you pay for" doesn't really apply to VPN services.
The first major decision is what you want to use a VPN for. If you just want to watch videos from HBO Max, Disney+ or another service that's not available in your country, then you don't have to worry too much about any other details: just go for a well-priced service that offers unblocking for the services you need. A VPN's privacy credentials aren't as important, but do remember that when you connect to a VPN, all the web activity that happens over that connection could potentially be seen by the VPN provider.
Most VPNs offer a 30-day money-back guarantee so you can try them out and make sure they let you access the services you need.
If you're more concerned about privacy and security, you'll want to go for a VPN that doesn't log any data and ideally owns and manages its servers, rather than renting servers from a datacentre. Put simply, if you want to minimise the risk of your VPN service being hacked and your identity, location and activity being exposed, opt for one which runs hardware that's exclusively under its control. And if your life depends upon your VPN connection, it's probably not a good idea to use a consumer VPN service at all.
Don't be persuaded by a bigger choice of countries: it doesn't mean it's a better choice. What you should look for are servers in the countries you either need to appear to be in or are physically present in, as a local VPN server will always give you the fastest speeds from any given service.
It's highly likely you'll only use handful of the servers available, and you certainly won't want to connect to a server the other side of the world if it reduces your internet connection speed to a crawl.
Testing a VPN service's speed is tricky as it varies all the time. The best way to find out if a service is quick or not is to read our reviews.
Just about all VPNs support Windows, Android, iOS and macOS, but some offer apps for a wider selection of devices including Amazon Fire TV Stick, Linux and web browser extensions for Google Chrome, Firefox and others.
You don't actually need an app if your device supports a VPN connection, so you can enter your username, password and other details into your NAS, router or other device. However, that's a hassle when you want to change to a different server as you need to set up a connection manually for each one. Plus, it means you miss out on advanced features only available in the apps, including a kill switch if the operating system doesn't provide one.
Public / free Wi-Fi
It's a good idea to use a VPN is whenever you're connected to an open public Wi-Fi network in a café, hotel, airport or on public transport. When a Wi-Fi network doesn't require a password to connect (and entering your email or other details in a web browser doesn't count here) it means the connection from your phone to the network is unencrypted.
And that means it is possible for someone to spy on your activity. However, most websites and web services use encryption anyway: a VPN is more like an insurance policy just in case sensitive data does end up being sent as plain text.
One other thing to look out for is any restrictions on usage – some ban P2P (file sharing) while others are fine with it.
What is the '5 Eyes' and '14 Eyes' collective?
If you're most concerned about privacy, it's important to know where your VPN is based. Or, more specifically, where the business is registered and therefore in which jurisdiction it operates.
In recent years some countries have got together to exchange information freely, nominally in a bid to enhance everyone's security. However, many groups are critical of this behaviour, believing that mass surveillance impinges on our freedoms.
The main group of countries that can share information freely is called the Five Eyes. They come from the UKUSA agreement that, although begun back in 1941, was only made public knowledge in 2005. The agreement is between Australia, Canada, New Zealand, the United Kingdom and the United States, hence the name Five Eyes. Those countries have agreed to collect, analyse and share information between each other, and much of this intelligence is believed to be related to internet activity these days.
The 5 Eyes:
Australia
Canada
New Zealand
United Kingdom
United States
The Five Eyes has grown to include a total of 14 countries, which is why you'll hear a lot about '14-eyes' when reading about VPNs. Third party countries were added over time, and now additionally include Denmark, France, Holland, Norway, Germany, Belgium, Italy, Sweden and Spain.
If your VPN provider is based within a country that is part of the 14 Eyes, it can be asked to share data of its customers and will legally have to comply. If your provider promises that it doesn't log any information, you're probably safe within the 14 Eyes, but it is more of a risk if privacy is your main concern and you might want to consider looking for a VPN provider that is based elsewhere.
What information does a VPN keep?
VPN providers generally claim to not log anything. These days it's rare for them to log connection time stamps, IP addresses and bandwidth used: they usually only log anonymous information 'necessary to maintain and improve the service'.
We check carefully using information available to us exactly what each service logs, and include this in each review.
If you're looking for complete anonymity, choose a provider that accepts payment in the form of gift cards or Bitcoin, which makes it near-impossible to trace any activity back to an individual. Just note that a VPN does not make you anonymous online.
VPN bans in China and Russia
Most VPN services claim to work in China and Russia. The truth is that it's a cat-and-mouse game where the governments work out how to block connections if they detect you're using a VPN and they're very good at doing so.
It means that you can't know for sure if a certain service will let you access Google and other sites on a particular day, and that's one reason why it pays to subscribe to a service with 24/7 live chat support: they'll be able to help you pick the right server and settings to bypass the blocks at that time.
The same goes for unblocking streaming services: they don't like VPNs and crack down on them as much as they can. And, again, having live chat support is useful when you run into problems. At the moment, many VPNs are unable to unblock BBC iPlayer – even big names such as ExpressVPN. So if this is important to you, check with the company first to see what the current situation is. Usually there is a solution: ExpressVPN offers a separate Media Streamer service which allows you to watch iPlayer content abroad.
We have lots more information and articles about VPNs here at Tech Advisor, all of which you can find over in our VPN hub.
Related articles for further reading
When you purchase through links in our articles, we may earn a small commission. This doesn't affect our editorial independence.