PDFs have been around for a long while, which means they're widely supported and you can view one on just about any device. But one of their great attractions – the fact that recipients can't change the formatting or content – is also one their drawbacks.
What do you do if you need to make a change because of an error or some out-of-date information in a PDF?
The answer is a PDF editor. This is different from an app that merely lets you view a PDF, so if you find you need to edit one of these documents on your laptop or mobile device, there are plenty of online services (and apps), many of which are completely free.
And it's those free ones that we're looking at here. So without further ado, here are the best free PDF editors for Windows, macOS, Android and iOS.
Best free PDF editors for Windows:
Best free PDF editors for macOS:
Preview (built into macOS)
Best free PDF editors for Android:
Best free PDF editors for iOS:
Now you know the ones we recommend, here's a closer look at each of them.
Best Free PDF Editors for Windows
1. Adobe Acrobat Reader (Windows)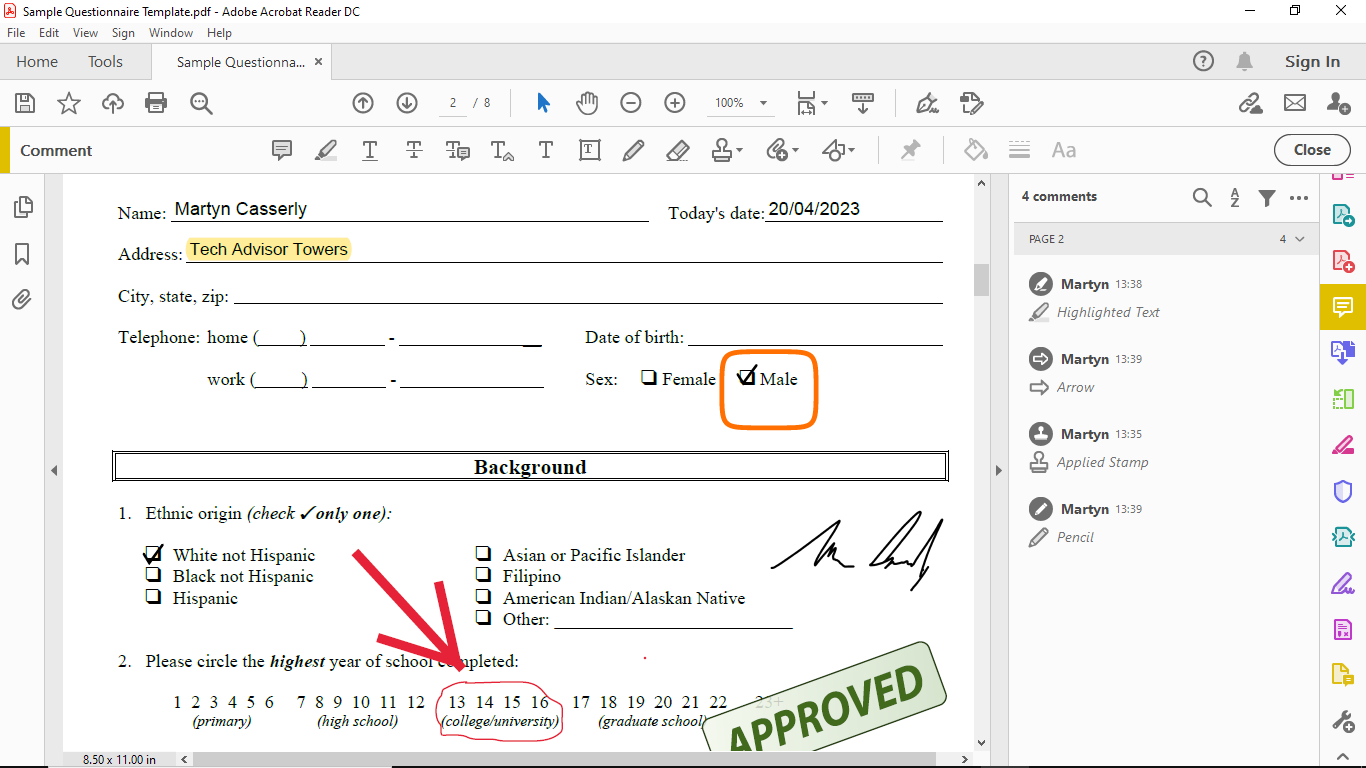 Pros
Good set of features
Free versions covers a lot of the basics
Cons
Can't convert documents or edit existing text
Paid tier is expensive
Price When Reviewed:
Free (Standard $12.99 p/m)
The obvious place to start with PDFs is the company that invented them in the first place – Adobe. Its free offering is Adobe Acrobat Reader, which gives you a fair amount of features that can make working with PDF files a breeze. Using the array of tools on offer, you can drop text into documents by the quick creation of text fields, then annotate things like checkboxes or areas where you have to circle your choices, all of which is accomplished by the built-in graphic options.
If you need to sign off on a document, then you can create a digital signature via your mouse or trackpad, then drop it onto the page. It should be noted that this is different to Adobe's e-sign service which offers a higher level of security but only comes with the paid tiers of Acrobat.
For more customisation, possibly if you're working with others on the layout of a document, there are the abilities to highlight, strikethrough or draw attention to certain parts of the page via arrows, box outlines or simply freehand drawing. When you're done you can save the document and then send it to your desired recipient.
There are restrictions though, as if you want convert a document to or from a PDF format, edit the actual content of the PDF itself, compress the file size, organise the pages or anything outside the basic editing mentioned above, then you'll need to sign up to at least the Adobe Acrobat Standard tier, which currently costs $12.99/£13.14 per month. But, if your needs are modest, then the free app should cover most of the tasks you wish to accomplish.
2. Canva (Windows)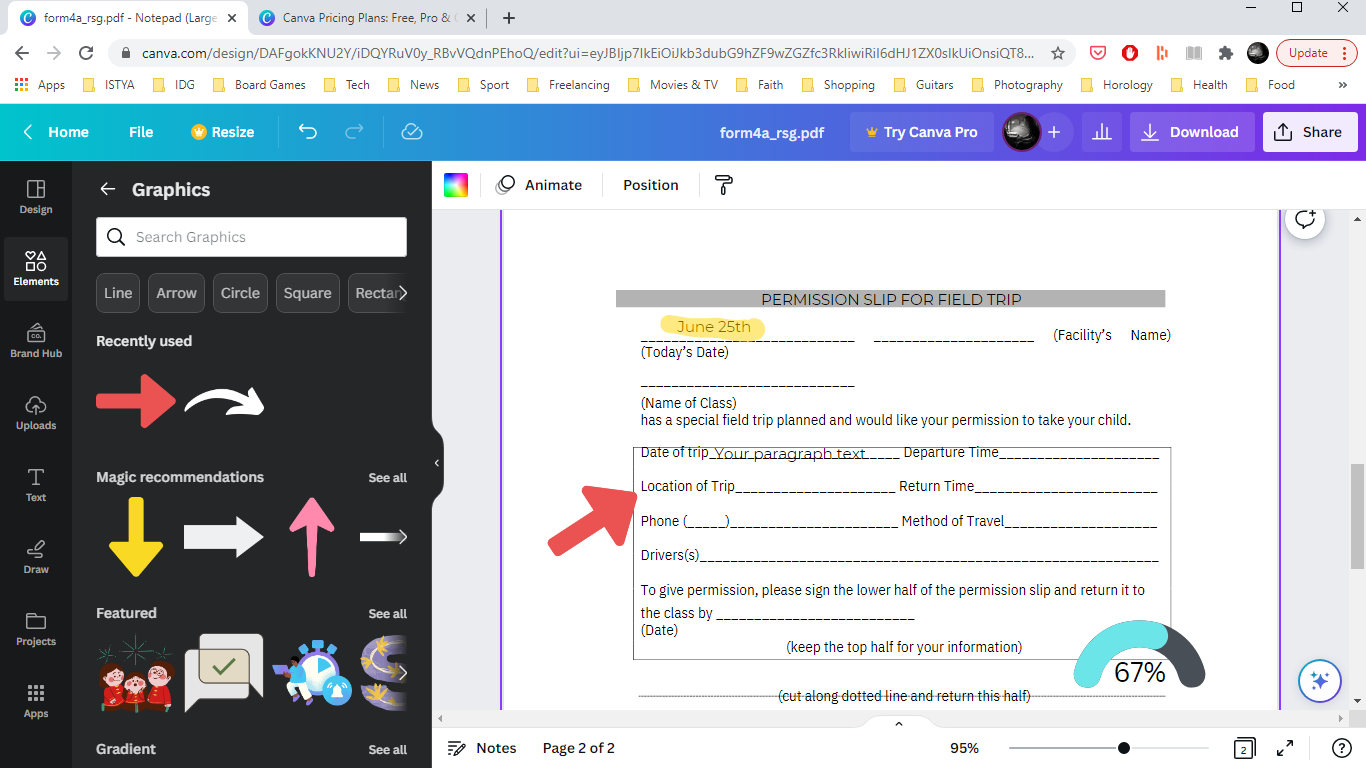 Cons
Might be a bit too arty for some workplaces
Price When Reviewed:
Free (Pro $14.99 p/m)
Canva might be more famous for its design software, which is excellent by the way, but on its site there is also a very useful PDF editor. It can do the standard stuff you'd expect, such as added text to forms, highlighting areas or annotating the document. The design background of Canva quickly becomes apparent though, as you'll find many of the tools have a graphical element that makes them a bit more fun than the other sedate offerings you'll find on this list.
There are plenty of arrows, frames and clip-art style graphics that you can add, not to mention tables and graphs. Admittedly, the latter is more of a visual queue rather than a highly detailed report, but if you want to show a percentage of something to aid the reader, then Canva allows that in a colorful and interesting way.
There's also an array of fonts that can be utilised to bring a bit of a life to a document, but if you only want to fill in forms for professional purposes then you can ignore all these and just get on with the job in hand.
If you're looking for a way to create PDFs from scratch, with a designer flair, then Canva should be your first port of call.
There's also a Pro version which opens up even more creative elements and this currently costs $14.99/£10.99 per month.
3. Sejda PDF editor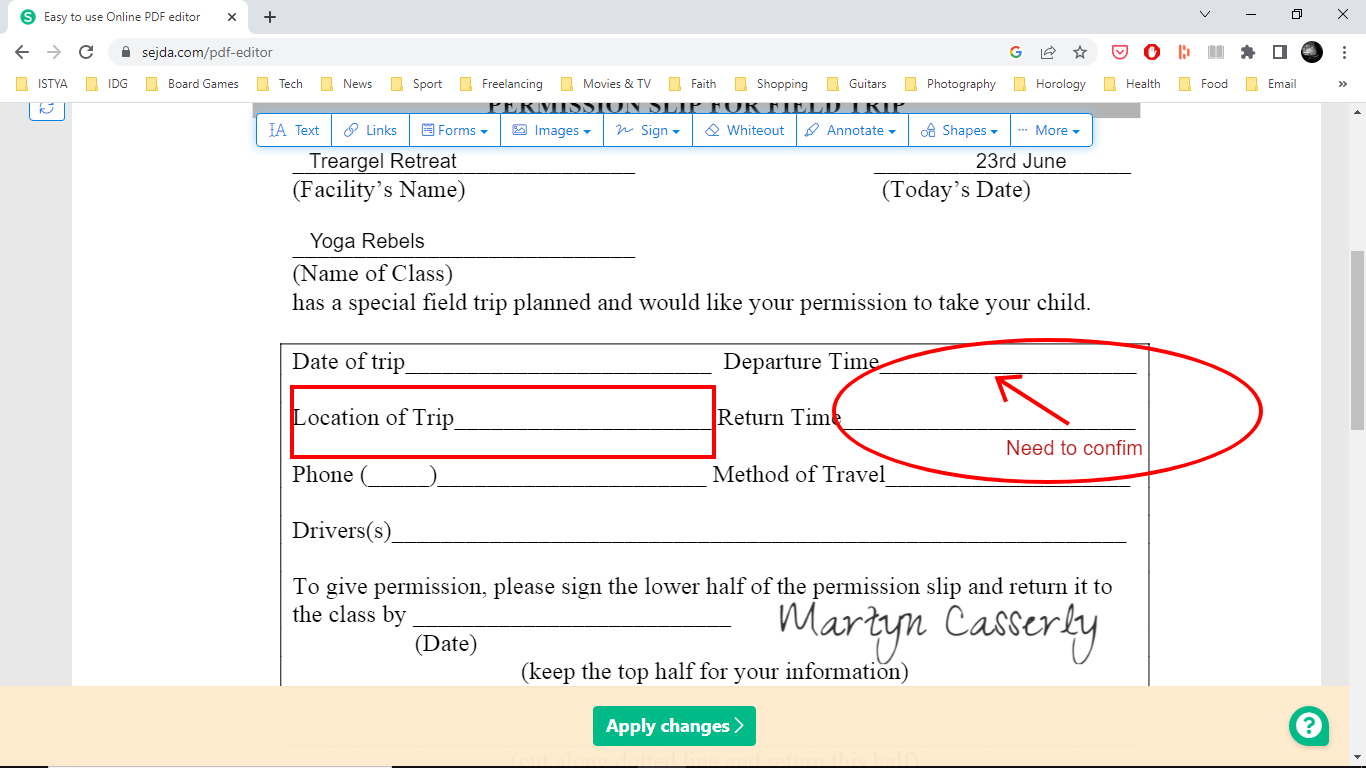 Pros
Nice, simple design
Good selection of tools
Cons
Daily limits on free tier
Price When Reviewed:
Free (Premium $7.50 p/m)
If the colors and graphics of Canva are a bit much for you, then Sedja is a simple but powerful solution that's well worth your time. The online version has a free tier that gives you access to all the tools you'll need so long as you're willing to accept the limits of up to 200 page or 50Mb files sizes, only three tasks (Edit, Compress, Fill & Sign etc.) per hour, and the files get deleted from the Sedja servers after two hours. If that's too restrictive, then you can buy a weekly pass for $5/£5, move to the monthly plan for $7.50/£7.50 per month or take the Desktop+Web option for $63/£63 per year that also gives you access to the desktop version.
Whichever you choose, you'll find Sedja easy to use thanks to its clean and efficient design. The tool bar sits across the top of the page, and follows when you scroll down. Here you'll find all the features for completing a form or annotating a document. Text boxes can be dropped onto the page easily, while the shapes available give you the ability to create questions or point out things that need to be altered or clarified.
The Forms tool provides ticks and markers for checkboxes, as well as the option to create new form fields. You can also create a digital representation of your signature by either drawing it freehand with your mouse or typing in your name and then selecting from one of the signature styles on offer which make it look more like it was written.
Sedja is a very nice editor to use and should cover enough ground for those who just want to complete a form or collaborate with work colleagues to hone a design.
Best Free PDF Editors for Mac
1. Apple Preview PDF editor
Pros
Already on your Mac
Does the basics well
Cons
Can't handle more advanced tasks
Price When Reviewed:
Built into macOS
If you're after the rudimentary features of a PDF editor, such as being able to add text fields to forms, create signatures or add comments and annotations, then you don't have to download any additional software as Preview in macOS can do all this and more.
Once you've opened the PDF in Preview, you can use the Tools option in the Menu Bar to access various features. With these you can annotate the document with highlights, underline certain text, and even strikethrough parts that you want to correct or have omitted from the final draft. There's also a handy redaction tool if you need to block out sensitive information, although be aware that this permanently removes the data, so you'll need to retain an unredacted version of the document if you need that information.
As mentioned above, you can create text boxes that allow you to fill out forms, plus you can use the Markup Toolbar icon to access more features, including creating a signature, being able to draw on the document, and insert notes. One drawback is that you can only save the amended document as a PDF, JPEG, TIFF, HEIC, OpenEXR or PNG, but not in Word or Pages format. For those kinds of features you'll need another app.
For most people though, Preview is all you really need for working with PDFs, plus it's already on your Mac and doesn't cost a penny.
2. PDF Candy
Pros
Online
Impressive range of features
Price When Reviewed:
Free
Another great free PDF editor for Mac is PDF Candy. This is an online service so it actually works with Windows and Chromebooks too, plus you can access it via the browser on a mobile device, so it's something of an all-rounder.
On the home page you're offered a seriously impressive range of options, these range from the standard editing of a PDF to converting different document types to PDF or vice versa, compressing PDF files sizes, as well as extracting text or images from an existing PDF. Pretty comprehensive.
To get started, select the feature you want, then import your existing document. Now, simply select the option from the toolbar on the left side of the screen and apply the changes to the PDF. You can use the normal features of inserting text boxes which can then be resized and repositioned, highlighting text, striking through text, adding arrows and other forms of annotation, plus creating and applying a signature. When you're finished, simply hit the Export File option to download the amended PDF.
One thing we noticed, on the Chrome browser there were several instances where functions wouldn't work properly, such as the site automatically repositioning text after we'd edited it. Moving to Safari cleared all of these issues and PDF Candy worked very well indeed.
3. PDF Escape
Pros
Plenty of tools for basic editing
More suited to annotating forms
Price When Reviewed:
Free (Premium costs $5.99 p/m)
Sticking with online editors, PDF Escape might have a weird name, but it also boasts some decent features on the free tier. Like PDF Candy, you upload documents to the web and work from there. It's a little less powerful, but this is due to there being paid tiers which naturally keep some of the more useful tools back. That being said, you can still get a lot done for free.
The workspace is similar to that of PDF Candy, in that the tools are on the left and the page layout is in the central pane. You can select from three types of features – Insert, Annotate, and Page. As these suggest, each section has tools for certain types of jobs. Insert allows for text, images, hotlinks and other elements to be added to the document. Annotate is where you'll find the highlighting, underlining, notes and similar things. While Page gives you the ability to reorder, reorientate, crop and append the pages within the PDF.
There's a 10MB file size limit on the free tier though, and you can't digitally sign a document, unless you're really good with the freehand pencil option or have an image of one that you can upload. There's also no option to edit the existing text or images in a PDF, convert to Word formats or redact information without moving up to one of the paid tiers. That will cost you $5.99 per month or $35.88 per year for Premium (around £4.80 and £29), or $8.99 per month ($71.88 per year) for Ultimate. That's around £7 and £58 if you're in the UK, although you'll pay in dollars. Ultimate allows for digitally signing and sealing of a document as well as the redaction tool.
PDF Escape isn't as good as PDF Candy (we saw a few glitches while testing it) and lacks some of features. Still, it's does have some good tools and, since it's free, is another option if PDF Candy doesn't do what you want it to.
Best Free PDF Editor for Android
1. Adobe Acrobat Reader (Android)
Pros
Solid performance
Good form filling and annoatation tools
Cons
More powerful features are on paid tier
Price When Reviewed:
Free (Premium costs $9.99p/m)
Adobe has appeared several times throughout this roundup, as the company invented PDFs and continues to offer plenty of options when it comes to editing them. The Adobe Acrobat Reader is a good choice for basic operations on Andoid, as you can import a document, highlight sections, make annotations, enter text and create a signature. It's true that much of the power of this app is hidden behind the rather considerable pay-wall that currently costs $9.99/£8.99 per month, but if you only need the features mentioned above, then it will get the job done for free.
Should you wish to upgrade, then you'll be able to create PDFs from scratch, edit existing text and images, convert other documents to PDF, rearrange the orientation and order of pages, not to mention combine multiple files into a single document.
Alternatively, there's also the stripped down Adobe Fill & Sign app that does what its name suggests and allows you to quickly enter text fields in forms and create a digital signature, all for free.
2. PDF Element (Android)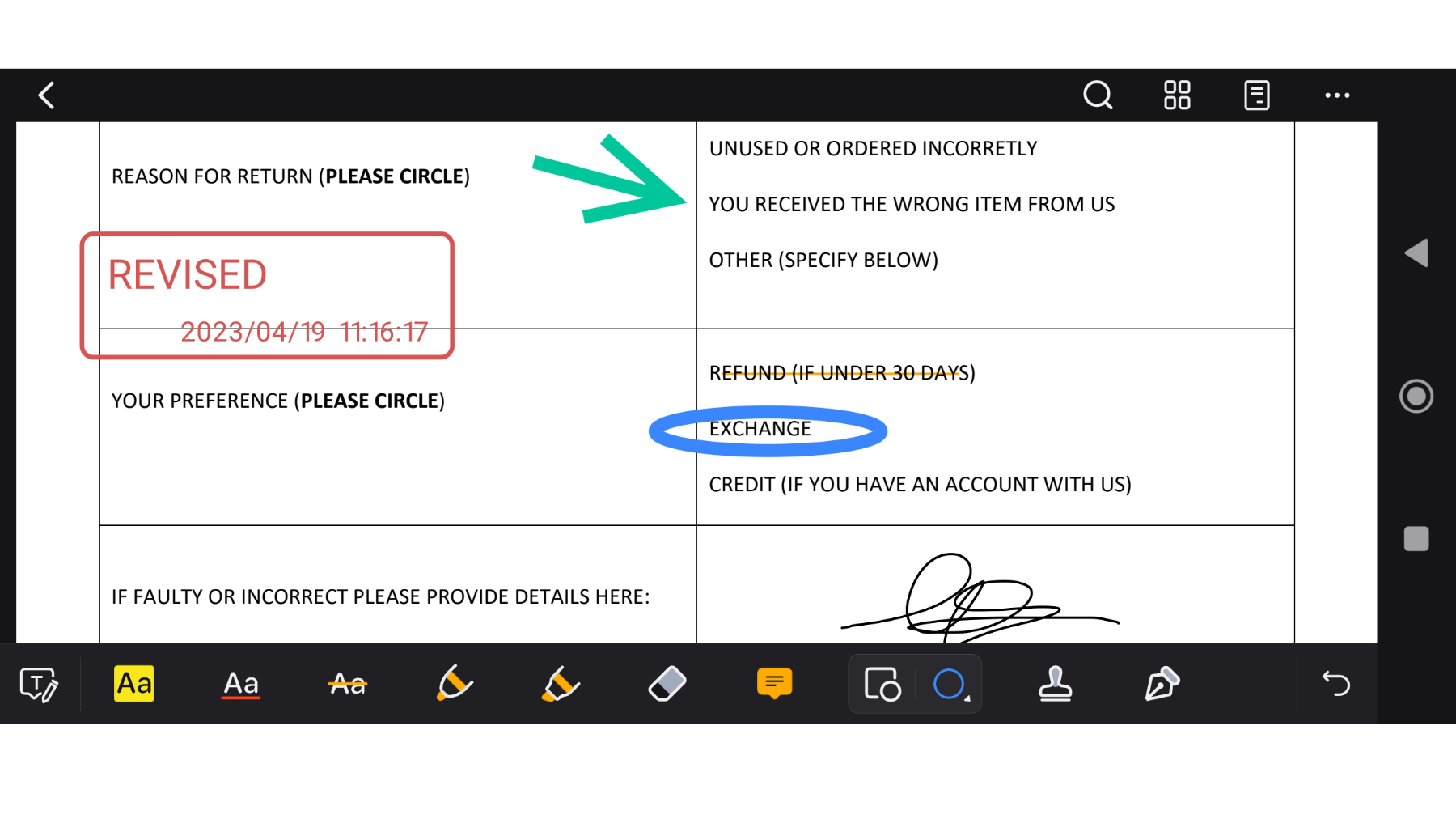 Pros
Clean and easy to use
A wide range of features
Cons
Can't add new text fields
Price When Reviewed:
Free
Wondershare is a company that's been providing software solutions for a good while now, with a portfolio that contains video editors, phone maintenance tools and quite a few others. PDF Element is the one that's pertinent to us though, as it's another app that lets you make adjustments and annotations to existing documents.
With the app you're able to underline, strikethrough, highlight, draw and erase the text. You can also choose the Text option and edit the existing words or replace them with new ones. The shapes feature includes useful things like arrows, squares and circles that can be used to draw attention to areas of the document, and there's also a Stamp feature that you can deploy to mark documents as Approved, Confidential or a range of other words that make it look like a secret dossier from a spy novel.
You can add a digital signature to the documents, created by using your finger to draw on on the phone, but curiously there seems to be no way to add new text fields, which would make it impossible to fill out forms. The Wondershare site does state that the iOS version is more powerful, so maybe that feature is only available on that platform.
So, if you need to mark up documents rather than fill them in, PDF Element is nice to use, has a certain charm, and is of course free.
3. Xodo PDF Reader & Editor (Android)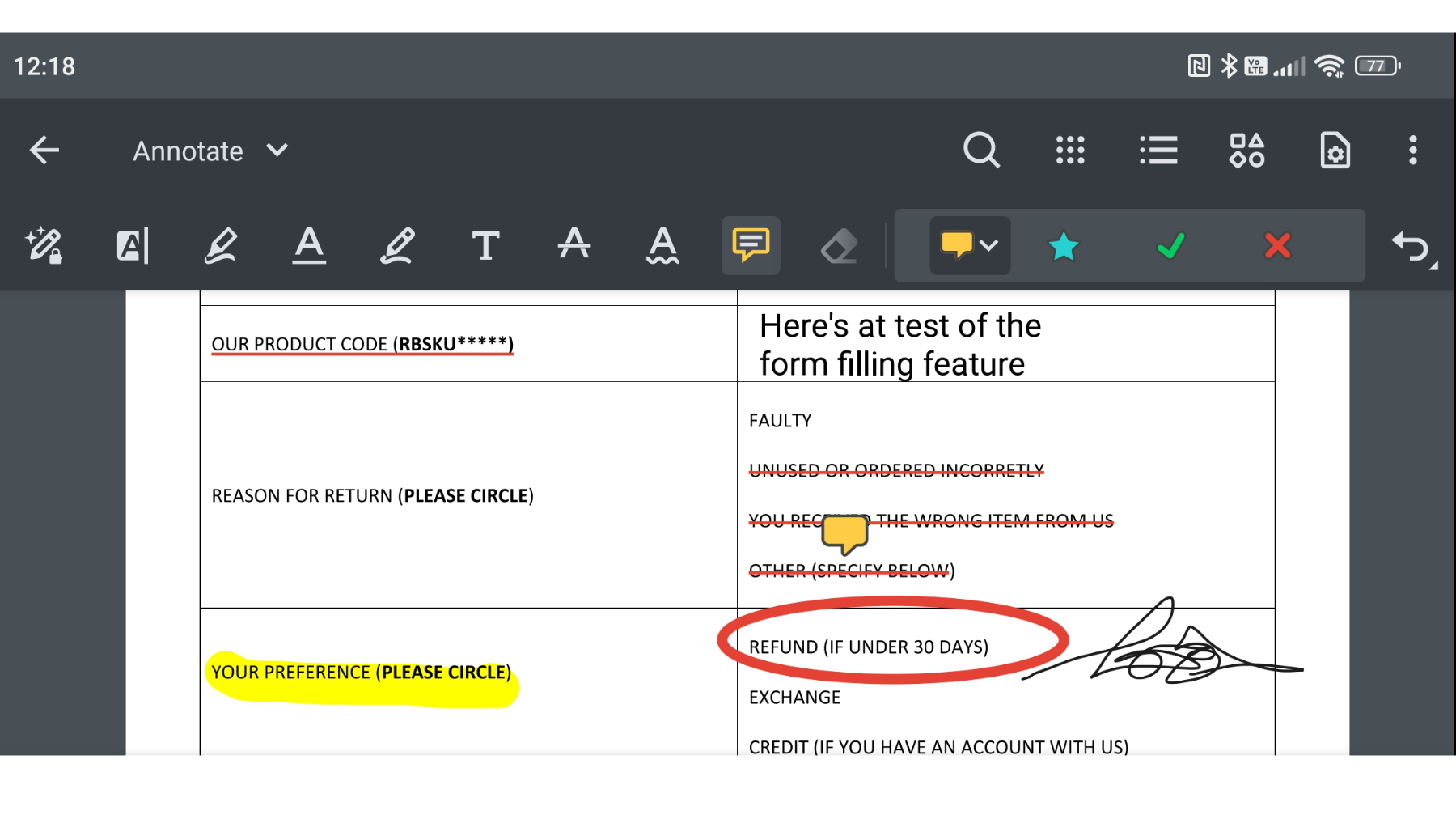 Pros
Nice user interface
Great selection of tools
Cons
Limited to three actions per day
Price When Reviewed:
Free (Pro tier $12 p/m)
Xodo might not be a name that's immediately familiar, but the company has certainly put together an impressive package in the form of its PDF Reader & Editor. The layout is simple and easy to get to grips with, plus there's a wide range of tools at your disposal.
As you'd expect, there are the standard annotation, text entering and digital signing capabilities. There's also stamps, hyperlink support, the ability to add audio and text notes, insert images, freeform drawing, as well as dedicated icons that can be used to drop into checkboxes.
The only drawback is that the free tier only allows three 'actions' a day. These include editing, outputting to different formats such as Word, Merging pages, Compressing file sizes, that sort of thing. If you only need to edit the occasional PDF, then this won't be a problem, but if it's something you do regularly then you'll want to move up to the Pro tier, which features unlimited actions as well as some additional features. That costs a whopping $108/£104.99 per year or $12/£11.99 each month, so you might want to see how you get on with the free version first.
Best Free PDF Editor for iOS
1. Adobe Acrobat Reader (iOS)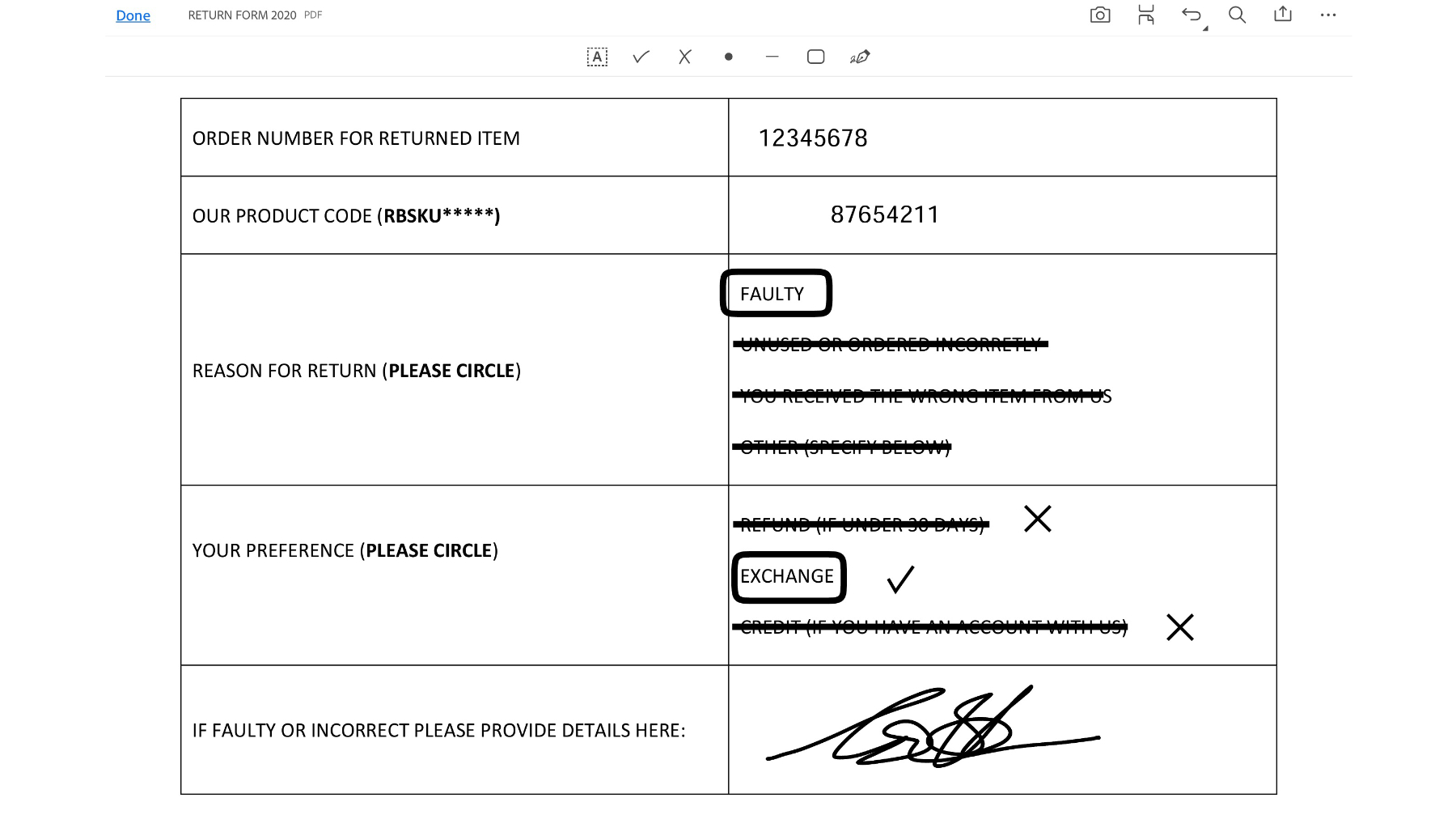 Pros
Good for reading, filing in and signing forms
Clean interface
Cons
Limited feature-set compared to some others
Price When Reviewed:
Free (Premium $9.99 p/m)
If you want to edit PDFs on your iPhone or iPad, Adobe's Acrobat Reader is a good place to start. The free tier is somewhat limited, as it's mainly there for reading, filling in and signing PDFs. If you want to be able to edit the content of the document, use more advanced annotation tools, convert to other formats, compress file sizes, set passwords or use the OCR feature to search the text within images on the page, then you'll need to move up to the Premium tier that currently costs $9.99/£9.99 each month.
The interface itself is quite easy to get along with. You tap the edit button to start making your changes, then tap and hold the area that you want to add text. If you need to add ticks, crosses or dots to signify a choice on a form it's the same process, only this time you select the icon that matches what you're after.
Boxes can be used to indicate choices or highlight parts of the text you want the reader to focus on, and these can be reshaped just by tapping and dragging the edges. You can also strikethrough text and add a digital representation of your signature.
It's basic at best, but the simple mechanics and perfunctory tools mean you can quickly fill in a form and sign it off, so if that's all you're after, Adobe Acrobat Reader is the one to choose.
2. PDF Expert (iOS)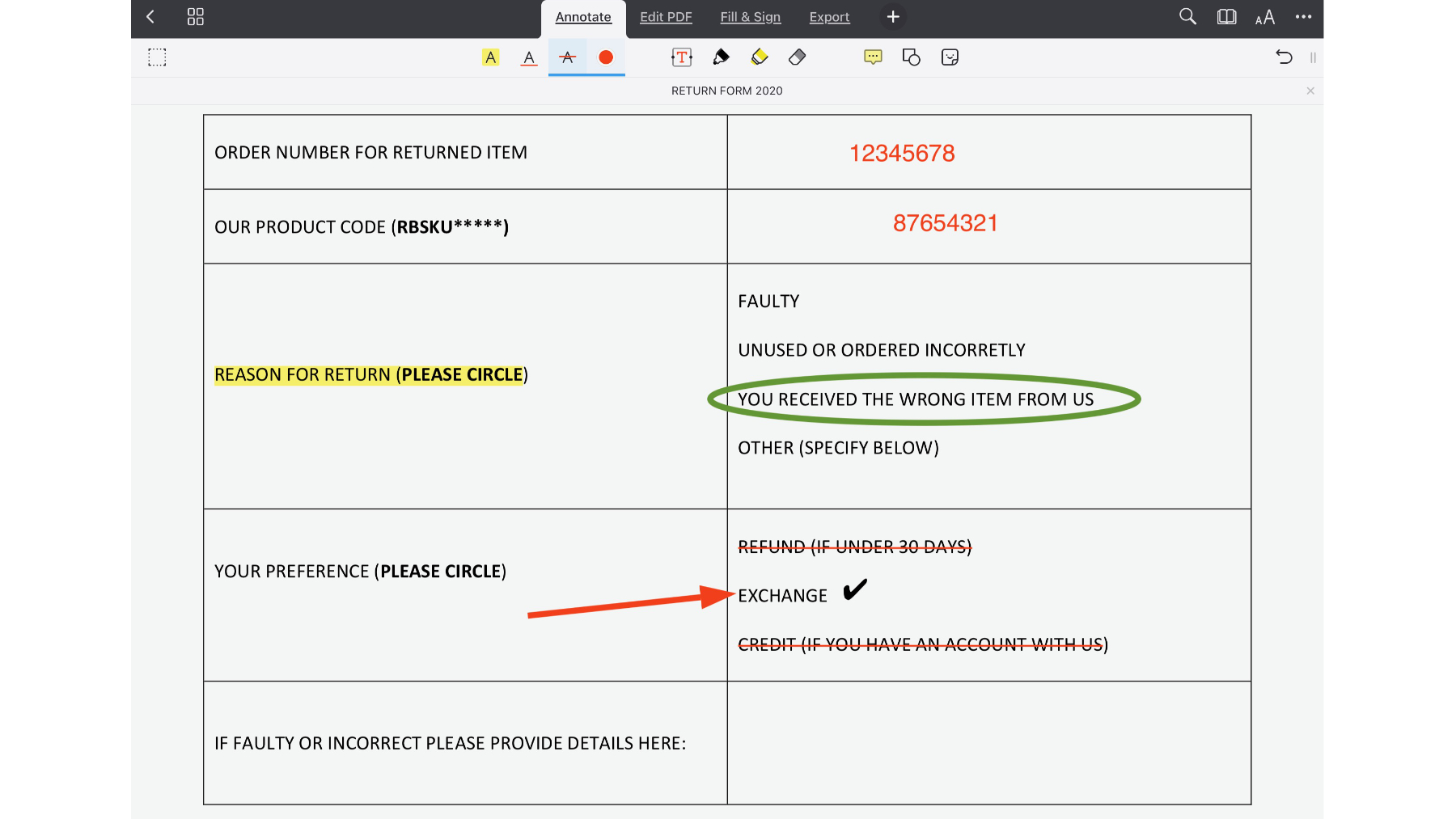 Pros
Covers a lot of ground
Easy to use
Cons
No digital signature on free version
Price When Reviewed:
Free 7-day trial, then $79.99 annually
PDF Expert is a product by Readdle, whom many iOS users will be familiar with due to their impressive Spark email app, Documents files manager, Calendars productivity app and Scanner Pro app. Add to this PDF Expert and you've got a pretty comprehensive collection of software solutions to most work-related tasks.
You get some decent tools on the free tier, such as being able to enter text in forms, highlight text, underline, strikethrough, add shapes such as circles or arrows, append notes to parts of the text, plus there's a stickers option if you want to add a bit of fun.
One of the things you can't do on the free version is enter a digital signature, as this is reserved for the Premium plan, which is a pity as its inclusion would make this an excellent option for those who just need the basics. There's also no facility to convert a PDF to Word, Excel or other formats without paying.
One thing worth noting is that the Premium tier (which currently costs $79.99/£72.99 per year) also gives you access to PDF Expert on the Mac, so it's not bad value if you edit and create a lot of PDFs.
3. PDF Element (iOS)
Pros
Simple to learn
Comprehensive features
Cons
Documents are watermarked on free tier
Price When Reviewed:
Free (Pro costs $6.99 p/m)
PDF Element is available for iOS as well as Android, but Wondershare seems to have given the iPhone and iPad version a bit more love as it comes with a few extra features.
The main difference is being able to add text fields, which makes it much better to use when completing forms. There's also the standard range of features, including highlighters, free-form drawing, stamps that can make it easier to mark out areas that need signing or correction, digital signatures, comments and notes, shapes, as well as underlining and striking out text.
The only downside is that any document you save on the free tier will contain a watermark, so if you want a clean PDF at the end you'll need to pay for it. This isn't that much of an ask though, as it costs $6.99/£6.99 per month and you can cancel at any time.
Related articles: