Imagine if you could have a second pair of eyes watching while you drive as a witness to everything on your journeys. That's exactly what a dash cam does. The video it records means there's no disputing what happened: dash cam footage is usually all the evidence you need to prove you weren't at fault in an incident.
Not everything happens in front of you, though, which is why we recommend buying a dash cam that comes with a rear camera. The two are joined with a wire and video from both is recorded to a microSD card.
You can install a dash cam yourself, plugging it into your car's 12V socket. But if you want a dash cam to continue recording in a car park, you'll probably need to have it 'hard wired', although some dash cams can wake up and record for a few hours using a built-in battery that recharges while you drive.
Hard wiring involves connecting the power wires to your car's fuse box. It's not a difficult job for an enthusiastic DIYer, but some retailers and manufacturers offer a fitting service for a fee. The hard-wire kits are usually an optional extra, costing around £15/$20.
The only other thing you need to factor in to the overall price is a microSD card for storing video, as most dash cams don't come with one.
They do generally have Wi-Fi, so when you install the app on your phone you can view and download video clips, which you can then share with your insurance company and the police.
In many cases the excess that you have to pay for an insurance claim is more than most dash cams cost, so they can pay for themselves very quickly if the video proves you weren't at fault.
The big question is which dash cam to buy. And that's why you're here. Below you'll find our top recommendations for dash cams at all budgets.
1. Viofo A129 Duo – Best-value Front + Rear Dash Cam
Pros
Good quality video
Compact, unobtrisuve design
Cons
Parking mode requires hard-wiring
Thick cable to rear camera
Price When Reviewed:
$169.90
This front and rear dash cam dispenses with the frills and concentrates on what's important: recording good-quality video. This means it's cheaper than most rival 'dual-channel' dash cams, but do watch out as some bundles don't include the GPS mount and the polarising filter.
Both are worth having so you can prove where the video is recorded and to remove reflections 0in the video.
The wedge design of the front camera means you still get a screen but still tucks away behind your rear-view mirror. The rear camera, although small, has a thick cable which can be hard to fit behind trim neatly. The A229 Duo has a much thinner cable, and records in 2K front and rear – a higher resolution than the A129's 1080p, but it costs significantly more.
Read our full
Viofo A129 Duo review
2. Viofo T130 – Best dash cam for Uber drivers
Pros
Great parking mode
Front, interior & rear cameras
Cons
Parking mode requires hard-wire kit
So-so app
Price When Reviewed:
$239.99
At a similar price to a lot of front + rear dash cams, the T130 is good value as it has a third camera that records inside the vehicle. All three cameras deliver good video quality that – as long as it's not night time – can usually be relied upon to show clearly what happened in an incident. Resolution is enough in most cases to read registration plates.
The interior camera uses infrared LEDs for decent night vision, but quality is still better during daylight.
The app could do with some interface improvements, but it generally works reliably and makes it easy to adjust the dash cam's settings – there's no screen on the T130 and only certain things can be controlled using the buttons.
One of the highlights is the versatile parking mode which can record time-lapse video, as well as full-motion video if it detection motion. You'll need the hardwire kit to use this mode, but it doesn't add much to the total cost.
Read our full
Viofo T130 review
3. Nextbase 422GW – Best-value dash cam with Alexa
Pros
Alexa built-in
Good safety features
Cons
Average video quality
Rear cameras are expensive
Price When Reviewed:
$229.99
The lowest-priced model in Nextbase's new Series 2 range to have Alexa and Emergency Response, the 422GW also supports the range of rear cameras, records at 1440p and cost the same as the older 412GW did.
If you don't need all the new features, then you can save money by opting for the 322GW.
Read our full
Nextbase 422GW review
4. Viofo A119 v3 – Best-value single-lens dash cam
Pros
Good-quality video
No unnecessary frills
Cons
Requires hard-wiring kit for parking mode
GPS mount costs extra
Price When Reviewed:
$119.95
Viofo understands what people want from a dash cam: good quality video recording, plus recording options when your car is parked.
There are no extra features such as lane-departure, speed camera: even GPS is optional, so you can pay less if you don't want it. This keeps the price down while still offering great quality.
There are three parking modes to choose between, but you will need to buy and fit the hardwire kit to use them.
Read our full
Viofo A119 v3 with GPS review
5. Vantrue M2 – Best rear-view mirror dash cam
Pros
Rear camera can be a reverse camera
Good video quality
Cons
Very involved installation process
No companion app
Price When Reviewed:
$249.99
The M2 fits over your existing rear-view mirror and provides an ultra-wide display which can show the rear camera's view – or you can turn off the display and it's a mirror, albeit a little dimmer than a standard one.
If you're a competent with car electrics, you can hook up the rear camera to your car's reverse light and mount it externally so it doubles as a reversing camera: you'll see the parking guidelines appear on the screen when reversing.
Video quality is good from both cameras and our only real complaints are the clunky menu system which is awkward to use, the lack of Wi-Fi and a companion app to download videos without a PC, and the fact recordings are in the incompatible .ts format rather than the much more common MP4.
Read our full
Vantrue M2 review
6. Viofo A229 Duo – Best 2K front + rear dash cam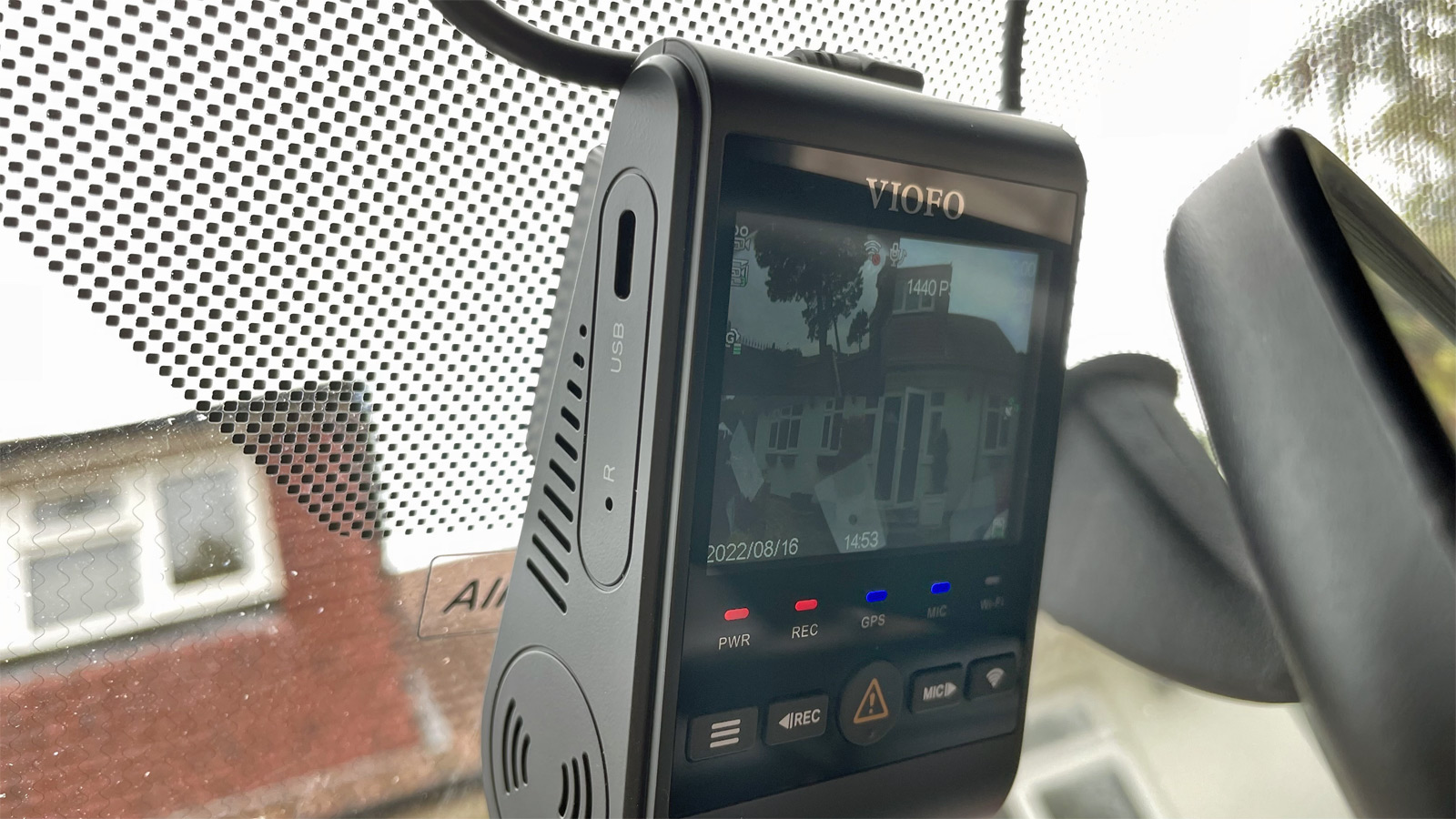 Pros
Clear, detailed video during the day
Choice of parking modes
Cons
A lot more expensive than the A129 Duo
Price When Reviewed:
$259.99
If you want more detail than 1080p dash cams can produce, the next step up is 2K (1440p). Viofo's A229 Duo has front and rear cameras which records at this resolution.
During the day, quality is great, but as with all dash cams – including the others here – you won't get the same level of clarity at night.
We like that there's a choice of three different parking modes for recording events or a time-lapse, so you can pick the mode that suits you best. To use any of them you'll need the optional hard-wire kit that connects to your car's fuse box.
Put simply, if you want the extra detail over the A129 Duo, the A229 is a good choice. The drawback is the price, but it's a great dash cam overall.
Read our full
Viofo A229 Duo review
7. Nextbase 622GW – Best 4K Dash Cam
Pros
Great 4K video
Built-in Alexa
Cons
Expensive
Price doesn't include optional rear camera
Price When Reviewed:
$399.99
The 622GW is the all-singing, all-dancing flagship from Nextbase. It may be expensive, but it has all the features you can think of, and even more than you can't – plus comes in a new burnt orange Sienna Limited Edition with 5% of profits going to MS Society UK.
Core video quality is very good, partly thanks to the stabilisation which helps to sharpen details. At night, it's still impressive, but don't expect to be able to read registration plates.
Alexa could be handy if you stream music while driving, and the Emergency SOS and what3words integration is a nice extra (though it is a subscription service, not included as standard).
If you don't want a rear camera, you might be able to justify spending this much on a front-facing camera, but there isn't a huge trade-off in quality if you step down to the 522GW.
Read our full
Nextbase 622GW review
8. iOttie Aivo View – Fit & Forget
Pros
Simple to install and use
Good-quality video
Cons
Sold only in the US
Alexa functions aren't particularly useful
Price When Reviewed:
$149.99
The Aivo View is the first dash cam from iOttie, a company better known for its phone accessories.
Though it isn't the cheapest single-lens dash cam you can buy, it ticks the important boxes. It's about as easy to install as dash cams get, delivers good quality video day and night at the default settings and comes with a remote control button for taking photos (or videos) on demand.
There's no screen, so you have to use the app to change settings, see the live view and review saved videos. They can be downloaded to your phone, but it's a very slow process.
It can record while you're parked, but you'll have to provide your own power supply for this, such as a USB power bank, as iOttie doesn't offer a hardwire kit. This is far from convenient, and you have to enable parking mode as well: it won't automatically switch when you connect a different power source.
Read our full
iOttie Aivo View review
9. Nextbase 122 – Best budget dash cam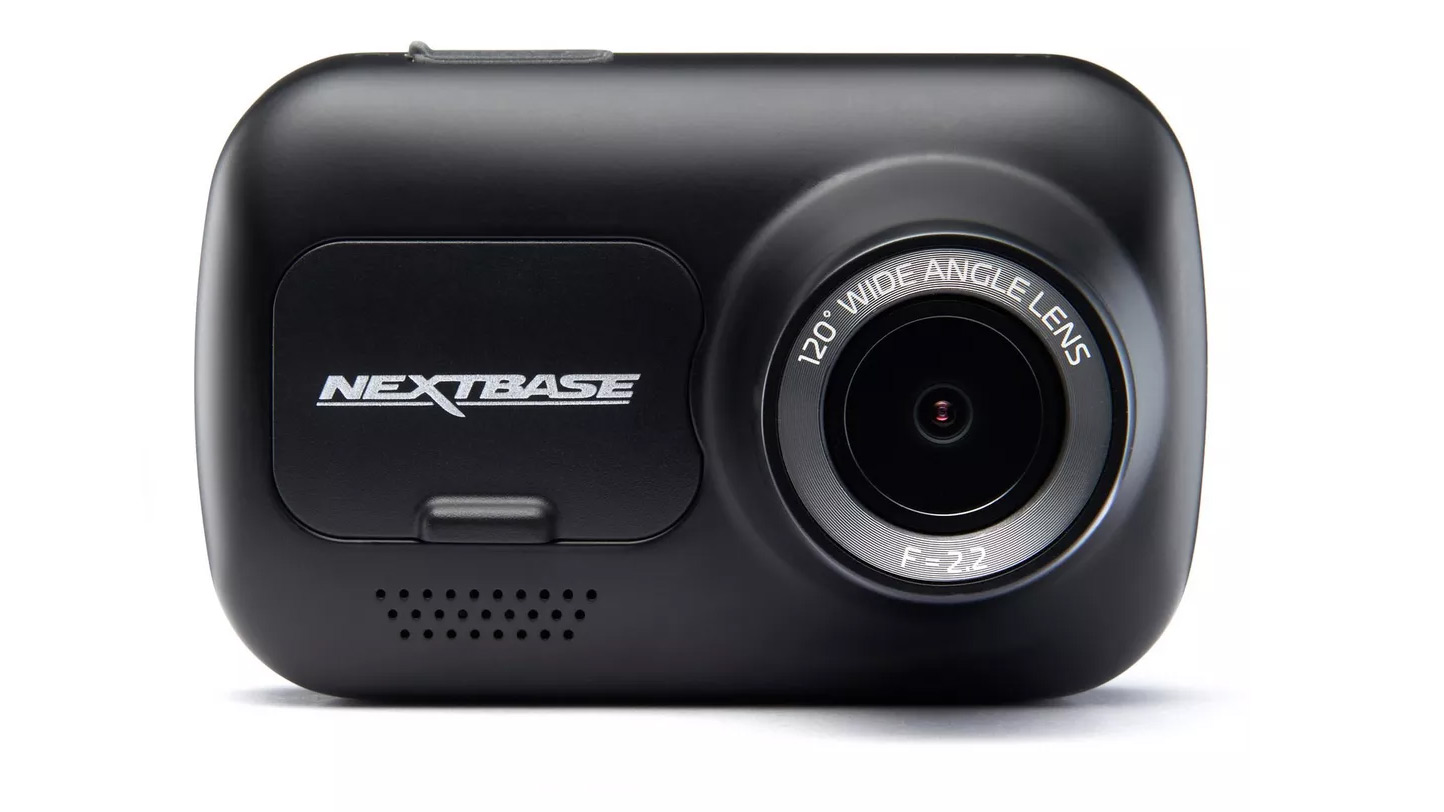 Pros
Very affordable
Magnetic quick-release
The 122 is a very low-cost dash cam which uses the same handy magnetic quick-release mount as more expensive models in the range, so it's really convenient to remove from the car to transfer video files.
It's the only dash cam here which records at a lowly 1280×720 pixels, and there is certainly less detail. However, the 120-degree lens means it is much easier to read number plates of oncoming cars as they're physically larger in the resulting video. Quality is acceptable during the day, with most registrations visible when you pause the video.
Like most dash cams, even those costing five times as much, it can't often capture registrations at night as detail levels really drop off. However, you should still be able to prove what happened if an incident happens in front of you.
There are no frills, such as Wi-Fi or GPS, but the 122 is nice and compact and has easy-to-use buttons and menus.
We'd recommend paying more for a 1080p dash cam, but if you have a very limited budget, this is a good choice.
What to look for in a dash cam
Ultimately, high-quality video is what you need from a dash cam. But specifications alone can't tell you if one is better than another, and quality varies a lot. That's why you should read our reviews and see examples of the quality you can expect at day and night.
Don't be swayed by a wider-angle lens: the higher the number, the smaller everything is in the centre of the image. We prefer a lens with a 140° field of view, or less.
Similarly, a higher resolution doesn't automatically mean better quality.
Manufacturers often talk of 'night modes' but this can be just as misleading as resolution. Again, refer to our reviews to find out whether a dash cam is any good at recording at night.
Extras features such as GPS are worth it as this will record your precise location and speed, so you can prove where you were, which direction you were driving and that you weren't speeding.
Wi-Fi, on the other hand, may not be as useful as it's typically quicker to removing the microSD card and copy the video files you need straight to your PC or laptop. But for dash cams without screens, you'll get Wi-Fi as a matter of course so you can adjust settings via the companion app.
We've found safety features such as lane-departure warning or forward-movement alerts aren't always useful as they don't always work reliably. However, any dash cam that can warn you of safety camera locations is useful.
Best SD card (microSD) for dash cams
Hardly any dash cams come with a microSD card, but you need one to store video. Don't just buy the cheapest one you find, though. Recording video constantly requires a card that supports high write speeds, and that's especially true if your chosen dash cam has two or three cameras instead of just one, or if it records at 4K resolution.
You should look for a U3 or V30 cards: this means it will have a write speed of at least 30MB per second (usually more).
Here are four microSD cards we recommend. They come in various capacities, and you should check your dash cam's manual or specifications to find out the maximum capacity it supports before buying a card. Go for the biggest capacity supported, if you can afford it, because the card will then contain more hours of footage.
FAQ
---
1.
What is a dash cam?
It's a camera which records video while you drive so you have evidence of what happened and who was at fault if a collision or some other event occurs. Some dash cams can also record while your car is parked.
2.
What is the best dash cam?
The best dash cam for most people is the Viofo A129 Duo. It's sensibly priced and has a second camera that sticks in your car's back window to capture what happens behind you. Video quality is good, and it has the option of recording in various modes while parked, so long as you buy and fit the hard-wire kit so the dash cam still has power when you're not driving.
3.
How much is a dash cam?
Dash cams start at around £20 / US$20 and go up to as much as £500 / $500. You get what you pay for, so expect poor quality video from the absolute cheapest models and detailed, 4K video from the most expensive. You also get more features such as GPS, Wi-Fi and even 4G, plus more cameras, as you spend more.
4.
How do you install a dash cam?
You can install a dash cam yourself. They all come with a power cable that plugs into your car's 12V socket. All you need to do is stick the dash cam to your car's windscreen (usually at the top somewhere on the passenger side) and route the wire from the 12V socket to the dash cam.
If the dash cam has a rear camera, a second wire must be routed from the front camera to the rear.
5.
Are dash cams legal?
Yes, dash cams are legal in most countries, including the UK, US, Canada and Australia. Portugal is one country where privacy laws mean they are not legal to use, and you need to be careful when using them in Austria and Luxembourg, again due to privacy laws. You can, for example, use a dash cam in Austria to document an accident. But you cannot use one for surveillance.
6.
How do dash cams work?
They record video, generally to a microSD card. By default, most dash cams record continuously but break the video up into clips that last between one and three minutes. When the storage on the card is full, the oldest videos are overwritten by new ones.
However, almost every dash cam has a 'G sensor' which can detect an impact, such as from a collision. If something triggers this sensor, the video being recorded will be 'locked' to prevent it being overwritten and lost.
7.
Are dash cams worth it?
Yes. They provide independent evidence which can help to prove that you weren't at fault in an accident. That could save you a lot more money than the dash cam cost in higher insurance premiums and other potential costs.
8.
How do I format an SD card for a dash cam?
There should be an option in the menu on the dash cam to format the card. If your dash cam does not have a screen, the option should be available in the companion app on your phone. Alternatively, you can put the microSD card into a card reader in your laptop or PC and format it in Windows File Explorer.
9.
Where is the best place to mount a dash cam?
Place it where it will not obstruct the driver's view. Generally, that means outside of the area the windscreen wiper sweeps on the driver's side. The best position is behind the rear-view mirror on the passenger side where it is out of the way and doesn't prevent the sun visor being used.
10.
How can I hide dash cam wires?
Wires can usually be pushed behind the car's plastic trim. You may need to use a trim tool to open up a gap big enough for the wire, but it's best not to remove any trim if you can avoid it because clips often break.
Use cable ties to secure the cable beneath the glovebox when routing the cable to the centre console.