Choosing a new backpack is a very personal decision that you can and should take time over.
There are thousands upon thousands of backpacks out there, but the choice becomes even trickier if you also want a bag that can manage your laptop and not weigh you down.
Luckily in recent years laptops have got slimmer and lighter in general, saving our poor bodies from having to lug around 3kg monsters along with big heavy power bricks. But despite this, you'll still want to go for a supportive new bag if you are carrying around your laptop all day, as well as anything else that adds extra weight.
Whether it's the charger or your mouse, or other stuff like your lunch or a coat, backpacks come in every conceivable shape and size. We've made sure to include lots of variety here, but each bag included in this article has a dedicated slot or sleeve inside to hold a laptop.
It's wise to pick a bag that doesn't advertise you've got an expensive laptop on your person, so bear that in mind. We reckon most of these bags are quite subtle.
We have personally tested each and every backpack included for several months to ensure they deserve to be recommended as the best around. Whether you prioritise design, comfort or laptop protection, there's something here for everyone at a range of different prices.
We have listed the maximum size of laptop that each bag will take, and also the overall capacity (measured in litres).
Need a laptop to put in your new bag? Take a look at the best laptops to buy as well as the best budget laptops.
Best laptop backpacks 2023
WaterField Essential Laptop Backpack – Best laptop backpack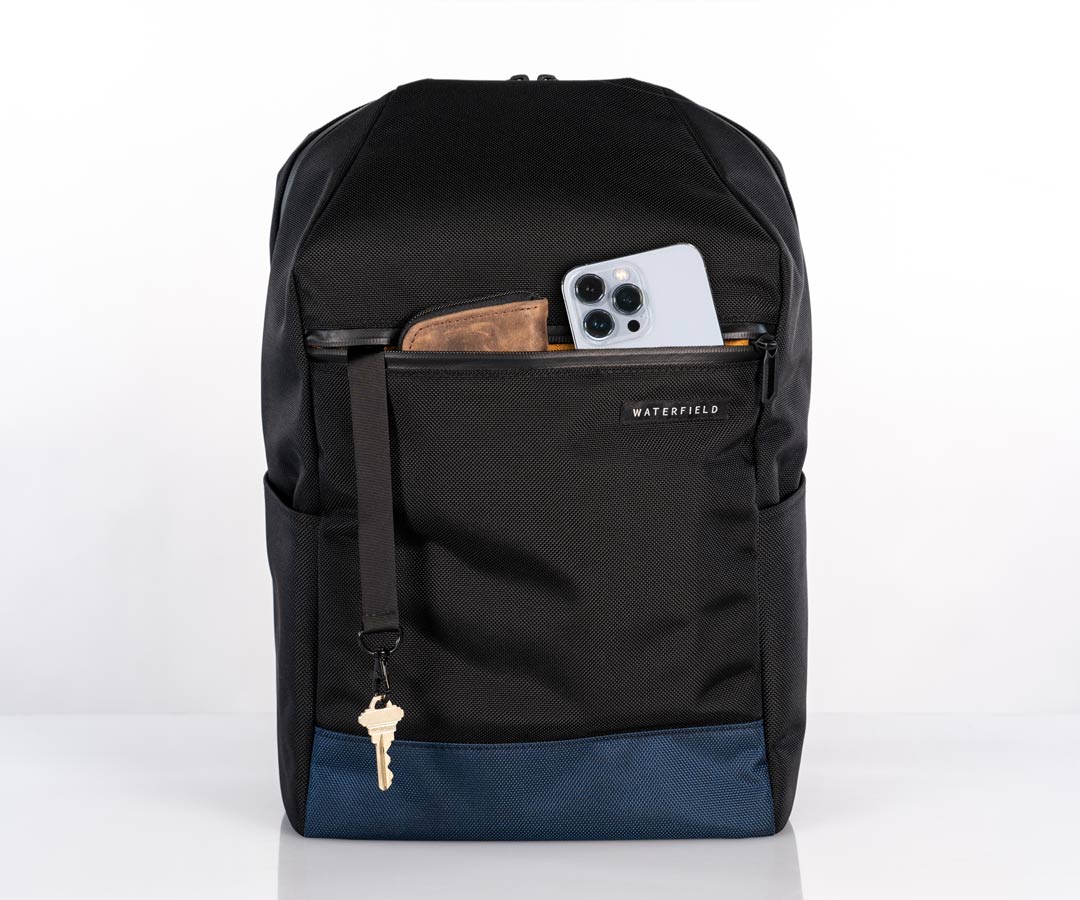 Pros
Fleece-lined laptop pocket
Waterproof features
Price When Reviewed:
$189
Laptop size: up to 16in
Capacity: 17L
The 'Essential' laptop bag from WaterField is, well, focussed on the essentials – but it really nails them.
The aesthetic is simple, but sleek, with a choice of colourful accents below the black body. Built from water-resistant nylon, with waterproof seals around the zips, this is sturdy enough to survive the elements, with a structured body that holds its shape even when the bag is empty.
Outer pockets on each side will hold water bottles or small umbrellas, and there are zipped compartments on both the inside and outside for keeping track of your loose bits and pieces.
The single padded and fleece-lined laptop pouch is big enough for 14in and even some 16in devices, with a simple velcro strap to hold things in place.
There's also a well-made messenger bag version if you prefer a shoulder bag. This round up is mainly for two-strap backpacks, but the quality of the Waterfield Essential messenger is so good we also wanted to give it a shout out. Its simplicity is its secret – a slender bag with surprising capacity that fits up to 14in laptops along with books, chargers, water bottle and more.
It has clever magnetic snap-shut buckles that slide open and a clever orange lining—instead of black—that helps you easier quickly glance and see what's inside.
Aer City Pack – Superb build quality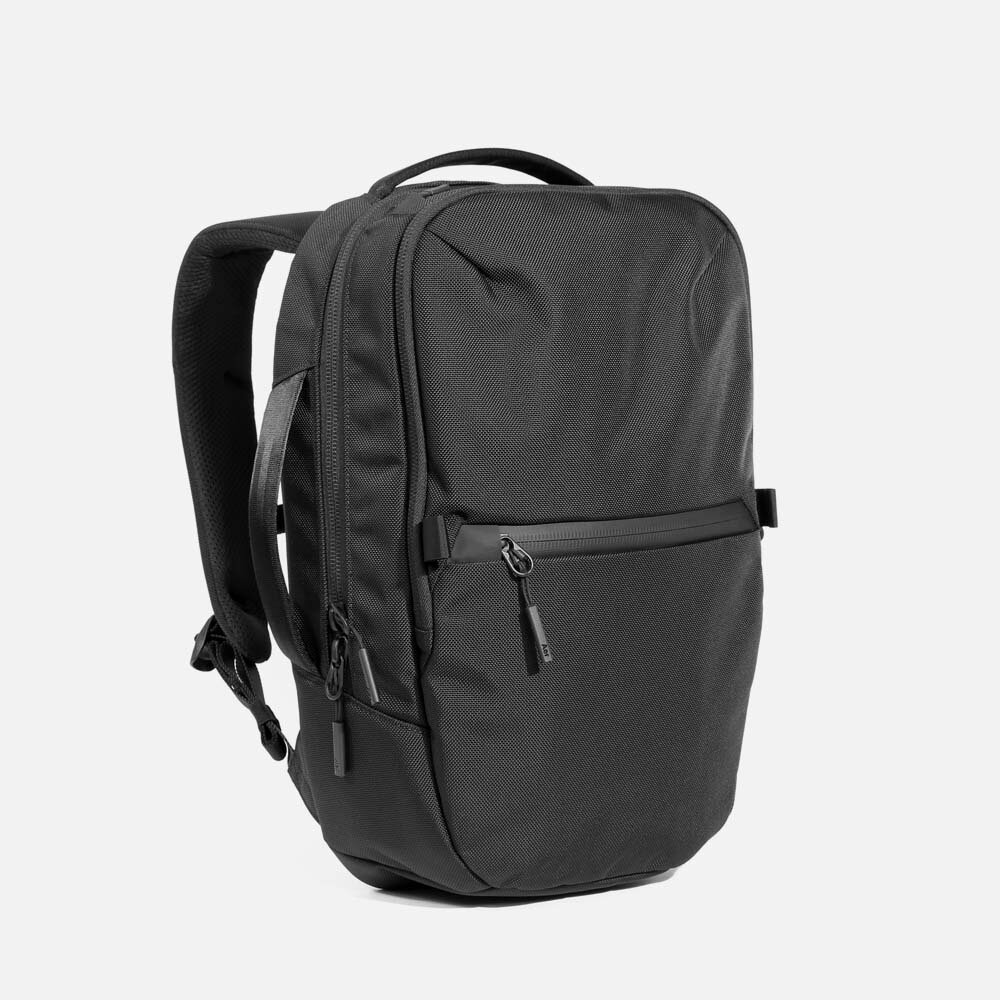 Pros
Robust materials
Suspended laptop pocket
Price When Reviewed:
$149
Laptop size: up to 16in
Capacity: 14L
One of the very best laptop backpacks is the City Pack made by San Francisco company Aer. The bag is well-designed and of excellent quality with top materials, zippers, and compartments.
The outer material is a very hardy 1680D Cordura ballistic nylon complete with YKK zipper and Duraflex plastic on the tag pulls that makes for a premium feeling product. Importantly, the padded laptop pocket (up to 16in) is suspended so your laptop won't hit the ground when you put the bag down. The straps are also very comfortable for all-day wear.
There are tons of storage pockets to organise your stuff in the front compartment, as well as two outside pockets, one of which has a soft lining for your phone or glasses. With a tiny pocket inside the bag to slot an AirTag, this is a modern backpack with superb attention to design detail.
The one downside is the bag only has a 14L capacity despite being relatively large and boxy. That's because the main compartment has good length and width but not much depth at only 5in (12.5cm). It means you must stack items such as coats, shoes, lunch box or headphones on top of each other, tower style, and you run out of room surprisingly quickly.
Otherwise this is a stellar choice.
Stubble & Co – Stylish & high quality
Price When Reviewed:
From $140
Laptop size: up to 16in
Capacity: 21L
We've no doubt that Stubble & Co is making some of the most stylish and well-made bags around. And we've included two here because they're both so nice.
First up is 'The Backpack', which isn't an overly complicated rucksack with more pockets than you can remember. Instead, it's simple and effective with just a pocket on the front and a small one inside. You also get side pockets for items like water bottles.
This updated model has a 21L main compartment and you can fit up to a 16in laptop in the protected section at the back. Furthermore, the material is now water-resistant premium Tekwax canvas (also found on the new The Weekender – a holdall with a laptop compartment). If you need a fully waterproof bag then look to The Roll Top.
Not only does The Backpack look great—available in All Black and Pirate colours—the craftsmanship is exceptional. The magnets on the lid have been replaced with a more secure G clip.
The Commuter (pictured on the left, $155/£125) is available in two colours and is also made from British Millerain premium Tekwax canvas. It's a more traditional shape with comparable 20L capacity along with more sections–namely a dedicated laptop compartment with its own zip–and pockets if that's more the kind of thing you need.
Stubble & Co The Adventure Bag – Best laptop backpack for travel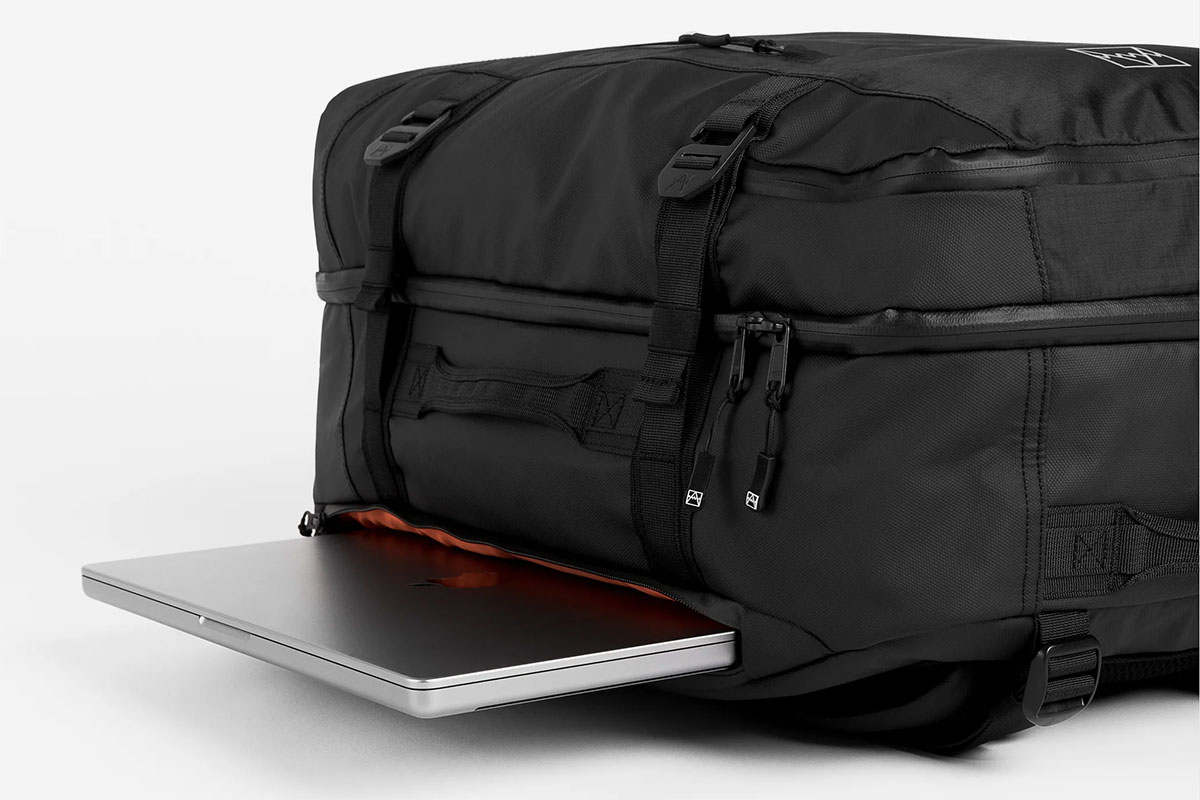 Pros
Huge 42L capacity
Fits (most) airline cabin limits
Clam shell flat opening
Plenty of pockets
Cons
Expensive
Check your airline limits
Price When Reviewed:
$275
Laptop size: up to 16in
Capacity: 42L
Sneaking as large a carry-on bag as possible when taking a flight is now standard practice for most of us. It saves a lot of money on putting another bag in the hold and can get you out of the airport much faster—leaving those sad baggage carousel waiters in the dust. And there's much less chance of the airline losing your gear.
The lightweight (1.7kg; 3.7lb) and comfortable Adventure Bag from premium luggage maker Stubble & Co (see above) has been praised in many places as the ultimate flight carry-on luggage as it has a massive 42L capacity but still fits within most airlines' carry-on baggage size limits.
It features a large and easily accessible side-opening, padded laptop compartment that will easily fit a 16-inch laptop, although maybe not if it's in its own protective case. Other laptops should be fine, and well protected inside.
Its Height/Width/Depth dimensions are 55 x 38 x 24cm (22 x 15 x 9 inches). That is pretty much bang on or fractionally over the limit, which is widely regarded as 55.9 x 35.6 x 22.9cm (22 x 14 x 9 inches) for domestic flights. As it's a backpack, you don't have to factor a handle or wheels into that limit. It is within BA's 55 x 40 x 23cm limit but over United's 56 x 35 x 22cm. Looking at the most popular airlines, we think the Adventure Bag should just fit if you don't overfill it—put that coat on when checking in or going through the gate. The bag's soft sides and side compression straps also allow a bit of squidging if you are made to load the bag into one of the dreaded Departures size cages.
If travelling by train or coach, you have fewer size-limit fears, and the 42L capacity should be enough for a short break without requiring a suitcase.
Like all the best bags, the Adventure Bag opens out flat in a 'clamshell' format, making access to even deep items much easier than with a more closed design.
There are ten durable pockets—four external for accessibility. Generous interior pockets are meshed so you can quickly see where all your items are stored. An elasticated water-bottle pocket fits a decent sized flask and a standard plastic bottle. And there's a hidden pocket at the back for your valuables.
Some airlines charge over $100 per flight for a bag in the hold, so while The Adventure Bag is expensive it could save a frequent flyer that purchase price several times over.
Bellroy Tokyo Totepack – Tote and backpack in one
Cons
Not completely waterproof
Price When Reviewed:
$189
Laptop size: up to 15in
Capacity: 14L or 20L
This backpack has large tote handles on the top so it can be carried as a tote if you want to, and the back straps fold neatly away.
But this bag is still best when used as a backpack and is pleasingly protective and comfortable despite the slightly unusual design. We tested the larger 20L version (there's a smaller 14L too) and managed to fit in far more than expected with a 15in laptop, books, headphones, keys, lunch, and spare shoes all fitting in there with room to spare. It's a bit of a Mary Poppins bag.
There are clever touches like the two internal pockets for water bottle, umbrella, or shoes as well as two outside zip pockets for easy access to smaller items. The top zipper has a weather flap underneath to make up for the fact the zippers and materials used here aren't waterproof. But this is an excellent and excellently well-made laptop backpack from Bellroy that manages to be lightweight but sturdy.
STM Banks – Lots of space
Pros
Special laptop protection features
Cons
Smallish capacity
Awkward openings
Price When Reviewed:
$129.99
Laptop size: up to 15in
Capacity: 18L
STM Banks is the latest laptop bag from Australia-based STM, offering a accepatible 18L capacity without compromising the slimline design. There's also breathable mesh fabric on the back, helping to avoid the awkward back sweat when carrying a rucksack.
It's designed to be an everyday bag as well as a laptop bag, with plenty of space for your laptop (up to 15in), charger, phone, lunch and even a jacket – believe me, I've tried. There are plenty of pockets of all shapes and sizes that'll hold everything from sunglasses to phones to battery packs and more.
That's not to say that it doesn't have some impressive laptop-specific features including the company's own Slingtech protection that suspends the laptop sleeve from the ground to protect it from drops, while also providing extra cushioning at the corners.
It also features the all-new CableReady routing system that allows you to store run cables through different sections of the bag, perfect for keeping your smartphone or laptop topped up while on the go.
Our only criticism? While there is plenty of storage, we found that the openings were a little tight for our liking, making peering into the contents of the bag a slightly awkward process. It's a similar story with the front pockets, meaning you'll be relying more on your sense of touch than sight when fishing for your iPhone cable or headphones.
Chrome Industries Urban Ex 2.0 Rolltop – Best for rain
Cons
No external pockets or bottle holder
Price When Reviewed:
$140
Laptop size: up to 15in
Capacity: 20L or 30L
If you cycle and need to carry your laptop then look no further than this awesome lightweight, fully waterproof rolltop backpack from Chrome Industries.
The knurled welded material means this feels like a dry bag, and it pretty much is one – but it's got more shape and organisation. A padded laptop sleeve on the inside fits up to 15in computers, and two other pockets let you slip a book, phone and pens into place so they don't clang around the main part of the bag with your larger items.
As this is a rolltop with clip-down closure there are no outside zippers (no zips at all in fact) and no water bottle pockets. This is worth bearing in mind if you are one to be taking things in and out of your bag a lot, but remember you are gaining full waterproofing by making that sacrifice – giving great peace of mind when lugging your laptop through the rain.
The U-loops on the back for a U-lock are cleverly reflective, and the straps with a chest strap are very comfortable. For a sleek minimalist look with enough laptop and weather protection not to worry, this is a great choice. You can even put larger, taller items in the bag when unrolled as the material stays upright and stiff, and there are carry handles for when you do.
We tested the 20L version but there's a larger 30L one if you carry around a lot of gear.
Moshi Muto – Compact, secure & stylish
Price When Reviewed:
$149.95
Laptop size: up to 13in
The Moshi Muto is a wonderfully stylish and functional bag for 11in to 13in laptops. As a three-way convertible bag, you can use it as a backpack, a crossbody sling, or briefcase.
It's well made and designed with both anti-theft and RFID protection. It's also comfortable to wear with padded straps.
Clipping in the staps to use the Muto as a backpack was pretty obvious, slightly less obvious was understanding how to re-orienting the straps to use the bag as a sling. Hint: you'll need to connect one of the straps diagonally and tuck the other one away under the flap on the back.
If you're using the bag as a briefcase, you'll need to tuck both straps away under the back flap. A brief instruction note would have been useful — but that's about the only criticism I have towards the Muto.
I really liked the clean minimalist design. It's a great choice for the office or a wander around the city. You can keep all your essentials in one place with peace of mind. There's also a pocket for your water bottle.
Targus Work + Play Cycling 15.6" Laptop BackPack – Best for cyclists
Pros
Special cyclist laptop backpack
Plenty of pockets
Cons
Straps not as padded as we'd like
Laptop size: up to 15.6in
Capacity: 27L
If you cycle to work and prefer a rucksack to the over-the-shoulder commuter-style bags, then Targus has the answer.
It developed the Cycling BackPack with a professional cyclist, which seems an odd choice since pros don't tend to cycle around with gear on their back.
In any case, this is a well-designed rucksack that will accommodate everything most cyclists will need. That means a handy internal compartment which will keep a pair of shoes separate from everything else in the main compartment, lash points on the outside to which you can attach a helmet (when not cycling, obviously), rear lights and your bike lock.
There's space in the padded rear compartment for a laptop up to 15.6in and lots of other handy pockets for your phone, keys and other bits and pieces.
There's even a dedicated space at the bottom to keep a spare innertube, tyre levers and other tools.
Proving it thought about all weather conditions, the bag also has a bright orange rain cover stored in the base which you can quickly whip out in a downpour and it has a zip so you can still attach a light to the rucksack.
The straps aren't as thick and padded as we've seen on other Targus bags, but it's nice to see an elastic strap that clips between the shoulder straps to help keep it from moving around while cycling.
Harber Commuter Backpack – Fashion-focussed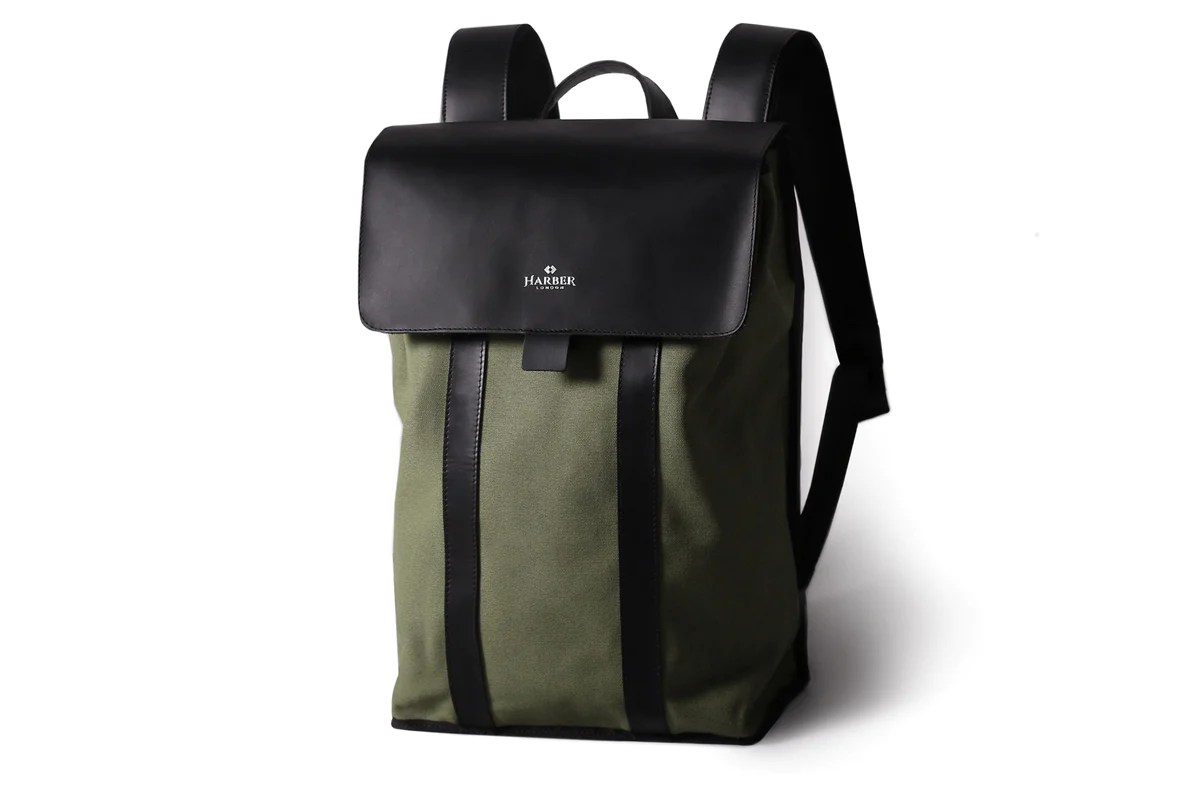 Pros
Super stylish
Special tablet section
Cons
Small capacity
No pockets
Price When Reviewed:
$220
Laptop size: up to 16in
Capacity: 17L
Harber's Commuter is a backpack for the style over substance crowd. Handmade in Spain from a combination of recycled fabric and full grain leather, this is undoubtedly a looker, and oozes quality from top to bottom.
Built for laptops from 13in up to 16in, you get a padded compartment for your PC – with a false bottom so that it won't thud into the floor when you drop your bag down. An additional tablet section is ideal for those of us wielding dual devices, but be warned: that's all you get.
There aren't any other pouches or pockets, inside or out, which means this only suits minimalist tastes – if you tend to carry a load round with you, it'll all have to go loose into the main compartment.
Troubadour Apex
Pros
Luxury feel
Fits up to a 17in laptop
Price When Reviewed:
$250
Laptop size: up to 17in
Capacity: 25L
This backpack is a little on the pricey side, but we included it here thanks to the sheer quality of materials and the fact it's one of the few backpacks out there we think genuinely looks good with a suit, if you need to dress up your laptop-carrying look.
The Apex's 25L capacity is well-spaced out enough to fit in a 17in laptop as well as lunch and gym gear (trust us we've done it), which is protected from the elements with waterproof outer fabric, lining and zippers.
A very comfortable back panel holds the pack slightly off your back to make it more breathable, while the leather accents on the black, green or blue colourways help to add a bit of class to the bag.
For travelling there's a trolley sleeve on the back to attach to a wheelie bag's handle, and there are tons of internal and external pockets to please even the fussiest of organisers.
Laptop bag buying advice
Every laptop bag has a dedicated compartment for your computer, and bags usually advertise the biggest laptop you can carry by giving a screen size in inches. You might find that a laptop with a 16in screen will fit due to its dimensions, even if the bag says 'up to 15in' – although it may be a tight fit.
Pockets and flaps for easy access
Frequent travellers should look for a bag with an easy-access laptop pocket, so you can quickly whip out your device at airport security. A luggage pass-through flap will also help you attach the bag to your suitcase's telescopic drag handle.
The amount of protection varies from bag to bag, with some manufacturers providing all-around padding (with double at the bottom) and others just an internal pouch with no top cover. Read our reviews to find out what level of protection each bag offers.
As well as your laptop, you'll need room for the power supply, other accessories and your own gear, whether that's a gym kit, water bottle, documents, keys, phone and other gadgets. Most bags have a nominal capacity, but this is usually the total volume, rather than a single space for stuff besides a laptop.
Multiple pockets are useful as they help keep everything separate and organise, while a bag with a large extra compartment is good for bulky items such as shoes. Look for a capacity in litres, but bear in mind that the larger the capacity, the bigger (and usually heavier) the bag you'll have to carry everywhere.
Some bags have a dedicated pocket for tablets and another for smartphones or media players. The latter sometimes have a hole through which you can route your headphones.
It's useful to have several zipped pockets which can be accessed independently, rather than having to open the main zip to get at internal pockets. That gives would-be thieves a view of what you're carrying and isn't nearly as convenient.
Strap quality: comfort, comfort, comfort!
If you're wearing your backpack for several hours at a time, you'll want to stay comfortable. Look for one with well-padded straps and – if you'll be walking long distances – a chest strap to help stabilise the load. Some bags even have a hiking-style waist strap, but that's overkill on a laptop carrier.
Many will also be designed to help with airflow so you're not a sweaty mess after a little exertion.
Protection: Water, RFID and antibacterial
Many laptop bags use water-resistant material either on the outside or in the lining. If this is a priority, bear in mind that only bags marked as waterproof will ensure your kit stays dry. Some bags come with a separate rain cover which you can pop over the rucksack in a downpour to keep your kit bone dry.
Water resistance doesn't mean the same thing as waterproof. If you're cycling in the rain, it's wise to use additional protection such as a proper rain cover or keep some large freezer bags to seal in your gadgets.
Now that lockdowns are beginning to ease, you may also want to think about added antibacterial protection – especially if you're one to keep your backpack on dirty tube floors or on the ground. Some brands like The Pure Bag even use silver-ion fabrics that prevent bacteria growth. Though an easier solution may be to opt for a backpack made with easy-to-wipe fabrics or plastics.
Additionally, if you keep your wallet, credit cards, or even Oyster card in your backpack, you might also want to consider a bag with RFID protection to keep the baddies from getting their hands in your funds. Or get yourself a smart wallet.
Prices
Prices vary widely, and you don't always get what you pay for. Buying a laptop bag from a fashion brand, for example, might be more costly, but doesn't guarantee better quality zips or fasteners than a cheaper bag. That's where our reviews come in, of course.