Almost every one of us now carries an amazing digital camera around in our pockets every day – but most of those photos never end up anywhere other than Instagram.
Portable or instant printers aim to change that. These handy, pocket-sized devices will let you take your best phone images and print them out wherever you are while throwing on effects, filters, and other fun additions in the process.
If you want something a little more retro, you can also buy a camera that prints photos as you shoot them, just like an old-fashioned Polaroid. Take a look at our round-up of the best instant cameras to see if any take your fancy.
1. Polaroid Hi-Print – Best Portable Printer
Pros
High quality prints
Portable and refined design
Easy app navigation
Cons
Expensive printing costs
Slow printing speeds
Only 20 prints on one charge
The Polaroid Hi-Print is a simple, no-nonsense digital printer that costs less than most rivals while delivering superior print quality – though pricey paper means it'll cost you in the long run.
Printing is slightly slower than most rivals at around 50 seconds – but this is due to it being a dye-sublimation printer, which means that the print ejects in and out at least four times to add each layer of colour, plus a protective film.
The wait is worth it, as print quality is overall extremely high and more detailed, vivid, and striking than you would get from a quicker digital instant printer.
The accompanying app is simple and user-friendly, with options to customise photos with frames, filters, aspect ratio changes, text, and stickers – but few unnecessary frills to over-complicate things.
It also syncs with any image folders on your phone, plus images from WhatsApp, Instagram, Facebook, Twitter, and more.
The only real downside is that paper is more expensive than the Zink prints used in most rival products, so running costs over time will add up – but we think the trade-off is worth it given the far superior print quality.
Read our full
Review Polaroid Hi-Print
2. Instax Link Wide – Best Instax Printer
Pros
Large, glossy prints
Lots of filters and editing options
Refined design
Cons
App needs optimising
Costs rack up over time
Slow Micro-USB charging
The Instax Link Wide is Fujifilm's best instant printer yet, producing large, glossy prints with minimal fuss. It has a great design that is suited both for sitting in your home and for taking on the road.
Photos on the Instax Link Wide are double the size of what you'll find on the Mini printers and cameras, but the printing speed is very quick at around 12 seconds, with 90 seconds of development time.
Like other Instax products, the prints are bright and colourful with a vintage feel. However, the quality isn't quite as impressive as what you will find on the Polaroid Hi-Print. The running costs of this printer will stack up over time due to the cost of Instax Wide film.
The companion app provides multiple customisation options such as filters, collages and the option to add QR codes, though it could do with some improvements with its layout.
The Instax Link Wide is slightly pricier than the Mini Link which has very similar features. However, if you want larger photos, then this is the Instax printer for you.
Read our full
Review Instax Link Wide
3. Instax Mini Link 2 – Best for Small Prints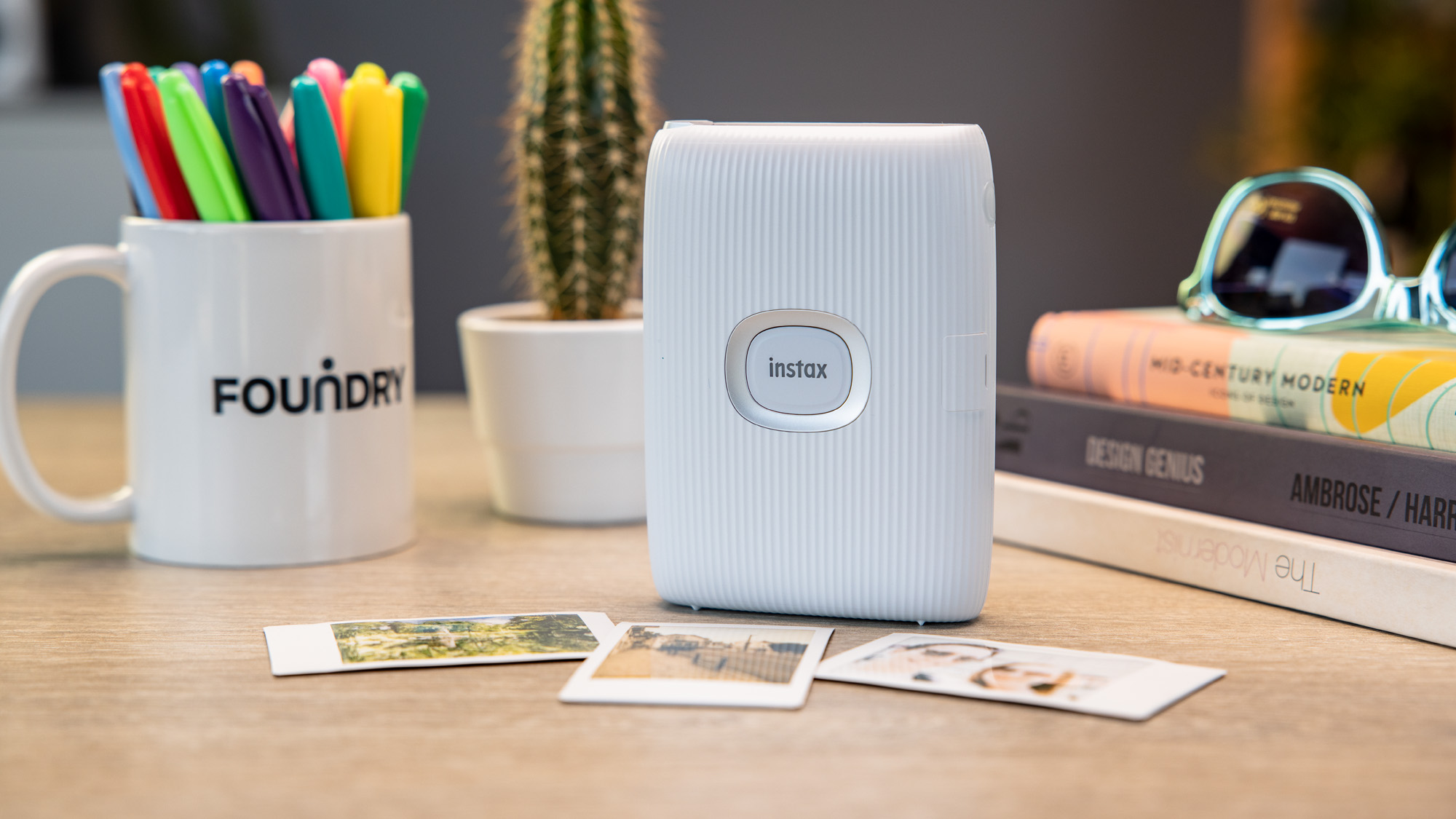 Pros
Portable and funky design
Excellent prints
Lots of editing tools in the app
Cons
InstaxAir can be confusing to use
Outdated MicroUSB charging
Expensive running costs
The Instax Mini Link 2 uses Fujifilm's Instax Mini film. The Mini Link looks great, with funky colour options and a young and fresh feel.
It connects to your phone through the Mini Link app and Bluetooth, and can print photos both from your phone's library and your social media profiles.
From the app, you can choose frames and other options including split prints (separating one photo into two prints) and collages. You can edit photos within the app, with colour filters and dials to change the brightness, contrast and saturation.
The printer has a speed of around 12 seconds per print, supports continuous printing and can print up to 100 photos on a single charge. Photos come out clear, crisp and vibrant on the Mini film, and after printing, there's a handy button to get a second copy instantly.
Fun options include a 'match test' that prints out a photo with a compatibility score between two people, and the 'party print' mode that allows users to add photos from up to five phones to create one Instax print. There is also the InstaxAir feature which allows you to draw patterns in the air on photos – but this can be a faff to use.
You can even use the printer as a remote control for your smartphone camera, tilting the printer back and forth to zoom in and out.
Overall, this is a solid and fun take on the instant printer – though its not quite as cheap as the first Instax Mini Link.
Read our full
Review Instax Mini Link 2
4. Kodak Step Instant Printer – Best for Zink
Pros
Portable design
Affordable
Easy to use
Cons
A few bugs in the app
Charges via Micro-USB
The Kodak Step is one of the most affordable printers on the market for Zink prints. Whilst Zink images aren't quite as impressive as what you will find from brands such as Instax and Polaroid, the running costs are much cheaper, and there is no development time.
The Kodak Step keeps its design simple with a compact, rectangular shape that you can get in a range of colours. It is easy to use, even for beginners. It supports up to 25 images on a single charge.
The prints themselves are on the smaller side at 2x3in, so these are best if you're lucking for wallet-sized photos. The images come with an adhesive back so they can be used as stickers, and feature a range of colours – though some details are lost from the original images.
The app includes a range of editing options but does have a few bugs and issues. That said, the affordable price of the Kodak Step makes this a viable portable printer that gets the job done.
Read our full
Review Kodak Step Instant Printer
5. HP Sprocket Select – Best for Larger Zink Prints
Pros
Super lightweight
Straightforward app UX
Improved Zink print quality
Cons
Occasional paper loading issues
The HP Sprocket Select is the third-gen iteration of the Sprocket 200. It boasts Bluetooth 5.0 connectivity, which allows multiple phones to connect via the straightforward Sprocket app (free on Android and iOS).
A more significant improvement is that the Select prints larger images at 2.3 x 3.4in instead of 2 x 3in – which is roughly the size of a credit card.
Like past Sprockets the Sprocket Select prints on Zink, or "zero ink", paper, which is cheaper than film in the long run – but at the cost of slightly washed colour tones.
Given that Zink images can be slightly dull to begin with, the Sprocket Select trumped expectations with a fair amount of detail and contrast. The colours still appeared slightly washed out but were much more vibrant than on other Zink printers we've tested, particularly the reds.
Read our full
Review HP Sprocket Select
6. Instax Share SP-3 – Best for Square Prints
Pros
Unique square format
Lots of templates and editing tools
Cons
Not as portable as rivals
Expensive running costs
There are cheaper instant printers than the Instax Share SP-3. However, what we particularly like about the SP-3 is the format: it's currently the only dedicated portable printer that uses square prints.
Printing from your smartphone with the Instax Share printer is easy – you simply download the free app from Google Play or the Apple App Store, choose an image from your photo gallery or social media, add a template and edit as required, then hit print.
As you'd expect there are also various templates that let you add captions with a seasonal message (such as 'Happy Birthday') or the time and date, weather or even an Instagram or Facebook status.
Despite the larger prints the Instax Share is still portable at 312g, and comes with a rechargeable battery that should be good for around 160 shots when fully charged, and you can top it up with the included Micro-USB cable. LEDs at the front let you see at a glance when you're running low on power or paper.
If you prefer the classic mini format, the Instax Share SP-2 offers similar functionality, but prints in the smaller Instax Mini format – though the more recent Instax Mini Link is probably the better choice.
7. Kodak Step Slim Instant Printer – Best for Portability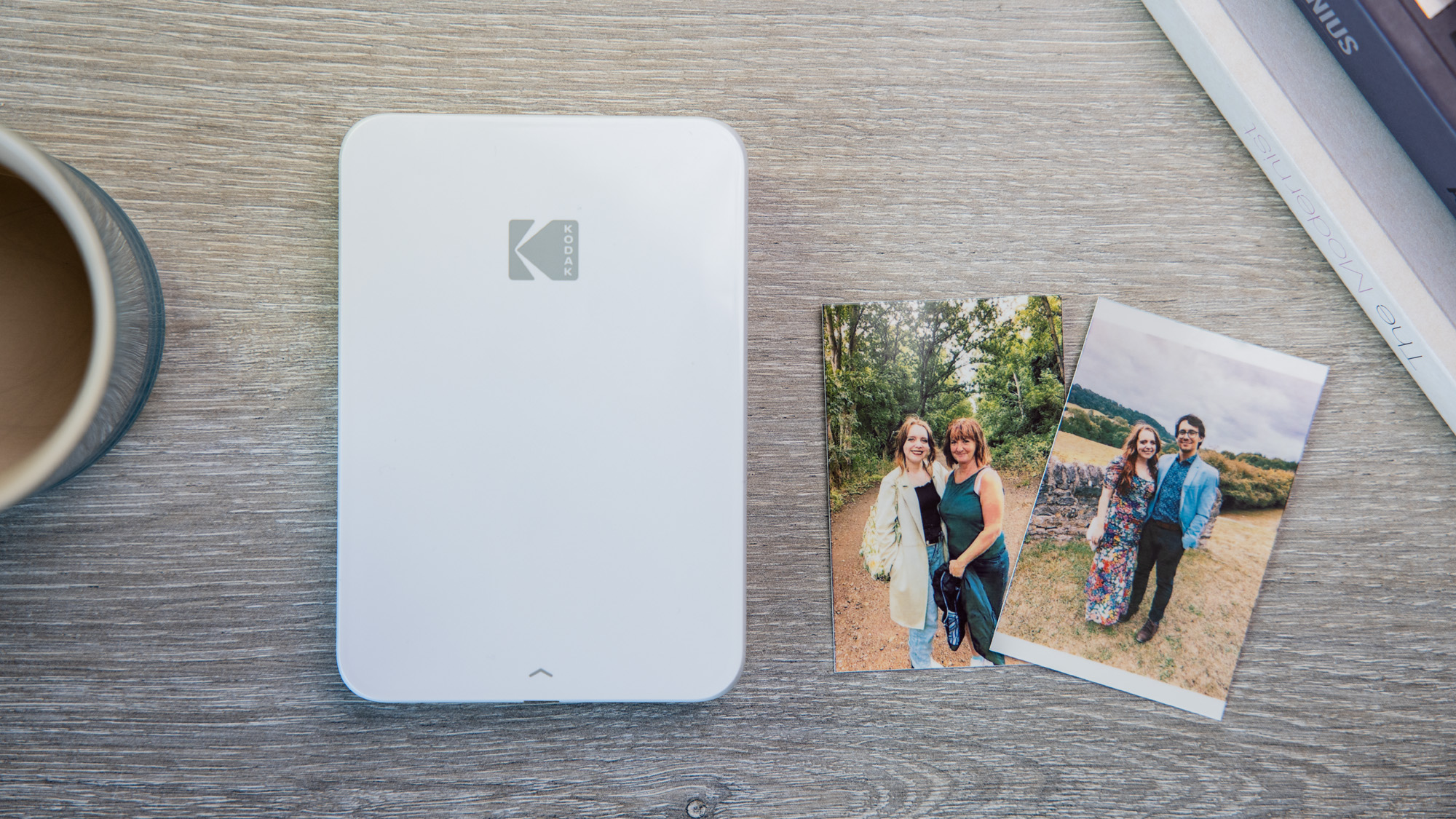 Pros
Slim and durable build
Affordable running costs
Simple to use
Cons
Not as affordable as the Kodak Step
Zink paper not as impressive as rival prints
App has a few bugs
The Kodak Step Slim is one of the most portable options on the list. It is slim at 2.29cm thick and lightweight at 240g – making it easy to fit into a large pocket.
It's easy to use as well, with the well-laid out accompanying Kodak Step app. However, this does have a few bugs in comparison to some of the software that rivals boast. Nonetheless, you'll still have plenty of filters, frames and more to add to your snaps.
This is another Zink printer, so prints aren't quite as striking as what you'll find on models from Instax and Polaroid, as this isn't real film. However, the trade off is that running costs are cheaper overall.
It's not quite as affordable as its sister model, the Kodak Step – but it will still get the job done without breaking the bank
Read our full
Review Kodak Step Slim Instant Printer
8. Polaroid Mint – Best for Simplicity
Pros
Pocket-sized design
Easy to use
Cons
Zink prints not as impressive as real film
Not as cheap as other Zink printers
Polaroid's Mint Pocket Printer is similarly priced to the HP Sprocket, and like that it uses Zink paper.
The Mint also has a variety of customisation options. You can edit images – cropping, zooming, saturation, contrast, and more – before applying filters, borders, text, and stickers.
The Mint is smaller and more easily portable than most rivals at 25x76x130mm and 204g, and can handle up to 50 prints before needing to be charged again.
If you'd rather have the prints without the printer, Polaroid also offers a remote printing service, Super Snaps – you just upload your photos and the company will ship retro-style Polaroid prints directly to you.
9. Instax Mini Evo – Best Hybrid Camera
Pros
Compact and retro design
Long battery life
Useful buttons and dials
Cons
Expensive
Frustrating menu
Limited internal storage
Whilst the Instax Mini Evo from Fujifilm is foremost a digital and instant camera hybrid, it also has all the capabilities of a standard portable printer, making it a true all-rounder.
The Instax Mini Evo app allows you to edit photos with filters, stickers and frames – just like you can with other Instax printers. You can also transfer photos taken on the camera to the app so that they are digitally stored.
The camera itself combines features such as analogue buttons with digital effects, making for an all-around fun shooting experience. It looks refined and vintage, and not childish like some other products from the brand. The Evo comes with a lengthy battery life, as well as a portable size.
Unfortunately, whilst all these features are compelling, the Instax Mini Evo comes with a hefty price tag upfront, plus the running cost of Instax film on top of this.
Read our full
Review Instax Mini Evo
Buying advice for a portable photo printer
---
1.
How does a portable photo printer work?
Portable photo printers essentially connect to your smartphone via Bluetooth, usually via an app. The photos taken on your phone (or downloaded onto your image library) can then be viewed in the app, and printed from here. There is no need to involve your PC at all, and most printers should support both iOS and Android models.
The actual printing process depends on the model you buy. The Polaroid Hi-Print uses a lengthier dye-sublimation process, whilst Instax printers instantly print photos which then develop over a short period of time. Zink photo printers print instantly, but this is technically not real film. It all comes down to your preferences for the final look of your photos.
2.
What size photos does a portable photo printer produce?
That depends on which printer you choose! We have the dimensions of all the prints that the devices use in our linked reviews, but the most common format is around the size of a credit card. However, you can opt for something larger if you prefer prints that take up more space. Typically, a portable printer can only print one size of photos.
3.
What is the difference between a portable photo printer and an instant camera hybrid?
Some models of instant cameras (which print photos as soon as you hit the shutter button) also include the ability to print photos, just as you would on a portable printer – one example is the Instax Mini Evo. You can find more options in our chart of the best instant cameras.
4.
Can I edit photos in a portable photo printer app?
Most leading manufacturers for portable photo printers offer some level of editing in their smartphone apps. These include filters, stickers, frames, text and even more advanced things like QR codes.