Not too long ago, it seemed like tablets with detachable keyboards would take over from laptops as the go-to portable productivity device.
While 2-in-1 devices are more popular than ever, that's never fully materialised. During the pandemic, people around the world rediscovered just how useful laptops can be, and they seem here to stay.
However, if you've decided to buy a new laptop, deciding what to go for can be very difficult. Even if you've decided on a screen size, rough design or brand, there are still so many devices that could be right for you.
This article aims to simplify that process, with 15 of the very best laptops you can buy, alongside detailed buying advice at the bottom of the page. They are ranked, but the options towards the top of the list might not be right for you – we can recommend them all.
But value is your primary concern, we've also scoured the web for laptop deals and have a separate guide to the best budget laptops.
Best laptops 2023
1. Apple MacBook Pro (2023) – Best Overall
Pros
Superb performance
HDMI and SD card reader
Impressive 1080p webcam
Stellar battery life
Cons
Unsightly notch
No USB-A ports
Still no touchscreen
Price When Reviewed:
From $1,999 | Model reviewed $2,499
The latest MacBook Pro is the most powerful laptop Apple has ever made, and it's best you can buy if price isn't an issue.
While you may prefer Windows 10 or 11 to macOS, there's no denying the incredible performance offered by the M2 Pro and M2 Max chips. Both are available on 14in and 16in sizes, with superb power efficiency resulting in incredible battery life.
Apple's stunning displays are here in all their glory, while you also get a great 1080p webcam for video calls – you can use your iPhone's camera for this if you'd prefer, though.
It's great to see HDMI and a SD card reader, but Apple still hasn't included a USB-A port, so you may need an adapter or hub. There's also the unattractive notch (which still can't be used for Face ID) and no touchscreen, not to mention those high price tags.
The 2023 MacBook Pro is a superb device that will serve you well for many years to come, but you don't necessarily need to spend this much on a laptop.
Read our full
Apple 14-inch MacBook Pro (M2 Pro, 2023) review
2. Huawei MateBook 14s (2021) – Best Windows laptop
Pros
Plenty of power & ports
Killer keyboard
90Hz display
Fixed webcam
Cons
Plain design
Thunderbolt 4 only on top SKU
Webcam only 720p
Price When Reviewed:
Unavailable in the US
Pound for pound, the MateBook 14s is the best laptop you can buy right now. A great blend of performance, design and affordability means it's easy to recommend, especially with the webcam back above the screen rather than hidden in the keyboard. The latter is only 720p, but a separate IR sensor means there's still support for Windows Hello face unlock as an alternative to the fingerprint sensor.
Almost everywhere else, the 14s is mightily impressive almost everywhere else. 11th-gen Intel CPUs and up to 16GB of RAM means performance is excellent, provided you don't need a device for gaming or 4K video editing.
Other highlights include a 2.5K touchscreen display, complete with 90Hz refresh rate for smooth visuals. You also get a decent port selection, solid battery life and one of the best keyboards you'll find in any laptop. There's even a 90W fast charger included in the box.
It's worth noting that there is now a 2022 version of the MateBook 14s, but aside from new Intel CPUs it's essentially the same device.
Read our full
Huawei MateBook 14s (2021) review
3. LG Gram 17 (2021) – Best big laptop
Pros
Insanely light
Stunning battery life
Excellent screen
Cons
Spongy keyboard
McAfee pop-ups
Price When Reviewed:
$1,799
We didn't think LG could make the Gram 17 much better, but the 2021 model has really nailed it.
It remains an incredibly lightweight marvel of engineering, but LG has now improved our main problems with the 2020 model – namely the speakers and trackpad. Design refinements mean the Gram 17 looks better than ever, while performance from 11th-gen Intel chips is impressive.
But on a 17in laptop that weighs just 1.35kg, getting such great battery life is a pleasant surprise. There are plenty of ports here for most people (including Thunderbolt 4), plus above-average speakers and an excellent display, although the latter isn't touchscreen.
If you can look beyond a spongy keyboard and the relatively high price, the Gram 17 is the large laptop to beat. There is a 2022 version, but new CPUs and the option for a discrete GPU are the only real upgrades.
Read our full
LG gram 17 (2021) review
4. Huawei MateBook 16s (2022) – Best display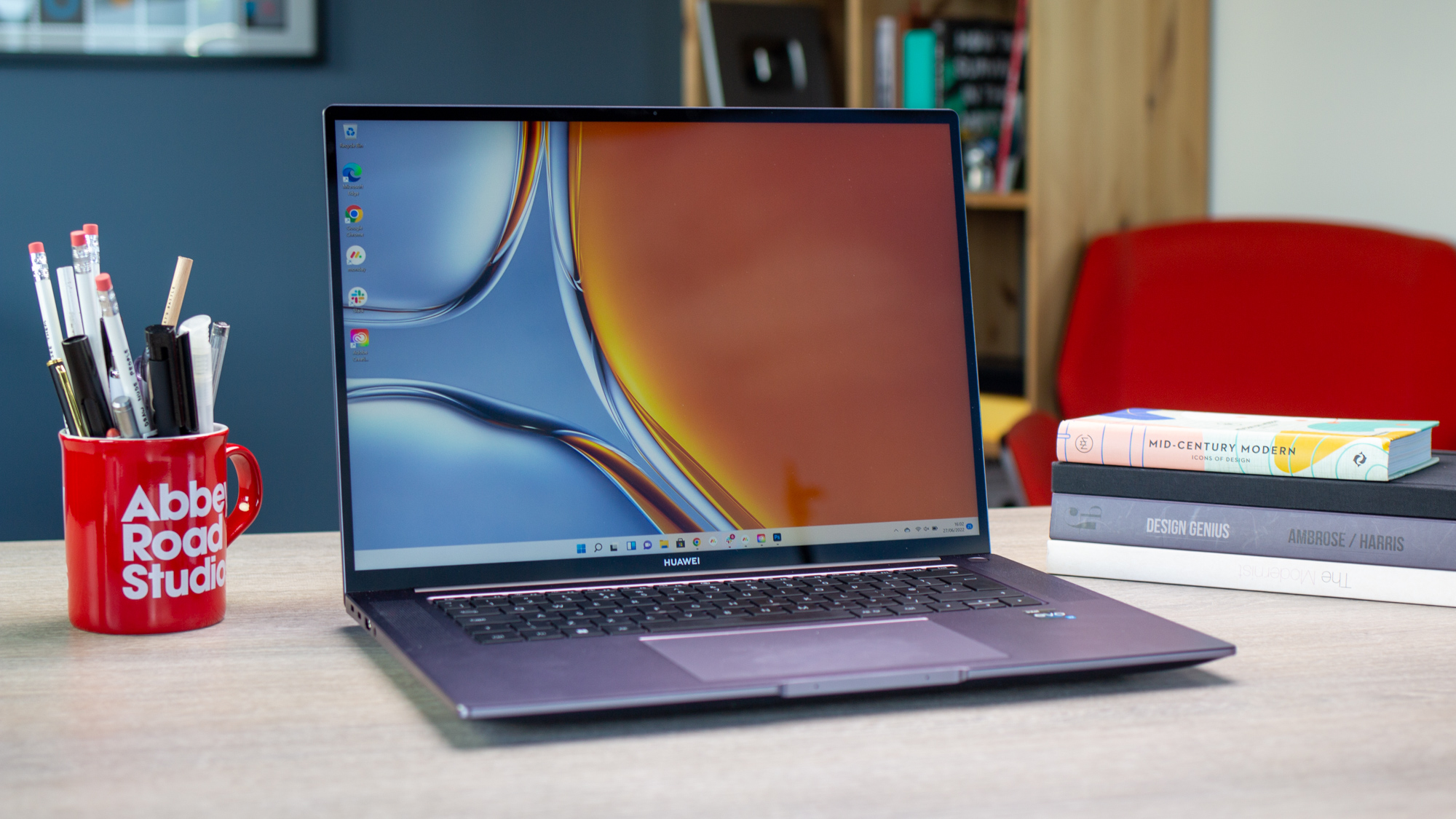 Pros
Superb display
Fast charging
Lots of ports
Solid performance
Cons
No discrete GPU
No NumPad
Can get expensive
If you're specifically looking for a 16in laptop, there's more choice than ever in 2022. But the new MateBook 16s takes the crown, performing well in almost all the key areas. Performance from 12th-gen Intel CPUs is solid, especially when used in tandem with the gorgeous, large, touchscreen display.
Other highlights include a generous 84Wh battery with impressive fast charging, alongside a diverse range of ports and Huawei's trademark premium design.
It's big, bulky and there's no discrete GPU, but if you can look beyond these things the MateBook 16s could be for you.
Read our full
Huawei MateBook 16s (2022) review
5. Huawei MateBook X Pro (2022) – Best for fast charging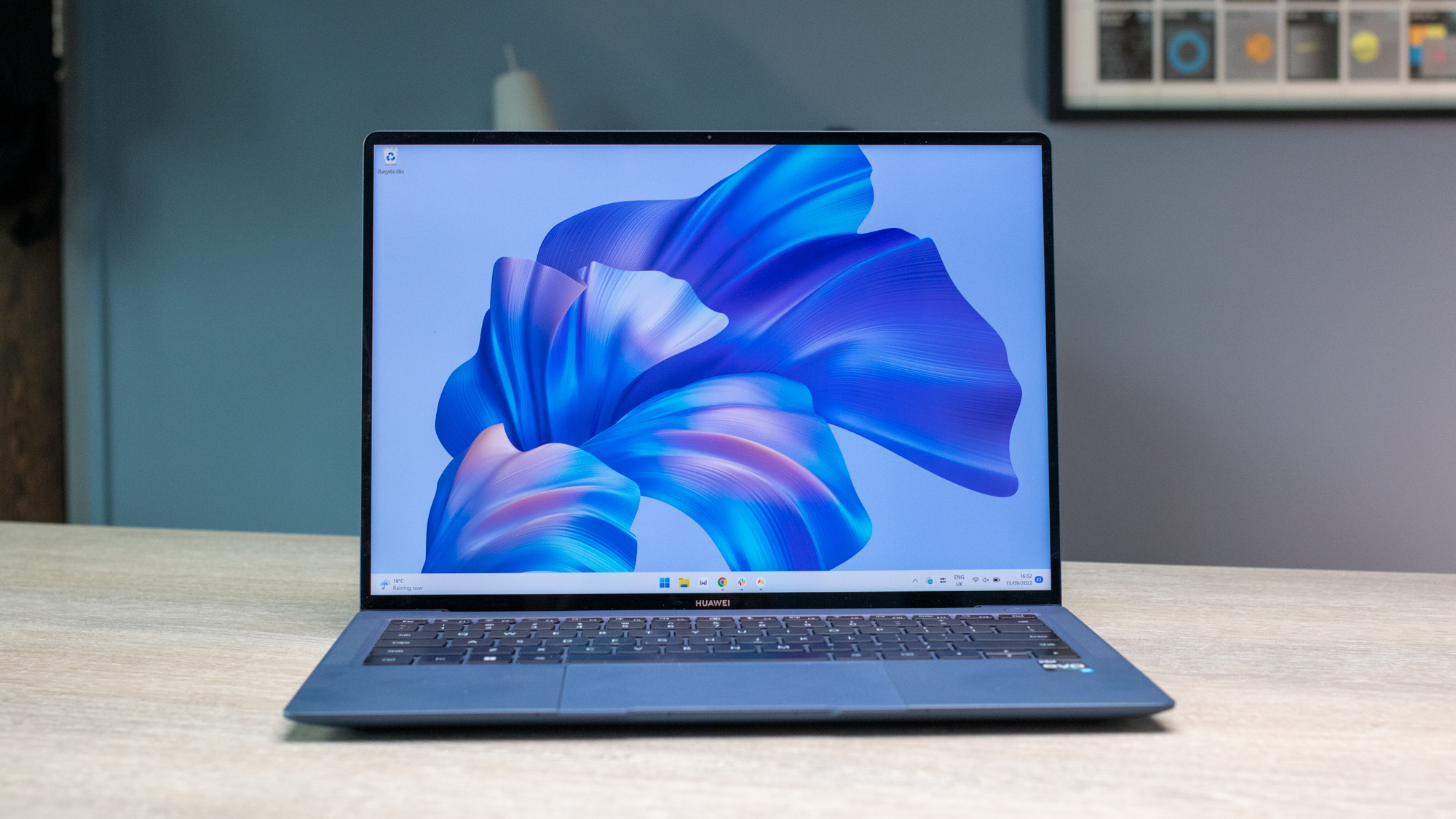 Pros
Excellent keyboard and trackpad
Slick design
Decent performance
90W fast charging
Cons
Underwhelming battery life
No discrete GPU option
No USB-A ports
Price When Reviewed:
Not available in the US
The MateBook X Pro has been around for a few years, but this latest model is Huawei's best effort yet.
A slick, premium design has been made even better thanks to a lighter magnesium alloy, which means a 14.2in laptop now weighs as little as 1.26kg. There's still room for an excellent full-size keyboard and trackpad, though, which help the MateBook X Pro stand out from the competition.
Other highlights include that 90Hz display, a much more logical webcam position and solid performance from Intel's 12th-gen CPUs, although there's no option for a discrete GPU. Huawei has also gone all-in on USB-C, meaning there's no room for any USB-A ports.
Fast charging is a nice touch, but sub-par battery life means you'll be reaching for the 90W adapter more often than you might like.
Despite these drawbacks, the MateBook X Pro remains an excellent laptop that's definitely worth considering.
Read our full
Huawei MateBook X Pro (late 2022) review
6. Dell XPS 15 (late 2021) – Best 15in laptop
Pros
Plenty of power
Impressive screen
Great keyboard
Robust design
Cons
Expensive
Middling battery life
Only USB-C
High Delta E
Price When Reviewed:
From $1,449 | Model reviewed $2,249
The Dell XPS 15 remains one of the best-looking business laptops on the market, thanks to its aluminium and carbon fibre finish.
It excels in many other areas, too: its Core i7-11800H processor is very fast, while the laptop also boasts plenty of storage and a great keyboard.
A 15in display is vibrant and a joy to use, especially when combined with excellent speakers. It's also got the battery power to handle a day of work in most scenarios.
XPS machines are never cheap, though, and the 9510 is not perfect. You'll want to look elsewhere if colour accuracy is a top priority, and you'll be able to find better battery life and a broader selection of ports elsewhere.
Read our full
Dell XPS 15 9510 (late 2021) review
7. Asus Zenbook S 13 OLED – Best battery life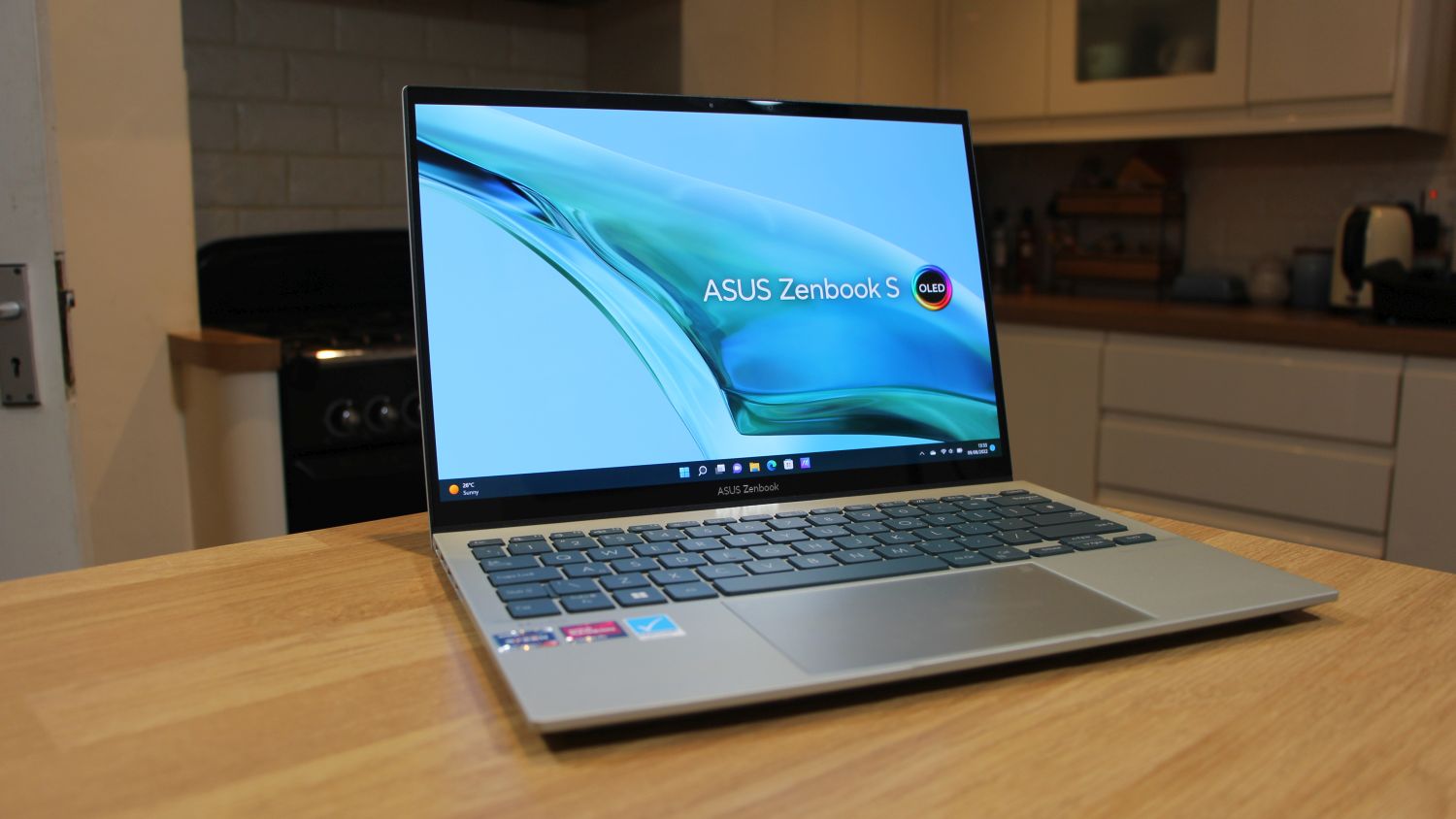 Pros
Excellent OLED display
Great battery life
Solid AMD performance
Stylus included in box
Cons
No USB-A ports
No Thunderbolt
No discrete GPU
Price When Reviewed:
$1,299
Putting OLED in the name of the laptop shows you Asus was confident in the Zenbook S 13's display, and it's easy to see why. The 13.3in, 2800×1800 panel is a joy to use, with incredibly detail and colours that really pop. It also supports input via touch and the stylus that's included in the box.
Combined with a full-size keyboard with decent travel, the Zenbook S 13 is easy to use as an everyday laptop. That's helped by AMD's 2022 Ryzen 7 chip and a bumper 16GB of RAM under the hood, which means performance is great despite the lack of a discrete GPU.
Despite having such a thin and light design, the device also boasts great battery life. Charging is via USB-C, but there are no USB-A ports or Thunderbolt support. You'll also need to rely on the fingerprint scanner to unlock it, with no depth sensor beside the solid 1080p webcam for face unlock.
Still, this is a laptop which ticks all of the most important boxes for many people. But that display is the main reason to buy it over rivals.
Read our full
Asus ZenBook S 13 OLED (2022) review
8. LG Gram 16 (2022) – Best design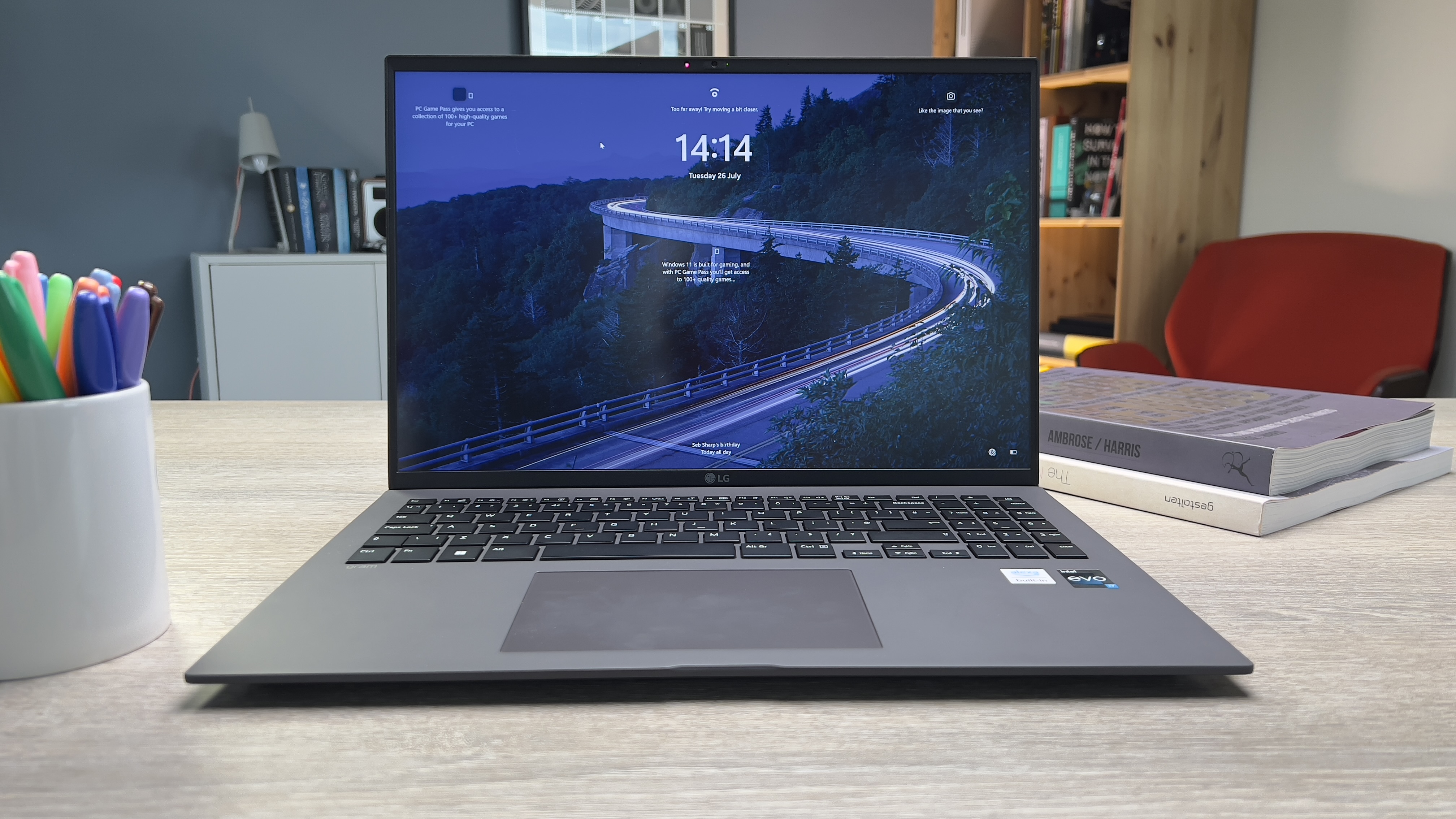 Pros
Thin and light
Stunning matte display
Solid battery life
Cons
No discrete GPU
Refresh rate only 60Hz
More expensive than some rivals
Price When Reviewed:
From $1,549 | Model reviewed: $1,699
The Gram 16 being so low on this list reflects the strength of laptops in 2022, but also that it's not quite as impressive as it once was.
It uses 12th-gen Intel CPUs, but not from the most powerful H-Series and still with an integrated GPU. Many premium laptops are shifting to a high refresh rate display, but the Gram 16 is still stuck at 60Hz. At this price, it's harder to accept these compromises.
But we'd still recommend considering it due to the way it excels in other areas. The Gram 16 is still incredibly thin and light, while a matt coating on the screen contributes to an excellent viewing experience. Battery life is among the best you'll find in any laptop, and it's impressively durable for a device that's so portable.
Read our full
LG Gram 16 (2022) review
9. Samsung Galaxy Book 2 360 – Best convertible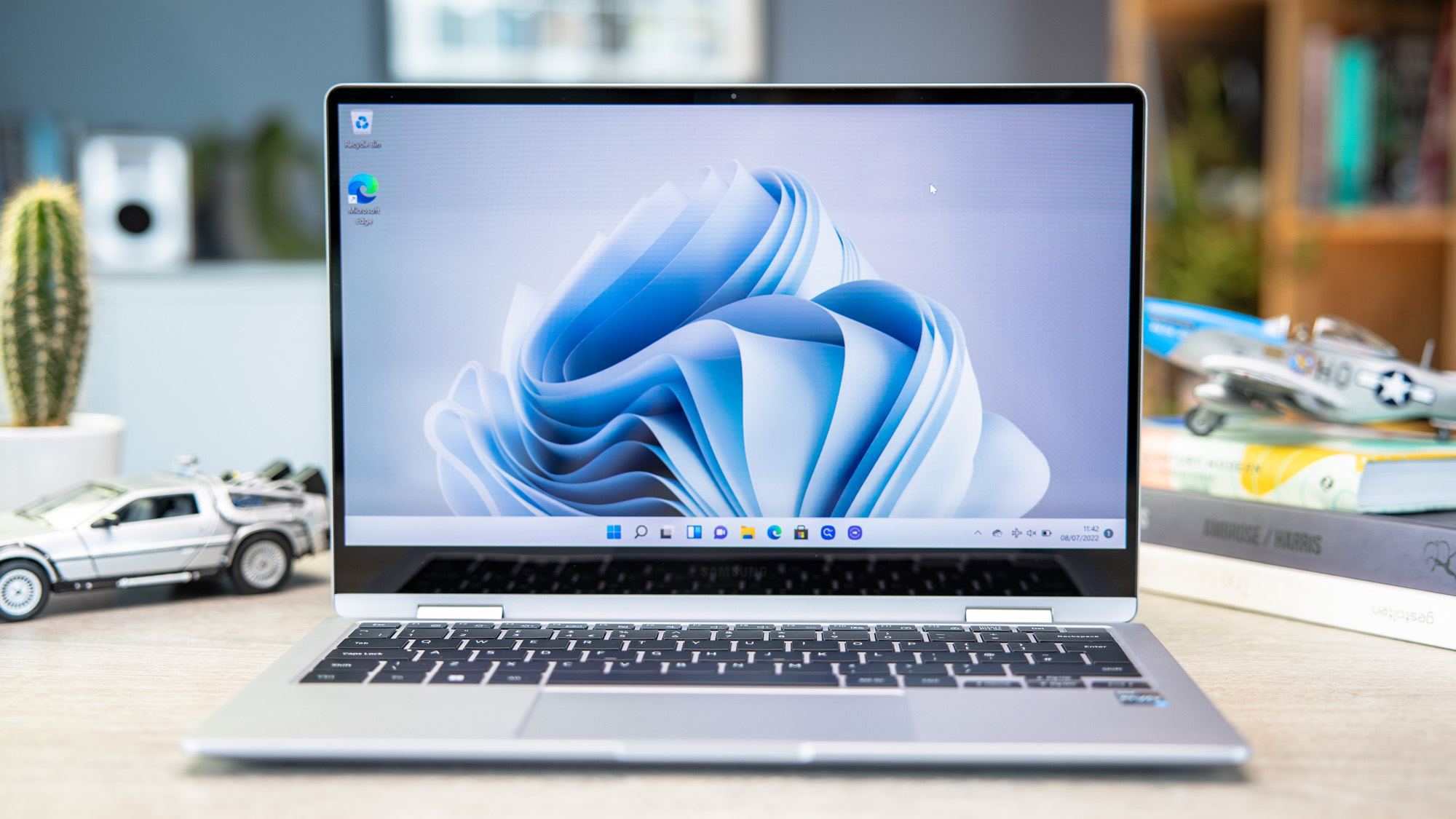 Pros
Great display
Solid battery life
Thin and light design
S-Pen support
Cons
Underwhelming webcam
Poor trackpad
No discrete GPU
Price When Reviewed:
From $899.99
Samsung is getting serious about laptops again, and the Galaxy Book 2 360 is one of its best devices yet. It nails the basics within a thin and light design, yet still looks and feels like a premium laptop.
The 13.3in OLED display is a real highlight, especially as it supports input from both touch and an S Pen – you'll have to buy the latter separately, though. A battery capacity just over 60Wh doesn't sound like anything special, but it can comfortably last a full working day and have charge to spare. When you do run low, the 65W charger in the box will get you back up and running in no time.
Other highlights include a decent port selection, solid keyboard and that all-important 360° hinge. The trackpad isn't great and you'll probably want to connect a separate webcam, but if you can look beyond these inconveniences the Book 2 360 is definitely worth considering.
However, if you don't need convertible functionality, it's also worth considering the Galaxy Book 2 Pro.
Read our full
Samsung Galaxy Book 2 360 review
10. Microsoft Surface Laptop 5 – Solid all-rounder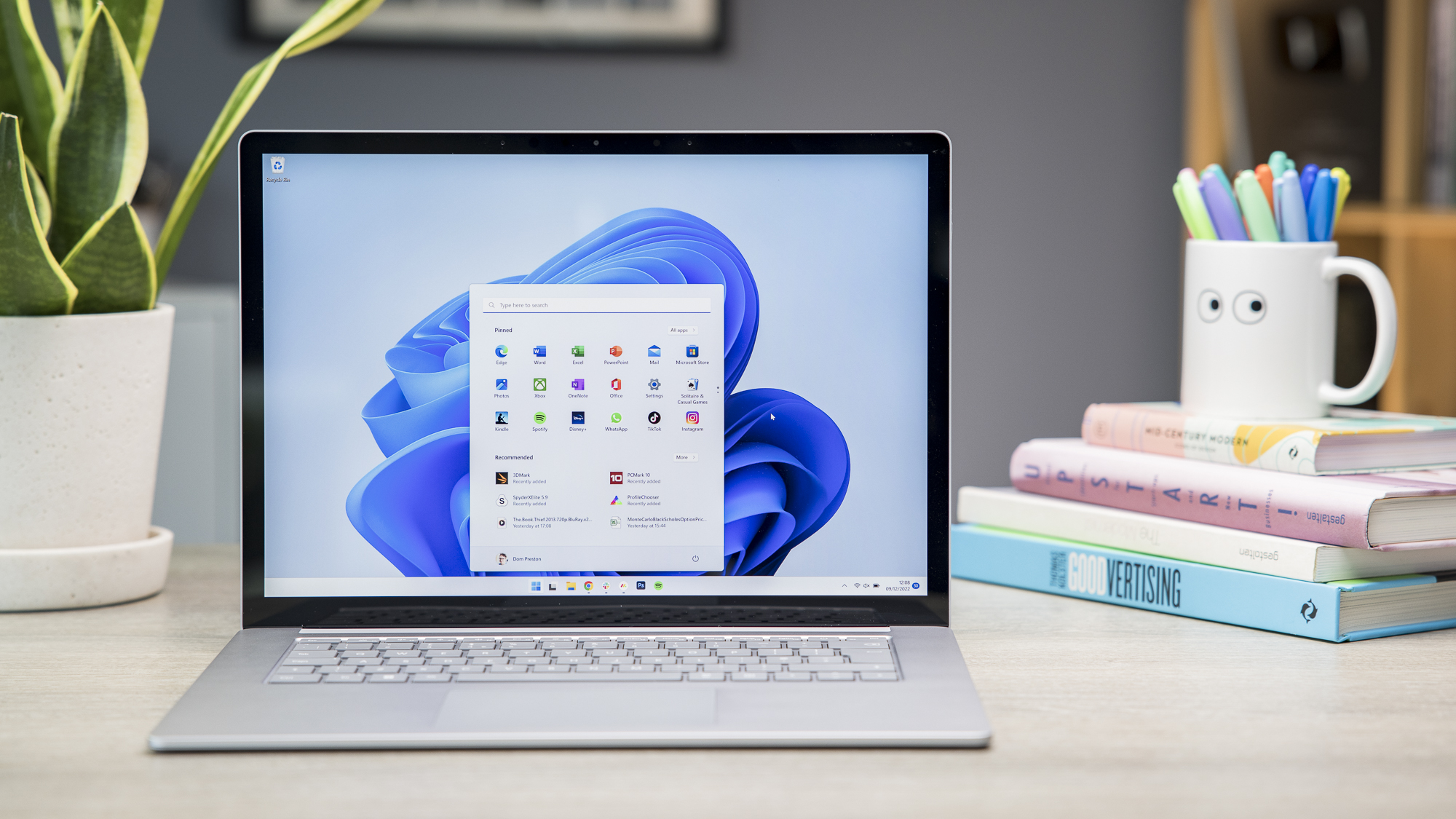 Pros
Excellent display
Solid performance
Great battery life
Cons
Noisy fans
Limited ports
Top-specs overpriced
Price When Reviewed:
From $999
Several years of minimal updates mean the Surface Laptop 5 isn't a very exciting device. In 2022, its dated design can't match the competition, and Microsoft has only added new processors this time around.
However, there are still plenty of reasons to consider it. Performance has had a useful boost and offers plenty for everyday tasks, while the touchscreen display (you can choose between 13.5in and 15in) remains one of the best – even without OLED.
The keyboard is perhaps the only exceptional thing about this laptop, but it gets the fundamentals right. You'll have to deal with thick bezels and no AMD option anymore though, and it doesn't come cheap.
11. Microsoft Surface Laptop Studio – Best 3-in-1 laptop
Pros
Great 120Hz screen
All three modes work well
Impressive battery life
Solid performance
Cons
Expensive
Limited to three fixed positions
Not enough ports
Price When Reviewed:
From $1,599.99 | Model reviewed $2,699.99
If you're looking for a 2-in-1 laptop, well how about a 3-in-1 which Microsoft has achieved with the Surface Laptop Studio.
The screen might not detach like the Surface Book but a slick hinge design means you can quickly alter the Studio between three useful modes, although we'd like to adjust the angles on some.
The laptop also has a gorgeous 120Hz display, which can automatically adjust depending on what you're doing. This should boost already-solid battery life, while a dedicated RTX 3050 Ti GPU at the higher end helps deliver impressive performance.
Combined, these features make it a well-rounded and versatile laptop. It is at the premium end in terms of price and we'd like more ports but the Surface Laptop Studio could make an excellent choice for some users.
Read our full
Microsoft Surface Laptop Studio review
12. Dell XPS 13 Plus – Best keyboard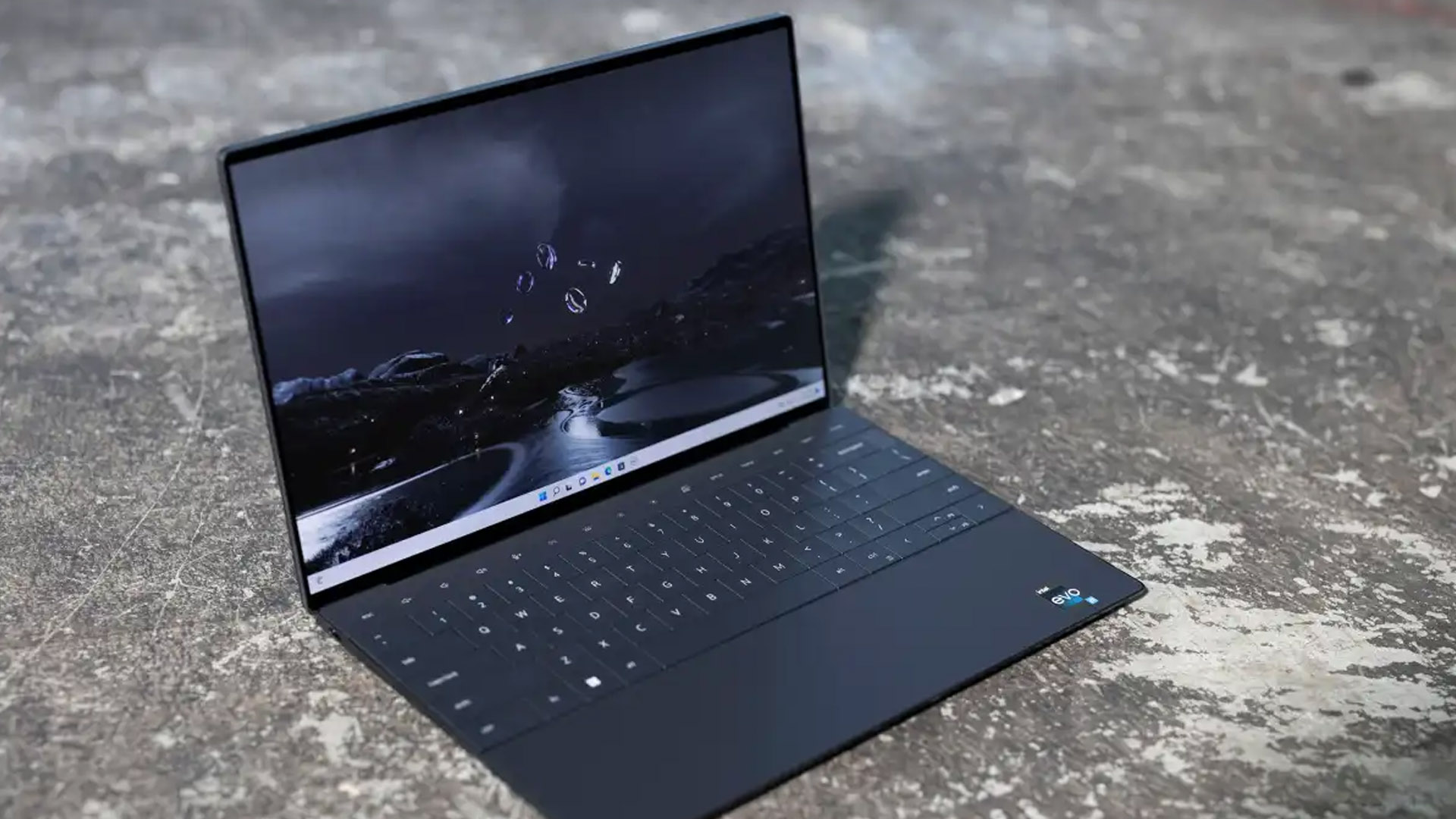 Pros
Gorgeous OLED screen
Stunning design
Great keyboard
Cons
Underwhelming battery life
Not enough ports
Expensive
With the XPS 13 Plus, Dell has reimagined what a 13in laptop can be.
Undoubtedly the highlight is a new edge-to-edge keyboard, which delivers a truly excellent typing experience. An invisible trackpad is surprisingly good, but the row of physical function keys with haptic equivalents doesn't quite hit the mark.
However, it's easy to excuse, given the quality of the 3.5K OLED screen and gorgeous design. For a device that's only 15mm thick and weighs just 1.26kg.
Ports and battery life are the big reasons it's not higher in this list though. The XPS 13 Plus definitely isn't the most practical laptop, but it is one of the most exciting.
13. Lenovo Yoga Slim 7i Pro X – Best performance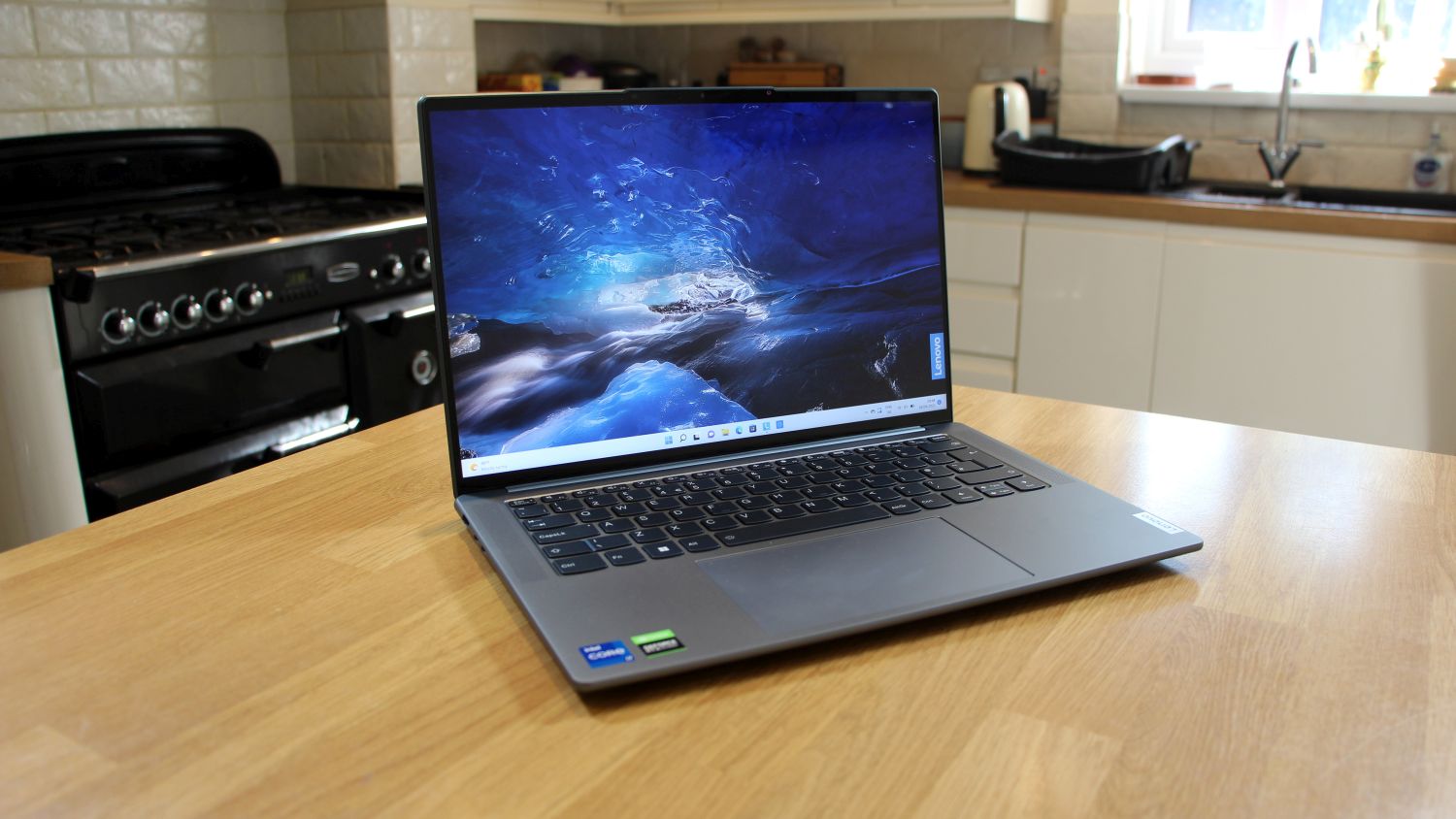 Pros
Great Intel Core i7 performance
Nvidia RTX 3050 GPU
Great keyboard
Lots of ports
Cons
Mediocre battery life
Display could be better
Expensive
Price When Reviewed:
From $1,760
The Yoga Slim 7i Pro X isn't most powerful laptop you can buy, but it manages to pack a lot of high-end specs into a relatively slim (15.7mm) and light (1.45kg) 14.5in device. An Intel 12th-gen Core i7 chip combines with an Nvidia RTX 3050 GPU and 32GB of RAM for superb performance without any significant overheating.
Its modern design doesn't stand out among Windows 11 laptops, but you do get a great keyboard and large, responsive trackpad. The screen has a high resolution and 120Hz refresh rate, but panels around this price often deliver better colour accuracy.
Alongside underwhelming battery life and that high price tag, most people will find better value for money elsewhere. But you'll struggle to find more performance in a consumer-focused laptop of this size.
Read our full
Lenovo Yoga Slim 7i Pro X (2022) review
14. Lenovo Yoga Slim 9i (2022) – Most attractive
Pros
Great display
Solid speed & battery
Sleek design
Quiet keyboard
Cons
No HDMI or Thunderbolt
Expensive i7 model
Disappointing trackpad
Price When Reviewed:
$2,070
In a world where so many laptops look the same, the 2022 Yoga Slim 9i is a standout device.
The glossy white glass on the rear gives way to what Lenovo is calling 'Oatmeal' on the keyboard and chassis. It certainly looks the part, and reinforces the feeling that this is a premium laptop.
An attractive 14in OLED touchscreen is another highlight – it's housed within slim bezels, but there's still enough room for a 1080p webcam for clear video calls.
Intel's 12th-gen processors deliver solid performance, while audio is better than you'd expect from a device of this size.
However, underwhelming battery life and a lack of ports take the shine off the experience, and at this price they're more difficult to ignore.
Read our full
Lenovo Yoga Slim 9i (Gen 7) review
15. Asus TUF Gaming A15 – Best for gaming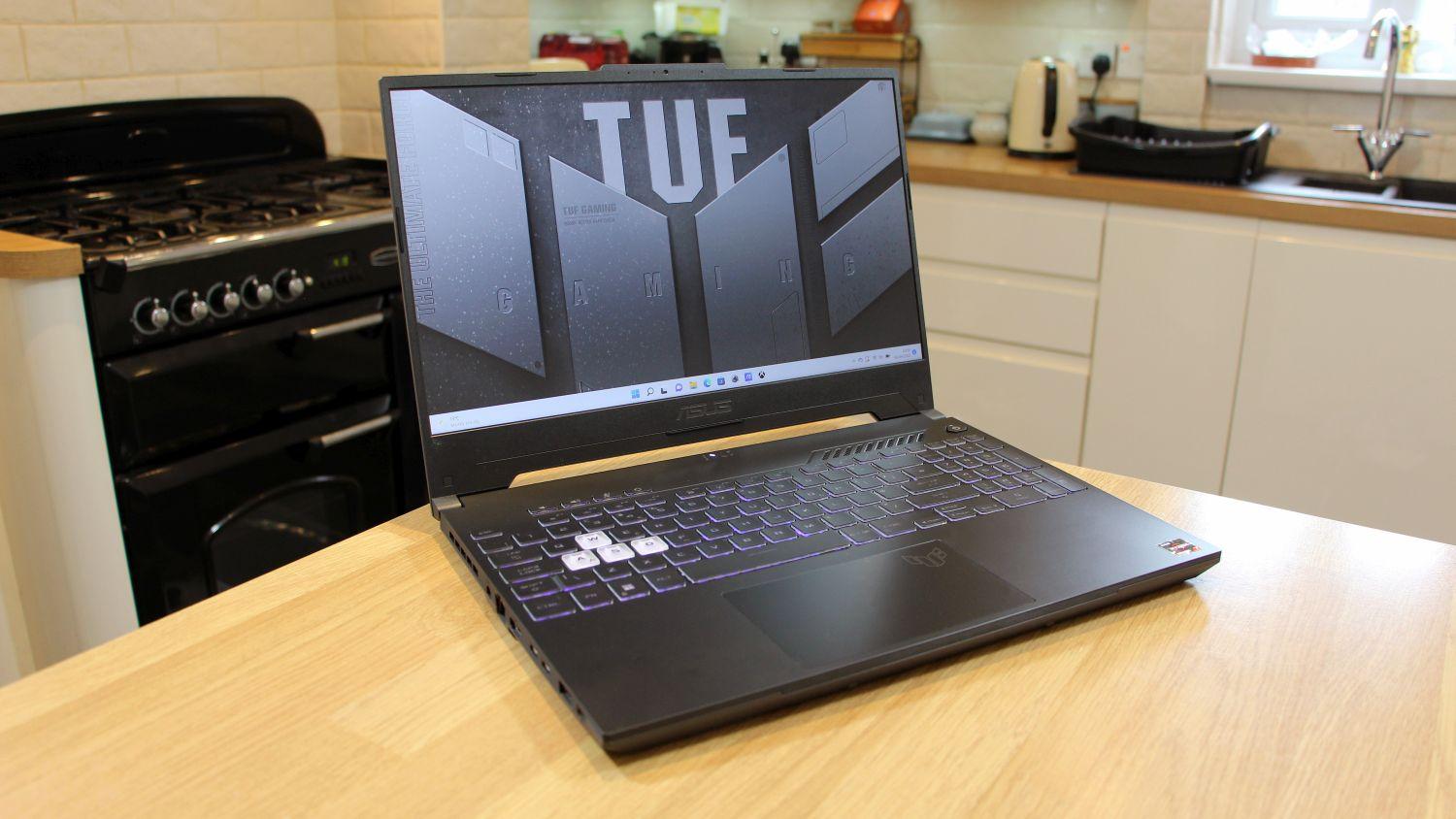 Pros
Excellent performance
Stunning hi-res screen
Decent battery life
Relatively affordable
Cons
Average build quality
Slow USB ports
Underwhelming trackpad
Price When Reviewed:
From $1,049 | Model reviewed $1,499
The TUF Gaming A15 isn't a laptop most people should consider, but it's an excellent option for people who want a portable gaming machine.
A heavy, bulky will put many people off, but it means the device has some incredible specs. A powerful AMD Ryzen 7 processor is paired with Nvidia's RTX 3060 discrete GPU to help the A15 handle very demanding workloads. It's supplemented with 16GB of RAM and a generous 1TB SSD.
The 15.6in 1440p display is a joy to use, especially with its 165Hz refresh rate. Battery life is better than many gaming laptops and there are plenty of ports, although the USB ports could be faster. You also miss out on a fingerprint scanner, while the webcam and trackpad aren't great.
But for gamers, this remains one of the best ways to play anywhere without making big sacrifices to the quality of your experience. As a result, it's easy to recommend, but only to specific people.
Read our full
Asus TUF Gaming A15 (2022) review
FAQ
---
1.
How much should you spend on a laptop?
The very best laptops usually command a high price tag, but you don't necessarily need to spend upwards of $1,000/£1,000 for a great experience.
These days, you can get a capable budget laptop for $500/£500 or even less, although it'll probably only be suitable for everyday tasks such as web browsing, emails, word processing and the occasional video call.
But pay $700/£700 or more and you should get great performance, plenty of RAM, loads of storage and a gorgeous display. You should also expect excellent build quality and premium materials. Many laptops these days are above $1,000/£1,000, which is when you start getting the likes of 4K touchscreens and ultra-premium builds.
2.
What screen size of laptop do you need?
Laptop screens range from around 11in to 18in. A smaller screen might be harder to work on and offer fewer ports, but it will be more portable.
A big-screened laptop, on the other hand, is probably a desktop replacement and so not designed to be taken everywhere with you. Generally, 13in or 14in is the sweet spot between usability and portability.
Some cheap laptops have a low 720p resolution, but it's worth aiming for at least Full HD (1920×1080) or higher. A QHD or 4K screen is nice to have, but not necessary for most people. While they're increasingly rare in 2023, a matt display trades some vivid colours in exchange for a less reflective screen.
A touchscreen isn't always required , but it might be preferable to connecting a mouse or using the trackpad all the time. But on 2-in-1 laptops, this is a necessity.
High refresh rate displays are beginning to make their way into consumer laptops, but 60Hz remains the standard. Something above this will give the screen extra fluidity and help it feel more responsive, but the effect isn't as noticeable as on smartphones.
OLED panels are generally considered higher quality than LCD, but each have their own benefits and drawbacks. Some laptops are beginning to move to mini-LED technology these days, too.
3.
How much laptop storage do you need?
The amount of storage you require will depend on what you plan to use the laptop for. As a general rule, get as much as possible without it feeling like you're wasting money on the upgrade.
An SSD will help your laptop run faster, but typically offers less space for your files (consider supplementing it with a portable USB drive). You can also use cloud storage – but only when you have an internet connection.
Memory (RAM) is where programs and files are stored only while you're using them, so more is usually better. Consider 4GB as a minimum, although 8GB or even 16GB will be the sweet spot for most people.
4.
Which laptop processor is best?
Unless you're going to run complex software or demanding games, you don't need a top-spec processor. If the latter is something you plan on doing, we have a separate round-up of the best cheap gaming laptops under $1,000/£1,000.
But regardless of your budget, you're probably looking at a device powered by Intel or AMD. The former's latest 13th-gen Raptor Lake CPUs will be found in many 2023 laptops, but the Ryzen 7000 Series won't be far behind in terms of popularity. There are also ARM-based Qualcomm processors such as the Snapdragon 8cx Gen 3, but they still struggle slightly for performance and app compatibility.
Of course, Apple's MacBooks run the company's own Apple Silicon instead. Various iterations of M1 and M2 chips have already been released, and it looks like more are on the way.
5.
Should I buy a thin and light laptop?
A thin and light laptop is much the same as any other laptop, although your priorities may be slightly different. Top of the list might be ultraportable laptop that's light but will last a long time on battery power.
However, other people want an device that's powerful and can handle demanding applications without breaking your back when you carry it around. Both are available.
Compromises are inevitable if you want a thin and light laptop, though. There's less space for a battery, so it's common to find shorter runtimes. Thin laptops also tend to have shallow key travel – look at specific reviews to see how much of an issue this is.
You'll may miss out on ports and connectivity, too. These can be extremely limited, and you'll want to avoid carrying a hub or adapter with you if possible. If HDMI or USB-A is important, make sure the laptop you're considering has them.