At a Glance
Expert's Rating
Pros
Lots of detail
Emergency SOS
Alexa
Our Verdict
Expensive, but packed with features and offering detailed video quality.
Price When Reviewed
$399.99
Best Prices Today: Nextbase 622GW
Nextbase took its time to launch the 622GW: almost a year after the rest of the range. But it's here now and it is literally packed with features.
On top of the 522GW, it has that higher 4K resolution, image stabilisation, extreme weather mode and what3words, to make it easier to tell the emergency services exactly where you are.
Like the 522GW, you can connect one of the three rear camera modules that Nextbase offers and turn it into a front-plus-rear dash cam which records footage to in sync to the same microSD card, which isn't supplied. The 622GW also has Alexa built-in along with the Emergency SOS service, which is free for the first year, then you have to pay a small subscription fee.
It also shares quite a lot of other similar features to the 522GW: a touchscreen interface, the MyNextbase companion app, a magnetic quick-release mounting system and a big 'ol lens barrel poking out the front with a polariser on it.
Design
Just like other models in the range, the 622GW shares a similar, traditional dash cam design with a large 3in screen on the rear which sits perpendicular to the road. That means it doesn't hug the windscreen and keep out of the way of sun visors as well as the Viofo A129 Duo, for example, but the magnetic mount that attaches next to the lens does make it more compact overall than many dash cams.
The mount houses the GPS receiver and there are two options here: suction or adhesive. The latter is preferable as suction mounts tend to fall off from time to time, whereas the 3M adhesive is tough to get off even when you need to remove it from the windscreen.
Installation is straightforward if you're using the bundled cable that plugs into a 12V socket somewhere on your dashboard or centre console, but it's much neater to go with the hardwire kit that you can either install yourself or pay Halfords or another supplier to fit for you.
The kit isn't required for the intelligent parking mode, which uses the camera's own battery power to monitor the G-sensor for movement and record when your car is hit.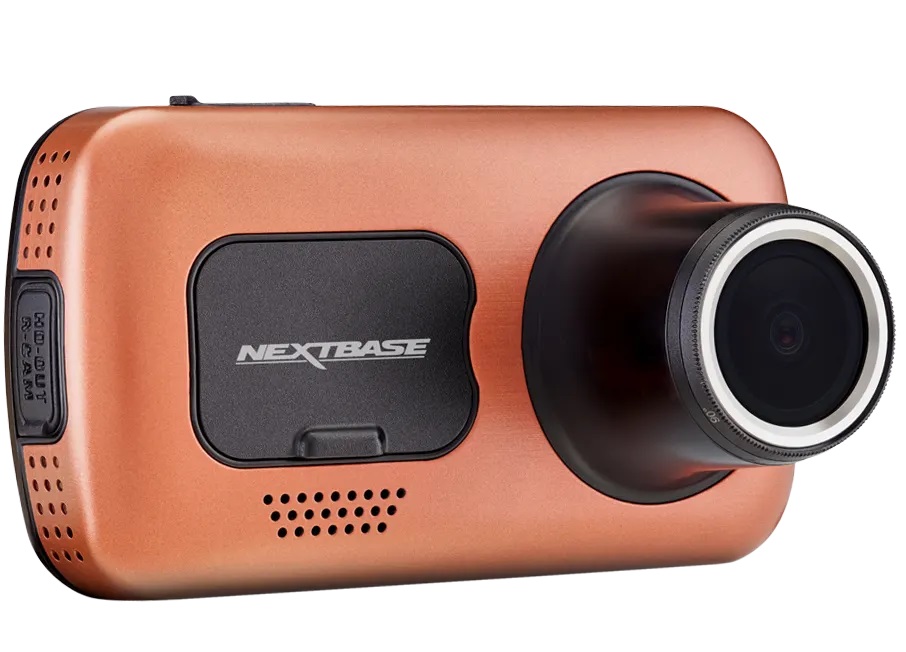 Nextbase
Nextbase now offers a Limited Edition 622GW Sienna version which sports a burnt orange colour, with 5% of profits being donated to MS Society UK.
4K video
The headline feature, of course, is the 4K video. It records at 3840 x 2160 pixels at 30 frames per second. This is considerably more than the 2560 x 1440 pixels that the 522GW is capable of and image quality is further improved by digital stabilisation. Strangely, this is disabled by default, as is the new extreme weather mode which can 'see through fog'.
Aside from what appeared to be a failure of the white balance system that resulted in colours appearing far too warm, quality is impressive.
Pause a video and you should be able to make out registration plates just about anywhere in the frame: on cars driving past, in front of you, parked by the side of the road or even those waiting in a side road waiting to pull out.
The new sensor's larger pixels definitely contribute to better quality at night, as video is noticeably sharper than any previous Nextbase dash cam and there's a lot more detail and better contrast.
You'll still struggle to see registration plates, but that's partly because of their reflective nature in the UK which means they turn white when your car's headlights shine on them. The fact you can see some blurry characters on this van's plate is quite remarkable.
For those who like the technical details, 4K video is recorded in MP4 at a variable bitrate. Some files showed a total bitrate of under 50Mbps, while others approached 60Mbps. Audio is pretty good, recorded in stereo at 512kbps at 16kHz. You can turn off audio recording, but unlike other dash cams which have a button for this, you have to dig into the 622GW's video settings menu to do it.
It's worth noting that you have to set the resolution to 1080p if you want to use the 120fps slo-mo mode: you can't review 4K footage at that frame rate.
If you connect a rear camera to the 622GW it will still record at 4K, but all rear modules are limited to 1080p.
Here's the full-resolution night-time clip:
MyNextbase app
There haven't been any significant updates to the app since I reviewed the 522GW. You have to use it to set up Emergency SOS and Alexa, and getting Amazon's assistant to work still proved problematic. The first and second time I tried, the Alexa app could 'see' the camera for Bluetooth pairing, but wouldn't connect. Only on the third attempt was the pairing successful and I was able to ask Alexa questions and she would respond on my phone.
The system uses the microphone in the 622GW to listen for the Alexa wake word, but it relies on your phone for the data connection to Amazon's servers as well as a second Bluetooth connection from your phone to your car stereo (otherwise, you'll simply hear Alexa's responses through your phone speaker).
When connected to the 622GW's Wi-Fi, you can see the view from the lens, change settings and also review recorded video clips. Downloading the 400MB that a one-minute clip demands is surprisingly quick over Wi-Fi (running at about 20Mbps to my Huawei P30 Pro), so while I could complain that there's still no way to trim clips or pick which few seconds of a clip I actually need, download the full minute is do-able even in 4K.
The low-res preview files are enabled by default but, again, you can disable these if you don't want them taking up space on your memory card.
Price & availability
Although the 622GW will cost you £249.99 from Halfords, that's the same price its predecessor, the 612GW, cost.
In the US, Nextbase dash cams are much more expensive, and the 622GW will set you back $399 from Best Buy.
In the UK, you can buy a rear camera for £49, but in the US they're $99.99, making the total front-plus-rear package a whopping $500.
For cheaper alternatives, see our roundup of the best dash cams.
Verdict
The 622GW certainly lives up to its flagship status, both in price and features. If you want the absolute best, this is it. There's great image quality both day and (relatively speaking) at night.
You also get some genuinely useful safety features including what3words which, when enabled and there's GPS reception, lets you press the shortcut icon on the screen to get your precise location in a format that couldn't be easier to relay to emergency services over the phone. The SOS feature goes further and informs them of your whereabouts if you remain motionless after a heavy collision.
Alexa may or may not be a dealmaker, but it is a handy bonus and will save you £50/ $50 on buying Amazon's Echo Auto separately.
Specs
Nextbase 622GW: Specs
Display Size: 3in touchscreen
140° wide-angle lens
Resolution: 1080p @ 120fps, 1440p @ 60fps, 4K @ 30fps
GPS Logging: 10x per second
Speed Camera Alert: No
Micro SD Included: No
Built-in Alexa, Emergency SOS
Intelligent parking mode
Compatible with rear camera modules
Polarising filter: built-in
Accessories supplied: 4m car charger, suction mount, adhesive mount, mini USB cable
Best Prices Today: Nextbase 622GW