At a Glance
Expert's Rating
Pros
Audited no-logs policy
Good at unblocking streaming services
Unlimited connections
Cons
Price doubles at end of subscription
Browser extensions are not VPNs
No IPv6 support
Our Verdict
PIA is an feature-packed VPN service which should appeal whether you're a gamer, privacy advocate or want to unblock streaming services. It's good value, too.
Price When Reviewed
From $2.91 per month
Best Prices Today: Private Internet Access
Founded in 2010, Private Internet Access is a VPN service that has been around longer than many of its rivals.
In the intervening dozen years, the service has gone through many changes including gaining a new owner (Kape, in 2019) and making widespread improvements from completing an independent audit to supporting more and more streaming services.
Though on the face of it there are a few drawbacks, including that it's based in the US and doesn't support IPv6 connections, they're not deal-breakers. That's because privacy isn't compromised, as you'll see later on.
One-minute review
If you're not interested in the details and just want to know whether to pick Private Internet Access, here's my one-minute review.
PIA, as its users call it, should certainly be on your shortlist. Its VPN network spreads to 84 countries and comprises many thousands of servers, all of which are set up well for privacy. That means they run in RAM only, are rebooted often and even the error logs are disabled. The company also runs its own DNS servers to ensure there are no DNS leaks that could give away the websites you're visiting.
They offer good speeds as they're fitted with 10Gbps network adapters and you've a choice of WireGuard or OpenVPN on most of the devices that PIA supports. As long as you don't have a half-gigabit broadband connection (or faster), you shouldn't notice the VPN making any difference to the speed of your connection.
If you want to use it on a smart TV, the recent introduction of a Smart DNS service means you can unblock Netflix (and more) on TVs, media streamers and consoles which don't support VPNs. Unblocking is better than ever, too, with DAZN, Sky Go and more Netflix libraries. (It wouldn't unblock iPlayer this time around, though.)
The company also enlisted Deloitte to audit its no-logs claims in order to back up what it has said for years: it doesn't log any data and has nothing to hand over to authorities if they demand it (and previous court cases have also confirmed this). That means the US jurisdiction isn't an issue: what you do while using PIA cannot be traced back to you.
You can pay anonymously for an extra layer of privacy and it doesn't have to be via cryptocurrency: PIA accepts a variety of gift cards.
Finally, it's very competitive on price, undercutting the likes of NordVPN and Surfshark and, like Surfshark, allows you to have an unlimited number of devices connected at the same time.
Now, let's take a closer look at Private Internet Access.
Features & apps
PIA offers apps for Windows, macOS (supporting Apple silicon), Linux (including a proper GUI), Android and iOS.
Starting with the Windows app, it quickly becomes clear that PIA isn't trying to dumb down its service. It defaults to a dark theme and has a technical, almost geeky appearance, displaying information that most rivals hide well away.
Jim Martin / Foundry
To be fair, in the normal compact view, that's only how much data has been uploaded and downloaded. There's a large connect button on that main panel which automatically connects you to the best server. Initially, it looks like the panel is permanently attached to the taskbar, but dig into the (many) settings and there's an option to have it as a floating window instead.
You have to click to the expanded view to see nerdy details about the encryption, and your original and new IP addresses. In that view you'll find shortcut icons to enable and disable advanced features (more on those shortly) and a handy 'VPN Snooze' timer which lets you set a short period when the VPN will be disabled, then automatically reconnected.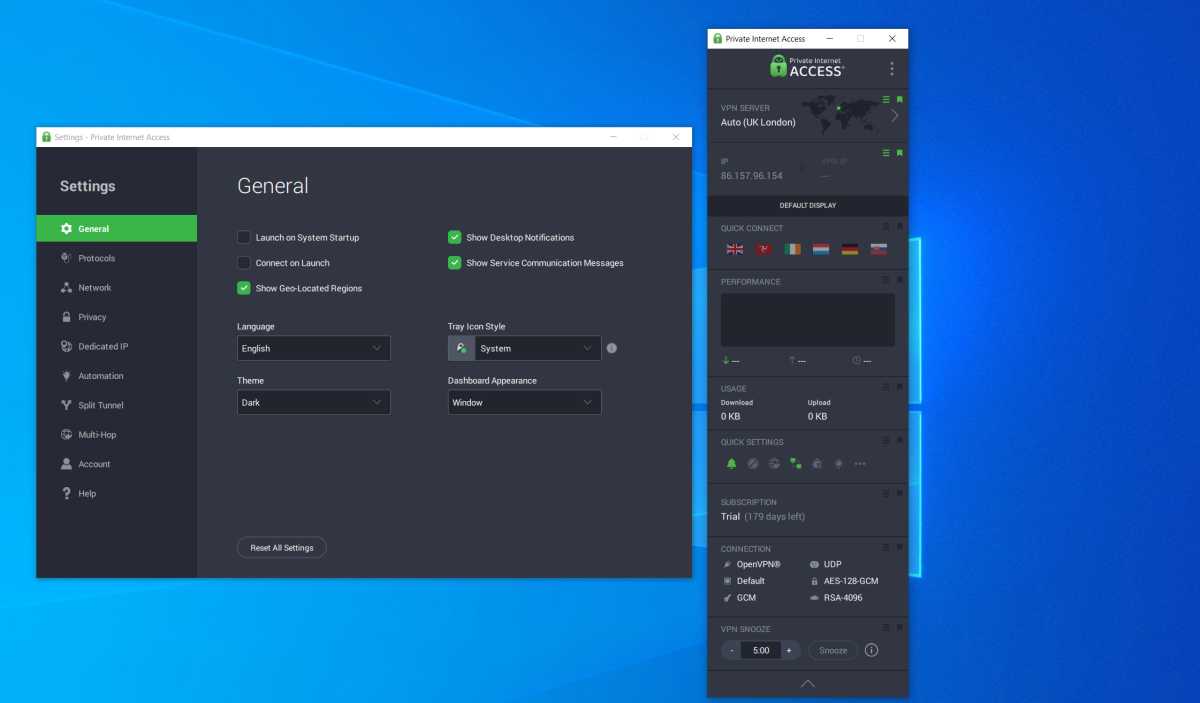 Jim Martin / Foundry
And if you take the time to set up the automations, you might not need to see the app very often at all as it will connect when you want it to (such as when you join an open Wi-Fi network), to the server you've chosen. It would be nice if you could also set it to connect when you launch specific apps (such as a BitTorrent client) but the only non-network automations are to connect when Windows starts or when you launch the PIA app.
The server list is ordered by latency, not the alphabet. That's because most people want the fastest server. You can use the search box if you have a location in mind, though. PIA now has servers in all US states, which means you should always find a fast server.
PIA does have virtual locations (which it calls geo-located servers) that aren't in the places they say they are. This allows you to seem to be in countries such as India, say, where VPN services can't operate because they would have to log user data. All of these are clearly marked in the apps, and if you don't want to see them, you can toggle them off.
Naturally, you can mark favourite servers which appear on the main screen for quick connection next time.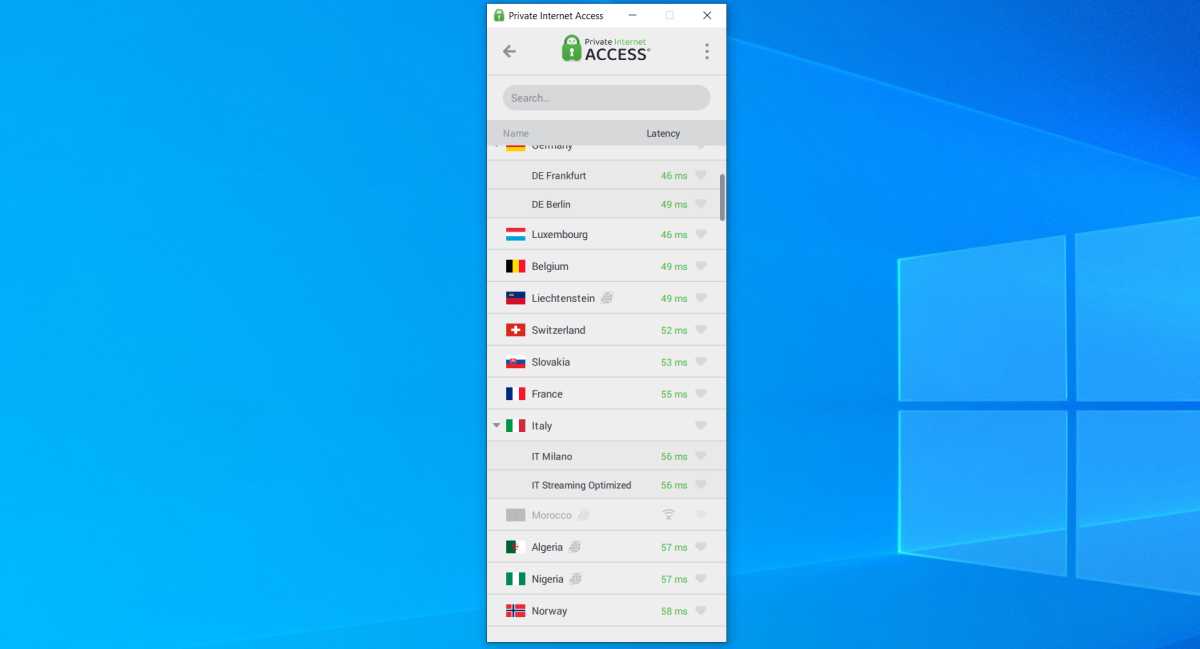 Jim Martin / Foundry
Settings are split into several sections, and include options to launch PIA on startup, connect on launch and, under 'Privacy', the kill switch settings.
It's great to see the kill switch is enabled by default, so all traffic will be blocked if the VPN connection drops. Unlike rivals you have two choices: Auto (the default) which blocks any traffic flowing outside the VPN when connected. The Always setting is different: it will block any internet traffic at all if the VPN isn't connected.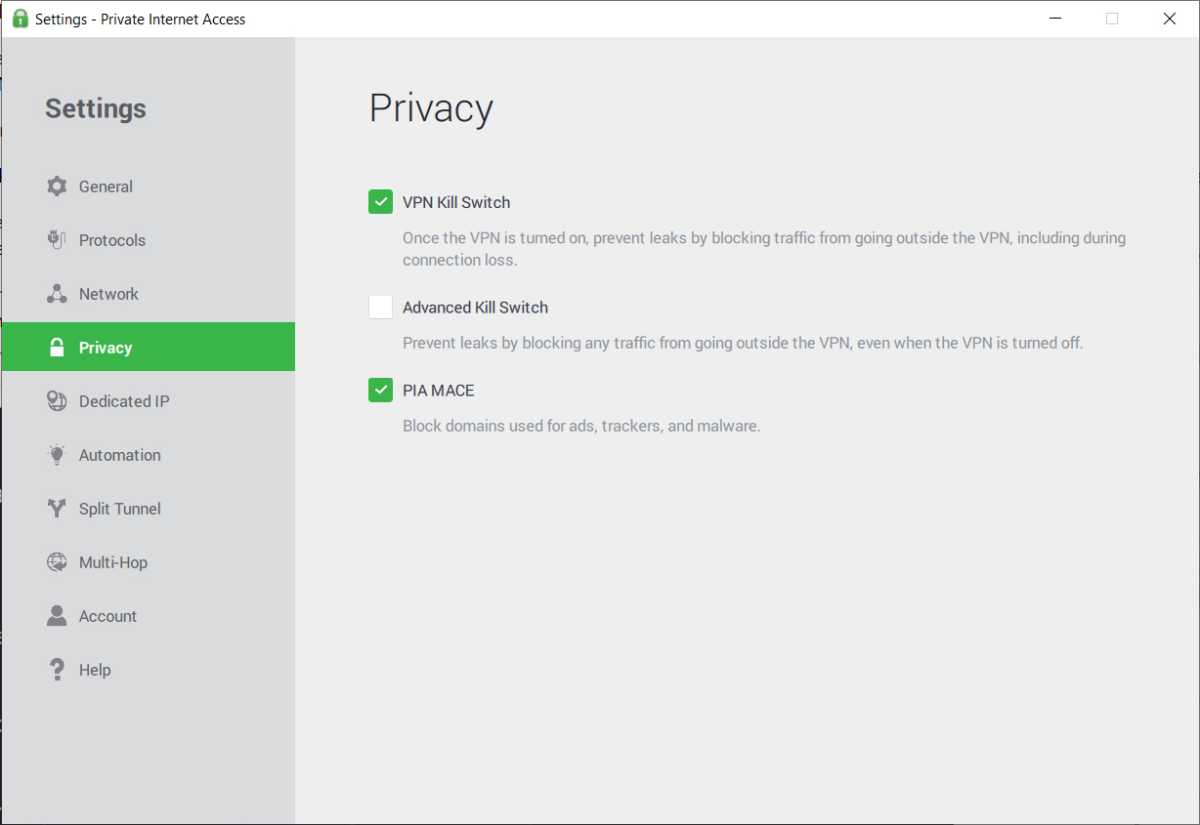 Jim Martin / Foundry
MACE is an extra feature which blocks internet ads and trackers.
Under 'Network' you'll find the option to use PIA's DNS servers (the default) but you can also use your ISPs (not recommended) or even your own custom server settings.
There really are features galore in the Windows app, including the ability to forward ports, which might speed up P2P downloads, and a Proxy section where you can configure extra protection. There's a Dedicated IP menu, but you'll need to pay extra for one of these – they're not included with a standard subscription. PIA is proud of being able to offer a dedicated IP address without compromising privacy. NordVPN will sell you a dedicated IP address, but adds a warning, "Please be aware that if you purchase a dedicated IP, your email will be linked to that IP address." That means your online activity could be traced back to you.
Windows users can choose between OpenVPN and WireGuard, and there's now an MTU probing feature (best left set to Auto) which will determine the best packet size to use for the best speed and connection reliability.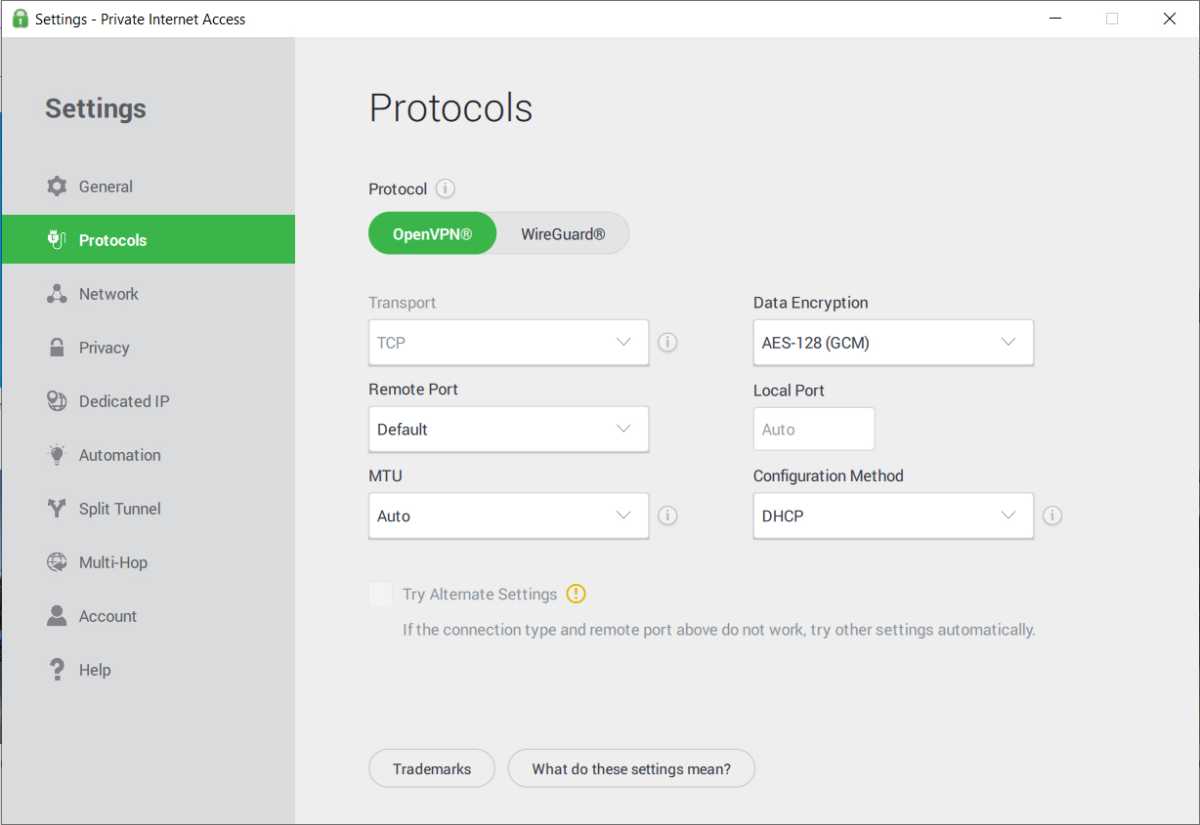 Jim Martin / Foundry
Split tunnelling was only added to PIA a couple of years ago, but is now one one of the most configurable out there. The feature usually allows you to choose which apps are routed outside the VPN tunnel, but with PIA you can create a whitelist or blacklist this way and choose whether the list of apps uses the VPN or bypasses it.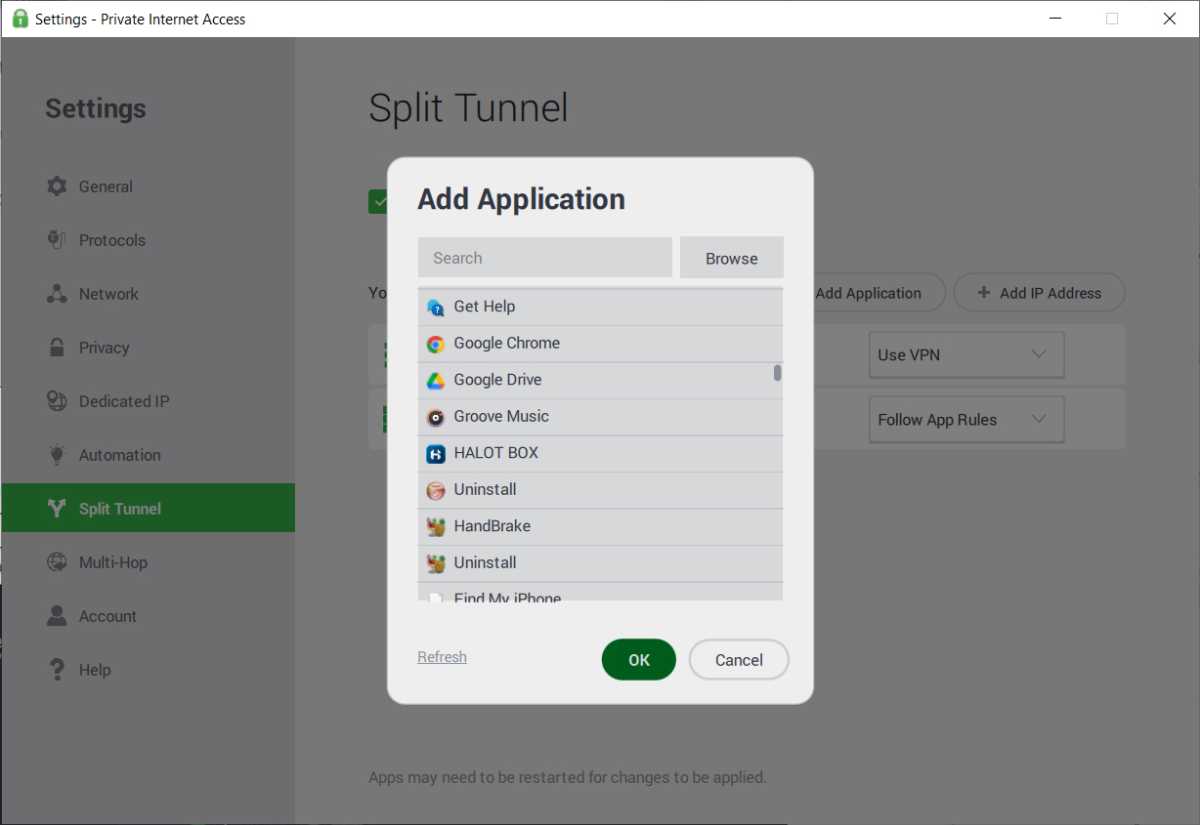 Jim Martin / Foundry
There's also the option to configure the kill switch to only block the connection to specific apps when the VPN connection stops unexpectedly, and the unusual ability to send DNS requests outside the VPN for apps which are set to connect outside the VPN. Put simply, you have more split tunnelling options in PIA (in Windows, macOS and Linux) than any other VPN we've tested.
Mac users get a very similar interface, and plenty of features just like in the Windows app. We've already mentioned split tunnelling, but there's also a kill switch, the MACE feature for blocking dangerous domains and those which are known for adverts.
Servers can be ordered in various ways, and show ping time, just as in Windows. And the huge connect button means you don't have to be a VPN expert to use it.
Look in the settings and you'll find essentially the same selection as Windows users get, which isn't usually the case.
Browser extensions
PIA also offers Chrome, Firefox or Opera extensions. These look much like the main Windows app but, as with many other 'VPN' extensions, have misleading descriptions. They are proxy services and do not use the VPN service itself.
Mobile apps
Android and iOS apps often lack a kill switch, but with PIA, you get a kill switch on both platforms which is great to see. Here's the Android app:
And this is the iOS app:
Jim Martin / Foundry
No-logs policy
PIA is headquartered in the US, which is a red flag to anyone who knows about the 5-eyes (and 14-eyes) group of countries. However, while PIA can be asked to hand over data by authorities, its no-logs policy means there is no data to hand over.
It has demonstrated this in several court cases where it has not offered any data which could identify individual users. However, these were before the company changed hands in 2019. There have yet to be any requests since Kape took ownership. Kape also owns Cyberghost and NetProtect.
PIA has made its logging policy slightly more prominent on its website by including a summary in its privacy policy that's easy to read and understand. It says "We DO NOT collect or store browsing history, connected content, user IPs, connection time stamps, bandwidth logs, DNS queries, or anything like that. We collect and retain zero user logs."
And as mentioned at the start, you no longer have to take PIA's word for that because Deloitte has confirmed that – in June 2022 – it verified that its servers are indeed set up not to store any user data.
It's also worth mentioning here that all of PIA's apps are open source, demonstrating that it has absolutely nothing to hide.
Plus, you can pay anonymously via cryptocurrency and sign up using an email address that you use only for PIA, allowing complete anonymity. Just remember that a VPN does not make you anonymous online.
Performance
We found no DNS or IP leaks when testing Private Internet Access. This means our real location was always concealed. Only IPv4 is supported though, so all IPv6 connections are blocked. We'd like to see this resolved soon, because IPv6 connections are becoming more prevalent and quite a few rival services support both types of IP address. It isn't a major deal at the moment, though.
Testing the speed of a VPN is a tricky business as speeds vary all the time and are affected by many factors.
Connection times are certainly fast and we only had one occasion where a connection was dropped, at which point the kill switch kicked in as it should have to cease all internet activity.
WireGuard is what you should pick if you want the quickest connection speeds, but speeds depend upon which server you choose, as those on the opposite side of the globe will always mean a slower connection speed than using the closest. OpenVPN speeds can be higher for servers farther afield, as you can see from our testing below.
We ran the tests from San Francisco, using a gigabit broadband connection.
Here's the baseline upload and download speeds at the time of the tests:
Adam Patrick Murray / Foundry
And here are the speeds when connected to the auto-selected server, one in London, and one in Tokyo. Don't rely too heavily on these, as they're just a snapshot in time.
Adam Patrick Murray / Foundry
If you have fast broadband you can do your own testing for free by signing up for a month as there's a 30-day money back guarantee, so long as you don't pay by Apple Pay (as refunds can only be processed via Apple). There's no free trial.
Streaming services
Unblocking websites and streaming services is a key consideration for many people. We had no trouble accessing Netflix's US library from the UK in September 2022.
When we tested Private Internet Access in 2017, 2018, 2019 and 2020 it was unable to unblock BBC iPlayer. It then surprised us by working well in 2021, but a year on, we were back to seeing the same old error message:
Dominik Tomaszewski / Foundry
We had no problems accessing Disney+ or Amazon Prime Video, but remember that with the latter, it will only unblock the region of your Amazon account. For example, if you live in the US, but are on holiday in Europe, you can use PIA to watch Prime Video as if you were at home. VPNs can't unblock other Prime Video libraries.
Like most of its rivals, PIA operates 24/7 live chat, which means that you don't have to fill out a contact form with details of your problem and wait for a response. This is on its website, not in its apps.
Plans & Prices
Private Internet Access' prices are competitive, with a two-year subscription costing $56.94 ($2.37 per month) / £43.94 (£1.83 per month).
Like other cheeky VPN services, PIA often offers '+ 2 months free' but factors those into the monthly price to make it look lower. Plus, the small print reveals that if you don't cancel, you'll be billed the same amount at the end of the subscription, but you'll get only one year's access, not two. So, the price doubles.
PIA isn't the absolute cheapest, but it's still one of the more affordable services for the duration of the initial subscription. You're not limited on the number of devices connected to the service at once, too.
As mentioned, PIA offers a few ways to pay anonymously. It says it will accept Starbucks, Walmart and Best Buy gift cards, but it's hard to work out exactly how how to do this because there are no gift card payment options when you click through to make a payment.
For alternatives, see our roundup of the best VPN services.
Verdict
Private Internet Access is a great VPN service overall. It's not the fastest or cheapest out there, but it does have a heck of a lot of servers, is highly configurable and now has the reassuring Deloitte audit which makes its US location a non-issue.
It isn't our first choice for unblocking streaming services, but if you have no interest in BBC iPlayer, it may unblock all you need it to.
Related stories
Best Prices Today: Private Internet Access