At a glance
Expert's Rating
Pros
Lots of space
Great cleaning with 3D Zone Wash
Power-efficient & quiet modes
Cons
Relatively expensive
Eco mode struggles with dirtier plates
3D Zone Wash uses a lot more water and power
Our Verdict
The Hotpoint H8I HP42 L UK is a good dishwasher overall. The highlight is the sheer amount of space for dishes with a cleverly designed third tray. It's economical to run using the 3.5 hour Eco mode, but to get rid of hard-to-clean, dried-on food, you'll need to use more intensive modes which use more power and water.
Price When Reviewed
Not available in the US
Integrated dishwashers hide neatly behind a cabinet door but usually trade off their inconspicuous looks with space. But not Hotpoint's latest range – the H8I. The two models claim to have room for 14 place settings and offer 10% more internal space compared to standard Hotpoint dishwashers that don't have a 'Maxi Space' tub.
But that's certainly not the only reason to like them. They're also frugal with their use of water and electricity, quiet and have a nifty third rack that's fitted with washing jets.
Design & build
Standard 600mm width
14 place settings
Three baskets
I'm reviewing the cheaper of the two models here, the H8I HP42 L UK, but they're so similar, most of the review applies to both. The more expensive model is the H8I HT59 LS UK and is even more energy efficient meeting the new Energy class B standard, where the HP42 is 'only' class C, which is still frugal.
The only other difference is that the HT59 has a sliding hinge door, which means the cupboard door slides up and down as you open the dishwasher. However, the fact that the HP42 doesn't have this is no disadvantage at all that I can see because, although the cupboard door is fixed in place and doesn't move, the clever hinge design means the bottom of the door doesn't hit the plinth. That, in turn, means there's no need for the cut-out that was already present in my plinth from a previous dishwasher with a much more basic hinge.
Internally, both models are the same. The first thing you see when opening the door is a rather unnecessary embossed MAXI SPACE logo above the very standard detergent and rinse aid compartments.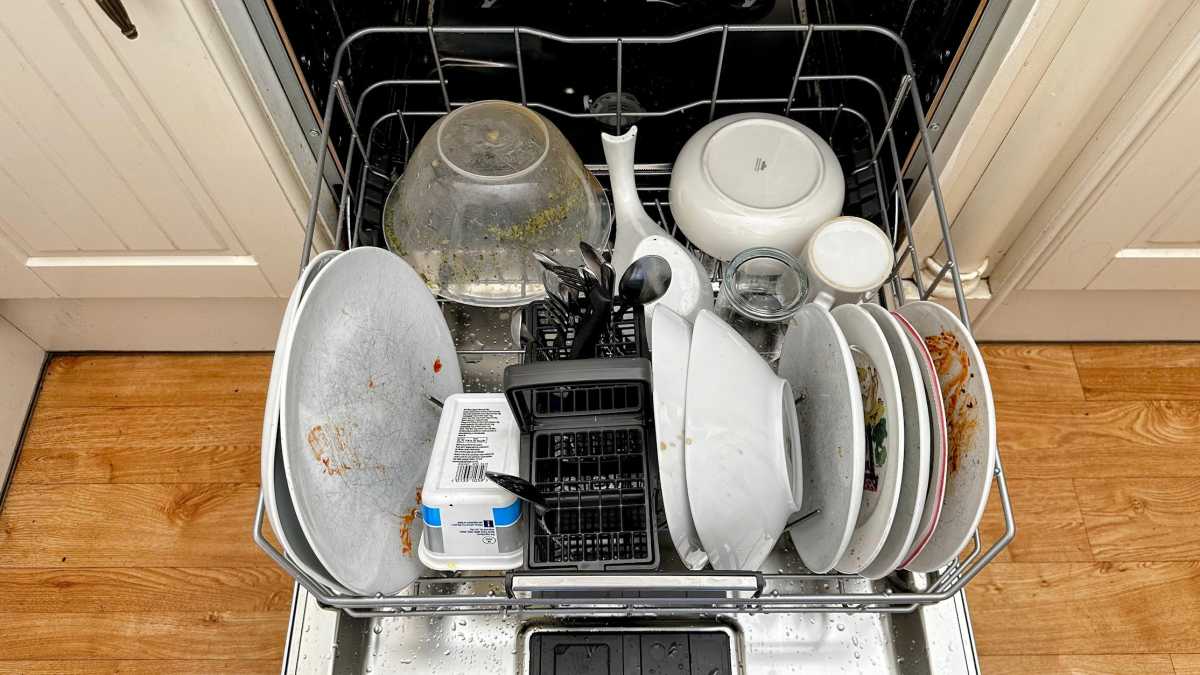 Jim Martin / Foundry
It's the three-basket design that impresses: the lower has two sets of fold-down tines so you can put pots and pans there instead of plates and bowls. The cutlery basket goes at the front and has removable grilles if your cutlery won't easily fit through the holes.
The tines at the front don't fold down, but they're the only fixed ones in any basket.
Jim Martin / Foundry
The middle basket can be lowered if needed, but I found it was already the right height for my glasses and cups. Shorter mugs and glasses should be placed in the middle section where there's less headroom available because of the third tray above. On the right are racks to hold wine glasses. My bog-standard 185mm glasses weren't too tall, but if yours are taller than that, you may have to lower the basket, which will reduce the height available for plates below.
Jim Martin / Foundry
The third tray is different from those we've seen in other dishwashers. Instead of being just for cutlery, you can load around five tumblers, three bowls or other crockery that's not too tall. Thanks to jets which spray water left and right, cleaning is much better than if the water has to pass through the middle basket first.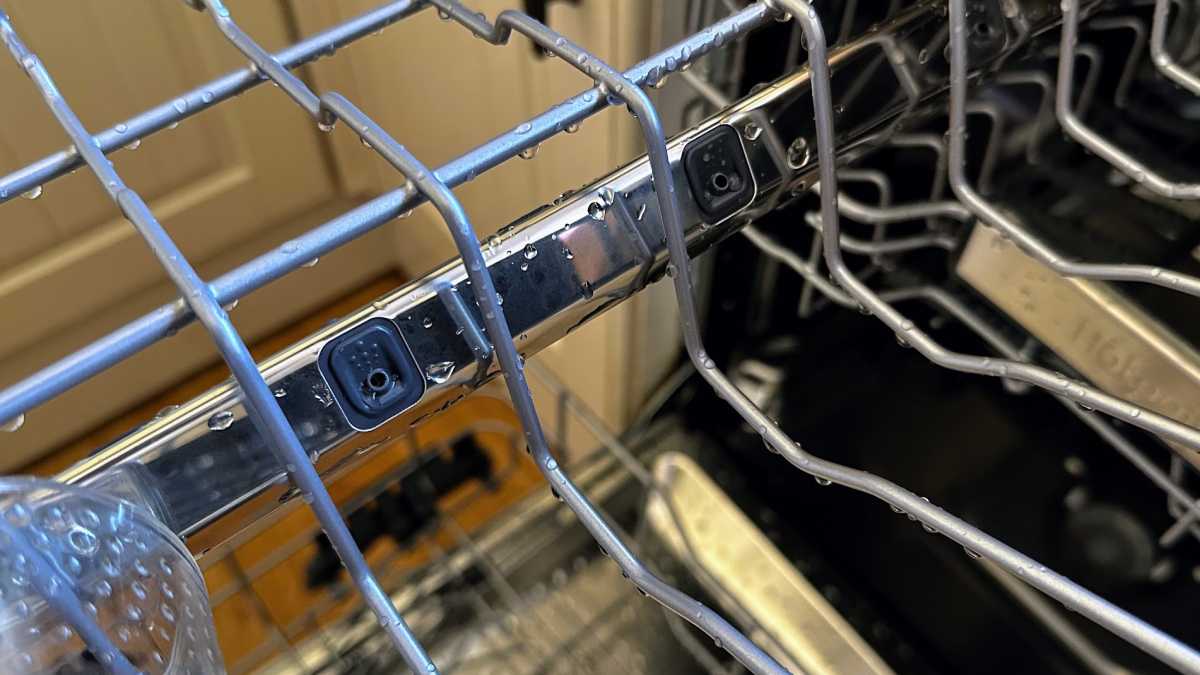 Jim Martin / Foundry
On the right of the top rack is a removable cutlery tray. This is designed for your chef's knife and other things that won't easily fit into the regular cutlery basket.
Controls, like any integrated dishwasher, are limited to a few buttons and a simple display on the top edge of the door. There's a handy quick reference for each mode on the right, but you'll still need to learn some of the symbols for the options such as half load, delay and extra dry.
Jim Martin / Foundry
Cleaning power & modes
9 modes + self-clean
3D Zone wash
Half-load + delay
Although economy is important, and I'll get to that shortly, the primary purpose of a dishwasher is to clean. You'd expect any dishwasher to do a good job, and more so if you're spending more money.
The H8I HP42 L UK is rated 'C' for cleaning performance, so it's not the absolute best out there. You need to choose the right mode and not simply whack it on Eco, especially if it's been over 24 hours since you first started loading dishes and you're waiting until it's completely full before running a program.
The Eco mode takes 3.5 hours to run and uses only 0.75kWh and 9.5 litres of water. Those are frugal figures, and cleaning is very good as long as everything is "normally soiled" as the terse manual puts it.
On one occasion, I found some food debris – small pieces of avocado were apparently too tough to be removed from bowls – after using Eco. But other times, particularly when running a cycle 12-14 hours after loading plates and bowls from breakfast, it worked perfectly well and you had to inspect glasses very closely to see any specks of dirt.
P2, P3 and P4 – that's Auto Intensive, Auto Mixed and Auto Fast – all take advantage of the H8I HP42 L UK's ability to 'sense' how dirty the dishes are and adjust the timing accordingly. It's hard to say how much of an effect this has, but the results suggest it works well as everything came out sparkling when I tried the first two.
Even baked-on residue and hard-to-clean dirt on pots and pans was all but gone in the intensive mode when adding the 3D Zone Wash option. That refers to the extra jets placed below the back section of the lower basket, and which Hotpoint says gives an extra 80% of "water power" compared to leaving the 3D option turned off.
Jim Martin / Foundry
It does, of course, use more water: the Auto Intensive mode will use up to 24.5 litres, and 15.5 as a minimum. You'll also add up to a kilowatt of extra electricity as well compared to the Eco mode, so it's only worth using when you really can't be bothered to wash your pots and pans in the sink.
The only mode that uses more power is the 65° Sanitizing program designed to be antibacterial. It doesn't mention baby bottles specifically, but that's the implication. That uses between 1.4 and 1.8kWh depending upon the options you choose.
If you're running a cycle overnight, there's a handy Good Night mode that makes as little noise as possible while "maintaining optimal cleaning and drying performance". With a furniture door on the front, the H8I HP42 L UK isn't noisy in its normal modes. All you hear near the beginning is a fairly faint sound the water sloshing around, and it's certainly not intrusive, even in the same room.
All modes except Sanitizing have ActiveDry by default which means the door opens automatically near the end to let air circulate and let steam out. If you want your crockery and glassware to be bone dry, it's crucial to load it properly so water can't sit in the dips underneath mugs, bowls and the base of glasses.
It's worth noting, too, that there are two quick options. First is the already-mentioned Auto Fast. That's for a full load and takes between an hour and just under two hours depending upon how much dirt is detected and any options you select such as Extra Dry (don't do that if you want your stuff cleaned faster).
The other is called Rapid and is only for a half load of just-used dishes with no dried-on food. It isn't particularly rapid at a minimum of 30 minutes, and this doesn't bother with any drying phase, so you'll have to dry crockery with a tea towel if you want to put it away or reuse it immediately.
When a program is running a light shines on the floor and turns off at the end (though you can see it's the end because of the countdown timer on the display, or the fact the display has turned off). Unfortunately for me, the plinths below my cupboards aren't recessed, so the light just shone on the top of that and was only visible in the evening when it was a lot darker in the room.
One niggle is that if you open the door mid-cycle to add something you forgot to put in, you have to press the start button to restart the wash if you have it open for more than four seconds. You also have to press it to begin a wash: other dishwashers such as the Hisense HV651D60UK start automatically when you select a program and shut the door.
It is just a niggle, though.
Price & availability
The H8I HP42 L UK is available direct from Hotpoint where you'll pay £549.99. The H8I HT59 LS UK, if you recall that from the start of this review, is £599.99, although at the time of review Hotpoint's website was listing this brand-new model as "No longer available".
Of course, there are other places to buy from, including Argos which was offering free recycling for your old dishwasher. So while it's no cheaper than Hotpoint, it's cheaper overall if you need to get rid of an existing dishwasher.
You can also buy it from various Amazon marketplace sellers (not Amazon itself) from £499.
The cheapest option at the time of review was Marks Electrical which lists the price at £499, but was offering £24 off that, making it only £475. If you wanted the more energy-efficient H8I HT59 LS UK, that's £518 at Marks.
As this is a UK-specific model, it's not available in other countries.
The final thing to note here is that while Hotpoint shouts about a 10-year warranty, labour is covered for only one year. That's cheeky: it means you'll have to pay for someone to come and fit (free) replacement parts for the remaining nine years.
Should I buy the Hotpoint H8I HP42 L UK?
If you want a fully integrated dishwasher with room for lots of plates, bowls, mugs, glasses and cutlery, the H8I HP42 L UK certainly ticks that box. It really does have a lot of room thanks to that useful third rack, and it doesn't come at the expense of space elsewhere. You can still put large dinner plates (up to 270mm) in the lower rack and as long as – unlike me – you don't have an abundance of bowls that can't slot into the tines, you'll easily fit a whole day's washing up from a family of four.
Cleaning performance is impressive using 3D Zone Wash, but that comes at a cost of extra water and a higher electricity bill. It means if your priority is frugality in the long term, you need to run an Eco cycle fairly quickly and not leave dishes in there for 24 hours. Otherwise, expect a bit of dirt to remain on some items.
Specs
600mm integrated dishwasher
14 place settings
Third basket with built-in jets
8 core washing modes
30-minute Rapid Wash
Delay start
Energy Efficiency Class C
Eco mode: 0.75kWh, 9.5 litres per cycle
Drying Efficiency Class A
Noise Level: 42dB(A) (Good Night mode)
Dimensions (W x H x D): 598 x 820 x 555mm