Another year, another iPhone release. And once again if you want to get the best of what Apple has to offer, you have to set your sights on the Pro models in the lineup.
For a few years now, Apple has stuck to the same basic differentiation between its phones. There's the regular line, which this year consists of iPhone 15 and iPhone 15 Plus. Then you have the Pro models, iPhone 15 Pro and 15 Pro Max.
The 'standard' line has been slowing down for some years now, getting smaller and smaller updates and getting further away from the Pro models. The Pros, on the other hand, are certainly Apple's priority. They get all the bells and whistles, new gimmicks features and all the innovations that the Cupertino giant can muster.
Of course, all of this is reflected in their price, but also in the quality of these phones. The design, the materials, and the user experience. All of these are nothing short of premium.
With all these perks, every year it's getting more difficult to decide between the two Pro models. Here's a comprehensive outline of the differences between the iPhone 15 Pro and iPhone 15 Pro Max, so you know which one is the best choice for you!
Differences between iPhone 15 Pro and iPhone 15 Pro Max
Regular iPhones and Pro iPhones can be significantly different. There are changes in processing power, design, capabilities and in basically every other department. The same can't be said for the Pro models. iPhone 15 Pro and 15 Pro Max share almost everything, so the differences between these two are much more subtle. There are a few key ones, though, which might sway you to choose one over the other.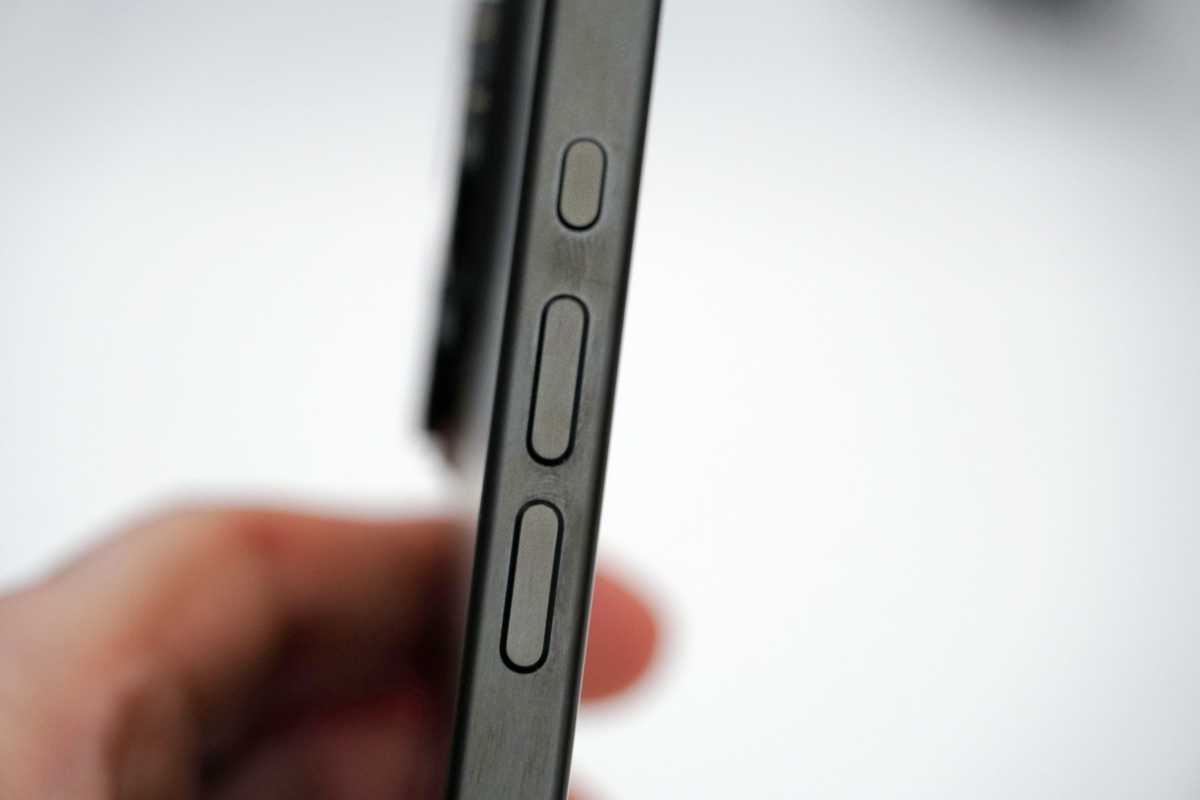 Jason Snell
You should remember that most of the specs of these two phones are the same. Whether you buy an iPhone 15 Pro or a Pro Max, you're getting the newest A17 Pro chip, a new 48-megapixel camera, a titanium frame, the new Action Button, and (finally) a USB-C port. Here are the differences that you need to know about.
Size & screen
Let's start with the obvious one: the size of these phones. As the name suggests, iPhone 15 Pro Max is quite a bit bigger than its Pro counterpart. This might already be the deciding factor for you – some people prefer bigger screens, and some just want a nice, compact and pocketable smartphone. The first group should go for the Pro Max (assuming money is no object), while the latter would do better to stick with the Pro.
But what exactly are the dimensions of these phones?
iPhone 15 Pro: 6.1-inch OLED screen with a resolution of 2556 x 1179 pixels
iPhone 15 Pro Max: 6.7-inch OLED screen at 2796 x 1290 pixels
Both of these equate to a pixel density of 460ppi, so they're equally sharp.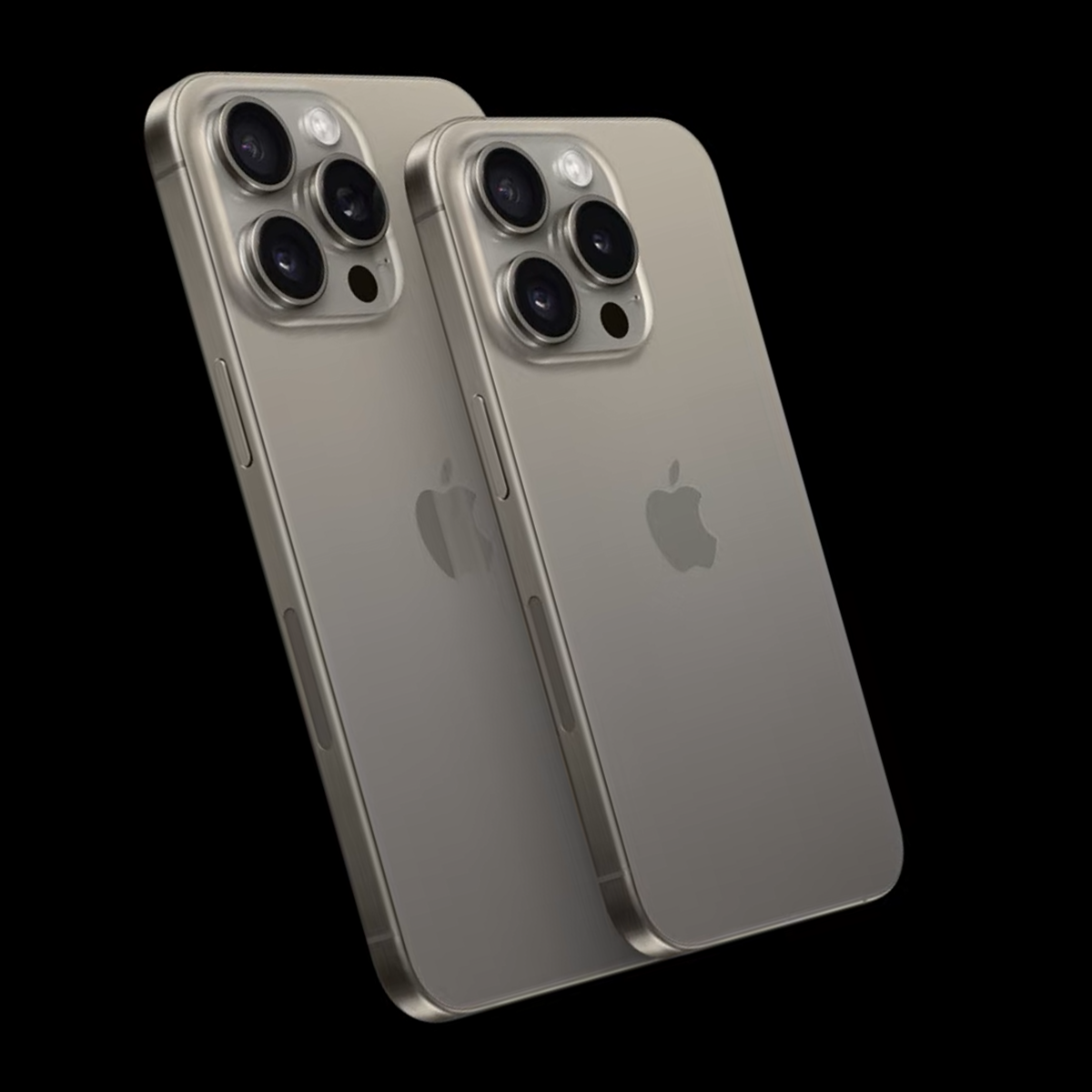 Apple
Both of these screens support variable refresh rate up to 120Hz, HDR and P3 colour gamut, as well as 2000 nits peak brightness. Their specs are essentially the same, save for the size of the screen itself.
Of course, that also impacts the size of the smartphones.
iPhone 15 Pro: 146.6 x 70.6 x 8.25mm (5.77 x 2.78 x 0.32 inches) and 187g (6.6oz)
iPhone 15 Pro Max: 159.9 x 76.7 x 8.25mm (6.29 x 3.02 x 0.32 inches) and 221g (7.81oz)
However, both of these benefit from Apple's newest material for their premium offerings – titanium. They also come in the same four colours: Black Titanium, White Titanium, Blue Titanium and Natural Titanium.
Cameras
One of the standout features of iPhone 15 Pro line is of course the cameras. Here, there's a big difference.
Both phones get the new, improved 48-megapixel main sensor. It is larger than the one in iPhone 14 Pro, making low-light photography even better. It also supports variable (digital) focal lengths. This means you can choose between some presets, such as 24 mm, 28 mm, or 35 mm, and set them as your default shooting setting.
The iPhone 15 Pro and Pro Max also share the same ultrawide camera, which is the same as last year- no big news there.
Jason Snell
However, the two phones differ significantly when it comes to their zoom camera capabilities. The iPhone 15 Pro gets a regular 12-megapixel telephoto with 3x zoom, equivalent to a 77mm lens. However, iPhone 15 Pro Max has something we've been waiting for years to see: a 5x zoom periscope lens, which allows it to reach 120mm (35mm lens equivalent) optical magnification.
This means that the iPhone 15 Pro Max will be a champ (at least among iPhones) of zoom photography. If you need that feature and find yourself always cropping in your photos, this might be your go-to phone. What's more, this also means that maximum digital zoom is much better on the Pro Max. It reaches 25x, while iPhone 15 Pro can only do 15x zoom.
Of course, being digital, this isn't a 'true' zoom and you could do a similar thing in Photoshop, so the difference here is almost artificial.
Storage
Storage is something that might slip through the cracks when comparing phones, but in reality, it is one of the most important parts of your smartphone in its daily use. Taking great photos and videos and storing all that precious data on your brand-new phone is great until you run out of space. Then what?
As with the iPhone 14 Pro and Pro Max, the iPhone 15 Pro and Pro Max go up to a copious 1TB of internal storage. However, it's the base models that might come as quite a surprise. While iPhone 15 Pro starts at 128GB – a reasonable amount, but quite limiting in 2023, the iPhone 15 Pro Max's base model has 256GB of internal storage. This explains why the Pro Max is more expensive: it provides more space to store all those ProRes photos and videos.
Battery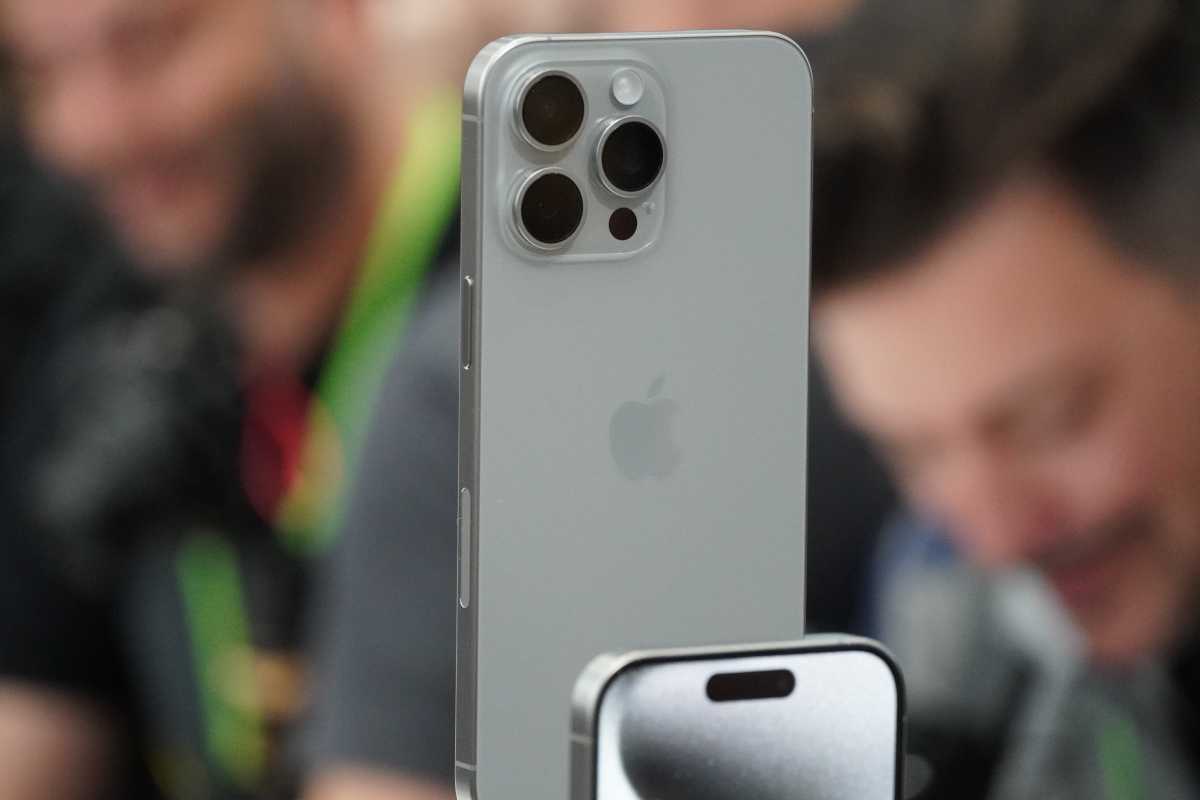 Jason Snell
Once again, the battery is also one of the distinguishing factors between the Pro and Pro Max iPhones. It's obvious why – the smaller phone has to have a smaller battery. Apple advertises up to 23 hours of video playback on iPhone 15 Pro, while iPhone 15 Pro Max can do up to 29 hours. That's quite a leap, but it has to be said that even the iPhone 15 Pro's claimed endurance is impressive, so you shouldn't really worry about battery life in either case.
Price & availability
Both iPhone 15 Pro and 15 Pro Max are available for pre-order starting 15 September 2023, while the official release date is 22 September. Here's where to buy the iPhone 15 in the UK & US.
The iPhone 15 Pro Max starts at £1199/$1199 for the 256GB model. Meanwhile, iPhone 15 Pro costs £999/$999 for a 128GB version, while the 256GB model costs £1099/$1099. This means that, basically, for the same storage tier the price difference between the two devices is exactly £100/$100.
Verdict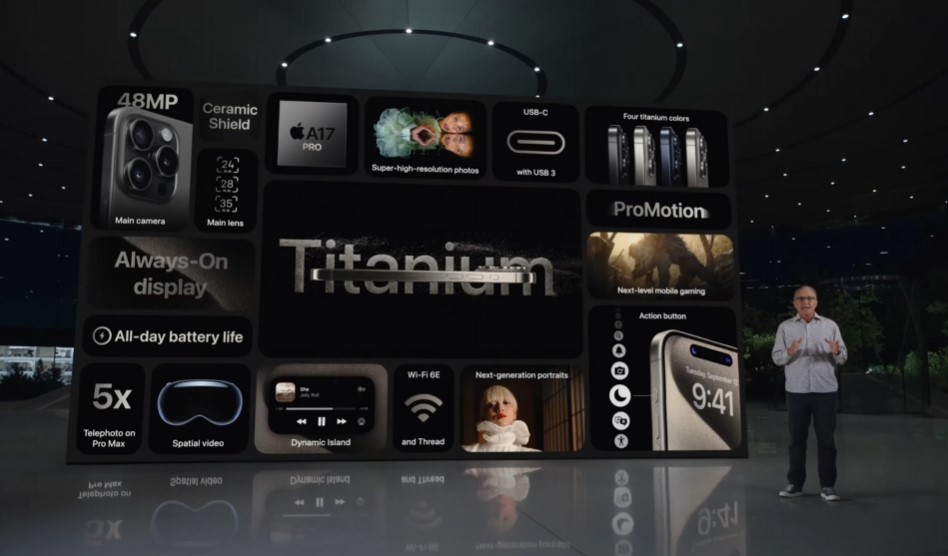 Apple
So, which iPhone to buy? It should be fairly clear cut that it's the size and weight that will be the most important difference: in spite of its 5X zoom, some people will still prefer a smaller, lighter phone. And if you want a bigger screen. go for the Pro Max model.
However, if you do not care about the screen, size and weight and can go either way, the iPhone 15 Pro Max does offer some clear advantages over its smaller, cheaper brother. A better zoom camera and better battery life are nothing to scoff at, and will make a tangible difference in your daily use.
On the other hand, is it worth £100/$100 (adjusted for the storage difference)? In the great scheme of things, it's a small difference: both are expensive phones, some of the best around and both are a great choice.
If you'd like to read more, these are the iPhone 15 Pro and iPhone 15 Pro Max's top features.
Related stories