At a glance
Expert's Rating
Pros
Very repairable
Fun transparent model
Five-year warranty
Eight years of software support
Desktop mode
Cons
Chunky design
Underpowered
Will the hardware hold up for eight years?
Our Verdict
The Fairphone 5 is not a superlative smartphone, but the company is right to question the ethics of the industry and produce a fairly made, repairable phone. Software support promised till 2033 and possibly beyond is proof other manufacturers are being wasteful.
The Fairphone 5 is not supposed to be a powerful, spec-heavy smartphone, so it isn't.
It's not supposed to have cameras better than the iPhone 14 Pro or Google Pixel 7, so it doesn't.
Its design isn't supposed to wow you, so it probably won't.
Instead, Fairphone has set out to make a smartphone that will get eight years of software support, possibly 10.
And it knows not all the components in the phone will last that long, so many of them are user repairable or replaceable, with the company promising to stock key parts for it for several years.
It's impossible for me to test these promises right now, and the longevity of the Fairphone 5 relies on the company still existing in 2033. But Fairphone has a good track record so far, and its latest phone is impressive in what it sets out to achieve.
Importantly, Fairphone is a small company proving that other smartphone manufacturers could offer longer software support, while questioning the environmental ethics of phones whose components will only last two or three years.
It also says it fairly sources all the phone's components, and fairly treats the workers at every stage of the supply chain right to its own factories, going above and beyond what other phone companies do. Buying a Fairphone, the company implores, is a vote for a fairer smartphone industry.
Design & build
Fun transparent model
Simple modular repairability
Solid but chunky build
The Fairphone 5 looks very much like the Fairphone 4 but there are several changes.
The design is plain, with a thick-feeling 9.6mm body and curved edges and corners. My sample is the excellent transparent version that lets you see through the removable plate to the removable battery and thoughtfully presented modular design underneath.
There are plainer, opaque black or blue models too or you can even buy all three and swap them over like you did with your old-school Nokia in 2002.
It's fairly heavy at 212g and is only IP55 rated for dust and water resistance, so basically don't get it wet. It's understandable when the phone is designed to be taken apart and put back together by the owner.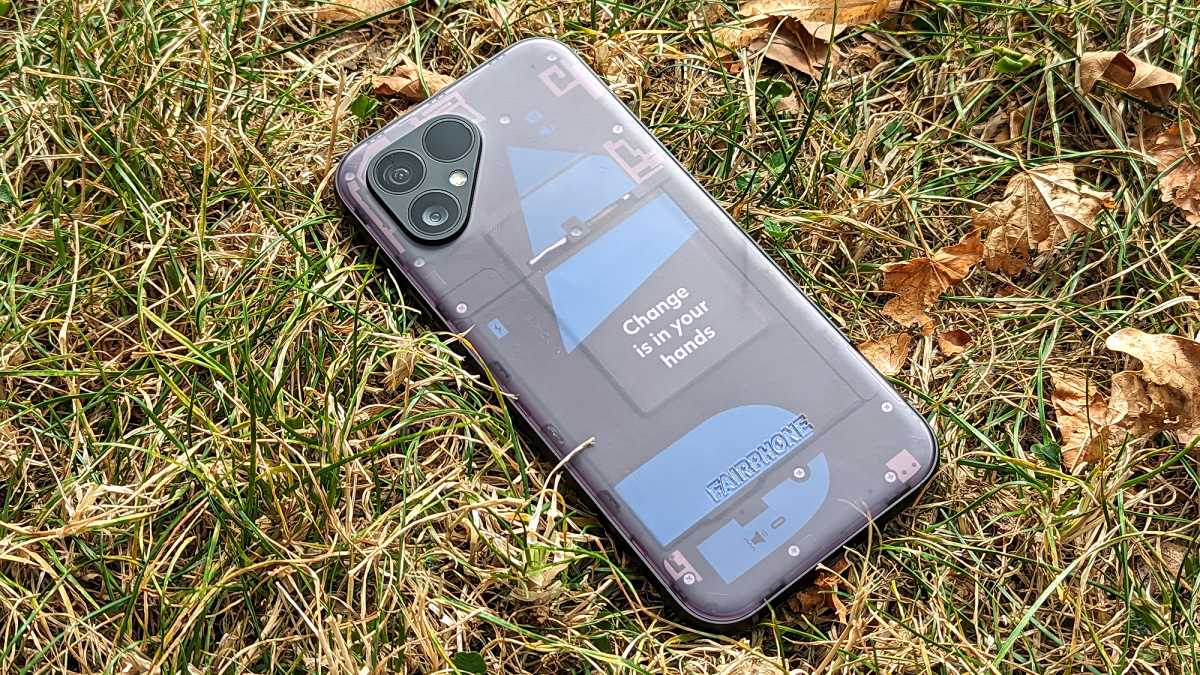 Henry Burrell / Foundry
The phone comes in recyclable packaging but with no charging cable or brick, or a screwdriver. You can buy the latter separately to take the phone apart.
The battery comes out on its own but otherwise there are tiny screws that need to be removed in order to replace parts such as the display, cameras, earpiece, USB-C port, and loudspeaker, all of which are available to buy direct from Fairphone.
I took the phone apart with ease and had no trouble putting it all back together. It's much easier than the Nokia G22, which requires you disassemble half the phone before getting to the battery, which needs cables detaching. The Fairphone is much simpler to repair.
Even before you've repaired anything the phone comes with a five-year warranty. Fairphone walks the walk, here.
Screen & speakers
6.4in pOLED
Gorilla Glass 5
Both screen and speakers replaceable
This is the first Fairphone with an OLED display. It's bright and sharp with a 1224 x 2770 resolution, as well as a 90Hz refresh rate for a smoother look to apps and text scrolling by.
It's a decent display but it's not the highest quality panel out there at this price. The Google Pixel 7 has a better one at £599.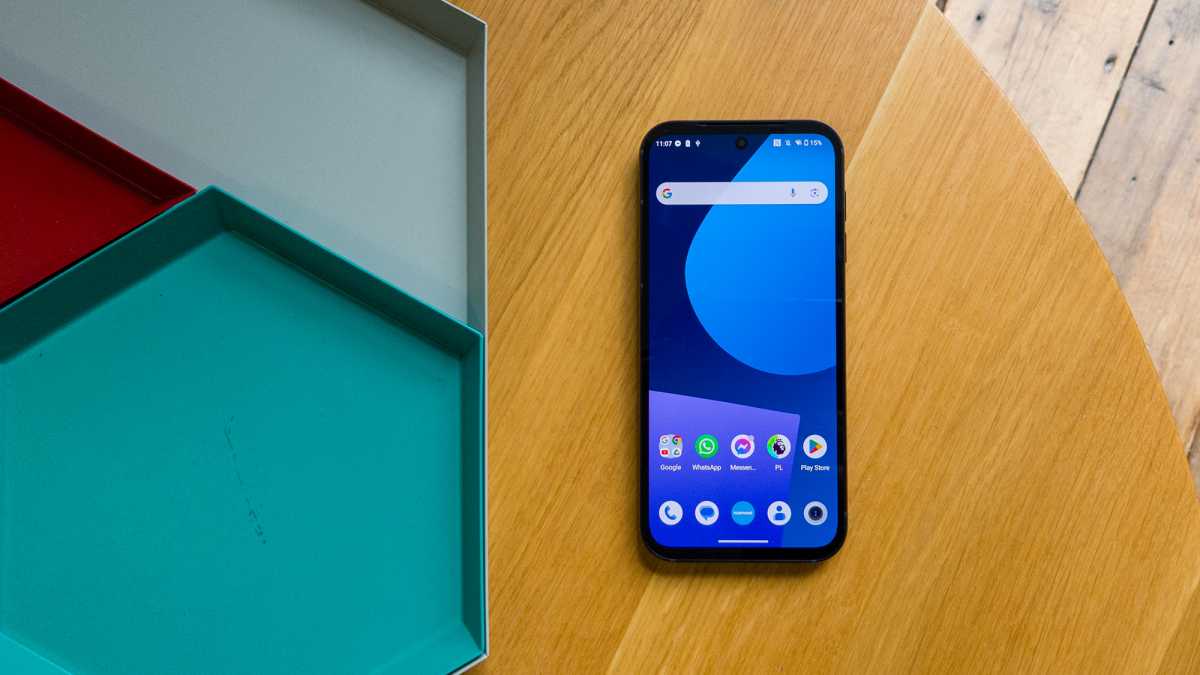 Henry Burrell / Foundry
Despite this I was pleased to find a ton of customisable options in the settings including three colour mode toggles and a custom one, a blue light filter, and a reading mode that gives the display a paper-like sheen for longer reading sessions.
In the settings it's labelled 'NXTVISION' that backs up the theory that the Fairphone 5 is manufactured by TCL. Nxtvision is TCL's display tech that's designed to reduce eye strain and can be found in its own new 40 Nxtpaper phones.
I found it annoying the top left corner of the display cuts so close to the time, but otherwise the phone has a big bright, replaceable display. No dealbreakers.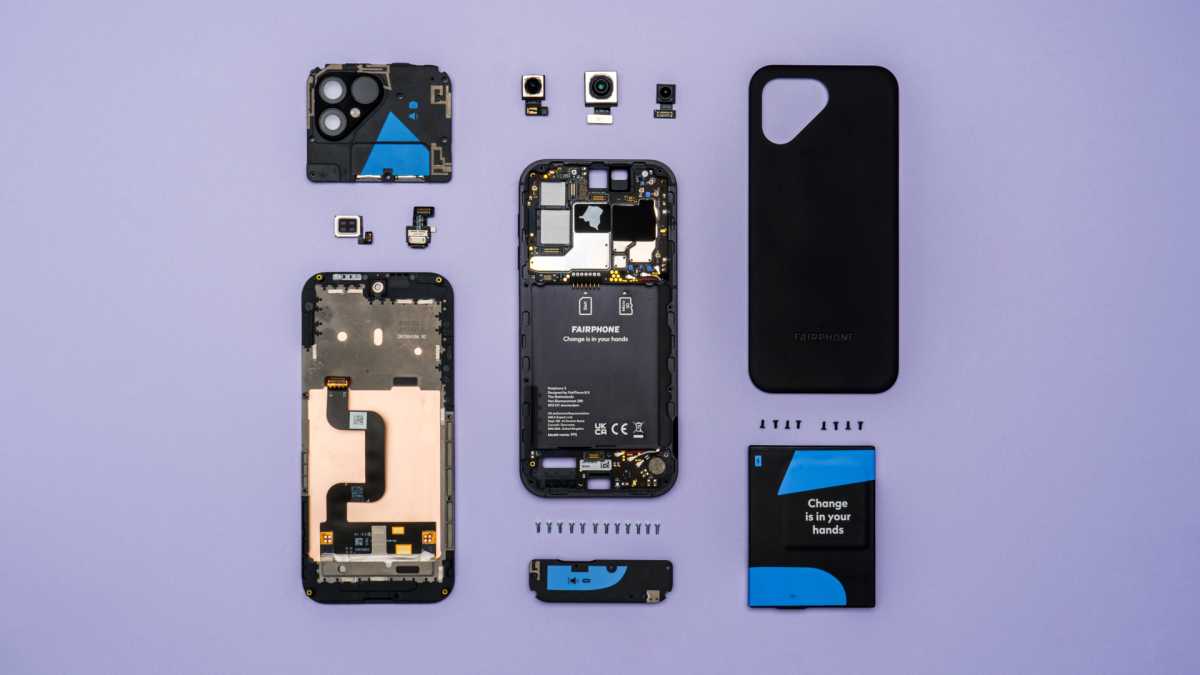 Fairphone
Specs & performance
The chipset is the phone's weakness
Laggy and slow performance
Generous 256GB storage
The Fairphone 5 uses the Qualcomm Snapdragon QCM6490 chipset. That's not a commonly used one in smartphones.
Fairphone says the decision to choose it is "unique", and it's a chip more commonly found in enterprise-grade hardware. The company thinks it is better suited to receiving eight years of software updates. It also supports 5G.
The problem is the performance right now is not that great, and I found that disappointing. The phone often lags and stutters, and is a pain to use even for basic communication.
I'm inclined to believe that if the software is indeed supported in eight years, the hardware will be on its knees if this is how it performs new. It's a shame.
I asked Fairphone if it thinks the phone will go the distance. A spokesperson told me via email they are confident the phone can be used for "at least 8 years". They pointed to the fact the Fairphone 2, launched in 2015, received more than seven years of updates.
"On average, smartphones are discarded after only two to three years. So even if people will "only" keep the Fairphone 5 for five or six years, this would already be a big step when it comes to sustainability," they said.
"We also expect to be able to further improve the performance in future software updates."
Here's hoping.
Fairphone 5 benchmarks
You also get dual-SIM (one physical, one eSIM), NFC, Wi-Fi 6E, and Bluetooth 5.2 LE. No headphone jack in sight.
Camera & video
Solid 50Mp main camera with OIS
50Mp ultrawide
50Mp front facing camera
The cameras here are good but nothing special. Fairphone has notably used three 50Mp sensors for the main, ultrawide, and selfie cameras, though they are all different hardware.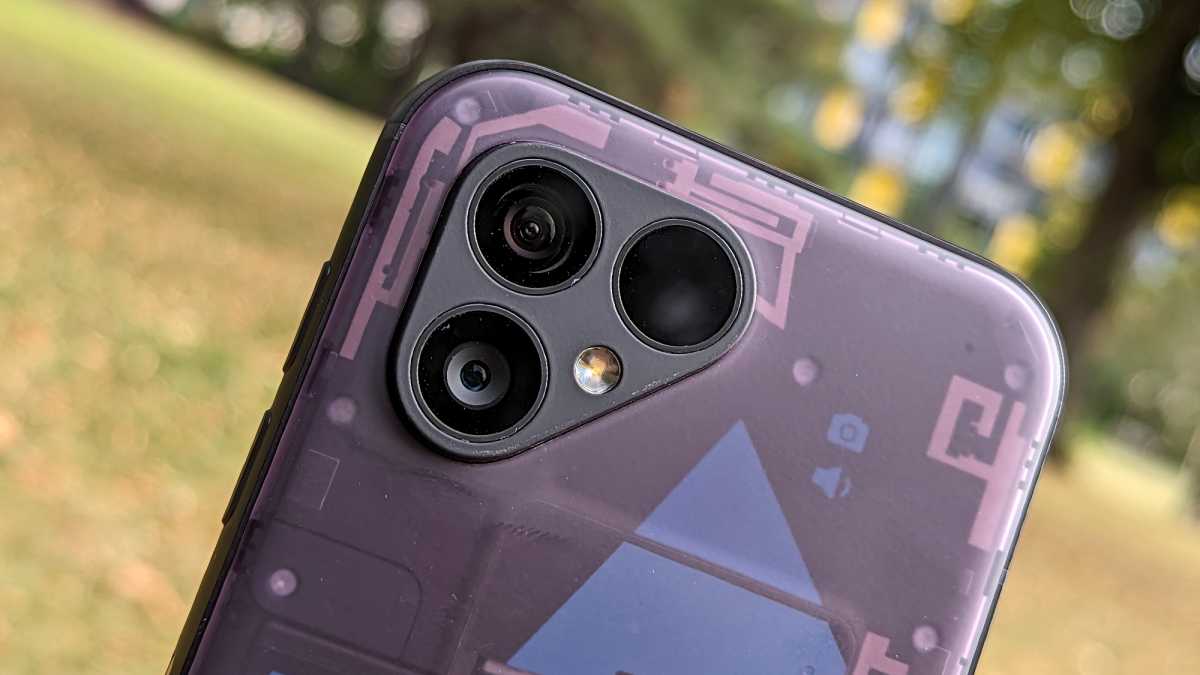 Henry Burrell / Foundry
The main uses the Sony IMX800 and produces crisp, pleasing shots in good lighting at the standard 12.5Mp output. Optical image stabilisation (OIS) is welcome.
It's a perfectly good camera, though at this price lacks the detail and processing quality of the Pixel 7, or even the cheaper Pixel 7a. You can also shoot in 50Mp but the stabilisation is worse.
Ultrawide shots are acceptable but lose detail and quality quite drastically at the edges of shots and in low light.
The selfie shooter is perfectly good for group snaps and video calls though did make me look a little washed out and grey (insert aging joke here).
Battery life & charging
4,200mAh replaceable battery
Slow 30W charging
No cable or charger included
Having a replaceable battery in the Fairphone 5 brings me back to the good old days of my Nokia 3310, or even phones from 2015 like the LG G4 that had batteries you could take out of the phone with no tools needed.
Fairphone sells spare batteries for £35.95 so you could get an extra one and keep it charged for emergency swap out or days away from the plug.
Henry Burrell / Foundry
Unfortunately, battery life is not amazing here – the phone lasted me a full day with moderate to heavy use, but it's running on fumes by bedtime. For such a relatively underpowered phone I would have hoped for better, but 4,200mAh is smaller than the increasingly common 5,000mAh in mid-tier Android phones – a trade-off for repairability you might be willing to make.
The phone charged agonisingly slowly with my 30W USB-C charger, only reaching 29% in half an hour. There's no wireless charging.
Software & features
Eight years of updates
Clean Android look
Desktop mode
Fairphone is promising five Android platform updates and at least eight years of security updates. This is roughly the same number of OS updates as Apple gives most iPhones, and longer security support than any other smartphone manufacturer.
It's a true differentiator and it's commendable if Fairphone can pull it off. At launch, the company even said it hoped to extend those eight years to ten. If the Fairphone 5 gets its last security patch in 2031, that would be very impressive.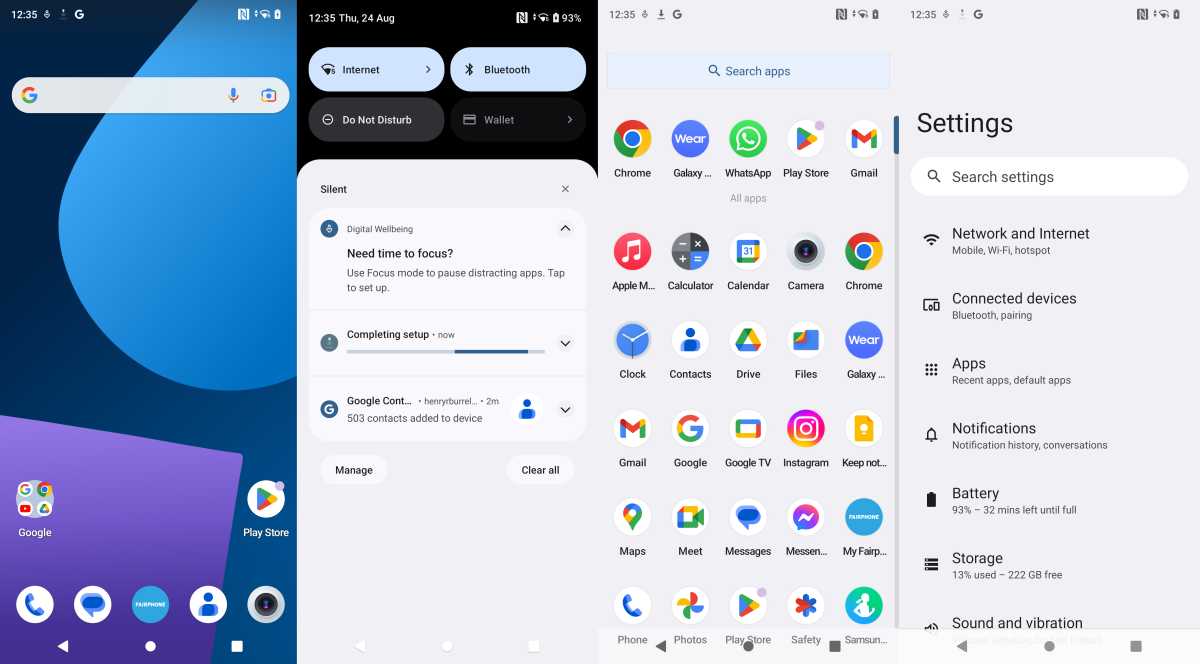 Henry Burrell / Foundry
I hesitate at the usefulness of such longevity when I found the hardware already a little creaky. Will Android still run acceptably on this phone in a decade? But I can't knock the commitment. It goes to show other companies with infinitely more resource could be supporting phones far long, but they choose not to because they want to sell you a new phone every three or so years.
The Fairphone has a clean, stock Android look and feel with zero bloatware. It uses Google apps for everything, and there's one Fairphone app where you can log in to your account and access your warranty and other features.
There's also a great desktop mode you can enable in settings – just plug the phone into a USB-C monitor along with keyboard and mouse and you can use a full Windows-style set up. More mid-range phones should offer this.
Price & availability
The Fairphone 5 costs £649/€699 direct from Fairphone and goes on sale 14 September 2023. It isn't available in the US just yet: Fairphone does sell the previous model, but it remains to be seen if this latest one will be or not. We imagine it'll cost $800 or so if the company does decide to launch Stateside.
That is a good price considering it is billed to last you at least eight years, but in terms of the smartphone market it's more expensive than better performing phones. The Google Pixel 7a, for instance, costs £449 and has better performance and cameras.
But to compare the Fairphone 5 to other phones misses the point. You're buying this to support a cause and reject the need to replace your phone every two years. I think the price is, indeed, fair.
Verdict
If you can put to one side that the Fairphone 5 is a middling smartphone as far as market comparisons go, then you're halfway there. It's a product that proves other phone manufacturers should offer longer software support and actively encourage you to not upgrade.
Apple can say the iPhone 14 is more repairable than older iPhones, but it's laughable compared to the true repairability of the Fairphone 5. It's so easy to remove and replace parts, and all you need is a £5 screwdriver.
My reservation is the underpowered processor, and I'm not convinced the phone will perform well in four or five years, yet alone eight to ten.
But all things considered this is a solid phone that you should buy because you believe in the cause, not because you want the most powerful phone for the money. In this way, the Fairphone 5 is a great success.
If you don't agree, that's fine. There are lots of other great mid-range phones just waiting for you to buy them.
Specs
Qualcomm Snapdragon QCM6490 chipset
Android 13 at launch
5 OS upgrades
8 years of software support
6.46in 90Hz pOLED
256GB storage
microSD expandable to 2TB
8GB LPDDR4x RAM
4200mAh removable battery
Cameras:
50Mp Sony IMX800 main sensor, f/1.88, OIS
50Mp Sony IMX858 ultrawide, f/2.2, 121 degrees FoV
50Mp front facing, 90 degrees FoV
Modular design with 10 spare parts available
161.6 x 75.8 x 9.6mm
212g