At a glance
Expert's Rating
Pros
Same light design as Pace 2
Dual-band GPS for improved accuracy
Feature-packed sports tracking
Cons
Smartwatch features a work in progress
Price jump from Pace 2
Not essential upgrade from Pace 2
Our Verdict
Despite the price creeping up from the Pace 2, the Coros Pace 3 remains one of the best value sports watches that delivers great performance for a little bit more of your money.
The Coros Pace 3 arrives as the update to the Pace 2, one of the best affordable sports watches and arguably the best watch that Coros has delivered.
With the Pace 3 it's all about adding more value, with Coros adding in features like dual-band GPS, an upgraded heart rate monitor and it's bolstering its smartwatch skills with an added music player and touchscreen functionality.
Adding those new smarts and sensors does come at an added cost, pushing the Pace 3 away from the budget sports watch category and more into the mid-range, competing more with the likes of the Garmin Forerunner 255S and Polar Pacer.
So is the Coros Pace 3 a worthy upgrade on the Coros Pace 2 and still one of the best watches for runners, swimmers and sports lovers?
Design and build
30-39g depending on strap
41mm case only
Nylon and silicone bands
Coros got a lot of things right with the Pace 2 if you prioritised a watch that's light, small and comfortable to wear day and night and that doesn't change with the Pace 3.
It's a touch smaller on the case front dropping from a 42mm to 41mm, and it's a touch heavier when paired up with a silicone band, but in reality the watches feel the same in weight and feel.
Mike Sawh
There's the same sized 1.2-inch, 240 x 240 resolution, always on memory LCD screen, so not the on-trend AMOLED ones we're starting to see on watches from Polar and Garmin. Something Coros does add here is touchscreen functionality, which can be enabled and disabled in the Pace 3's onboard settings. That touchscreen support certainly isn't as slick as it is on a something like the Polar Ignite 3 or the Garmin Forerunner 265, but it does mean you have another method navigate the added navigation features and for making better use of features like music controls.
Coros has definitely become a bit more adventurous with its use of colour in the design department and I quite liked the white case and larger 22mm, quick release striped nylon strap combo. I had a silicone strap to test it out with as well, but settled on the nylon version as it sits more comfortable and is recommended for more reliable heart rate tracking. That nylon strap has started to get a touch grubby however.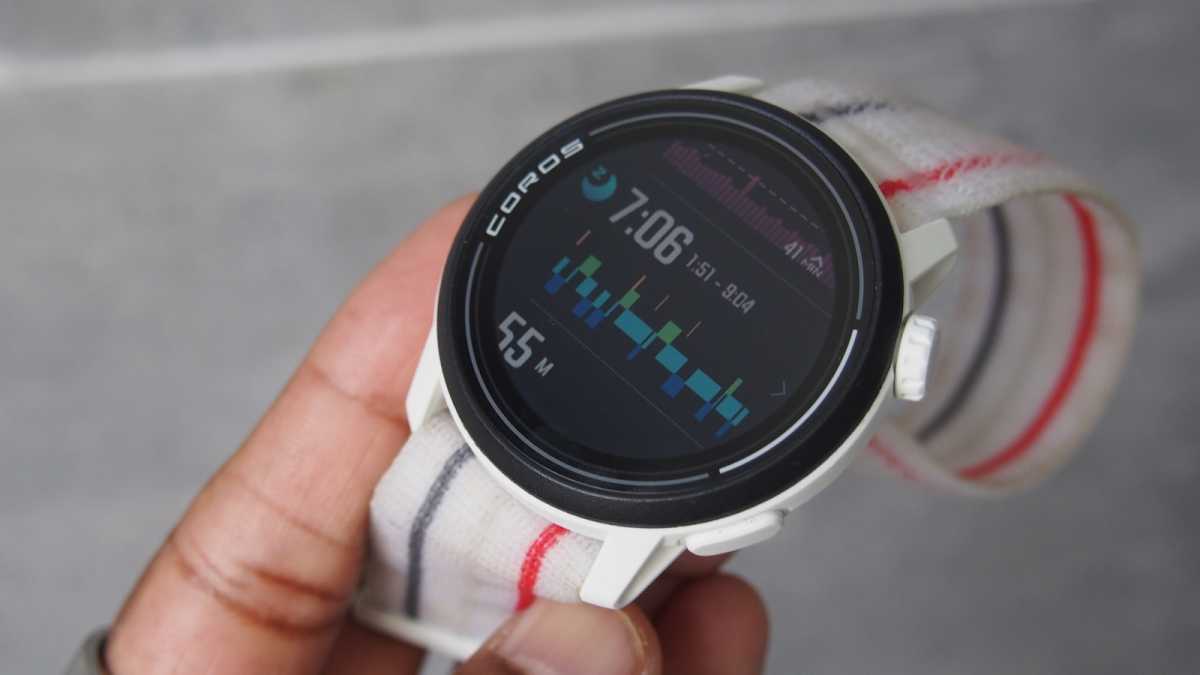 Mike Sawh
Touchscreen functionality aside the way you control the Pace 3 physically remains the same as the Pace 2. There's a rotating crown button to scroll through screens or your stream of data with a larger button below to get you back a screen or into the more detailed watch settings.
Nothing has changed on the waterproofing front. It's still one that works up to 50m depth with support for both pool and open water tracking. I've used it in the pool and the despite the dinky nature of the screen I had to issues viewing it underwater to check on progress.
Basically, Coros has realised the Pace 2's design was on the right track and kept changes minimal, which is definitely a good thing.
Fitness and sports tracking
Dual-band GPS offers accuracy boost
Impressive optical HR performance
Added breadcrumb navigation
The Pace 3 has everything the Pace 2 offered on the sports and fitness tracking front with a clear emphasis on offering runners a strong selection of features. You've got plentiful sports profiles that extend to making the Pace 3 suitable for triathletes with insights like running fitness, a race predictor from 5k up to marathon distance and support for third party training apps like TrainingPeaks, Strava and Komoot.
Mike Sawh
Coros has added new sensors with an upgraded heart rate monitor and an optical pulse oximeter added to the mix. There's now also a dual-frequency GNSS chipset, which was introduced to the latest Coros Apex and Vertix watches to improve outdoor tracking accuracy when tracking near tall buildings, heavily wooded areas and in bad weather.
In terms of that dual-frequency performance, I'd say it's performed pretty well overall and feels like an upgrade on the single-frequency support on the Pace 2. I used it alongside the similar support on Garmin's Forerunner 965 and found metrics like average pace and split times largely in line while mapped routes looked largely consistent with some more sketchier moments on the Pace 3's data.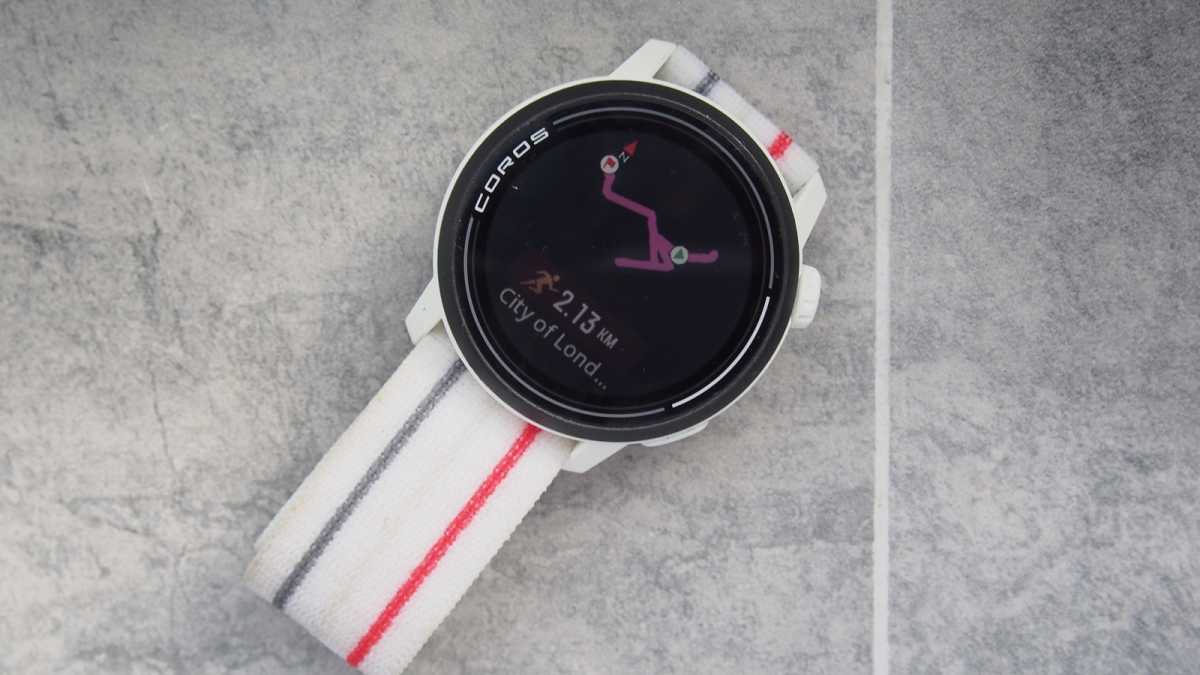 Mike Sawh
It was a similarly good story with heart rate tracking where the new sensor performed well up against a heart rate monitor chest strap. On one particularly hot interval track session, the Pace 3 was within 2bpm of average and max readings of a chest strap and in general delivered good HR data.
For steadier workouts it delivered good data too, plus you have the scope to pair up an external heart rate sensor if you don't entirely trust the data that upgraded sensor pushes out. I also used the Pace 3 for swims, general gym workouts, indoor rows and HIIT classes and the accuracy across those modes was very good.
On the outdoor front, the added pulse oximeter brings a new altitude mode to assess how well acclimatised you are to working out at high altitude. Coros has also added breadcrumb navigation and the ability to create and upload routes from the Coros companion app. This functionality is also getting added to the Pace 2.
It might not be the fully fledged mapping support you'll find on the Coros Apex 2 Pro or the Vertix 2, but it adds another couple of features that you'd typically wouldn't find on a sports watch at this price. Yes, the navigation experience on the watch is basic, but you have useful back to the start and checkpoint modes along with that added touchscreen support to make it a handy watch to get lost with.
Like the Pace 2, the Pace 3 perform as a fitness and sleep tracker, but these functions don't feel like priorities for Coros here as much as its sports tracking credentials. You can see daily step counts and totals over the week, while it does track stairs climbed and exercise minutes as well. When it comes to sleep, it captures duration and time spent in sleep stages, including REM with seven-day averages viewable on the watch.
I've been using it along side the Oura Ring Gen 3 and data such as sleep duration and some sleep stage data like REM and deep sleep time has been in line with Oura's tracking.
Smartwatch features
4GB storage for music playback
Works with Strava, Stryd and Apple Health
View phone notifications
The Pace 3 does have its uses when you're not heading to the gym or out on your bike, but if you're looking for the best smartwatch experience on a sports watch, Coros still has some work to do.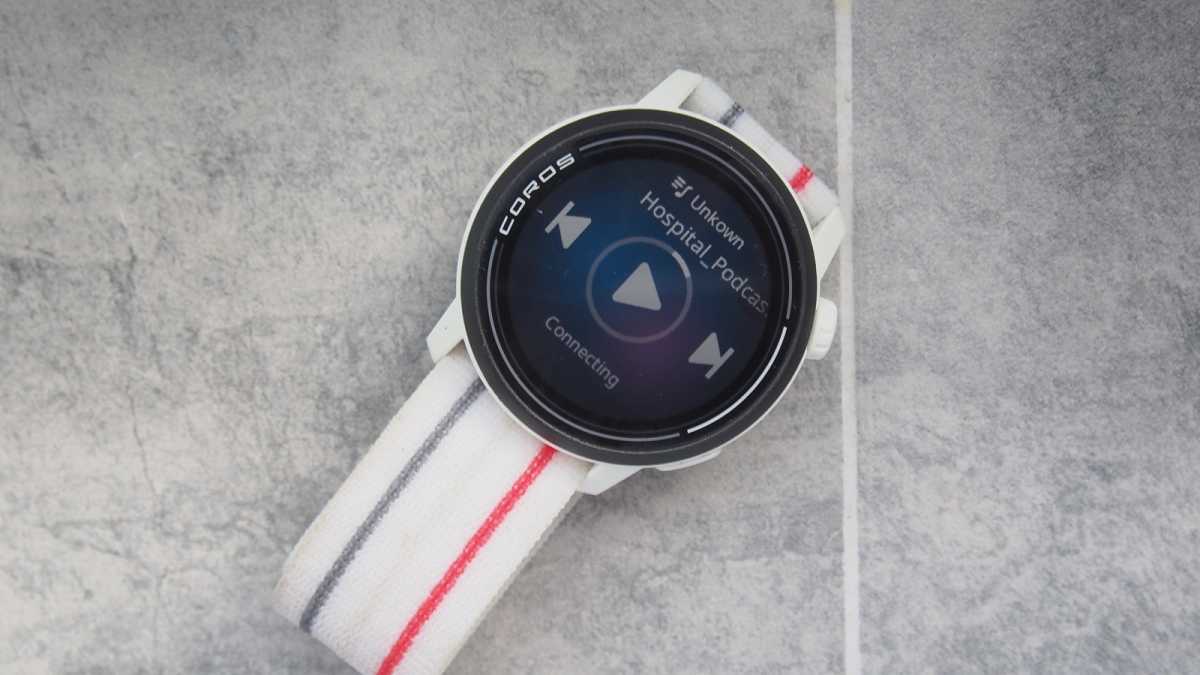 Mike Sawh
The Coros companion app for iOS and Android, much like companion apps from Polar, Garmin and Suunto, can feel a tad daunting at first, so it definitely pays off to spend some time getting to know what the app can display and the features and settings you can play around with. If you use apps like Strava or want to fire your data over to Apple Health, Coros promises a strong level of third party app integration here.
The lack of an AMOLED makes it feel less smartwatch, while the touchscreen functionality isn't the best in class on a sports watch either. You can view notifications and will flash up when they land on your phone, though you'll need to scroll through the the widget stream to read them out in full. You've also got camera control and find my phone modes, there's scope to change watch faces and set alarms too.
The most notable new feature is the addition of a music player, which has appeared on pricier Coros watches. The watch has 4GB storage overall.
It only works with MP3 file formats and you need to plug the watch into a computer to drag and drop files onto it. Transferring even a small amount of files is a bit slow going, but once you've got what you want on there, you can jump to the music screen, pair up some Bluetooth headphones and start streaming. It's not the slickest music player integration, but I had no issues pairing up Apple AirPods Pro and Jabra Elite 7 Active buds to it to stream music on the move.
If this is a feature you were hoping for, it does bring that phone-free streaming into the mix, it's just not the slickest support you'll find on a sports watch, nor does it offer the ability to sync playlists from streaming services such as Spotify.
Battery life and charging
24 days in daily use
38 hours GPS battery life
15 hours dual-band GPS battery life
The Pace 2 promised and delivered good battery life and Coros has sought to improve battery on all fronts. It's up to 24 days from 20 days in general use and GPS battery life has gone from 30 hours to 38 hours, though it still takes just shy of two hours to fully charge like its predecessor.
Mike Sawh
Adding that dual frequency support does inevitably see a greater battery drain to deliver more accurate positioning data, dropping from 30 hours to 15 hours. There's a bigger drain when streaming music as well. I predominantly used the Pace 3 in that dual frequency mode and those numbers do seem to add up. If you want to take things further in tracking mode there is an Ultramax GPS mode, which is available for run, trail run and hiking modes.
While I wouldn't say I've achieved that maximum 24 days of battery life I've comfortably got over a week's use with regular use of features like dual-frequency, continuous health monitoring, receiving notifications and streaming some music.
Like other Coros watches, it stays strong in standby mode or when not in use to make sure the battery goes far. I still really like the battery usage mode you'll find tucked away in the watch quick settings where you can see estimates on daily and GPS battery life and see what features are most demanding of the onboard battery.
Price and availability
The Coros Pace 3 isn't a super cheap multisport watch, but at $229/£219 it's moved more into mid-range sports watch territory. As a reminder, the Pace 2 launched at $199.99/£179.99, so that's a bit of a jump up in price.
You can buy it in the US from Coros and in the UK from Coros. There aren't any third party sellers at the time of writing in September 2023.
The Pace 3's price pulls it away from watches like the entry level Garmin Forerunner 55 ($199.99/£149.99) and the Polar Pacer comes ($199.95/£169.50) and actually sits a little closer towards the more advanced Garmin Forerunner 255S ($349.99/£299.99), though the Pace is excellent for the asking price.
Verdict
The Coros Pace 3 takes an already great, affordable multisport watch and most notably gives it new sensors and a battery boost to make help make it a better product. If you're looking for your first sports watch, then this remains a standout option.
If you've got a Pace 2 already, then you might not need to rush to upgrade unless you're really dissatisfied with GPS performance and you crave features like touchscreen support and a music player in return for a bit more money. It's worth remembering that those added navigation features on the Pace 3 are coming to the Pace 2 as well.
Garmin still does a better job of mixing smartwatch and sports watch features albeit for more money, but if you're more concerned with pure tracking performance and having something that you can keep check on your notifications and dish out some tunes on the move, there's still plenty to like about the Pace 3. It's one of the best watches in its price range.
Specs
41mm case
5ATM waterproof rating
1.2-inch LCD screen
Dual-frequency GNSS chipset
Optical heart rate sensor
Optical pulse oximeter
Barometric altimeter
22mm quick-release straps
Bluetooth and Wi-Fi
24 days battery life (daily use)
38 hours GPS battery life
Breadcrumb navigation
Works with Strava, Apple Health and TrainingPeaks