NordVPN and Surfshark are two of the biggest names in an increasingly busy market.
With data breaches regularly making headlines and daft politicians thinking that it's possible to install backdoors on encrypted services while keeping them 'encrypted', the need for safeguarding your privacy online with a VPN has never been more apparent.
So which of these two services should you pick? That's a tricky question to answer yourself, but here we'll explain everything you need to know.
What you might not know is that the two companies announced a merger in February 2022, so you might be forgiven for thinking that they're one and the same now – that's not the case. In fact, it's incorrect to call it a merger: Nord Security (NordVPN's parent company) acquired Surfshark, so both VPNs are owned by the same company. That's not unusual: lots of other VPNs are also owned by just a few companies.
Also, whether Nord or Surfshark is the best for you will depend greatly on your needs, preferences, and your budget.
While we regularly test VPNs and round up the absolute best VPN services, here we're taking a more focused look at two big names, and comparing them side by side.
Read on to find out if your loyalty should belong to the Nords, or if you should surf with the Shark instead.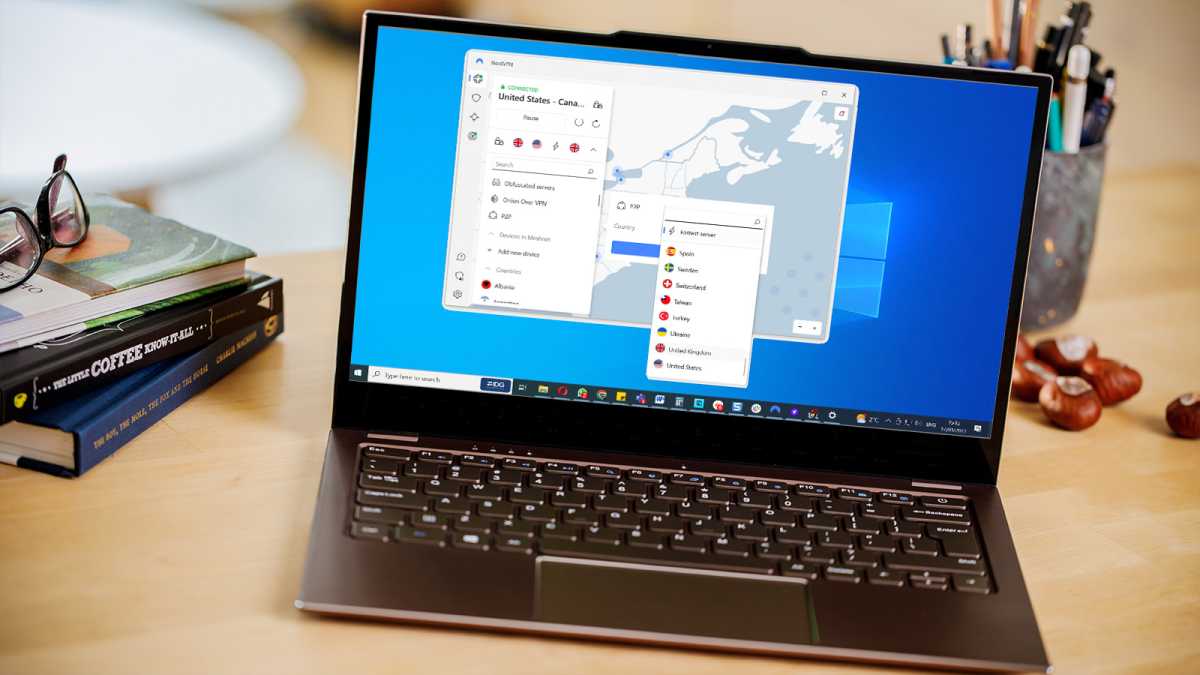 Dominik Tomaszewski / Foundry
NordVPN vs Surfshark: Which free VPN is best?
Winner: neither offer a free tier
Neither NordVPN nor Surfshark have a a free tier. They don't even have a 'try before you buy' type deal, but, you can sign up to both VPN services for a single month and, before 30 days are up, you can cancel and get your money back.
NordVPN vs Surfshark VPN: Which VPN is fastest?
In our most recent tests (February 2023 for NordVPN, and January 2023 for Surfshark), we found Surfshark VPN's download speeds to be the greater of the two. That's not to say NordVPN's connections are slow – far from it – they were just not quite as fast downstream as Surfshark VPN.
Upstream, however, it's a different story; NordVPN was much faster in this regard, and therefore on average just beats Surfshark.
Below is are the actual results (in megabits per second) recorded using a 1Gbps synchronous FTTP service, when connected to servers in San Francisco, New York, London, and Tokyo:
| | | | | |
| --- | --- | --- | --- | --- |
| | NordVPN download speeds | Surfshark VPN download speeds | NordVPN upload speeds | Surfshark VPN upload speeds |
| San Francisco | 802.79 | 831.84 | 945.45 | 947.32 |
| New York | 597.88 | 722.21 | 840.02 | 100.99 |
| London | 544.84 | 629.79 | 848.05 | 303.06 |
| Tokyo | 567.01 | 661.74 | 861.60 | 332.40 |
Of course, if your broadband connection is slower than these numbers, then the comparison is moot: neither will slow down your connection and, frankly, both are among the very fastest consumer VPN services out there.
NordVPN vs Surfshark: Which is best for unblocking streaming services?
Dominik Tomaszewski / Foundry
Streaming providers are well aware that some of their customers like to use VPNs to access geographically-restricted content. As such, just because your VPN provider will let you watch, say, BBC iPlayer when you're topping up your tan in Tenerife one month, it might not always be the case that you'll be able to do that.
With that caveat in mind, here's how NordVPN and Surfshark fared when we used them to try and unblock a number of streaming services recently:
| | | |
| --- | --- | --- |
| | NordVPN | Surfshark |
| Netflix US | Yes | Yes |
| Disney+ | Yes | Yes |
| BBC iPlayer | Yes | Yes |
| ITVX (formerly ITV Hub) | Yes | Yes |
| 9Now | Yes | No |
| F1 TV | Yes | No |
Both services also "unblock" Amazon Prime. However, Prime accounts are tied to the country of your billing account, so all it means is that you can still watch Prime videos from your home account when abroad.
The Australian streaming service 9Now may not be as well known as Netflix, but was one of the differences between the two VPNs, as was the F1 streaming service. Where Surfshark couldn't unblock them NordVPN could, so wins this category.
Again, though, both NordVPN and Surfshark are good choices for streaming popular region-locked content. If you need to stream some of the less-popular services, NordVPN is your best bet.
NordVPN vs Surfshark VPN: How many servers does each VPN provider have?
NordVPN has servers in 60 countries, including the US, UK, Ireland, Australia, New Zealand, Canada, Japan, Hong Kong, Taiwan, and many others.
Nord VPN has over 5800 servers in total (as of September 2023), although note that some of them are 'virtual' servers, in other words, they're not physically in the countries they say they are.
Surfshark has over 3200 servers in 100 countries, including the UK, Ireland, the US, Canada, Australia, New Zealand, Japan, Hong Kong, and Taiwan, and some which NordVPN currently doesn't, for example, Armenia, Nigeria, and Saudi Arabia.
NordVPN vs Surfshark VPN: Are P2P downloads supported?
Both NordVPN and Surfshark VPN support P2P downloads.
Be aware that not all servers support this. NordVPN maintains a list on its site which clearly tells you where P2P traffic is and isn't supported. Surfshark does not have such a list anywhere on its site, but that's largely because it doesn't have to. When we spoke to Justas Pukys, VPN Product Manager at Surfshark, he confirmed all of Surfshark's servers are P2P friendly.
NordVPN vs Surfshark VPN: Which is best for privacy?
Both NordVPN and Surfshark are excellent from a privacy perspective, but comparing like for like, we'd have to say that NordVPN takes the crown – for one reason.
First, both NordVPN and Surfshark use RAM-only servers. This is better than saving files to hard drives (or SSDs) as it means that the chances of any user data being stored on either providers' servers is virtually zero. By design, RAM-only servers' contents are wiped every time they're restarted – or when the power is cut.
Second, NordVPN and Surfshark use the WireGuard protocol. This has a number of inherent security benefits, namely it's less likely to drop connections than other protocols, and handover from cellular (i.e. 5G) and Wi-Fi connections is seamless. Both providers have also created their own customised versions of WireGuard, which both cleverly sidestep the issue of the protocol requiring the use of static IP addresses – NordVPN has more about its NordLynx and double NAT system works here, while Surfshark VPN explains here how it assigns dynamic IPs to users when WireGuard is enabled.
Both providers accept payment in cryptocurrency, and both providers disable IPv6 traffic by default.
Perhaps most importantly, both VPN providers have a clear 'no logs' policy, stating they retain no data on customers' connection logs.
Importantly, both have been independently audited to check they really don't store anything. NordVPN was audited by PricewaterhouseCoopers in 2018 and 2020, and by Deloitte in 2023. Surfshark was also checked by Deloitte in 2023. Every time, the auditors found that the no-logging claims of both providers to stand up to scrutiny.
So, when it comes to ranking NordVPN or Surfshark VPN for privacy credentials, it's really a case of splitting hairs.
The fact that Nord-VPN is located in Panama, where there are no obligatory data retention laws, and Surfshark VPN is based in the Netherlands, which is part of the so-called '9-Eyes' data-sharing alliance, tips it slightly in NordVPN's favour.
In practice, however, this might not mean as much as you might think. As the Deloitte audit has demonstrated, no connection logs are kept, and the truly privacy-conscious have the option to pay in Bitcoin, for even more security.
You can read more about what Surfshark has to say about being based in a 9-Eyes country, but here's the most important part, "The government can still request logs from a VPN established there [in the Netherlands]. What would a provider have to do? Well, a VPN provider with a no-logs policy wouldn't have anything to give. And if the state decided to seize the servers physically, it would run into the issue of their local police not being able to raid a server in another country."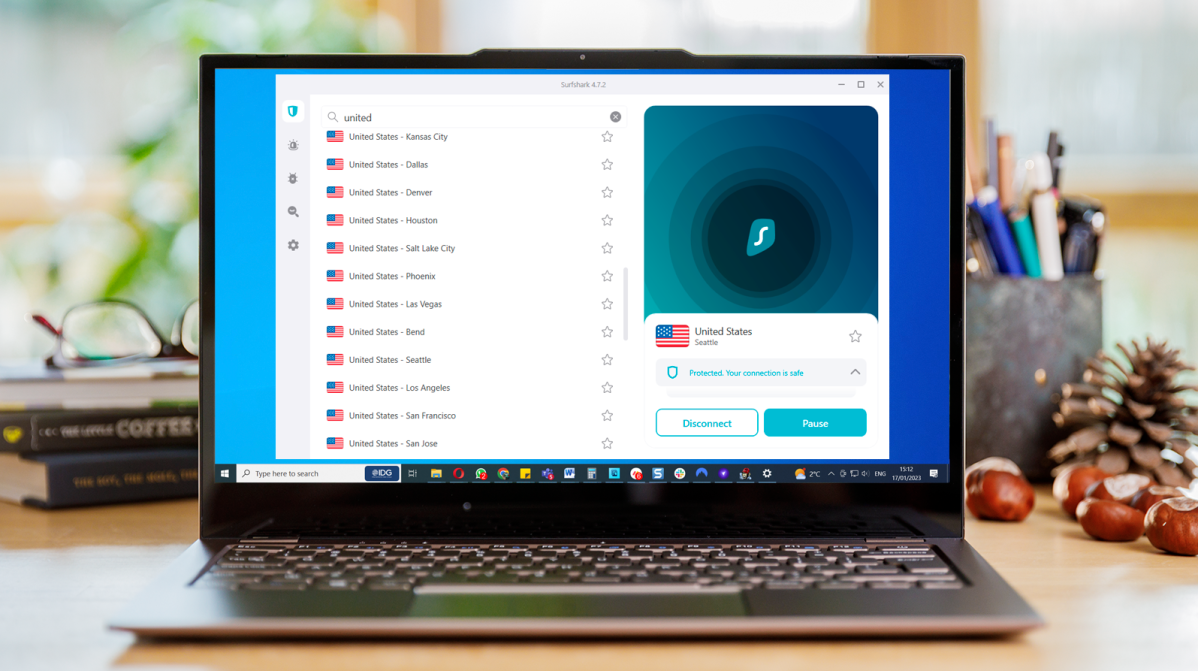 Dominik Tomaszewski / Foundry
NordVPN vs Surfshark VPN prices: Which is cheapest?
Surfshark VPN is cheaper overall and is better value for money as it offers VPN protection for an infinite number of devices, whereas NordVPN allows for up to six.
Like all VPN providers, you can make big savings if you pay for a year or two years up front.
Note that on the 1-year and 2-year deals below, the introductory rates are listed alongside the standard rates, to show you what you'll be paying once those one or two years are up.
UK prices
| | | |
| --- | --- | --- |
| | NordVPN | Surfshark VPN |
| Monthly | £10.29 | £10.93 |
| 1-year plan (renewal price) | £46.68 (£79.08) | £38.40 (£47.93) |
| 2-year plan (renewal price) | £67.23 (£117.93) | £47.93 (£47.93 annually) |
US prices
| | | |
| --- | --- | --- |
| | NordVPN | Surfshark VPN |
| Monthly | $12.99 | $12.95 |
| 1-year plan (renewal price) | $59.88 ($99.48) | $47.88 ($59.76) |
| 2-year plan (renewal price) | $86.13 ($223.83) | $59.76 ($59.76 annually) |
Australian prices
| | | |
| --- | --- | --- |
| | NordVPN | Surfshark VPN |
| Monthly | ~$20.36 | $20.27 |
| 1-year plan (renewal price) | ~$93.87 (~$155.95) | $74.69 ($93.56) |
| 2-year plan (renewal price) | ~$135.02 (~$350.86) | $93.56 ($93.56 annually) |
Note that as NordVPN doesn't currently list prices in Australian dollars, the above rates are based on USD-to-AUD conversions (correct at the time of writing).
Note that NordVPN 2-year plans had an extra three months thrown in at the time of writing, so that's 27 months' cover for the price of 24.
As you can see from the tables, there's quite a jump up in price from NordVPN once those introductory rates end.
Also, NordVPN says in the small print that if you opt for a two-year subscription it will automatically renew on a 1-year basis once it ends, plus, you'll be charged the "then-applicable renewal price", which in lay terms means if NordVPN's annual rates happen to increase in the meantime (which they almost certainly will), that's what you'll be automatically signed up to when the contract ends.
Your best bet is to cancel or renew your contract before that happens. If you want to make a saving check out NordVPN's deals here.
It's the same situation with Surfshark in that once your 2-year deal is up, you're billed the same amount, but it's for a one-year subscription, making it a 100% increase in price.
As with NordVPN, the best thing to do would be to cancel before your 2-year Surfshark VPN subscription comes to an end. Then, see Surfshark VPN's prices here.
Verdict
Both of these VPN services are excellent value for money. They offer great speeds, take user privacy seriously, and can point to independently audited no-logs policies.
So, which one is the best? For most people, we'd have to say NordVPN, based on the fact that it provides faster overall speeds and unblocks more streaming services, which will be key considerations for most buyers.
Power users may prefer Surfshark VPN, on the basis that there's no limitation on the number of devices connected to the VPN at the same time. Six devices – what you get with NordVPN – will probably be enough for most households, but those with more devices than they can count may feel restricted by this.