As rumoured, Sonos has unveiled the Move 2 as the latest addition to its family of Hi-Fi smart speakers and the device will go on sale this month with a number of upgrades and new features.
The original Move was announced back in 2019 as the firm's first portable product as well as the first Sonos device to, much to the delight of fans, finally offer Bluetooth connectivity.
Fast forward almost exactly four years and the Move 2 doesn't rewrite the rulebook but will give Move owners plenty of reasons to want to upgrade including much longer battery life, new controls, an additional colour and stereo sound without pairing a second unit.
Here's everything you need to know about the Sonos Move 2 and you can read our full Sonos Move 2 review.
When is the Sonos Move 2 release date?
Now the Move 2 has been officially revealed, we can let you know that it will go on sale 20 September.
How much does the Sonos Move 2 cost?
The Move 2 is priced at $449/£449/€499 meaning it's an extra $50/£50/€100 compared to its predecessor.
You can order it from Sonos now.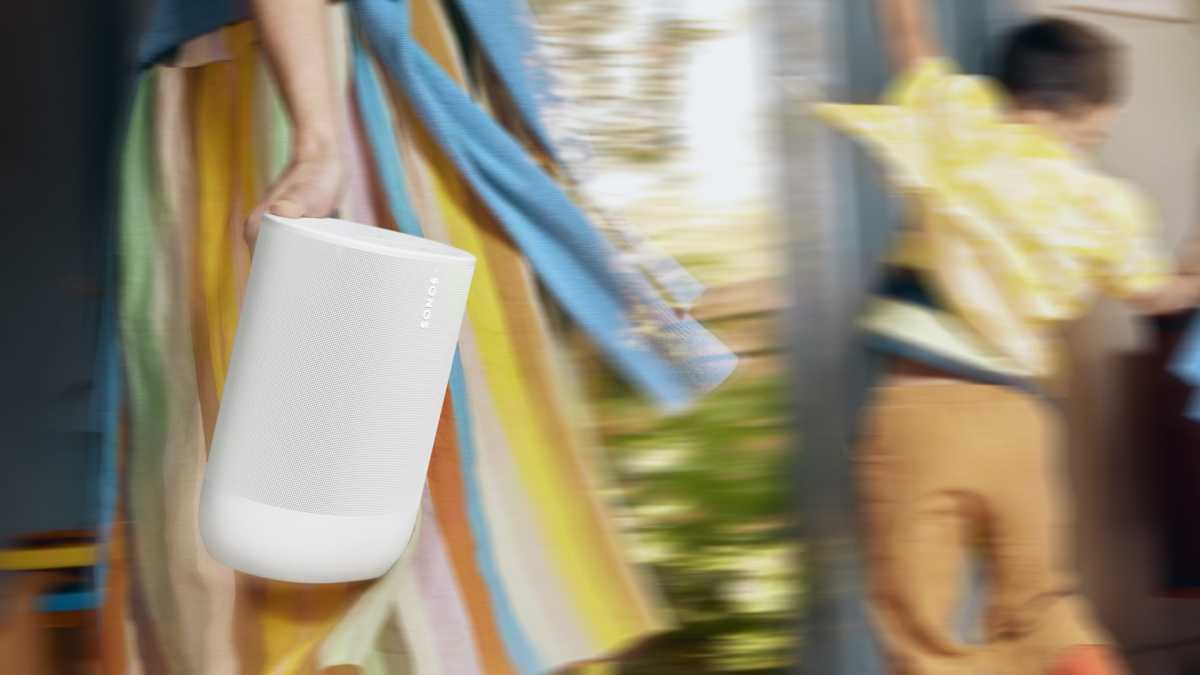 Sonos
What are the Sonos Move 2 specs and new features?
New colour
Dual-tweeters
24-hour battery
USB-C
Volume slider
Mic shutoff button
Although the Move 2 looks very much like the original – and other Sonos speakers – there are a number of different upgrades, changes and new features.
On the outside, you'll have already noticed there's a new Olive green colourway which is a refreshing addition to the usual black and white options. Though Sonos has done colours in the past, they don't tend to arrive at launch.
There are also new controls on the top of the speaker, matching the Era 100 and Era 300 speakers. The main difference here compared to the original Move is the touch sensitive volume slider which sits in a groove.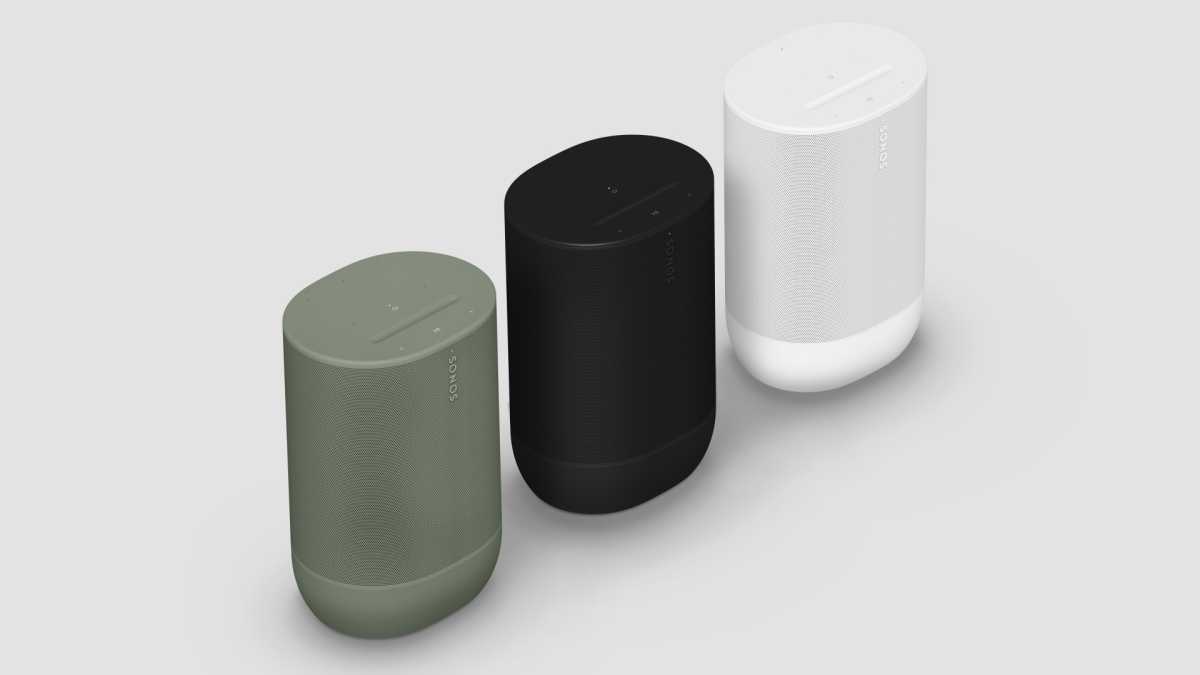 Sonos
The speaker is still IP56 rated meaning it can "withstand accidental drops, splashes, rain, dirt, and sun". The design is also shock-absorbent.
It still weighs the same at 3kg but Sonos has managed to greatly improve the battery life here. In fact, by almost 150% to a whopping 24 hours meaning you could have an all-day and all-night party without having to charge the Move 2.
And if you don't need all of that longevity, you can use the USB-C port to charge devices such as your smartphone meaning the Move 2 doubles up as a power bank.
Once again, the battery is removable, and Sonos says the new speaker reduces idle energy usage by more than 40%. The charging base is included in the box and has a more compact design, along with a detachable power adapter.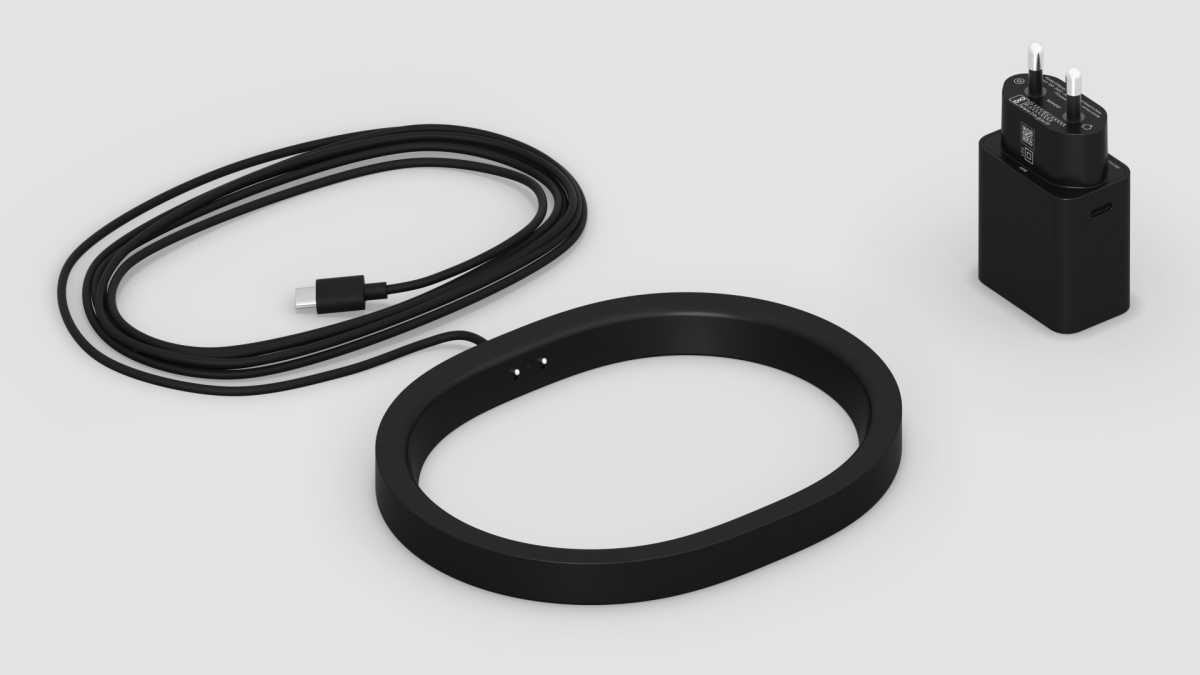 Sonos
As per the Era speakers, the USB port can also be used to connect various audio sources such as your laptop or a turntable. However, you will need to purchase the Sonos Line-In Adapter separately which costs $19/£19. There's also a $39/£39 combo adapter which has an additional Ethernet port.
Otherwise, you have the usual combination of Wi-Fi and Bluetooth and concurrently. The Move 2 also supports Apple Airplay 2, Spotify Connect, Amazon Alexa, Sonos Voice Control, and more (but no Google Assistant).
Sonos said this on the matter: "Google recently changed the technical requirements for Google Assistant on third party devices. We're evaluating these requirements, but it's a heavy engineering lift and we'll continue to prioritize work that builds on our vision of voice assistants all working concurrently. We remain hopeful that Google Assistant will be part of this ecosystem one day."
A new switch on the back can be used to disconnect power to the microphones if you are worried about privacy.
In terms of audio, the Move 2 Sonos says the acoustic architecture has been overhauled compared to the original. The big upgrade is a dual-tweeter setup that means the speaker can deliver stereo sound without pairing a second unit, although you can still do that if you want a proper stereo pair.
To go along with the tweeters is a "precision-tuned woofer" and the Move 2 has automatic Trueplay meaning it will continually tweak the sound based on where you put it.
Check out our round up of the best Bluetooth speakers.