At a glance
Expert's Rating
Pros
Uniquely huge 12.7in display
Solid sound from quad JBL speakers
Good quality bundled-in stylus
Thoughtful, tasteful software
Cons
Screen a little dim and only 60Hz
Performance adequate but far from the best
Battery life isn't the best
Only 20W charger supplied
Our Verdict
The Lenovo Tab P12 is a sold mid-range tablet with a unique focus on media playback and creativity. With its large, sharp display and bundled-in stylus, it manages to stand out from the smaller and more classically capable competition.
Price When Reviewed
Unavailable in the US
Back in late 2021, Lenovo launched the Tab P12 Pro, a rare premium Android tablet that offered a lot in terms of polished media-friendly specs, but disappointed with its expensive price tag. Now, coming up to two years on, we have the non-Pro Lenovo Tab P12, which promises to hit many of the same main talking points at half the price.
For just £399 you're getting a tablet with a large, sharp 12.7in 3K display, a promising quad-speaker set-up, a classy design, and a solid bundled-in stylus.
What's more, Lenovo is offering an optional package that includes a full mechanical keyboard case, which turns the Lenovo Tab P12 from an affordable media machine to an affordable portable productivity machine. It comes at a reasonable £499 – a lot less than an iPad or Galaxy Tab S9 with an equivalent keyboard.
However, with the likes of Oppo, OnePlus, and Xiaomi all providing compelling mid-range tablets in recent times, the Lenovo Tab P12 isn't short of competition. But none of those rivals offer such a super-sized package as this.
Design & Build
Sober but stylish metal body
Big and heavy at 6.9mm thick and 630g
Poor fingerprint sensor
The Lenovo Tab P12 is an altogether bigger, bulkier full-sized tablet than its Lenovo Tab P12 Pro brother, not to mention rivals like the Xiaomi Pad 6 and OnePlus Pad. At 190.7mm x 293.3mm x 6.9mm, this thing certainly makes its presence known.
Meanwhile, with a considerable weight of 630g, you'll probably want to invest in the official case just so that you can prop it up and give your arms a rest. It's still lighter than an iPad Pro 12.9, though.
Bulk aside, this is a well-built tablet with a premium-feeling all-metal body. As is the trend these days, the surfaces and edges are all flat, with the only curves coming at the corners.
There's just the one colour on offer in Storm Grey, just like the P12 Pro. Like that tablet, it's a smart and professional-looking shade, if a little generic.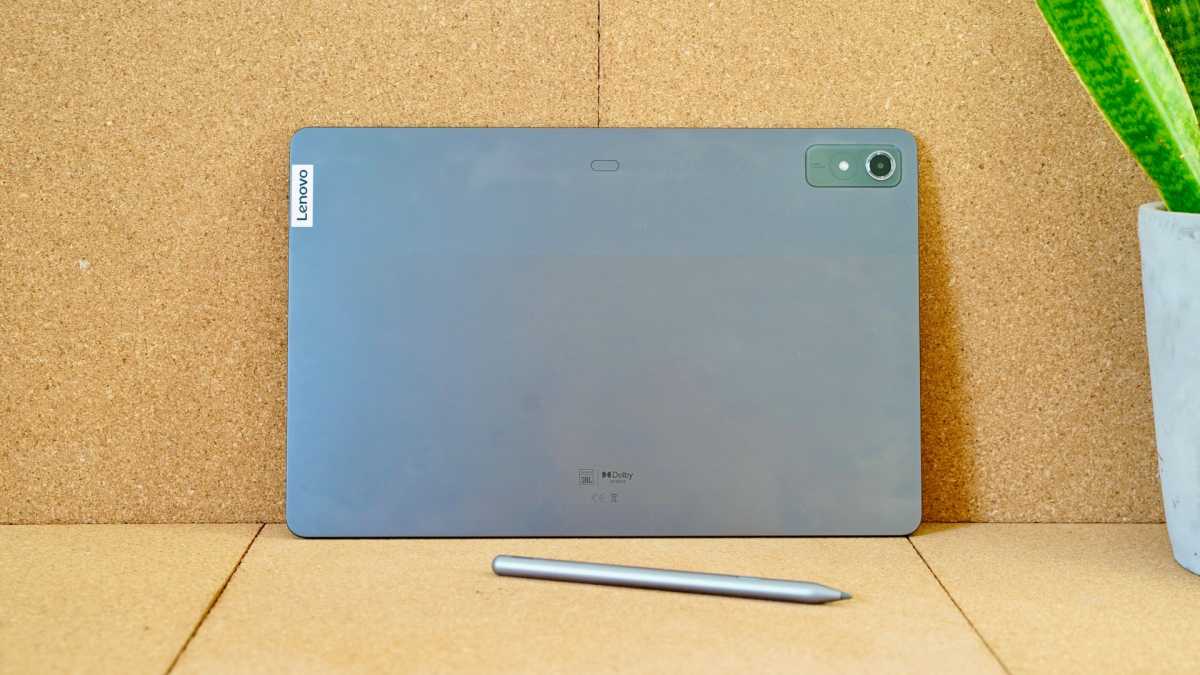 Jon Mundy / Foundry
Once again you have a fingerprint sensor stashed behind the power button on the top-left edge. I have the same criticism as I did with the Pro, in that this button feels too small and inconspicuous given its important biometric function. Unlike the Pro, I also have qualms with its reliability, with the Tab P12 button frequently failing to grant me entry.
One of the key selling points of the Lenovo Tab P12 is that it comes bundled with Lenovo's Tab Pen Plus stylus, which affixes to the rear of the tablet via a little magnetised patch.
The Tab Pen Plus itself is a competent piece of kit, which sells for £50 on its own. With 4,096 levels of pressure and tilt detection, it offers a nice natural writing and drawing experience, while palm rejection makes it nice and practical to use while holding the tablet.
While we're talking about accessories, let's talk about the official keyboard and case combo, since Lenovo included them with my test model. Both are of decent build quality, made of sturdy plastic. Indeed, my biggest criticism of them as that they combine to add a lot of weight to an already heavy tablet. If you're lugging this lot around with you, you might wonder why you don't just buy a lightweight ultra-portable laptop or Chromebook.
Jon Mundy / Foundry
Functionally, the keyboard cover is very impressive, snapping onto the Tab P12's custom connectors along the bottom edge with a strong magnet. The mechanical typing experience is a good one too, with enough travel to its chiclet keys to make switching over from a full-sized laptop relatively pain-free.
I particularly like the app shortcut keys along the function key row. When pressed the first time, you'll be able to bind key apps to them, so you can jump straight into Mail, Chrome, or any other app that you use frequently.
As for the case, it's tough, it inspires confidence with the strength of its grip, and it has decent adjustable kickstand that lets you position the Tab P12 at any angle. As always with such tablet keyboards, it won't provide a literal laptop experience, but that's by the by at this point. You also get a nice snug alcove to prevent the stylus from being knocked off in your bag.
Screen & Speakers
12.7in IPS LCD
60Hz refresh rate
Quad speakers with Dolby Atmos
The Lenovo Tab P12's display isn't quite the stand-out component like it is on the Lenovo Tab P12 Pro, but it's still got plenty to offer.
Most obviously, at 12.7in, it's much bigger than its 11in mid-priced rivals. With a 3K (2944 x 1840) resolution, it doesn't sacrifice on sharpness either.
That's about it for impressive specifications. It's an LCD panel, so doesn't have the vibrant colours and deep blacks of the Pro model's AMOLED. What's more, it doesn't have the elevated refresh rate of the Xiaomi Pad 6 and the OnePlus Pad, being stuck at 60Hz.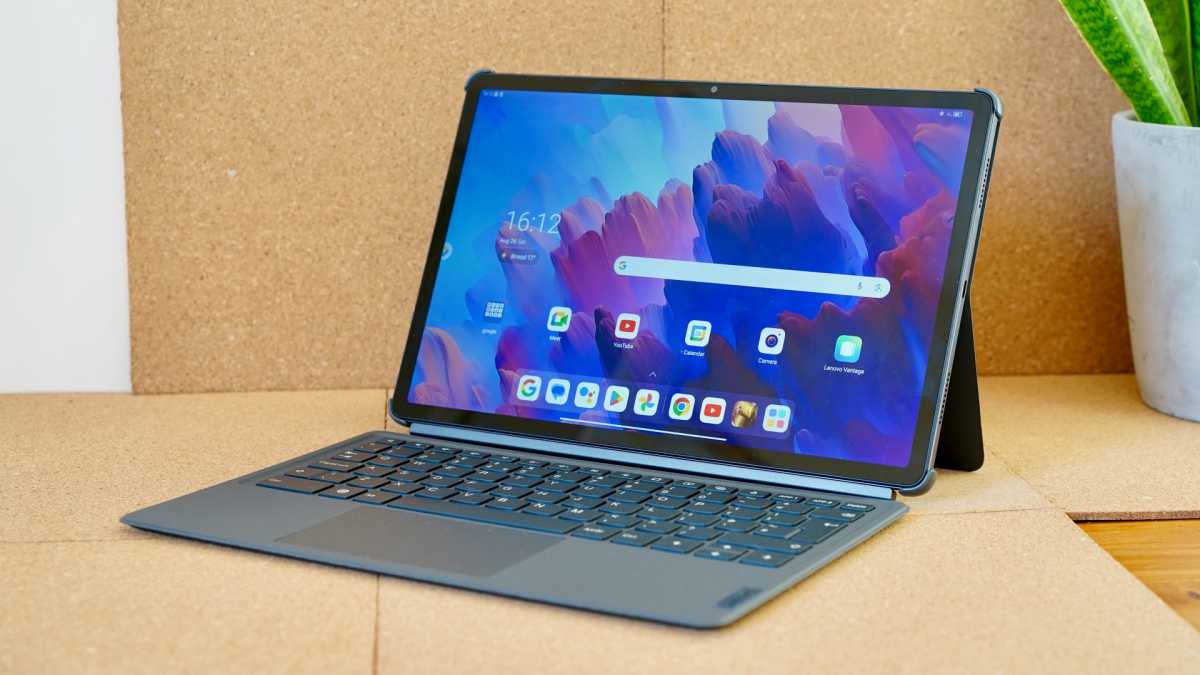 Jon Mundy / Foundry
Nor does the Tab P12 screen get particularly bright, either. Lenovo claims that it can hit a maximum brightness of 400 nits, but I recorded it hitting an average measured luminance of around 370 nits while cranked to full during my testing.
Despite these shortfalls, this is a pretty good screen for colour accuracy. I measured a gamut coverage of 94% sRGB against a gamut volume of 94.6%, and a decent Delta E rating of 1.39 (with 1 being the ideal).
This makes the Tab P12 a solid portable player, as long as you're not watching in strong lighting. This is aided by the provision of four JBL speakers, which have been Dolby Atmos tuned. They don't deliver the richest sound, but they're loud and clear, with decent stereo separation.
Specs & Performance
MediaTek Dimensity 7050
8GB RAM
128GB storage plus MicroSD
Lenovo has equipped its mid-range tablet with a MediaTek Dimensity 7050 processor, which is essentially a rebranded Dimensity 1080. That means the Tab P12 has the same performance as the Xiaomi Redmi Note 12 Pro,a £340 smartphone from late 2022.
That's no bad thing. We appreciated the Xiaomi Redmi Note 12 Pro's performance at the time, and it's just as capable here. Yes, there's a little extra strain from that 12.7in 3k display, but by the same token it only has to manage a 60Hz refresh rate.
Together with a healthy 8GB of LPDDR4X RAM, it'll handle general navigation, app switching, and light gaming pretty well. Yes, you'll note the odd pause or stutter during navigation, but on the whole the experience is a good one. In storage terms, you get 128GB as standard, together with a microSD card slot for expansion purposes.
In terms of its fellow mid-range tablets, the Lenovo Tab P12 lags well behind the OnePlus Tab with its MediaTek Dimensity 9000 and the Xiaomi Pad 5 with its Snapdragon 860 when you talk about benchmarks, but slightly ahead of the Oppo Pad Air with its Snapdragon 680.
It's a competent performer, but certainly not an outstanding one within its field.
Lenovo Tab P12 benchmarks
Cameras
8Mp rear camera
13Mp ultra-wide selfie
AI face tracking on video calls
Camera specifications and image quality don't really matter all that much with tablets, especially not affordable tablets like this one. You really shouldn't be relying on a huge slab like this for your snaps.
Jon Mundy / Foundry
For the record, the Lenovo Tab P12 runs a single 8Mp rear camera with autofocus. It's precisely as limited as that sounds, though it'll capture an impromptu snap with ideal lighting in a pinch. Detail and contrast aren't up to much, but it's acceptable.
Far more important for a tablet is the front camera, which will be on video call duty. As a selfie camera this 13Mp fixed focus snapper is pretty poor, with blown out highlights and a general softness.
However, its ultra-wide angle is welcome when it comes to those video calls. It's supposed to have AI face tracking, though I was unable to notice anything pronounced during a Google Meet video call.
Battery Life & Charging
10,200mAh cell
30W fast charging
20W adapter included
When a device is driving a 13in(ish) display, you'd better believe it needs a big battery. Like its Pro brother, the Lenovo Tab P12 packs a ginormous 10,200mAh cell.
Even then, it'll barely get you through a full working day. It lasted 7 hours and 30 minutes in the PCMark Work 3.0 battery test – which of course sets out to simulate everyday working conditions like web browsing, video and photo editing, writing documents, and data manipulation.
Jon Mundy / Foundry
That's 20 minutes longer than the Pro, but falls several hours behind smaller mid-range tablets like the OnePlus Pad and the Xiaomi Pad 5. Even the similarly proportioned Lenovo Yoga Tab 13 managed to pass the 10-hour mark.
While the Lenovo Tab P12 seemingly supports up to 30W quick charging, you only get a 20W charger bundled in. This will get you from empty to just under half-full in an hour, and on to full in around 2 hours 30 minutes. You don't want to rely on the 'splash and dash' method ahead of a day of use with this one.
Software
Android 13
Thoughtful Lenovo additions
Lenovo's take on Android is one of the neater on the market, suggesting it's learned a few lessons from its Motorola smartphone brand.
It's running on the latest version of Android, which represents progress from when I reviewed the Android Tab P12 Pro. You still get some of Lenovo's distinctive customisations, but for the most part they're quite welcome.
Entertainment Space can be found to the left of the main home screen, where the Google Feed would ordinarily be on stock Android devices. For once, this is a thoughtful embellishment, offering a slick magazine-like window onto your chosen media apps.
Jon Mundy / Foundry
In my case, it surfaced movie and TV recommendations from Disney+, games from the Google Play Store (though nothing I would actually want to play), eBooks and comics bought through Play Books, and a combination of tracks I had streamed from YouTube Music and podcasts from Google Podcasts.
I generally found myself using the individual apps for locating and accessing what I wanted, but I could see this being useful for casual media consumption on the go.
Lenovo's stylus-based enhancements are fairly minimal, especially compared to a Samsung tablet, but I appreciate the clean and subtle approach. There's a little shortcut menu that pops up when you press the button on the Tab Pen Plus stylus, offering quick access to screenshots (which can be scrawled on), quick notes, and various useful presentational tools.
My favourite shortcut is the ability to hold the button and tap the screen to instantly open up a floating notepad.
Jon Mundy / Foundry
Lenovo's productivity-focused UI, which was an optional mode back when I reviewed the Pro, now appears to be permanent, providing a MacOS-like system with key apps permanently accessible along the bottom of the screen. I found accessing this above apps somewhat hit and miss with Gesture navigation activated, so you might want to stick with the desktop-like Virtual Navigation option – especially if you're opting for that keyboard case bundle.
As this all suggests, Lenovo's UI is highly adaptable to your personal preferences. You can do things like split the notification menu from the control centre, should you wish, as well as fine tuning how split-screen and floating apps operate.
Price & Availability
UK buyers can grab this mid-priced tablet directly from Lenovo's website starting from £399.99 as well as Currys.
All bundles include the Tab Pen Plus stylus, but paying £499.99 will also throw in the keyboard case, turning the Tab P12 into a hybrid laptop. Lenovo is already running discounts on all of these bundles.
The Lenovo Tab P12 isn't available to buy in the US at the time of writing.
Check our chart of the best tablets and best Android tablets for more options.
Verdict
The Lenovo Tab P12 offers something a little different from the rest of the mid-priced Android tablet crowd. It might not be as fast or well-specced as the Xiaomi Pad 5 or the OnePlus Pad, but a laser-like focus on creativity and productivity makes it better suited to certain use cases.
Its huge 12.7in 3K display isn't the absolute best on the market, but its sheer size – in conjunction with crisp quad speakers – make for a uniquely impactful media playback package.
What's more, the bundled-in Tab Pen Plus stylus and optional keyboard case transform the Lenovo Tab P12 into a powerful yet affordable tool for creative types.
If you're after a well-priced tablet to do classic tablet things like browsing the web and playing games, then the likes of the Xiaomi Pad 5 and OnePlus Pad are much better (and much more portable) bets. But if you want to throw a little sketching, scrawling, and typing into the mix, the Lenovo Tab P12 is worthy contender.
Specs
Android 13
12.7in, 3K, IPS LCD, 60Hz, flat display
Side-mounted fingerprint sensor
MediaTek Dimensity 7050
8GB LPDDR4X RAM
128GB storage, MicroSD slot
8Mp main camera
Up to 4K @ 30fps rear video
13Mp ultra-wide front-facing camera
JBL quad stereo speakers
Wi-Fi 802.11 a/b/g/n/ac/6
Bluetooth 5.1
10,200mAh battery
30W charging
293.3 x 190.7 x 6.9 mm
630g
Launch colours: Storm Grey