Last year at IFA, the theme 'bigger is better' was key when it came to TVs. In 2023, brands are instead taking screens outside of the living room and on the go.
The headliner product in this niche category is the LG StanbyME Go. It launched earlier this month, and a sample was on the show floor in Berlin. To put it simply, it's a 27in Full HD LCD TV that folds down neatly into a durable suitcase.
It has a 20W four-channel speaker system with Dolby Atmos; Dolby Vision support is also included on the panel. With a battery life of up to three hours, it's ideal for watching a film outdoors without the need for a power outlet. It can also be turned vertically to watch in tablet mode, if you want to use apps that prefer a portrait aspect ratio.
For streaming, it supports Bluetooth, Wi-Fi, AirPlay and even voice recognition. There's an HDMI port meaning you can feasible plug in all sort of devices such as games consoles and laptops.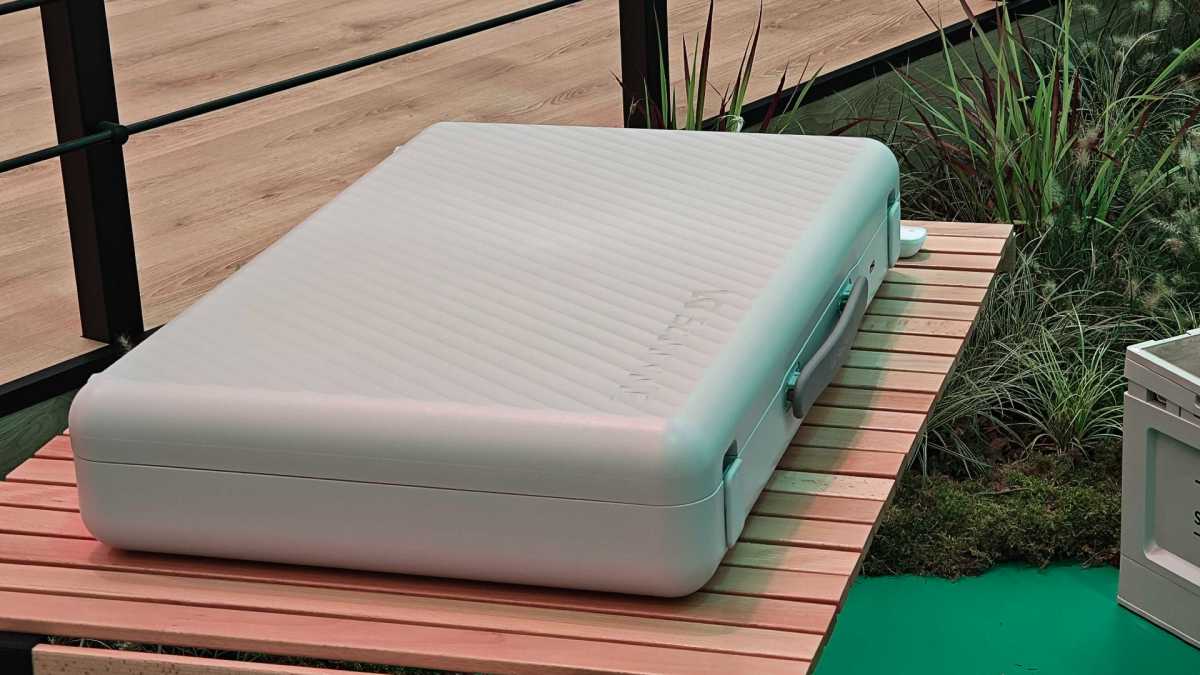 Hannah Cowton / Foundry
It also has an outdoor mode that should make the screen visible under bright sunlight and is even touch sensitive so you can use the webOS interface quickly or play games in a flat tabletop mode. It's a versatile device going by LG's trailer.
US readers can pre-order it directly from LG for $999 – we don't have UK availability at the time of writing.
But LG isn't the only TV manufacturer that is catering to the outdoor TV market. Over on the Vestel stand (a manufacturing partner of Toshiba), there were some 32in wireless TVs that are designed specifically for camping, with HD panels and a Google TV interface, and a similar battery life to the StanbyME Go.
They come in a range of funky colours (the green one is calling to me) but are sadly not on sale in the UK. That said, the product spokesperson did say that he expects them to eventually come to this market, but likely not under the Toshiba or Vestel brands.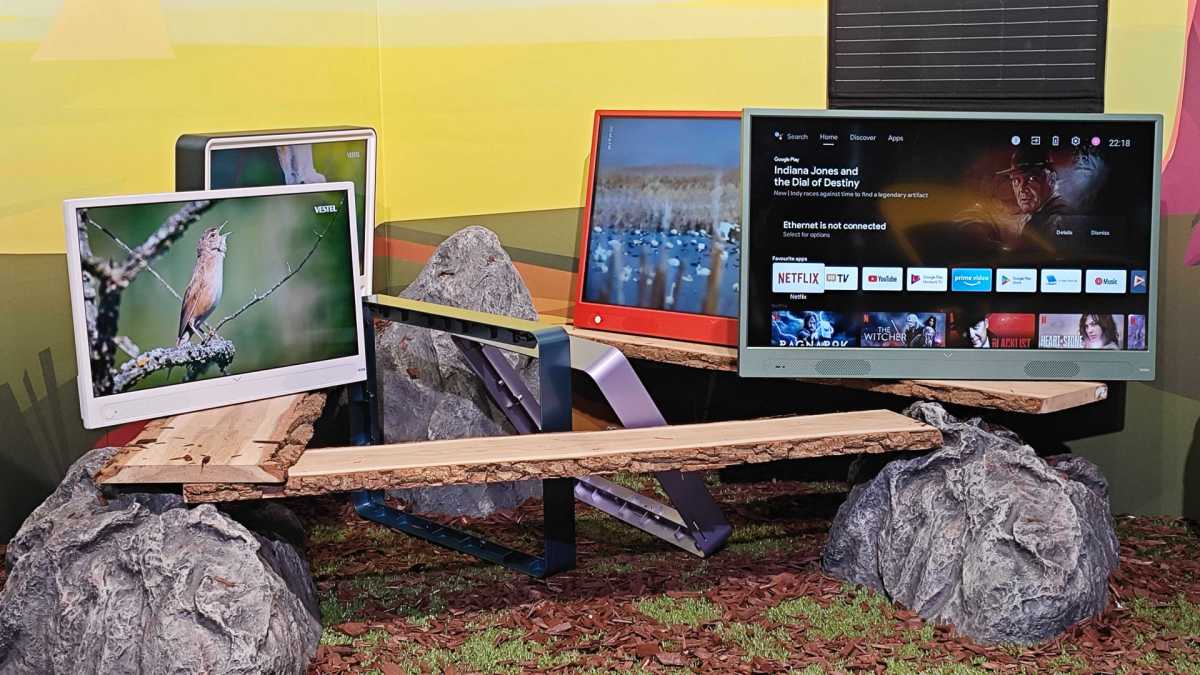 Hannah Cowton / Foundry
Sylvox is another brand taking on the travel trend, only this one is focussing on durable and practical builds that will suit outdoorsy types/those who earn enough to own a pool.
This diddy 15.6in Full HD model with Google TV is completely waterproof, wireless and includes a kickstand that can double as a handle. It is sadly just a concept for now, but maybe one day the brand will add it to its portfolio. The brand also makes models designed for the garden and bathroom.
Waterproofing is something that both the LG and Vestel models lack but could be a valuable addition for travel TVs – especially for those that plan on using them for camping. As we all know, the weather is unpredictable and some form of protection would certainly provide peace of mind.
The battery life on both the LG and Vestel TVs could also be better, though you could always invest in a power bank for charging overnight.
Hannah Cowton / Foundry
Camping and van life movements have continued to gain traction in recent years, so the ability to take a TV on the road to more adventurous locations would almost certainly change the game for many – doubly so if it's easy to carry, durable and offers the option of offline viewing in more remote areas.
Now, dear reader, you may be wondering whether this type of product is too niche to justify the price. To that, I argue that they also have their uses around the home. They can be used in the garden or simply taken into another room easily if you're arguing about what to watch on the main screen. You might also want to use one as a kid's TV that can easily be physically removed when TV time is over.
To put it simply, they're compact second TVs that serve a more versatile purpose.
None of these TVs are the perfect travel companion yet, but they're a step in the right direction and LG's is at least available to order. I'll be looking for any excuse to take one out to somewhere stunning so I can fulfill my new dream of watching one of my comfort shows (currently Good Omens) with the perfect mountain backdrop.