The Samsung Galaxy Watch 6 range is here, and there are two models to choose from once again.
On the Classic model, the physical rotating bezel returns after a one-year absence (we got the Watch 5 Pro instead). Meanwhile the regular Watch 6 continues with a touch version.
But there are plenty of other differences to be aware of. Let's see how they compare side-by-side to help you decide which to go for.
For a more in-depth look at both, see our full reviews of the Galaxy Watch 6 and Galaxy Watch 6 Classic.
Design & build
Telling the Galaxy Watch 6 apart from its its predecessor, the Watch 5, is a challenge. But that's a compliment – Samsung's minimalist design is a hit, eliminating the need for a redesign.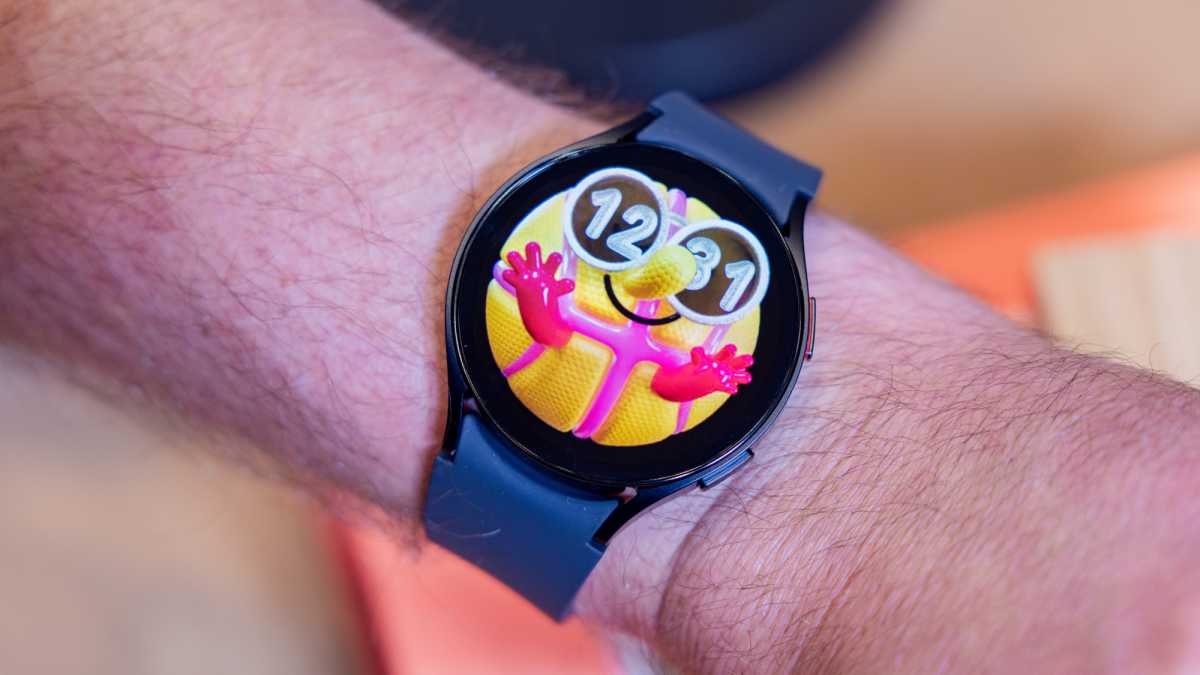 Dominik Tomaszewski / Foundry
Despite a premium stainless steel and glass build, the Watch 6 stays light, with the 40mm model at 28.7g and the 44mm at 33.3g. It's sleek, too, at 9mm thick and comfortable to wear even during sleep. Lots of straps are available, but the one you get in the box will match the colour of the watch body – choose from Graphite, Gold or Silver.
Durability is good, even though it's not a rugged watch. The steel casing is tough, with military-grade MIL-STD-810G compliance and IP68 water resistance. The minimalist aesthetic extends to the two physical buttons on the side, both of which are remappable.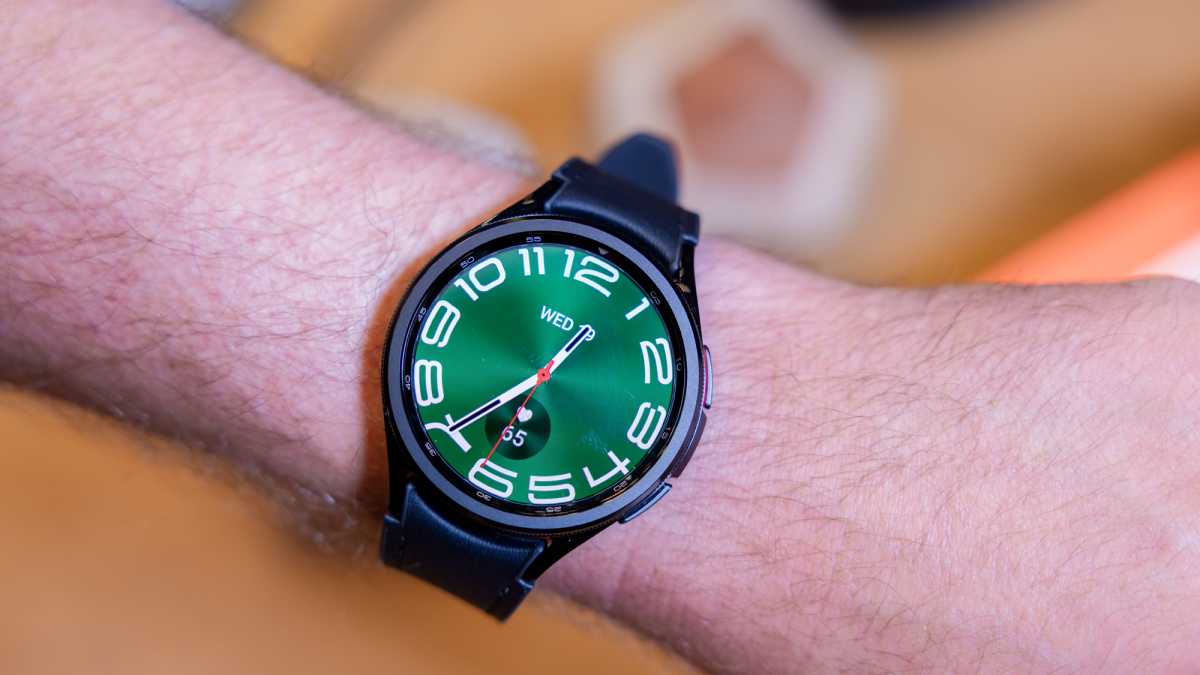 Dominik Tomaszewski / Foundry
After a one-generation absence, the physical rotating bezel returns in the Galaxy Watch 6 Classic. That's a smart move, considering how effective it was on the Watch 4 Classic and how uncommon it remains.
Samsung's One UI Watch software (based on Google's WearOS) makes full use of the bezel, allowing you to navigate and interact with content with ease.
We reviewed the 47mm Watch 6 Classic version, though there's also a 43mm alternative available with a smaller screen and battery.
The larger model is substantial, so only really suits larger wrists. But the included strap on both the Watch 6 and 6 Classic is a blend of faux leather and rubber, making it suitable for exercise and easy to clean.
However, the way the strap is secured can leave a gap between the bottom of the watch and your wrist for some people.
Display & audio
On both the Watch 6 and Watch 6 Classic, Samsung has managed to increase display sizes without changing the size of the case.
The 40mm Watch 6 offers a 1.3in touchscreen, while the 44mm boasts a 1.5in one, both with higher resolutions than before (432×432 and 480×480 respectively). Although these tweaks won't revolutionise your experience, they make the Watch 6's display just that little bit better.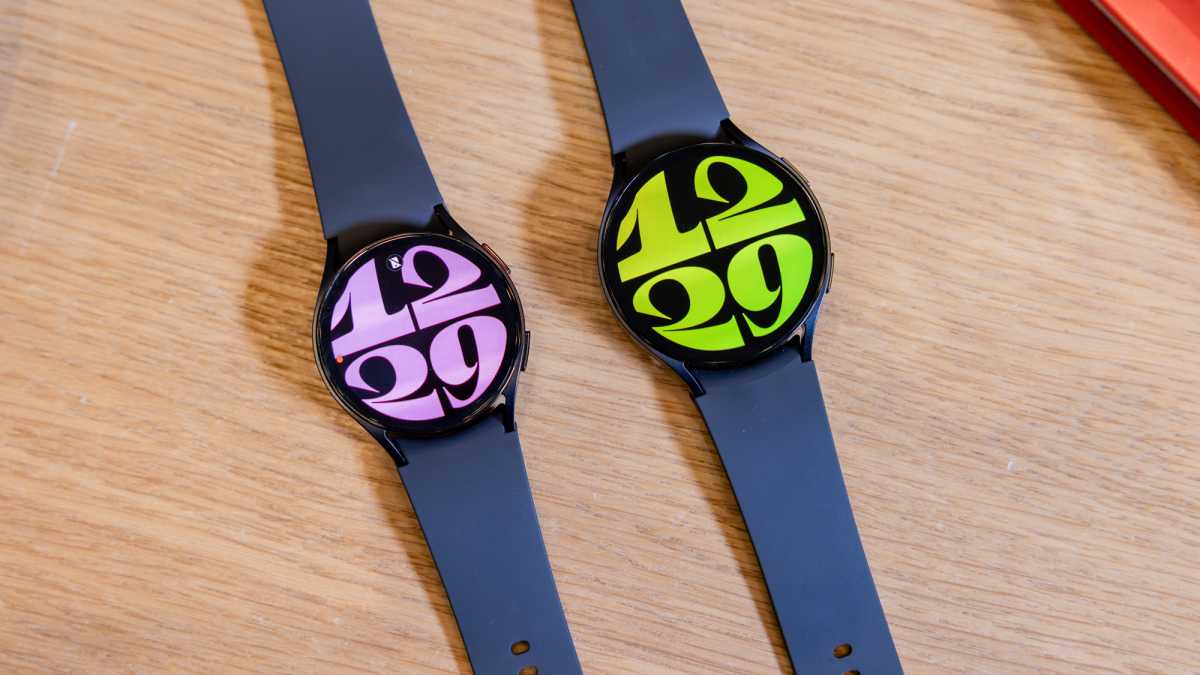 Dominik Tomaszewski / Foundry
Opting for OLED means vivid colours and deep blacks, with the latter particularly apparent on the software's black background.
Visibility remains strong in sunlight, with an impressive peak brightness of 2000 nits. The touch-sensitive display edge mimics the Watch 6 Classic's bezel, though swiping is more intuitive.
The 47mm Watch 6 Classic's 1.5in AMOLED display excels, too. It also has a peak brightness of 2,000 nits, so is perfectly readable in direct sunlight.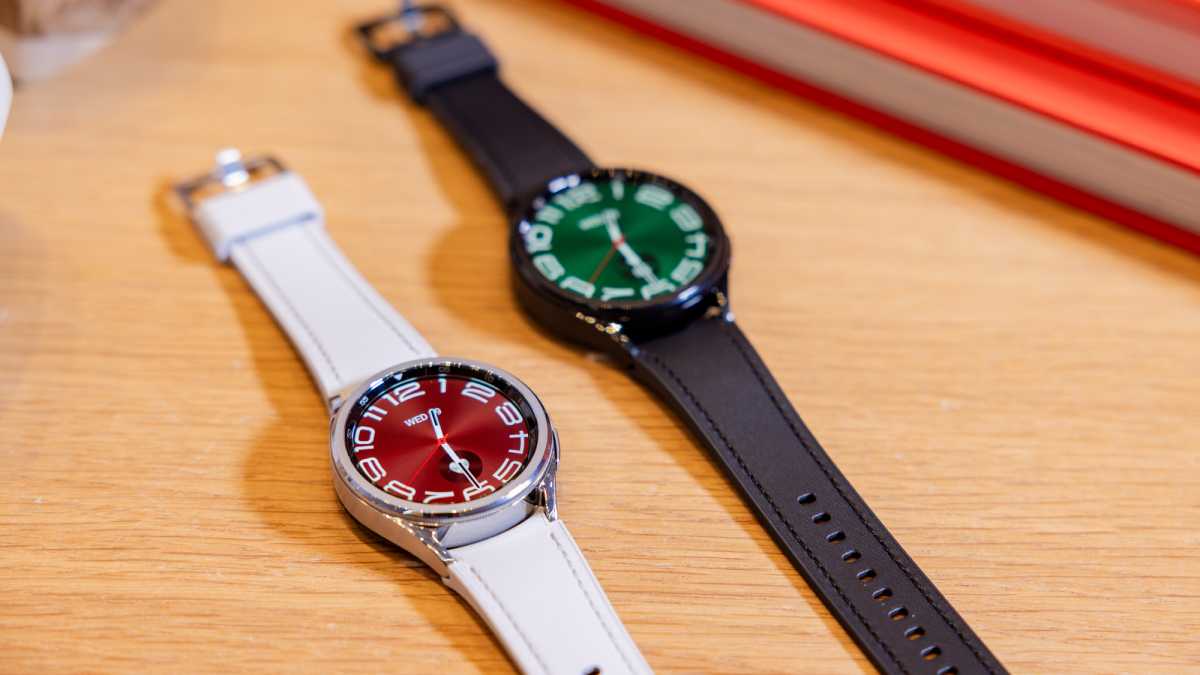 Dominik Tomaszewski / Foundry
You can navigate the Watch 6 Classic using the physical bezel or touchscreen, both of which are responsive.
Audio quality is decent on both, with a built-in speaker and microphone enabling clear notifications, calls and voice assistant use.
Software & features
Both the Galaxy Watch 6 and the Watch 6 Classic run on Google's WearOS 4 out of the box, complete with Samsung's One UI Watch 5 over the top. They'll continue being supported by updates until 2027.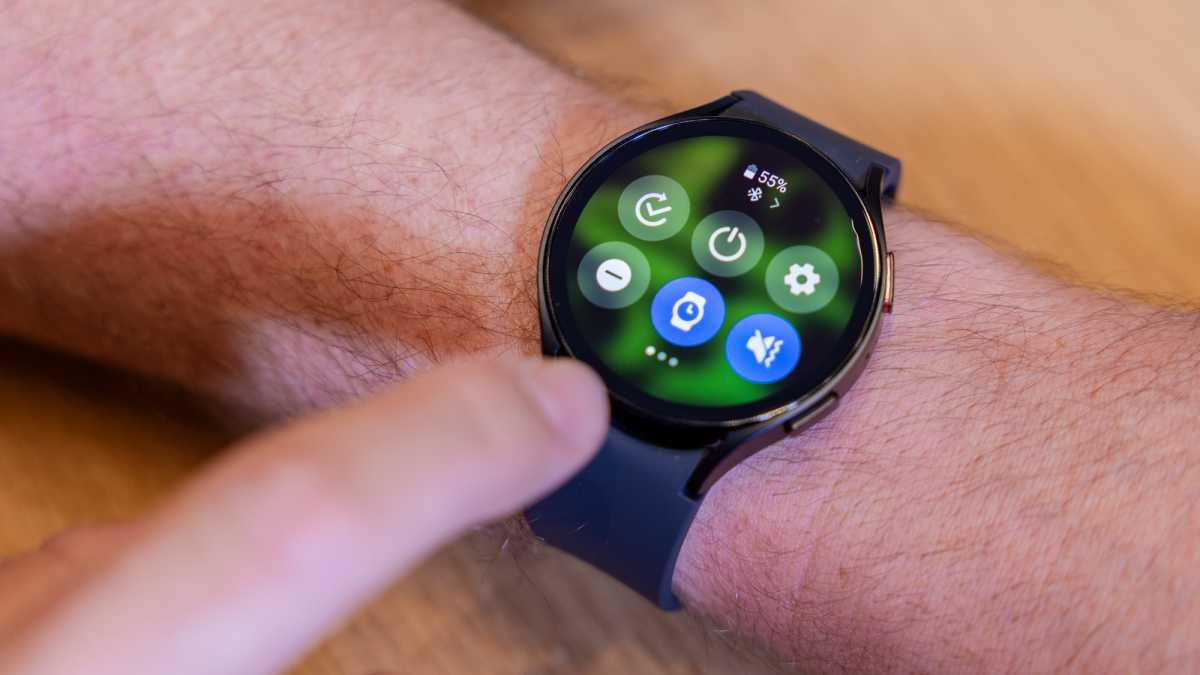 Dominik Tomaszewski / Foundry
Intuitive navigation is crucial on these small screens, and Samsung and Google have collaborate effectively to achieve it. Swipe gestures allow you to easily move between notifications, live tiles, quick settings, and apps.
Available third-party apps via WearOS are limited, but include the likes of WhatsApp, Spotify and all Google apps. The pre-installed Google Maps allow for navigation from your wrist, but it requires pairing to your phone to work properly
The watches work with all Android phones running Android 10 or later. But the blood pressure, ECG and irregular heart rate features rely on the Samsung Health Monitor app, which is only available on Samsung phones.
Fitness & tracking
Fitness tracking is a key strength of both Galaxy Watch 6 device. With over 90 workout options and the option to customise your own, there's plenty to choose from.
Dominik Tomaszewski / Foundry
Core metrics such as workout duration, heart rate zones, calories burned, and distance (including location data with GPS turned on) are available for all workouts. But running also includes the likes of pace, cadence, VO2 max, and more. Swimming (making use of the 5ATM water resistance) can tell you the stroke you swam and provide a SWOLF score, with the watch automatically expelling water once you're done.
Tennis sessions record well, while walking is one of seven auto-tracked workouts which trigger seamlessly. Continuous heart rate monitoring aids these stats, despite some erratic results.
Stress, body composition, blood oxygen, and sleep tracking is also available. The latter combines sleep cycles, wakefulness and an estimate of how well you've recovered to provide an overall 'sleep score'.
It's not clear if the data is entirely accurate, but it's generally in line with how the night's sleep felt in the morning. Tracking sleep over time helps you identify trends, with coaching and a personal 'Sleep animal' available after seven nights via the Samsung Health app.
Both the Watch 6 and 6 Classic have an identical set of features here.
Specs & performance
The Galaxy Watch 6 comes in both 40mm and 44mm sizes, each with Bluetooth or 4G LTE options. The latter operates independently through an eSIM.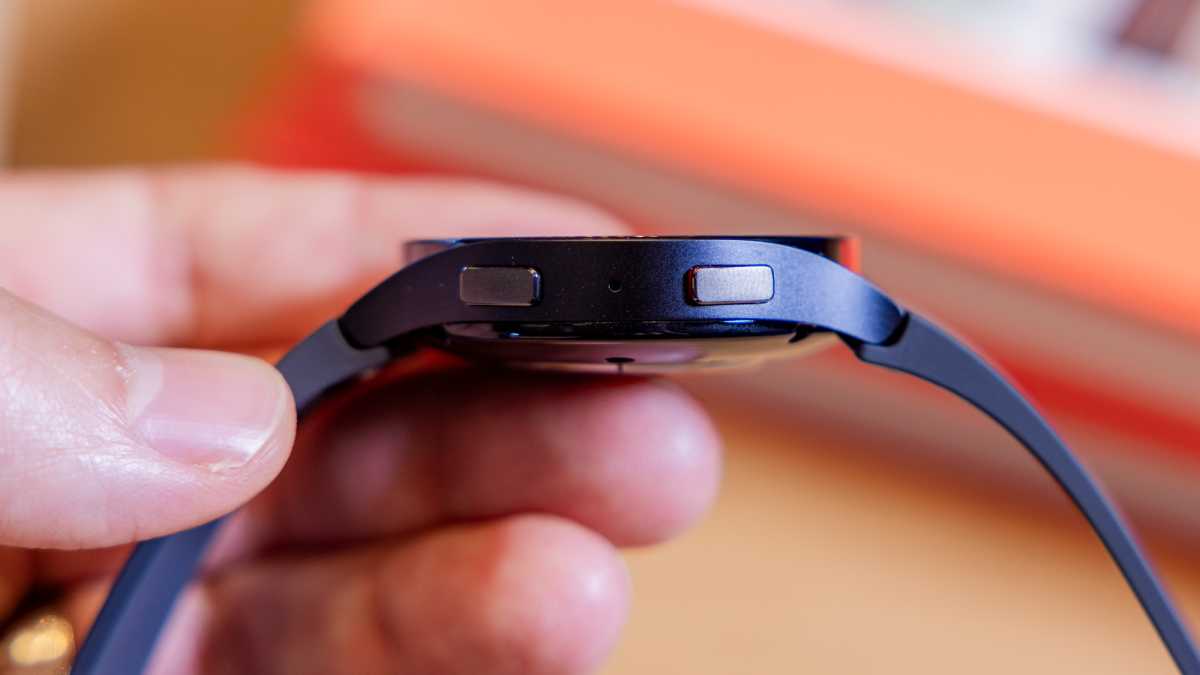 Dominik Tomaszewski / Foundry
All Watch 6 models employ Samsung's Exynos W930 chipset, a slight upgrade from previous versions, paired with 2GB of RAM for solid performance. While not ground-breaking, interactions feel smooth, and minor app opening hesitations are easy to live with.
Internal storage is now 16GB, and given the small size of most apps, you'll need to download a lot of music or other files locally to fill it.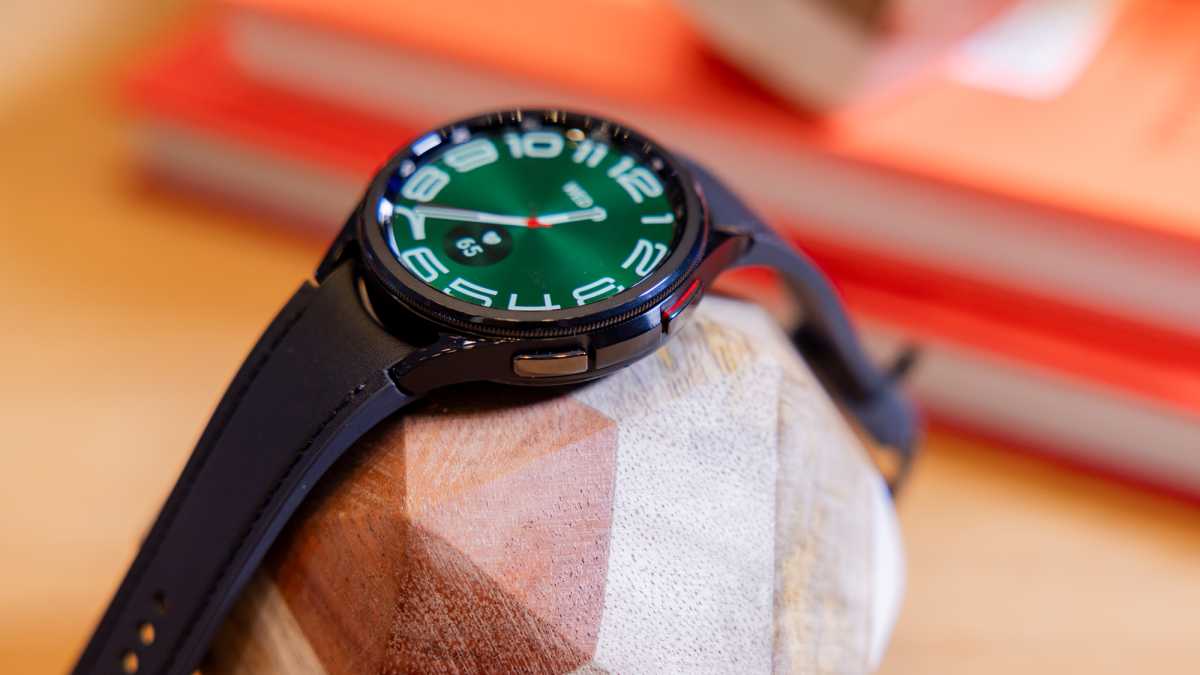 Dominik Tomaszewski / Foundry
The Watch 6 Classic, despite also having the Exynos W930 chip and 2GB of RAM, can lag at times.
Occasionally, waking the screen by turning the bezel takes a moment, resulting in delayed menu scrolling. The processor's slightly higher clock speed is the sole upgrade from the previous-gen chip.
Generally, responsiveness is good, though touchscreen lag may emerge while using wireless earbuds to control music during runs, challenging the hardware's limits. But performance in general everyday use is usually smooth.
Battery life & charging
Battery life remains the Galaxy Watch 6's most disappointing aspect. Despite a larger battery (300mAh for 40mm, 425mAh for 44mm), the bigger displays negate any improvements.
Dominik Tomaszewski / Foundry
The Watch 6 struggles to last a full day, even with the always-on display disabled – it's worse with it on. A day involving activities like walks, workouts, notifications, and heart rate measurements swiftly drains the battery, which is disappointing.
Charging anxiety might linger throughout the day, while a 30-40% drop during sleep means you'll need to charge it first. The included magnetic charger uses USB-C, and the Watch 6 supports up to 10W Qi wireless charging, reaching 59% in 30 minutes and fully charging in about 70 minutes.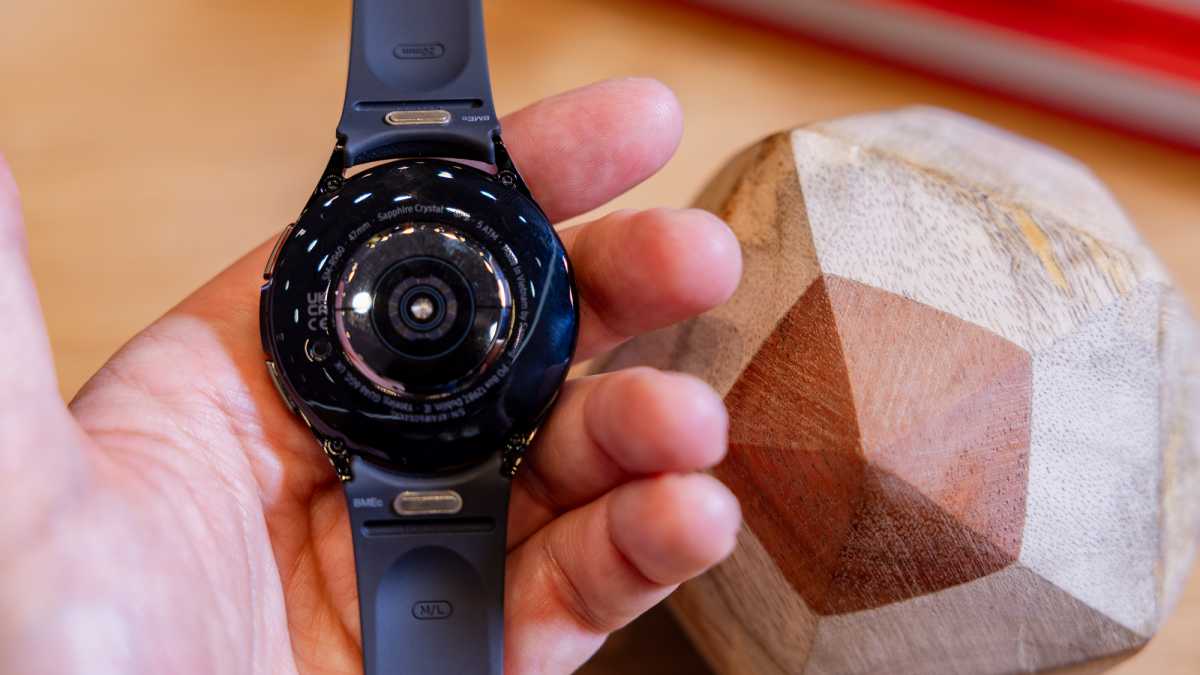 Dominik Tomaszewski / Foundry
The Watch 6 Classic features a 300mAh battery on the 43mm model or 425mAh cell on the 47mm version. Samsung claims up to 30 hours with the always-on display (AOD) on and 40 hours with it off.
But the former feels unachievable, and results in a big drop-off in battery life. During testing, it went from 100% to 36% during a 13-hour window with only walking being tracked. After a night of sleep tracking, it was down to just 9%. While the former feels achievable, turning on the always-on display.
However, with the always-on display turned off, a full two days of battery life is possible.
Price & availability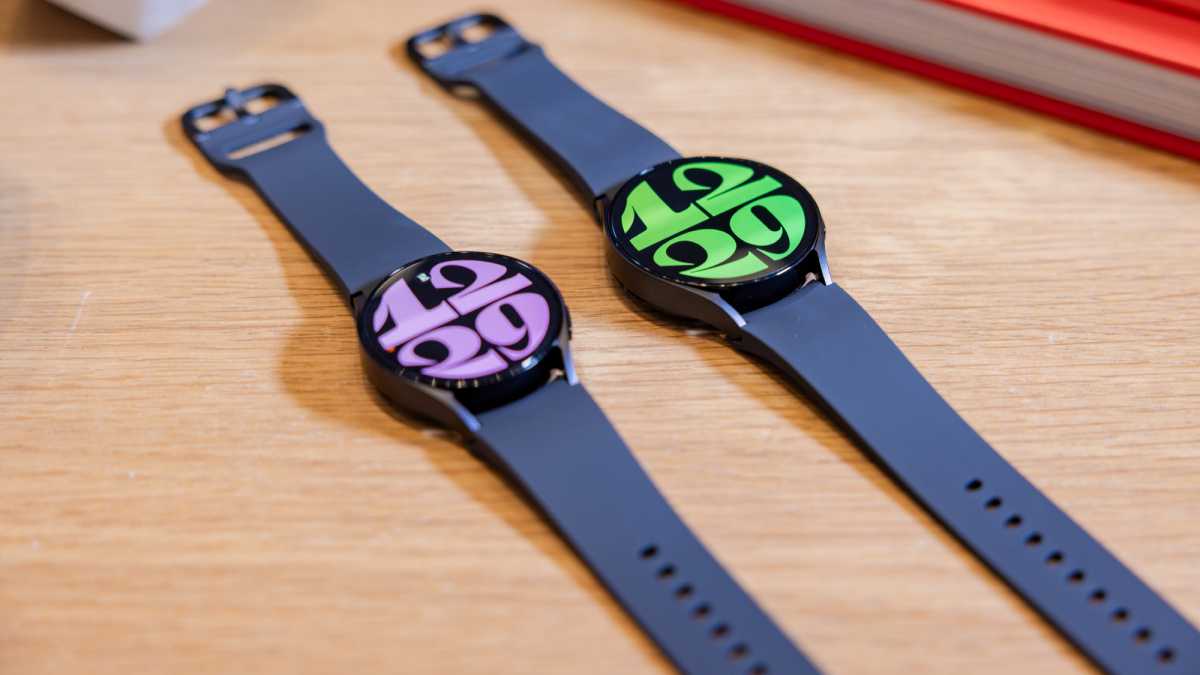 Dominik Tomaszewski / Foundry
The Watch 6 begins at $20/£20 above the Watch 5, yet remains competitively priced:
40mm, Bluetooth/Wi-Fi only – $299.99/£289
40mm, Bluetooth/Wi-Fi and 4G LTE – $349.99/£339
44mm, Bluetooth/Wi-Fi only – $329.99/£319
44mm, Bluetooth/Wi-Fi and 4G LTE – $379.99/£369
In the US, the Galaxy Watch 6 is available for direct purchase from Samsung and Amazon, or through contracts with AT&T and Verizon.
In the UK, you have various retailers to select from, including Samsung and Amazon for direct purchase, and contract options with O2, EE, and Vodafone.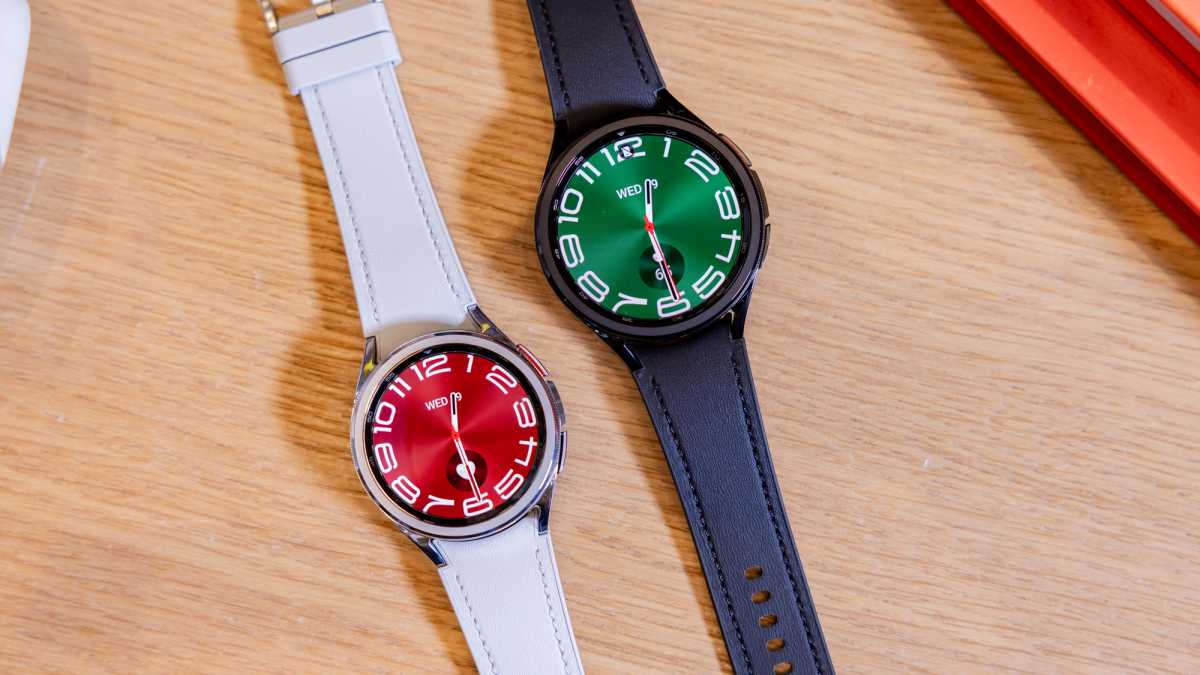 Dominik Tomaszewski / Foundry
The Samsung Galaxy Watch 6 Classic starts at $399.99/£369, with four models available:
43mm, Bluetooth/Wi-Fi only – $399.99/£369
43mm, Bluetooth/Wi-Fi and 4G LTE – $449.99/£429
47mm, Bluetooth/Wi-Fi only – $429.99/£399
47mm, Bluetooth/Wi-Fi and 4G LTE – $479.99/£459
In the US, the Galaxy Watch 6 Classic is available at Samsung, Amazon, Best Buy, and through carriers like T-Mobile, Verizon, and AT&T.
In the UK, you can purchase it from Samsung, Amazon, Argos, Currys, John Lewis, and mobile networks O2, EE, and Vodafone.
Verdict
The Samsung Galaxy Watch 6 and the Samsung Galaxy Watch 6 Classic both offer significant improvements over their predecessors.
The Galaxy Watch 6 presents a larger, higher-quality display, improved performance, and advanced fitness and sleep tracking features. But battery life remains a key weakness.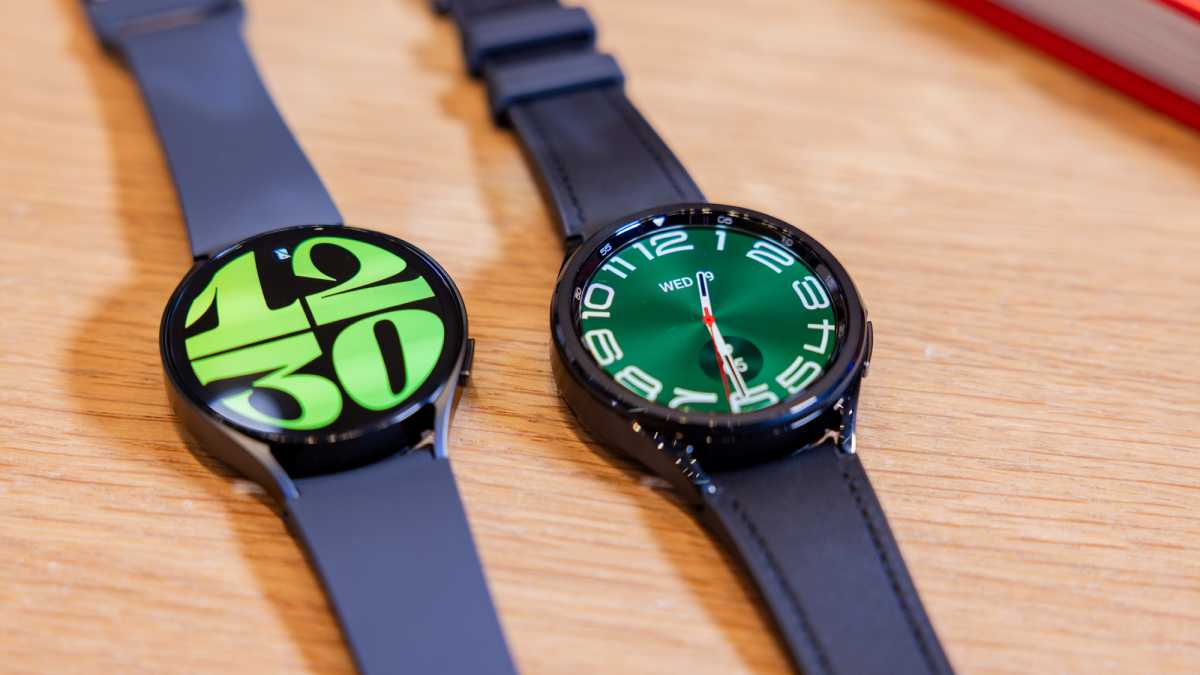 Dominik Tomaszewski / Foundry
While the Watch 6 Classic isn't markedly different, the physical rotating bezel and better battery life make it the best Android smartwatch at the writing. It has all the same range of health and fitness features as the regular Watch 6.
However, it's worth noting that blood pressure monitoring, ECGs and irregular heart rate notifications are only available if you pair one of these watches with a Samsung phone.
But while the Watch 6 Class has the edge over the regular model, it's also significantly more expensive. Ultimately, which one you go for will depend on your design preferences.
But they're by no means the only two options: see our guide to the best smartwatches for plenty of alternatives.
Specs
Samsung Galaxy Watch 6:
1.3in 432×432 (40mm) or 1.5in 480×480 (44mm) circular AMOLED always-on display
Gorilla Glass DX+
Exynos W930 5nm processor
2GB RAM
16GB storage
One UI Watch 5 over Wear OS 4
Bluetooth 5.3
NFC
GPS
Wi-Fi
4G LTE (optional)
Microphone
Speaker
Optical heart rate sensor (PPG)
Electrical heart sensor (ECG)
Bioelectrical impedance analysis sensor (BIA)
Blood oxygen tracking
AFib irregular heartbeat detection
Sleep tracking
Snore detection
Body composition analysis
Guided workouts
Bixby Voice
Gesture controls
Stainless steel casing
5ATM swim-proof
IP68-certified dust/water resistance
MIL-STD-810G tested
Wireless charging
300mAh (40mm) or 425mAh battery (44mm)
10W Qi wireless charging
38.8 x 40.4 x 9mm (40mm) or 42.8 x 44.4 x 9mm (44mm)
28.7g (40mm) or 33.3g (44mm)
Colours: Graphite, Gold (40mm only), Silver (44mm only)
Compatible with Android 10 or higher (devices require more than 1.5GB RAM)
Samsung Galaxy Watch 6 Classic:
1.3in 432×432 (43mm) or 1.5in 480×480 (47mm) circular AMOLED always-on display
Gorilla Glass DX+
Exynos W930 5nm processor
2GB RAM
16GB storage
One UI Watch 5 over Wear OS 4
Bluetooth 5.3
NFC
GPS
Wi-Fi
4G LTE (optional)
Microphone
Speaker
Optical heart rate sensor (PPG)
Electrical heart sensor (ECG)
Bioelectrical impedance analysis sensor (BIA)
Blood oxygen tracking
AFib irregular heartbeat detection
Sleep tracking
Snore detection
Body composition analysis
Guided workouts
Bixby Voice
Gesture controls
Stainless steel casing
5ATM swim-proof
IP68-certified dust/water resistance
MIL-STD-810G tested
Wireless charging
300mAh (43mm) or 425mAh battery (47mm)
10W Qi wireless charging
42.5 x 42.5 x 10.9mm (43mm) or 46.5 x 46.5 x 10.9mm (47mm)
52g (40mm) or 59g (44mm)
Colours: Black, Silver
Compatible with Android 10 or higher (devices require more than 1.5GB RAM)