In today's digital age, where social media platforms have become an integral part of young people's lives, ensuring their online safety is of paramount importance. TikTok, the popular video-sharing app, has gained immense popularity, especially among teenagers and pre-teens, despite the minimum age requirement being 13.
To help parents and guardians maintain a healthy digital environment for their children, TikTok offers a range of parental control features. By enabling these controls, you can gain a measure of control over various aspects of your child's TikTok account, allowing you to strike a balance between fostering their creativity and ensuring their safety.
What do TikTok's parental controls do?
TikTok's parental controls, known as Family Pairing, offer a range of features designed to enhance the safety and well-being of younger users. To use it, you need to link your own TikTok account with your child's account, granting you access to certain settings that enable you to monitor and manage their online activities. With Family Pairing, among others, you can:
Manage Screen Time: Set daily time limits to ensure a healthy balance between online engagement and other activities.
Implement Restricted Mode: Filter out inappropriate content to create a safer environment for your child.
Control Direct Messages: Decide who can send messages to your child's account, promoting interactions only with friends or approved followers.
Regulate Comments: Manage who can comment on your child's videos, curating a positive and supportive online community.
How to turn on Family Pairing in TikTok
1.
Go to your TikTok profile
Artur Tomala / Foundry
To get started, open the TikTok app and tap on 'Profile' located at the bottom of the screen. Once in your profile, locate and tap on the 'Menu' button at the top of the screen.
2.
Access Family Pairing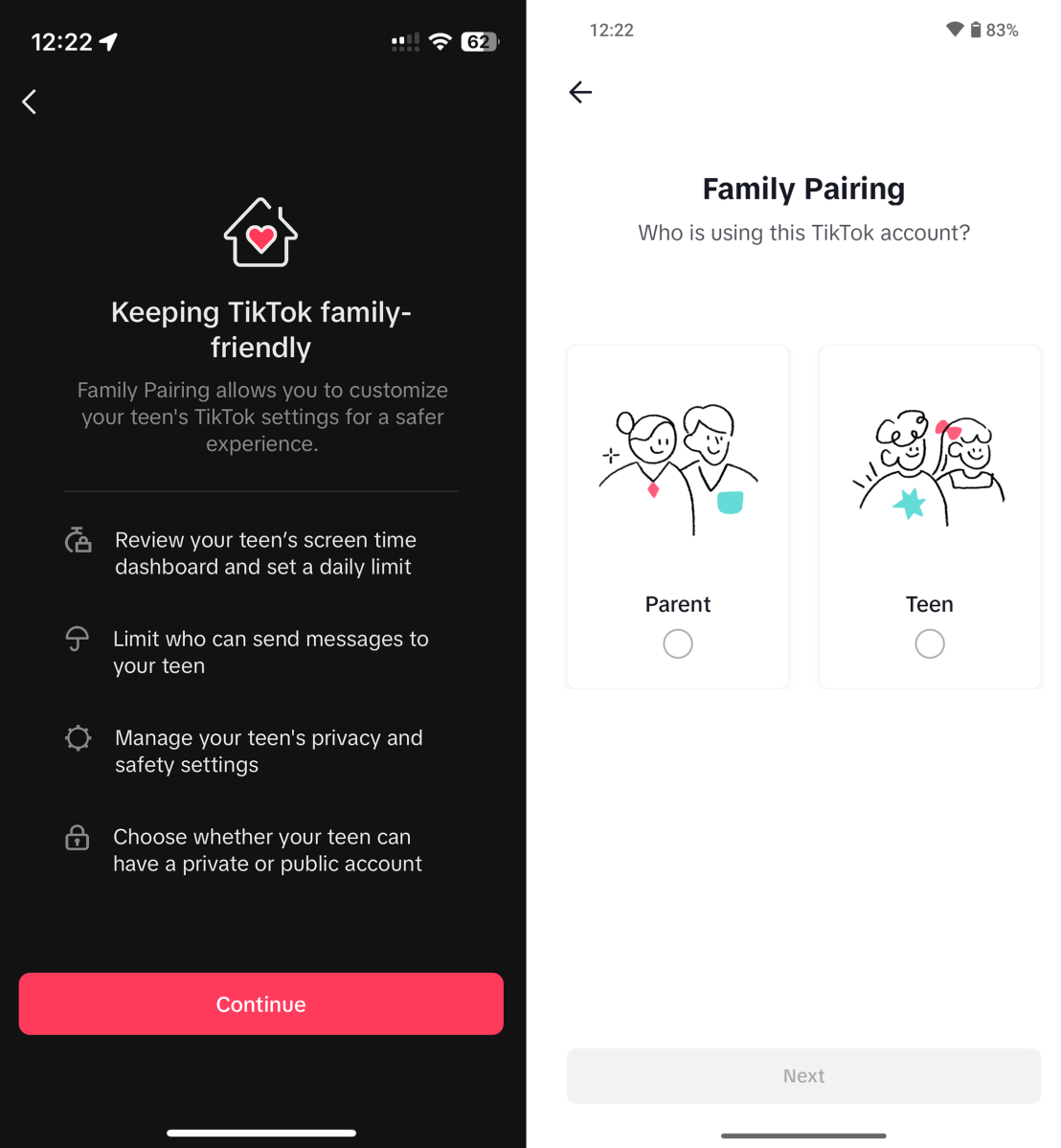 Artur Tomala / Foundry
In the menu, scroll down and select 'Settings and privacy', and from there, click on 'Family Pairing'.
3.
Link accounts
Artur Tomala / Foundry
Within the 'Family Pairing' section, make a choice between 'Parent' or 'Teen' depending on which account you are using. Follow the prompts in the app to link the accounts.
You will need to ask your child to log in to their TikTok account. They will need to scan a QR code from their device, which you can generate from your account. This will link the two accounts and allow you to manage certain settings on your child's account.
4.
Manage your child's account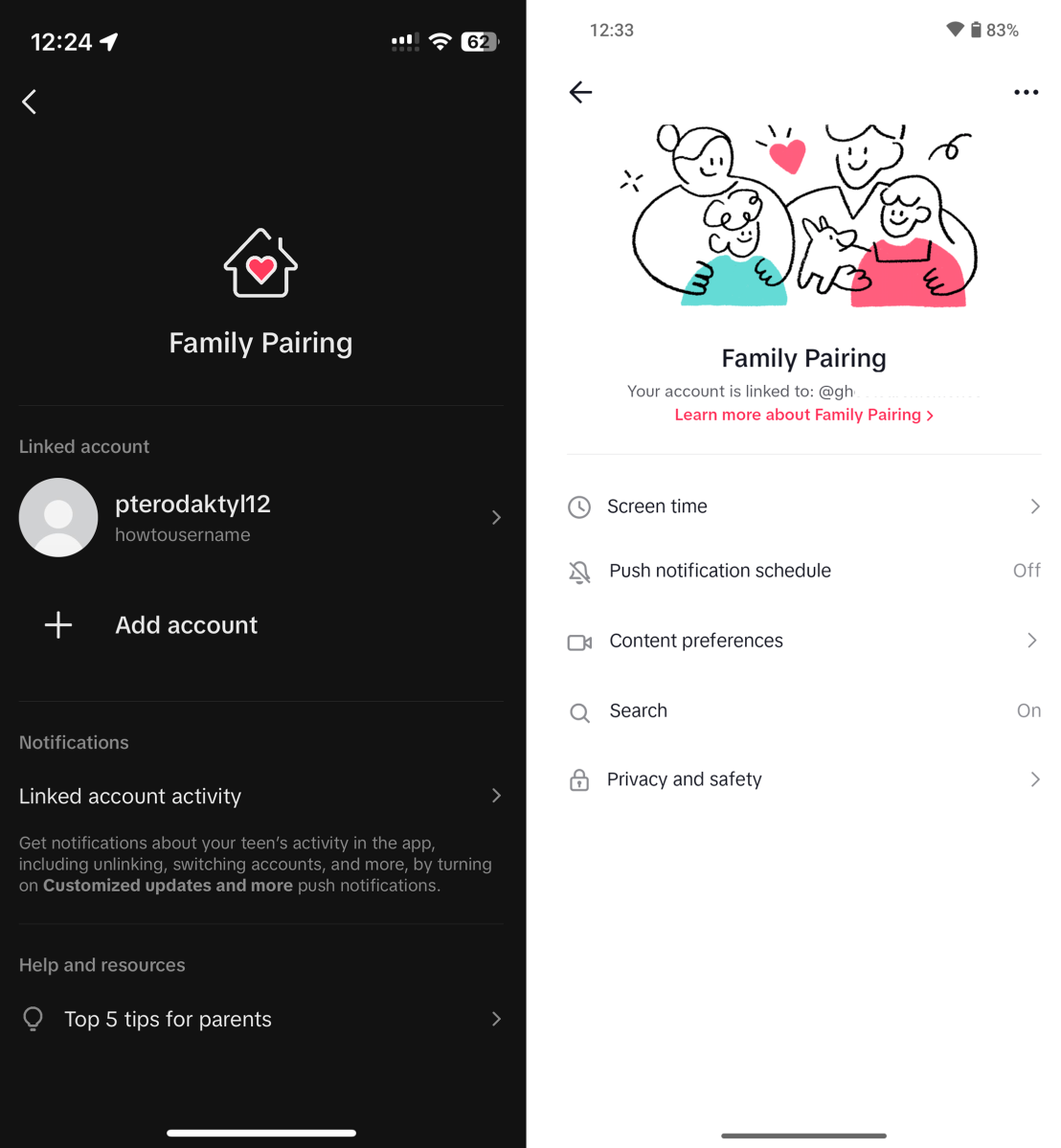 Artur Tomala / Foundry
Once the two accounts are linked, the parent's account will be able to manage the child's account in terms of screen time, push notifications schedule, content preferences, search history, as well as privacy and safety.
While parental controls are a valuable tool, open communication with your child about their online activities is equally important. Talk to them regularly them to understand their experiences on TikTok and address any concerns they may have.
It's a tricky situation, especially with slightly older kids who want the privacy to use TikTok without a parent watching over their shoulder but being naive about the potential dangers. But by enabling these controls and maintaining an open dialogue, you stand a good chance of striking the right balance between your child's online presence and their wellbeing.
You can learn more about Family Pairing and all its features TikTok's official support page.