Blue Beetle, the latest installment of the DCEU, will hit theatres this week. The film introduces a brand-new character to this universe. It covers the story of Jaime Reyes, a recent college graduate who unexpectedly faces a more significant challenge than finding a first job.
Due to a crazy coincidence, Jaime comes into possession of an ancient being called the Scarab. This "ancient relic of alien biotechnology" chooses Jaime as its host, granting him supernatural abilities. Equipped with extraordinary armour, Jaime becomes a superhero known as Blue Beetle.
The film will premiere in theatres on Friday, 18 August 2023. The leading role stars Xolo Maridueña, known for the Cobra Kai series. In supporting roles, you will see Adriana Barraza, Damián Alcázar, Raoul Max Trujillo, Susan Sarandon, and George Lopez. Blue Beetle was directed by Ángel Manuel Soto, with the screenplay by Gareth Dunnet-Alcocer.
Of course, you want to know if Blue Beetle has any bonus scenes, so without further ado, here's your answer: yes, yes it does.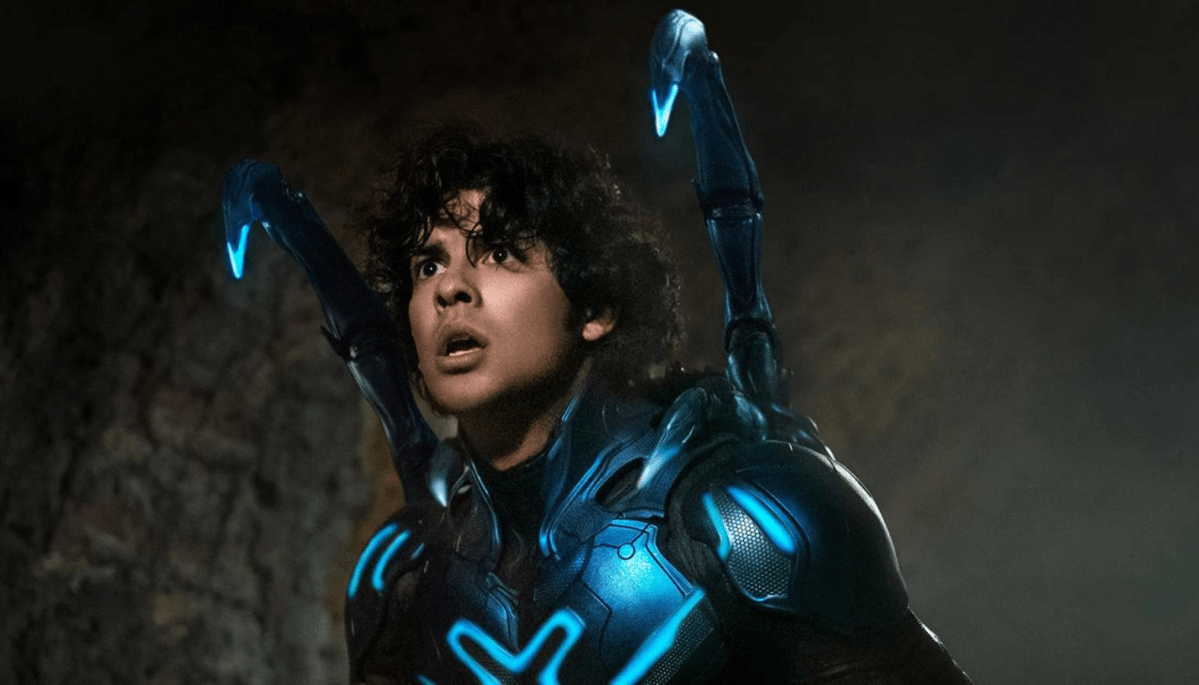 Warner Bros. Discovery
Does Blue Beetle have a post-credits scene?
Can you imagine a superhero movie in 2023 without a post-credits scene? Well, it's pretty difficult. Apparently, the creators of Blue Beetle didn't want to disappoint fans and 'hid' some extra material in the film.
In the movie, you'll find two additional sequences. The first will be a mid-credits scene, which you won't have to wait too long. The second sequence will be at the very end of the credits, so you'll need patience if you want to see it.
Below you can find predictions about the details of the post-credits scenes. Be cautious of spoilers!
Blue Beetle post-credits scenes explained
According to rumours, the first sequence was supposed to feature Peacemaker (John Cena). Another rumour suggested that there would be a reference to a superhero known as Booster Gold, who often collaborated with Blue Beetle in DC comics. This theory was supported by Peter Gunn and James Safran's announcement of an upcoming live-action series about this lesser-known hero. Therefore, a post-credits scene could introduce Booster into the evolving DC Universe.
None of it turned out to be true. In the mid-credit scene, creators decided instead to reference Jenny Kord's family history and her missing father, Ted, who was obsessed with the search for the Scarab. In the first sequence, you see Ted's underground laboratory, which helped him to operate as the Blue Beetle years before Jaime. Suddenly, one of the long-unused computers received a transmission, and a mysterious voice said that Ted Kord was alive.
The scene is quite significant from the perspective of the future of the DC universe. It can be seen as a gateway to another movie about the adventures of Blue Beetle, in which the missing Ted might appear.
Warner Bros. Discovery
The post-credits scene holds less importance for the main plot, and it's a nod to Latino culture. It includes a snippet of a Mexican cartoon, which Uncle Rudy used to disrupt security cameras in the Kord Estate building.
Related stories: