At a glance
Expert's Rating
Pros
Small
Hybrid
Up to 3 connections
Our Verdict
Stylish, compact, practical, hybrid – that's how we'd describe and sum up Cherry's KW 9200 Mini keyboard. It has almost everything going for it except the price and a few other minor details.
Price When Reviewed
$64.99
Best Prices Today: Keyboard Cherry KW 9200 MINI
Cherry is a brand that for the initiated needs no introduction.
For those of you who haven't heard of this manufacturer, you should know that it is renowned for having developed and patented the Cherry MX switches used for many keyboards, and for creating tech accessories (microphones, headphones and mice, among others).
In this article, we take a look at the KW 9200 Mini, a hybrid scissor-switch keyboard with a small footprint and three-way connectivity. Let's take a look at what it looks like, its capabilities and value for money. It might just be the one you've been looking for.
Design
Minimalist design
Lightweight
Carrying case included
This Cherry external keyboard lives up to its 'mini' name by measuring just 295.49 x 129.03 x 15.86 mm; its small size means it can easily find a place in your backpack or handbag for that matter, as well as on your desk, and follow you wherever you go.
It's discreet in terms of its size, but also in terms of its style: it's simply black on a red background, as are the USB-A outputs and the storage pouch. It makes an impact, but it's not too eye-catching.
Don't get me wrong, although this colour scheme is reminiscent of a gamer's style, the keys are not backlit (which is a shame).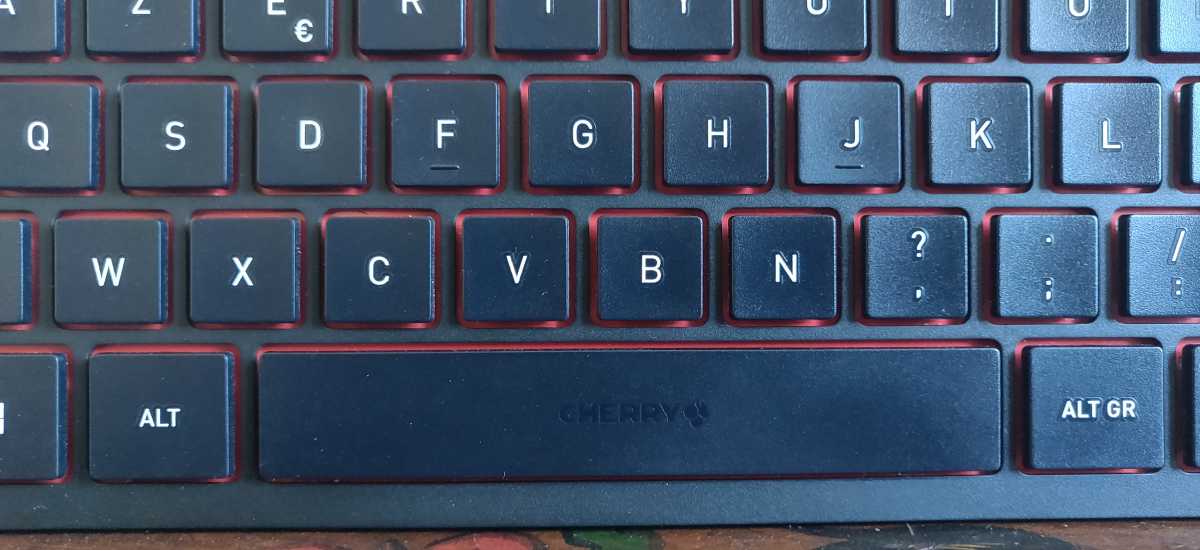 Foundry
What we really like about the design is that the black keys don't show fingerprints.
On the back, you'll find two feet to raise it up, three glides to keep it from slipping off surfaces, a dongle (inserted in its port) to provide a 2.4 GHz radio connection, a USB port for its cable, an LED to indicate the state of the battery, and finally the power button.
To achieve this small size, Cherry has dispensed with the numeric keypad and moved the FN key to the bottom right-hand corner near the direction arrows, so that you don't get lost when changing keyboards (from full to compact).
Finally, Cherry has provided a soft, recycled plastic case for you to store it neatly or take it with you.
Use
Multi-platform connection
Hybrid connection (dongle, Bluetooth and wired)
Quiet, comfortable typing
To sum up the use of the KW 9200 Mini, we'd say it's simple and effective, nothing more. In fact, this office keyboard comes with no software to provide additional functions. Its only specific features are its smaller size and its connections/compatibilities.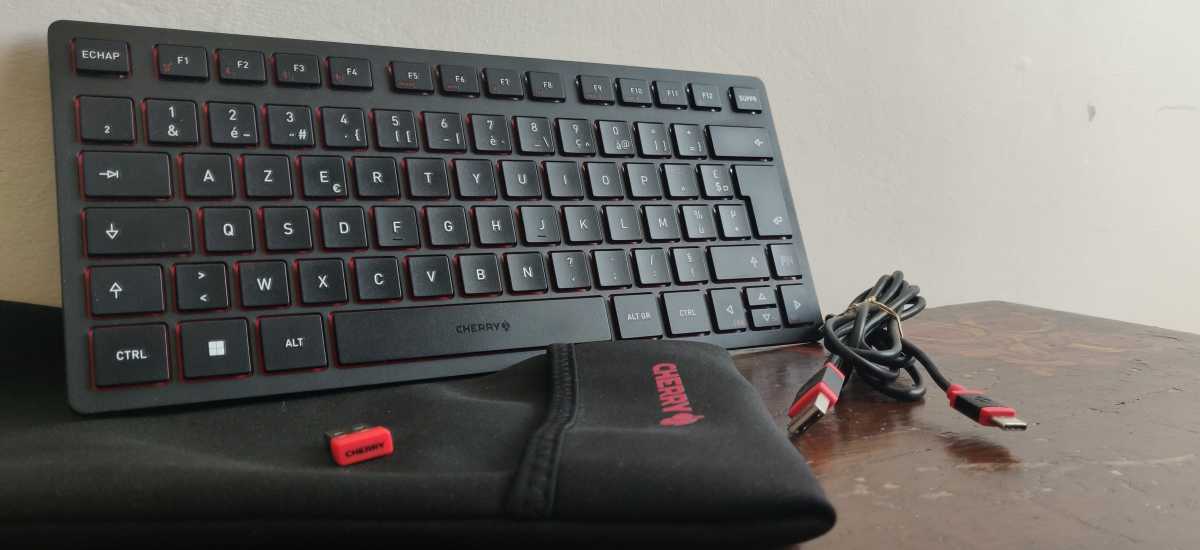 Foundry
However, we must stress that we greatly appreciated the fact that it can be used with Windows and Chromebook computers, and even Android device, according to the brand. If you have a Mac, you'll have to adapt as the Cmd key isn't there.
Finally, we welcome the fact that it can be paired with up to three devices simultaneously. This is a major advantage, and a very practical one if you often switch from one connected device to another. In our test, this was a little tricky, but only at first.
If you'd rather avoid the 2.4 GHz waves and connections with the dongle and Bluetooth 5.0 low latency, then you'll be pleased to know that there's the wired method. Its cable is an alternative, but also allows you to make up for the (sudden) lack of battery power. It's a good length (over a metre), which is long enough to be optimal in all circumstances.
You won't be dealing with a noisy scissor keyboard, so your typing will be pretty quiet, at about the same noise level as that of a laptop's built-in keyboard. This is due to the type of keyboard: this is a chiclet (rubber) keyboard rather than a mechanical one, and its keycaps are made of ABS plastic (which is softer and more durable). So don't worry about using the Mini in the office/home, in a train carriage, a café or a public library, you won't disturb the people around you.
The keys are spaced far enough apart to give you a short, precise, even keystroke that's the same as on a conventional keyboard. It's quick and easy to adapt.
Battery life and charging
Sensational battery life
Charges via USB-C
The Cherry KW 9200 Mini rounds off its list of good points with a long battery life, including the absence of backlighting. This keyboard can last you several weeks without recharging. However, even when it runs out of power (as indicated by the LED), it won't abandon you, as you can rely on its USB-C/A cable. Just plug it into your PC or a backup battery and you're back in business!
Price and availability
The Cherry KW 9200 Mini keyboard costs about $65/£70 and is available in the US from Amazon, and in the UK also from Amazon.
In our opinion the price is a little too steep for a simple device with no software customisation. In comparison, the Logitech K380 and K480 are currently priced similarly. On the other hand, it's worth noting that Apple's Magic Keyboard, exclusive for use with Macs, is more expensive.
Verdict
Cherry has come up with a superb mini-sized office keyboard, ideal for travelling. It's got everything: design, comfort, connections, compatibility and battery life. Nevertheless, there are a few minor disappointments, such as the lack of backlighting for use in low-light environments, the lack of a macOS version with the Cmd key, and the high price.
Admittedly, it's a good device, but it's a simple one with no additional functions, which makes it hard to justify its cost, even though it's lower than the Magic Keyboard, for example.
Specs
442g
295.49 x 129.03 x 15.86 mm
USB-C to USB-A
Scissor technology
Bluetooth, wired and encrypted 2.4 GHz radio connection via dongle
Carrying case
This article was originally published in French on Tech Advisor French Edition.