At a glance
Expert's Rating
Pros
Large, colour display
Key metrics shown on scale
Data-rich app
Cons
Visible metrics in app you can't access with this scale
Potential issues distinguishing between users
Our Verdict
There's no denying that this is a good smart scale, but it doesn't deliver enough for its price point to make it a must-buy.
Price When Reviewed
$99.95
Best Prices Today: Withings Body Smart
There are three models in Withings' latest line of smart scales: the Body Scan, the Body Comp, and the Body Smart.
You can read our reviews of the excellent, mid-range Body Comp and the flagship Body Scan to find out more, but bear in mind that the Body Scan is not yet available in the US.
The Body Smart is the basic model although, compared across brands, it's not a cheap device. It's considerably more expensive than a budget scale – and it doesn't do a huge amount more. Still, the Withings user experience is polished and the app provides far more information on what each metric means and why it's important.
Many other more budget-friendly models will offer a similar number of body composition measurements. The key difference is that the Body Smart will also measure your resting heart rate. This is something that few competitors offer, although the Eufy P2 Pro does – at around half the price.
Design and build
Colour screen that displays a number of metrics
Slightly bigger than budget scales
Battery-powered
The Withings Body Smart is a simply designed and attractive device, with a durable glass surface on a plastic base and an easy-to-read, full colour screen that displays a number of key metrics. Less expensive scales tend only to display weight on the scale itself, meaning you'll need to open the app for the rest of your measurements.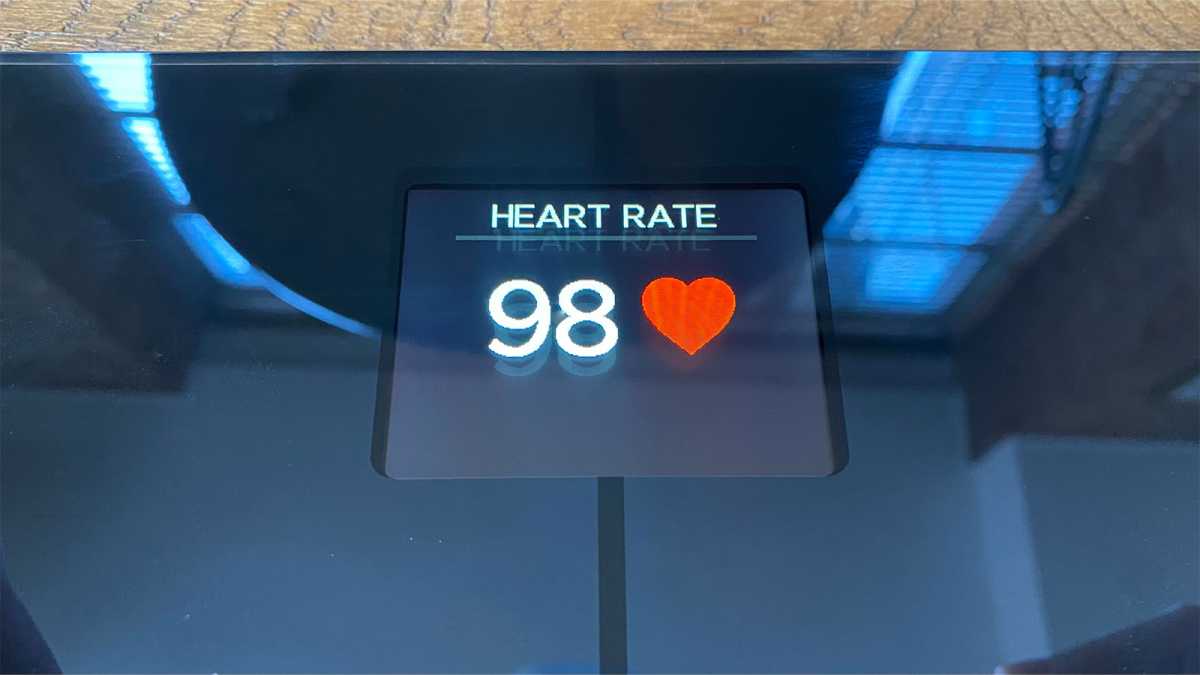 Emma Rowley / Foundry
The scale comes in black or white. We've tested the black model. It looks good but its glossy surface is prone to picking up fingerprints and other marks.
It measures 13 x 13 inches (33 x 33cm), which is a generous size and you'll feel secure standing on even if you're a larger person.
The scale is powered by four AAA batteries, which are provided and which Withings estimates will give you 15 months of use. At this price point, we'd really like to see USB charging, but Withings reserves that only for its priciest model, the Body Scan. Even if you spend $199.99/£189.95 on the Body Comp, you'll still only get a battery-powered scale.
Buy the Body Smart and in the box, you'll get the scale itself and four wide feet you can attach if you want to use it on carpet. The way to get the most accurate and consistent measurements, however, is to use it on hard flooring – and to weigh yourself at the same time of day each time.
Set up
Wi-Fi or Bluetooth pairing
Difficult to set up in our test
Modes include eyes closed
You'll need to download the Withings Health Mate app for iOS or Android. It's probably the best smart scale app currently available and it's free to download and use. You can then pair your scale.
In some respects, it's unfair to judge a smart device by a single, poor set-up experience. It's hard to say whether it's an issue with the device itself, a wobbly Wi-Fi moment, the weather, the alignment of the stars, or perhaps a whimsical adjustment to the simulation we're all stuck in.
But the fact remains that the Body Smart was not easy to set up and dropped connectivity several times during the process. It should also offer Bluetooth if connecting via Wi-Fi proves difficult, but this did not appear as an option.
Once it's set up, you'll need to create a profile. With this done, the app offers a guide on how to use the Body Smart, suggests you set a fitness goal, and helps you to add additional users.
You can also choose a mode. These include athlete (sadly, not applicable here), weight only, or eyes closed.
In eyes-closed mode, numerical body measurements won't appear on the scale itself. This offers a gentler way to track a fitness journey without having to confront its harsh realities every morning.
A pregnancy mode will be added soon in a software update.
Performance and app
Comprehensive series of metrics
Useful explanatory information in app
Customisable display
Like all smart scales, the Body Smart uses bioelectric impedance analysis (BIA) to measure your body composition.
This means standing on the scale with bare, dry feet. If you've never used a smart scale before, it's not a painful process. In fact, you can't feel it at all.
The Body Smart will measure your weight and use that (along with the height and age you input) to calculate your BMI (body mass index). It will give you a body percentage estimate for muscle, fat, and bone and show your muscle, fat and bone mass.
The scale provides a separate measurement for visceral fat (the more worrying type of fat that wraps around your organs, as opposed to the more visible subcutaneous fat that sits closer to the surface) and calculate your lean and water mass.
The scale will also display your resting heart rate. You'll see this in the app as well, but only the latest measurement; you can't see a trend graph.
The key measurements – weight, body composition, and heart rate – are on the home page and you can click on them to see trend graphs, trend figures and related measurements. BMI, for example, is displayed when you click on weight.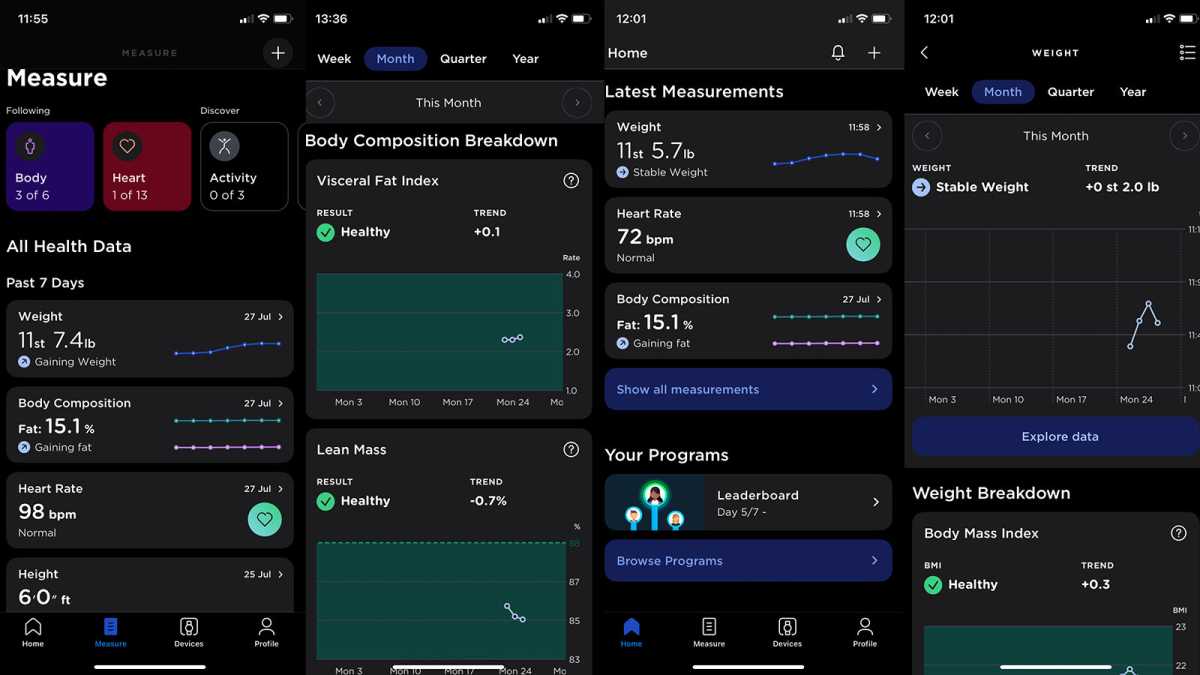 Foundry
What might be confusing at first is that if you click on "all measurements," you'll see that you're only tracking three of a possible six body measurements and one of a possible 13 heart metrics.
But all these possible measurements are only available if you either buy a pricier Withings scale or another Withings product, such as the Withings Thermo, the brand's "smart temporal thermometer" ($99.95/ £89.95).
It feels deliberately designed to give you FOMO and make you wish you'd bought the equivalent of an all-access pass.
But this is balanced out by the amount of useful additional information the app provides. There are handy primers on a range of topics, from body composition to muscle mass, which will give some context to what are otherwise only numbers on a trend line.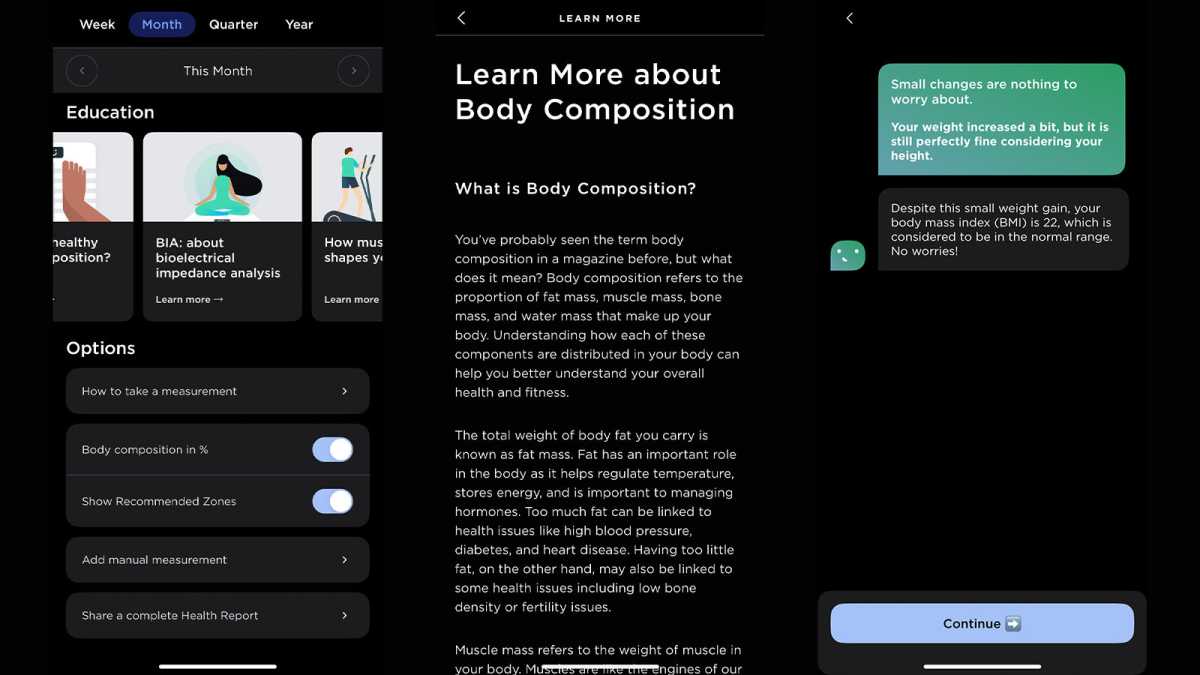 Foundry
You'll also get feedback in the form of "Insights", which is basically just the app commenting on your weigh-in numbers. You might be happy to know you can switch this feature off.
In the app, you can also customise the metrics shown on the scale's screen and adjust the way information is presented on your phone.
You can log food intake and share a health report, perhaps if you wanted to send information to a personal trainer. At this stage, however, you can't join Withings+, a subscription service that includes six week "habit-building" health modules. That's only available if you buy the Body Scan or Comp, with which you'll get a free trial of the service.
If you want to be able to export your data to another app, Withings plays nicely with plenty of the major fitness apps, including Apple Health, Google Health, and MyFitness Pal, among others. You can see the full list of partner apps for the US, and the EU and UK at the Withings website.
In terms of day-to-day use, the only problem I had while testing was when introducing a second profile for another user. When you create a profile, you'll need to add basic measurements, including height and weight. Why do you need to assign weight to a profile when you're just about to weigh yourself? Well, that's how the scale decides which profile to send weigh-in information to.
If the given weights of the users are too close, it can have trouble deciding which measurements to send to which account. This created a sort of Frankenprofile with two sets of measurements combined and was a bit of a hassle to unpick. I'd suggest that if two people of similar weights want to use the scale seamlessly, you underestimate the lower weight and overestimate the higher one to create more of a gap between them.
Personally, I'd like to see an option to choose a profile before a weigh-in.
Price and availability
In the US, the Body Smart is priced at $99.95 and it's available from Withings, Amazon and Walmart, among others. There's currently no price advantage from buying at any retailer.
In the UK, it's £89.95 and you can buy it from Withings, Argos and Boots but again, there are no deals on at the time of writing.
When compared to the other scales in the new Withings line, the Body Smart is cheap – but not when you compare it to rivals with a similar feature set. You'll find more budget-friendly options with similar feature sets in our round-up of the best smart scales overall.
Verdict
If you regularly use a Withings smartwatch or activity tracker and want an accompanying smart scale, but don't want to pay more than $100/ £100, buying the Body Smart is a no-brainer. It's comprehensive and polished, with a great user experience.
It's harder to justify the price of this scale if you're not already a Withings user. The Body Smart doesn't do much more than a scale half its price. If you're not interested in the Health Mate app's explainers and insights, there's not much added value. Plus, there's the fact that you'll be painfully aware of all the features you could access if you'd only ponied up for the deluxe Body Comp.
All in all, it's a solid scale but it's neither cheap enough nor feature-packed enough to be a must-buy.
You can compare it with the other new Withings scales in our article on which Withings smart scale to buy.
This review was first published on TechHive.
Best Prices Today: Withings Body Smart