At a glance
Expert's Rating
Pros
Sync finish
Viewing windows & light-up baskets
Well priced
Cons
Takes up a big chunk of space
Relatively high energy use
Our Verdict
The Chefree AFW20 air fryer is huge but if you can find the space for it, it's a versatile and feature-packed cooker that you can use to make entire family-sized meals – and it couldn't be easier to use.
Price When Reviewed
Not currently available in the US
When air fryers first became a buying craze, those not yet on board were bemused. If you're used to cooking in an oven, it can be hard to see how much better an air fryer can be.
But there's literally no way in which are fryers – essentially just compact convection cookers – are not an improvement on traditional oven cooking. They're faster, cheaper to run and have inbuilt alerts when your food needs shaking up and when it's ready. Plus, they allow for one-button programming and are much easier to clean.
But there's a snag. Buy an air fryer that's not right for you and you won't experience the magic. It'll become just another piece of kitchen clutter and you'll revert to your oven.
In this review, we're looking at a dual-drawer air fryer with a lot of features that could very well make it ideal for you – if you have the space.
Design and build
Large size
Simple touchscreen operation
Comes with a cooking chart
The Chefree dual air fryer is a big beast, 38cm wide, 31.5cm deep and 30.5cm high. It's not ugly but it is aggressively functional looking. And as it's almost entirely black when switched off, except for its silver-coloured drawer handles, it'll be a hulking, monolithic presence on your countertop. Still, it won't look out of place if you have a modern kitchen.
You'll need to find a dedicated space on your counter for it. It's too large and heavy to keep in a cupboard and whip out when you need it. You'll also need to make sure it's well away from your hob as the plastic on its sides is not particularly heat-resistant. I have a small kitchen and struggled to find somewhere safe for it to stand.
This is the trade-off for its large internal capacity of two 4-litre drawers. You won't be able to roast an entire chicken in it – but it is versatile. Unlike large, single-drawer air fryers, you can cook two separate dishes at once, using different cooking methods and times, or just use a single drawer for smaller volumes and save energy.
Switch it on and a touchscreen illuminates, giving you the option to choose the left or right drawer, or switch on the left or right drawer light – or both. If you choose to programme both drawers (by hitting L=R), the entire touchscreen lights up like a Christmas tree.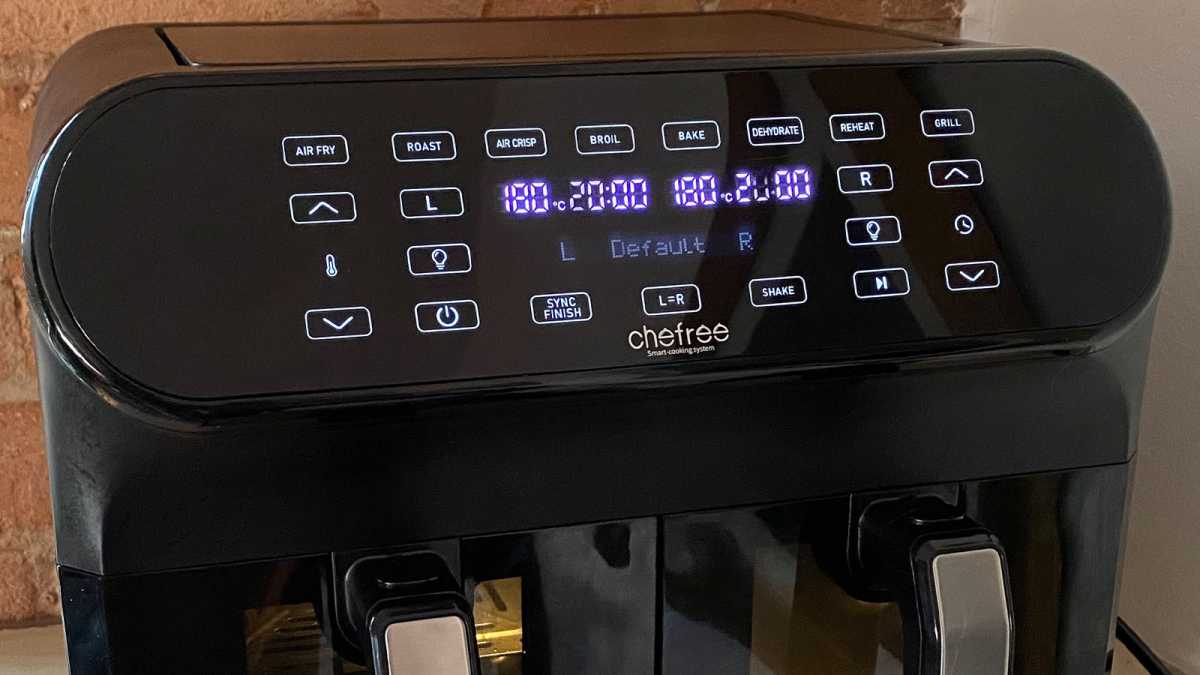 Emma Rowley / Foundry
The number of settings look daunting but in fact, it's incredibly simple to use. There are no multifunction buttons, so there's nothing to remember.
Along the top are one-touch programme settings. There are eight options: air fry, roast, air crisp, broil, bake, dehydrate, reheat and grill.
Choose one of these and you can then tweak the temperature and time, if needed, using the up or down keys for the settings.
In case you're not confident with air fryer cooking, the Chefree comes with a comprehensive cooking chart that'll give you cooking timings and temperatures for everything from butternut squash, to bacon, to salmon fillets, to prawn tempura. We'd like to see every air fryer arrive with something similar, as all your favourite oven recipes will need a bit of an adjustment to come out well in an air fryer.
Your chosen heat settings will be displayed in the middle of the screen and you'll see the timers count down as your food cooks.
Performance and settings
Synch finish function
Shake and programme end alarm
Viewing windows and lights
Preparing the Chefree is simple. You'll just need to wash the baskets and crisper plates before their first use. The crisper plates and baskets are dishwasher safe but they have a good non-stick coating, so they're also quick to wash by hand – and will certainly last longer that way.
The first time you use the air fryer, it'll give off a plasticky smell so you might want to run it once or twice without food.
The crisper plates can be fitted into the drawers where they'll sit about a third of the way down. If you're air frying or grilling something like chicken breasts, they'll raise your food closer to the heat source for a crispier finish.
Emma Rowley / Foundry
There's a setting for any kind of cooking or heating you need. There's even a broil setting for top-down heating only, so you can melt cheese toppings.
I found that I had to turn up the temperature more than on some rival appliances to get it right but once I had the settings down, the Chefree was impressive.
It's good for proper cooking, including baking. I made individual apple crumbles in heatproof cooking pots and they turned out well – and were ready much faster than if they'd been oven baked.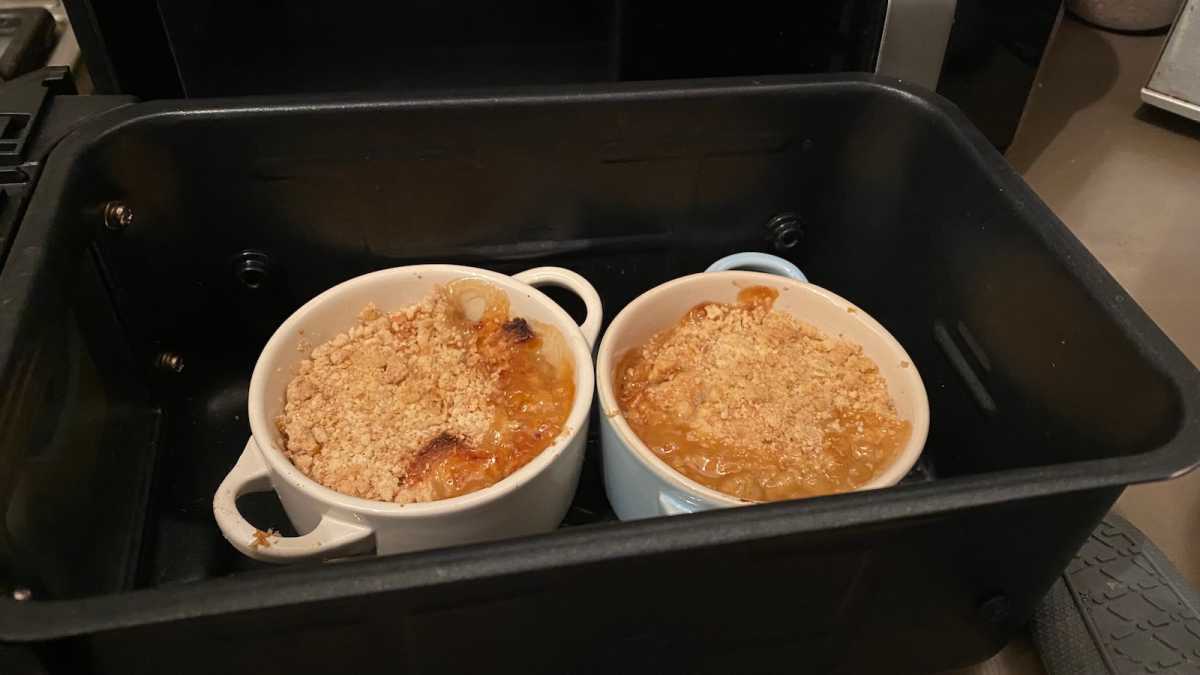 Emma Rowley / Foundry
Toasted sandwiches came out crunchy, with perfectly gooey melted cheese fillings, gnocchi were crisp with fluffy centres, and roast potatoes were done in half the time.
It's also handy for quick jobs around the kitchen, like reheating pizza and other leftovers.
The Chefree AFW20 has all the features you could want for easy cooking. It alerts you when food needs to be shaken, and when the programme ends. You can pause and cancel programmes with one button.
One of its standout features is the sync setting, which allows you to programme both drawers for different times, on different heat settings, but have both finish cooking at the same time.
This is a huge time-saver and eliminates the stress of going back and forth to the kitchen to check on a dish and then keep it warm until the next dish has finished cooking. You just set it up, then go and relax until it alerts you that your food is ready.
Finally, both drawers have viewing windows and lights you can switch on so you can easily see how the food is getting on, without opening the drawers. This came in handy to see when cheese had melted and dishes had browned.
Energy use
The only real downside of the Chefree – beyond its size – is its energy usage. The dual drawer Chefree is a 2,400W appliance. On my tariff, if I use it at full capacity (ie cooking with both baskets), it would cost me around 74p for an hour's cooking – which is a lot.
To be fair, you won't need to run the Chefree for an hour, unless you're dehydrating fruit or meat to make jerky, in which case it would be on a very low heat and won't be running at full capacity.
In the booklet, the longest cooking time (on one of the ordinary settings) is for four chicken breasts, which take 34 minutes. If I can fit them in one drawer, it would cost me around 19p to cook them.
But most recipes take around 15-20 minutes and if I'm just using a single drawer for this amount of time, it'll cost around 12p, which makes it a pretty economical way to cook.
You can figure out what it would cost you to run by using an online energy calculator.
Price and availability
The Chefree AFW20 has an RRP of £179.99 (according to Chefree) or £159.99 (according to Amazon). But at the time of writing, both vendors are offering better deals. it's available from Amazon in the UK for £149.99 and direct from Chefree for just £129.99. At this price, it is well worth it – providing a lot of versatile cooking space and every feature you could want for a very competitive sum.
Verdict
Whether you're still oven cooking or have a single drawer air fryer, a dual drawer air fryer will be a huge upgrade. The Chefree AFW20 isn't the prettiest kitchen appliance you'll see but it is versatile, effective and easy to use.
If this isn't the right air fryer for you, have a look at our round-up of the best air fryers we've tested for more recommended options.
Specs
Dimensions: 38 x 31.5 x 30.5cm
Weight: 7.8kg
Wattage: 2,400W
Cooking presents: 8
Capacity: 8 litres