Right now – as I write this – the iPhone 15 might be on everyone's lips. It's fresh out of the Apple oven and the Pro models are especially tempting with a plethora of new features and interesting design changes.
However, the big premiere doesn't stop Apple from thinking ahead, even if the iPhone 15 is only just on sale.
Of course, it's highly likely Apple is already working on the next generation of iPhones behind closed doors. And if that's the case, there could be some leaks about the upcoming features. The iPhone 16 is no different, so here are all the rumours about the next year's iPhone.
iPhone 16: Release date
Apple has an almost clockwork release schedule when it comes to iPhones. September is traditionally when we see new models, and we have no reason to suspect the iPhone 16 should change that pattern. So, we're very confident in predicting that you should be able to get your hands on the new iPhone 16 in September 2024.
Things were a little different with the iPhone 14 launch though, as the standard model arrived when expected, but the new iPhone 14 Plus was delayed by a few weeks so customers only received them in October.
However, with the iPhone 15, everything went back to normal and all four models of the now-newest iPhone are going on sale on the 22nd of September. With the supply chain seemingly back to normal, we do not expect any delays when the iPhone 16 launches – provided, of course, nothing unforeseen happens.
iPhone 16: Price
Apple has been quite consistent with its pricing over recent years. There were some price hikes recently, but they are (at least in large part) due to higher manufacturing costs and inflation. It's worth noting that iPhone 15 Pro Max also starts at 256GB storage, so its price is accordingly higher.
This is the pricing for the current iPhone 15 range:
iPhone 15 – $799/£799
iPhone 15 Plus – $899/£899
iPhone 15 Pro – $999/£999
iPhone 15 Pro Max – $1,199/£1,199
We expect that next year these prices should remain the same, or be at most $100/£100 higher. However, we are also looking forward to either a higher-tier iPhone model or a rebranding of the Pro Max version to the iPhone 16 Ultra. This could also mean a heftier price tag, as everything points to it being an even more advanced, feature-rich device. Therefore, expect it to cost around $1,499/£1,499 or even more.
iPhone 16: Rumored new features
Obviously, with so much time to go until the iPhone 16 range is revealed, we only have a few clues and reports on what Apple has in store. Nearly all of it covers the Pro versions, but hopefully, we'll be able to dig up some details on the standard models over the next few months. Here's what we've found so far.
Camera upgrades to the Pro models
The most prominent rumours so far have been about the potential camera upgrades that may accompany the new devices. GSM Arena, among others, has written about leaks out of China that say the iPhone 16 Pro Max will come with a periscope camera that could deliver up to a 300mm focal length (that's 12.5x in 35mm terms).
The iPhone 15 Pro Max's telephoto lens has a focal length of 120mm (35mm equivalent). This is part of a staged upgrade, with the iPhone 15 Pro Max seemingly a stepping stone to an even more powerful one on the 16 Pro Max. It's likely the iPhone 15 Pro Max's 5x lens will then be fitted to the iPhone 16 Pro.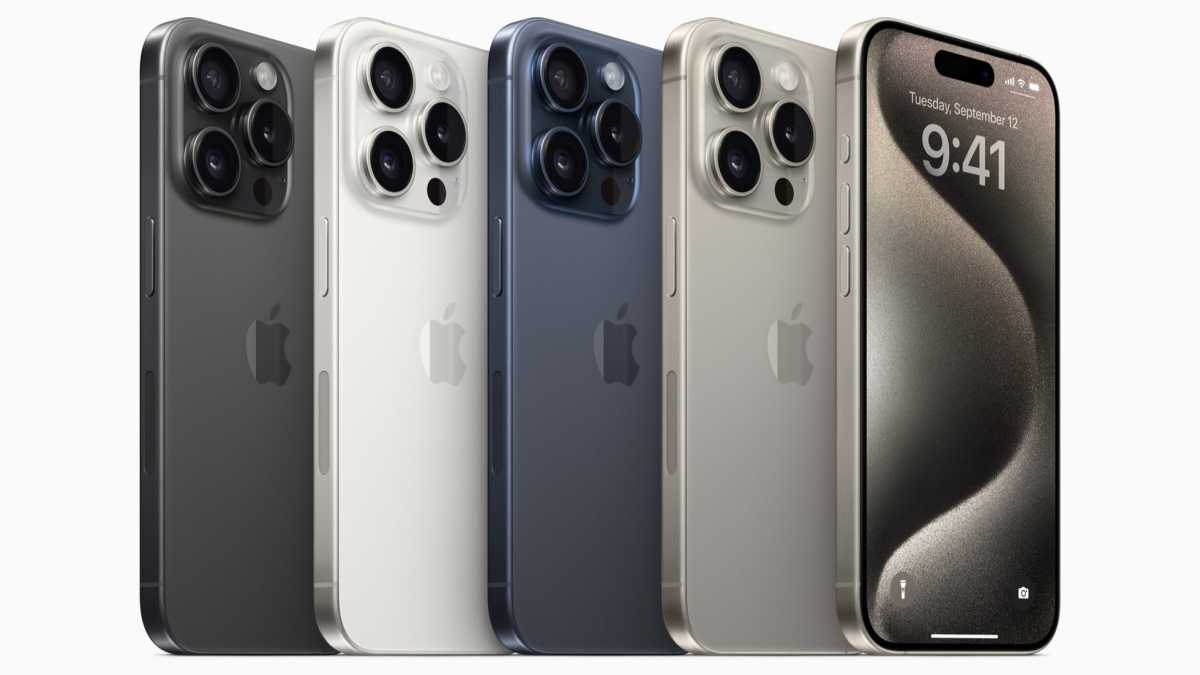 Apple
Presumably, with such long focal lengths on offer, the iPhone 16 Pro Max will also feature upgraded OIS to stop the inevitable shakes that happen when you're focusing on a subject that far away. The reports also suggest we might see an increase in sensor size, with a 12 percent upgrade to 1/1.14in. This would fit in with other rumours that say Apple will use a new stacked CMOS sensor in the 16 Pro models, capable of capturing more light for better exposures.
A report from Ming-Chi Kuo claimed in September 2023 that the enhanced telephoto camera will come to the smaller iPhone 16 Pro next year.
MacRumours also cited a post from analyst Ming Chi-Kuo that a new 48-megapixel wide-angle lens in the iPhone 16 Pro and Pro Max will consist of an eight-part hybrid lens, accompanied by dual glass elements as well as an additional six plastic ones. So, it seems that much of the focus so far, at least on the Pro models, is centred around improving the already impressive camera features.
Goodbye to the notch?
The displays on the Pro models are thought to increase this time around, with display expert Ross Young reporting that the iPhone 16 Pro and Pro Max will respectively increase from the current 6.1in and 6.7in panels to 6.3in and 6.9in ones. There's also plenty of speculation that Apple will finally follow the rest of the industry and implement an under-display security unlock feature. But, it's going to be Face ID rather than Touch ID. How it does this will be fascinating to watch. It could also finally see the removal of the notch, or at least a large part of it, with the Dynamic Island, thought to be reverting to some kind of software solution rather than the hardware one it is at the moment. That still leaves the need for the selfie camera though, so maybe the notch won't quite leave the stage just yet.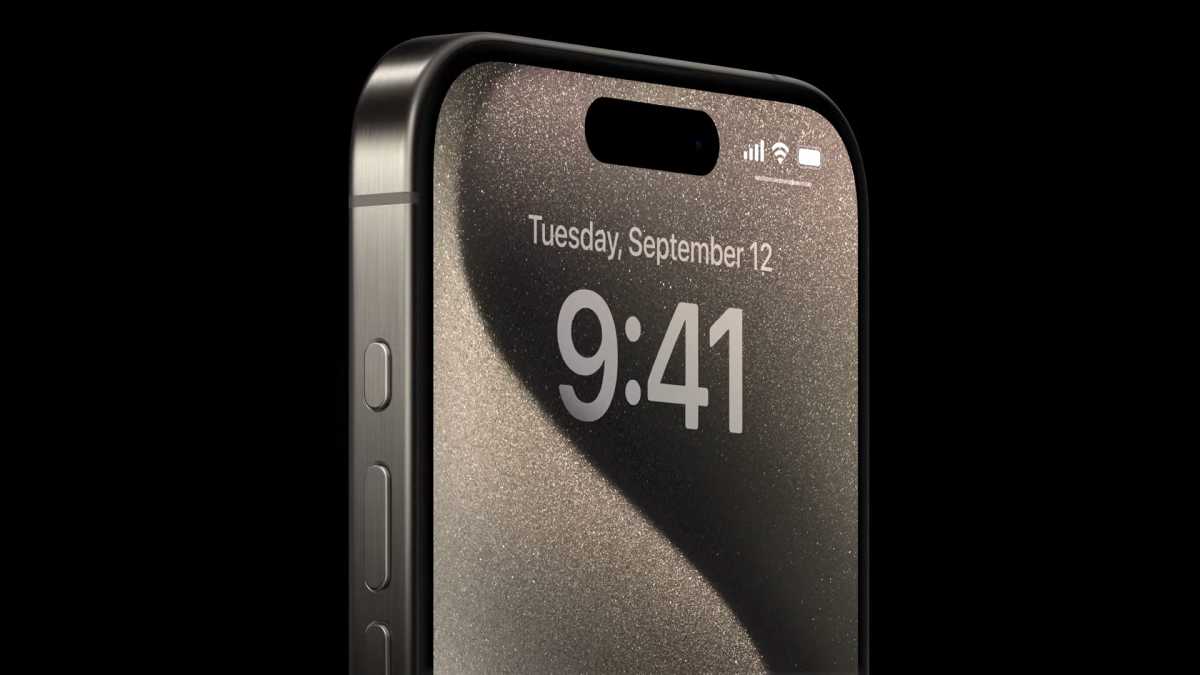 Apple
Solid-state buttons
It had been reported that the iPhone 15 range would see the removal of the traditional buttons, replacing them with solid state versions instead. This would be similar to when the solid-state Home button on the iPhone 7 replaced the physical button from the iPhone 6 lineup. Technical difficulties seem to have stymied the approach though, so now it's thought that they will be held back for the iPhone 16 range instead.
That's all we've seen so far, but we'll keep updating this article as more information comes to light. In the meantime, you can also take a look at our roundup of the iPhone 15 so you know what the iPhone 16 will have to beat.
iPhone 16 Ultra
One of the more interesting rumours that were circulating even around the iPhone 15 launch was the possibility of yet another model, called the iPhone 15 (or now 16) Ultra. We are not sure whether it would be a fifth version of the iPhone or a rebranded iPhone 16 Pro Max, but there is quite a lot of talk about this faster, more feature-rich version.
Of course, it is supposed to be even more pricey than the current lineup, but in exchange, customers would get a slew of upgrades. It's supposed to feature an upgraded, faster variant of the A18 SoC (presumably with more GPU cores), a bigger screen, and possibly even a portless design.
A17 Bionic chip
When Apple introduced the new 3nm processor for the iPhone 15 Pro models, it also changed the name of the chip, from the A17 Bionic to the A17 Pro. The new surname indicates that it will be a special version of the chip for the Pro models, which means the iPhone 16 will likely get a stripped-down version of the chip called the A17 Bionic. A report from Jeff Pu at Hong Kong investment firm Haitong International Securities also said the phone will have 8GB of RAM like the iPhone 15 Pro and Pro Max.
iPhone 16: Wishlist
Those are some of the rumours that have been talked about by at least a few sources. However, there are also some changes that we would like to see, but they have not been confirmed yet or were cited only by one or two people online.
New Wi-Fi standard
iPhone 15 only just introduced the Wi-Fi 6e standard to the lineup, but we're already waiting for Wi-Fi 7. Wi-Fi 6e is already in most Android flagships, so Apple couldn't really stay behind for much longer. This change not only increases wireless internet speeds and bandwidth but also makes it more stable and reliable. Perhaps in the iPhone 16 Apple will move straight to Wi-Fi 7, which brings even more benefits.
Better integration with Vision Pro
Apple's AR headset, Apple Vision Pro, is going on sale in 2024. We're expecting the company to do its best to integrate it seamlessly into the ecosystem, and the iPhone will be a gateway for this. While the iPhone 15 will be the first to start working with the headset, we're expecting the iPhone 16 to make this integration even better, possibly by introducing special hardware components to facilitate better, more stable and faster connection with the headset.
Under-display front camera
We are expecting Dynamic Island to shrink next year, but what about getting rid of it completely? Such a feat could be reserved only for the Ultra version of the iPhone 16, but Apple could finally board the under-display, front-camera train and show off its skills in this department. it would certainly be something to see a perfect, notch-less (or hole-less) iPhone screen on the upcoming iPhone 16 Ultra.
New design
Finally, we are really looking forward to some bigger changes in Apple's iPhone design. Don't get me wrong, the current models look gorgeous, and the titanium frame of the Pro lineup is a sight to behold. however, the whole package is getting a bit stale now, dating back to the iPhone 12 and its return to flat edges. iPhone 16 would be a great place to try something new.