At a glance
Expert's Rating
Pros
New Expedition mode
Good battery life in heavy use
Lots of modes for divers
Cons
Dive watch-inspired design doesn't quite work
Lacks full maps
It's not cheap
Our Verdict
The Huawei Watch Ultimate does offer useful features for divers, hikers and lovers of the great outdoors in general, but as a package there's better albeit slightly more expensive watches you can grab instead to get you a better rugged piece of wrist wear.
Huawei has made a bigger push with its smartwatches in recent years and the Huawei Watch Ultimate represents a move into new watch territory – one that's firmly aimed at the same crowd who'd think about grabbing an Apple Watch Ultra.
The Ultimate sits above Huawei's new Watch 4, GT series watches and even its earbud-packing Watch Buds, promising to let you track everything from deep sea dives to multi-day treks with the features and smarts to chart your performance and progress.
It costs less than Apple's Watch Ultra and Garmin's AMOLED-packing Epix range, so the Ultimate could offer a slightly cheaper route to owning a feature-packed outdoor smartwatch.
Design & build
Weighs 76g
Titanium and rubber straps available
10 ATM water resistance
Huawei has opted for a round watch design with the Ultimate available in two models with both offering three physical buttons as opposed to the typical two you find on other Huawei smartwatches. That extra button is reserved for the new Expedition mode.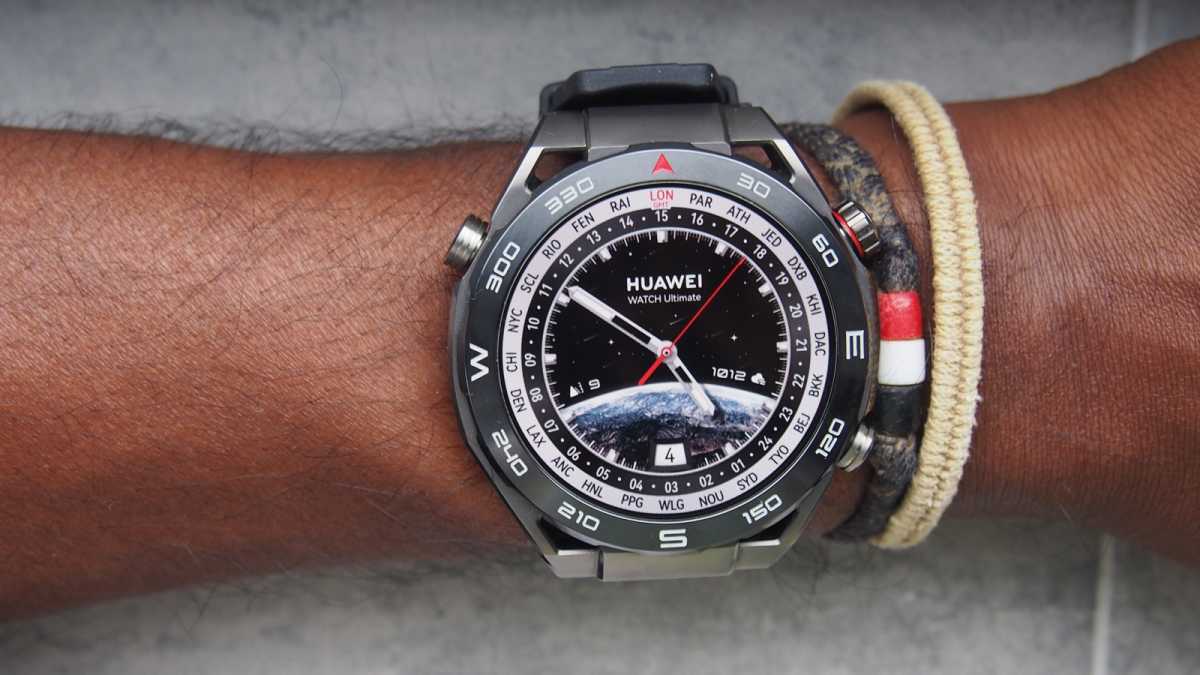 Mike Sawh
The Voyage Blue Ultimate has a design inspired by sailboats and definitely has a more dive watch feel about it while the Expedition black model feels more geared towards that adventure time spent away from the water.
The Voyage version comes with a titanium and a rubber strap while the Expedition version only comes with the latter. You can remove those straps easily if you want to switch things up.
I actually tested both Ultimate versions and found the titanium strap on the Voyage Ultimate far too big for my wrists, while the rubber offered a better and more comfortable fit for all-day use.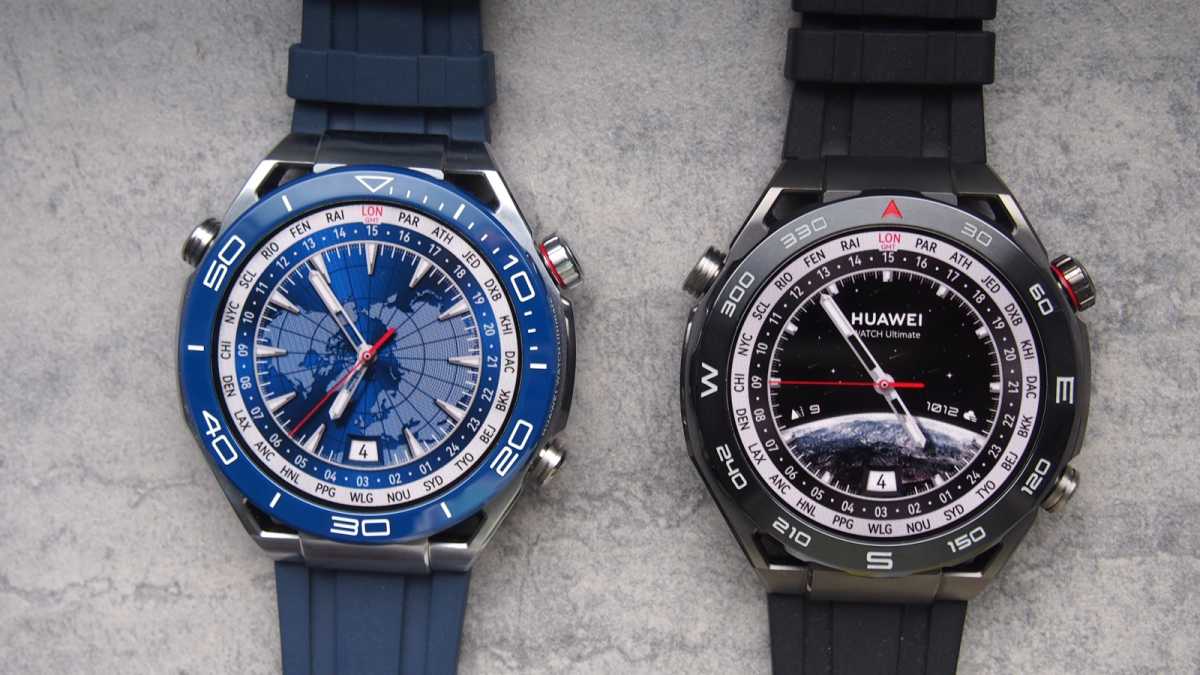 Mike Sawh
Huawei is using ceramic and liquid metal in the watch design, which does mean you're getting something with high quality materials, but does also weigh 76g and those with skinny wrists will know it's there. I certainly didn't forget it was on. The Apple Watch Ultra weighs 61.3g and definitely feels a more manageable weight in comparison.
The Ultimate has been designed to be suitable to take free-diving, so it needed an extra level of water resistance that you'll not find on other Huawei watches. It's carries an 10 ATM-rated design, making it safe to be submerged in water up to 100 metres. In addition to that it meets the EN 13319 standard for diving accessories to be able to operate when you head deeper into the water.
Around the back is where you'll find the optical sensor array to track metrics like heart rate and blood oxygen levels, while you do also get an ECG sensor here to take more accurate heart rate readings too.
Display and speaker
1.5-inch AMOLED display
Can be used in always-on mode
Sapphire glass watch dial
Huawei rarely disappoints with its smartwatch displays and that doesn't change here. There's a 1.5in, 466 x 466 pixel resolution, LTPO AMOLED touchscreen display. That means a more energy efficient display technology that delivers that strong qualities of an AMOLED like accurate colours and vibrancy.
There's sapphire glass on top, which is typically found in more expensive watches and aims to offer better protection against scratches compared to other watch dial materials.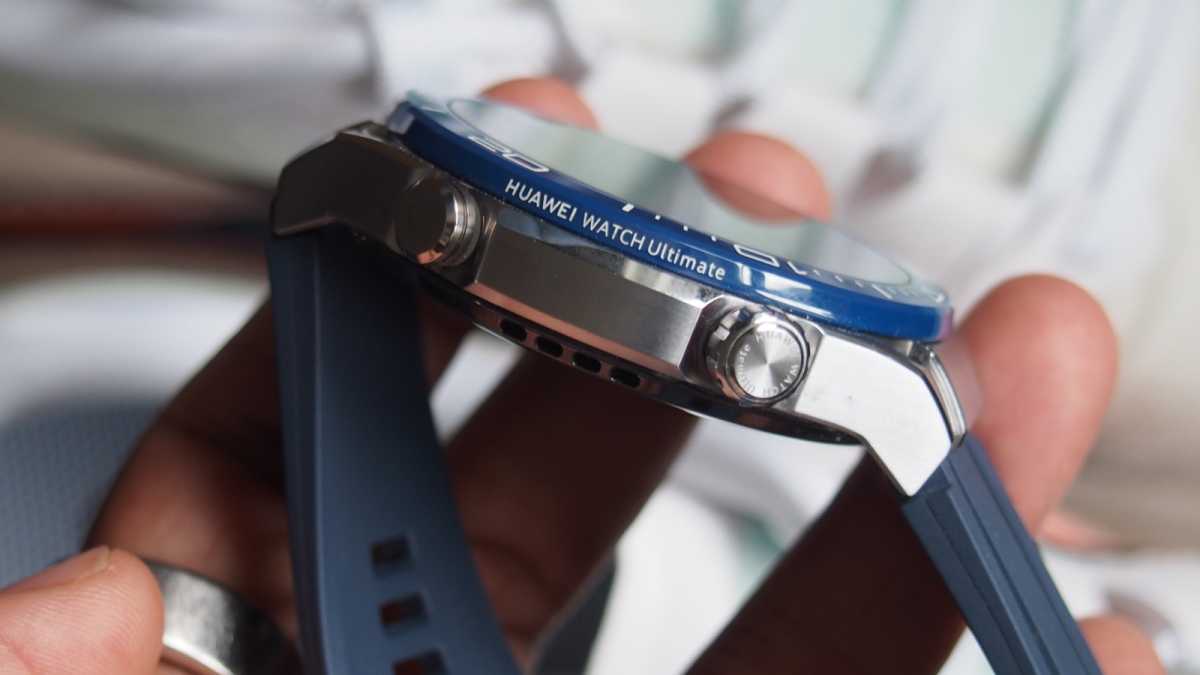 Mike Sawh
It's a really top notch screen from a visibility point of view and also makes Huawei's Harmony OS software look and feel great to interact with. There's no lag when you're navigating menu screens and the raise to wake gesture support is nicely responsive too. If you want to keep the screen on at all times, you do have the option to switch to always-on mode from the watch settings.
Huawei does make room for a speaker and microphone, which means you can receive workout prompts and handle calls when you're connected to your phone via Bluetooth. The Ultimate doesn't include the eSim support like you do on the Watch 4 and Watch 4 Pro to make calls without your phone nearby.
If you do handle calls, the Ultimate's speaker setup does go up pretty loud and isn't a muffled mess with good call clarity on the whole. I did immediately want to crank down the workout voice prompts, which are delivered by possibly the most off-putting voice as it shares your stats.
Software & features
Harmony OS 3.0
Access to Watch AppGallery
No e-SIM support
Like Huawei's other smartwatches, the Ultimate runs on Harmony OS and its version 3.0, which mainly aims to ensure your interactions with the watch are still smooth and kind on the battery.
That means the Ultimate is compatible with both Android smartphones and iOS and like previous versions of Huawei's operating system offers all features to Android users and Huawei smartphone owners, with a few features left out for the iPhone clan.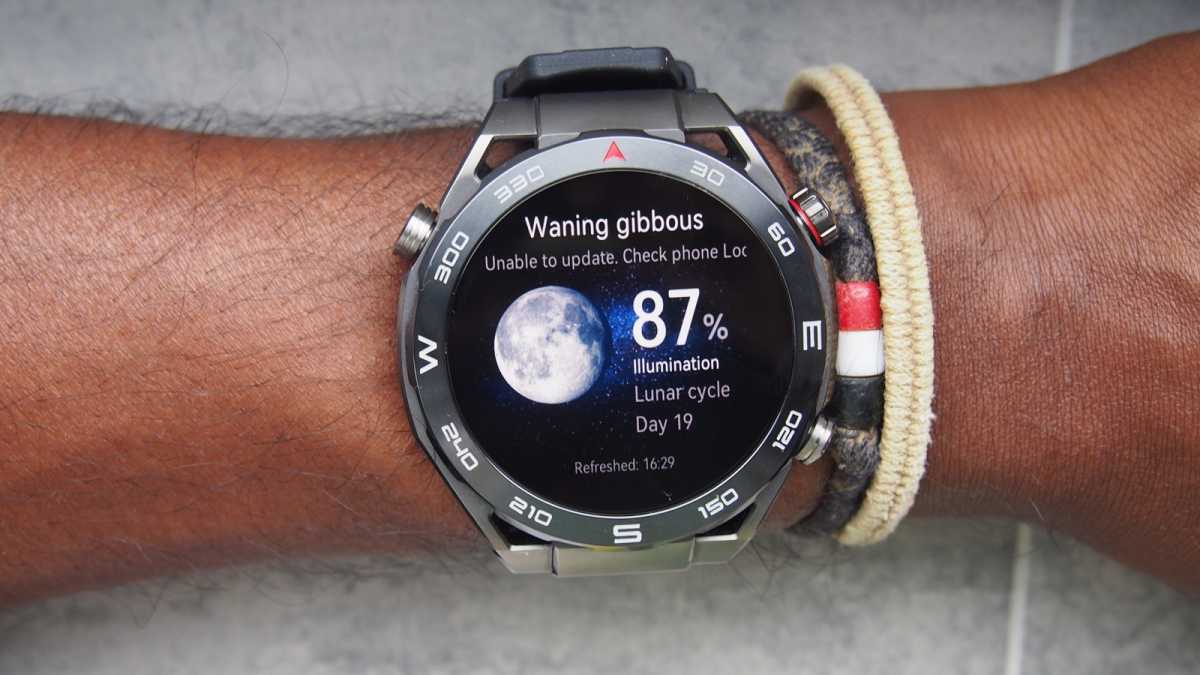 Mike Sawh
Getting to grips with the watch software is thankfully nice and straightforward with everything is a quick swipe from the watch face. Those watch faces are a nice bunch with room to pick up more from the Huawei Health app, but for a price.
If you're using it with an Android phone or one of Huawei's then you will get access to Huawei's Watch AppGallery where Huawei says you can download a wealth of third party apps. I wouldn't say there's a wealth of apps here and there also isn't a huge raft of third party apps from high profile services and companies either.
In terms of communication features, I've already mentioned Bluetooth calling and along with that you can view notifications from native and third party apps which are nicely displayed on the colour AMOLED screen, plus you can fire out short replies without reaching for your paired phone.
If you want to use Huawei's Celia smart assistant, then you'll need to have a Huawei smartphone to do that. If you're expecting a Siri, Alexa or Google Assistant-level of conversation however, Celia operates in a more basic fashion in terms of the queries it can handle.
Fitness and tracking
Over 100 activities
Freediving mode
Uses Huawei Health app

The Ultimate, like the Apple Watch Ultra, is designed for people that like to spend their time outside as opposed to in the weights section of the gym. You can still use it for indoor exercise and it has all of the same modes as Huawei's less outdoor-focused smartwatches, but it aims to offer more for those that prefer to roam.
That could be roaming in deeper waters or on treks that last a day or two. So there's now dedicated diving tracking that along with a built-in depth sensor can generate the kind of metrics and insights that are going to be useful, whether that's the recreational kind of diving or something more technical.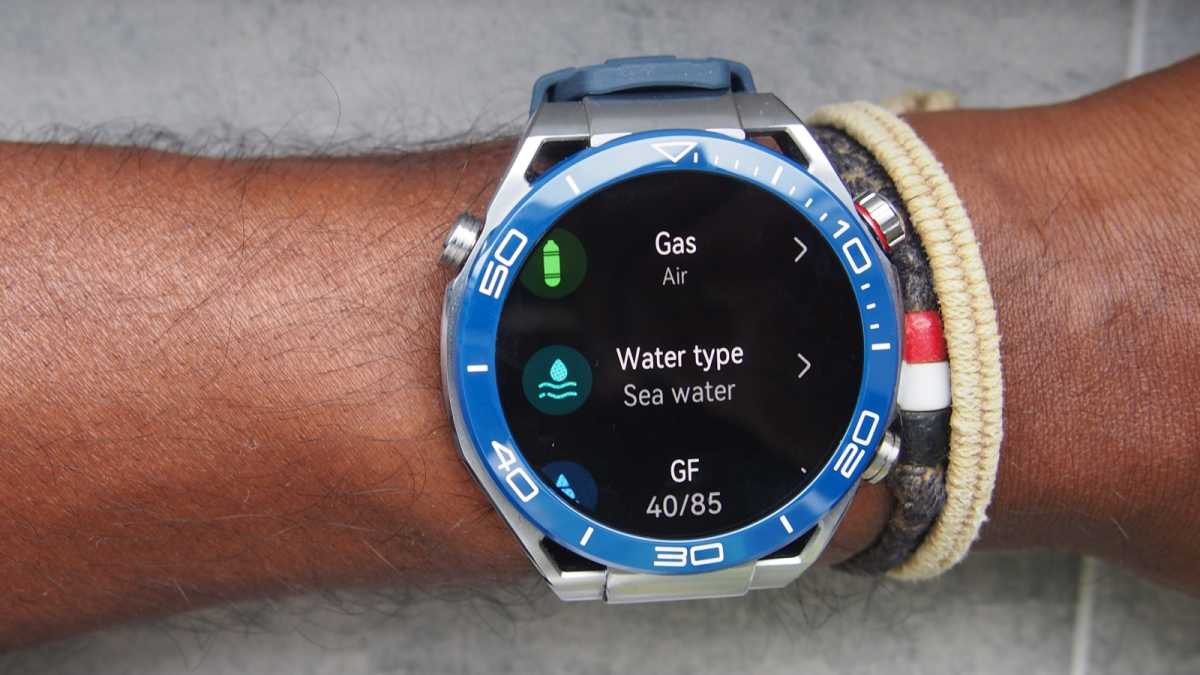 Mike Sawh
Adding an extra physical button also unlocks the new Expedition mode, which you also won't find on other Huawei watches currently. This is designed for hikers, climbers and off-road runners and aims to offer a way to better navigate your surroundings while preserving battery life. It will let you mark key waypoints and see additional metrics like SpO2 readings when tackling more elevated terrain and show you your compass too.
You just need to press that dedicated button to get it started and the approach feels a lot like the Apple Watch Ultra's built-in navigation features. Interestingly though, it doesn't work inside of the standard tracking modes and it would be useful to combine both.
On top of that Expedition mode, Huawei does let you upload routes to the Ultimate and includes the route back navigation feature it's even included on its Huawei Watch Fit 2. It's also pretty straightforward to get those routes onto the watch, though it won't display full mapping details like a Garmin watch as that support isn't provided by Huawei.
If you need to put the GPS tracking to use, Huawei includes dual-band GPS/GNSS mode, which is primed to perform better in areas where there are lots of tall trees and elements in your environment that can get in the way of your GPS signal. In my early tests, the Ultimate was slow to pick up a signal in general and had a weird quirk of pausing itself during a workout. After some recent software updates, the GPS performance in general has been much better and held up against Garmin's Epix dual-band mode, though I'd say Garmin's support felt more reliable for tracking my movements in general.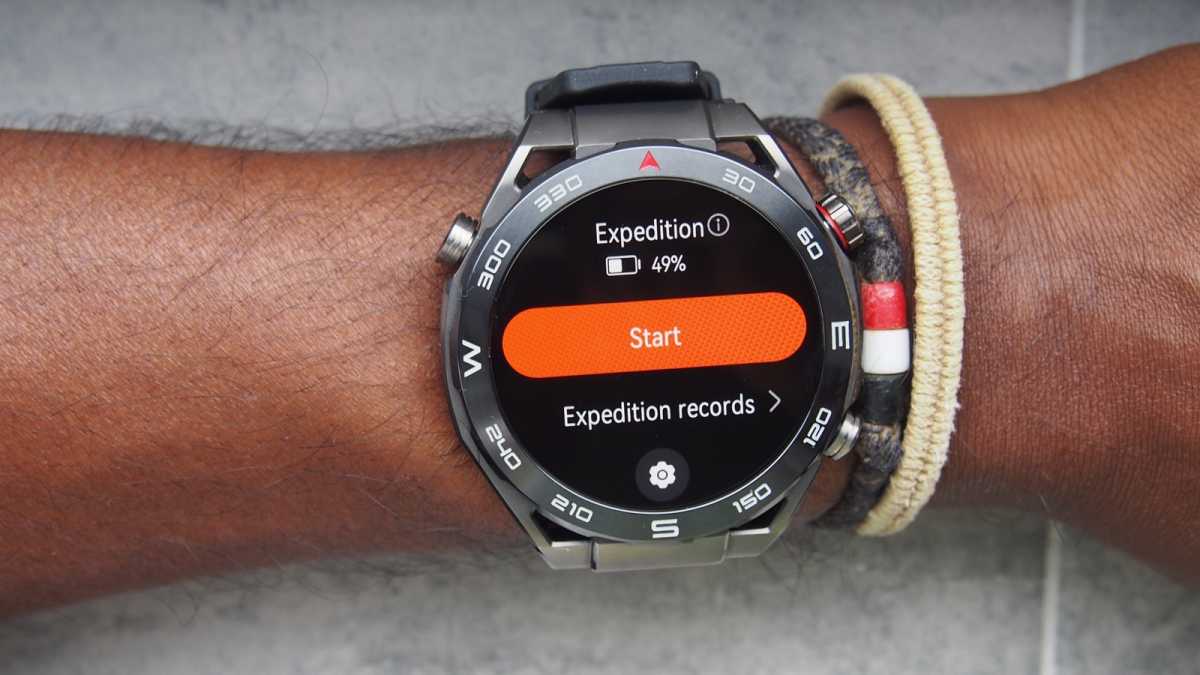 Mike Sawh
If you still want to use the Ultimate like a fitness tracker and for some more serious health monitoring, then you have that support here too. Huawei's activity tracking is well presented on the watch, but perhaps less so on the Huawei Health app. I found core sleep tracking data like sleep duration and recognising when I'd fallen asleep similar to what the Oura Ring Gen 3 suggested.
If you want to take an ECG heart rate reading, it's easy to do once you fully enable it in the app. The optical heart rate sensor is fine for most workouts, but like a lot of optical sensors and watches of this size, it can come unstuck at high intensities. Thankfully, you can pair external heart rate sensors to improve that accuracy.
All of your data is piled into the Huawei Health app, which gives you a nice dashboard of your most recent data along with access to running coaching plans and watch settings where you can take better control of what's enabled on the Ultimate. It's still an app that feels like you need to spend some time with to understand what you can tinker with and third party services you can share data with, which does include Apple Health for iPhone users.
Battery life and charging
Up to 14 days in typical use
Up to 8 days in heavy use
Wireless fast charging support

I'd say the Huawei Watch Ultimate is fit to last a week, even when using its most power-hungry features and puts in a good showing when tracking workouts and activities using the GPS without having a notable drain on that battery.
Mike Sawh
Getting the 14 days Huawei promises with typical usage is entirely possible, but you'll need to be using sports tracking much less regularly and swap having the screen set to always-on to using the raise to wake support instead.
When it's time to charge, Huawei has stuck to using the same white, charging cradle it uses on its other watches, which you can simply drop the back of the watch onto. That charger does support fast charging, which can get you up to full battery with just a 60-minute charge.
Price & availability
The Huawei Watch Ultimate costs from £749.99 and is Huawei's most expensive smartwatch right now. You can buy it direct from Huawei, or on Amazon.
That is a pretty big jump in price from the Huawei Watch Buds (£449.99) and the Huawei Watch 4 Pro (£499.99).
The Watch 4 Pro does offer a similar level of water resistance and has diving modes like the Ultimate, but lacks the Expedition mode and extra button you get on Huawei's more expensive smartwatch.
It does however come in cheaper than the outdoor-centric Apple Watch Ultra (£849) and the Garmin Epix Pro (£829.99).
Verdict
The Huawei Watch Ultimate is a good first attempt at an outdoor watch, with scope for Huawei to make some improvements that would make it a better watch for exploring and using it when you're not scaling a mountain range.
If you're a diving fan, there's plenty for you here. If you like hiking and trekking, the Expedition mode can be a useful feature to have at your disposal, while you're getting a similar level of sports, fitness and smartwatch features as Huawei's cheaper watches.
As far as bettering the competition, I'd still say that the Apple Watch Ultra performs better as a smartwatch, including offering better third party app support while you're going to get better mapping and navigation features on Garmin's Epix and Fenix watches.
If Huawei can embrace its own unique design instead of modelling it on other watches and can provide a smartwatch and tracking experience that can match the competition, then the Ultimate could be great. Right now, it's just not there yet.
Specs
48.5mm case size
Speaker
Microphone
Weighs 76g
1.5in AMOLED display
Accelerometer
Gyroscop
Magnetometer
Optical heart rate sensor
Barometer
Temperature sensor
Depth sensor
10 ATM water resistant
EN 13319 compliant for diving accessories
Sapphire glass watch dial
Ceramic watch bezel
Titanium or rubber strap (both for Voyage version)
NFC
Bluetooth 5.2
14 days battery life (typical use)
8 days battery life (heavy use)