It's true that emergency warnings from the government are things that we should take very seriously. But, there are occasions when we don't want messages suddenly appearing on our Android phones.
This could be during an important meeting, maybe you're recording something and need silence or you're just wiped out and need to be left alone. Thankfully, there are steps you can take to stop alerts from interrupting your day. Here's how to disable emergency alerts on Android.
Should you disable emergency alerts on your Android phone?
While it's easy to mute these alerts, they are there for important reasons, so we think it's only sensible that you enable them if you can.
Emergency alerts are tiered so that there are some for extreme threats to life and property, severe threats, and in the US there's also Amber alerts that are from law enforcement who are attempting to find kidnapped children that have gone missing in your surrounding area.
These can be individually turned off or you can take a unilateral approach and just disable them all. Of course, this comes with a risk to yourself and those around you. For instance, if there is a wildfire that has suddenly moved and is heading towards your home, it would be good to know about it. So, if you do decide to mute the alerts, we'd strongly recommend that you re-enable them once you've finished whatever it was that required no interruptions.
The same goes for things like Amber alerts, as you wouldn't want to miss the chance to help a child in distress just because you want to be left alone during a Fast and the Furious marathon.
How to disable emergency alerts on Android
To silence all emergency alerts, it's a simple case of toggling off a single setting. Here's how it's done:
Open Settings
Go to Safety and emergency
Scroll down and choose Emergency alerts
Toggle off the Allow alerts setting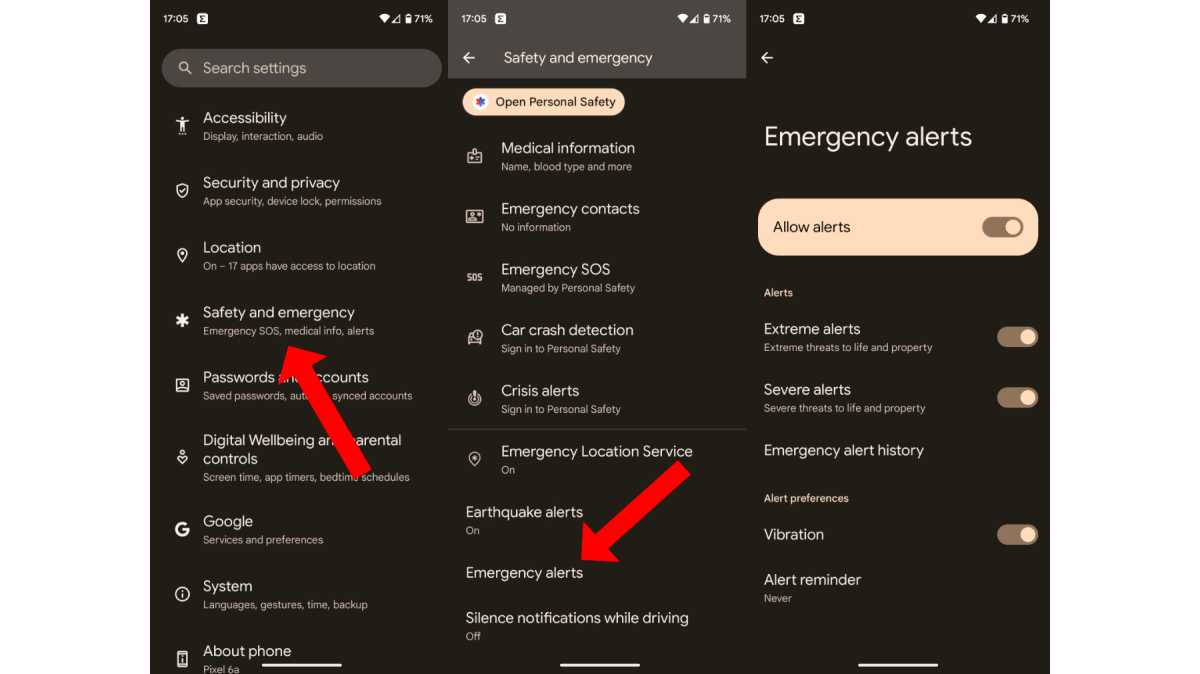 Martyn Casserly
If you want to only silence the Extreme or Severe alerts then you can leave the Allow alerts setting turned on, but toggle off the relevant alert type from the options on the page.
How to stop Amber Alerts (US only)
Amber Alerts notify people in the US when a child has been abducted. It sends these messages to those in the surrounding geographical areas as an attempt to gather as much information about the missing child's potential whereabouts as they can. Obviously, this is something you should be paying attention to, but if your situation demands that the alerts don't come through (they usually even bypass the Do Not Disturb settings on your phone) then here's how to disable them.
Open Settings
Go to Safety and emergency
Scroll down and choose Emergency alerts
Toggle off Amber alerts
For more ways to take controls of your privacy when using an Android phone, try reading our guides on how to stop Google asking for reviews of places, new WhatsApp privacy settings you should use and best VPN services.