Apple Watches have unquestionably been some of the best smartwatches on the market for several years – they're often considered the gold standard.
Within a small square of metal and glass, Apple has fitted powerful components, an OLED screen, GPS, Wi-Fi, Bluetooth and many other sensors.
Unfortunately, almost all versions share the same weakness – battery life. Aside from the Apple Watch Ultra, you're looking at a maximum of around 18 hours. It means you can't even guarantee a full day of intensive usage, while two days away from the charger is out of the question.
A lack of true fast charging on the Apple Watch doesn't make things any easier. The Series 8 technically supports it, but you're still looking at well over an hour for a full charge.
However, the small batteries in most Apple Watches can work in your favour. Changing your behaviour can have a significant effect on battery life, so try the following tips to help boost it.
How to extend Apple Watch battery life
1.
Disable Always On display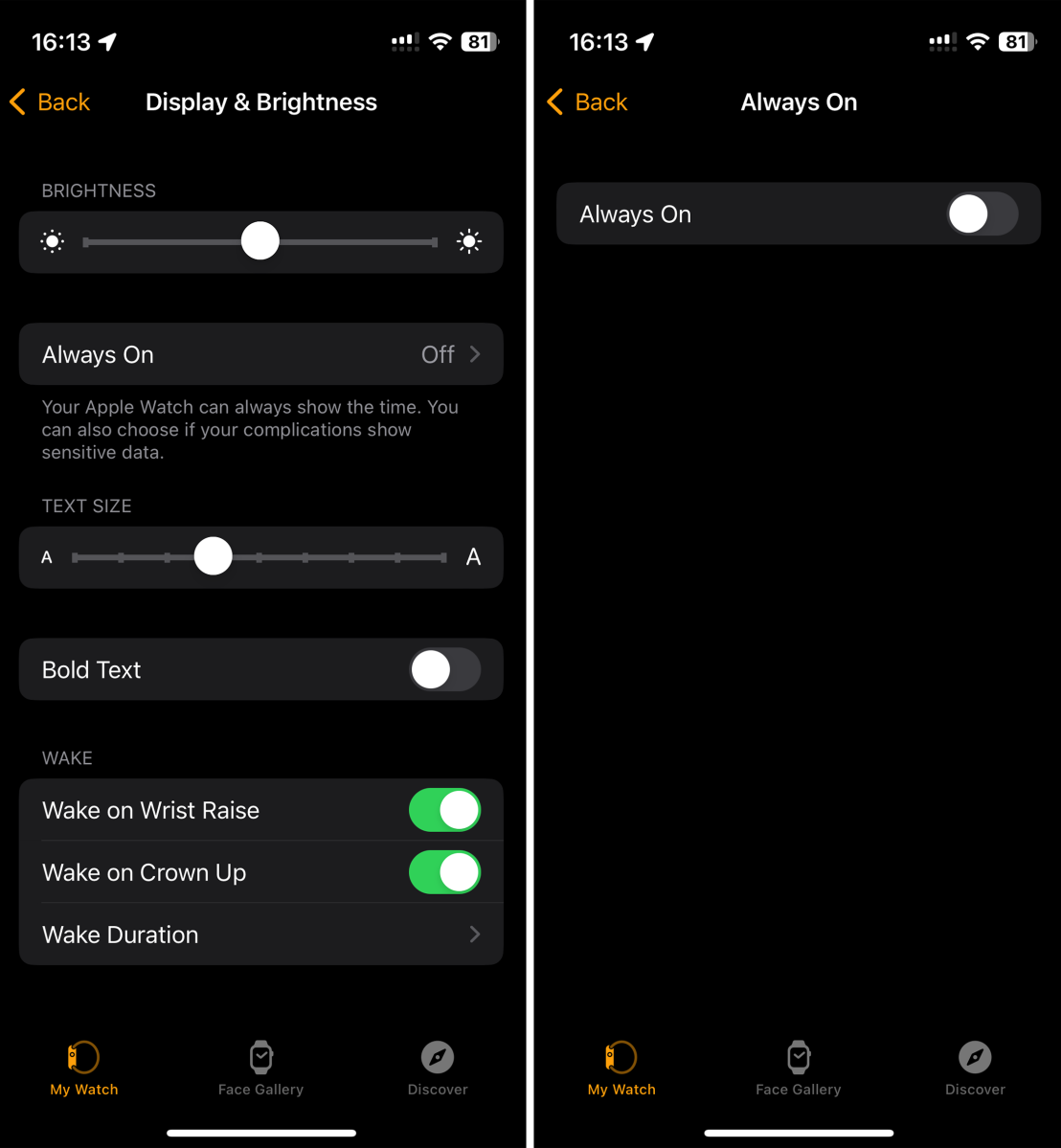 Artur Tomala / Foundry
Apple Watch Series 5 and newer (excluding Apple Watch SE) feature a non-dimming Retina screen using LTPO technology. At rest, the refresh rate drops to 1 Hz and the screen dims, but continues to show the weather and key information located on the dial.
This function consumes a significant amount of power. If your Apple Watch discharges too quickly you should think about turning this option off. It will save between 10-20% of battery over the course of the day. This is the fastest and most effective way to reduce your Apple Watch's power consumption.
To turn off Always-on-Display, launch the Watch app on your iPhone and go to Display & Brightness. There, you will find the Always On option.
2.
Use a simpler watch face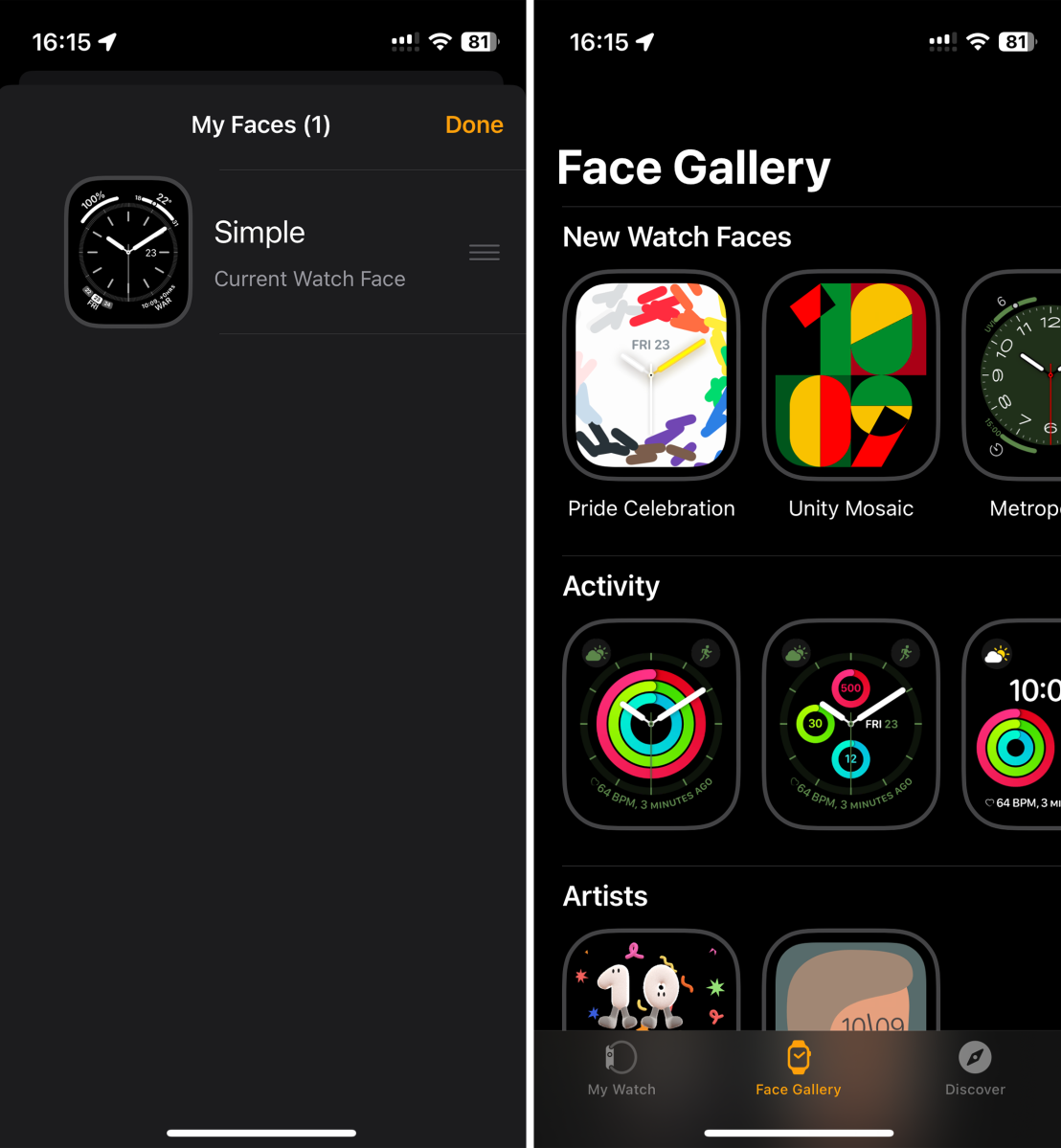 Artur Tomala / Foundry
Apple Watch offers a variety of different watch faces – from the simplest displaying only the time, to advanced options with data from several different apps.
But choosing a simple face that only displays the time will save a considerable amount of energy.
You can change the face in the Face Gallery in the Watch app on your iPhone. Default or previously saved faces can also be changed directly on the watches by swiping from one edge of the screen to the other.
3.
Uninstall unnecessary apps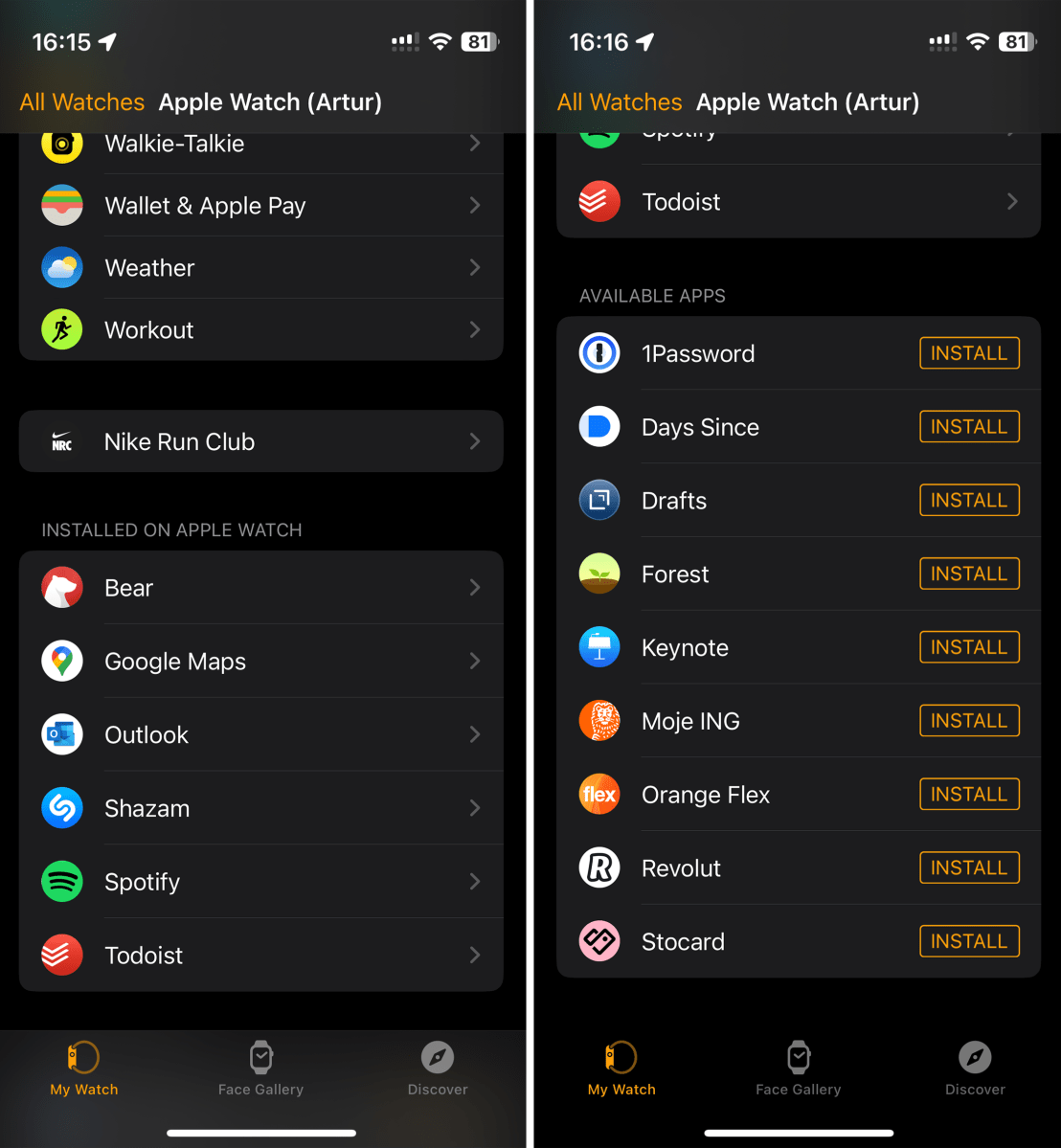 Artur Tomala / Foundry
When you install apps on your iPhone, they often also appear on your Apple Watch. Most of them you probably won't use.
On your watch, click the crown to find your list of apps. For any you don't want to use, press and hold its logo and click the X icon.
On your iPhone, open the Watch app and tap My Watch. Tap any app in the Installed on Apple Watch section, then turn off Show App on Apple Watch.
4.
Turn off wrist wake-up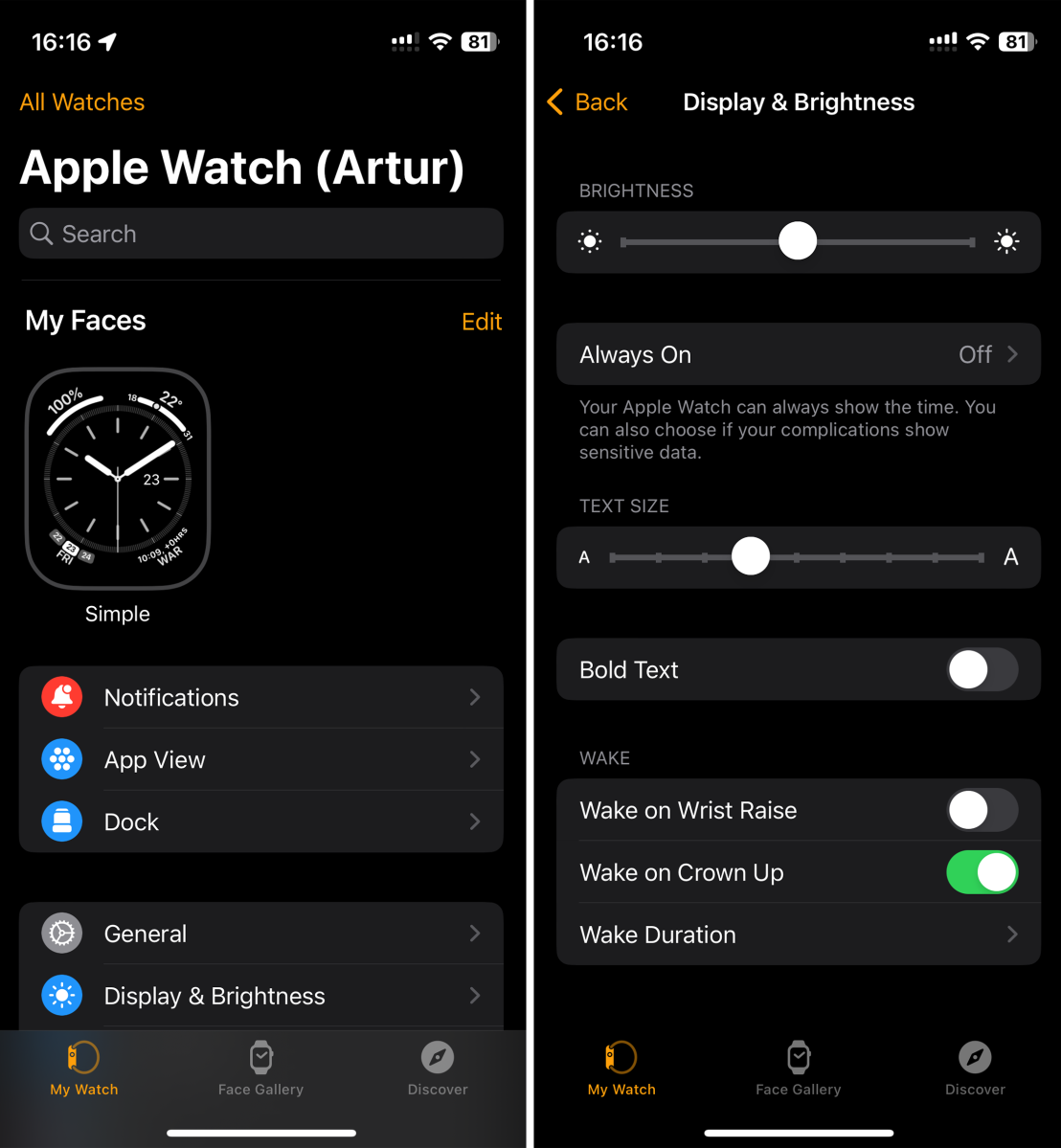 Artur Tomala / Foundry
Apple Watches are capable of recognising wrist movements and waking up without touching the screen. This function does not work perfectly and repeatedly wakes up the watch at the wrong time. This leads to increased battery consumption.
If you move your arms around a lot, the Apple Watch may consume a lot of electricity to wake up unnecessarily. You can disable the wake-up functions when raised by opening the Watch app on your iPhone and heading to the Display & Brightness tab. Disable both Wake on Wrist Raise and Wake on Crown Up.
5.
Limit the number of notifications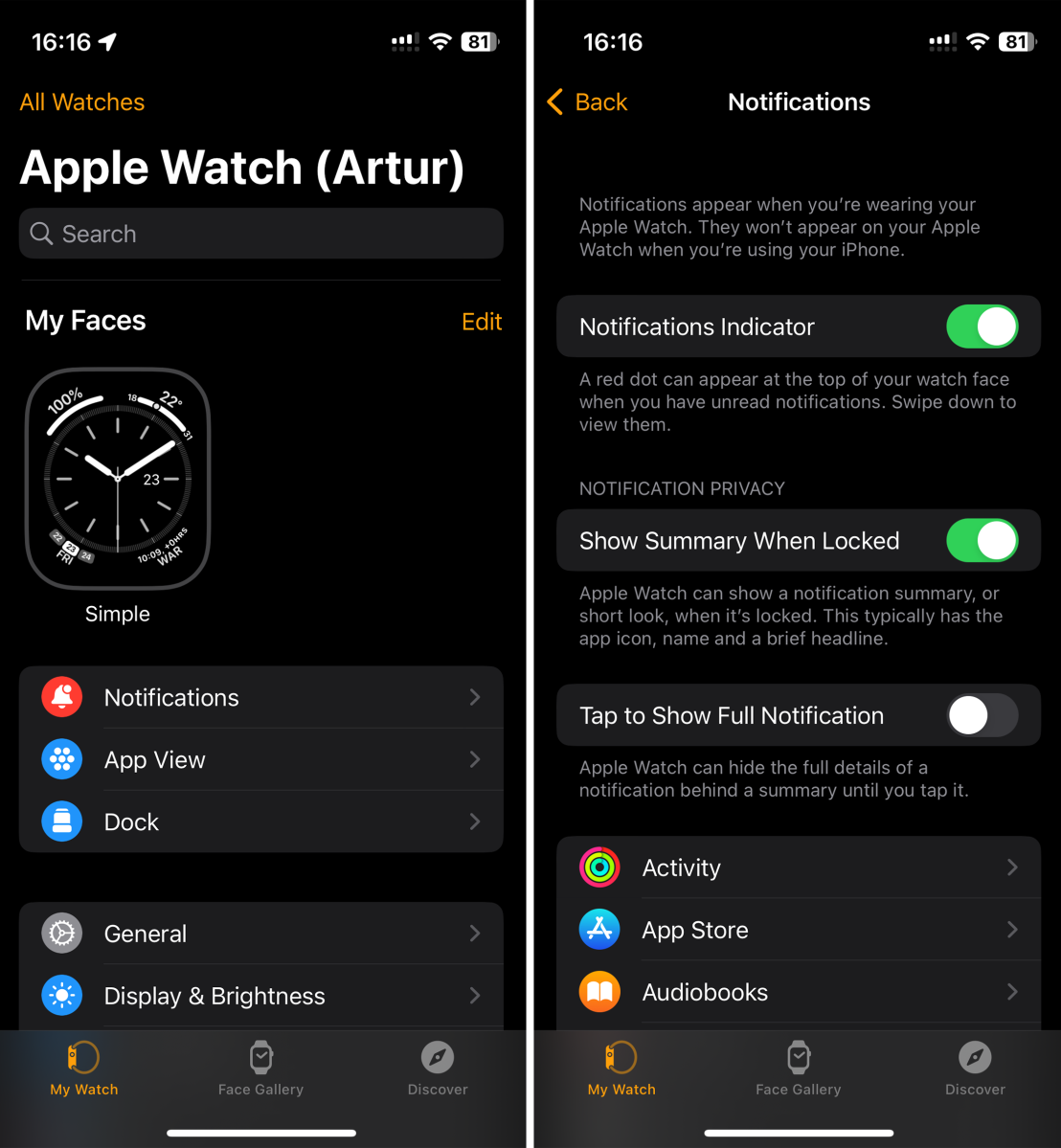 Artur Tomala / Foundry
Notifications are another thing that significantly affect the power consumption of the Apple Watch. A large number of notifications from various apps leads to continuous background operation and launching of the watch screen when a new notification arrives.
It is a good idea to disable notifications from apps you'd rather not hear from. Apple Watch allows to filter notifications by app but also type of notification from some apps.
Third-party apps most often clone notifications directly from the iPhone. You can conveniently manage notifications from the Watch app on your iPhone via the Notifications section.
6.
Update your watch
Artur Tomala / Foundry
If your watch is running faster than usual, it's worth checking if it is running the latest version of the watchOS operating system. Apple updates the software regularly, and updates include more than just new features. Various improvements to the source code can benefit battery life.
To update your Apple Watch, open the Watch app on your iPhone, go to General and select Software Update. Your phone will check for updates. By default, the Apple Watch updates overnight while charging and connected to Wi-Fi.
7.
Enable power saving mode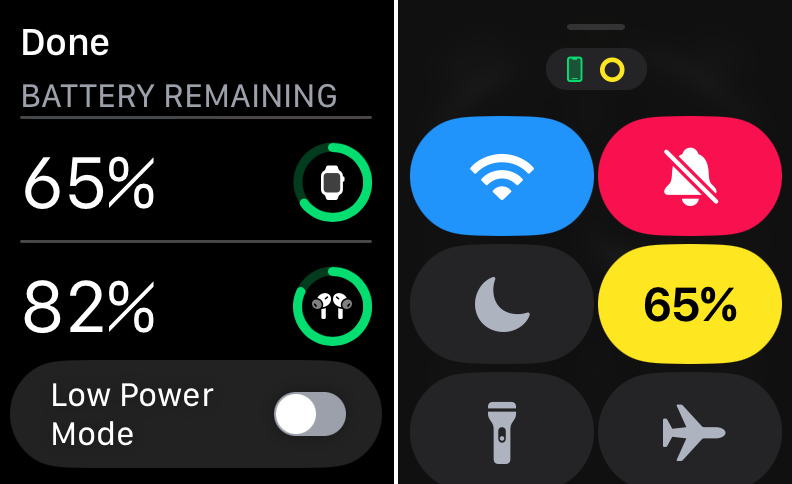 Artur Tomala / Foundry
Apple Watch has a built-in power-saving mode, which deactivates most functions and makes your smartwatch more like a traditional watch. This option can extend battery life by several hours.
To activate it, on the Control Panel on the watch, then click the battery percentage and turn on the toggle next to Low Power Mode.
Remember, when in Low Power Mode, the Apple Watch doesn't track your activity or deliver notifications.
8.
Turn off mobile data (on LTE models)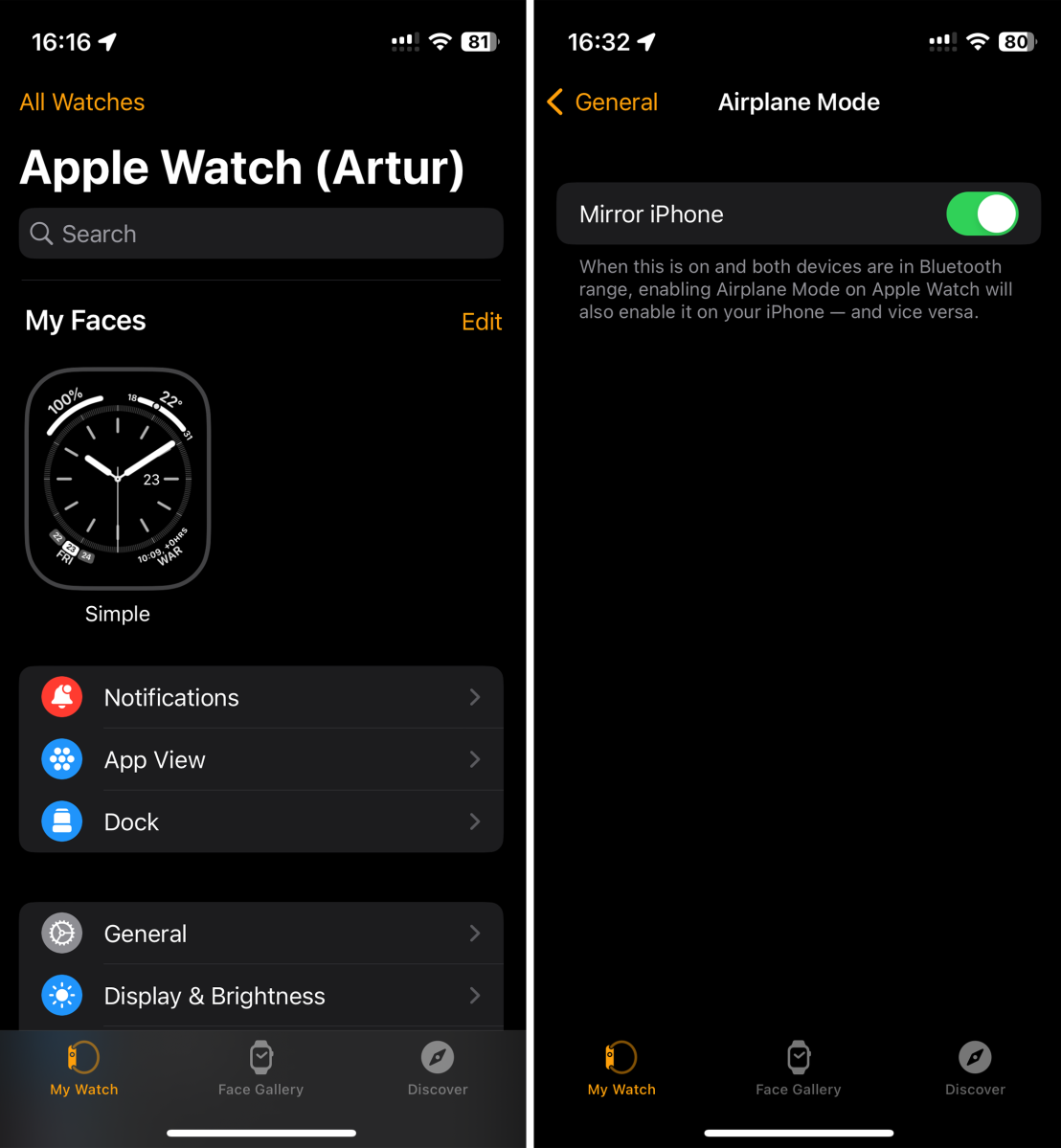 Artur Tomala / Foundry
Selected Apple Watch configurations have a built-in LTE cellular modem, allowing you to stay connected when there is no phone nearby.
Unfortunately, this significantly depletes battery life, despite LTE models having slightly larger battery capacities.
If your iPhone is nearby, it's best to turn this off. You can also turn on the option for Airplane mode to match the iPhone via the Watch app > General > Airplane Mode.
Related articles