Instagram verification is the pinnacle of social media presence. The platform is notoriously picky about the people who are deemed worthy of getting the desired blue checkmark. However, when you feel that the time is right for you, the steps themselves are deceptively easy.
What is Instagram verification and why do I need it?
Instagram verification is the process where the platform itself confirms that your account is indeed you, not an impostor or a fan-operated page. This is signified by a blue checkmark next to your username, which helps distinguish the most important users on the platform.

In theory, these blue signs are supposed to mark real pages that operate on behalf of celebrities, brands etc. and show that they are trustworthy. However, in reality, they are much more – coveted status symbols that are one of the main goals of every influencer on Instagram. They are indeed rare, and with this rarity comes a great deal of prestige.
Fortunately, the blue checkmark does not mean that such an account will get any special treatment from the platform. They are still positioned in the same way in the algorithm, and should not appear before other non-checkmark users.

Who can get verified on Instagram?
The application process for Instagram verification is not an exclusive thing. Everyone can do it and it's always just a few clicks away. However, getting these applications accepted is a whole other story, one which is shrouded in mystery by the platform itself.
There are, however, some basic rules. First of all, Instagram states that you need to follow Instagram's Terms of Use and Community Guidelines in order to be eligible for verification. Additionally, there are four more criteria that will decide, whether the application is successful:
Authenticity – it has to represent a real person, business or public entity
Uniqueness – only one account per unique person/business can be verified. There is an exception – language specific account can be verified separately
Completeness – the account has to be public and provide all necessary information, such as bio, profile photo, as well as be active on Instagram at the time of application
Notability – this is the most open criterion of them all. The account has to represent a well-known and highly-searched profile. This relates not only to Instagram but also to news outlets, Google searches and other sources and does not consider paid or sponsored content.
If you feel like your profile does meet all of these criteria, you can easily start the process of getting verified on the platform.
1.
Navigate to your profile's Setting and Privacy tab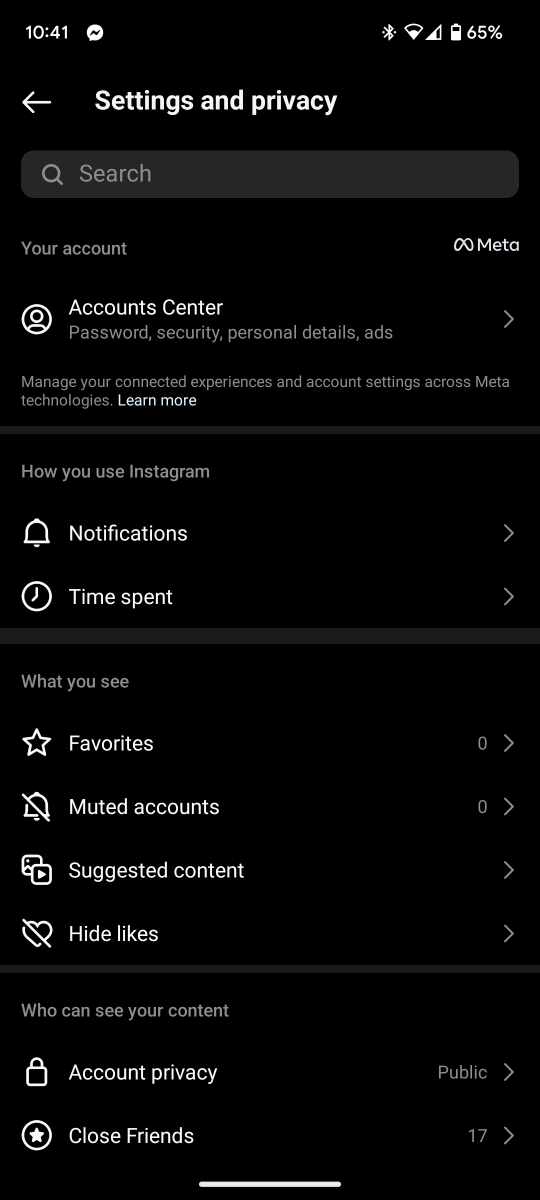 Instagram
Firstly, you need to tap on your profile page and go into settings (which are marked by three horizontal lines on the top right of the page). There, you'll find a tab called "Settings and Privacy".
2.
Under "For professionals" header, find Account type and tools tab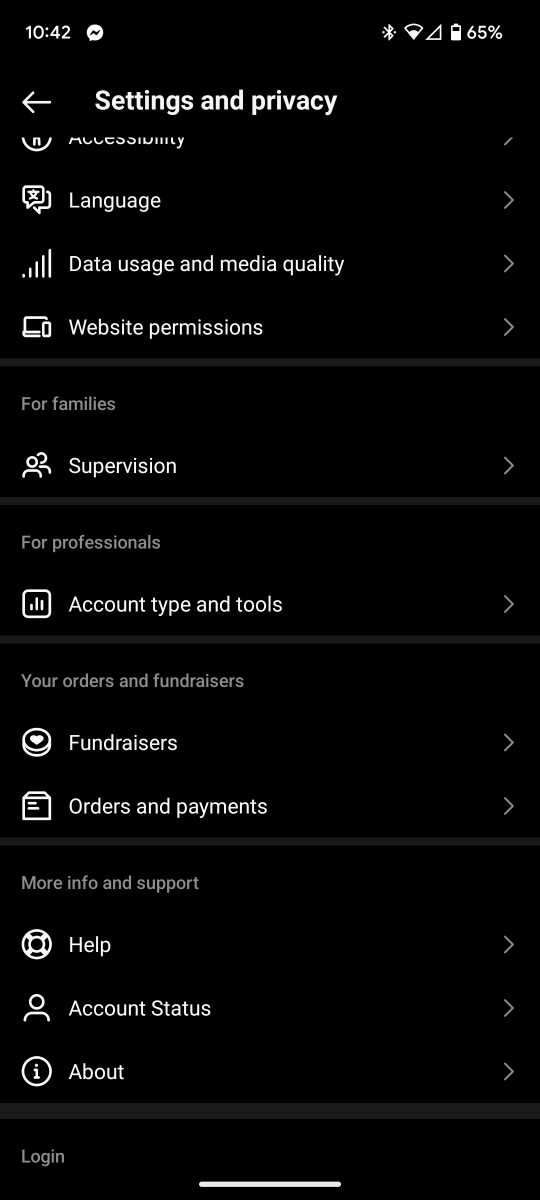 Instagram
Scroll down in this menu and you'll encounter a header called "For professionals". There, tap on the "Account type and tools" menu.
3.
Next, tap on Request verification option
Instagram
You're almost done clicking through tabs. Here, choose "Request verification" option, which should be at the very bottom of the list.
4.
Fill in the Instagram verification form and tap Submit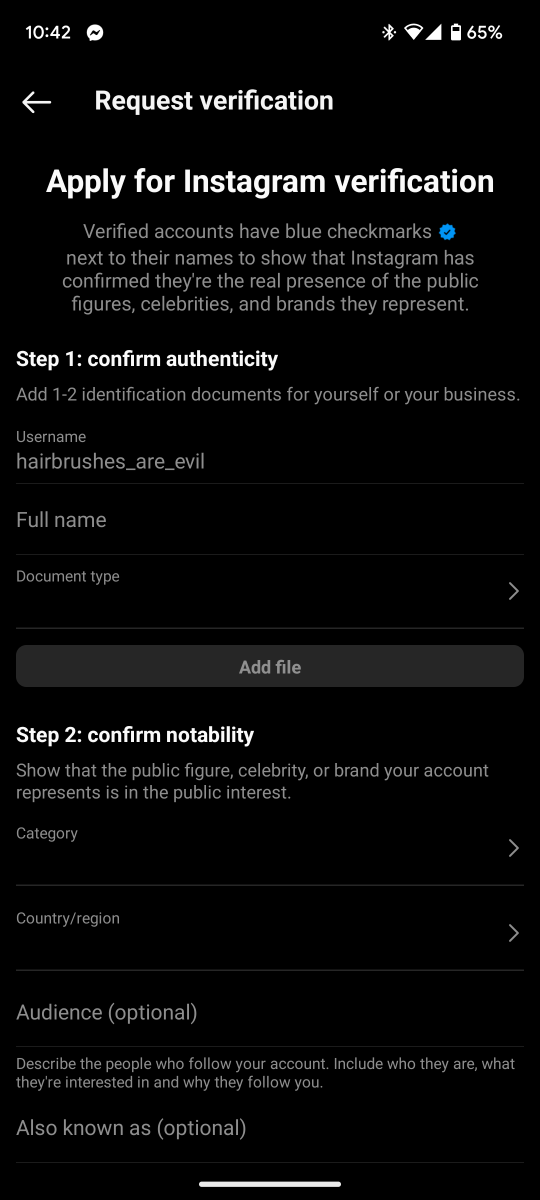 Instagram
Now the only thing left to do is fill out the form with the required details. Instagram asks you not only for information about your page but also some personal details – such as national ID or other form of identification of yourself or your business. When you're done, click Submit at the bottom of the page and your application is ready for review.
That's the end of the process – now it's time to wait for the results of the verification!
FAQ
---
1.
How long does the Instagram verification process take?
Instagram states that this should take no longer than 30 days, after which you'll get a notification in the Activity tab, which is the heart symbol where all your likes and comments are shown.
2.
What if my Instagram verification gets rejected?
Firstly – do not worry! The verification process on Instagram is notoriously picky and it's difficult to get the checkmark on your first try. Nothing is lost – you can always re-apply after 30 days.
3.
Can I lose the Instagram verified badge?
Instagram's blue checkmark is not permanent – the platform is adamant that it can remove it at any time if the user violates Terms of Service or in any other way becomes ineligible for verification. This might include selling or transferring the badge, getting the verification through a third party, or even switching your account from Public to Private too many times.