At a glance
Expert's Rating
Pros
Classic design
Good sound quality
Decent battery life
Cons
Big and bulky

No water-resistance
Our Verdict
Orange has made an impressive Bluetooth speaker on its first attempt. But aside from design and nostalgia, there's no clear reason to buy it over rivals.
Price When Reviewed
$353.46
Best Prices Today: Orange Box
Move over, Marshall – there's a new amp company muscling its way into the Bluetooth speaker market.
Presumably envious of its old rival's successful expansion into portable speakers and Bluetooth headsets, Orange has decided to try the same thing, leveraging the iconic design and sound expertise that's made it a mainstay of rock shows to make something altogether more portable.
The company has actually released a pair of Bluetooth speakers at once: the Box and Box-L. I've reviewed the former here, which is both cheaper and smaller than its sibling.
Design & build
Classic Orange design
Big and bulky
The first thing to say is that the portability here is only up to a point. This isn't a dinky, pocketable Bluetooth speaker you might throw into your suitcase for a weekend away: at 3kg, it's a fairly hefty piece of kit you might move around the house or take for a quick outing to the park, but not much further.
An optional leather carry strap makes it slightly easier to lug around, but even so this is probably something you'll want to throw into its own bag when taking it outside the house. You're more likely to simply move it from room to room, or out into the garden for the afternoon.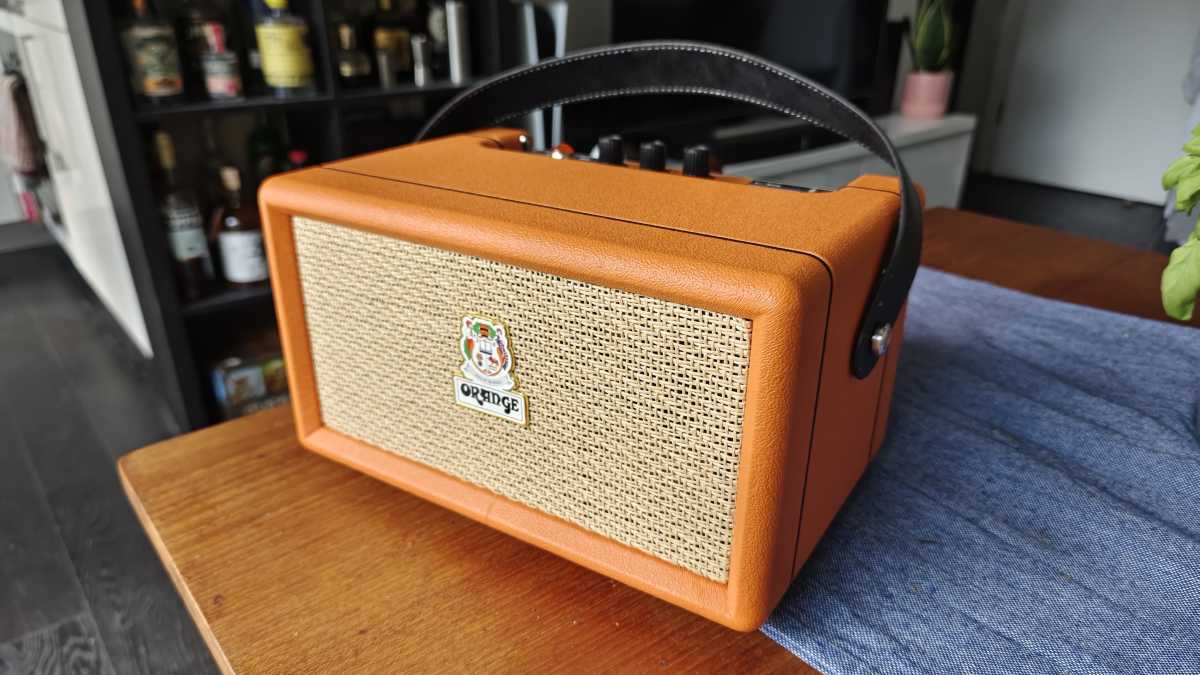 Dominic Preston / Foundry
The other limitation there is that the speaker isn't water-resistant. While you may be keen to take it outside for a little while, you can't get away with leaving it out there unattended in unreliable weather.
It's a shame that there isn't a more portable version, because this is a speaker you'll really want to show off. Following in the footsteps of Marshall, this is a painstaking recreation of the Orange amp aesthetic, from the distinctive hue of the leather surround to the fabric mesh front and vintage logo.
There is a black version available too, but I'll be honest: if you're buying something called the Orange Box in black then you're really doing it wrong.
Naturally, the old school feel also extends to the controls. You flick the speaker on with a satisfying thunk, while three rotary controls handle bass, treble, and overall volume. Even the included 3.5mm aux cable is coiled, completing the look.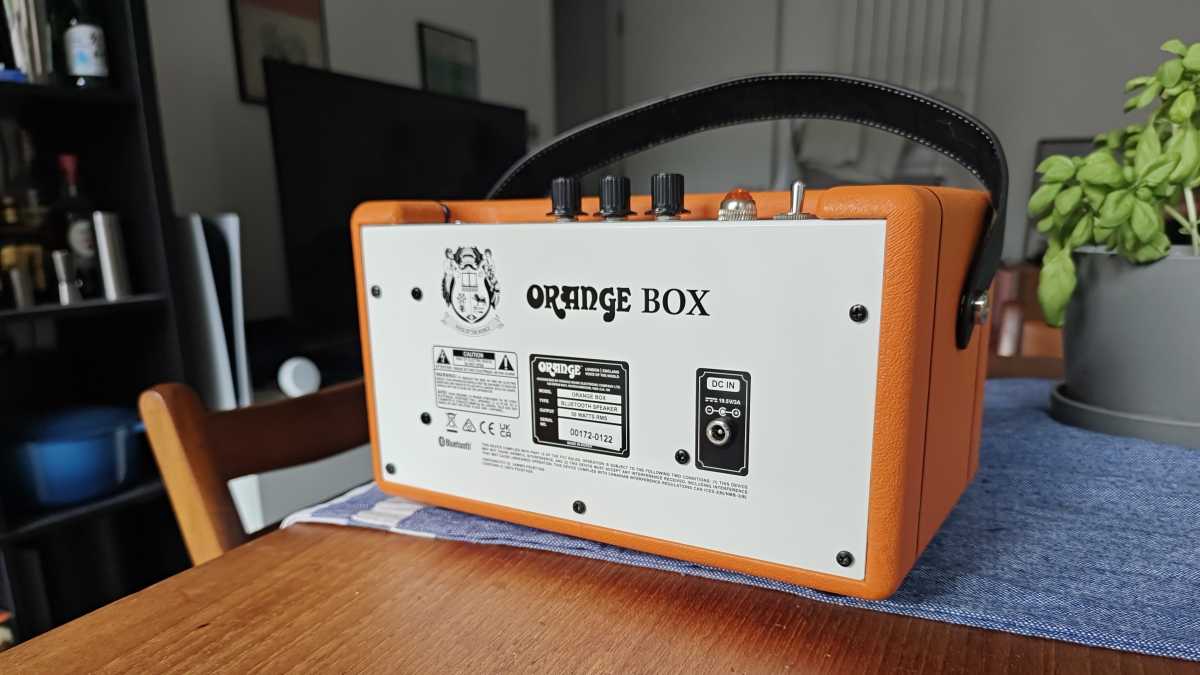 Dominic Preston / Foundry
It's all reassuringly hefty and solid, like someone travelled back in time to the '70s to give them the latest Bluetooth protocols. Sure, it's a bit affected in 2023, but as a former bass player who longed for an Orange amp to call his own, I can't deny the appeal.
Sound quality
Punchy sound
Bass-rich, but balanced
The perk of the Orange Box's size is that it packs plenty of heft when it comes to its sonics. Here, you get a pair of 2in drivers, backed up by a single 4in subwoofer.
Crank the volume dial up and this thing goes loud – it's not about to drive a gig, but the Orange Box should offer enough oomph to fill your living room or annoy your neighbours from the garden.
As you'd expect with the dedicated subwoofer, there's plenty of bass inside this thing too, so you can really boost the low end if you like.
By default, though, the profile is fairly balanced, with a wide, open sound stage that keeps tracks crisp and separated without losing its welcome warmth.
Unlike some rivals, there's no fancy app to give you a full EQ or custom sound profiles, so audio controls are limited to the bass and treble dials on the speaker itself. But these give enough flexibility to tweak things to your tastes.
On-device controls also make it feel more natural to adjust the audio as you go, rather than setting up one profile and never touching the app again.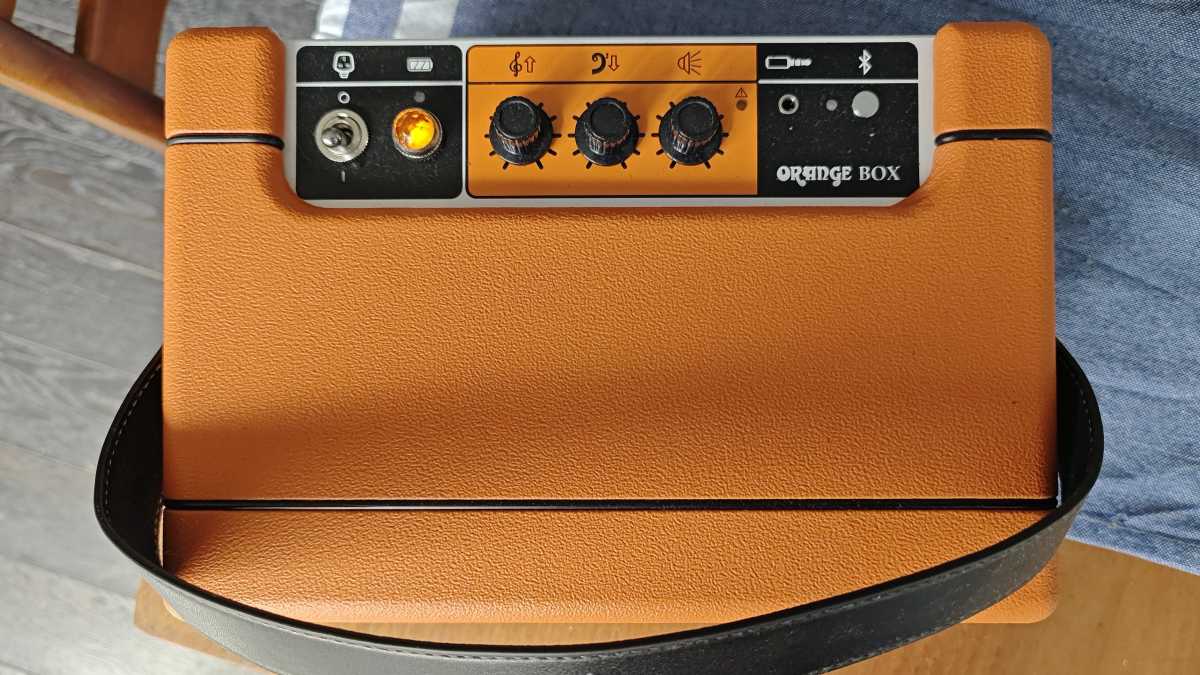 Dominic Preston / Foundry
While Bluetooth is probably how you'll listen most often, Orange also includes a 3.5mm cable with the speaker. In fact, given its size, you may well find the Box to powerful enough to sit somewhere permanently as a wired option (for the likes of a record player or the like), ready to grab and go when the moment calls for it.
Battery life
Runs for most of a day
Custom charger
Battery life on the Orange Box is good, but not great.
Orange says that the speaker should last for 15 hours, though from my experience that's a little optimistic.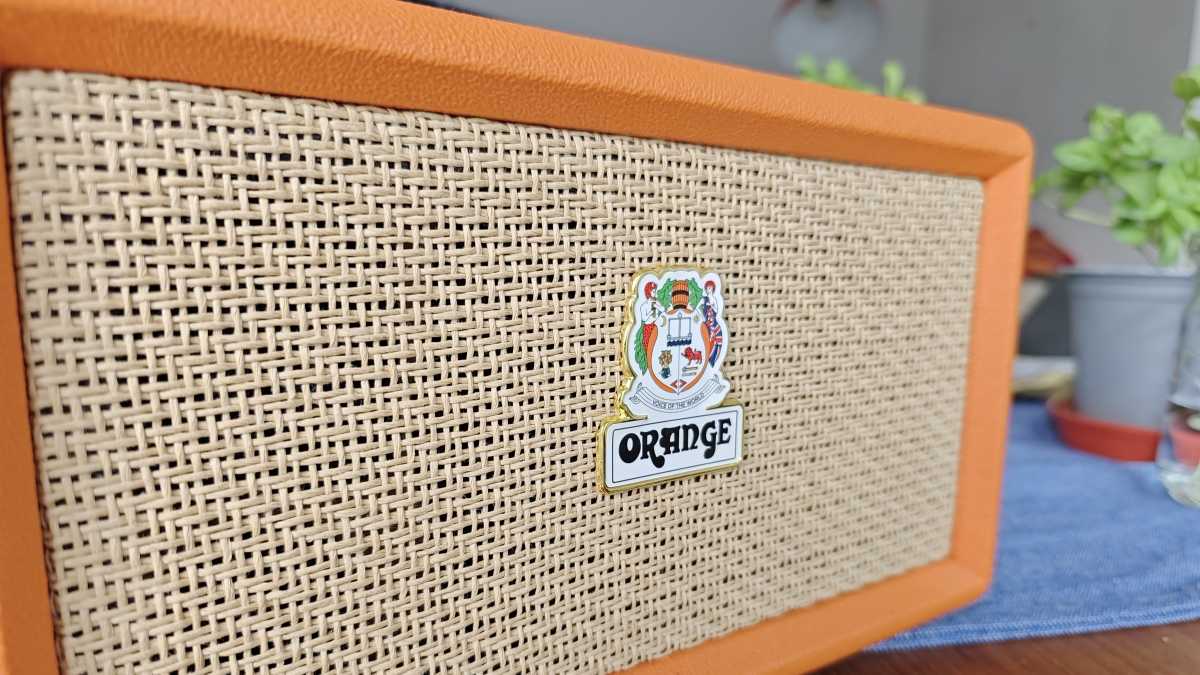 Dominic Preston / Foundry
With friends round, it powered the party for most of a day, but did run out before dinner. So, if you're using the speaker for more than a few hours, you'll want to keep the charger handy.
One minor frustration is that the included charger isn't based on USB, so you can't use any power leads you already have around, or a power bank. If you do want to travel with it, the bulky charger is one more thing you've got to bring with you.
Price & availability
The Orange Box is a premium Bluetooth speaker, and its price reflects that.
In the UK, it costs £275, both direct from Orange and via Amazon. It's only available at Orange in the US, costing $353.46.
That price puts it up against some fairly stiff competition, including plenty of speakers that offer similar audio but pack in smart features like voice controls or connect into multi-room audio systems.
The Orange does neither, so it's banking on its aesthetic appeal to tempt you into a purchase.
Check out our round-up of the best Bluetooth speakers for every option we recommend.
Verdict
There's nothing the Orange Box does that makes it stand out at this price. But then that's not the point.
This is all about the aesthetic and the pedigree, and it delivers both in spades. Those with a soft spot for Orange amps will love the attention to detail in the design, and it certainly stands out – both amongst a sea of more modern speakers and when compared to the Marshall models.
That wouldn't matter much if the audio wasn't any good, of course. I wouldn't go so far as to say the sonics here are best-in-class, but the sound doesn't disappoint, with a warm, rich sound to match the old school look.
Just remember that thanks to its sheer size, this is mostly a speaker to move around the house, and not one you're likely to pack for your next holiday.
Specs
28×17.5x17cm
3kg
15+ hours battery
Bluetooth 5.0
3.5mm aux (cable included)
Best Prices Today: Orange Box