At a glance
Expert's Rating
Pros
Irresistible price tag
Content-rich Fire TV smart platform
Freeview Play
Dolby Vision
Cons
Generic design
Only three HDMI inputs
A bit slow in use
Our Verdict
Toshiba's UF3D is a crowd-pleasing budget 4K HDR Smart TV with a reassuringly sharp image and features you might not expect for the price.
Price When Reviewed
Unavailable in the US
Built around Amazon's Fire TV OS, the Toshiba UF3D is unapologetically a value proposition. High-end gamers and home cinema enthusiasts are not its target market, but TV buyers looking for a cheap, well-stocked streaming experience are likely to come flocking.
It's not short on other niceties either, despite starting at just £279.
The set (55in model on test here) has a solid image processor, in the form of Toshiba's TRU Picture Engine, and has Dolby Vision support, which is particularly valuable on HDR TVs with relatively limited peak brightness (more anon).
The set's also Dolby Atmos enabled, which means you'll be able to enjoy immersive audio if you connect up a Dolby Atmos soundbar or home cinema system.
Let's dig a little deeper…
Design & Features
Thin bezel
Direct LED backlight
Central pedestal stand
Three HDMI ports
Made by Turkish electronics giant Vestel, the UF3D offers an uncontentious face to the world, with a shiny black plastic bezel and a dark grey pedestal stand. If you want to VESA wall mount, that shouldn't present too many challenges, as the screen weighs just 16kg.
Rear side connections comprise three HDMI inputs. The panel is 60Hz, so there's no 4K 120Hz support, but we do get eARC on HDMI 2. There's also an optical digital audio output, Ethernet (in addition to Wi-Fi) and a couple of USB ports.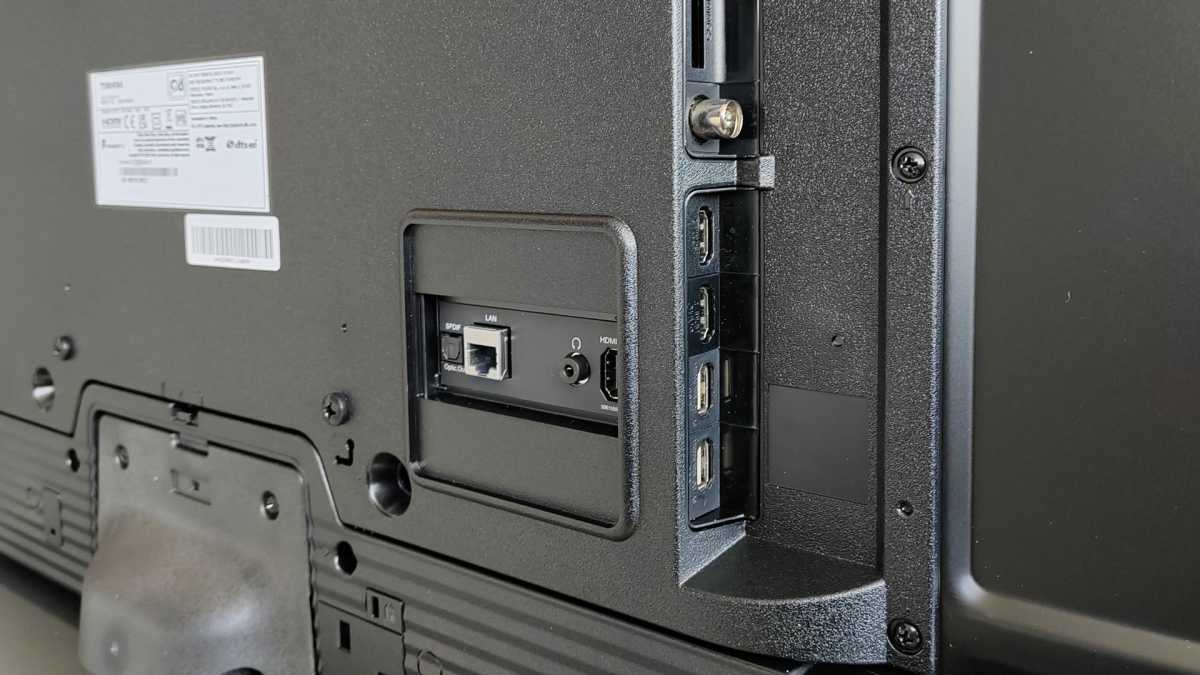 Steve May / Foundry
The set ships with an iteration of the Fire TV voice remote, adorned with dedicated buttons for Prime Video, Netflix, Disney+, and Freeview Play. Holding the mic button down allows you to ask Alexa to launch and control content; call up connected security cameras on the same network, or ask for a cocktail recipe, for example.
Amazon's Fire TV smart platform is heavily content curated, with an assortment of rails that cover current TV channels and streaming apps. The UF3D also supports Apple AirPlay and Apple Home Kit.
In truth, it's not the most responsive of TVs. Navigating the menu can lead to niggling pauses, and jumping across to the Freeview Play aerial feed invariably involves a slight delay. It's not uncommon for a cheap smart TV.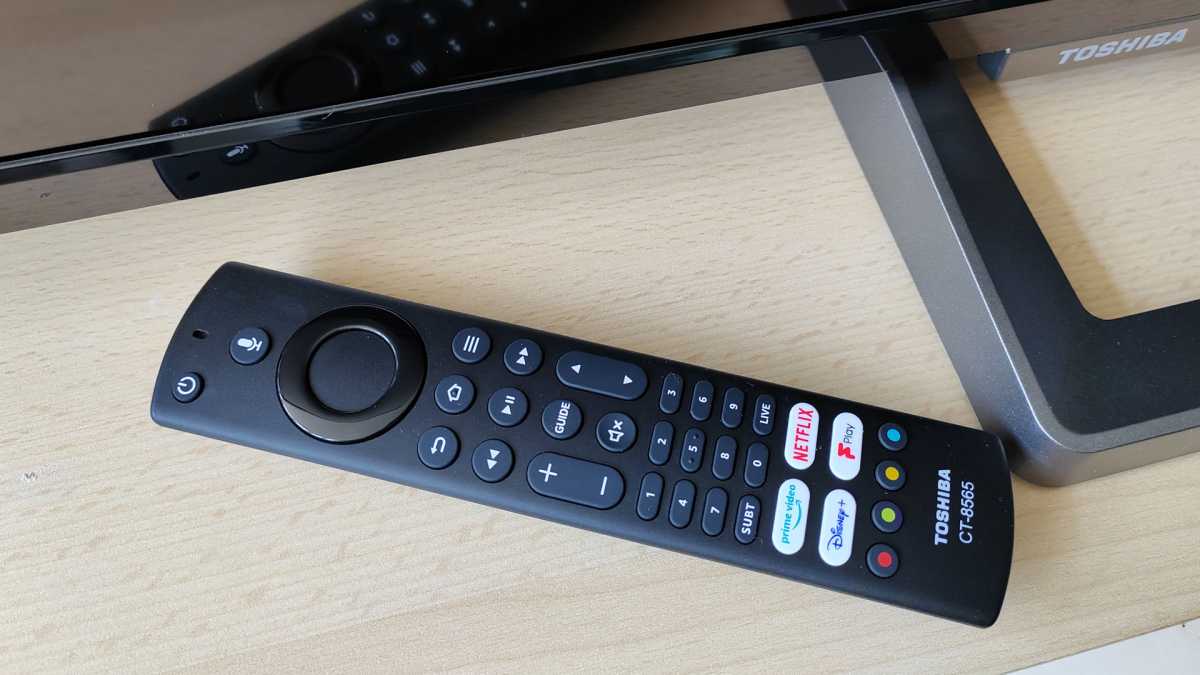 Steve May / Foundry
Picture Quality
TRU Picture Engine
Dolby Vision
HD upscaling
What's immediately impressive about the UF3D's pictures is their clarity, not just native 4K streams but HD sources that have been up-scaled using Toshiba's TRU Resolution algorithm. The benefits can be easily seen in location footage from the new Paramount Plus show Lioness, which streams at HD resolution, but could easily be mistaken for Ultra HD on this set.
The picture also benefits from punchy contrast (courtesy of TRU Micro Dimming) and decent panel uniformity.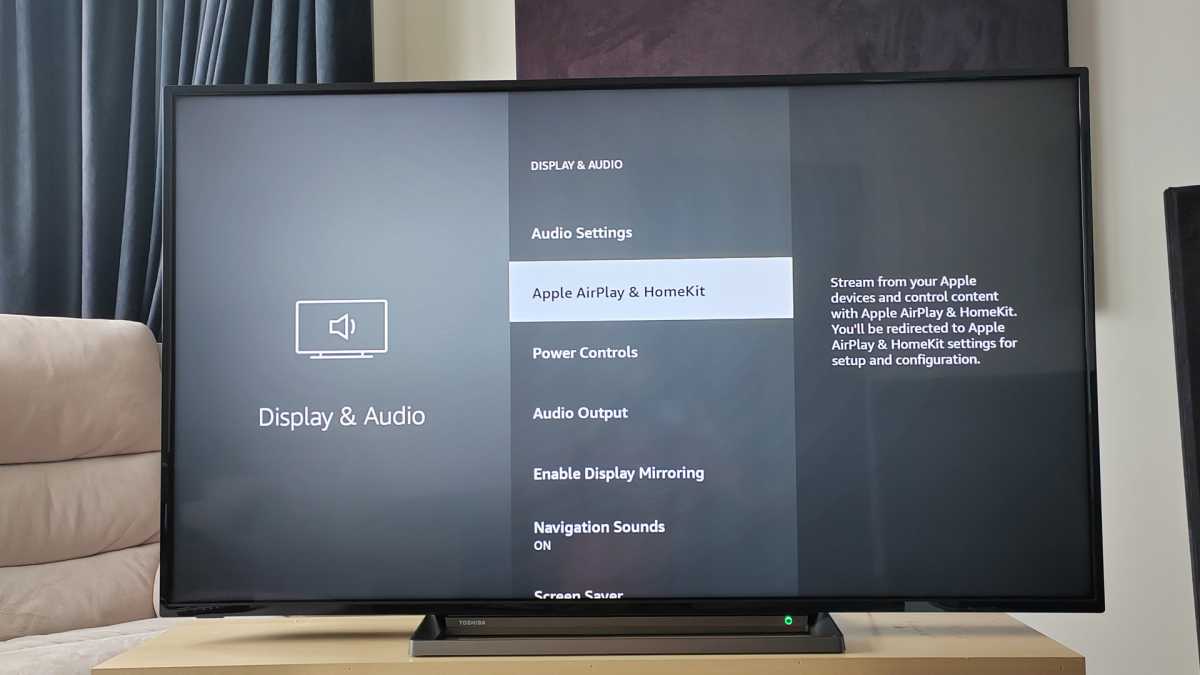 Steve May / Foundry
Motion smoothing isn't too egregious either. TRU Flow image interpolation brings with it some minor edge-based motion artefacts, but judder is effectively nullified.
The very nature of the Fire TV interface doesn't really encourage deep dives into picture settings, but they are available. Presets include Standard, Vivid, Sport, Film and Game. My recommendation would be the default Standard setting. Of course, when you watch Dolby Vision shows, that usurps the picture menu.
I measured peak HDR brightness at 430 nits using a 10% window. This can be considered a borderline HDR performance, meaning the set struggles when asked to present specular highlights, like street lights, fireworks and reflections.
There is a clear limitation to the set's dynamic range. Like many other budget LED LCD models, it simply can't manage a convincing black level. Dim the lights in your viewing room, and on screen blacks begin to punch through as grey.
The solution is to view the screen in a room with a low level of ambient light. This really improves subjective contrast.
Steve May / Foundry
The set is at its best with Dolby Vision streams; artful tone mapping helps combat the lack of native luminosity and maintains subjective image depth.
While this isn't a wide colour gamut panel, there's pleasing vibrancy to be had. Take a look at the animated Skull Island (Netflix, Dolby Vision), which is quite the colour feast. Primaries pop without looking noisy.
While not an obvious choice for gamers, this screen puts in a highly credible performance when it comes to input lag. Latency was measured at 10.5ms (1080p/60fps) in Game mode, which is comparable to screens that cost considerably more.
Sound Quality
Dolby Atmos
2x10W amplification
Onkyo-made speaker system
All things considered, I am impressed with the audio provision on this budget set. While the screen doesn't have the speaker configuration to make anything of Dolby Atmos encoded content, the fact it recognises Atmos and will bitstream it out over eARC to an external device is impressive at this price point.
Taken on its own merits, the downward-firing Onkyo-made stereo speakers make a decent enough noise. Total power output is rated at 2x10W, enough to entertain the average family. Dialogue is clear, and there's some weight to its mid-bass presentation.
Sound settings comprise Music, Movie, Speech, Classic, Flat, and User. Movie would be my default setting, as it subjectively broadens the soundstage.
Price & Availability
Widely available in the UK and Europe, the Toshiba UF3D comes in a variety of screen sizes: 43-, 50-, 55- and 65in (43UF3D53DB, 50UF3D53DB, 55UF3D53DB and 65UF3D53DB).
These are priced at £279, £329, £369 and £449 respectively. You can buy it from Amazon, AO, John Lewis, Argos, Currys and Very.
Manufactured in Europe by Vestel under licence, the model reviewed here is not available in the US or Australia.
Check out our best budget TV chart for more options.
Verdict
It's easy to be sniffy about budget TVs, but the Toshiba UF3D is extremely well equipped for the cash. The Fire TV OS provides a huge number of streaming options, all neatly integrated with a conventional Freeview Play tuner.
While it's not the most dynamic of HDR performers, the provision of Dolby Vision is welcome, and the ability to bitstream Dolby Atmos out of the set opens the door for additional AV upgrades, like an Atmos soundbar.
It's cheaper than Amazon's own 4-series 55-inch LED model, which doesn't come with either Dolby Vision or Dolby Atmos.
There are caveats, naturally. The set's LED backlight doesn't deliver a deep black, and it's not 4K 120Hz capable, but then given the price I'm not surprised or disappointed.
Operationally it could be a little slicker too, but for an everyday cheapie, this is a great buy.
Specs
Sizes: 43, 50, 55, 65in
Model tested: 55in
Display technology: LED LCD 4K
Resolution: 3840 x 2160
HDMI: x3 (1x eARC)
HDR support: HDR10, HLG, Dolby Vision
Fire TV smart platform
2x10W Stereo sound system, Dolby Atmos compatible
Dimensions: 1225(w) x 728(h) x 280(d)mm
Weight: 16kg