At a glance
Expert's Rating
Pros
Mvmnt exercise tracking is excellent value for money
Simple to use with Sky Glass
Games good for kids
Cons
Pricey
Watch Together has limited content
Tracking is not perfect
Our Verdict
The Sky Live lives up on its promise to transform the Sky Glass TV with its interactive features, but there are limitations that stop it from being truly extraordinary.
Price When Reviewed
Not available in the US
If you've got a Sky Glass, or are considering buying one of these TVs, then you should also be thinking about whether you want to invest in Sky Live as well.
Launched earlier this summer, Sky Live is a plug-in camera designed to change the interface of Sky Glass by adding tracked workout routines, motion-controlled games, video call software and watch parties (apparently still a thing, post-covid).
Like the TV, Sky Live can either be bought as an additional subscription per month, or outright. But is this little device worth the additional price? Well, that depends on what you'll use it for – in my experience, some things work better than others.
Just to be clear: Sky Live will not work with any other TVs: it's an accessory for Sky Glass, reviewed.
Design and build
12Mp camera
Privacy button
Connects via HDMI and USB-C
At first glance, the Sky Live appears to be a standard webcam, albeit it an oddly shaped one. It measures 145 x 50 x 35mm (WDH) and is lightweight. Not that weight matters, as the camera will sit permanently on top of your Sky Glass.
Magnets in the bottom ensure it stays securely on the TV. Sky also includes a 'tilt adjuster', which is a rubber block that comes in the box, but I found it easier to just tweak the angle of the Sky Live without it.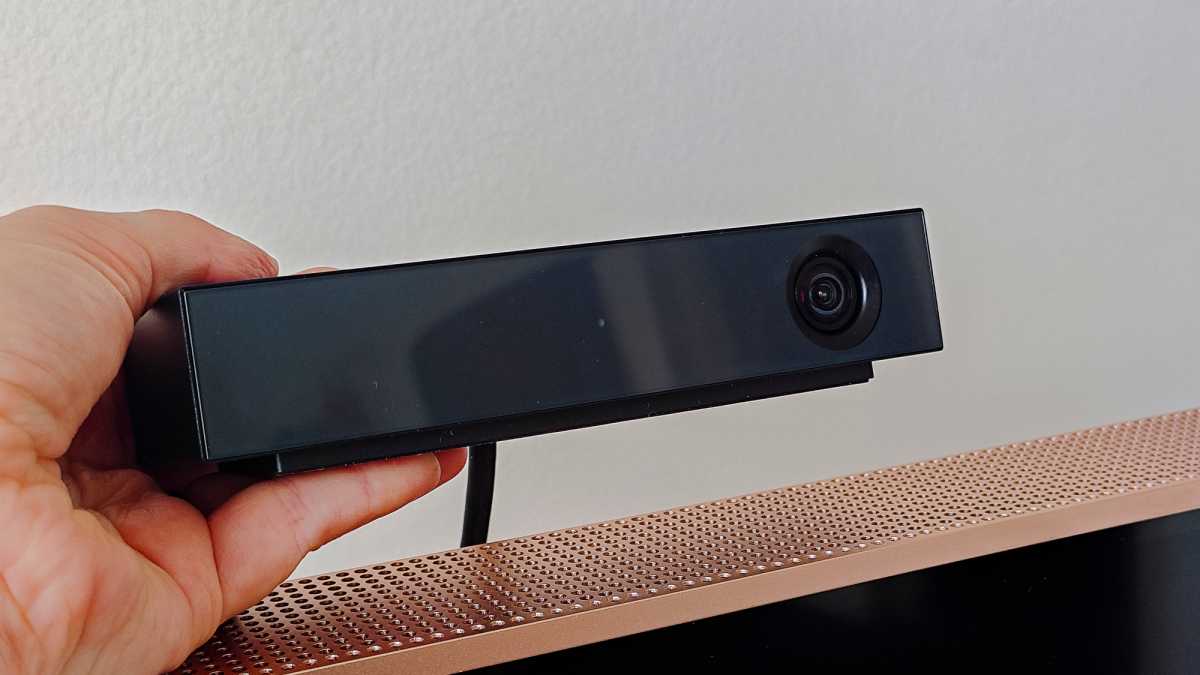 Hannah Cowton / Foundry
It plugs into the TV via the USB-C and HDMI ports, though I have a gripe with the length of the cable. Due to the layout of my living room, I'd often move the camera to the left-hand side when working out, but I was limited with how far over I could move it.
On top of the device is a privacy button which disables the camera and mic, although there's no physical shutter like some devices have. This lights up white when pressed, and the TV will let you know if you try and boot up something that requires the camera to be switched on.
In terms of specs, it's a 12Mp camera with a 106-degree field of view which is great for most living rooms. It has auto-tracking for Zoom calls, keeping you in the frame, but no way to adjust the focus manually. There are four built-in microphones on the top.
It currently only comes in the one colour: black. Options to match the five shades that the Sky Glass comes in would be nice, but I'm nit-picking here.
Hannah Cowton / Foundry
Sky Glass interface
TV homepage changes to include Sky Live features
Environment dictates the tracking accuracy
Once you've plugged in the Sky Live, the Sky Glass TV should recognise it and add sections to the homepage to ease you into the new features.
These videos and prompts also have suggestions on how to get the most out of your motion tracking and webcam performance. These include things such as good lighting, having minimal obstacles and having only one person in line with the camera (unless you're doing something designed for multiple people).
These things are necessary for the tech to work as intended. However, I sometimes had issues even in my generously sized flat with just the one fiancé roaming in and out of shot. If you have kids or pets and are limited on space/have a cluttered environment, then you may struggle with Sky Live.
It's worth taking into account your internet speeds before investing in Sky Live. Sky recommends that you have a minimum of 30mbps download speeds and 5mbps upload speeds
You can access all the games and programmes directly from the homepage, and they're quite easy to find. You can't really fault this gadget when it comes to simplicity.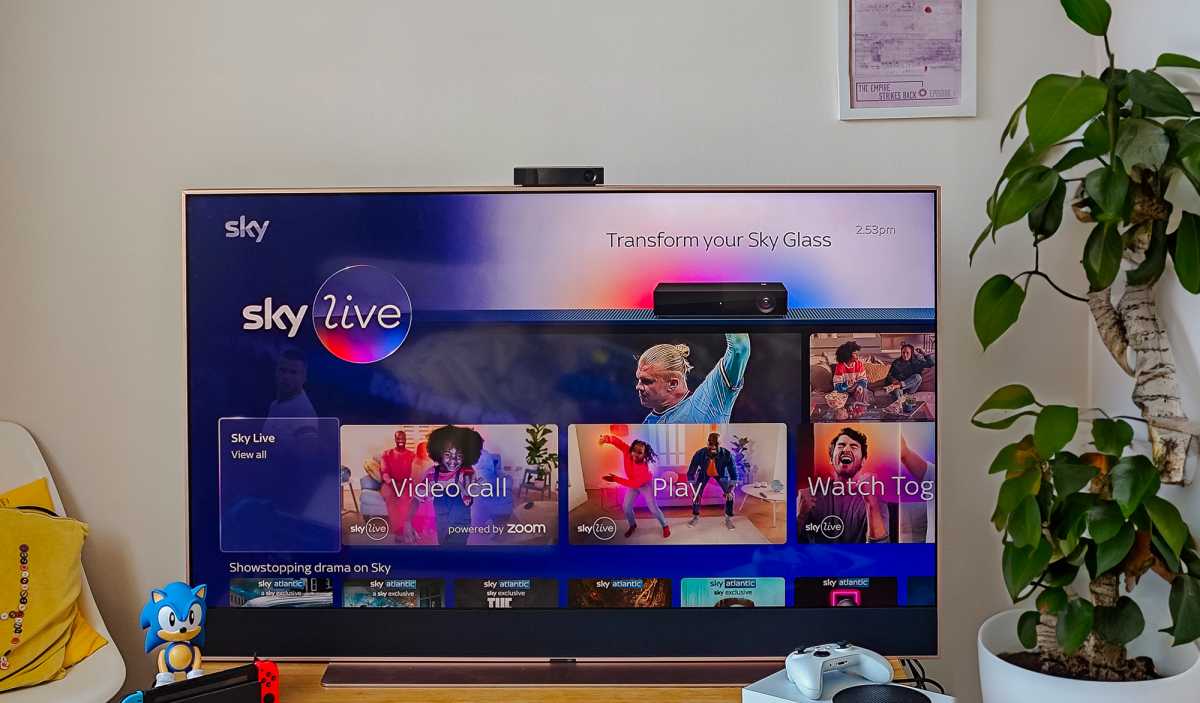 Hannah Cowton / Foundry
Exercise tracking
Mvmnt app is pre-installed on Sky Live
Movement is tracked by the camera
Over 130 different workouts at launch
I'm someone who regularly annoys my neighbours downstairs by exercising at home, so as soon as my TV was ready to go, I went straight to the Mvmnt app on Sky Live, which was created in collaboration with WithU.
This is designed to track your exercise and provide corrections to moves, with a range of different styles to choose from. There's HIIT, strength-training, yoga and more. I've used this software a fair amount and haven't really made a dent into the number of workouts on offer. There are even meditation sessions included (though for obvious reasons, these aren't tracked on the camera).
I made most use of the Pilates workouts, ranging from quick five-minute core burners to 35-minute intense sessions that left me working up a sweat. These are categorised into beginner, intermediate and advanced, with an estimation of how many calories you'll burn during a session.
The screen includes a short list of ways to improve your form, and a score out of ten for how correct your position is. There's a rep counter for some exercises – though you won't be penalised if you don't manage to get the amount of recommend reps.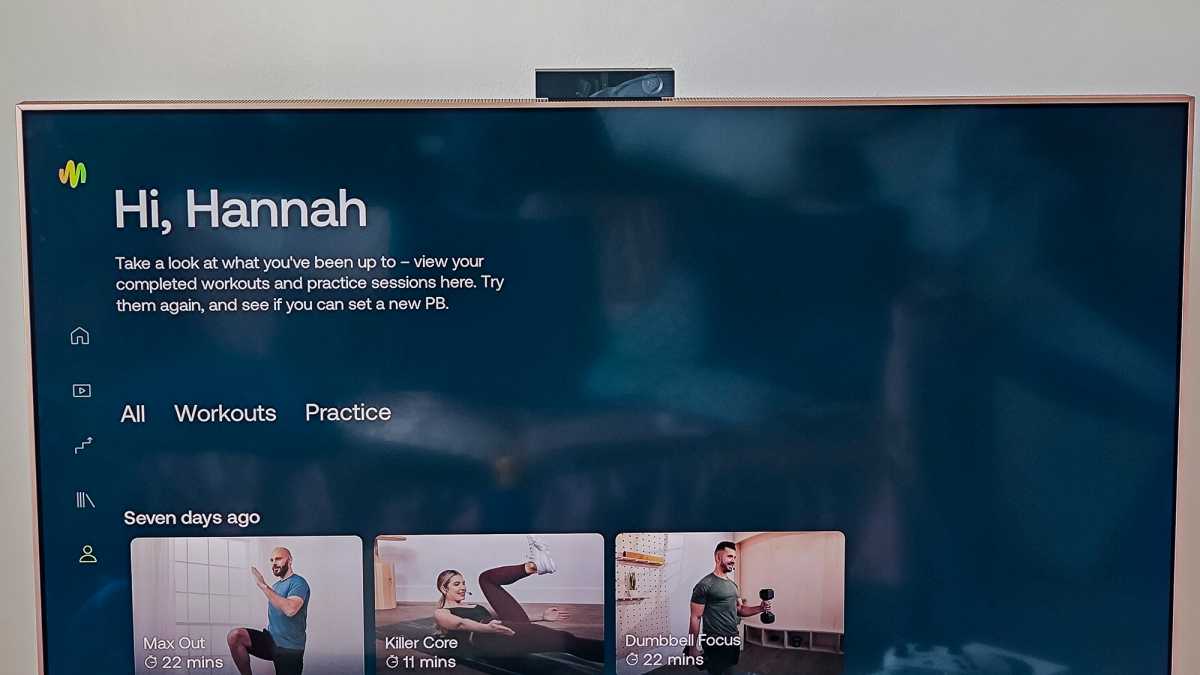 Hannah Cowton / Foundry
The workouts themselves are high quality. There is nearly always some repetition, as the coaches encourage you to improve on a certain move. There are categories for strength, cardio, balance and meditation, as well as curated playlists for low-noise and space-saving workouts – arguably these could have been lumped together as 'apartment friendly' sessions.
The coaches are friendly and approachable, each bringing their own unique style to a workout. Some are better at remembering to remind you what position you should be in for the camera to track you properly and staying in time with the rep counter. If they don't, then you're more likely to make mistakes.
The corrections can be useful, but they are hindered by the tracking sometimes getting muddled. For example, my camera struggled to identify moves on the floor when I was on my right-hand side (further away from the camera's view). The rep counter was also too generous, often double counting when I was doing a move.
Options during a workout wouldn't go amiss, especially if you struggle with certain moves such as press-ups due to non-existent biceps (or that might just be me). That said, I did a push-up on my knees, and it didn't affect my score. And if you can't work out a way to cheat, the option to skip a move in a workout would be very welcome.
The feedback screen shows your average scores for each move, but the pre-recorded audio from the coaches often repeats the advice, despite me getting imperfect scores on other moves. It would be nice for the algorithm to diversify the feedback if you're not getting perfect tens across the board.
If you score poorly on one move, the trainer will recommend practicing a move on its own in a dedicated video. Every workout you do is recorded in your profile, and you can rack up points and achievements over time, encouraging you to keep exercising… in theory.
Hannah Cowton / Foundry
The software also has an accompanying smartphone app. You can use this is to schedule or save future workouts, track your progress, and to view prompts when you're facing away from the camera with the Companion section. Obviously, this isn't doable for every move (try holding your smartphone in a reverse plank, for example) but it is useful at times.
There are also a few tweaks that need to be made. For example, I spotted that the calorie count on my phone was wildly different from what was on the screen for one workout. In my demo for the product, the team told me that integration with wearables for heart rate tracking is coming, and this would really level up the Sky Live from traditional home workouts on YouTube.
Although the tracking certainly isn't perfect, the sheer range and detail of these exercises is undoubtedly the best feature of Sky Live if you're into working out at home.
Motion games
27 games at launch
More to come in future
The other feature that uses body tracking is games. There were 27 titles at the time of writing, with more to be added in the coming year, including a Peppa Pig game.
Once again, tracking is not 100% foolproof, especially with turn-based multiplayer titles. Fruit Ninja struggled to identify between me and my partner, forcing one of us to exit stage right out of the room to be fully out of the shot and avoid interfering with play.
Games that support multiple players on screen – like Whack-a-Mole and Galaxy Jumpers – don't run into these issues, and tracking was pretty accurate, despite me having terrible coordination.
The game Starri is the most dynamic title, taking influence from Guitar Hero and Just Dance. It has a range of pop songs from artists such as Dua Lipa, Sia and Imagine Dragons, and will get your heart pumping whilst flailing around like an idiot (much to the amusement of others).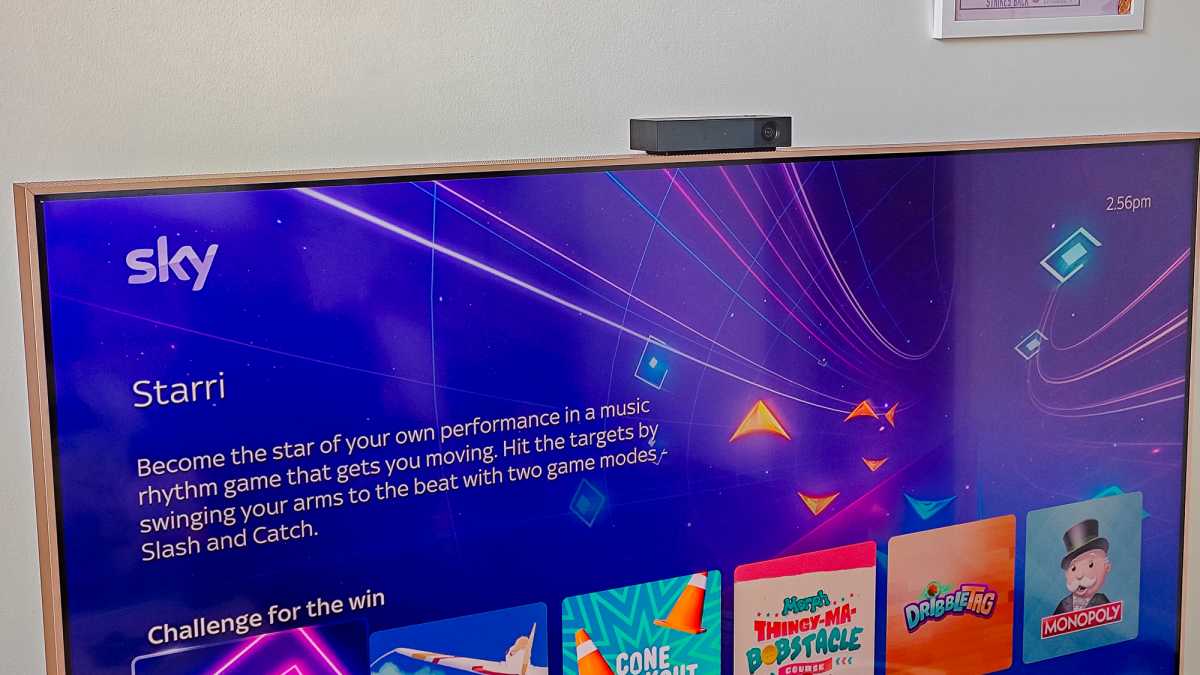 Hannah Cowton / Foundry
This is one of the few titles that feels like its geared towards adults. Children and parents will definitely get the most out of motion gaming on the Sky Live.
There are some titles that don't require other users to have Sky Glass and Sky Live. For example, Monopoly can be played with people who have the mobile app on iOS and Android. It would be good to see more mobile/cloud titles integrated into the platform in the future.
Video calls
Zoom support
Watch parties with Sky content
Sky Live is a camera, so naturally it can be used for video calls.
As you'd hope, there's Zoom integration. On here you can sign into your Zoom account to create a call (or join a room with a meeting and password), and you can use a lot of the features that are on the web app such as raising your hand, reacting, chatting and going into breakout rooms.
The camera has autofocus, and it will follow you around the room if you move, cropping in and keeping you in the frame. However, the unimpressive quality really shows up on the 55in Sky Glass. If this is a concern, or you need to move out of your TV room, then you can link up your smartphone using the meeting code to switch between devices.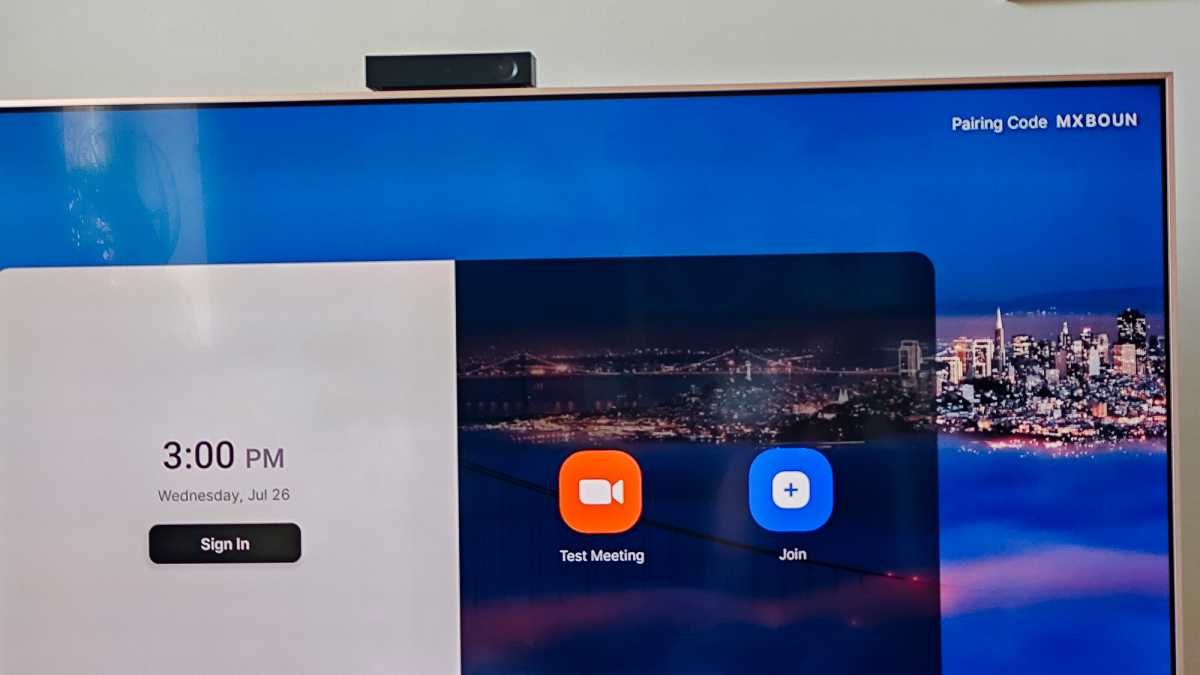 Hannah Cowton / Foundry
Most people I know use Zoom predominantly for business, and I don't see the appeal of having any colleagues or clients seeing my living room. It would be nice to see other video chatting services, such as messenger or WhatsApp, supported in the future.
The other calling feature is 'Watch Together', which allows you to have a call with someone else to watch a TV show or film in real time… but they also need to have both Sky Glass and Sky Live.
That's not the only major restriction. You can only watch content available on Sky's TV guide and owned apps (which excludes Netflix, Disney+ and Prime Video at the time of writing), and both callers must have the same package to tune in. So, if you have Sky Sports included in your package, but your friend/family member doesn't, then they won't be able to watch along with you. For most people, then, it's a feature they simply won't be able to use.
The good news is that Watch Together works pretty well. All participants in the call can choose what content to watch, and switching between shows/movies involves only a small wait time.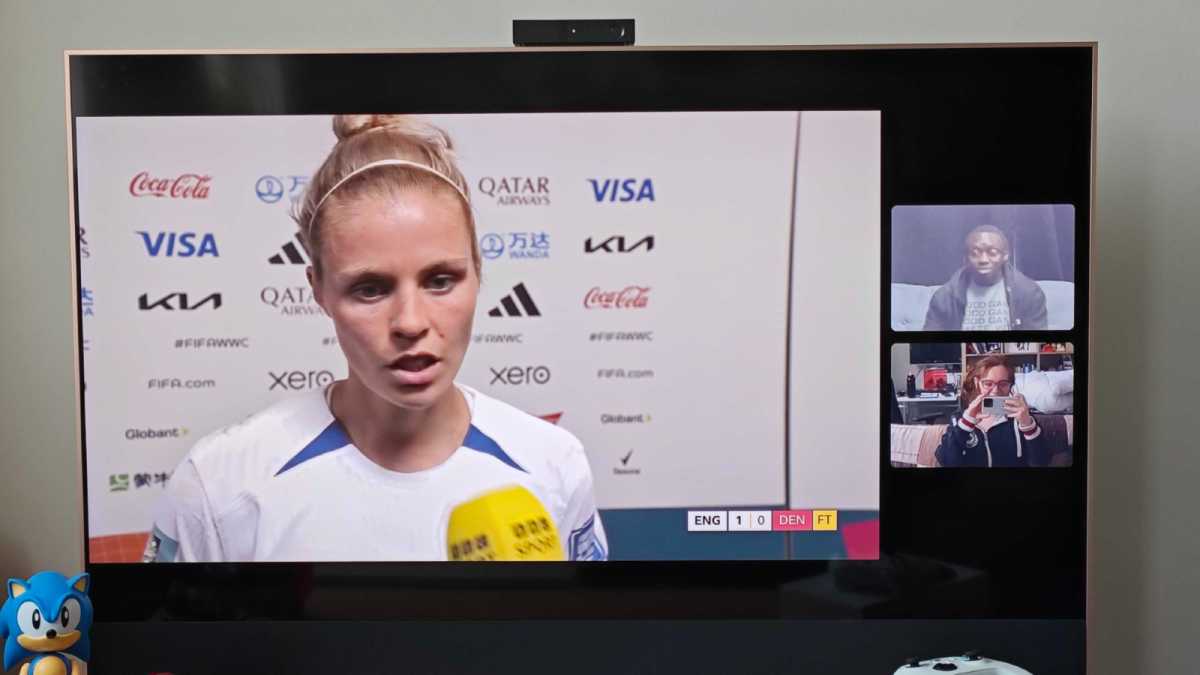 Hannah Cowton / Foundry
Although I didn't get any feedback or delay from the other caller tuning along (a plus if you're watching something live), I struggled to hear them at times, even with the TV and call audio at the medium balanced level. The audio had a bit of lag, and would switch between sounding rather sharp and popping to cutting out.
Audio is better in Zoom, but still has a tinny quality to it. It improves if you get close to the TV, but no-one is going to enjoy a film or video call with their nose pressed against the screen.
Sound quality is audible on the TV, but I struggled to hear the other person when I switched to using my smartphone for the call, again highlighting the limitations of the microphones built into the camera.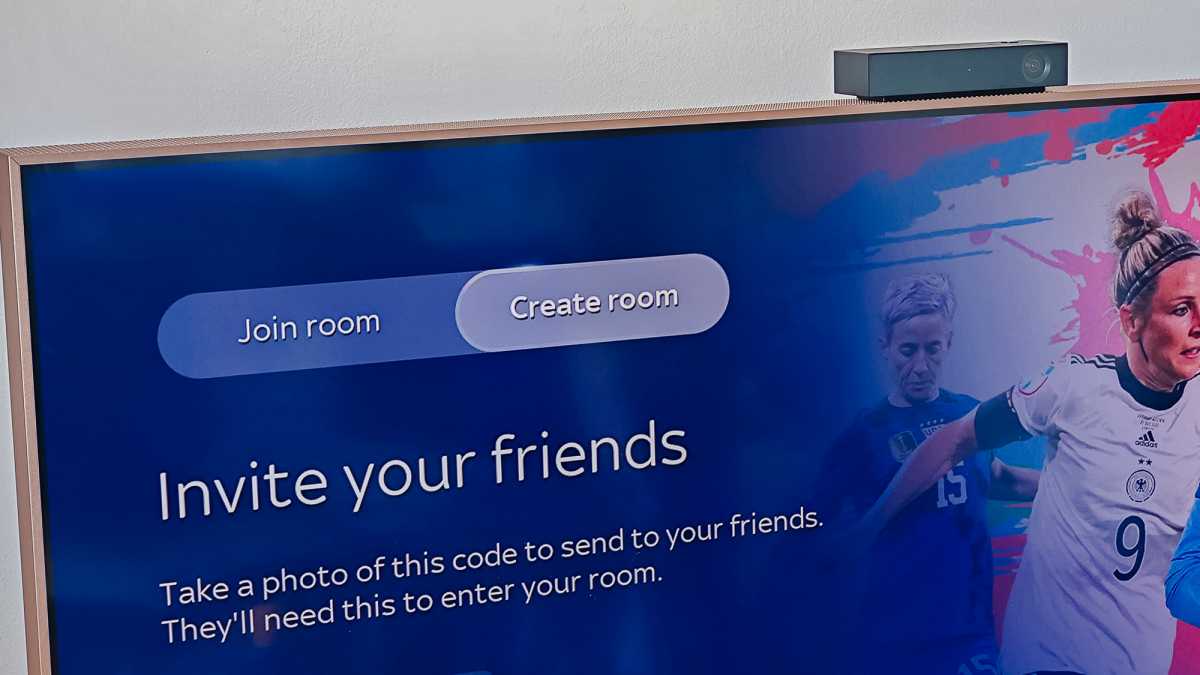 Hannah Cowton / Foundry
Price and availability
You can buy a Sky Live camera exclusively from Sky in the UK. But how much will all these features cost you? There are three payment options for Sky Live as follows:
£6 per month on a 48-month contract
£12 per month on a 24-month contract
£290 to buy outright
As I said right a the start, you must have a Sky Glass TV in order to use the camera. It won't work with Sky Q or Sky Stream. That means either you're already locked into a contract and can buy the camera on its own, or you're considering getting both Sky Glass and Sky Live together.
For the cheapest TV (the 48in model), this will cost you a minimum of £20 per month for the hardware alone on a 48-month contract. On top of that you'll need your entertainment package for your channels – the cheapest at the time of writing was £26 per month. So, altogether a contract will cost you £46 per month at minimum.
You can see the exact costs of Sky Glass here.
Hannah Cowton / Foundry
£300 for a "webcam for your TV" may seen steep. But – and this is a big but – some online exercise memberships cost much more than £6 per month, and don't offer the tracking options as the Mvmnt app. Sure, the tracking isn't flawless, but I'd still be happy to continue using the app even after this review is published.
The games are very much focused on younger audiences, so if you have children then that could add value. The video call features aren't as compelling, but they may still come in handy if you have relatives abroad or don't mind taking business calls in your living room. It's just a shame more platforms aren't supported.
Verdict
Sky Live offers a lot, but its best feature without a doubt is the exercise tracking. The cost of this feature alone undercuts the price many online class memberships – though the tracking is not slick enough to replicate the same experience as you'd get in a studio.
These tracking woes mean that the camera is not ideal for small spaces, cluttered rooms or if you have lots of people roaming in and out of the room, so consider your space before you invest. The games are also best suited for children, so a family environment will get the most out of Sky Live.
Watch Together is slightly hindered by the audio, with the camera struggling to pick up all dialogue. It's better in Zoom, but still on the quiet side.
Finally, if you're also thinking about Sky Glass as well, do read our review of the TV. There are many other things to consider when signing up, and the camera will add on more money to your outgoing monthly bill. Only give it a whirl if home workouts, simple games or video calls are a priority in your home.
Specs
12Mp camera with 106-degree field-of-view
Four mic array
Black colourway
USB-C and HDMI connection
Tilt adjuster included
Privacy shutter button
14.5 (l) x 5 (w) x 3.5cm (h)