At a glance
Expert's Rating
Pros
Very powerful
Lots of fast storage
Bright 17in mini-LED screen
Plenty of ports
Cons
Big and heavy
Underwhelming battery life

Staggeringly expensive
Our Verdict
If you just want the fastest laptop money can buy, the Titan GT77 HX 13V is the device to go for. But it's not as portable as most laptops, and you'll need deep pockets.
Price When Reviewed
$5,299
Best Prices Today: MSI Titan GT77HX 13VI-014NEU
Not too long ago, the Asus ROG Strix Scar 16 was the fastest gaming laptop we'd ever tested. But MSI clearly wants to be number one, and its Titan G77 HX 13V proves it.
This beast of a laptop has the same high-end processor as the Scar 16, but even more capable graphics. You also get a bigger screen, more RAM and a larger SSD, all within an even bigger and heavier chassis.
With a 17in display, a thickness of 2.3cm and weighing 3.3kg, this is one laptop you don't want to mess with. Here's our full review.
Design & build
The Titan G77 looks like something Batman would haul out in one of the recent films.
A pitch-black exterior makes this beast of a machine look like it double as a weapon in Gotham City…until you turn it on, that is. Then, you'll be met with a rainbow of colours, from the MSI logo on the lid, cooling holes at the back around each of the keys.
Batman himself would have swapped this for something more subdued instantly, and it's easy to do so using the accompanying SteelSeries GG software. After setting up the device, it was also the first thing I did. Otherwise, it's all a bit too much.
SteelSeries is also the company behind this keyboard, which features high-end Cherry MX keys with a real mechanical switch. That's unusual in a thin laptop-style keyboard, as is the relatively high stroke heigh. They combine for a distinctive typing experience with excellent, tactile feel.
You will probably notice the rattle when using the keyboard, but it's definitely worth putting up with.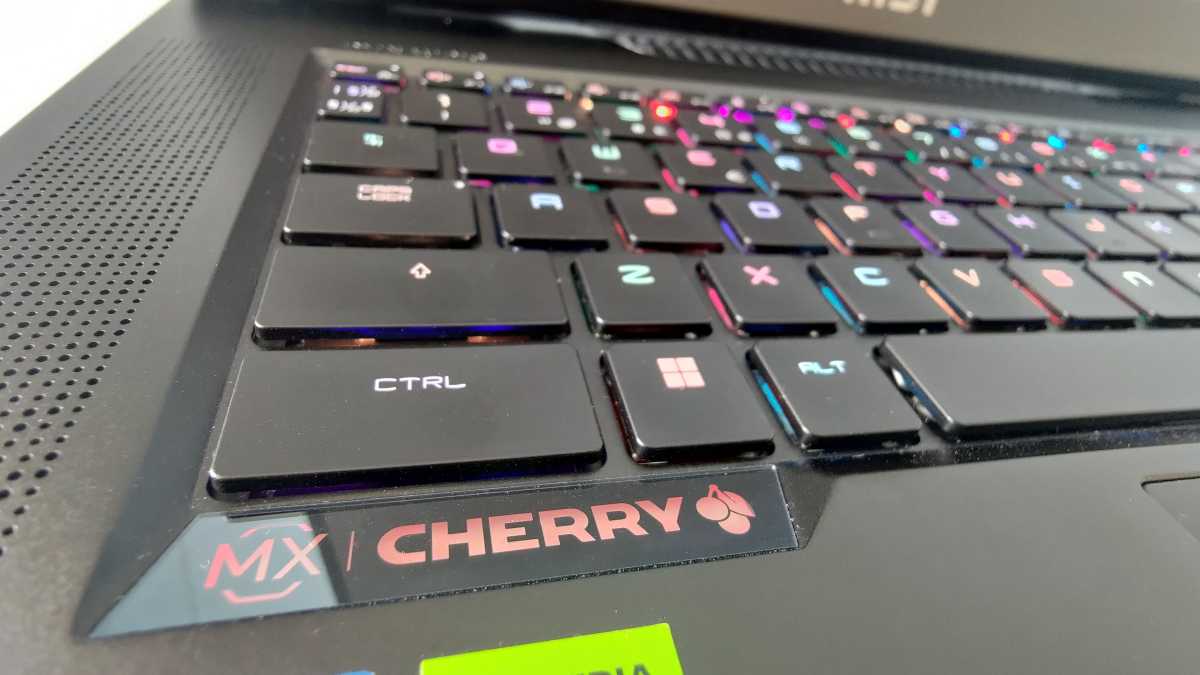 Mattias Inghe
Display, webcam & ports
As you might expect, the display boasts top-tier specs.
It's a 17in, 4K Mini-LED, complete with a 144Hz refresh rate, full DCI-P3 colour gamut coverage, up to 1000 nits of peak brightness and Vesa DisplayHDR 1000 support. Opting for Mini-LED adds to the thickness and weight of the device, but it's worth it for the excellent experience while watching films.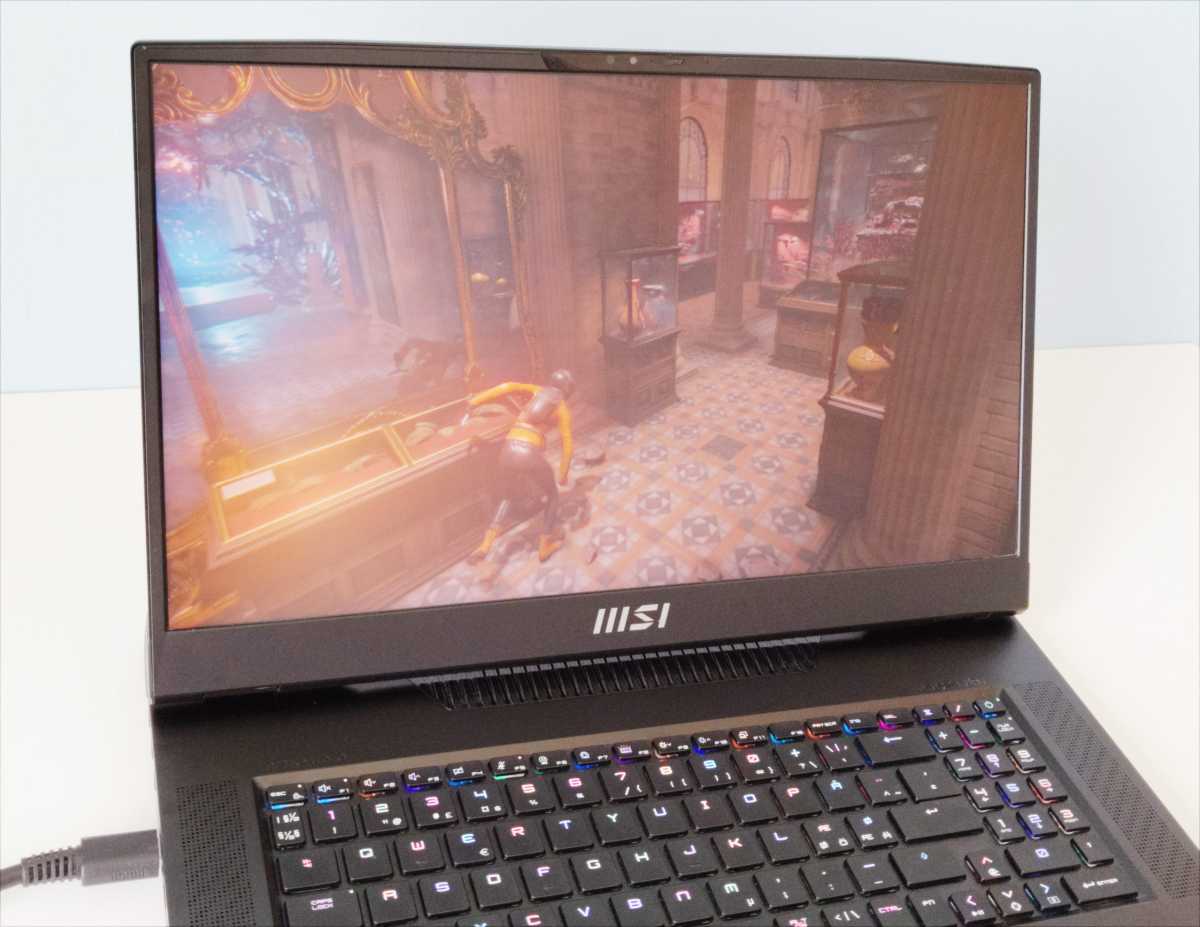 Mattias Inghe
Mini-LED is notoriously problematic for gaming and some work situations, as the lighting tends to lag behind the LCD layer, but MSI's take on it fares better than most.
It doesn't feel like turning off the local dimming is necessary. Which is good, as the option doesn't seem to be available.
Instead, you can switch between different colour profiles depending on what you're doing: movies, office work and gaming are here, alongside those specifically for the sRGB and DCI-P3 colour gamuts. All seem to work well.
Alongside Wi-Fi 6E for wireless internet, you get a 2.5 Gigabit Ethernet port for a faster wired connection. It's joined by HDMI and Mini DisplayPort, alongside two Thunderbolt 4 (USB-C) and three USB-A ports.
However, the webcam is a surprising weakness. Perhaps MSI assumes that you'll want to buy a professional camera if you can afford a device like this, anyway. There's at least a separate IR sensor, enabling Windows Hello face unlock.
You also get a fingerprint reader, located just below the keyboard.
Specs & performance
The high price tag is not surprising when you look at the specification list. They don't skimp on anything here. Intel's Core i9-13980HX is the most powerful Intel processor for laptops right now, while the GeForce RTX 4090 with 16GB of memory is the most capable current mobile graphics card from Nvidia.
It's fully loaded with RAM and storage, 64GB of DDR5 RAM and a 4TB SSD. It's actually possible to fit in another 64GB of memory, as two of the four slots are free. But the storage takes up both M.2 PCIe slots in the computer.
Is MSI setting new performance records like Asus did? Yes, a few, but it's not the fastest on all counts. It doesn't manage to reach the same performance peak for CPU as the ROG Strix Scar 16, despite the same processor.
Where the Asus computer clocked in Cinebench scores above the 30,000 mark, the Titan GT77's best score is around 25,000. However, it makes up for it with a few per cent higher performance during long hard runs. As for the storage, its SSD array is the fastest I've measured so far.
Mattias Inghe
The cooling, either in standard automatic balanced mode, AI assisted automatic mode or manual high performance mode, is very efficient. And loud. I don't see any obvious difference in performance between them, but the AI controlled Smart Auto mode is the best at slowing down between load peaks.
It's completely silent in theory, but this is very rare, and most of the time it makes a mild hum.
The graphics performance is something special. The mobile RTX 4080 felt underperforming compared to my expectations, but the RTX 4090 loosens the reins, with a full 16GB of GDDR6 memory and significantly higher memory bandwidth. Together with a trimmed boost frequency for the GPU cores, it seems to do the trick.
Even demanding graphics-heavy games are displayed on the computer's 4K screen in the highest quality with all effects maximised and a smooth frame rate. Maybe not a super high frequency, but somewhere between 40 and 60 frames per second. But then we're talking 4K, HDR support where games support it, and challenging ray tracing. If I reduce that, it's easy to get up to 60fps or more.
Mattias Inghe
Going down to 1440p or 1080p in resolution is even better. With the right game, that doesn't demand too much from the computer, you can maximise the screen refresh rate to 144Hz for a fantastically smooth and responsive experience.
The screen doesn't have the fastest response time by far, around 9ms in game mode and higher in everyday usage, but it's smooth. I'd say it's better suited to delivering a great gaming experience than perfect responsive control for competitive Esports.
Audio & battery life
Four speaker elements of 2W each sit upright next to the keyboard and inside the shell on the underside. They sound clean, detailed and nice, though not with quite as much weight as the computer's size and, well, weight, would lead me to hope.
Audio is handled by Nahimic, also from Steelseries, but it clashes with another Steelseries audio routine called Sonar. So you may need to do some setup first, and make sure you choose the right audio source for the system. But this is small annoyance that is easily fixed.
Battery life is never something to expect much of in a computer like this. With a high load on the CPU, but no game graphics, the computer lasts about an hour and a half. If I play demanding games, I can easily halve that time. With a dimmed screen, I can surf and run Word for up to five hours, but that's it. It's important to have the charger with you, which is also heavy at around 1.5kg.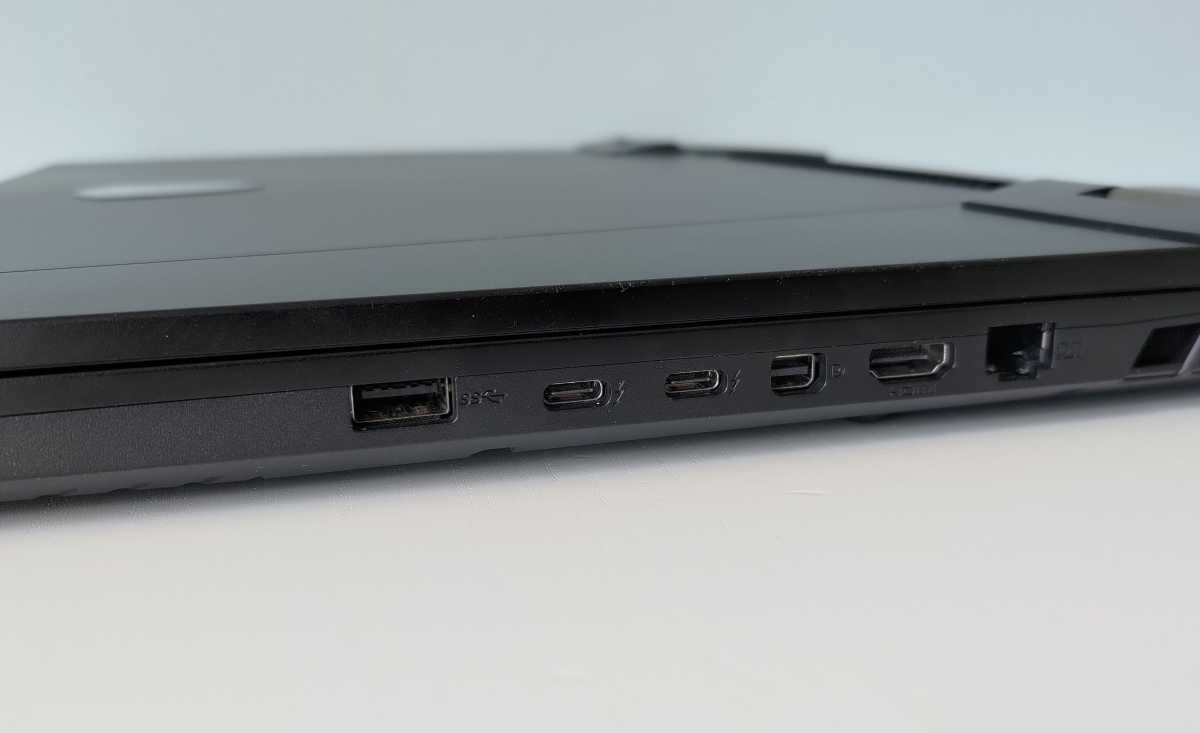 Mattias Inghe
Verdict
It's easy to break both your finances and your back with this computer. In terms of gaming performance, it beats most things right now, while the big, beautiful 4K screen and lots of memory also make it an excellent content creation device.
The question is, since it's still only a laptop: wouldn't it be better to have a desktop PC and large monitor instead? For most people, the answer is yes.
But for those who just want the best gaming laptop right now, this is the one to get. And the device the competition is trying to beat.
This article was originally published in Swedish on M3.
Specs
Product name: MSI Titan GT77HX 13VI-014NEU
Tested: June 2023
Manufacturer: MSI
Processor: Intel Core i9-13980HX
Graphics: Nvida GeForce RTX 4090
Memory: 64GB DDR5
Storage: 4TB SSD, SD card slot
Display: 17.3″ matte IPS, 3840×2160 pixels, 144 Hz, Mini-LED
Webcam: 720p, IR for Windows Hello face unlock
Connections: 2 x Thunderbolt 4 USB-C, 3 x USB 3 Gen 2 Type A, 2.5 Gbit Ethernet, Mini DisplayPort, HDMI 2.1, 3.5mm audio jack
Wireless: Wi-Fi 6E, Bluetooth 5.3
Operating system: Windows 11 Pro
Other: RGB backlighting in keyboard and fingerprint reader
Noise level: 0-44 dB
Battery life: approx. 1 hour 25 minutes (high load, full brightness), approx. 17 hours 30 minutes (low load, low brightness)
Size: 39.7 x 33 x 2.3 cm
Weight: 3.3 kg
Best Prices Today: MSI Titan GT77HX 13VI-014NEU