At a glance
Expert's Rating
Pros
IP68 waterproof and rugged
4G/5G network
X-Space and X-Talk functions
5-year warranty
Cons
Heavy and chunky bezel
Expensive
Low res screen
Very slow charging
Our Verdict
The CrossCall Core-Z5 is the ultimate if you're looking for a professional mobile phone that can keep you company in mission-critical jobs and environments. Not only does it deliver on the ruggedness front, but communications are accurate with GPS and 700MHz band 68 for 4G. However, it is a product with a high price to pay with some oddly low specs in places.
The mobile phone we are analysing this time is not a smartphone that aims to please as many users as possible. In fact, the Crosscall Core-Z5 belongs to the range of rugged mobile phones designed to be used as a tool in the most demanding professional environments, especially in critical situations.
That is why it is in certain sectors, such as security forces, fire brigades, emergency teams, livestock farmers and farmers or professionals working in the field, where the maximum benefit will be obtained from its use, guaranteeing reliable communications with the appropriate resistance and watertightness.
Design & Build
Protected buttons and ports
Weighs 281 grams
IP68 certified
Clearly, while the evolution of rugged mobile phone design continues to move ever closer to the slim design of any other mobile phone on the market, it has to be said that you could quickly identify that the phone you are holding in your hands is special.
Its design is elongated with a 19:9 screen format, which strives to offer a large viewing area. However, the fact that it's a rugged phone does take its toll, with noticeable bezels on the screen to protect it from being dropped or knocked. It also weighs in at 281 grams.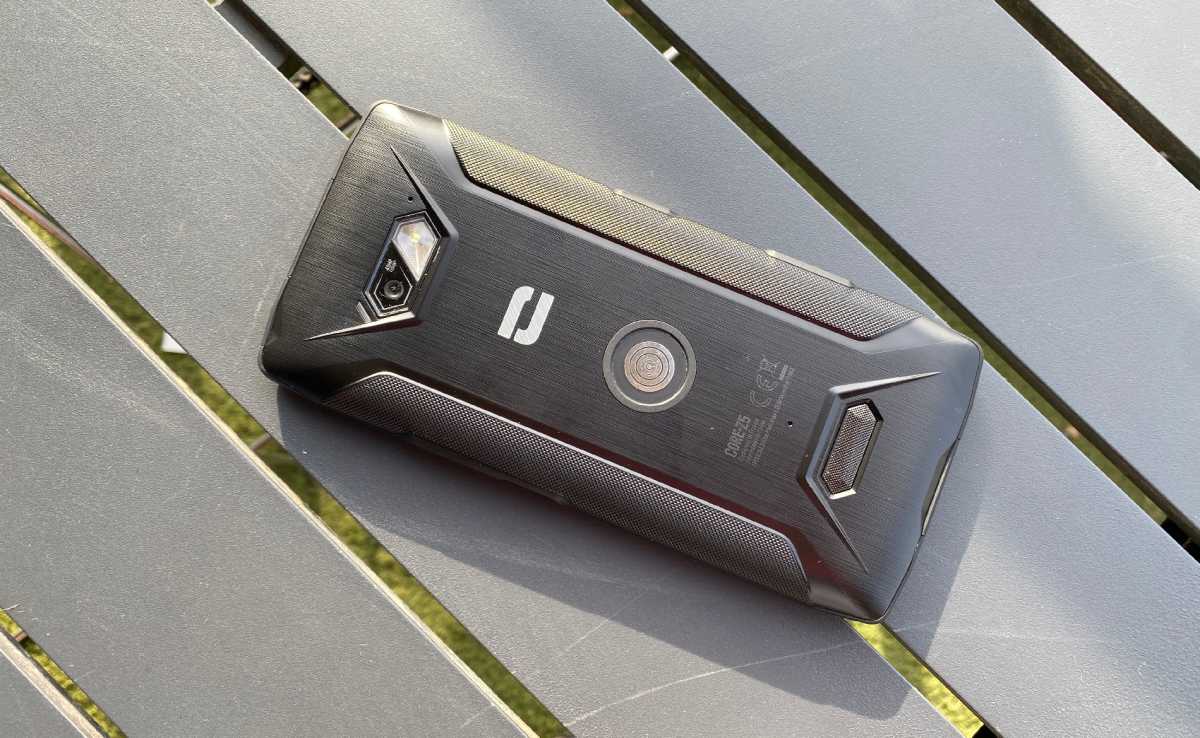 Alfonso Casas / Foundry
It's a smartphone with a reinforced structure, so the good thing is that you won't need to use an extra protective case, as the body of the phone already guarantees the highest standards of durability and resistance.
Engineers have worked to ensure that the Core-Z5 meets the MIL-STD 810H military standard, which guarantees its use in exceptional weather conditions, guaranteeing its operation in temperatures ranging from 60ºC to -25ºC.
Alfonso Casas / Foundry
For waterproofing, the mobile phone complies with IP68 certification so that it can be kept for just over 2 hours submerged at a depth of 2 metres without being affected. Very few phones on the market can achieve this level of protection against liquids or underwater immersion.
The back of the phone is a mix of plastic and aluminium with scratches on the sides to make it easier to grip and offer more grip. The frame and edges of the Core-Z5 are made of rubber material in the form of a bumper to withstand knocks or falls on concrete at a height of 2 metres.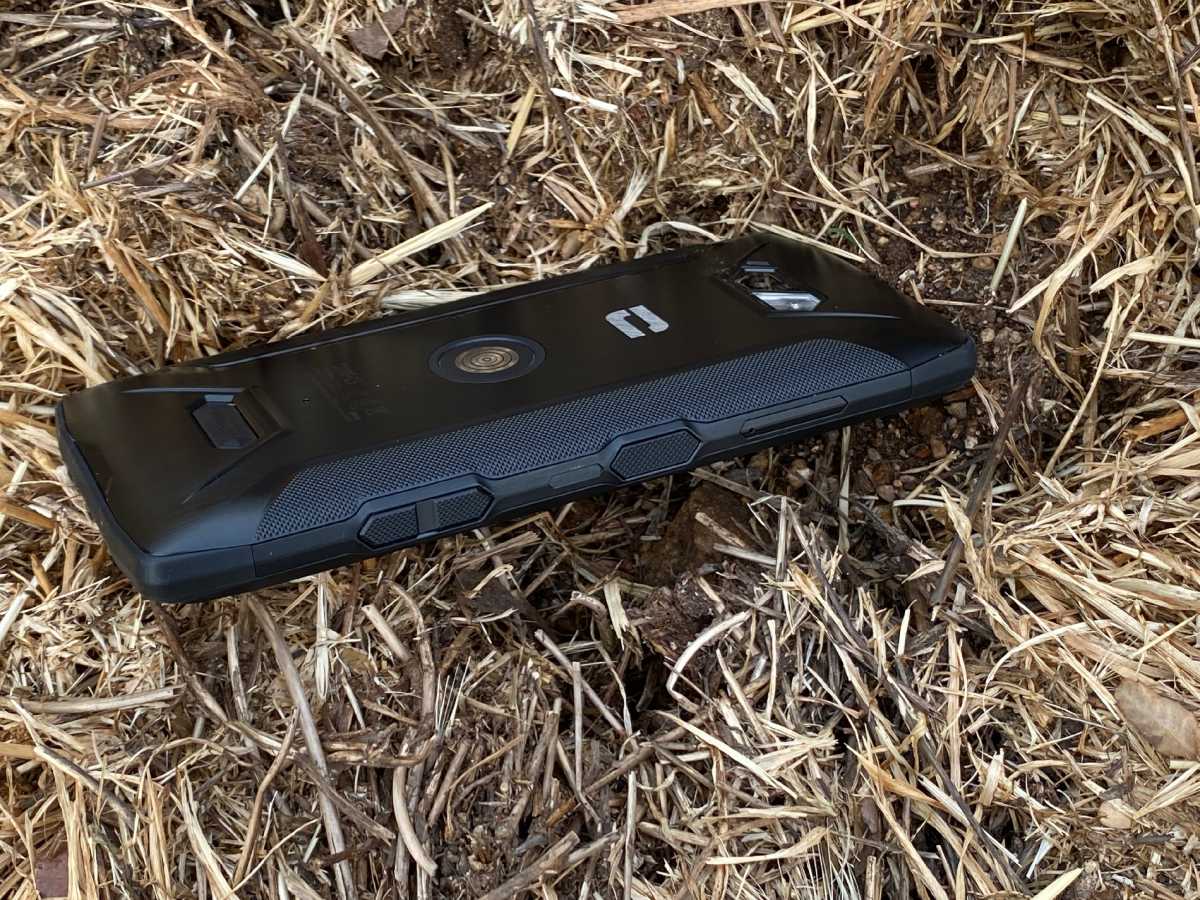 Alfonso Casas / Foundry
The USB C connector and the 3.5 mm mini-jack headphone jack have their own protective cover, while all the buttons (up to 7 in total) are protected and generously sized so that they can be operated even if you're wearing gloves (see firefighters or security forces).
As I will discuss in the article, unlike other rugged mobile phones that focus on ensuring resistance and durability to shocks or falls, the Core-Z5 is the ultimate communication tool, also reinforcing GPS communications and 4G / 5G connections on an extra band.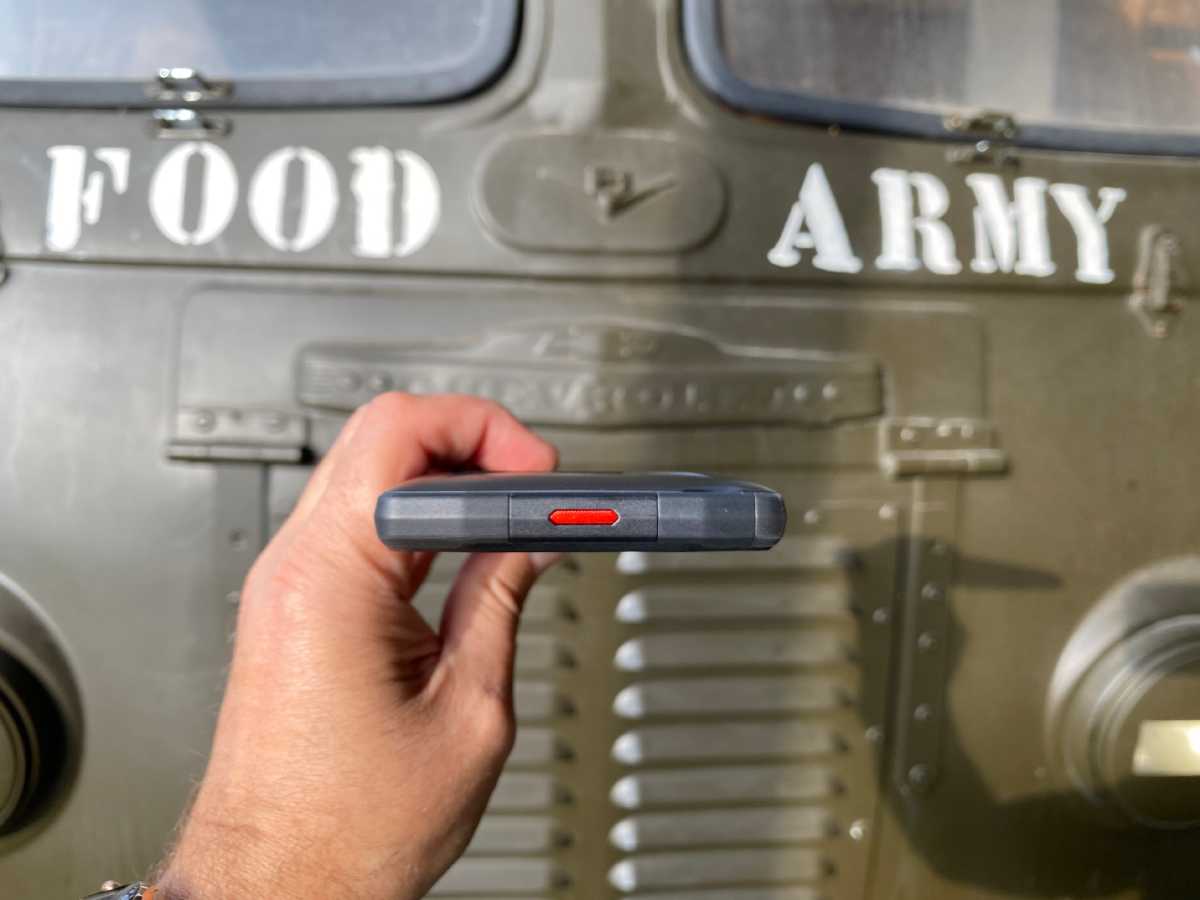 Alfonso Casas / Foundry
We have a total of 4 buttons (3 on the side and one on the top) that can be programmed to carry out specific functions that have been previously set by the user, such as X-Safe to activate emergency calls.
The Core-Z5 can be unlocked using the fingerprint reader located on the side button corresponding to the screen activation. It works well, although it wouldn't win a prize for being the fastest at unlocking.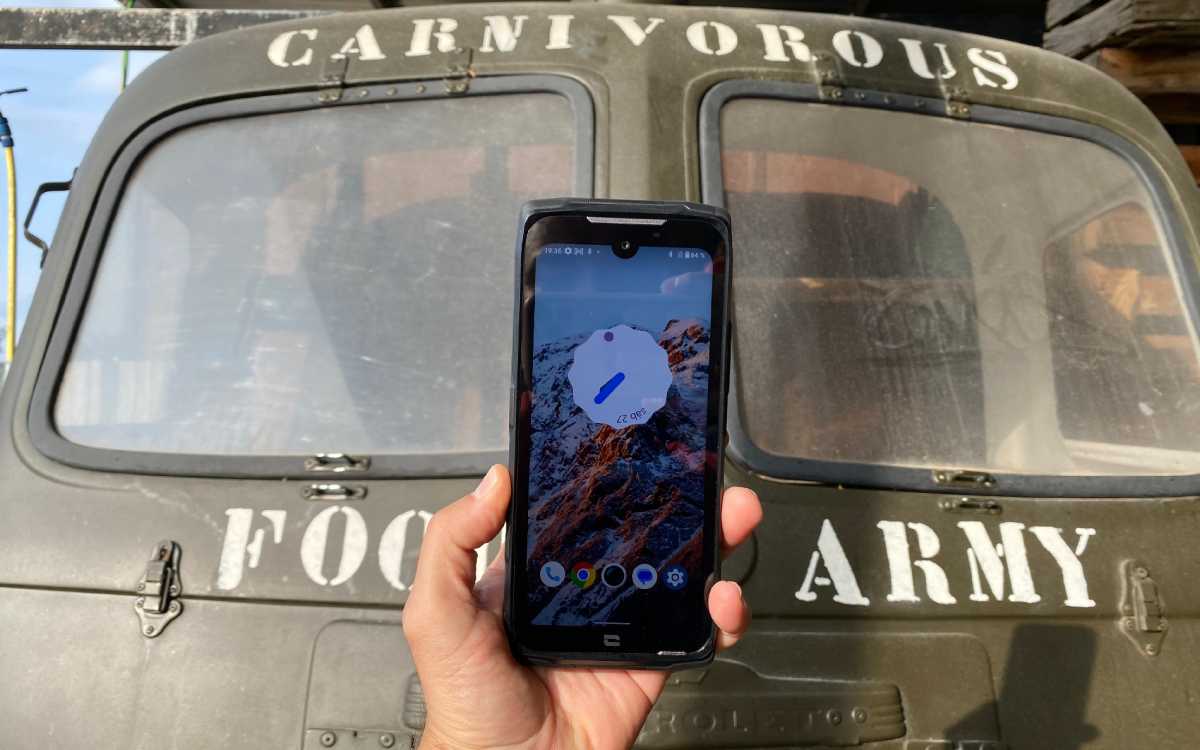 Alfonso Casas / Foundry
To close the design section, on the back we find a magnetic X-Link connector that allows the connection of accessories or the transfer of data depending on the accessories used.
In situations that require a maximum grip, the X-Blocker accessory included as standard, guarantees the attachment of the phone to any belt, chest harness or motorbike handlebars, guaranteeing a detachment force of up to 20 kg and reducing vibrations.
Screen & Speakers
6.08-inch capacitive display
Low HD+ resolution (1520 x 720 pixels)
500 nits brightness
The CrossCall Core-Z5 is a mid-range to premium mobile phone, so it seems logical that we demand high specifications in each and every one of the different sections.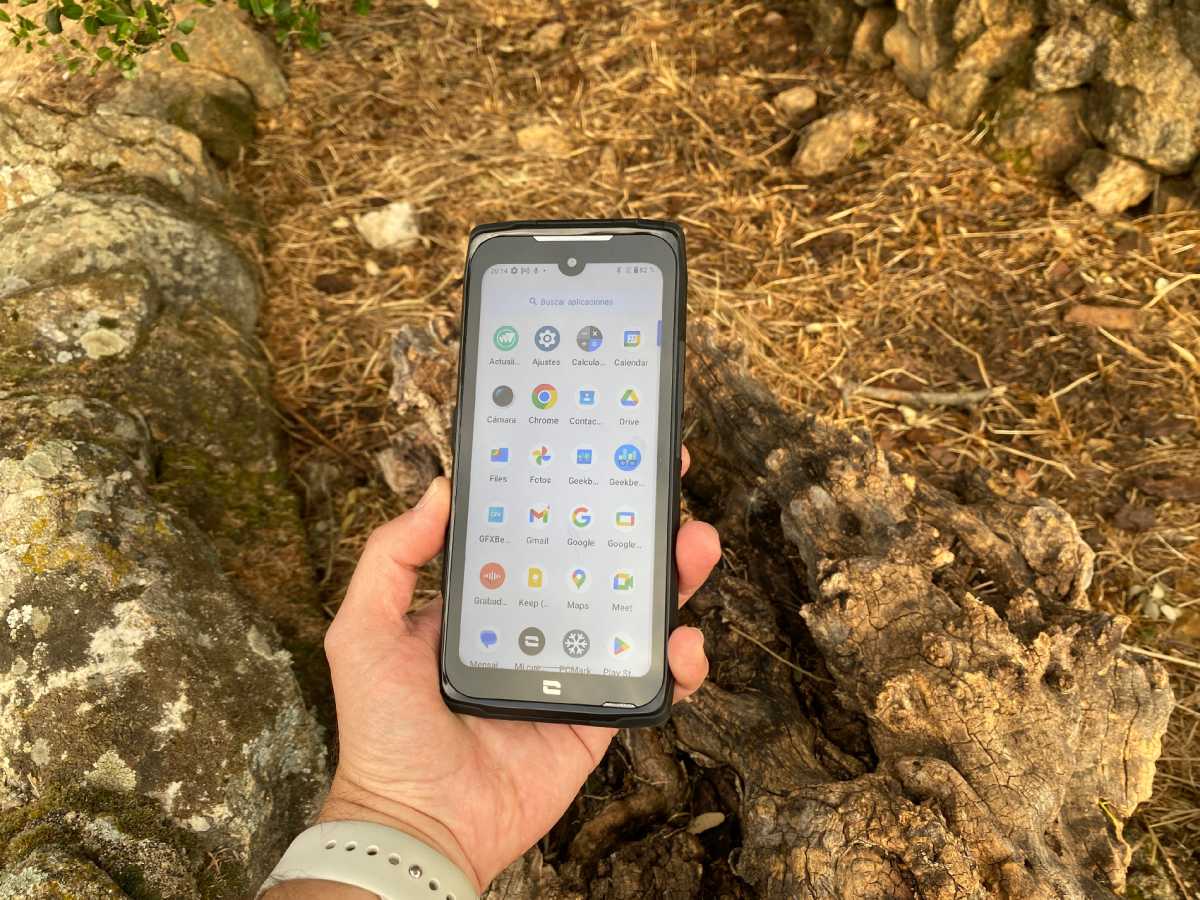 Alfonso Casas / Foundry
In the case of the screen, there is room for improvement. Its panel is only 6.08 inches, which isn't bad, although considering the size of the phone that means it doesn't make good use of the screen's bezels, which are quite wide.
The 19:9 aspect ratio is slightly stretched, with an HD+ screen resolution of just 1520 x 720 pixels, which is certainly low and doesn't even reach Full HD. On the plus side, it's a very bright panel with a brightness of 500 nits so you'll be able to see the screen no matter what the lighting conditions are.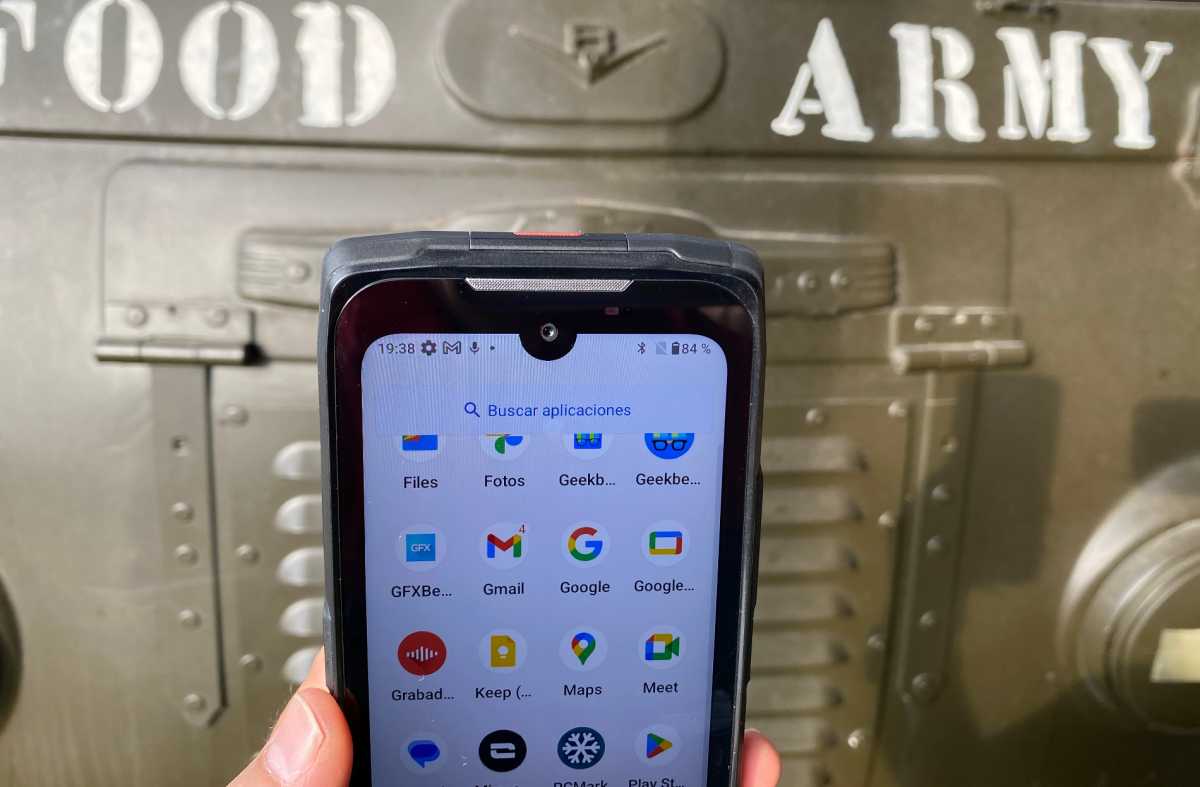 Alfonso Casas / Foundry
Another point in its favour is that the screen is coated with Corning Gorilla Glass 5 technology, which guarantees that it will withstand knocks and falls that can occur from a great height of up to 2 metres.
The screen technology is capacitive with 5 touch points that can respond to the interaction you carry out even with gloves, thinking of professional users who have to handle the mobile in extreme conditions or in work environments.
In terms of sound, a speaker located on the back of the phone, unlike the more common practice of placing it on the bottom next to the connectors, delivers a loud and powerful 100 dB volume. Too bad that as you raise the tone, the bass disappears and the music sounds canned and lacking in consistency.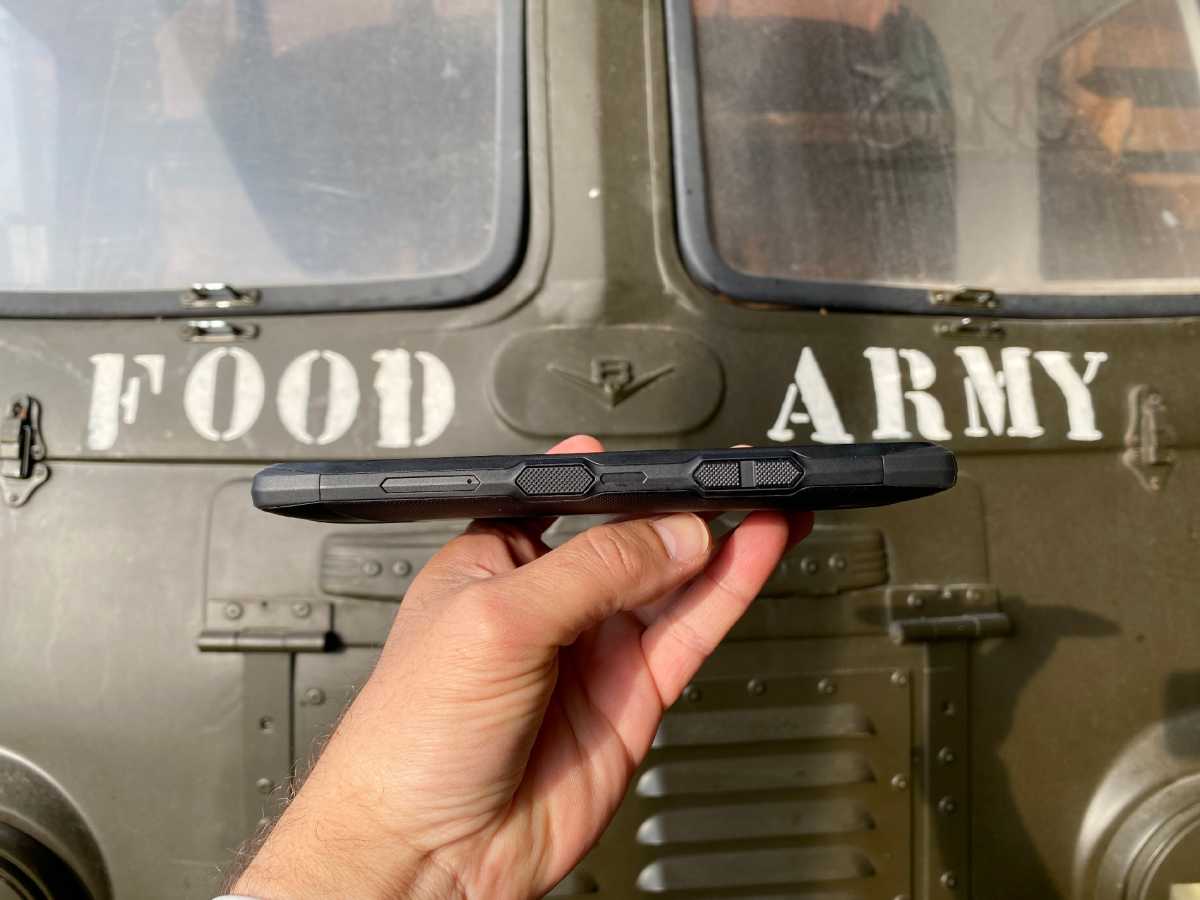 Alfonso Casas / Foundry
Although there may appear to be an extra speaker at the top front of the screen, its presence is merely visual as it's used for calls, but not for producing stereo sound when playing music or watching videos.
Specs & Performance
Solvent processor
Low RAM and storage
MicroSD slot support
In terms of performance, the chipset chosen by CrossCall is the Qualcomm QCM6490 found in very specific handsets such as the AGM G2 with a market price of over €1,000, with Adreno 643 graphics.
This configuration is accompanied by 4GB of RAM and another 64GB of storage, which is a little low for the times and unusual for phones in this price range, but we have already mentioned that CrossCall wants to focus on other areas.
Benchmark performance is average but not particularly strong in the rugged mobile range with a Geekbench 6 score of 8895 points in the multi-core test and offering basic values in terms of frame rates per second (see graph below).
Connectivity & Features
X-Space feature
Supports 700 MHz band 68
X-Talk acts like a walkie-talkie
In the connectivity section, we have chosen to dedicate a section to it due to the large number of extra functions associated with this section.
The Core-Z5 offers dual SIM card support, as well as support for a microSD card slot to expand the limited storage included as standard.
Connectivity in this work tool is another critical point, which is why many professionals and law enforcement agencies choose this type of device over more conventional ones.
For example, with X-Talk, the mobile phone can be turned into a walkie-talkie when desired to ensure communication between a group of people when other services may be failing.
In addition, the Core-Z5 ensures communication over ultra-fast 4G and 5G PMR broadband, so you can communicate without losing the signal, making use of band 68 at 700 MHz. This is intended to address mission-critical situations where the usual networks may be failing.
All these extras are complemented by Bluetooth 5.2 connectivity, Wifi 6/ 6E signal, as well as NFC connectivity to support mobile payments. OTG connectivity is also supported if you're thinking of connecting your phone to a large Smart TV screen. Proximity, brightness, gyroscope, magnetometer, accelerometer and gyroscope sensors offer plenty of options.
Speaking of connectivity, one of the latest innovations introduced by CrossCall is called X-Space, so you can turn your smartphone into a computer by using an external display and operating an interface similar to that of a desktop operating system.
With X-Space it is possible to operate office applications, make use of commands such as copy and paste, search in documents. You can use a standard keyboard and mouse to move quickly through the operating system interface.
Cameras
48 MP main camera
8 MP front for selfies
No macro or telephoto
The Core-Z5 doesn't particularly excel in the photography department, although CrossCall manages to get the most out of its sensors.
In fact, with the Scan function and relying on the 48 MP main camera, it is possible to scan barcodes to facilitate the control of parcels in courier environments.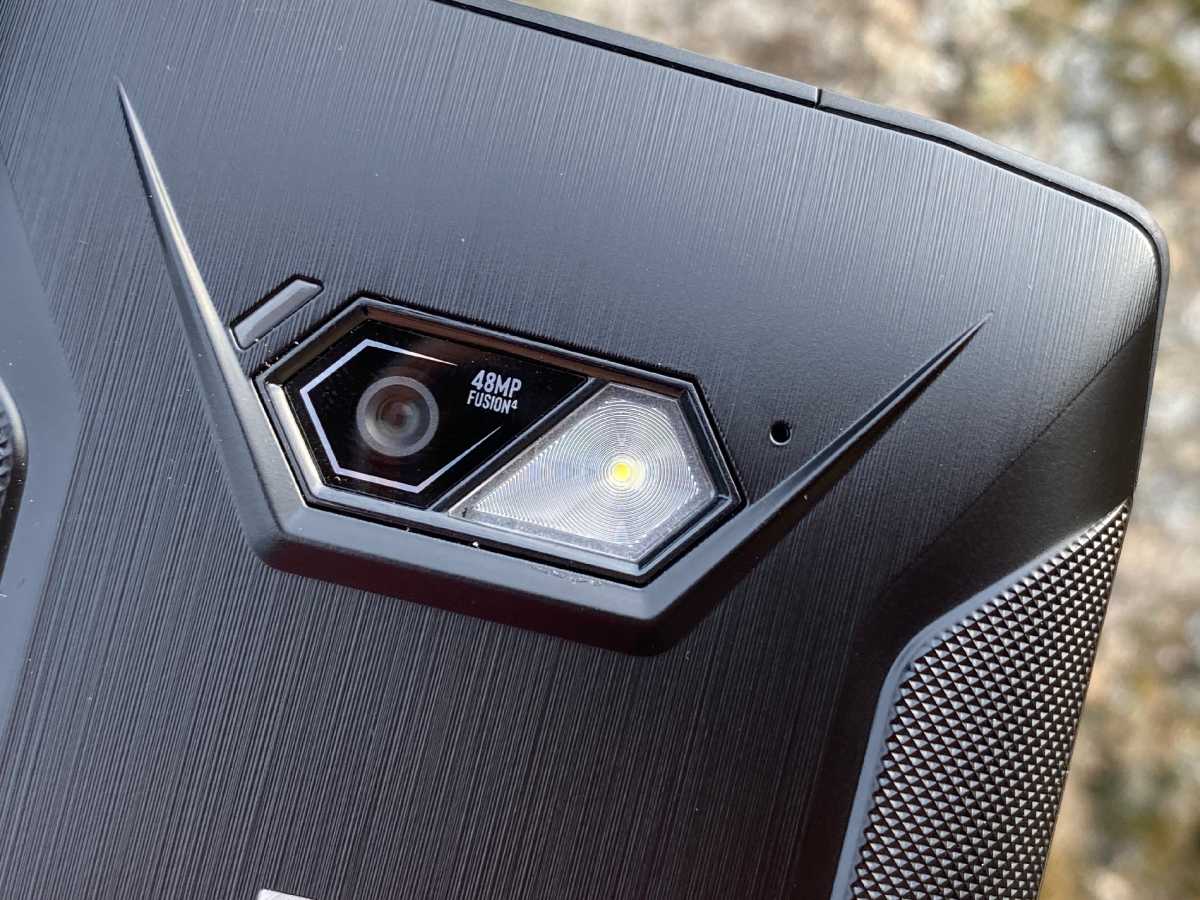 Alfonso Casas / Foundry
This camera, with autofocus function, relies on an LED flash to illuminate the scene and allow images to be captured in low light conditions. However, we found in our tests that focusing takes time to capture the final shot.
There is a slight delay between the instant you press the shutter release and the moment the Core-Z5 picks up the shot, so you'll need to take this into account if you want your photos not to be blurred by moving the phone during the process.
In bright daylight, the results can be great, but when the lighting is not right, some grain towards the edges and noise in the pictures quickly makes its appearance.
In relation to the front sensor dedicated to selfies, it is located in the central part of the screen in the shape of a drop of water. It is something that has been gradually disappearing in current smartphones, but we understand that in this type of more specific mobile phones it may remain a valid option.
Its quality is only 8 MP, so we can't expect much in terms of capturing selfies. It is not a phone designed to capture portraits and share them constantly on social networks, although most users (even professionals) would have preferred a higher quality.
Our tests show that image consistency is lost and noise quickly appears in selfies making the image look very mushy. As for video, it is possible to record 4K scenes at an average of 30 fps, but with poor optical stability.
Battery Life & Charging
Large capacity of 4,950 mAh
Slow charging at 10W
Supports reverse wired charging
But if there is one critical element in this type of device, it is the battery. A mobile designed for this type of situation must guarantee hours and hours of use, which is something that the Core-Z5 knows how to do very well.
Inside, it has a 4,950 mAh capacity battery with lithium polymer cells. According to our tests and with the help of PCMark, we achieved a runtime during the tests of 11 hours and 14 minutes with a score of 11,760 according to the application's index.
Unfortunately, the charging mode supported by the Core-Z5 is only 10W, so the speed at which you can charge the battery to 100% of its capacity is over 1 hour and 35 minutes.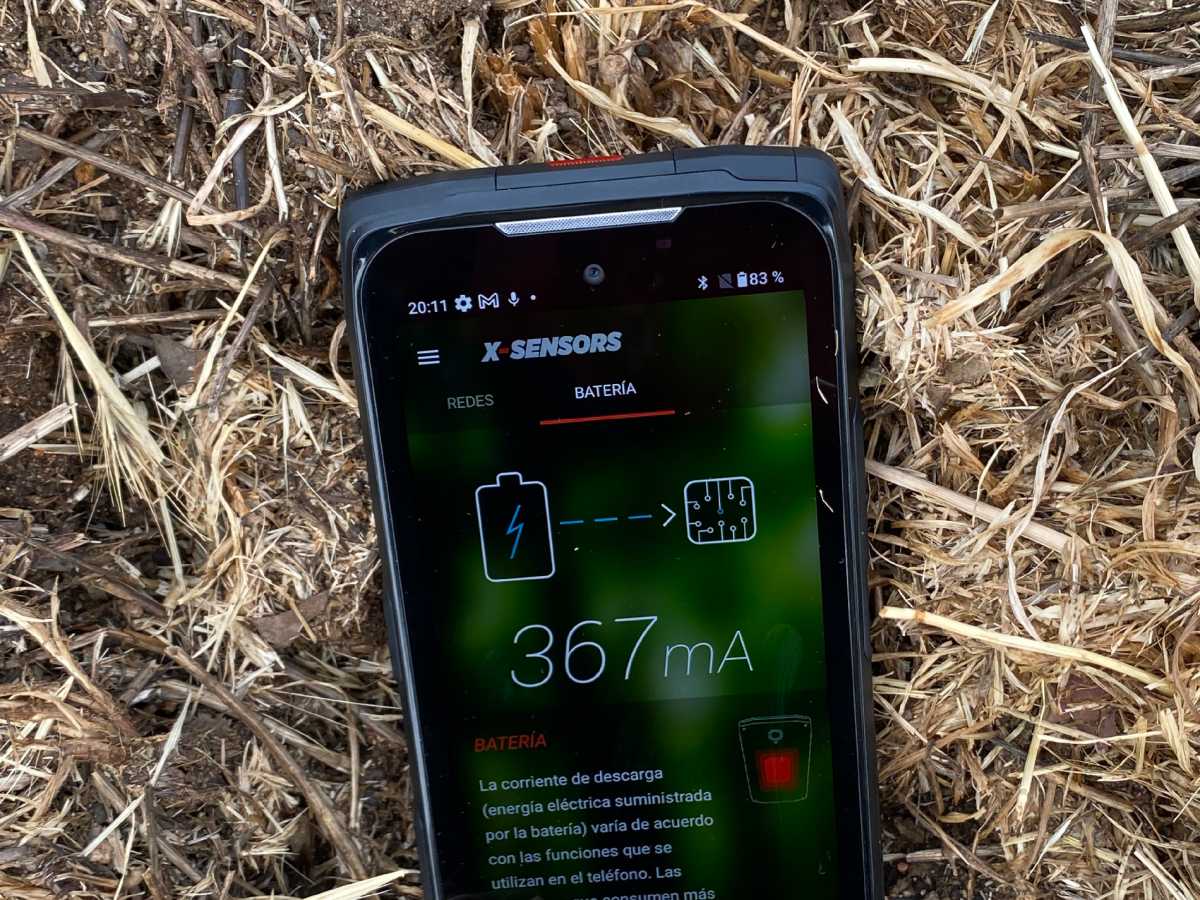 Alfonso Casas / Foundry
In our tests, we reached 50% in 46 minutes, which is a far cry from what we're used to seeing in today's smartphones .
Wireless charging is not possible, however, it is possible to reverse and use the Core-Z5 to charge the battery of another smartphone that has run out of power or has a low battery. Using a cable, we can transfer the charge, albeit at a slow speed.
I particularly liked the fact that during the charging process, the phone shows the current capacity level on the display. It also illustrates with a red light on the back, next to the cameras, that the smartphone is being charged, so you can identify it at a glance.
As far as software is concerned, the version of Android that the Core-Z5 is shipping with is Android 12, with guaranteed updates, although the number of years it will receive them has not been confirmed.
Alfonso Casas / Foundry
The upside of the Core-Z5 is that CrossCall guarantees an extended warranty period of up to five years, giving the hardware an extended warranty period that you won't find on any other smartphone on the market.
Price
The price of the Core-Z5 configuration that we have had the opportunity to test currently comes to £799.90 with 4 GB of RAM and 64 GB of storage though Amazon UK has it slightly higher at the time of writing. There is a higher one with 6 GB and 128 GB, which is priced at €849,90 in Europe.
In the box you will find the X-Blocker accessory for securing the phone to certain surfaces, as well as the power cable and charger for charging the battery. We've already mentioned that there's no protective case, due to the materials it's made of.
If you are looking for a rugged and resistant mobile phone, you may find cheaper options on the market. However, remember that this phone is not a regular phone, so it goes beyond what we all think of when we choose a smartphone of this type.
CrossCall's Core-Z5 reinforces other areas considered critical, such as communications, programmable buttons and the use of a highly accurate GPS, along with a variety of proximity, gyroscope, accelerometer and even magnetometer sensors for applications to make use of.
Verdict
The Core-Z5 is a smartphone designed to be an advanced working tool for professionals and mission-critical sectors such as firefighters, police, military, construction and rescue teams.
It is difficult to assess the kind of differentiating features it offers as a smartphone compared to other mobile phones on the market, especially when they are aspects that in a moment can save lives or ensure communications when they fail for the vast majority.
However, for the asking price quoted, it is difficult to justify having cameras that are much more basic than the quality that any mid-range phone can offer.
The same goes for the display quality of the screen, the speed of battery charging, or the performance offered by the processor. The interface moves with some ease, but it is certainly not on a par with mobiles that have a Snapdragon 8+ Gen1 or higher, a chip that is very common in mid-range phones. Also check out our best smartphone chart for flagship options.
Obviously, it is a mobile phone that must comply with various certifications such as the GCF (Global Certification Forum), the IP68 standard or MIL-STD-810H to attract these professional sectors that do not use just any smartphone on the market.
As indicated, it is difficult to assess its quality/price ratio when there is hardly any competition in the market, and even less so when offering an extended warranty that covers up to 5 years on the hardware.
This review originally appeared on Tech Advisor in Spanish.
Specs
Rugged mobile phone with IP68, MIL-STD-810G protection
6.08-inch HD+ (1520 x 720) display
19:9 aspect ratio with Gorilla Glass 5 protection
Qualcomm QCM6490 processor
Adreno 630 GPU
6/8GB RAM
64/128GB storage, MicroSD up to 128GB
Dual-SIM Dual-Standby (2x Nano-SIM)
IPS panel with Corning Gorilla Glass 5 protection
500 nits brightness
Fingerprint sensor on side
Cameras

48 MP main camera
8 MP front for selfies

GPS/A-GPS/Glonass
Triple tray: 2 SIM and microSD
Connectivity 4G/ 5G, Wifi 6/ 6E, Bluetooth 5.2 and NFC
OTG and X-Link
Dual frequency GPS L1/ L5 and E1/ E5
100 dB speakerphone
Charger, cable and X-Blocker in the box
4950 mAh battery
USB-C and 3.5 mm mini-jack connector
10 Wh wired charging with reverse charging
Dimensions 175 x 81 x 14 mm
Weight 281 grams