At a glance
Expert's Rating
Pros
Incredible battery life
Dazzling RGB lighting
Light weight
Cons
Expensive
Slippery keycaps
No wrist rest
Our Verdict
The Vulcan II Mini Air is the keyboard for you if you want an RGB light show, and you don't want a USB spoiling the view. Oh, and if you're willing to pay a premium for both of those.
Price When Reviewed
$179.99
Best Prices Today: Roccat Vulcan II Mini Air keyboard
The Vulcan II Mini Air is a wireless version of the Vulcan II Mini. Stop me if this is getting too shocking for you. But that reductive intro doesn't tell the whole story, because there's a lot of engineering going on in the Vulcan II Mini Air beyond tossing a radio and a battery in the case and calling it a day.
The keyboard's phenomenal battery life makes wireless operation with its bombastic lighting enabled a real option, even if you're a power user. That's a commendable innovation, even if it only applies to a very niche kind of user. That niche is so specific — a small, premium, gaming, optical, wireless keyboard that can constantly dazzle you with RGB goodness — that it almost justifies the high price.
Almost. At the end of the day we're talking about $180/£170 for a mini keyboard, and for that kind of dough, you'd better be delivering at all levels. It's out of consideration for most users, but for that tiny bit of the Venn diagram, it's worth it.
What's new, Roccat (woah woah woah)?
At first glance, not much has changed since I reviewed the Vulcan II Mini a year ago. You get the same 65% layout with full arrow keys, the same Titan II optical switches for fast, smooth operation, and the same "floating" keycaps that show off Roccat's best-in-class RGB lighting (along with the bright LEDs and transparent switch housing). The wireless version is about half an inch taller on the Y axis, just enough to put an illuminated Roccat logo above the keys. It also smartly shifts the USB-C port to the left, adds a power switch, and gives you a little bay to stow the 2.4GHz dongle.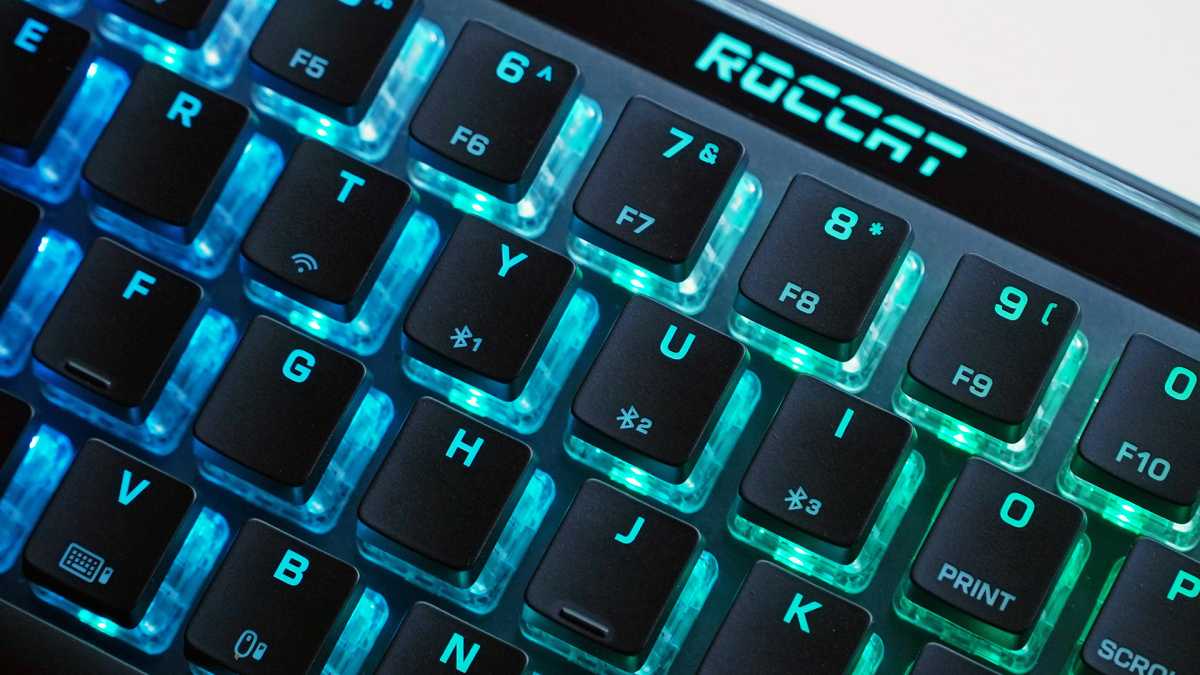 Michael Crider/Foundry
The keyboard is heavier than the Vulcan II Mini…but shockingly, not by much. On my kitchen scale the wired board is 17.7 ounces, while the wireless one (sans dongle) is 20.4 ounces. Roccat managed to cram wireless hardware and a battery in there with less than 3 ounces. For the sake of comparison, I threw the Corsair K65 Pro Mini on the scale, which has the same 65% layout and optical switches but does not have a radio or battery, and it was a full ounce heavier than the Vulcan II Mini Air. Impressive!
That kind of weight-saving makes the Roccat design an excellent portable board, though those floating keycaps mean you'll definitely want some kind of protective case on it before you throw it in a backpack. That's something the Asus Falchion includes in the box, by the way.
Michael Crider/Foundry
To reiterate what I wrote about the fully new, full-sized Vulcan II: Roccat is unbeatable when it comes to eye-popping RGB lights. In terms of brightness, visibility (thanks to those skinny keycaps), and animation, it's simply peerless at the moment. All the same things apply to the Vulcan II Mini Air… except that this little board is running on a battery. Which is, counter-intuitively, a big deal.
How is the Vulcan Mini II Air battery?
With the lights on full power and in wireless 2.4GHz mode, the Vulcan Mini II Air lasted five days on a battery charge for me. That might not sound like much, so let me put it in context.
One, remember that Roccat's lighting system is insane — the focus and definitely the highlight of the Vulcan series. And two, I'm a heavy user to a possibly unhealthy degree. A standard mini keyboard running fully animated RGB lights will last me one day, maaaaaybe two if it's lucky.
Michael Crider/Foundry
So when Roccat claims that this keyboard can last 150 hours (on the clock, not active usage) in its standard mode, or up to 750 hours with the RGB disabled, I'm inclined to believe it. The specs don't say how big the battery is, but with just a few ounces of extra weight, it can't be capacious. This is, without qualification, the best battery life I've ever seen from a gaming keyboard.
And on top of that, Roccat managed a trick I rarely see: instant wake. With the 2.4GHz dongle, the keyboard instantly wakes up from sleep and starts shining, ready to input commands. Presumably this is due to the proximity sensors that the light show gets going even before you press a key, a very neat trick you need to experience in person to appreciate. I've seen similar tech on Logitech's MX Keys line, but even those high-end boards don't boast this kind of insane battery life.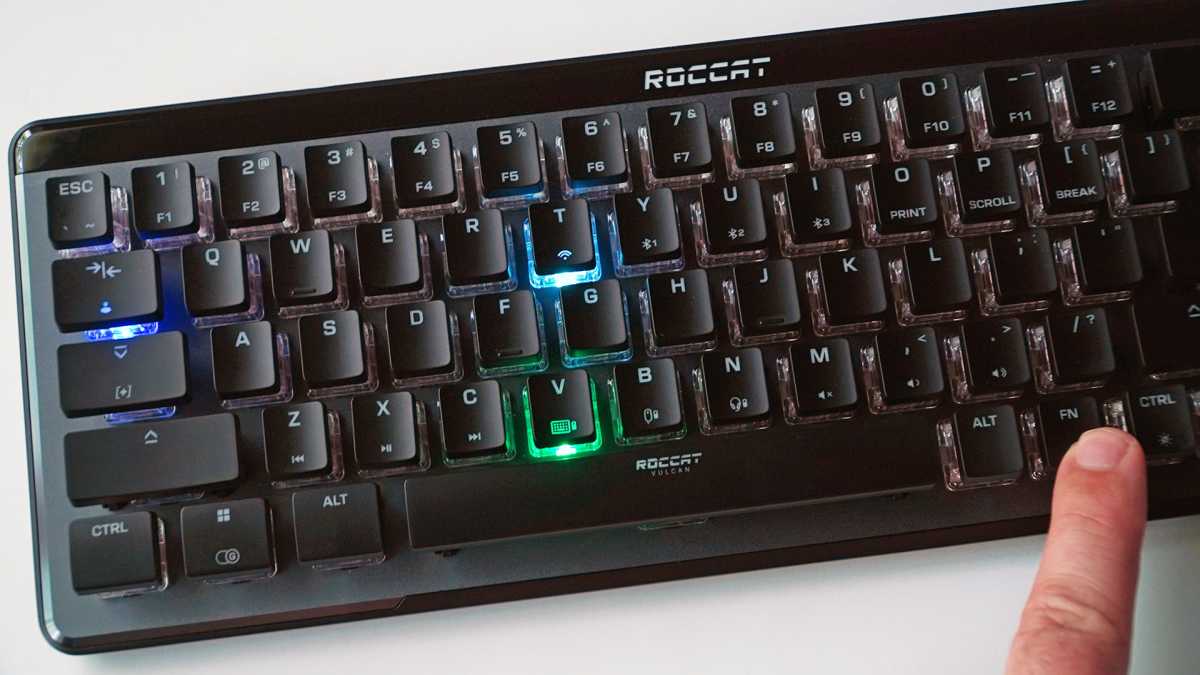 Michael Crider/Foundry
One last note on the battery life. If you hold down the Fn key, the LED beneath the V key becomes your battery bar, gradually going from green to yellow to orange to red as the battery drains. A final warning, the V key and the Roccat logo flashing red, lets you know death is imminent. But even "imminent" is relative with such longevity — for me, it started flashing about two or three hours before it finally gave up the ghost. Impressive.
How is the Vulcan Mini II Air for gaming and typing?
Like its non-wireless variant — and unlike the full-sized, wired Vulcan II — the Vulcan II Mini Air comes equipped with optical key switches. In contrast to a conventional mechanical keyboard switch that closes a circuit with an electrical contact, these detect a key press by interrupting a beam of light. This allows for (theoretically) super-fast performance and smooth, unhindered action from the top of the key press to the bottom, and back again.
Roccat and Corsair both offer optical switches, giving us an opportunity to compare the Vulcan II Mini Air to the K65 Pro Mini. And in terms of typing and gaming, it isn't as good. Roccat's switches feel more loose and chattery, with more movement in the keycaps even when they're not being used. Throw in the flat, slippery ABS keycaps that Roccat uses on the Vulcan line versus the pleasantly rough PBT caps on the Corsair, and the latter is the clear winner in terms of typing and gaming "feel," if not by an enormous margin.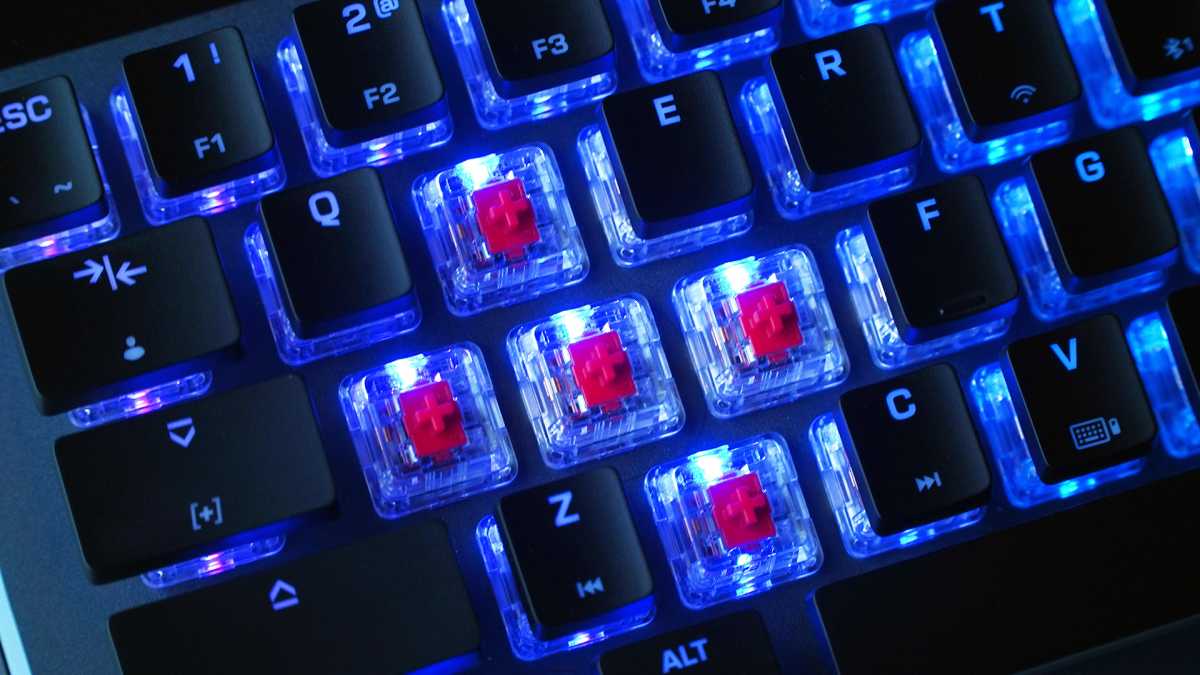 Michael Crider/Foundry
Of course, you could always put PBT keycaps on the Vulcan. You could even put Corsair's keycaps on the Vulcan, since the layout is nearly identical. But then you wouldn't get the full benefit of Roccat's lighting system, and I doubt anyone interested in buying this board is willing to go that far. You also can't swap out the switches, but that's typical for optical designs.
Roccat's layout is also less intuitive than Corsair's, though both commit the cardinal sin, in my opinion, of an unmovable Fn button. The Vulcan II Mini Air is even more restrictive than most, as the Windows, Esc, and right Ctrl key are also off-limits. By default media keys are spread between Z and the period, sometimes necessitating two hands, and the Print Screen key is on the O, exactly one spot left of where it should be (in my mind, anyway). Of course all of this is configurable via software, with a second function layer available via the Easy Shift system (set to Caps Lock by default). But no amount of software can re-print the default layout onto the keys. There's no option for re-binding or programming macros on the fly.
As far as gaming chops go, the Vulcan II Mini Air offers 1,000Hz polling and N-key rollover, more than any mere mortal could want make use of. With the exception of the slippery keycaps, I found it reasonably comfy, though I wish the single-stage keyboard feet had an option for a higher profile. I also think that for the price tag, an included and matching wrist rest isn't too much to ask for. After all, the Vulcan II — a cheaper, wired board — has one.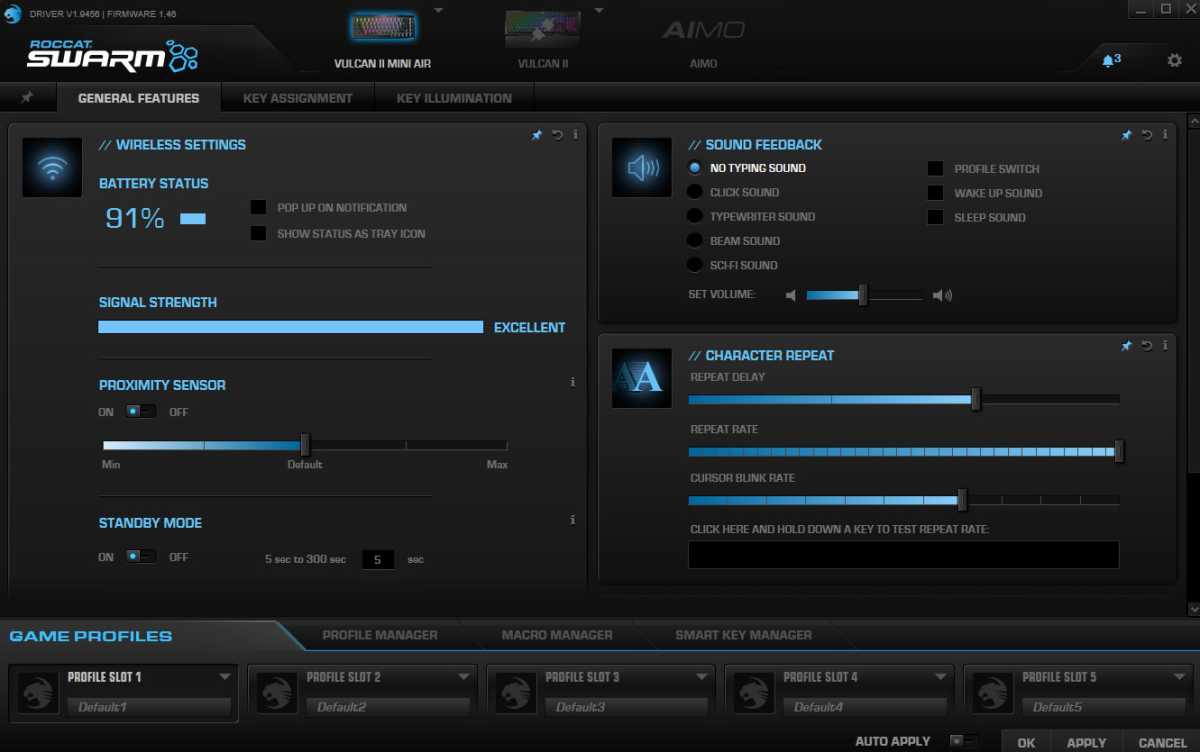 Michael Crider/Foundry
Roccat's Swarm software is functional, if unspectacular. Like the Vulcan boards themselves, the big draw is the lighting, and all of the included defaults are both more interesting and much more smoothly animated than any of the competition. You can customize the speed, brightness, and color of each, and if that's not enough, program a fully custom system yourself.
As a wireless board Swarm has a little more to manage for this device, and it does so admirably. If you want even more extreme battery life you can adjust the sensitivity of the keyboard's proximity sensor or disable it entirely. Doing so means that the keyboard needs to wake from sleep, but it does so in a tiny fraction of a second, so it seems like a fair trade-off to me.
Should you buy the Roccat Vulcan Mini II Air?
The Roccat Vulcan II Mini Air costs $179/£169. You can buy it from Roccat and Amazon in America, and Roccat and Amazon in the UK. You can get it in both black and white colour options.
When I reviewed the Corsair K70 Pro Mini Wireless, I called its price sky-high and dinged it for a lack of value. The Roccat Vulcan II Mini Air is the same price, with a lot of the same features, like a choice of Bluetooth or 2.4GHz dongle wireless. So why do I think it's a much better deal?
A lot of reasons. One, it's just a better board for traveling, being the same weight despite a larger layout that includes user-friendly arrow keys. It has faster optical switches, and it has an unbeatable battery life. That's true whether or not you prefer your gaming sessions illuminated, and if you do, the Vulcan II Mini Air will delight your eyeballs with a light show that lasts for days.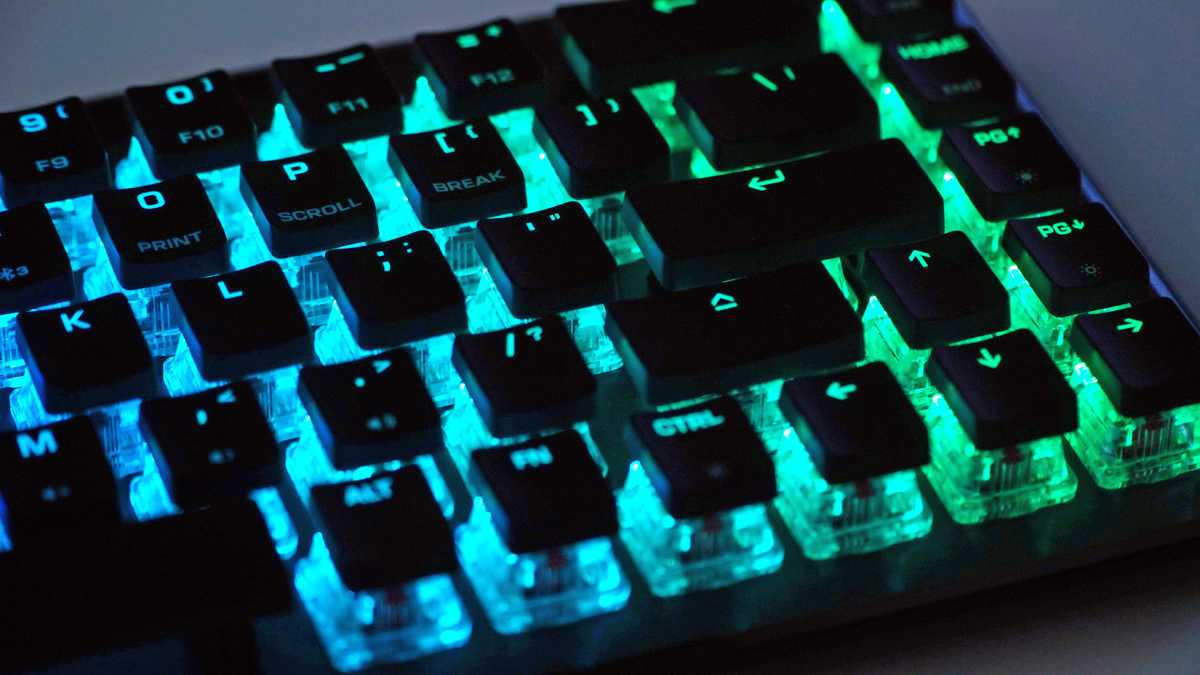 Michael Crider/Foundry
That being said, $179/£169 is still a lot of money for a keyboard, especially one that's this small and doesn't come with extras like a wrist rest or case. So it's only worth it for a very specific kind of gamer. That gamer is one who wants that beautiful RGB goodness, wants it to last a long, long time, and is okay with switches, keycaps, and layout that aren't the best around.
If those caveats don't bother you, the Vulcan II Mini Air is worth the high asking price for a super-portable board that takes its light show on the road.
This review has been syndicated and localised for Tech Advisor. You can read the original article over on PCWorld.
Best Prices Today: Roccat Vulcan II Mini Air keyboard