At a glance
Expert's Rating
Pros
Spacious keyboard with number pad
Decent webcam
Solid video playback performance
Decent business app performance
All-day battery life
Cons
Poor gaming performance
Basic 1080p display
Small 128GB SSD
Our Verdict
The Acer Aspire 3 represents a smart set of trade-offs. It's easily one of the best-built laptops we've tested for under $500/£500, with sturdy construction and a spacious keyboard and trackpad. While it won't give gamers much joy, it's a plenty competent work machine that'll make you look and sound good on Zoom calls.
Price When Reviewed
$329.99
Best Prices Today: Acer Aspire 3 (2022)
In the crowded field of budget laptops, there's no shortage of cheap and yet a dearth of quality. The Acer Aspire 3 shows up nicely in this category, sporting simple, low-profile styling, a full-size keyboard complete with a number pad, and a wide screen that's a pleasure to videoconference on.
While there's no shortage of trade-offs for the low price point, Acer has made judicious decisions to produce a machine that gives you plenty of bang for relatively few bucks.
Design & build
Weighing in at just under 4lb (1.81kg), the Aspire 3 isn't exactly lightweight. But in exchange for some extra weight, you do get a wide 15.6in display and enough room for a full-width keyboard.
As someone who lives and dies by the spreadsheet I'm a sucker for a number pad on my keyboards, so getting one on such an affordable machine is pretty sweet. This keyboard feels fairly solid under the fingers, without too much flex or bounce in heavy typing.
That matters, because budget machines often sacrifice chassis structure to cut costs, and the results can feel flimsy and even lead to bounce on the track pad, causing the mouse cursor to bounce around the screen. But no such worry on this Acer: it's actually a pleasure to type on.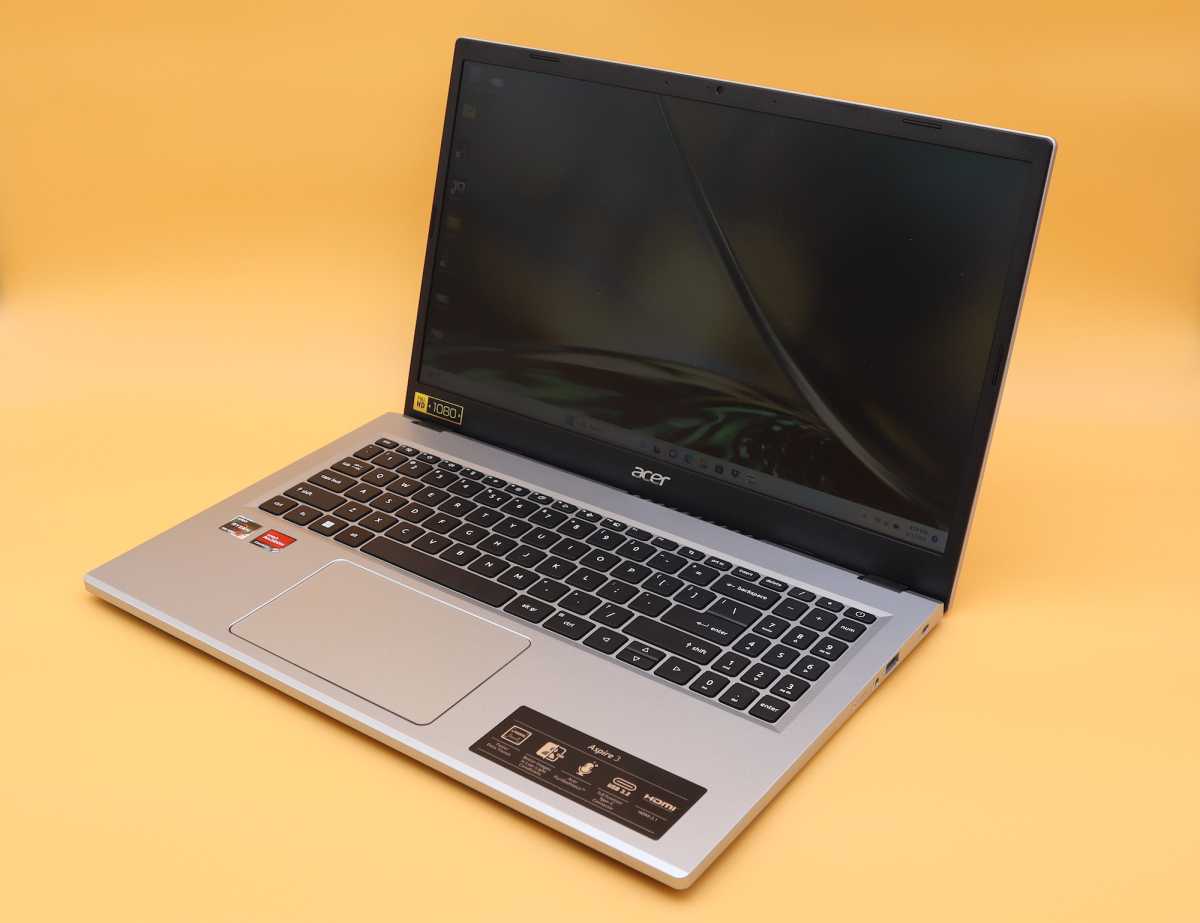 PCWorld / Robert Strohmeyer
In front of that wide keyboard, we find a relatively spacious 3in by 5in touchpad. Unlike those of other Acer laptops we've tried, this trackpad feels firm and smooth to the touch, and responds with a decisive, but quiet, click. We found it tracks well with both single-digit and multi-touch gestures.
Though somewhat bulky at around 0.75in thick, the Aspire 3 makes room for a healthy array of ports. The entire laptop looks and feels substantially more solid than most other budget laptops we've tested. It's a machine fit for a working adult, not a cheap, plastic kid's computer.
Our only significant complaint with the build quality is that the screen wobbles a bit when we move it around while open, rather than sitting firm. This means the webcam image will wobble during use if you move the device, which we experienced in our testing.
Display & audio
Acer's budget laptops have long stood out for their 1080p displays. The Aspire 3 comes similarly equipped, though as the market advances the competition is bringing the same resolution to their budget lines as well, so it no longer stands out from the crowd on this front.
That said, if you're buying a laptop in 2023, 1080p is the lowest resolution a buyer should accept, since 768p barely fits most modern web pages in their native resolution. Responsive web design is nice and all, but if your 15in laptop screen triggers a minimised layout with the browser window maximized, you might as well be browsing on an iPad Mini.
The Aspire 3 puts you squarely in the acceptable resolution range for current devices, but as I said, that's the bare minimum we'd want at this point. Overall, we liked the look of the Aspire 3's display for movies and video. Colour quality was decent, though unremarkable, and bright enough for comfortable use in full sun.
A pair of small, downward-pointing speakers kick out fairly loud audio that we found well tuned for video conferencing and YouTube videos, but just a little tinny for any music with much bass.
Webcam & microphone
In videoconferencing tests, the Aspire 3 blew away our expectations for an economy laptop. The HD webcam produced crisp, clean video and the mic picked up and filtered voices from the background noise quite well.
Side by side with a Macbook Pro, we particularly liked the Aspire 3's low-light webcam performance. Equipped with Temporal Noise Reduction, the high-def cam cleans up otherwise grainy low-light video and increases the exposure levels to deliver a bright, crisp image that outperforms most of the other built-in webcams we've tried, even on much pricier computers.
Similarly, the mic cleans up in-room audio with Acer PurifiedVoice software that filters out noise and sends clear, crisp sound to your recipient. For a computer in this price range, that's saying a lot. Overall, with its image and voice capture quality, we'd rather jump on a Zoom with the Acer Aspire 3 than with some machines at quadruple the price.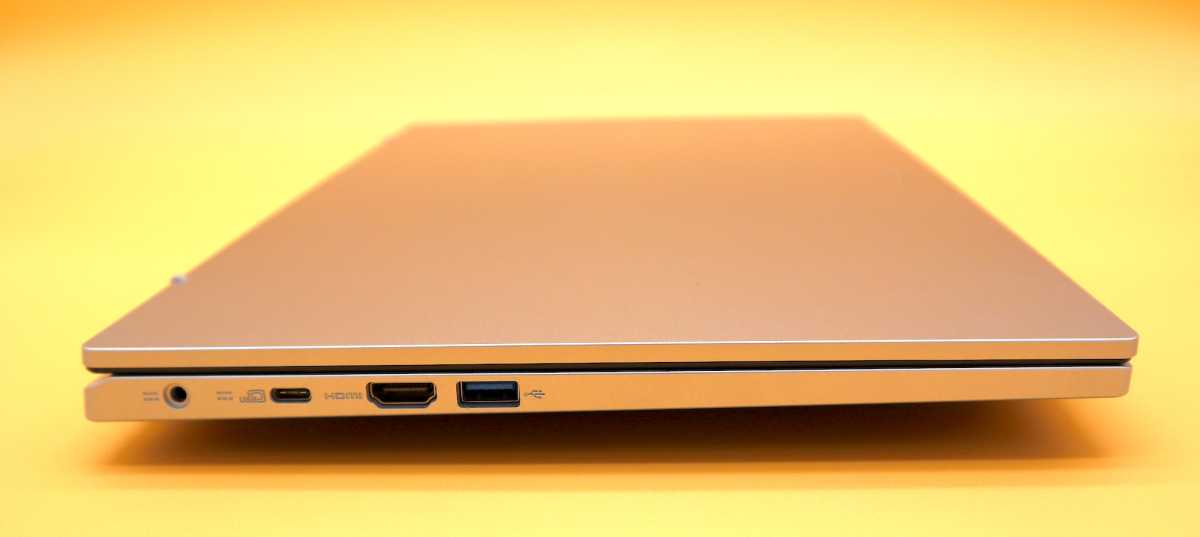 PCWorld / Robert Strohmeyer
Connectivity
One upside of a bigger laptop is the capacity for a lot of useful connectors. Along the left side you'll find the DC in, a single USB-C port, a full-size HDMI port, and a USB-A port. On the right, you get a Kensington lock port, another USB-A, and a headphone jack. What you don't get at this price is a second USB-C port, which is becoming common on better laptops these days, or a card reader slot.
For most users, this complement of ports will be plenty and getting both a USB-C and a full HDMI port on such an affordable laptop isn't bad. If you do need to read an SD card, you can always plug an adapter into one of the USB ports.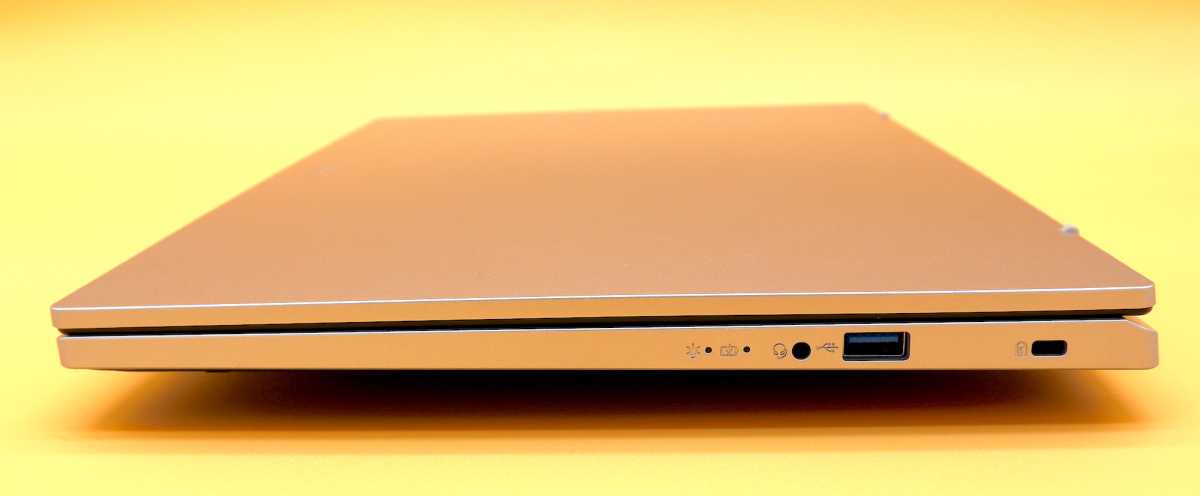 PCWorld / Robert Strohmeyer
Performance
If you're spending this kind of money on a laptop, you should temper your performance expectations considerably. With its Quad-core 2.4GHz AMD Ryzen 7320U process and Radeon graphics, the Acer Aspire 3 is no exception, delivering decent performance in basic business tasks, but notably sub-par results for graphics and gaming.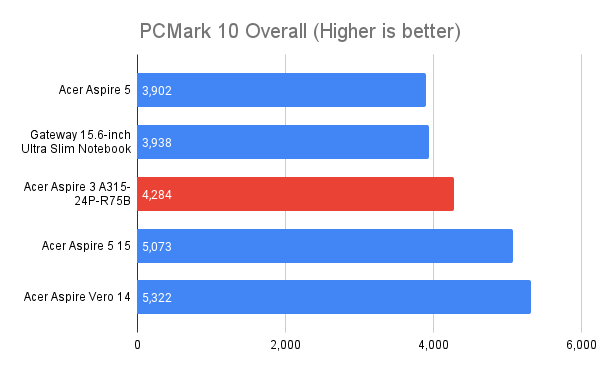 PCWorld / Robert Strohmeyer
Our PCMark 10 test measures the machine's performance in everyday office tasks ranging from word processing and spreadsheets to video conferencing.
The Aspire 3 gave a middle-of-the-pack performance of 4,284 in a field of slightly pricier machines we've tested in recent months, notably outperforming the 3,902 score of the Intel-equipped Aspire 5. This is a good thing because this machine is built to appeal to school and small-business users. If you're looking for an affordable laptop for back-to-school in the fall or need to replace an aging work machine on a budget, this performance indicates a decent investment.
For movies and video playback, the Aspire 3 again outperforms other budget systems we've tested. On our multi-thread Cinebench 15 test, the Aspire 3 came in at the top of the pack of budget laptops with a score of 1,925. On the single-thread Cinebench test, its score of 435 beat out the others we have a result for.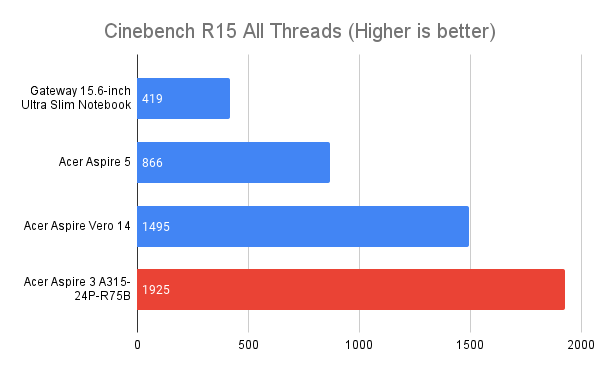 PCWorld / Robert Strohmeyer
PCWorld / Robert Strohmeyer
Where the Aspire 3 falls very short, even against other cheap laptops we've tested, is its gaming graphics performance. In our 3DMark TimeSpy 1.2 test, this machine was downright pitiful with a score of 584, less than half that of the Aspire 5. Whether this is acceptable or not depends on how you feel about gaming, of course. If you're buying this to write or surf the web, you won't care. But if this is a student laptop, let's just say you won't have to worry about games distracting you from study time.
PCWorld / Robert Strohmeyer
Battery life
Battery life was one of more positive areas for the Aspire 3.
In our tests playing back a movie on repeat until the battery died, it averaged about eight hours of life consistently. That's just about a full work day and if you're not playing video constantly and maybe take a lunch break, it should be more than enough to get you through the day.
If you need to charge up, the Aspire 3's tiny charging brick is one of the most compact around, so it slips into your bag without taking up too much space.
Verdict
In a world where budget constraints force compromises, the Acer Aspire 3 represents a smart set of trade-offs.
It's easily one of the best budget laptops we've tested, with sturdy construction and a spacious keyboard and trackpad. While it won't give gamers much joy, it's a plenty competent work machine that'll make you look and sound good on Zoom calls.
If you're in the market for a basic business laptop or student laptop, you'll want to take a closer look.
Specs
CPU: Quad-core 2.4GHz AMD Ryzen 7320U
Memory: 8GB
Graphics/GPU: AMD Radeon
Display: 15.6-inch LED-backlit LCD
Storage: 128GB
Connectivity: 1 HDMI Port, 2 USB 3.2 Gen 1 ports, 1 USB 3.2 Gen 2 Type-C port
Networking: IEEE 802.11ax Wi-Fi
Biometrics: None
Battery capacity: 40 watt-hour
Dimensions: 0.74 inches x 14.3 inches x 9.4 inches
Weight: 3.97 pounds