At a glance
Expert's Rating
Pros
Smarter pod brewing with Brew ID
Improved pitcher-like water reservoir design
Excellent foam production
Range of coffees keeps getting better
Cons
Predictably poor espresso output
Disposable pods remain an environmental problem
Our Verdict
The Keurig K-Café Smart is one of the best pod-based brewers we've ever tried, with the simplest water reservoir design around and an incredibly solid milk frother.
Price When Reviewed
$249.99
Best Prices Today: Keurig K-Cafe Smart
The Keurig K-Café Smart coffee maker represents the newest generation of the US market's leading pod-based brewer. With a revamped, post-modern design, improved user ergonomics, and a built-in milk frother, it's markedly different from other Keurigs we've tried, and it stands ahead of the increasingly crowded field of pod brewers.
While it appears built to compete with Nespresso brewers for a slice of the espresso pod market, it falls woefully short on that front. All in all, however, it's the best pod brewer we've tried to date, and should make the top of the list for anyone in the market for a new pod coffee maker – in the US, at least. At this stage, it's not available in the UK.
Design and build
Unlike the clunky, monolithic designs of its predecessors, with their weirdly shaped water reservoirs, the K-Café Smart presents a triple-tower profile, consisting of the pitcher-shaped water reservoir, the milk frother, and the coffee brewer itself.
It works like other Keurigs you may have tried, with a flip-up pod chamber that clamps down and bites into the pod to let the water pass through.
The top of the lid contains most of the controls, which are better labeled than those of older models, letting you know how many ounces you'll get with each. It also sports a few buttons you don't find on older models, such as a Shot button for espresso shots, and an Iced Coffee button, which are nestled against a small LCD display that reads out info about the inserted pod, the Wi-FI connection status, and other details.
Foundry / Robert Strohmeyer
As soon as I filled the water reservoir for the first time, I instantly liked this machine more than just about any pod brewer I've used before. The reservoir is a tall, cylindrical pitcher with a big, friendly handle. Grab it, hold it under the faucet, and put it back.
No hassles handling odd-shaped plastic receptacles with no obvious handles as with prior designs. Since filling the reservoir is the second most common thing you'll do with one of these brewers, having a reservoir that's easy to handle matters.
Likewise, the milk frother sits at the front of the machine's base, with a comfortable handle and a simple plastic lid that gives you a view through to your foaming milk.
The area under the brew chamber is nice and tall, and readily accommodated tall travel mugs and tumblers in our tests. With other single-serve machines we've tested, fitting tumblers under the brewer often required removing the cup base to make room, so it was pleasant not having to worry about that with this machine.
And yet, the cup base here is removable too, so if we were to find a mug too tall for the space, we'd have about another inch of flexibility there.
Performance
The Keurig K-Café Smart is an excellent all-around pod brewer at a reasonable price. You get a selection of brew volumes, 6oz, 8oz, 10oz, and 12oz. You can also adjust the temperature and brew strength with dedicated buttons for each.
Via the mobile app, you can save settings for custom brew strengths and temps to avoid having to set them manually each time, but in our testing the app didn't add a lot of value, since the controls on the machine are so easy to use.
For standard coffee and iced coffee, the K-Café Smart is a rock-solid performer. Standard drip coffees like the Green Mountain Blend and Peet's Major Dickison's come out nicely, and iced coffees like the McDonald's Iced Mocha Frappé are consistent and easy to make. While the standard temp is a little low for our liking, raising the temp to hold heat longer in the cup is easy enough.
Foundry / Robert Strohmeyer
Espresso brewing
The K-Café gets its name from the fact that it's designed for espresso brewing, an effort to compete with Nespresso machines and a growing market of other espresso-aspiring home coffee makers, nearly all of which are terrible at espresso.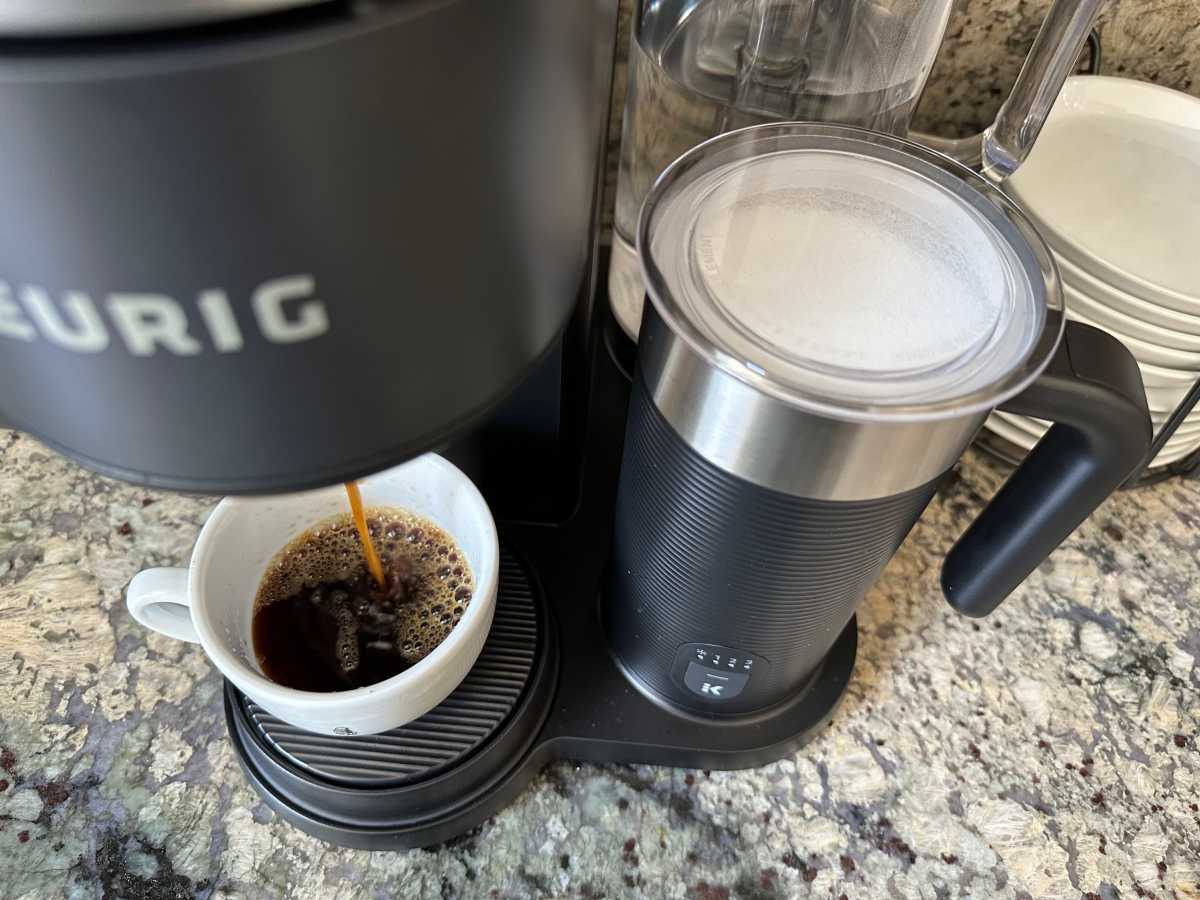 Foundry / Robert Strohmeyer
What few of these manufacturers seem to understand is that espresso requires extremely high pressure and extremely hot water. You need at least 9 bars of pressure at around 200 degrees Farenheit to produce good espresso with a thick, frothy crema, appropriately viscous mouthfeel, and sweet, robust flavor.
I have no way of knowing how many bars the K-Café produces, but from the output it's obviously not even close. In fairness, though, almost none of the other pod or home-drip systems we've seen that position themselves as espresso stations do any better. The one exception is the Nespresso line, which was designed from its first generation to do only one thing well.
We bought the only espresso-specific K-Cups we could find, Café Bustelo pods, and put them to the test as single shots and double shots, with and without foam. In every scenario we tried, we just wouldn't classify the brewed shot as legitimate espresso, but the drinks with foam were significantly better than those without.
The K-Café's foam is better than we ever would have expected. Fill the frother with milk to the line, set the temp via the button on the front, and wait for it to heat and spin its way to delicious, firm foamy goodness. The machine will wait until the foam is done to brew your shot, so you get both in rapid succession automatically.
So, if you're after lattés and cappuccinos, rather than straight espresso, the K-Café might satisfy your corner-café coffee cravings.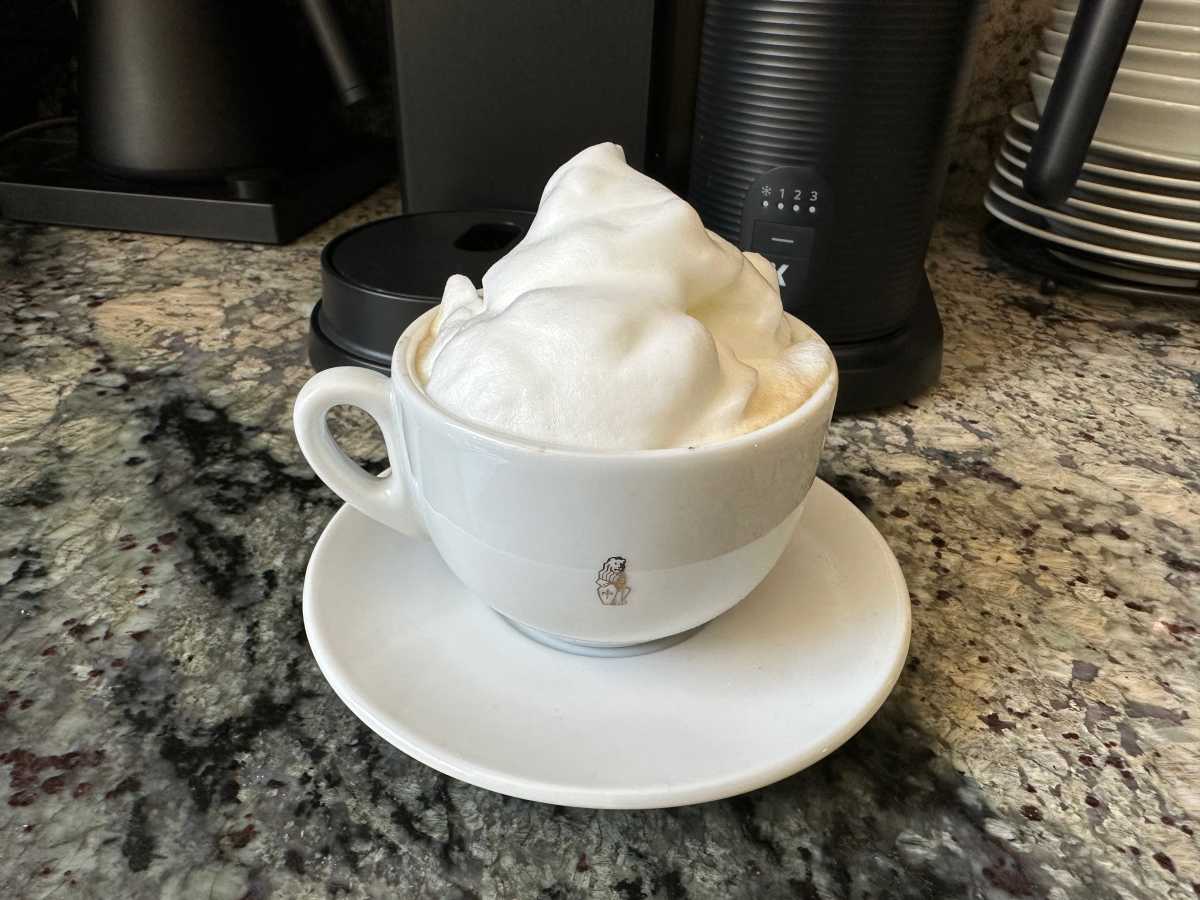 Foundry / Robert Strohmeyer
Verdict
All in all, we really like the Keurig K-Café Smart brewer. It's the best design we've seen from Keurig, which has the best selection of pod coffees on the US market. While we still hesitate to recommend pod brewers as a category due to environmental impact, the new pod design is easier to dismantle and compost/recycle than previous versions.
The overall performance for non-espresso drinks is better than we've seen on a pod brewing system, and the espresso performance, while not great, is passable for foamy, milky, sugary café concoctions.
For more pod coffee machine options and to see our other recommendations, check out our round-up of the best capsule coffee machines we've tested. You can also see the best coffee machines of all types that we've reviewed.
Best Prices Today: Keurig K-Cafe Smart