At a glance
Expert's Rating
Pros
Good case display functionality
Impressive personalised sound
Great ANC
Good battery life
Cons
No hi-res audio support
Not the best fit
Can't see what's playing from case
Our Verdict
With the Tour Pro 2, JBL has managed to include a genuinely useful case display and retain the fundamentals of great wireless earbuds. If you can manage without hi-res audio, they're a great choice.
Price When Reviewed
$249.95
Best Prices Today: JBL Tour Pro 2
Ever since true wireless earbuds first emerged in 2015, most have retained the same core design. Two small buds (often with a short stem) that sit directly in your ears while in use, then dock into a pillbox-shaped case for charging.
A few companies have deviated slightly from this blueprint, but none quite as much as JBL on the Tour 2 Pro. While the buds themselves look very familiar, the case is the first to have its own built-in display.
And it offers an impressive range of functionality, from controlling audio and adjusting key settings to starting timers and even turning into a torch. Fortunately, this hasn't come at the cost of most other key features, though you will find better value for money elsewhere. Here's our full review.
Design & build
Impressive 1.45in touchscreen on case
Case slightly bigger than usual
Earbud fit could be better
There's only one place to start when it comes to design: that case display. It's a 1.45in LCD touchscreen, providing just enough room to comfortably swipe across the simple user interface.
JBL hasn't quoted a specific resolution for this screen, but it doesn't really matter. There's more than enough detail for it to be comfortably visible in almost all lighting conditions, which is the main thing. You can choose between three levels of brightness (low, mid and high), though even the lowest setting is enough most of the time.
A simple right swipe unlocks the screen, avoiding the need for a fiddly PIN or password. This lockscreen wallpaper can be customised, using either one of the preset designs or something of your own.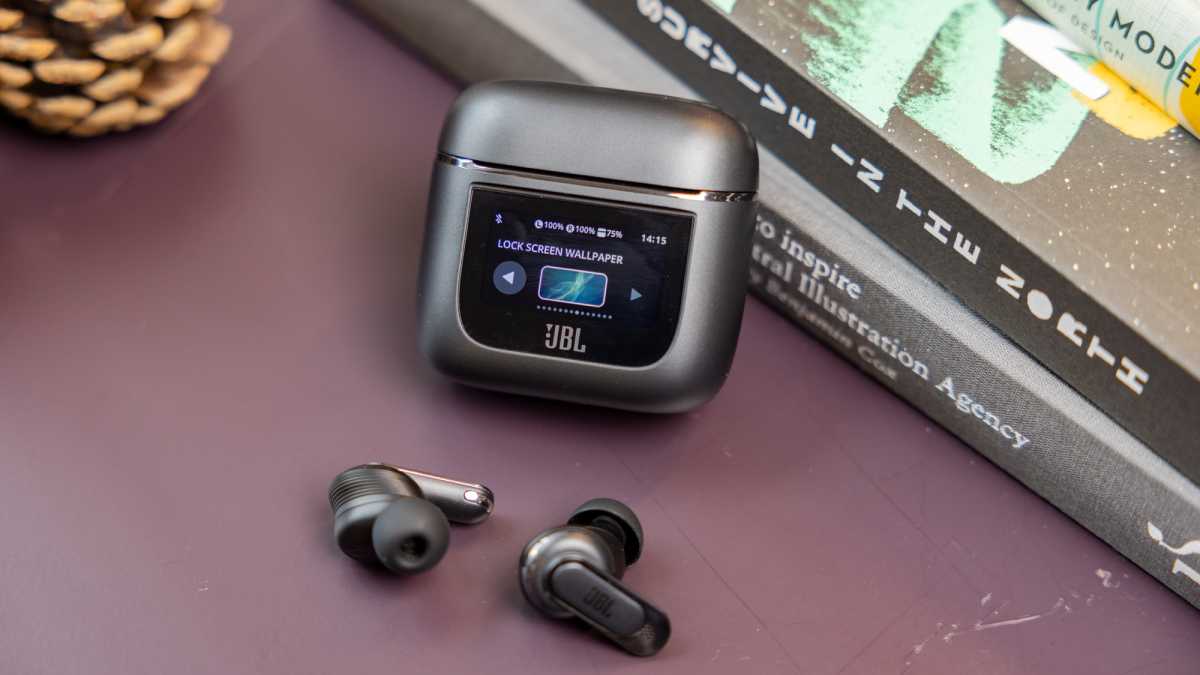 Dominik Tomaszewski / Foundry
The latter relies on the JBL Headphones app, available on Android and iOS. It's also where you choose which of the six optional pages are shown on the case display: Ambient Sound Control (for ANC and transparency modes), Spatial Sound, Equalizer, VoiceAware (voice detection sensitivity), Auto Play & Pause and SilentNow (ANC activated without music playing for a set amount of time).
Alongside core playback and volume controls, timers, a bud finding feature and flashlight, there's an extensive range of functionality here. You can even use the case to answer calls and display notifications, though the latter often cuts off key information.
Even so, I was surprised by how much I used the case instead of my phone – it can do almost everything you need it for.
The only exception is telling me what song/podcast is currently playing. I can easily play/pause audio or go back to the previous/next track, but ended up checking my phone to see what was coming up anyway. Controlling music on the case still feels a little too much like you're using an old iPod Shuffle.
But did JBL really need to include an LCD display? Most of the user interface is black and white, and an e-ink panel would be much easier on your eyes.
Modern versions can still be responsive, and it may have benefits for battery life. Using the case is preferable to getting distracted on your phone, but squinting at the small colour display still isn't ideal.
To accommodate this screen, the Tour Pro 2 case is bigger and bulkier than most. At 10 x 16 x 4.6 cm and 73g, it's not quite as easy to pop in a trouser pocket as most wireless earbuds. It's a minor change, though, and they're still extremely portable.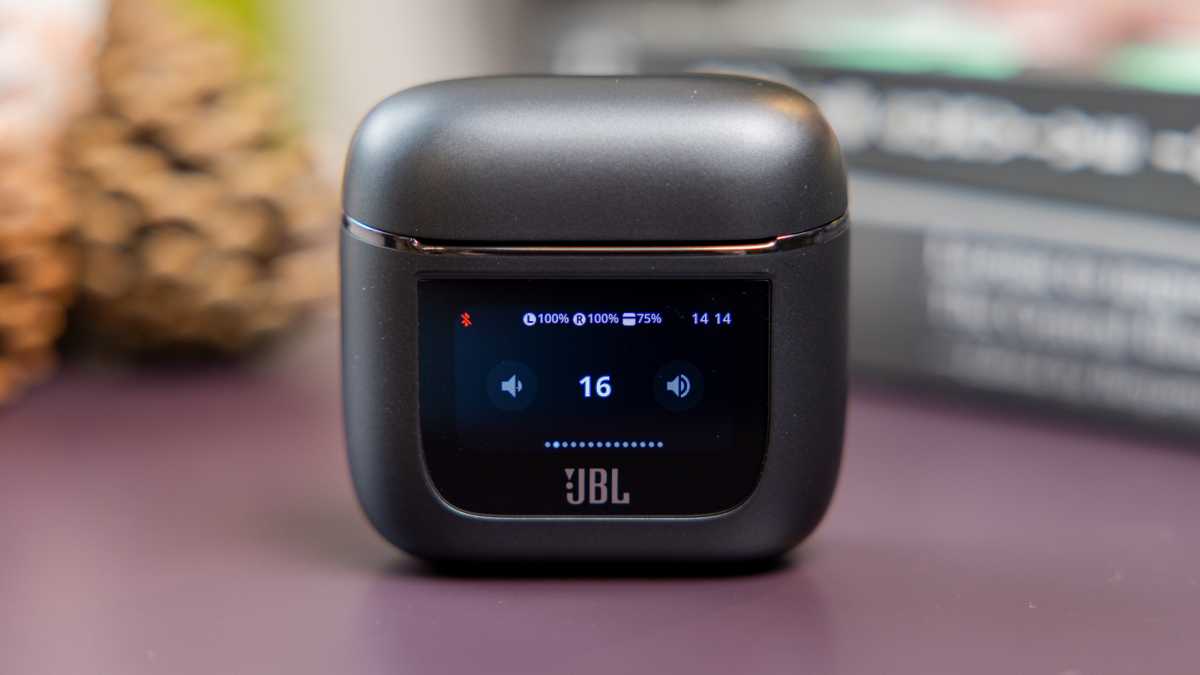 Dominik Tomaszewski / Foundry
Aside from glass on and around the screen, the case is all plastic. But a glossy finish helps it look premium, especially on the black model I tested. You can also get the Tour Pro 2 in a beige 'Champagne' colour if you'd prefer.
The USB-C charging port is discreetly hidden at the bottom, while a simple flick up just above the display reveals the buds themselves.
A short stem design is something we've seen many times before, and the exposed metal means they look good in your ears. But the rest of the buds are made from a rather cheap-feeling plastic, and I was hoping for more from such a premium product.
Dominik Tomaszewski / Foundry
There are three sizes of silicone eartips included in the box, and the JBL Headphones app includes a simple test to check if you're getting a good seal.
However, even after finding the right eartip size for my ears, the buds never felt secure. I was often worried that they might fall out while walking down the street, so anything more strenuous is out of the question.
Of course, this is only my personal experience. You might find the Tour Pro 2 to be a much better fit for you, but it's definitely something to be aware of.
Sound quality
Very good sound from 10mm drivers
Lots of customisation options
No hi-res audio support
So, how do the JBL Tour Pro 2 actually sound? The short answer is very good, albeit not quite at the level of some competitors.
Dual 10mm drivers help give the sound a warmth and depth that isn't always present on wireless earbuds. It's detailed enough to hear each individual instrument in the background of a song, yet there's still a satisfying hit of bass when you need it.
This can be personalised to suit your tastes via the JBL Headphones app, where you'll find an in-depth hearing test. I didn't notice any big changes before and after the test, but it's still a nice feature to have.
For more in-depth control, an equalizer is also built into the case, allowing you to tweak the bass, mid and treble to your liking. There are five preset profiles – jazz, vocal, bass, club and studio – all of which make a clear difference to the audio you hear.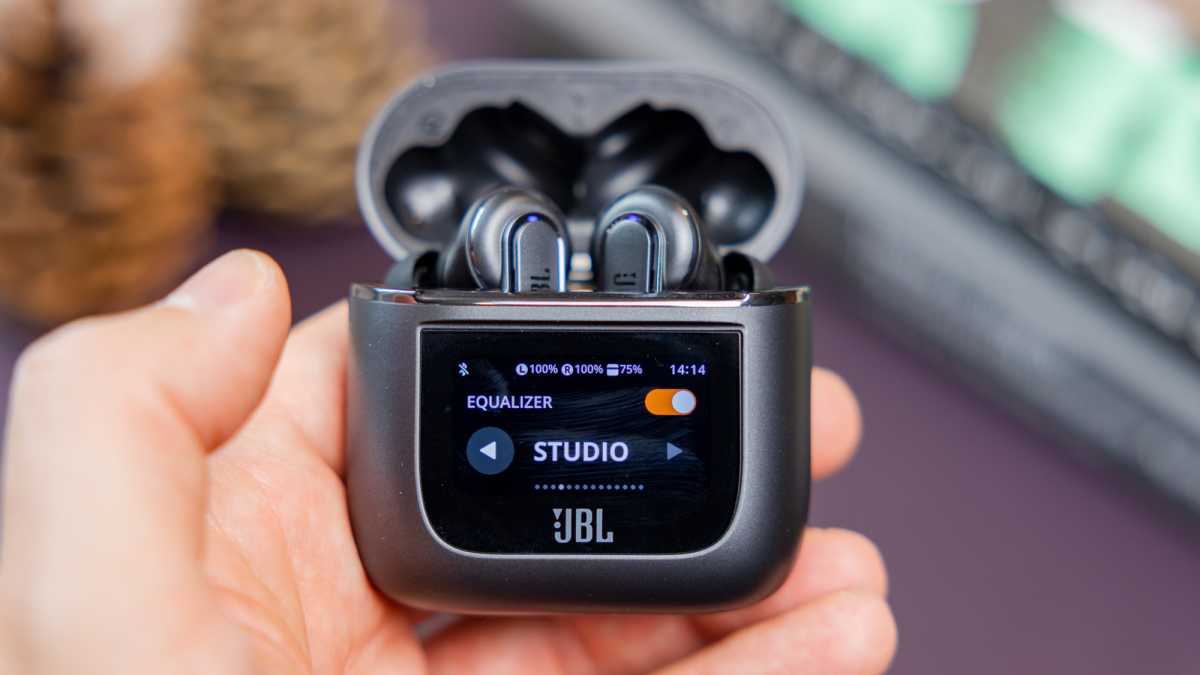 Dominik Tomaszewski / Foundry
But where the Tour Pro 2 loses out to rivals is the lack of support for hi-res codecs: you can only output in the standard AAC or SBC here. It means the likes of Amazon Music's 'Best of Ultra HD' playlist won't actually be the CD quality Amazon claims, but most songs still sound excellent.
That includes pop tracks such as Lil Nas X's 'Industry Baby', where a highly produced backing track and thumping vocals still don't sound overwhelming. 'As It Was' is very different in tone and style, but the buds are still able to capture the subtleties of Harry Styles' voice.
Even a much more stripped-back song such as 'Happier Than Ever' by Billie Eilish is impressive, sounding deeply immersive as it builds to a crescendo.
Of course, the Buds Pro 2 don't sound fantastic across all genres. Classic rock such as 'Dancing In the Dark' by Bruce Springsteen and Aerosmith's 'Dream On' are a bit muddy and washed out at times, while classical music is a bit of a mixed bag.
But in general, you can expect a rich, vibrant sound that's more than good enough for casual listening. If you're serious about getting the absolute best audio, though, you'll want buds that support at least one of those hi-res codecs, such as the Sony WF-1000XM4 or the Samsung Galaxy Buds 2 Pro.
This is all far less important for voice-based content, but rest assured that talk radio and podcasts come through loud and clear. That clarity is somewhat lost when speaking, despite the six microphones in total, but you can still be heard comfortably on calls most of the time.
To make sure of this, there's a slider in the JBL Headphones app called 'VoiceAware', which lets you adjust the volume of your own voice. If you worry about speaking too loudly or quietly while using headphones, it can be useful.
Dominik Tomaszewski / Foundry
Noise cancelling & smart features
Effective, personalised ANC
Impressive spatial sound mode
On-bud controls could be better
Active noise cancelling (ANC) is a crucial feature on wireless earbuds these days, and JBL has implemented it well here.
The ANC does a good job of blocking out most external noise, but only when you get a good seal. Without it, quite a lot of sound still reaches your ears, particularly in loud environments.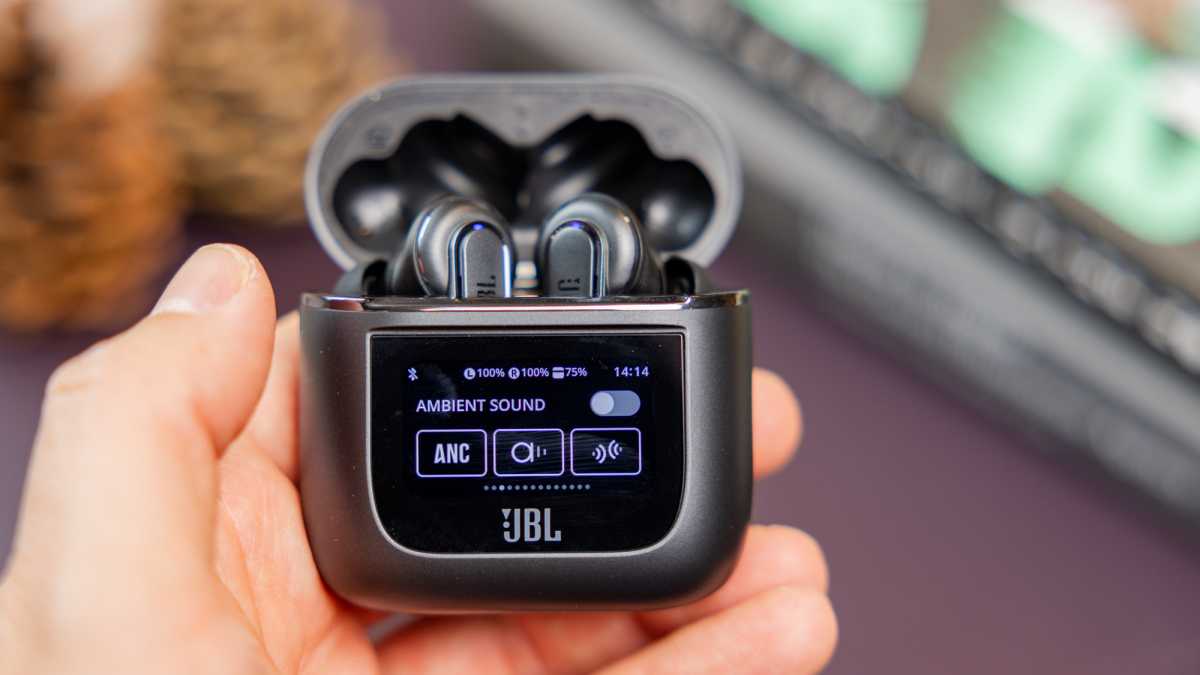 Dominik Tomaszewski / Foundry
You can check this via the JBL Headphones app by performing an ear canal test, which supposedly scans your ear canal and adjusts the level of ANC to best suit it. Like the personalised sound, this doesn't seem to make a huge difference to how well it works, but it's still worth doing.
There are two other main listening modes available. 'Ambient Aware' is JBL's transparency mode, with an in-app slider allowing you to choose how much sound is let through. At its maximum, this makes it very easy to hear everything that's going on around you.
You'll also find a dedicated 'TalkThru' mode, which does a good job of amplifying the sound of voices, allowing you to have a full conversation without removing the earbuds. However, it can't be used at the same time as either of the other modes. If (like me) ANC is your go-to setting, you won't get much use out of TalkThru.
Another key audio feature is 'Spatial Sound', where audio seems like it's coming at you from all directions. Not all songs are designed to be played in this mode, but those that do sound impressive. JBL offers three Spatial Sound modes – Movie, Music and Game – but I didn't notice any difference between them.
If you like using ANC just for some peace and quiet, JBL has another mode for you. Known as 'SilentNow', it activates ANC but also disconnects Bluetooth, helping to reduce power consumption.
You can choose when it starts, how long it lasts for and if you'd like an alarm to sound at the end. SilentNow feels just that bit more effective than ANC on its own, and is perfect for naps on a train or plane.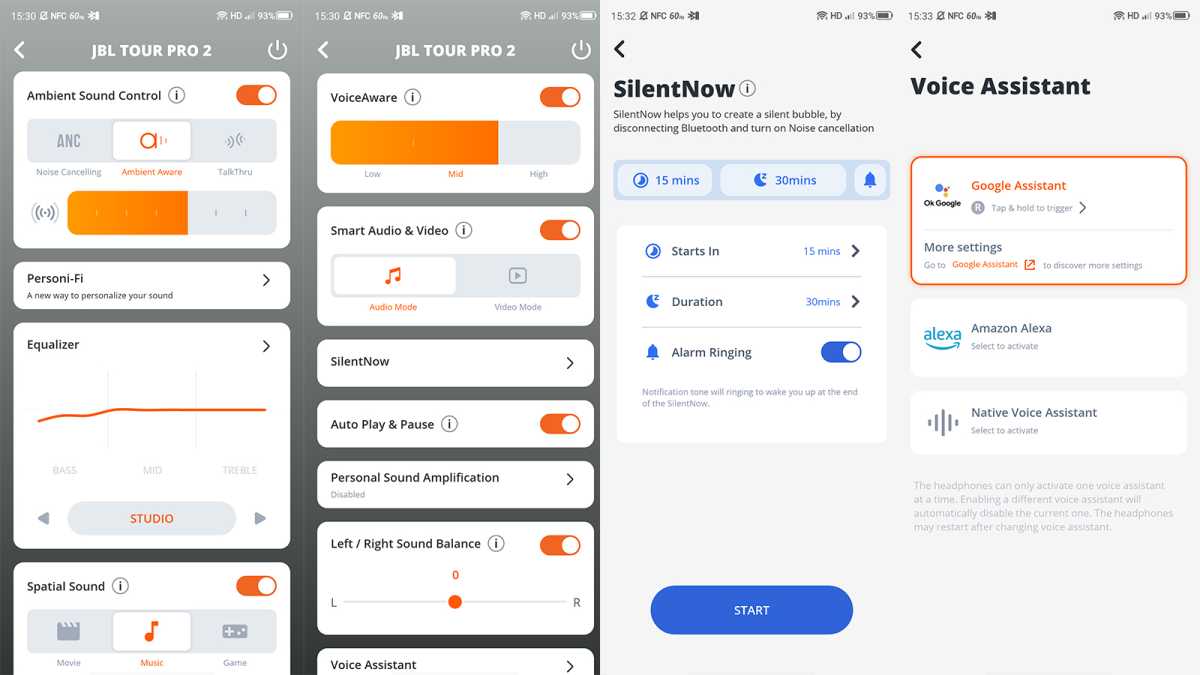 Anyron Copeman / Foundry
As you might expect, there's also voice assistant support. This is Google Assistant (Android), Siri (iOS) or Alexa (both). It's triggered via a simple tap and hold of the right earbud, and works smoothly – provided your phone is connected to the internet.
However, not all the on-bud controls are quite so seamless. Various taps can be used to control audio, change sound modes and make/manage calls, but it's very easy to accidentally trigger them when trying to adjust the fit of the buds.
There's a significant learning curve here, so most people buying these buds should just use the case instead.
Battery life & charging
Up to eight hours with ANC on
Around three full charges from case
Supports USB-C or wireless charging
Battery life has been the biggest surprise regarding the Tour Pro 2 – in a good way. I was concerned that having a display within the case would seriously affect how long they lasted, but I needn't have worried.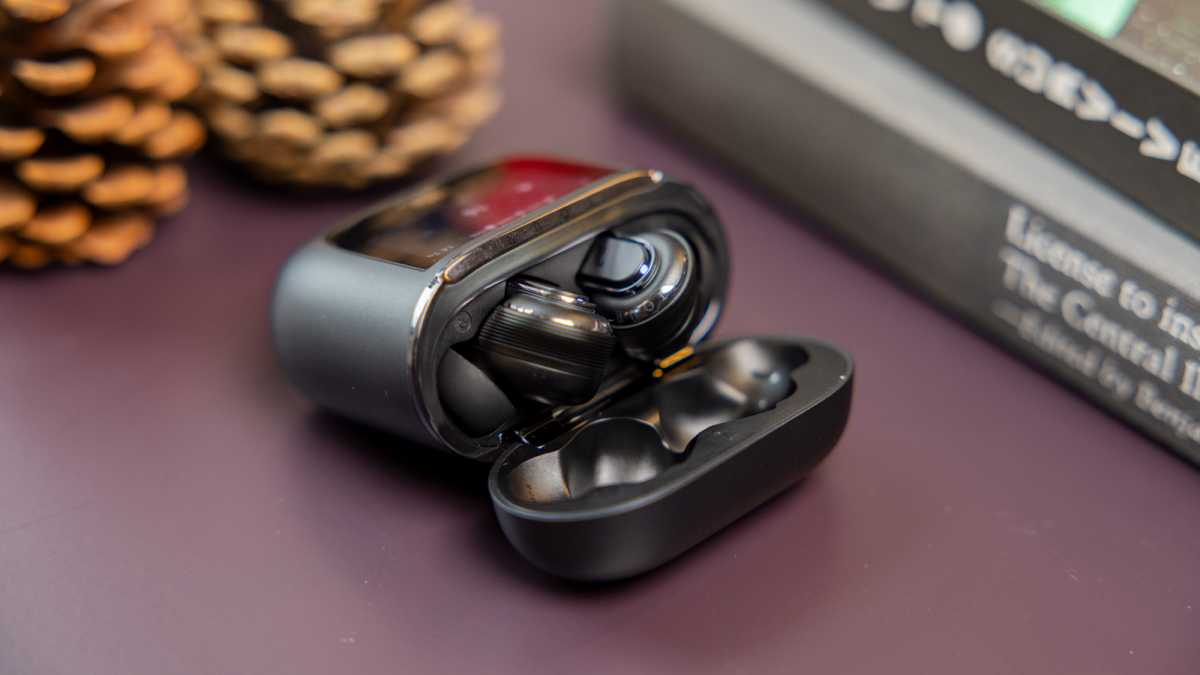 Dominik Tomaszewski / Foundry
JBL claims you can get up to 10 hours of music playback on a single charge, plus 30 more hours from the case. More realistic figures are eight hours and 24 hours with ANC on, but the adaptive ANC mode drops this to six hours and 18 hours respectively.
While I only tested the Tour Pro 2 for a couple of weeks, that's roughly in line with my experience. It means most people can use them for a full week without needing to plug in to the power. That's in keeping with most rivals, but none of those have a case display.
The USB-C to USB-A cable in the box will be your main charging method, although no power brick has been included. You're looking at around two hours before the buds and case reach 100%, which is reasonable.
You also get Qi wireless charging, but at only 5W, this is much slower.
Price & availability
The Tour Pro 2 are a premium pair of wireless earbuds, so they don't come cheap.
In the US, they cost $249.95 direct from JBL and via Amazon or B&H. If you're in the UK, it's £249.99 from JBL, Amazon, AO, Very or Currys.
As the first ever wireless earbuds with a screen built into the case, that feels fair. But the likes of the Sony WF-1000XM4 ($280/£250) and Bose QuietComfort Earbuds 2 ($299/£279.95) are better in most other ways, while there are plenty of cheaper alternatives in our best wireless earbuds chart.
Verdict
As good as the JBL Tour Pro 2 are, there's only one reason to buy them over the competition: that case display.
It doesn't revolutionise the way you use wireless earbuds, but many people will prefer it to using a phone or on-bud controls. It only has one real flaw, but it's a big one – you still can't see what's currently playing from the case itself.
But impressively, battery life hasn't been compromised. Most people will still get a full week of usage from the buds and case combined, even with ANC on. The latter is customisable and very effective, but the lack of hi-res audio means sound quality takes a slight hit.
Only audiophiles will really miss it, though, and most music still sounds excellent. While the fit and design of the buds aren't perfect, neither should be a dealbreaker.
But price may be a sticking point, with the Tour Pro 2 up against some of the best wireless earbuds you can buy. Unless you love the idea of a screen on the case, you'll find better value elsewhere.
Specs
Active Noise Cancelling
1.45in LCD touchscreen (on case)
10mm dynamic drivers
Six microphones
Wireless: Bluetooth 5.3, AAC, SBC
Voice control: Yes
Touch controls: Yes
Battery life: Up to 40 hours (including case charging, ANC off)
Wireless charging
Ear tips and wing tips: Three sizes
IPX5 water resistance (buds)
IPX2 water resistance (case)
Weight: 6.1g per earbud, 73g case
Best Prices Today: JBL Tour Pro 2