At a glance
Expert's Rating
Pros
Premium vegan leather design
Under-display fingerprint sensors
Brilliant main camera
Excellent fast charging
Cons
Thick and heavy
No periscope
China-only
Our Verdict
The Vivo X Fold 2 is a great folding phone that's sadly only available in China. Specs are top across the board, especially in the camera, and the dual under-display fingerprint sensors are genuinely unique for a foldable. You'll just have to put up with a big build and Chinese software.
Price When Reviewed
Not available in the US
As Samsung has held the global foldable phone market in a death-grip for the last few years, enthusiasts have long looked with envy at the many and varied folding phones on sale in China from the likes of Xiaomi, Oppo, and Vivo.
The X Fold 2 – Vivo's third big-screen foldable, released alongside the smaller X Flip – is one of those models that's unavailable outside of China (at least through official channels), but packs a level of polish that current Western releases simply can't match.
A solid design, comfortable form factor, and powerful cameras make this one of the most impressive foldables around on the hardware side – though as is often the case, gripes about the software side may be enough to put off erstwhile importers.
Design & build
Vegan leather finish with marbled strip
Solid, gapless hinge
No official dust/water protection
In broad strokes, the X Fold 2 doesn't do much design-wise that differs from other large format foldables.
When closed, it looks much like a regular phone, and can be comfortably used like that – albeit a phone that's a bit heavy at 279g, and thick at 12.9mm.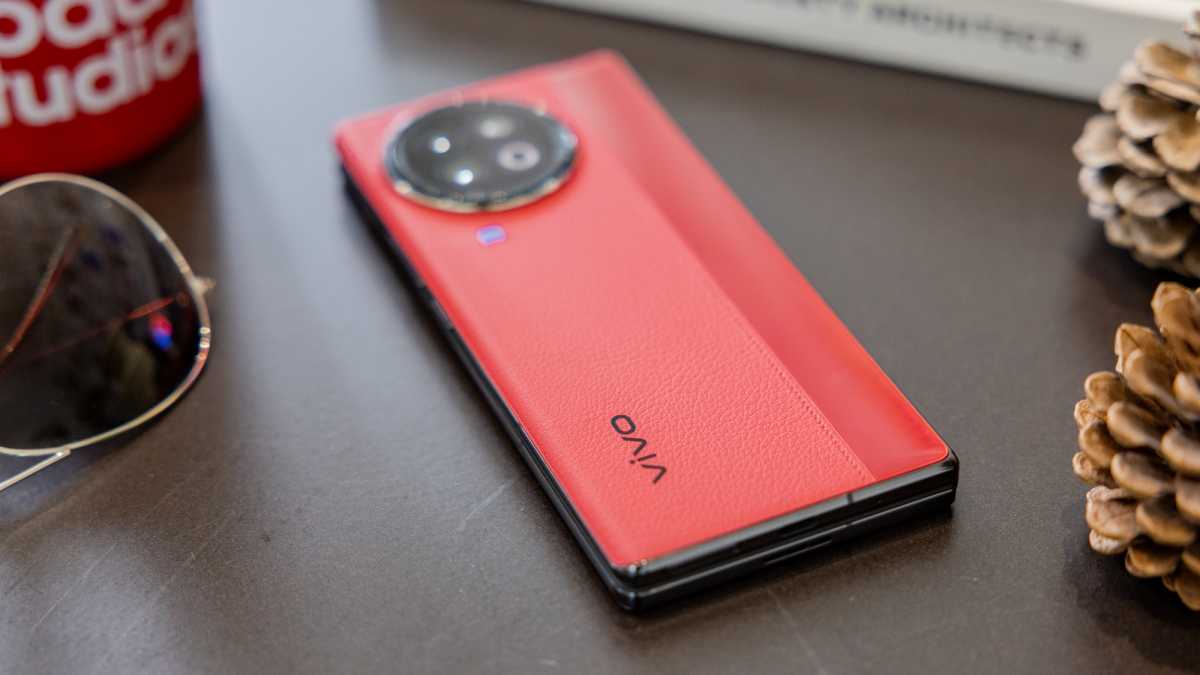 Dominik Tomaszewski / Foundry
This is slimmer and lighter than Vivo's own previous generation, but it's actually heavier than the Galaxy Z Fold 4, and bigger in every way than recent launches from Huawei and Honor.
Still, for a little extra heft you do get a reassuring solidity, and a hinge that closes fully and sits flush when it does. It takes both hands to easily open the phone up, and it really does feel impressively sturdy.
The X Fold 2 is available in black, blue, or my red model, which is finished in vegan leather to stop the phone sliding around too much and improve its durability, without detracting from a premium aesthetic.
The leather is accompanied by a thin strip of what I believe is plastic, with a marbled, pearlescent finish that shimmers in the light. It's a small bit of flair that I'm a fan of – especially since the included clip-on case adopts the exact same red leather with a transparent section to show off this shimmering layer.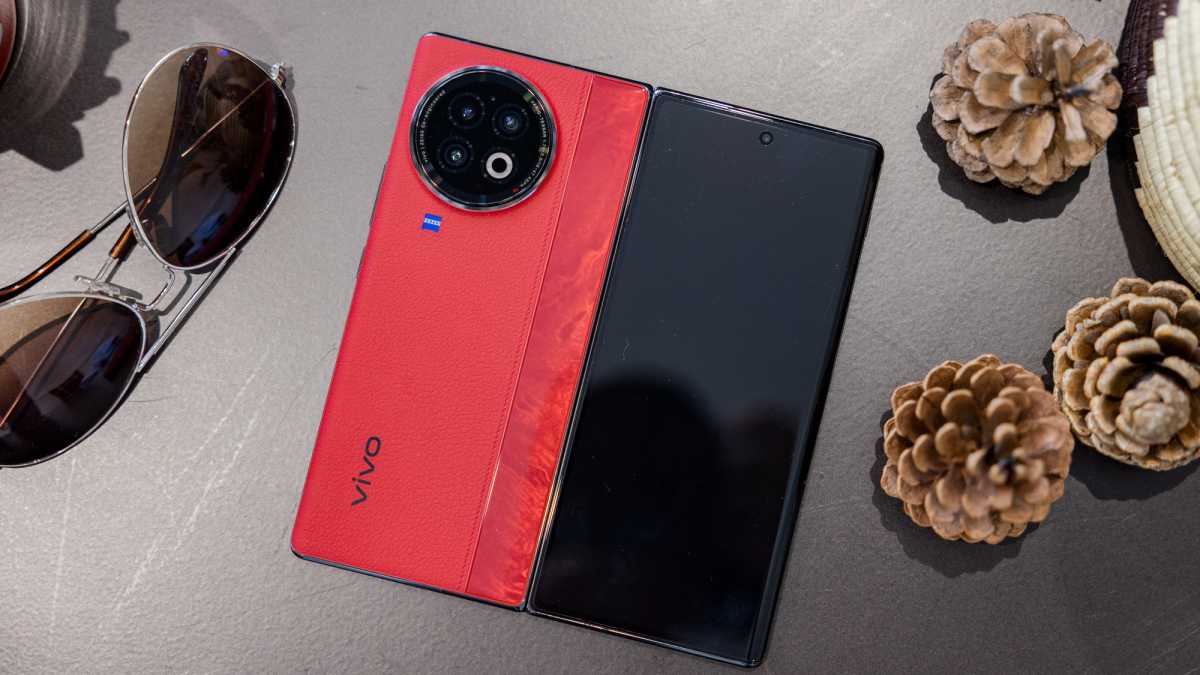 Dominik Tomaszewski / Foundry
There's really one notable downside to the X Fold 2's build: there's no IP rating, meaning it has no official guarantee of protection against dust or water. That's in line with many foldables, but with Samsung and others leading the way on hardier foldables, Vivo is behind the curve.
Finally, a quick bit of praise for an unusual addition: a physical hardware switch to turn on the phone's Silent mode. Outside of iPhones and select OnePlus devices this sort of toggle is rare, but always appreciated, and I hope Vivo will add it into more of its traditional smartphones soon too.
Screens & speakers
Dual 120Hz AMOLED panels
LTPO4 main display
Two in-display fingerprint sensors
There's a lot to praise in Vivo's display offering here. For one, both the 6.53in cover screen and the 8.03in main screen are 120Hz AMOLED panels, meaning you get smooth scrolling and great colour quality on either screen.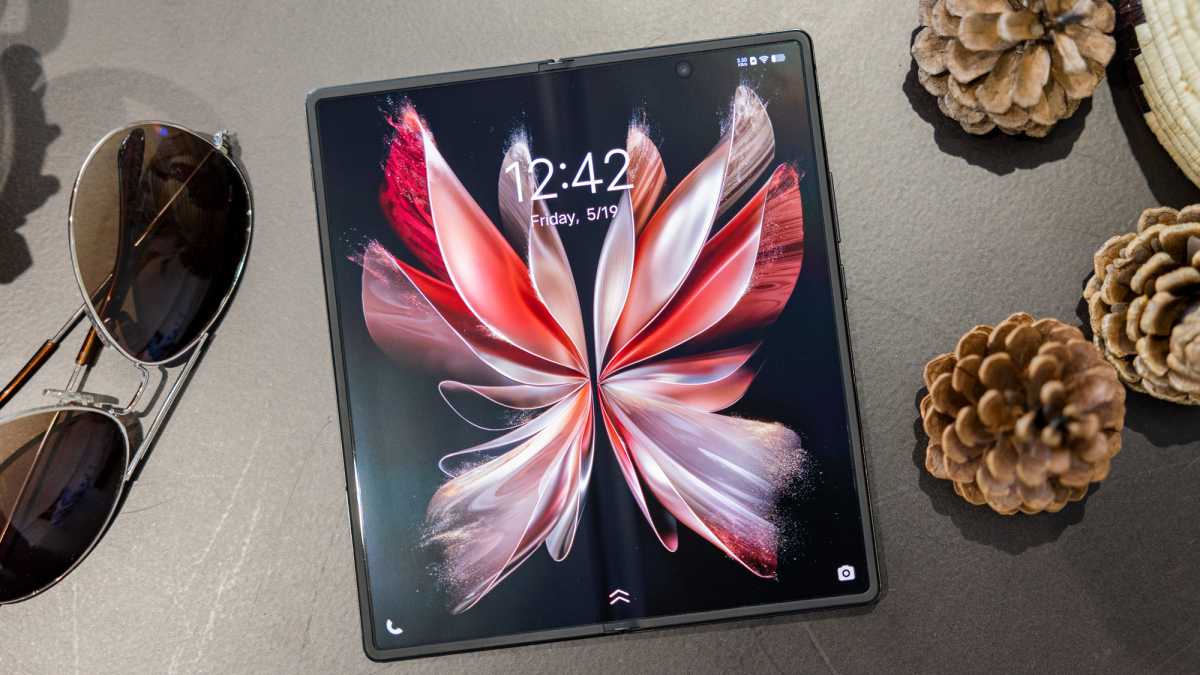 Dominik Tomaszewski / Foundry
The larger main screen also benefits from LTPO4 tech, allowing it to vary its refresh rate widely to suit the content being display. That gives you the benefits of a high refresh when it can help, and better battery efficiency the rest of the time.
As for aspect ratio, Vivo has followed Samsung's lead in using a slightly portrait-oriented main screen, meaning it's close to square but still taller than it is wide. That's better for app optimisation and lots of multi-tasking work, but a little less well suited for watching videos – no matter which way you turn the phone, you'll get big black bars around most content.
Of course this screen also has the dreaded crease. Here it's wide but shallow, visible in certain light but surprisingly difficult to actually feel. You really will forget it's there.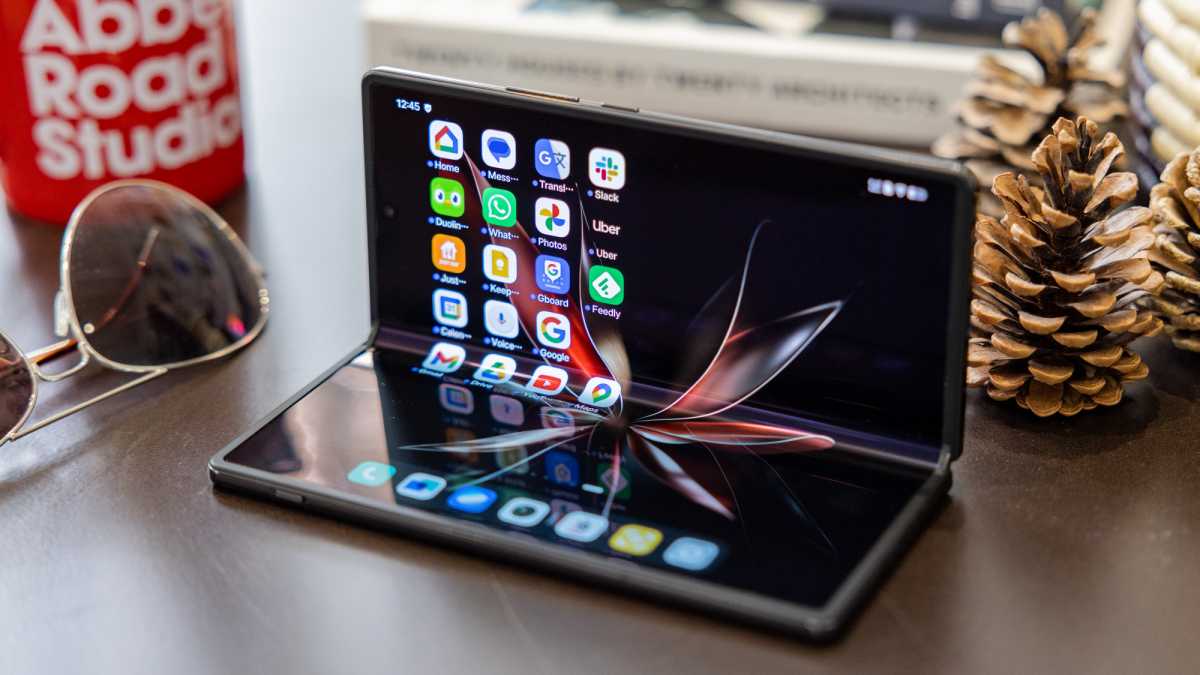 Dominik Tomaszewski / Foundry
Vivo has one other bit of impressive flair in its displays: unlike most foldables this doesn't use a side-mounted fingerprint sensor, but instead opts for under-display. Or rather, under-displays, because there's a sensor under each of the two screens (and, smartly, registering your finger with one automatically makes it work with the other).
As for audio, Vivo has kitted the X Fold 2 with stereo speakers, but mounted on the same side of the phone, one at the top and one at the bottom. That means you'll only get the stereo effect when holding the phone sideways. Given the aspect ratio on the main display you'd probably do that anyway when watching video, but some other foldables have smartly alternated the placement so that you get stereo every which way.
Specs & performance
Top-tier Snapdragon 8 Gen 2 chip
12GB RAM
Up to 512GB storage
It shouldn't come as a surprise that Vivo has spared no expense when it comes to the core specs here.
The Snapdragon 8 Gen 2 chip inside the phone is the latest and greatest around, delivering performance on a par with the best phones on the market. It outpaces other big foldables we've tested, and only lags behind its Vivo X90 Pro sibling on graphic benchmarks because it has to drive a much larger display.
That's helped by a generous allocation of 12GB of RAM – important for the multi-tasking enabled by that big display.
Storage comes in a choice of either 256GB or 512GB.
5G, Wi-Fi 7, Bluetooth 5.3, and NFC make up the connectivity options, and all are up to the latest standards. Just bear in mind that if you're going to import the phone from China then networking may be a little ropey – check that the phone supports the same 5G bands as your network.
Camera & video
Powerful triple rear camera
No periscopic zoom
Pair of identical selfie cameras
Vivo is a company known for its camera capabilities, so it's no surprise to find that the triple rear camera setup in the X Fold 2 is among the more powerful you'll find in a foldable.
As usual, Vivo's handling of light is exceptional. This doesn't use one of the large 1in sensors you'll find in the company's X90 Pro flagship, but it still does a great job in dim or diverse lighting, correctly exposing even tricky elements like a campsite fire at night.
The main camera is joined by a pair of capable 12Mp lenses – one ultrawide, and one 2x telephoto. During the day you'll struggle to spot a quality difference aside from some slight variations in colour tuning, but in low light they drop off more.
That's especially true for the ultrawide, which is dreadful in the dark. I spotted the problem at a concert where the ultrawide completely failed me, with a pinkish hue surrounding every shot. Restarts and the like couldn't fix the problem, and in the end I had to give up on using the ultrawide that night – it simply can't handle the dark at all.
Keen fans may note one other odd downside: there's no sign of the 5x periscope zoom seen on the first Vivo X Fold and X Fold+ follow-up. It's not clear why this was dropped, but it's a shame to lose that added versatility.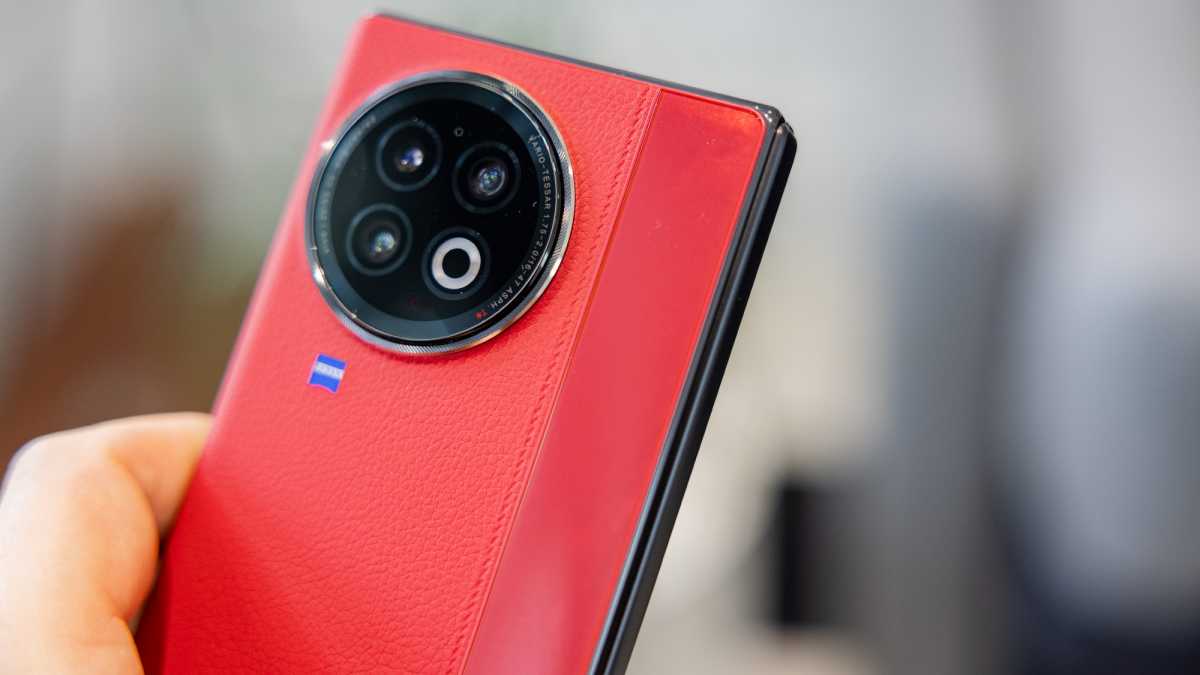 Dominik Tomaszewski / Foundry
As for selfies, there are punch-hole cameras on both displays. To keep things simple, these are the exact same 16Mp, f/2.5 setup, so you can always use whichever is most convenient. Neither is truly excellent – shots are a little soft, and the slow aperture limits the dynamic range – but they're good enough for social media and video calls.
Video goes up to 8K@30fps or 4K@60fps on the main rear camera (which also benefits from optical stabilisation for steadier footage), though caps at a miserly 1080p@30fps on the front. That's enough to hamper anyone with ambitions to vlog using the selfie cameras – though with a bit of wrangling this can be achieved using the rear lenses instead.
Battery & charging
More than a day's battery
Exceptionally fast 120W wired charging
50W wireless
With two displays to run – and one of them pretty big – foldables have some unique challenges when it comes to battery life, and that's before you mention the fact that the battery itself has to be split in two parts.
That makes the X Fold 2's longevity all the more impressive. It easily lasts a full day of my typical use, often with half the battery left by the time I head to bed. At a push it could probably stretch to two days, though only if use it sparingly.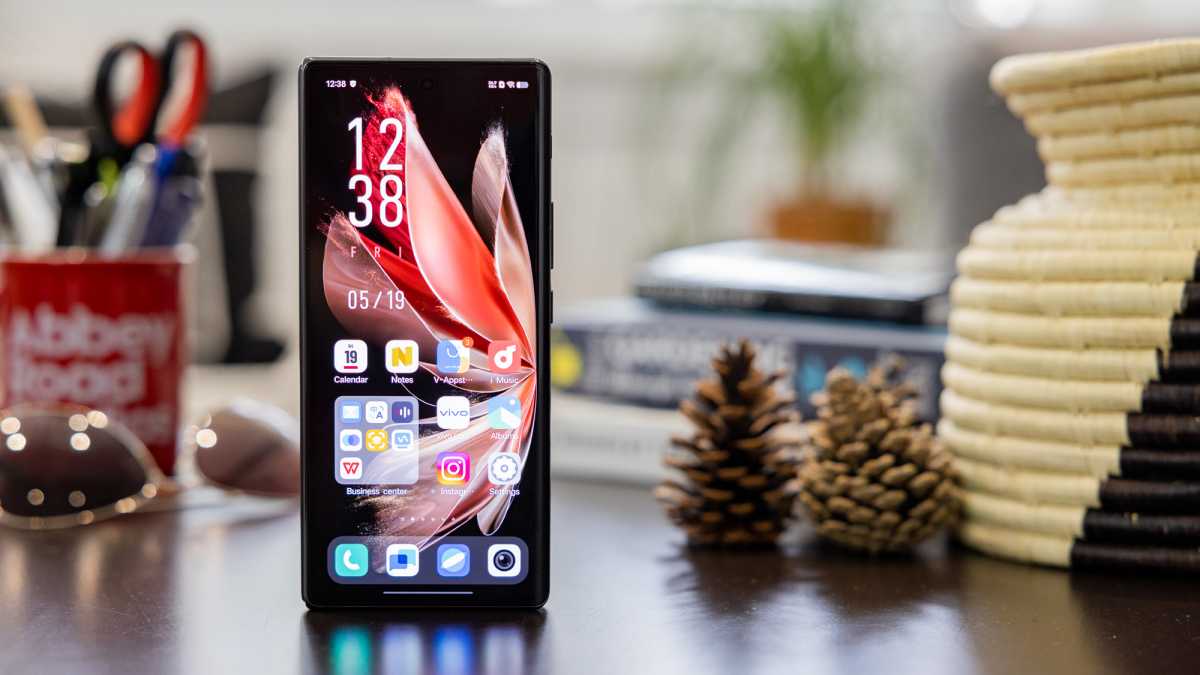 Dominik Tomaszewski / Foundry
Charging is even more impressive. The 120W wired charging restored 59% of the battery in 15 minutes, and a whopping 98% in half an hour in my tests. That's a little slower than Vivo's claim of a full charge in 26 minutes, but hardly any less impressive.
Wireless charging is featured too, though you'll need an official Vivo charger to hit the full 50W speeds. Expect a much slower charge on a third-party Qi charger.
Software & updates
Ships with Android 13
Runs Vivo's China-only OriginOS 3
Unknown long-term support
The X Fold 2 ships running Android 13 – so far, so what.
What's more interesting is that the phone runs the company's OriginOS 3 Android skin. This is actually the first time I've gotten to test Origin out, as while it powers all of the company's phones in China, global models run the abysmally named Funtouch OS instead.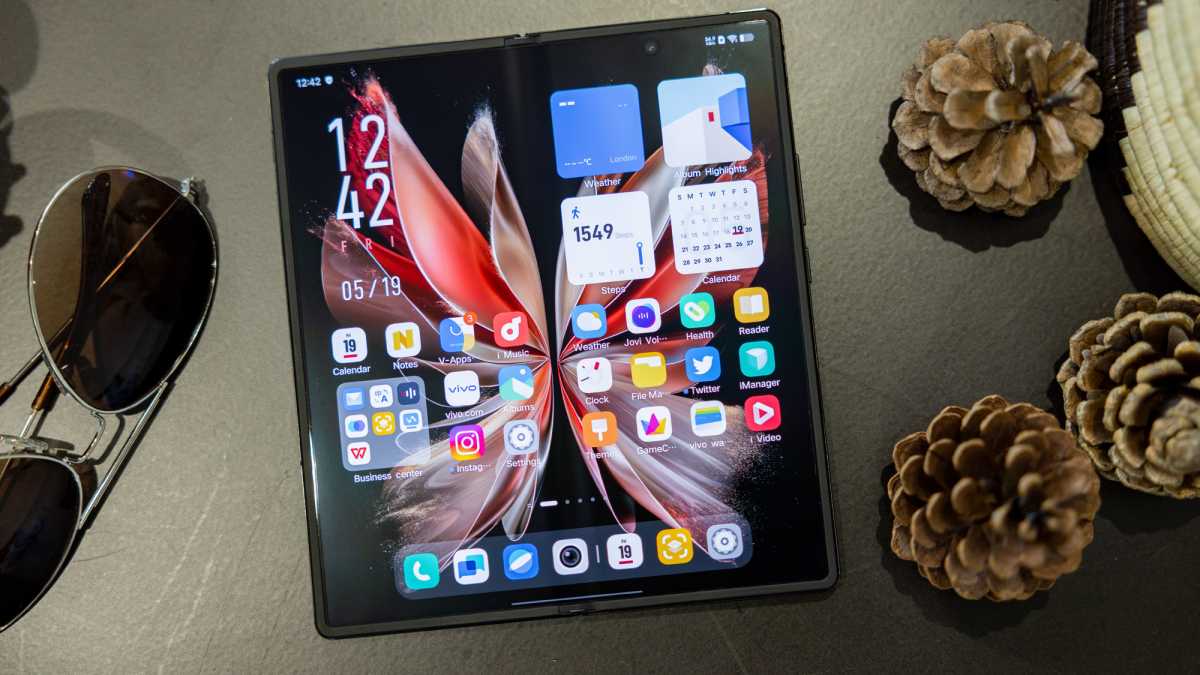 Dominik Tomaszewski / Foundry
That feels like all the more a shame, because Origin has Funtouch beat hands-down. For one, it looks a lot sharper. There's a distinct visual language that borrows a little from stablemate Oppo's ColorOS, but always looks its own, and feels decidedly modern.
There's plenty of customisability, including changing the effect of swiping in from various parts of the screen, and a welcome array of widgets – all interactive and attractive, like a range of mini apps to set across your home screen.
There are two major downsides. The first is that, like many Chinese Android skins, Origin OS is a little too aggressive in its background app management. It's gotten in the way of me using GPS and tracking apps while running, delays the rest timer in my workout app, and often stops me seeing notifications.
Some – though not all – of this can be fixed by manually tweaking settings for each app, but I wish the phone would just let my apps work the way they're meant to by default.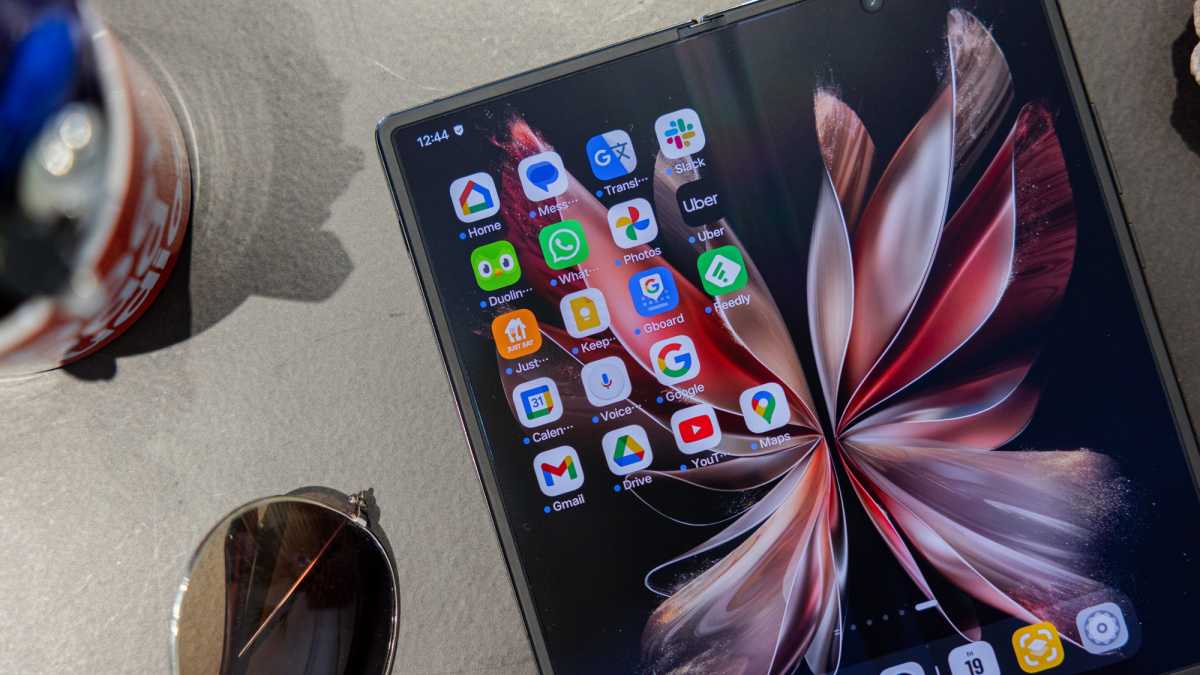 Dominik Tomaszewski / Foundry
The bigger problem that will face any importers is that, as a Chinese release, this doesn't include Google software out of the box. It is possible to install it, including the Play Store, but expect to spend your first half hour with the phone sideloading software to get everything up and running.
Finally, Vivo hasn't publicly committed to a long-term support plan for the X Fold 2. The recent X90 Pro is getting three years of Android version updates, and hopefully this will too, but for now it's not guaranteed.
Price & availability
The Vivo X Fold 2 is, unfortunately, only available officially in China, where it starts from ¥8,999 (around $1,300/£1,050).
If you're tempted, you can import the phone from grey market retailers like Giztop or Wonda Mobile, with prices mostly around the $1,500 mark at the time of writing – so not too dissimilar to picking up the Samsung Galaxy Z Fold 4.
Check out our ranking of the best foldables right now for more alternatives, or the best Vivo phones to see what else the brand has released recently.
Verdict
The Vivo X Fold 2 is a confident foldable that combines strong performance, impressive battery life, and a capable camera.
There are downsides. The leather finish looks the part, but the foldable as a whole is bigger and bulkier than other recent rivals.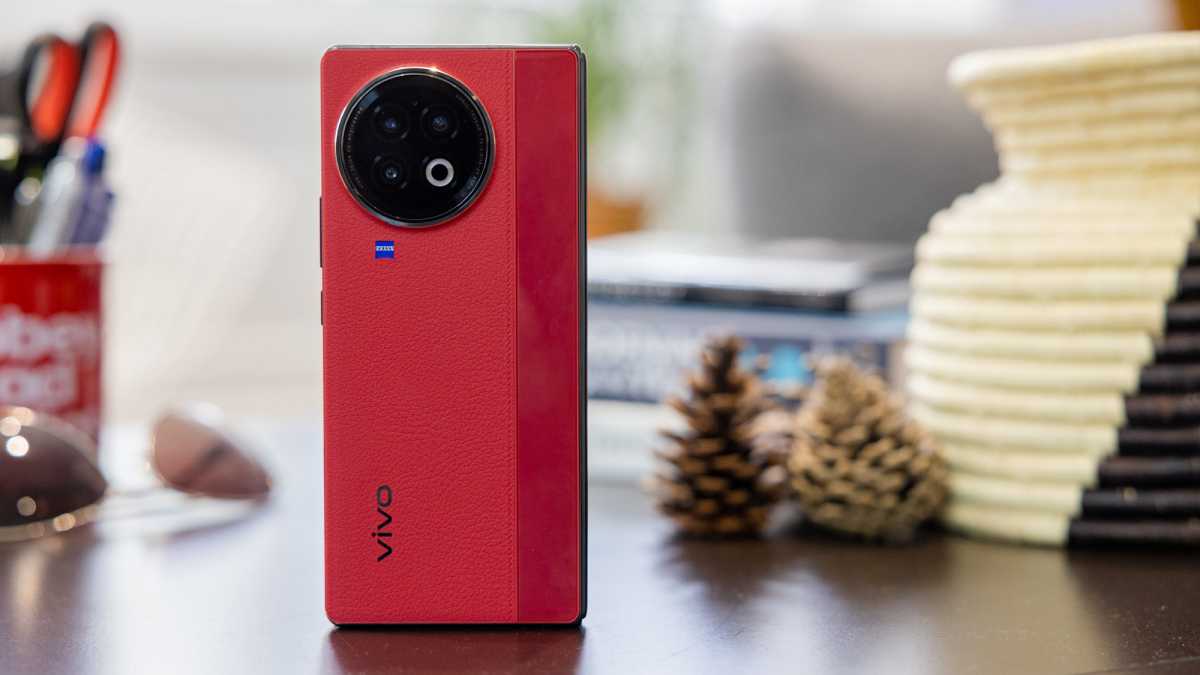 Dominik Tomaszewski / Foundry
As it's China-only you'll have to deal with awkward imports and no Google out of the box, plus other little performance annoyances around background apps or that strange failure of the ultrawide camera in low light.
Still, put up with those minor headaches and this is a pretty fantastic foldable that shows Samsung what it has to keep up with.
Specs
6.5in 120Hz AMOLED cover display
8in 120Hz LTPO4 AMOLED foldable internal display
Qualcomm Snapdragon 8 Gen 2
12GB RAM
256/512GB storage
Cameras:

50Mp, f/1.8 OIS main camera
12Mp, f/2.0 ultrawide
12Mp, f/2.0 2x telephoto
16Mp, f/2.5 selfie camera x2
Up to 8K video recording

4800mAh battery
120W wired charging
50W wireless charging
Dual under-display fingerprint scanners
Wi-Fi 7
Bluetooth 5.3
5G
NFC
Unfolded: 161.3 x 143.4 x 6mm
Folded: 161.3 x 73.4 x 12.9mm
279g