Online shopping, by its nature, means credit and debit cards are the primary methods of payment, but that doesn't suit everybody. Some people don't feel comfortable entering card details online and children don't necessarily have access to them. So, what do you do if you want to buy something from Amazon but would prefer to use cash?
The answer is Amazon Top Up, and here we explain how it works.
What is Amazon Top Up?
As the name suggests, it's a way to top up your Amazon account with funds, but without the need for a credit or debit card. You can either pay cash or load Amazon gift cards onto your account so that you have money to spend.
Amazon Top Up is a UK-specific name, but the same service is also available in the US under the name Amazon Cash.
How does Amazon Top Up work?
Amazon Top Up is quite straightforward (and the instructions are basically the same for Amazon Cash).
First, you'll need a barcode that will identify your account and ensure that the money goes there. You get this from the Top Up page on Amazon's website. It can be delivered in one of two ways: sent to your phone via SMS or as a file you can print and take with you to the shop.
If you have an iPhone, you'll also see the option to save that barcode to the Wallet app for quick access in store.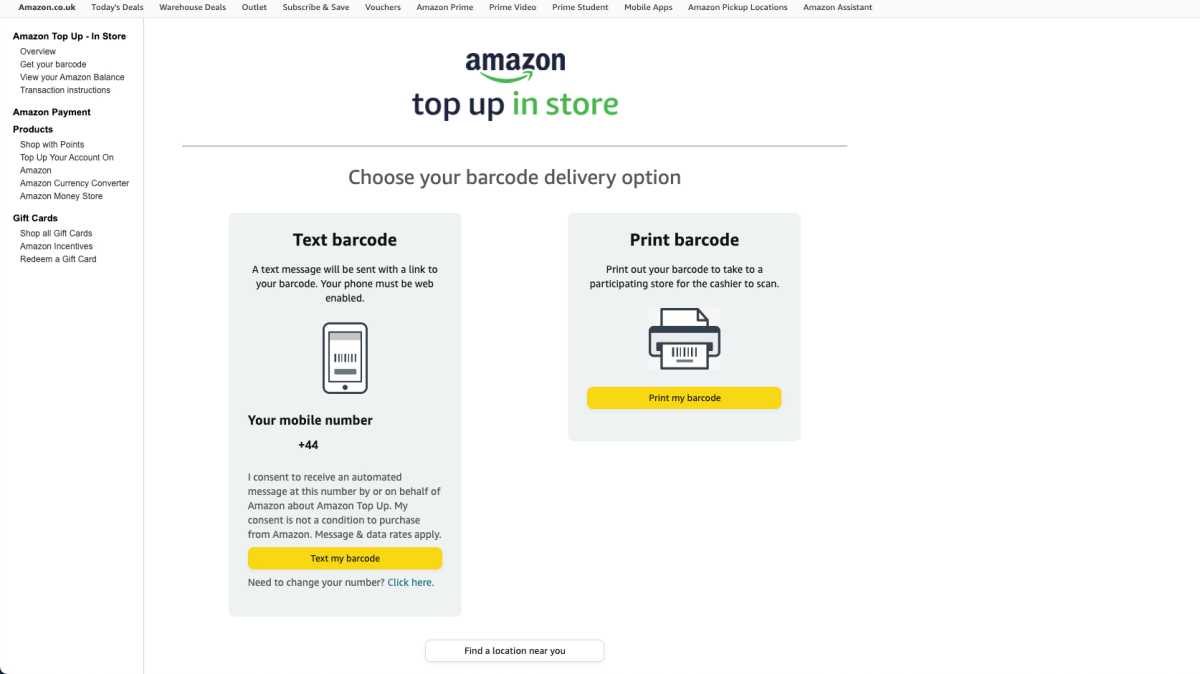 Amazon
Next, it's time to visit a shop to do the top up with your cash. In the UK these include any that show the PayPoint, Payzone or epay logos, plus Poundland and the Post Office. You can search Amazon's list of participating stores to see which one is the closest to you.
When you get there you can ask the cashier to top-up your account by scanning the barcode and then paying a minimum of £5 and maximum of £250, all of which is added to the Amazon Gift Card balance of your account.
If you forget to bring the barcode with you, you can still add money and then get a printed purchase code which you then use to add the amount you topped up onto your Amazon Gift Card balance by going to the Redeem page on your account.
Does Amazon Top-Up cost anything?
No. There are no charges for adding money to your account. In fact, Amazon often runs promotions where the company will give you free credit if you add a certain amount onto your account. Recently these included an extra £5 when you added £60 and on Prime Day the same deal applied if you added £40, so it's worth checking online for any promotions before you use the Top Up service.
Can I only use cash to top-up my Amazon account?
No, there are different ways to add money. You can also use a credit card if you want or there are gift cards which can be bought in supermarkets and then redeemed on your account.
Amazon Auto Top Up
If you like the idea of pre-paying money onto your account, or maybe this is for your children and you want to pay their pocket money onto Amazon so they can shop for things there, then Auto Top Up is worth investigating. With this you set up a monthly amount that is paid onto your Amazon Gift Card balance so that you have money to spend. This could be useful if you like to budget and know that you won't be able to resist a little splurge at some point in the month.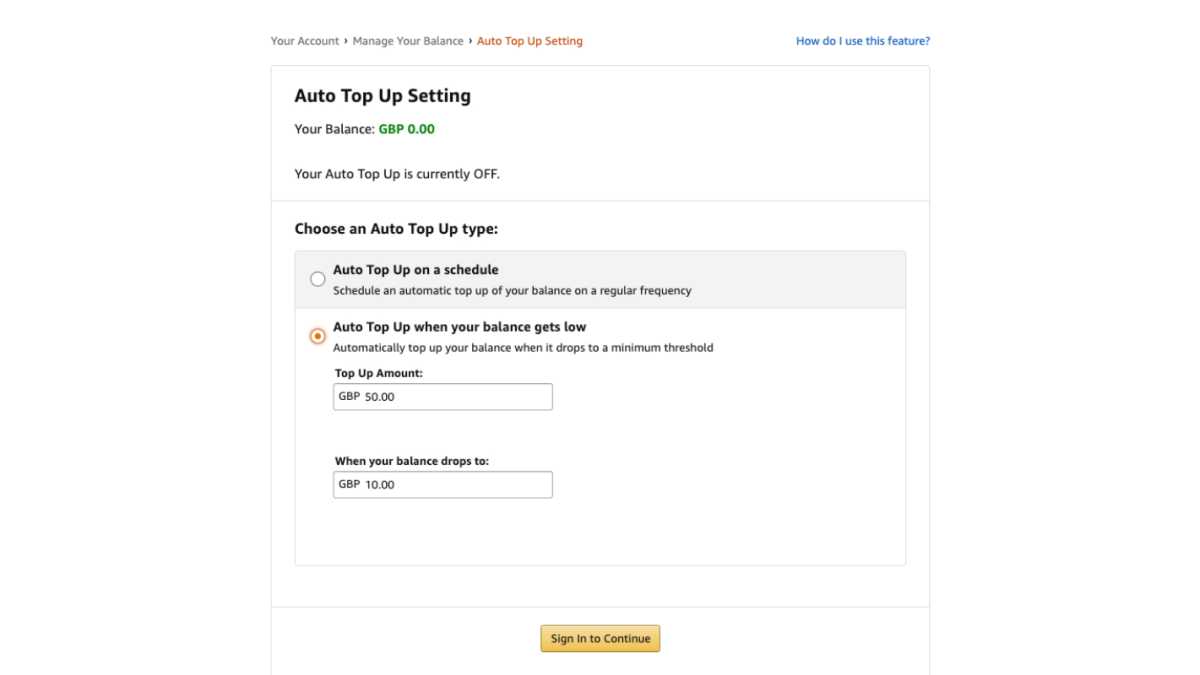 Amazon
To use this service you'll need to go to the Auto Top Up page while logged into your Amazon account. Here you'll be able to set how much will be paid and the intervals (every day, week, two weeks or month). You can also set a minimum threshold so if your account is down to the last £10 then it will be automatically topped up by your specified regular amount.
Obviously, this works using a linked credit/debit card rather than cash, as the automated nature requires access to your bank account details.
So that's how to pay for Amazon using cash, and how to top up your account automatically. If you want to get even more from your Amazon account then see our guide on everything you need to know about Amazon Prime.