At a glance
Expert's Rating
Pros
Excellent sound
Loud and thumpy when you want it to be
IPX7 weatherization with rugged metal construction
Supports the Hi-Res LDAC codec (on Android)
Cons
Doesn't support the AAC codec
A tad bulky for its size
Our Verdict
Considering its high-fidelity renderings, the loud, thumpy, rugged, and thoroughly weatherized (IPX7) Soundcore Motion X600 is more than reasonably priced. Some of the competition charges a good deal more for this class of performance.
Price When Reviewed
$199.99
Best Prices Today: Soundcore Motion X600
The Soundcore Motion X600 is the best-sounding Bluetooth speaker I've received from Anker Innovations, it's right up there with the Marshall Middleton for the coveted "Best sonics in Bluetooth" award.
OK, that award is largely bestowed in my head. But you get the point: This speaker sounds excellent. And more importantly in this economy–it sounds excellent for $100/£100 less than its rival!
You can get it for just $199/£199 from the likes of Amazon US, Newegg, Amazon UK and the official store.
Design & Specs
Anker isn't Apple, but the folks at its Soundcore division do have their own design aesthetic; one that I've become rather fond of. In the case of the Motion X600. I'm particularly enamored with the copious amounts of genuine metal used in the fabrication of its enclosure.
View more options in our chart of the best Bluetooth speakers.

Jon L. Jacobi
There's lots of metal in the rounded rectangle that surrounds the unit, as well as in the very solid, permanently affixed handle. That material does render the unit a bit more unwieldy than some, but you'll never be without easy means to tote it. I like the way it looks as well.
The Motion X600 is available in three attractive metallic-tinged colors: Polar Gray, Lunar Blue, and Aurora Green. Our test unit was gray, but I'd go for the blue given a choice.
The top and bottom of the Motion X600 are made from a hard plastic/rubber material, but those elements don't affect the overall extreme sturdiness. The speaker measures slightly wider than 12 inches, a hair over 3 inches deep, and around 7 inches tall. If you're looking for dainty, this ain't it, but the beefy handle makes hauling the approximately 2-pound unit a breeze.
When it comes to the inner workings, there are a whopping five speakers driven by a five-channel 50-watt amplifier. Four of the speakers face forward, and one is situated in the slanted top panel to fire upward and help with spatial audio.
The speaker's controls are also on the forward raked top of the unit: Power, Bluetooth pair/status, spatial sound, bass on/off, and the transport buttons (volume-up/next-track, play/pause, and volume-down/previous-track. A mic is onboard to help with phone calls, which are handled by the multi-function transport controls.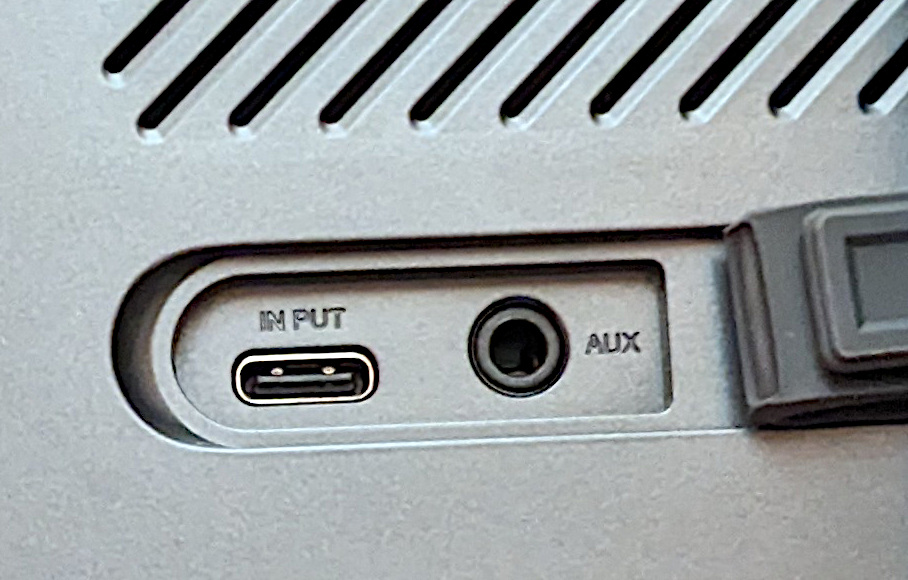 The Motion X600 carries a weatherization rating of IPX7, which means it's sufficiently protected to withstand immersion in up to 1 meter of meter for 30 minutes, but only if the captive rubberized plug covering the 3.5mm auxiliary input and USB-C charging port on the back of the speaker is snugly in place. But this is a very nice speaker–restrain your inner Harry Potter and forego the Gillyweed adventures.
As with most speakers these days, an app offers more in-depth control (shown in the screenshots below). Anker would really like you to sign up with them, but you don't have to. The best reason to use the app is for adjusting the speaker's EQ settings. And unlike some cheaper speakers, the frequency response is wide enough that all the bands have significant effect. I pretty much left it stock, but have at it.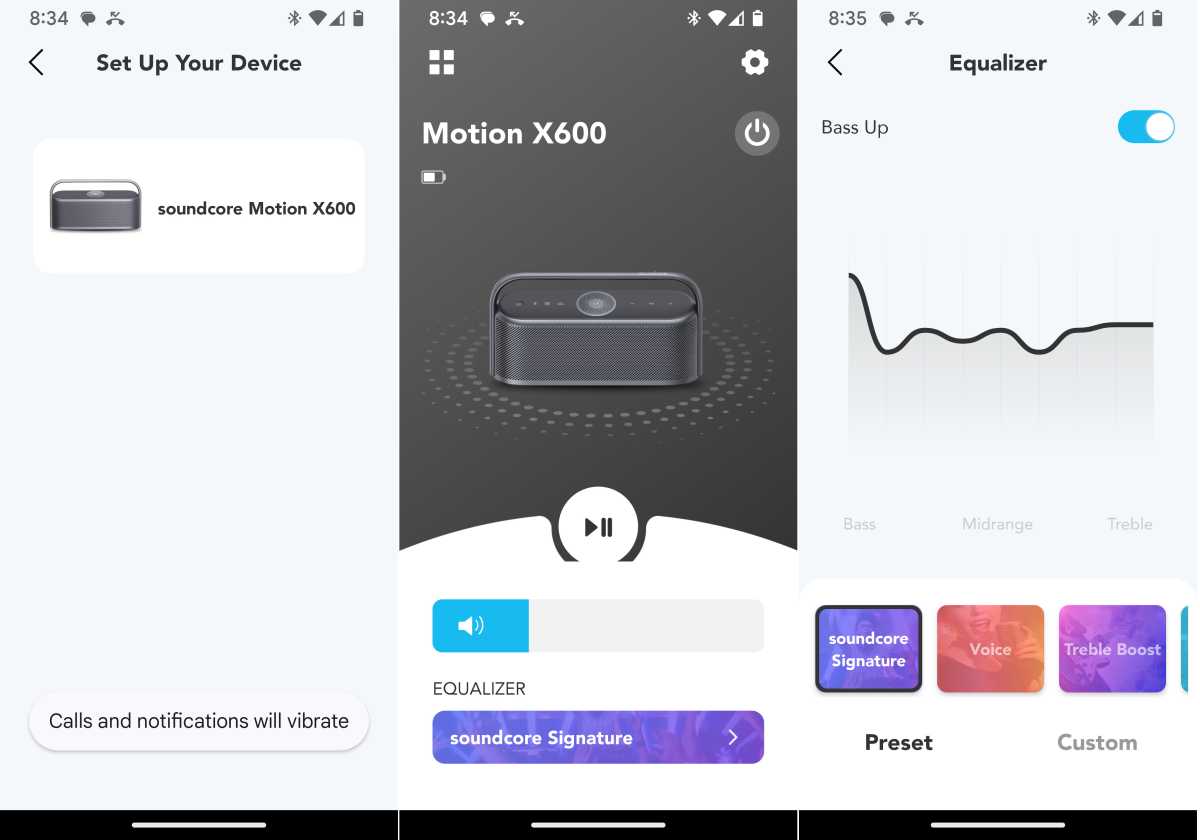 Jon L. Jacobi
Sound Quality & Battery Life
The Motion X600 sounds excellent; in fact, it's easily one of the best-sounding single-cabinet Bluetooth speakers I've heard. It's certainly on par with the aforementioned Marshall Middleton. That characteristic is all the more impressive given its IPX7 rating. It's just not easy to make a speaker enveloped in waterproof materials sound good.
If you're looking for bass, you're going to like the Motion X600: It thumps big time for its size. It also rendered the sub-bass in my minuscule collection of hip hop and other modern tooth-rattling genres more than adequately. It's not large enough to function as a full-on party speaker–take a look at the hulking Soundboks Go or Sony's new SRS-XV800 if you're also looking for an entertaining light show. But for smaller social affairs of five or so, you'll be happy with the Motion X600.
I'm generally more about clear and tight (with some bass, of course), and that's the Motion X600 to a T. Toto's "Africa" was rendered across a nicely spacious sound stage (with spatial audio engaged), and the speaker's excellent mid-range definition made it particularly easy to discern the background percussion instruments.
There's plenty of sparkle at the high end of the frequency range), and as you might guess, 50 watts of amplifier power means it can get pretty loud.
Note that if you play the Motion X600 at any sort of volume, you're not going to get the 12 hours that's quoted as the maximum run time. The battery-life estimates for pretty much any battery-powered speaker assume easy-listening volume, and the specs for this one are 12 hours at 50 percent volume. I got around 8 hours at a reasonable volume with about an hour of louder testing. I'm okay with that.
Should you buy the Soundcore Motion X600?
Anker's Soundcore division has a habit of providing superior audio for less moola, and the brand has won me over. The Soundcore Motion X600 has a clear, well-defined sound with enough bass for even diehards. I like it, a lot, and I'm sure you will as well.
Best Prices Today: Soundcore Motion X600